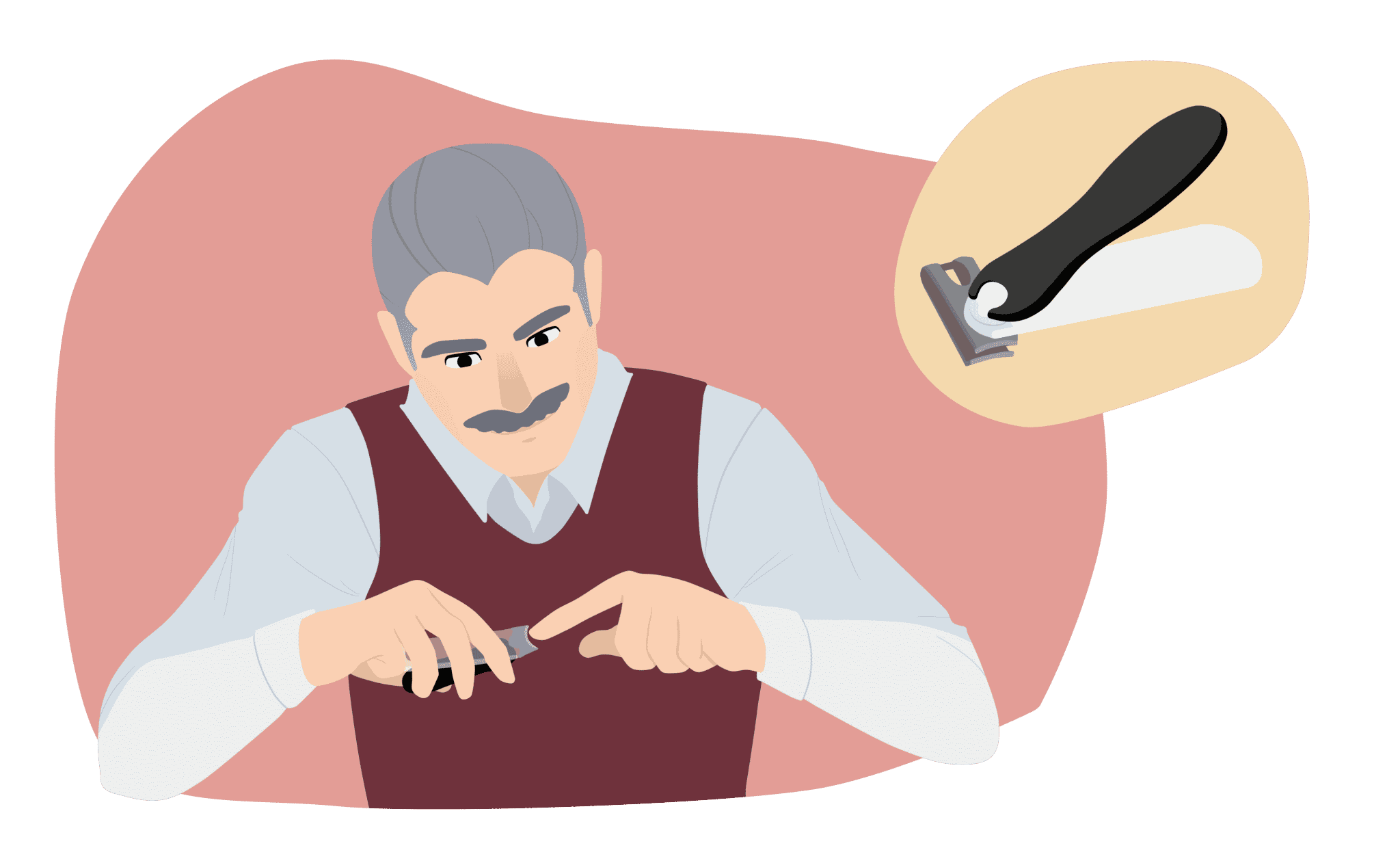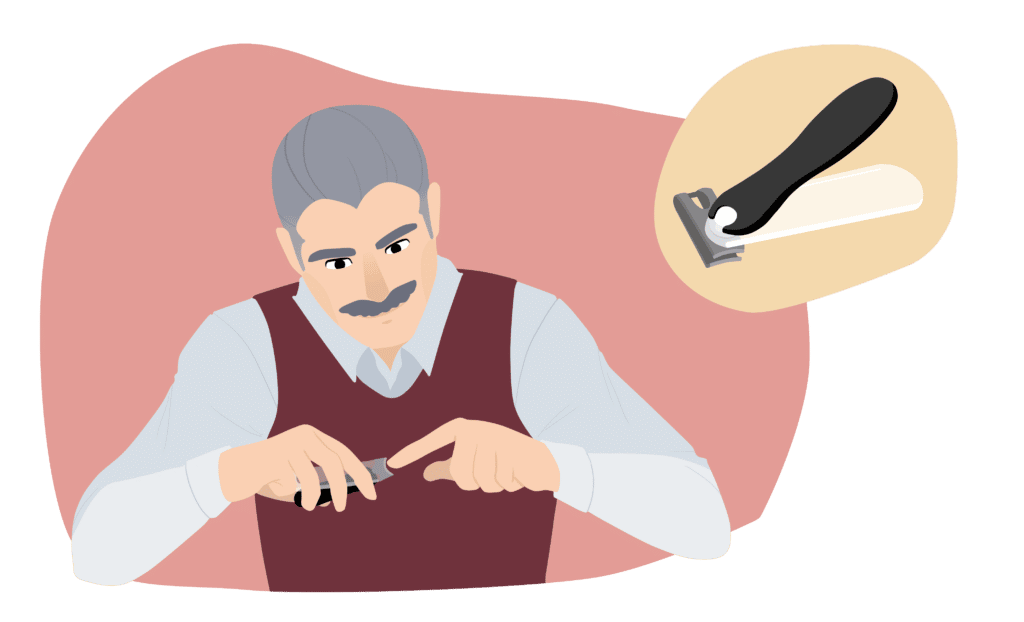 As you age, your toenails (and fingernails) become increasingly more challenging to cut. Toenails become thicker with age, and your average toenail clippers just won't do the job. Factor in those ailments such as arthritis and lack of flexibility makes it hard to reach your toes, and clipping your nails becomes quite a quandary.
As a result, most seniors would head off for a pedicure, but this can become costly. So instead, owning the right pair of clippers makes it simple for those still with enough dexterity to cut their own nails or allows for caregivers to administer the pedicure.
Unfortunately, not all nail trimmers are made equal. To make it less challenging to find the best toenail clippers for thick nails, we have gathered together the best Amazon has to offer and reviewed each of them. Let's take a look!
Best Toenail Clippers for Elderly People
We tried and tested multiple heavy-duty toenail clippers from Amazon and concluded that these seven are the best toenail clippers for tough nails. We used the approach to chat to the elderly about what they looked for in a high-quality nail trimmer and collected together the ones from Amazon that ticked these boxes. We then reviewed each of them. Our evaluation of each was based on the following criteria: ease of use, ergonomic design, blade sharpness, and durability.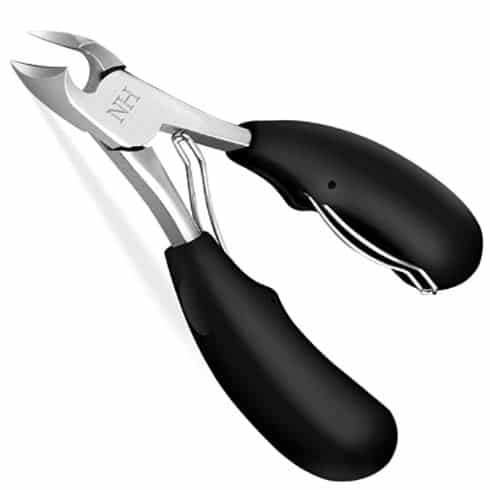 New Huing is a unique brand that offers a wide selection of home and beauty products that make life a little simpler. You can find everything from solar torches and chainsaws to toenail clippers.
Each product is designed and manufactured with the highest quality materials and offers durability and ease of use. The product that caught our attention is the New Huing Podiatrist Toenail Clippers for Thick & Ingrown Toenails.
Specs
Made from surgical grade stainless steel
Includes a sharp, curved blade
Features an ergonomically designed ABS handle
Easy to clean
Who is it Best for?
If you struggle to cut your toenails because they're either too thick or because you battle with ingrown toenails, then these podiatrist toenail clippers may be the ones you need.
New Huing makes these toenail scissors in such a way that they are comfortable to grip and simple to use, even for those with limited dexterity.
Compared to other toenail clippers available, these are relatively well-priced and sit about mid-range on the price scale.
We wanted to see how easy these clippers were to use and whether they got the job done. We found them exceptionally durable and simple to use. The handles were comfortable to grip and didn't slip and slide about in hand. Best of all, they come in a stylish storage box.
Key features
New Huing makes these durable toenail clippers from sturdy surgical-grade stainless steel. This metal retains its sharpness and is resistant to rust and corrosion.
The curved blades are designed to follow the natural curve of your nails, making it easy to trim them neatly and efficiently. This curve also makes it easy to cut and treat ingrown toenails. In addition, because the blades are exceptionally sharp, they are ideal for cutting thick toenails that are usually challenging to trim.
Included in the design is a dual spring. You will find one spring on either handle and these can be folded away for a looser feel, or you can make use of one spring to give you a little more control.
The handles are made from a soft, non-slip ABS material that enhances the ergonomic design, making them comfortable to hold and easy to wield.
Pros
They offer a non-slip grip
They cut perfectly every time
They come in a stylish storage box
Cons
They only make curved cuts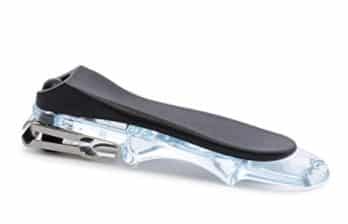 GlossyEnd is a unique brand that offers a wide selection of homeware and household items, from storage solutions and silverware to kids' products and a range of personal care items.
One of the brand's manicure products caught our eye – the GlossyEnd EZ Grip 360 Degree Stainless Steel Toenail and Fingernail Clippers. This nipper not only looks sleek and stylish, but it also makes trimming your nails a quick and easy task.
Specs
Features an ergonomic design
Includes a swivel action for hard-to-reach angles
Made with a fully rotational stainless steel blade
Comes with a wide, easy-grip handle
Who is it Best for?
Suppose you have limited flexibility or dexterity due to diabetes, arthritis, or other causes. In that case, this nail trimmer is precisely what you need to help you keep your toenails neat and trimmed.
GlossyEnds ensures that this nipper is easy to grip and simple to use.
We compared this nail trimmer to others on the market and found it inexpensive, especially for what it offers in terms of ease of use and durability.
No review is accurate unless the product is tested, and that is precisely what we did. We found the clippers very easy to use – the longer handles meant we needed to apply less pressure to cut, and because the blades are curved, it follows the shape of the nail nicely. The only downside is that these trimmers a rather bulky and not great for travel.
Key features
GlossyEnds makes this nail clipper from durable stainless steel. This metal is ideal for making clippers as it retains its sharpness and is resistant to rusting and corrosion. In addition, the clippers are quick and easy to clean and are made to last.
This nail trimmer comes with a 360-degree rotational swivel head that allows you to reposition the blades at any angle to reach even the most challenging curves and corners without having to bend awkwardly to do so.
The wide, long handle makes it much easier to cut through your nails without having to apply too much pressure, ideal for someone with arthritic hands or for diabetics. In addition, because the handles are broad and flat, they are easier to grip and allow for far greater control of the clippers.
Pros
This nail nipper is inexpensive
The swivel blades make cutting difficult spots a breeze
You don't need to apply a lot of pressure to make a cut
Cons
The clipper is a little bulky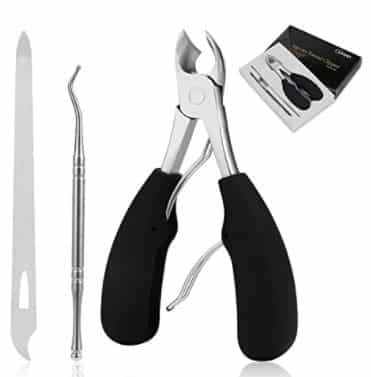 Yinyin is a beauty brand specializing in grooming products, specifically in the design and manufacture of everything you need for the perfect manicure and pedicure. You will find an array of nail trimmers, nippers, cuticle pushers, a nail file or two, and lifters for ingrown toenails among the brand's many offerings.
We felt that elderly people could best benefit from the YINYIN Professional Clippers for Thick & Ingrown Toenails, so we added the product to our review.
Specs
Made from medical grade stainless steel
Comes with super sharp blades
Features an ergonomic ABS handle
Includes a double spring
Who is it Best for?
If you struggle with thick, tough toenails that feel as if an angle-grinder would be your best bet, these large toenail clippers from Yinyin may be the solution you need. The clippers are designed to cut efficiently through thick toenails without much effort, making them ideal for those with minimal dexterity.
Included with these durable nail trimmers are an ingrown toenail lifter and a nail file. These three personal care products come neatly packaged in a stylish gift box.
It would be easy to assume that a nail clippers set such as this would cost an arm and a leg, but you'd be wrong. Instead, the set is relatively inexpensive and combined with the durability offered and heavy-duty design, these clippers are well worth their asking price.
Key features
Yinyin makes this heavy-duty toenail cutter from surgical-grade stainless steel that is resistant to rust and corrosion. This makes the clippers easy to clean and prevents them from going dull too quickly. In addition, the blade is exceptionally sharp and is constructed using German blade technology that leaves you with a perfect and easy cut every time.
The handles are ergonomically designed to fit neatly in hand and won't cause pain or hand fatigue. In addition, they are made with soft, non-slip ABS that is comfortable to hold.
Two springs are also found on the clippers, one on each handle. These can be tucked away entirely for no spring-back action and greater control, or you can use one of the two springs to pop the clippers open after each cut.
Pros
Comes with a gift box, a nail file, and an ingrown toenail lifter
They work very well for cutting ingrown toenails
Cons
The super sharp blades can be dangerous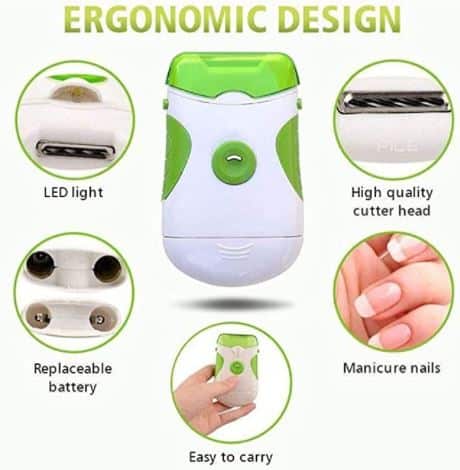 Dysel is a brand that specializes in the design and production of electric nail trimmers. The brand combines innovative design concepts and durable materials to create simple solutions for nail trimming. Their products range from fun nail trimmers for small children to electric nail clippers for those who need a little help in trimming their nails.
The Dysel Electric Toenail Clippers for Thick Toenails is the perfect device to add to your grooming tools to make trimming your nails simple.
Specs
Features a beveled blade
The blade runs at 500rpm
Includes an LED light
Battery operated (requires two AA batteries)
Who is it Best for?
Elderly people, those with arthritis or diabetes who have limited mobility and dexterity, will benefit from this easy-to-use electric nail trimmer from Dysel. It is designed to operate off batteries and does all the hard work for you – all you have to do is insert your nail into the trimmer.
While this handy little grooming tool makes life easier in some ways, it does come at a cost and sits pretty high on the price scale. Another downside is that the trimmer works off two AA batteries that do not come included which adds to the cost of the device.
It was a little tricky to master at first, but after trying it out a few times; we got the hang of it and were impressed with the results.
Key features
This electric nail trimmer from Dysel is made with durable beveled blades that turn at 500rpm to provide you with an efficient and easy way to trim your nails.
The trimmer itself features an ABS body that is comfortable and easy to grip. In addition, the fresh green and white design evokes the concept of health and wellbeing and lends the device a spa-like quality.
One side of the device trims your nails while the other files and polishes them, leaving you with the perfect manicure and pedicure. The trimmer is turned on with the simple press of a button, making it easy to operate.
A built-in LED light makes it easier to see what you are doing and allows you to use the clipper in poor lighting.
Pros
The trimmer is simple to operate
It collects your nail debris so no clean-up for you
It works well on thick nails
Cons
This clipper is expensive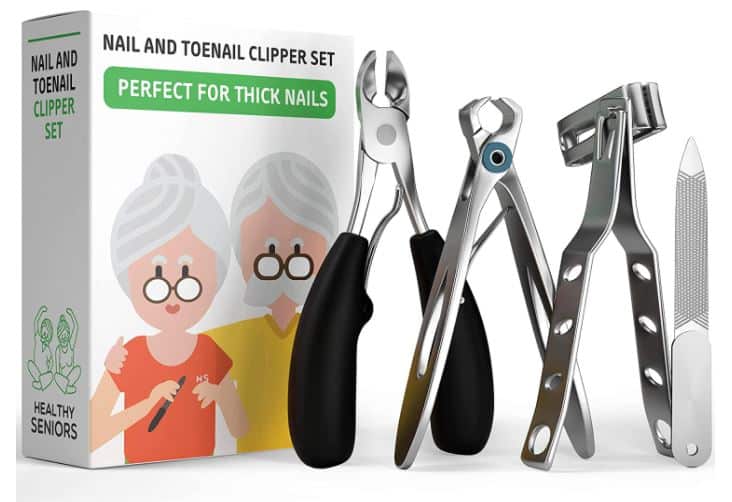 Healthy Seniors is a unique brand with a passion for helping those entering their golden years. The brand offers a wide selection of products, each aimed at improving the lives of the aged.
Some of these products include squeeze balls for Rheumatoid Arthritis, electric jar openers, hand therapy sets, and the one that caught our eye, the Healthy Seniors Complete Nail and Toenail Clipper Set for Thick Toenails.
Specs
The set includes podiatrist toenail clippers, a rotating head clipper, a wide jaw clipper, and a nail file
The tools are made with premium stainless steel
Ergonomically designed for use by left or right-handed people
The blades are exceptionally sharp
Who is it Best for?
Whether you are a senior or have elderly parents that you are looking for a gift for, this set is the ideal way to spoil yourself and others. It offers a complete manicure/pedicure set that is designed to be easy to use, especially for those with limited mobility and dexterity.
The set comes in a stylish little box and includes a handy carry bag to store the clippers and file in should you not have space for the box.
When looking at the price of this set, initially, it may seem rather steep; however, when you consider that you get three different toenail clippers and a nail file, it is an excellent deal. The clippers themselves are all durable, super sharp, and easy to use.
Key features
This elegant little toenail clipper set comes with a nail file, podiatrist toenail clippers, a rotating head clipper, a wide jaw clipper. These nippers and trimmers are made from durable stainless steel that retains its sharpness and won't rust or corrode.
Each of these clippers, especially the wide jaw opening clipper, opens up widely to allow you to cut thick nails, ingrown toenails, or those with fungal infections that are caused by diabetes, paronychia, and aging.
The swivel head clippers are perfect for those with reduced flexibility and agility as they allow you to turn the head of the clippers in any direction so you can get to those hard-to-reach places without bending your body like a pretzel.
The blades on each of these trimmers are exceptionally sharp, and when combined with the long handles that require less pressure, nail cutting becomes much more manageable.
Pros
The set includes clippers with both curved and straight blades
The longer handles make the clippers easier to use
Makes a cute little gift set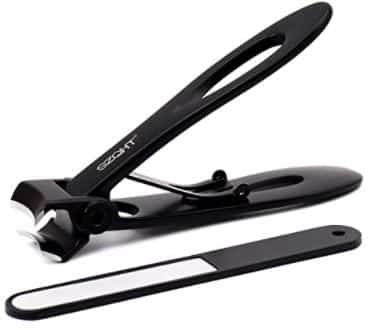 When it comes to manicures and pedicures, SZQHT is the brand to visit. The company focuses on designing and manufacturing a wide selection of grooming tools designed for use on the hands and feet. At SZQHT, you will find everything from wide jaw opening nail trimmers and cuticle trimmers to callus removers and glass foot scrubbers.
The SZQHT Ultra Wide Jaw Opening Toenail Clippers Set caught our attention with its sleek design and offer of durability.
Specs
The set includes an ultra-wide jaw opening nail clipper and nail file
Features an extra-long reinforced handle
Made from premium stainless steel
Sees an ergonomic design
Who is it Best for?
Suppose you have thickened nails due to aging, or you suffer from fungal infections or Paronychia that causes the toenail to thicken. In that case, chances are you need a toenail clipper that pens wider than your average drugstore set. This ultra wide jaw opening nail clipper makes the ideal solution to cutting your nails. It is designed to accommodate thicker nails, not just in the way they open but in the width of the toenail they can accommodate (15mm).
Impressed with the capabilities the clippers promised, we bought a pair and put them to the test. Our first impression was of how sharp the blades are. These are razor-sharp and will get through toenails of any thickness. In addition, the handle was easy to grip and required barely any pressure to cut.
Key features
SZQHT makes these wide jaw opening toenail clippers from premium stainless steel. This metal is ideal as it is resistant to corrosion and rust, and it retains sharp edges well.
The design of these clippers sees an elongated and reinforced handle that makes the toenail clippers easy to maneuver. The long handle also ensures that only minimal pressure is needed to make the clippers cut.
The blade of these clippers is exceptionally sharp and features a curved edge that follows the shape of your nail for a more precise cut.
Because the jaw of the clippers opens so wide, it is easier to cut thicker nails that result from aging or diabetes. The trimmers allow you to cut deeper into the nail, so it is always important to take care when using them to prevent injury.
Pros
They come with a nail file
The jaw of the clippers accommodates any nail size
The blades cut through tough nails with ease
Cons
The sharp blades can be dangerous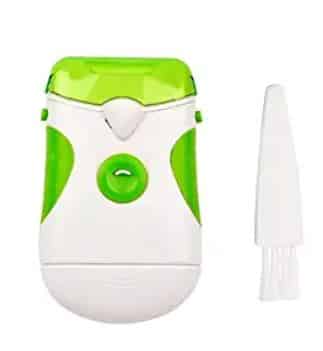 Cogihome is a brand that offers household goods and products that range from boxing punching bags and gaming controllers to nail clipper sets. The brand prides itself on providing products that are expertly made from premium materials.
The Cogihome Electric Nail Trimmer piqued our interest and left us wanting to know more about the device, how it worked, and the results it provided.
Specs
Provides both trim and file functions
Includes an LED light for use in a low-light situation
Uses a rotating blade that spins at 500rpm
Features an ergonomic design
Who is it Best for?
People who no longer have the agility or flexibility to spend extended periods bent over clipping their toenails may want to take a closer look at this electric nail trimmer. It features a motor that is battery operated and that allows the device to cut your nails for you. All you need to do is slot your finger or toe into place.
Compared to the other electric nail clipper in this review, this one from Cogihome is much more affordable. However, the lesser price is a reflection of the functionality of the trimmer. We tested it out and found that while the device worked, it is not suitable for very thick or tough toenails, which is a pity since every other aspect of the trimmer is impressive.
Key features
This slim electric nail trimmer comes with a durable plastic outer shell that features an elegant green and white design. The ergonomic design of this shell makes it comfortable to hold, easy to grip, and simple to maneuver.
At the trimmer's base is the battery compartment that takes two AA batteries, which, unfortunately, are not included.
A small button on the front of the trimmer kicks it into action with a simple touch, making it very easy to operate.
Cogihome's toenail clipper is multifunctional. It features a clipper and a file so that you can give yourself a mani or pedi from the comfort of home.
Also built into the design is an LED light that makes it easier to see what you are doing, especially in low lighting conditions.
Pros
It catches all your nail clippings so no clean-up is necessary
It is comfortable to hold
The clipper is relatively quiet
Cons
Requires batteries that do not come included
Not designed for use on thick toenails
Things to Consider When Buying Heavy Duty Toenail Clippers
1. Blade Shape
When buying nail clippers, you will be faced with two options for the blades: a straight or curved edge.
A curved blade is easier to use because it follows the shape of your nail, making them easier to cut. While this is great for fingernails, You should not cut toenails in a curved shape to avoid the formation of ingrown toenails.
A straight blade will cut your nails straight across. This may not be the look you want for your manicure, but it is perfect for a pedicure as it encourages the toenail to grow straight, preventing ingrown nails.
2. Material
Always consider the materials your toenail clippers are made from. Your best bet is to go with a pair of clippers made from stainless steel as it is rust-resistant and won't lose its sharp edge.
Steer clear from clippers made from regular steel or aluminum as these will rust, break easily, and won't cut nails as they blunt easily.
When looking for the best nail clippers, there are several things to consider. Giving thought to the brand, durability, material, ease of use, sharpness, and quality will all put you a step closer to finding the toenail clippers that most suit your needs.
By closely examining and testing each of the best nail clippers in this review, we concluded that they each meet the criteria discussed above, making it more simple to find the best nail clippers for thick nails to meet your grooming needs.