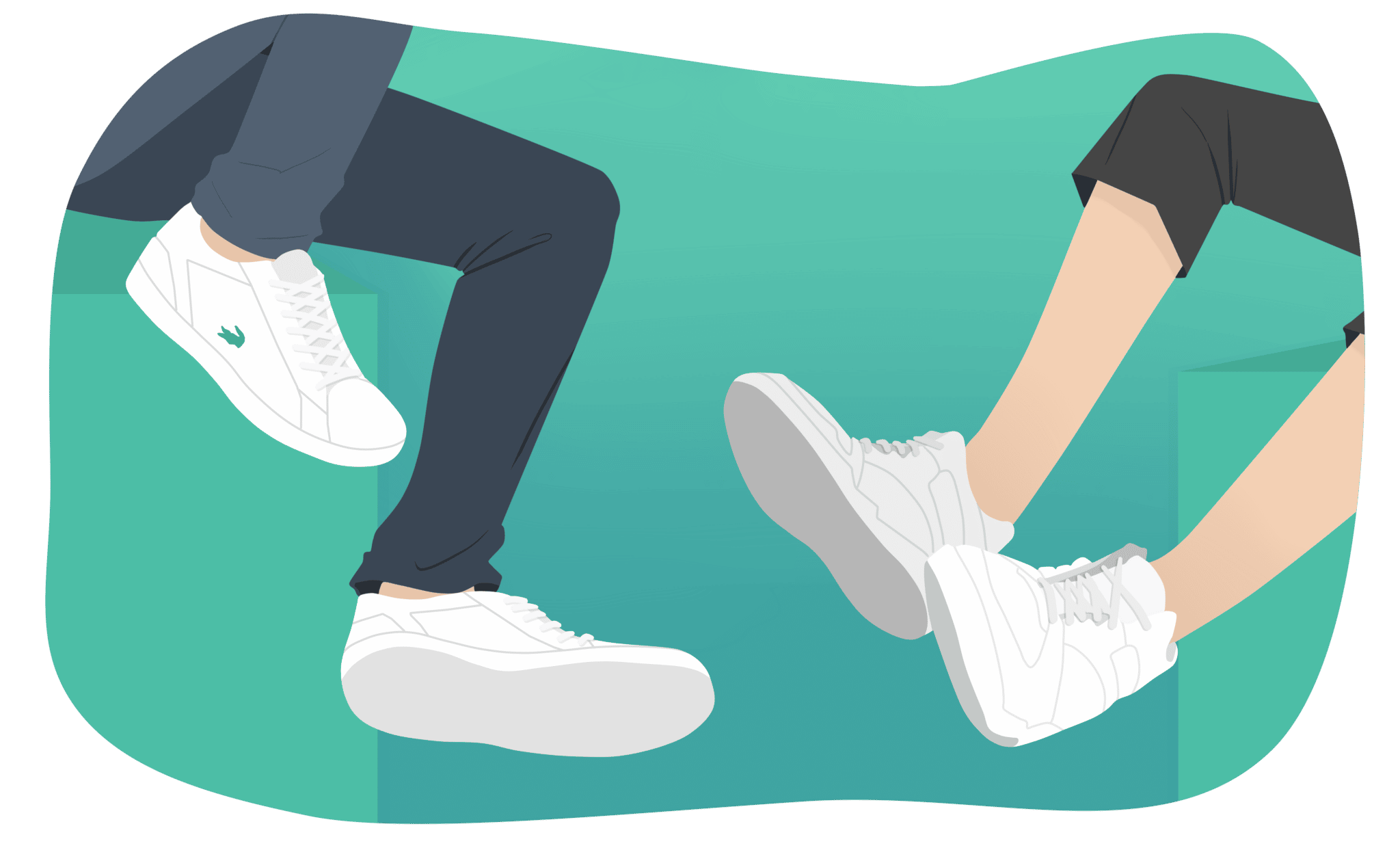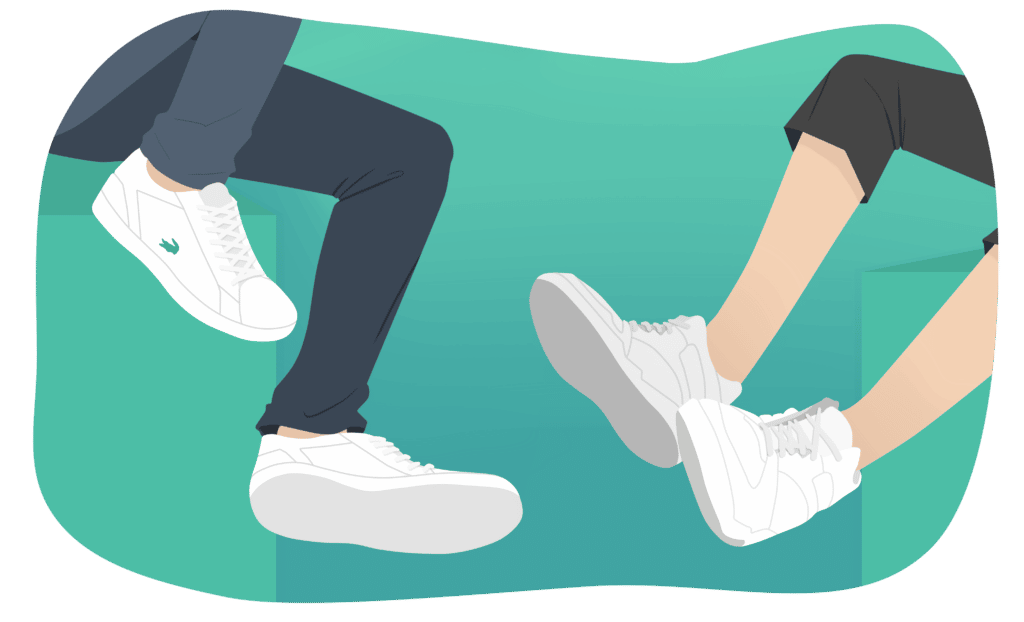 When men's footwear comes to mind, various shoes come up, but the most versatile and perhaps most overlooked is the trusty white sneaker. Jazz up a suit and tie with a pair of sleek white kicks or add a dash of pizazz to your jeans and t-shirt James Dean-style with a couple of classic white sneakers.
While the idea of white shoes and sneakers, in particular, may seem somewhat generic, there are a host of different styles to choose from, the trendy tennis shoe, the lace-up sneaker, the running shoe, and even high-tops that come with a dash of street style.
Unfortunately, not all white sneakers are made equal, and if you're looking to purchase a pair on Amazon instead of heading into Nordstrom or Zappos, a review or two is always handy. Keeping this in mind, we have gathered together the best white sneakers Amazon offers and reviewed each of them to give you a hot list of what is worth wearing this season.
We tried and tested multiple white shoes from Amazon and concluded that these eight are the best sneakers to add a dash of style to your look. We used the approach to chat to men about what they looked for in a high-quality pair of white sneakers and collected together the ones that ticked these boxes. We then reviewed each of them. Our evaluation of each was based on the following criteria: the comfort they provide, support, style, functionality, and durability.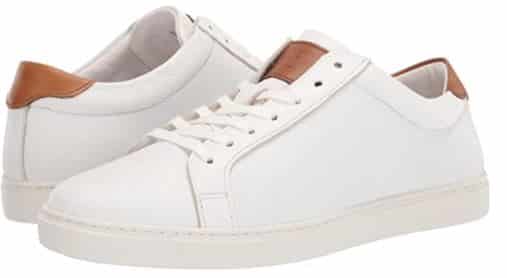 Allen Edmonds is an American shoe brand founded in 1922. The company focuses on designing and producing premium men's footwear and accessories and infuses each product with a dash of class and elegance. In addition, the brand is known for its use of high-quality leather to construct each item, leaving its customers with shoes, belts, and wallets that will last years to come.
Of all the products this brand offers, we were particularly taken with the Allen Edmonds Men's Courtside Oxford Shoe, with its chunky and fresh design.
Specs
Includes a FlyForm removable insole
Comes with a durable rubber outsole
Made with a suede upper and a leather lining
Features a lace-up closure
Who is it Best for?
If a pair of slightly chunky white sneakers are something you want to add to your wardrobe, you need to take a closer look at these kicks from Allen Edmonds. The shoes feature a sporty look with a slight platform rubber sole that gives them a chunky look.
Impressed with their style and ability to spruce up any look, we gave them a try. While the sizing was a little off (they were half a size too big), the comfort they provide is remarkable. The roomy toe box and soft insole added to the feeling of never wanting to take these shoes off.
The downside to these kicks, though, is that they are expensive. Now, don't get us wrong, you get what you pay for in terms of quality and style, so this is more of a budget issue than anything.
Key features
Allen Edmonds' Courtside Oxford Sneakers are made with a soft and stylish white suede upper. The shoes are then lined with leather, and the combination of the two leaves you with shoes made to last. The suede is breathable and softens further with time to leave you with a shoe that fits perfectly to your foot.
A roomy interior combines with a FlyForm removable insole designed to provide extra support to your foot and shock absorption that protects your feet and knees when you walk.
The durable rubber outsole provides additional shock absorption and features impressive tread that gives you the grip you need no matter what surface you end up traversing.
A stylish lace-up closure makes the shoe simple to slip on and off.
Pros
They provide a regular and roomy fit
They offer great flexibility for comfortable wear
The insoles are removable
Cons
These sneakers are expensive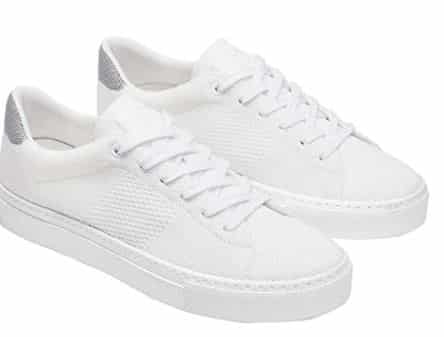 Greats is Brooklyn's first sneaker brand. Founded in 2014, this brand hails from New York City and offers the style and construction to prove it. Greats design its sneakers to be your go-to shoe, dependable, classy, and comfortable, a shoe that will make walking the big city streets feel like you're walking on air.
Captivated by the look of these shoes, we wanted to find out whether the comfort and fit matched, so we gave the GREATS Royale Knit Sneakers a try.
Specs
Made in Italy
Includes a recycled rubber sole
Made from yarn that is upcycled from seven plastic bottles
Features a footbed with antimicrobial properties and extra cushioning
Who is it Best for?
If protecting the environment and keeping eco-friendly is something you take pride in doing, you may want to look a little closer at these shoes from Greats. The brand does its part for the environment when manufacturing these shoes. Each pair is made from a durable eco-knit textile made from the plastic of seven bottles, a small but helpful move to combat plastic waste.
These Italian sneakers (designed in Brooklyn, made in Italy) sit mid-range on the price scale when it comes to luxury white sneakers. The slightly higher price could be attributed to the process used to upcycle the plastic and because the quality of these kicks is outstanding. Either way, in our opinion, they are worth the price.
Key features
Greats make these Royal Knit Sneakers from 100% vegan-friendly materials. The upcycled knit uppers are made from recycled plastic bottles and offer exceptional durability and breathability.
The footbed is designed to provide exceptional cushioning and offers protection against foot fatigue and shock that results from the impact of daily walking. In addition, the footbed is made with antimicrobial properties that prevent odor associated with sweaty feet.
A removable insole offers further cushioning and can be removed and replaced with orthotic insoles of your own.
The natural rubber outsole creates a soft rebound that absorbs shock to protect your feet and knees from impact. These soles also feature a unique tread that provides exceptional grip, making it simple to traverse even the most slippery or uneven surfaces.
Pros
Vegan and environmentally-friendly
The shoes are easy to wash
There is no break-in period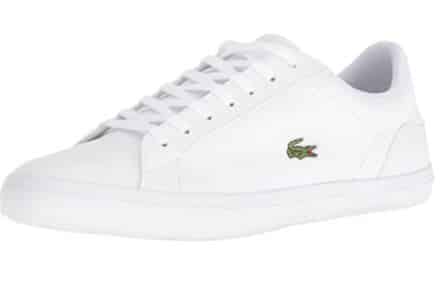 Lacoste is a French brand founded in 1933 by two tennis players René Lacoste and André Gillier. The brand is known for its apparel, footwear, sportswear, accessories, fragrances, and leather goods. Easily recognized by the green crocodile logo, the band is loved across the globe for its minimalist style and exceptional quality.
We happened across the Lacoste Men's Lerond Sneaker and wanted to learn more about how it fitted, the comfort it offered, and how it fared when worn for walking about town.
Specs
Sees a tennis-inspired style with a chunky look
Includes a vulcanized rubber sole
Features a leather and canvas upper
Comes with a breathable mesh lining
Who is it Best for?
Sleek, stylish tennis-style court sneakers are the ideal way to jazz up your jeans and t-shirt or add a casual flair to a suit for a semi-formal look. If you are looking for a white pair that does just that, these sneakers from Lacoste make an excellent option.
These retro sneakers fall in the mid-range price category and are relatively inexpensive for a pair of designer leather kicks when you come to think of it.
We were so impressed with the price that we decided to give them a try to see whether it was too good to be true. The shoes took a while to break in, but they were really comfortable once they had. However, the durability was also questionable, with the sole separating from the shoe after a few months of wear.
Key features
Lacoste makes these chunky white sneakers with a combination upper that features a blend of genuine leather and canvas. This combo provides durability and style and allows air to circulate your feet, keeping them cool, comfortable, and sweat-free.
The lining of the shoes is made from soft cotton mesh that adds to the breathability of the shoes and makes them soft against your feet. This mesh also features moisture-wicking properties, drawing any moisture to the surface of the shoe to evaporate, keeping your feet dry and comfortable.
The soles of these sneakers are made from vulcanized rubber, that is, rubber that has been treated to make it more durable and robust. These soles feature a stylish tread that gives you traction to prevent slipping on wet or high-shine surfaces.
Pros
The shoes soften to fit your feet perfectly
They are very easy to clean
The shoes offer a great fit
Cons
The durability could be improved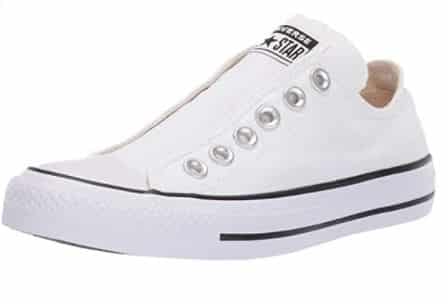 Converse is an American brand that has been around for over a century. The brand is known for its stylish sneakers, but the one design in particular that has sneakerheads foaming at the mouth is the Chuck Taylor All-Stars.
When we came across the Converse Chuck Taylor All-Star Slip Sneaker, a slip-on version of the classic sneaker, we had to give the shoe a try to see how it fared in comparison.
Specs
Comes with an Ortholite insole
Includes a canvas upper
Features a slip-on design
Has a durable rubber sole
Who is it Best for?
If you love the look of a sneaker but don't have the time or inclination to tie laces, this slip-on sneaker from Converse is the perfect solution. This unique pair of kicks provide the look and feel of a classic pair of Chuck Taylor All-Stars, but they feature a slip-on design that sees a lower heel that makes it easy for them to slide onto your feet.
Compared to other white sneakers on the market, these shoes are relatively inexpensive. While they aren't leather, they are durable and well worth the price they are offered at.
We gave them a try and found them to be as light as a feather and extremely comfortable. The sizing is a little large, but that is generally the case with Chucks, but a good thing to keep in mind.
Key features
Converse makes these slip-on Chucks with a 100% cotton canvas upper that is soft and easy to clean. In addition, the cotton makes the uppers breathable, allowing air to circulate your feet to keep them cool and free from sweat.
The shoe's overall design is the same as that of the regular full-size All-Stars sneaker with a few changes. Firstly, this pair features no laces due to the slip-on design, although the lace eyelets are still present should you wish to add some in for aesthetic purposes. Secondly, the heel area of the shoe sits lower and is padded to prevent blisters and rigidity that makes the sneakers easy to slip on without having to use your hands.
These kicks also come with a soft, cushioned OrthoLite insole that provides exceptional support and comfort.
Pros
They offer exceptional comfort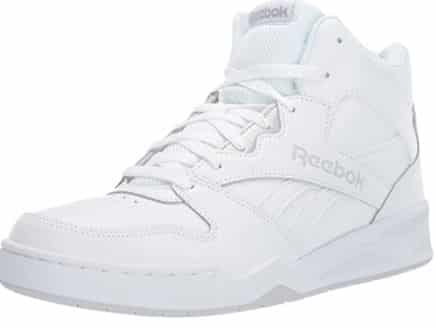 Reebok was founded in 1952 in the UK and became a subsidiary of sportswear brand Adidas in 2006. Reebok designs and produces casual and sporting apparel and footwear and, in particular, CrossFit sportswear.
While the brand is recognized globally for its sporting footwear, it is Reebok's casual footwear that also deserves mention, in particular kicks such as the Reebok Men's Bb4500 Hi 2 Sneakers that feature a unique and stylish design.
Specs
Made from a blend of leather and mesh canvas
Comes with a high-abrasion rubber outsole
Includes a removable EVA sock liner that accommodates orthotics
Features a mid-cut design for added support
Who is it Best for?
If you enjoy the idea of basketball-style sneakers that come with even more support than usual, you may enjoy these white sneakers from Reebok. They feature a mid-cut design that sees them sitting just above the ankle, providing you with additional support and a unique style that will leave your fellow sneakerheads gaping with envy.
Compared to other sneakers with a similar style, these kicks are relatively inexpensive for what they offer and sit midrange on the price scale.
We tried them out and found them to provide exceptional comfort and sufficient space for people with wide feet. The fit is perfect and the cushioning the shoe offers makes these sneakers ideal for anyone who finds themselves on their feet for long periods. Better still, they are slip-resistant.
Key features
Reebok makes these high-tops from leather and mesh canvas upper. The leather provides style and durability, while the mesh allows for breathability that allows air to circulate your feet. This fresh air helps to regulate the temperature of your feet, preventing them from overheating and becoming sweaty and uncomfortable.
The mid-cut design sees the shoes ending just above the ankle, providing additional support for your feet and ankles.
Inside the shoe, you will find an EVA sock liner that offers support and cushioning. This liner is also removable should you wish to insert your own orthotics instead.
A durable rubber sole absorbs shock from impact as you walk without dampening the energy in your step and allowing for impressive responsiveness.
Pros
The shoes are slip-resistant
They are ideal for people with wider feet
Cons
The sole is a little hard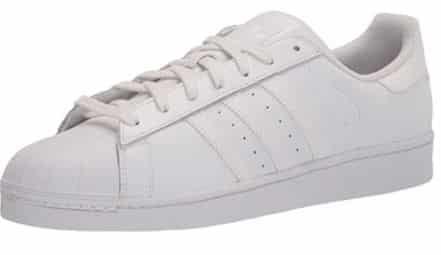 Adidas is a German brand founded in 1924 by Adi Dassler, who had one goal – to provide athletes with the best equipment and footwear to reach their goals. The brand gained traction after many of the athletes that wore Adidas shoes won gold. Today the brand is recognized globally for its high-quality products and premium designs.
While Adidas is known for its sports apparel, the brand also offers a selection of casual wear, like the Adidas Originals Men's Superstar Foundation Shoes Sneaker.
Specs
Comes with a soft leather upper
Includes a sturdy rubber sole
Features a molded sock liner
Sees the proprietary "shell-toe" design
Who is it Best for?
If you want a sleek pair of white sneakers that have that sort of style that pairs well with just about any outfit, these sneakers from Adidas may be the solution you need. They offer a minimalist, low-profile design accentuated by three black stripes representative of Adidas' logo.
With their premium materials and high-quality construction, the sneakers come in at a mid-range price, making them relatively inexpensive for what they offer. However, a pair may require a little saving.
Sneaker wearers across the globe favor the classic Adidas Originals Men's Superstar Foundation sneaker, and naturally, we wanted to find out why. So we bought a pair and tried them out for a few weeks. Unfortunately, while these shoes offer an exceptional fit and outstanding comfort, they are not made for wearing while you play sports.
Key features
Adidas makes these sneakers with a durable white leather upper that is soft and comfortable while being sturdy enough to support your feet. In addition, the inner shoe features a breathable and moisture-wicking lining. This lining draws any sweat or moisture to the surface of the shoe where it can evaporate, keeping your feet dry and odor-free.
A molded sock liner is designed to add comfort to the shoe by providing additional support for your foot and a cushioning that makes the shoes enjoyable to wear for extended periods.
The durable rubber sole absorbs the shock from the impact experienced while you walk, protecting your feet and knees. The soles also provide exceptional traction made to prevent you from slipping on wet or uneven surfaces.
Pros
They are comfortable enough for all-day wear
The shell-toe design creates a roomy toe box
They provide exceptional comfort
Cons
Not designed as a sports shoe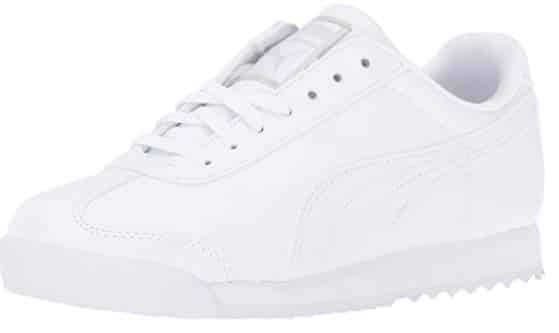 Puma was founded in 1948 by Rudolf Dassler, brother of the founder of Adidas. This German brand designs and manufactures premium sportswear that is loved by athletes across the globe and today is regarded as the third-largest sportswear manufacturer worldwide.
While Puma primarily makes sporting apparel, the brand has also diversified into casual wear, offering apparel and footwear like the PUMA Unisex-Child Roma Basic Summer JR-K Sneakers.
Specs
Made from 100% leather
Comes with a firm rubber sole
Includes orthopedic arch supports
Features a thick padded tongue for additional support and comfort
Who is it Best for?
If you're looking for a cool pair of white sneakers for the little dude in your life, these unisex kids' sneakers from Puma make an excellent choice. These stylish shoes come with a selection of features that makes them comfortable enough to run and play in all day long.
Compared to other children's sneakers on the market, these are relatively expensive. However, we put the slightly higher price down to the quality materials, the construction of the shoes, and the name that backs them.
We tested a few pairs out on our junior family members and found that they are perfect for active little boys who need exceptional grip and traction. The sizing is on point, and they are durable too, perfect for busy little humans.
Key features
Puma makes these kid's kicks from a durable leather upper that provides soft yet sturdy support for little feet. In addition, the inner of the shoe is lined with a textile that provides moisture-wicking properties and breathability that keeps feet cool and comfortable.
The lace-up design makes the shoes easy to slip on and pull off.
Inside the shoe, you will find orthopedic arch support that provides exceptional support when combined with the thick padded tongue, keeping your feet firmly in place.
Durable rubber soles offer shock absorption that protects the feet and knees from impact. The underneath of these soles also features an impressive grip that creates traction on slippery and uneven surfaces, keeping busy little bodies upright and on their feet.
Pros
They come in a range of colors
The sneakers offer impressive grip
Cons
These sneakers are expensive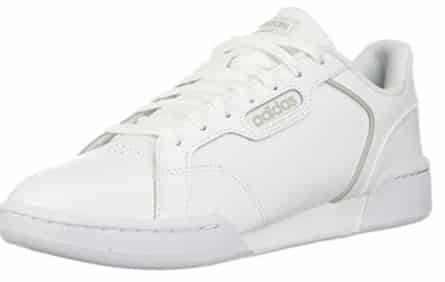 Adidas is a multinational sportswear and footwear brand that is loved by athletes across the globe. Founded in 1924, the brand has expanded to be the world's second-largest sportswear manufacturer. When the brand is not sponsoring sports teams and athletes, it focuses on its next innovative design.
The Adidas Men's Roguera Cross Trainer is one of these innovative footwear solutions. These shoes are a casual take on regular cross-trainers and offer versatile style and comfort.
Specs
Made with a coated leather upper
Includes a breathable textile liner
Features an iconic twin-cup midsole
Comes with a durable rubber outsole
Who is it Best for?
Cross trainers usually come with a little more flexibility and add bounce to your step. Adidas has incorporated these features into its Adidas Men's Roguera Cross Trainer, along with a casual style that pairs perfectly with just about any look. So, if you want a casual shoe that wears like a sports shoe, this is it.
It would be easy to assume that sneakers such as these, with their high-quality materials and expert craftsmanship, would cost a pretty penny. However, these shoes come in at the lower end of the price scale, making them more affordable than most luxury white sneakers on the market.
Interested to see whether the price was an indicator of comfort, we gave a pair of these kicks a try and found them to be highly supportive, comfortable, and they garnered many positive compliments. They also offer great flexibility and are easy to clean.
Key features
Adidas makes these sneakers with a coated leather upper that is easy to clean and exceptionally comfortable. The leather is durable and soft but still offers excellent support.
The shoe's lining is made with a breathable textile that keeps your feet cool and comfortable while wicking moisture away from your foot towards the surface of the shoe, allowing it to evaporate.
An EVA midsole is included in the design and offers good support, cushioning, and impressive rebound that allows you to keep the spring in your step without any of the damaging impact to your feet or knees.
A durable rubber outsole provides further shock absorption and cushioning. The sole is also more flexible than most, making traversing different terrain comfortable, while the grip ensures you remain on your toes.
Pros
The EVA midsole provides impressive cushioning
The flexibility of the sole makes these shoes great for all-day wear
The grip on the shoe is great for walking on loose gravel
Cons
The overall durability could be improved on
Things to Consider When Buying Balding Clippers
1. Type
When buying a new pair of white sneakers, there are a few aspects to consider. However, one of the essential considerations is the type or style of sneaker. Let's take a look at some of the choices you will find:
A slip-on sneaker features the quintessential sneaker look and feel except that the back of the shoe sits lower at the heel and usually comes with heel padding that makes it easy to slip on and off your foot without the need for laces.
These sneakers feature a lace-up closure and end just below the ankle. This is the traditional look for most sneakers like the Converse Chuck Taylor All-Stars.
A high-top sneaker offers the same design and style as a low-top sneaker, except that the shoe ends just above the ankle at the base of the calf. These shoes provide a little more support and are synonymous with basketball.
A platform sneaker comes with an added platform in the sole area of the shoe. These shoes elevate you in height and add a chunky look to the shoe. These shoes are less flexible than the average sneaker and are better suited to casual wear.
2. Material
Brands make sneakers from a variety of different materials, but the two most common (and most easy to clean) are leather or canvas or a combination of the two.
Leather sneakers provide impressive durability and give a dash of pizazz that makes them ideal for wear with most outfits. They aren't as breathable as most canvas kicks, but they come out tops in style.
Canvas sneakers don't give the same sleek finish as leather, but they are far more breathable and offer the same comfort level. They are also easy to throw in the washing machine when they need a clean.
When looking for the best white sneakers, there are several things to consider. Giving thought to the brand, durability, style, features, comfort, and quality will all put you a step closer to finding the white shoes that most suit your needs.
By closely examining and testing each of the best white sneakers in this review, we concluded that they each meet the criteria discussed above, making it more simple to find the best white kicks to meet your wardrobe needs.