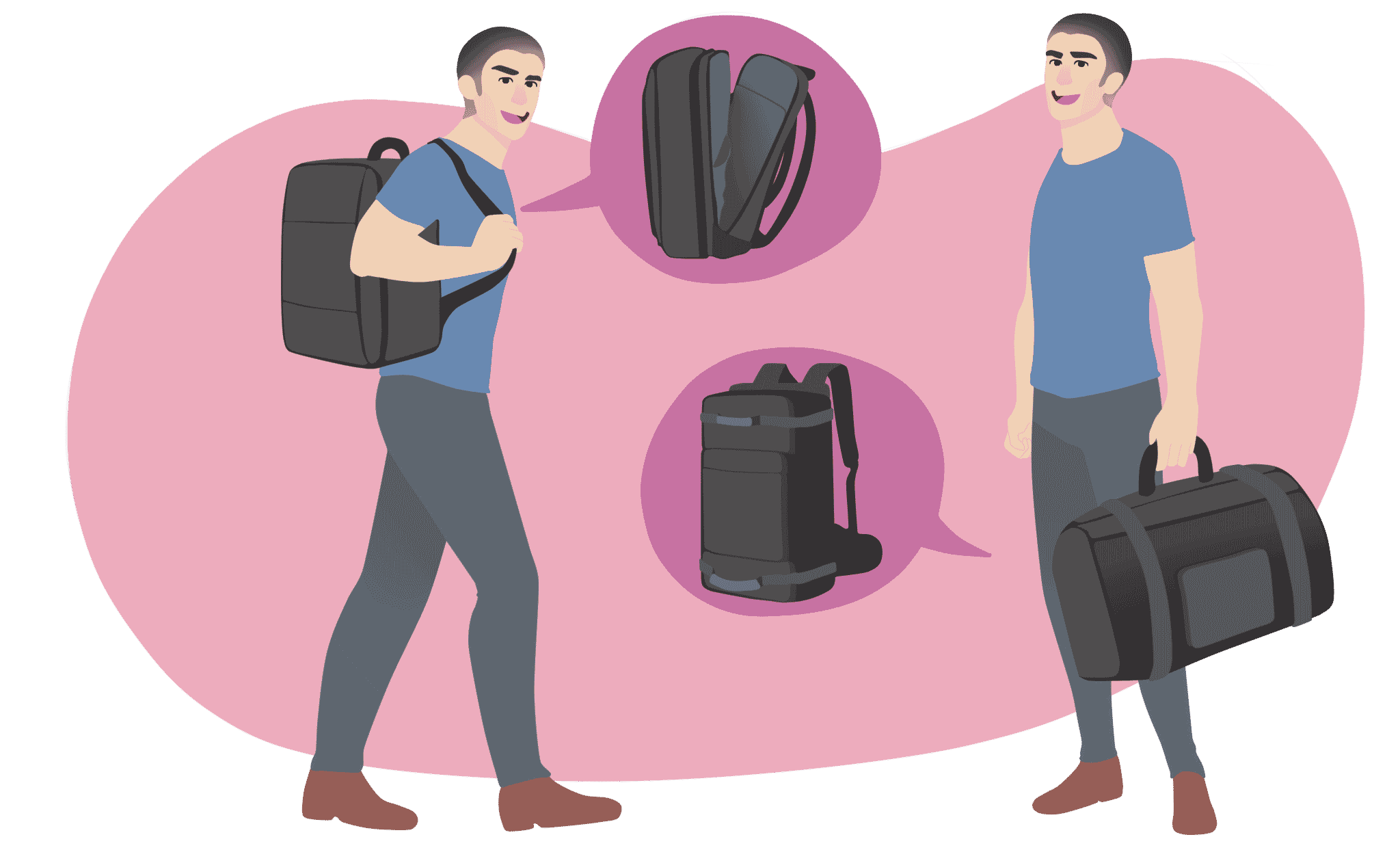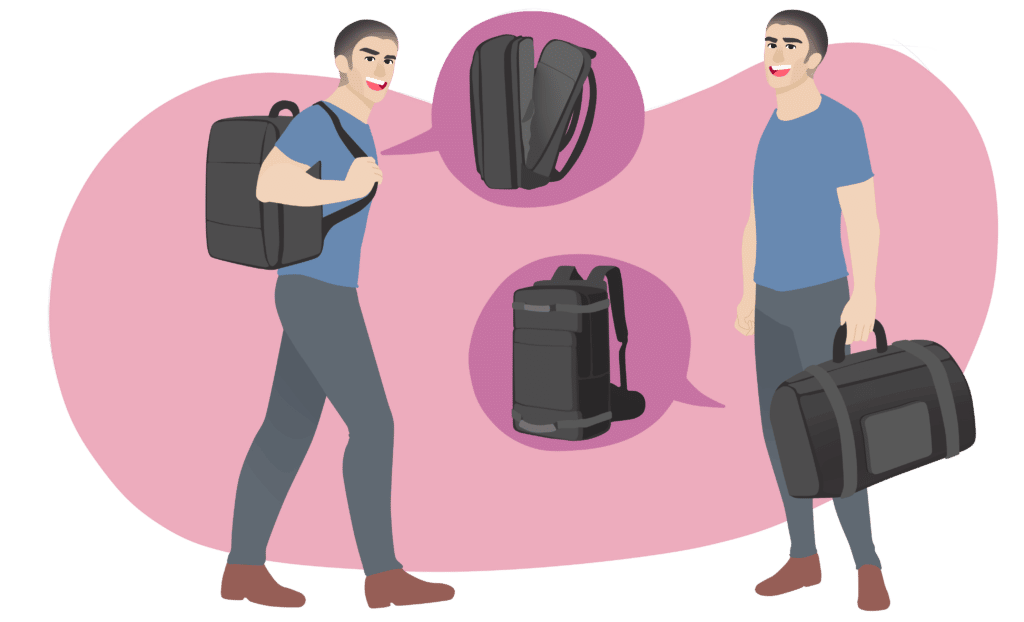 Whether you and your friends are digital nomads or you love weekend trips where you go trekking, you're going to need a backpack that meets your needs. And while not every duffel bag or tote is perfect for both scenarios, there is a variety available that comes pretty close.
If you want the ultimate pack for one-bag travel, it is best to find one that provides comfort, durability and is easy to organize. And, if it is TSA-approved and causes no problems with airport security, even better!
Unfortunately, not all travel gear is made equal. To make it less challenging for you to find the best carry-on bag, we have gathered together the best Amazon offers. This backpack review sees a detailed look at each duffel bag that made our list of top picks. So let's take a closer look!
We tested multiple daypacks from Amazon and concluded that these 12 are the best backpacks for trekking and travel. We used the approach to chat to men about what they looked for in high-quality travel backpacks and collected together the ones from Amazon that ticked these boxes. We then reviewed each of them. Our evaluation was based on the following criteria: the comfort offered, how the bag functions with heavy loads, style, TSA compliance, functionality, and durability.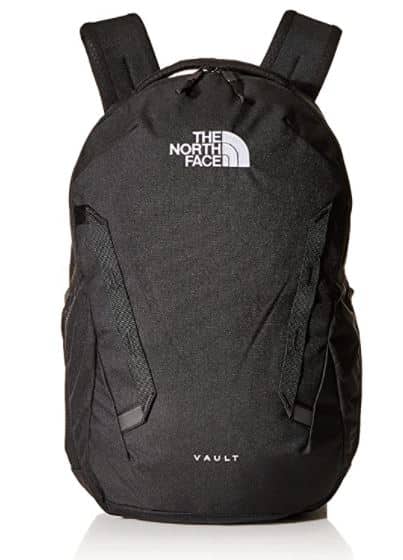 The North Face, named for the coldest and harshest mountain face, was founded in 1966. The brand is dedicated to providing adventurers and explorers with quality apparel and gear, whether a sleeping bag, tent, or daypack. In addition, the brand focuses on ensuring each product offers durability, expert craftsmanship, and style.
One of the brand's offerings that caught our eye is The North Face Vault Backpack. It is the ideal backpack for hiking, carry-on luggage, or varsity.
Specs
Comes with a water-repellent design
Features a FlexVent suspension system with mesh padded back panel
Includes a laptop sleeve and a water bottle pocket
Sees a sternum strap for additional support
Who is it Best for?
Whether you are looking for a backpack to carry supplies on your next hike or to protect your laptop when you're at varsity, this daypack from The North Face makes an excellent choice. It is designed to offer durability and functionality while still maintaining a level of style.
Compared to others on the market, the backpack is relatively inexpensive for what it offers and comes in at mid-range pricing. In addition, the bag's capacity is impressive at 26-liters and, combined with its ability to hold a 15-inch laptop, makes it, in our opinion, well worth the price.
We wanted to test the bag out for ourselves, and after using it for various outings and to carry different goods, we found it to offer the durability the brand is so well-known for. The bag wasn't too bulky; however, there is no grip on its underside, and we found it tends to tip over as a result of this.
Key features
The North Face designs this backpack from 600D recycled polyester, finished with a non-PFC durable water-repellent that leaves the bag resistant to anything the elements may throw at you.
When considering the impact this bag has on your spine and back, The North Face took things to the next level by designing it so that it gained endorsement from the American Chiropractic Association. This bag features a unique FlexVent suspension system with a custom injection-molded yoke and a set of flexible backpack straps. In addition, a breathable lumbar panel and a padded back panel provide exceptional comfort and protection for your back that prevents the contents of the bags from digging into your back.
Organizing this bag is simple, thanks to the padded laptop pocket that fits up to a 15-inch laptop and multiple storage pockets.
Pros
Endorsed by the American Chiropractic Association
Cons
The grip on the bottom of the bag could be improved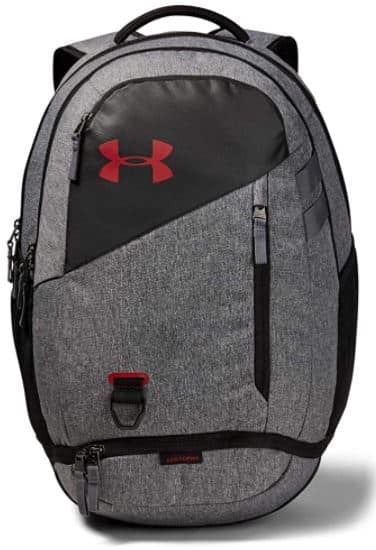 Under Armour is an American brand founded in 1996. The company began with the design of a t-shirt that offered exceptional moisture-wicking properties that athletes across the globe came to favor.
Today the brand offers a wide selection of performance wear and gear. However, an item of gear that left us wanting to know more is the Under Armour Adult Hustle 4.0 Backpack, with its contemporary rounded design and impressive storage offerings.
Specs
Made from a blend of polyester, polyurethane, and nylon
Features a 14-inch shoulder drop
Includes UA Storm technology for water-resistance
Provides a 26-liter capacity
Who is it Best for?
Under Armour's backpack is unique in that its design makes it perfect for use when you go backpacking or to transport your laptop to and from the office, making it highly versatile and ideal for every occasion.
The capacity the bag provides is impressive, and each compartment is well-considered and constructed. A laptop sleeve will hold computers up to 15 inches in size, and two water bottle holders make it easy to carry fluids with you on your hikes.
Compared with other offerings on the market, this backpack is reasonably priced. It comes in 43 different color options, too, so you can find the one that most appeals to your sense of style.
After trying the daypack out ourselves, we found the bag provides exceptional durability and ample compartments to stow items in. The only downside is that the compartment at the bottom is not large enough to fit shoes in, which means they need to go in the body of the pack, making it bulky.
Key features
Under Armour manufactures this backpack from a blend of polyester, polyurethane, and nylon that gives it durability. A water-resistant finish that protects your items from rain, sleet, and anything else the weather sends your way – no more running to avoid the downpour to protect your laptop. The base of the bag features an abrasion-resistant panel that secures the bag from rips, tears, and scuffing.
The HeatGear straps are designed to be breathable and moisture-wicking. They keep you comfortable and dry, and adjustable, so you can set them to the length that best suits your needs.
This backpack provides ample compartments to store your items. Two large front pockets, a laptop sleeve, and two compartments in which to hold a water bottle or two, and a gusseted bottom pocket for shoes and laundry are all included in the design.
Pros
It offers a separate compartment for dirty laundry
The pack fits a 15-inch laptop
The color options are impressive
Cons
The bottom compartment doesn't properly fit shoes as suggested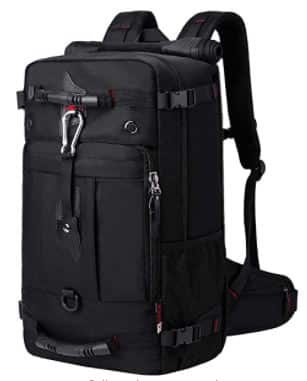 Kaka is a brand that focuses on the design and manufacture of premium backpacks, daypacks, and weekender luggage. The company provides a wide selection of styles and designs that each offer expert craftsmanship and construction.
We stumbled upon the KAKA Carry-On Travel Backpack, which had us stopping in our tracks. This sleek and stylish backpack makes the perfect choice for digital nomads looking for a safe way to transport their laptops to and from the office.
Specs
Made with terylene oxford fabric
Provides a 40-liter capacity with ten compartments
Fits a 17.3-inch laptop
Includes adjustable shoulder straps and waist belt
Who is it Best for?
Businessmen who find themselves traveling often and in need of a travel bag that is secure, durable, and that provides sufficient space for a few days' clothing and a laptop may want to look a little closer at this offering from Kaka.
This travel bag provides ample space to store clothing for a few days or even your prized camera gear and laptop. The lockable zippers and high-quality fabric construction give this backpack the security needed when traveling and using it as a carry-on bag.
As frequent travelers, we tested this backpack out to see whether the bag is as durable as it seems, and we were not left disappointed. In addition, the bag converts easily between a backpack and a duffle allowing for versatility. However, the bag falls short because accessibility is not as easy as you would think, even with all the pockets it has.
Key features
Durability and space are key in the design of this backpack from Kaka, which is made from premium terylene oxford fabric. The pack features ten divisions and pockets that include a laptop compartment that fits a 17.3-inch computer. The main compartment, three zippered front pockets, two shoulder strap pockets, and a side mesh pocket for a water bottle are among some of the compartments you will find. Use bags or packing cubes to neatly store clothing in the backpack or carry your photography gear in this spacious carry-on size bag.
A padded back panel and shoulder straps make the bag comfortable to carry, while the top handles allow you to carry it in hand like a duffle bag or as carry-on luggage.
The bag sees an anti-theft design that sees a secure password lock and lockable zippers. In addition, adjustable waist straps allow you to secure it to your body for additional security.
Pros
The bag converts between a backpack and a duffle
It comes with lockable zippers
The weatherproofing is impressive
Cons
The multiple pockets aren't as accessible as we had hoped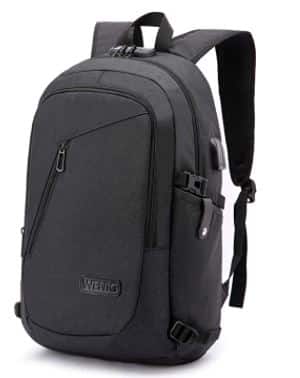 Wenig is a backpack brand that offers a variety of styles to suit every need. Each daypack is crafted from premium materials that provide weatherproofing, anti-theft capabilities, and durability to leave you with cases that are ideal for every occasion.
The Wenig Laptop Backpack is designed with businessmen and students in mind, offering a secure place to store a laptop, folders, and other items you may need.
Specs
Comes with 15 pockets in total including an anti-theft pocket
Includes a USB port and headphone jack
Made from waterproof Oxford fabric
Includes lockable zippers
Who is it Best for?
Men who commute daily between home and the office may not always enjoy using a briefcase and prefer a more contemporary option such as a backpack. If this sounds like you, take a look at this laptop backpack from Wenig. The day pack provides sufficient space for your necessities, a 15-inch laptop, and a water bottle.
Compared to other backpacks we have reviewed, this one is inexpensive and is ideal for anyone looking for a single-purpose bag.
We tried it out to see how it fared and found the backpack sturdy, stylish, and best of all, it offers easy access to items you keep inside. One downfall is that it is a little on the small side, making it ideal for the necessities, but not as a weekender bag.
Key features
This backpack is made from durable Oxford material that features a water-resistant finish to protect the items inside from rain, sleet, and dust. Breathable mesh shoulder straps are adjustable to keep your shoulders comfortable and dry, even on hot days.
The bag's construction sees 15 compartments that include three main pockets with nine smaller inner pockets, two side pockets, and a zippered pocket at the back that comes with an anti-theft design.
This backpack includes a USB port and a headphone jack that allow you to charge devices with a power bank while you still use them or listen to music while your music player is kept safely in the bag.
Safety is not overlooked, and the bag comes with a fixed password lock that provides additional protection when you travel.
Pros
Allows for quick access to items
The bag is water-resistant and weatherproof
Cons
The backpack is a little on the small side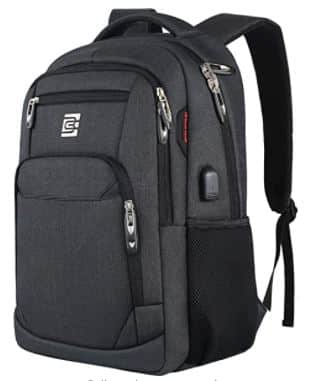 Volher specializes in the design and manufacture of backpacks, luggage, and travel gear. The brand combines sleek designs and durable construction to leave customers with top-quality products that last. So whether you need travel goods or a sturdy backpack for your daily commute, chances are Volher has what you need.
The Volher Anti-Theft Business Laptop Backpack is one piece of luggage the brand offers and is one of their best-sellers. It isn't hard to see why.
Specs
Provides a laptop sleeve that fits a 15.6-inch laptop
Made with water-resistant polyester
Includes a USB port and headphone jack
Features a breathable back panel
Who is it Best for?
Whether you need a backpack for travel, to use for university or school, chances are you're going to need one that offers enough space for all your items and provides a few additional features that make life more convenient. So if this sounds like your kind of backpack, this one from Volher is worth looking at a little more closely.
The backpack is big enough to carry a 15.6-inch laptop and multiple other necessities without becoming bulky or uncomfortable.
When we first came across the bag, we expected it to have a price tag that would break the bank; luckily, we were wrong. This slim-design backpack is affordable and sits at the lower end of the price scale. It also offers a host of features that left us astounded, and it is as durable as they come. The only downside? It doesn't come in a more extensive range of colors, but that's just us being fussy.
Key features
Volher ensured when they designed this backpack that they took all of the essential features and included them, from an anti-theft back pocket to a USB charging port for your phone and even a headphone jack, so your favorite music is never far away.
The backpack features a main compartment that will hold your laptop (up to 15.6-inches), a second pouch for smaller tech and folders, and a front pocket for your mouse or other gadgets and chargers. In addition, two mesh side pockets provide a place for water bottles and a compact umbrella.
If you're concerned about your laptop or the contents of your backpack from becoming damaged by the weather, don't be. The bag is made from durable and water-resistant polyester that keeps the rain and dust out.
Pros
Includes a handy luggage strap
The bag is comfortable to wear over your shoulders for extended periods
The anti-theft pocket is exceptionally secure
Cons
Only comes in four color options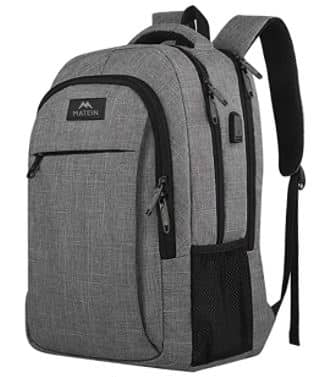 Matein is an American brand founded in Colorado in 2014. Although a relatively new kid on the block, this brand has made global strides and today is one of the world's most-loved producers of backpacks, travel bags, and camping clamshell satchels.
The Matein Laptop Travel Pack is one of the brand's best-selling backpacks, and it is easy to see why with its sleek design and impressive features.
Specs
Includes a multi-panel airflow back
Comes with an external USB port
Fits a 15.6-inch laptop
Features a luggage strap
Who is it Best for?
If your briefcase has seen better days and you're looking for a more contemporary bag that works well as a travel bag, too, this backpack from Matein makes a perfect choice. It provides all the space you may need for your laptop (up to 15.6-inches) and other items you may need to carry with you.
If you often travel for business, this bag offers excellent features such as a luggage strap that makes it easy to attach to your larger bags – a simple piece of carry-on luggage.
This well-priced piece of baggage is offered in over ten different colors, so you can choose the shade that most appeals to you or that match your existing luggage.
Better yet, this backpack has a slim design, and because it isn't expandable, it doesn't become bulky when you fill it with your items.
Key features
Matein backpacks are stylish as it is, but they also provide exceptional durability and resistance to water and the elements. In addition, a multi-panel airflow back allows air to flow between your back and the backpack, preventing you from overheating and becoming sweaty. The shoulder straps are also padded to avoid your shoulders from aching and becoming uncomfortable.
The bag features numerous pockets, including a separate laptop compartment, the main compartment for clothing or folders, a front pocket for chargers and glasses, two side pockets, and an anti-theft back pocket for passports, wallets, and phones.
A built-in USB port allows you to charge your device without having to carry your power bank in your hand; connect the two through the bag for a hands-free experience.
Pros
Comes with a lifetime warranty
The design is slim and lightweight
Cons
Doesn't include a power bank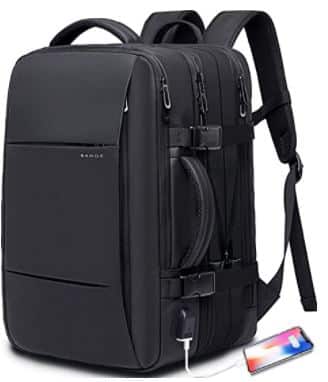 Bange is a brand that offers a variety of backpacks that come with a unique style and design. The contemporary style and design these bags feature includes a clamshell look or a versatile shape that transforms the bag from a backpack to a duffle, a briefcase, or a tote.
The Bange Weekender Luggage Backpack that caught our eye falls into the latter category, making it ideal for anyone who wants a bag that can be used for any occasion.
Specs
Features an expandable design
Made from a blend of Oxford fabric and PVC
Fits a 17-inch laptop
Includes compression straps
Who is it Best for?
This one is for the men who often travel for business and need a backpack that provides sufficient space for a few days' clothing, a laptop, chargers, documents, and toiletries.
The backpack comprises multiple compartments that each fit packing cubes easily and are expandable so that your items fit neatly without becoming squashed or damaged.
Whether you're hopping over to Europe on business or to the South for an overnight stay, this carry-on bag is the ideal piece of luggage to take along with you.
We tested out this versatile bag to see how easy it was to use and whether the capacity is as great as advertised. We found it to be durable, it offers more than enough space, and the compartment design makes for quick access to your items. The downside? There is no water bottle pocket.
Key features
This multifunctional backpack features a sleek design that makes it perfect for business use or a relaxed holiday. The bag comes with side handles, shoulder straps, and a top handle so you can carry it as a duffle bag or wear it as a backpack for a hands-free experience.
A chest strap secures the bag to your person and features an emergency SOS whistle for added safety. Compression straps on the sides transform your bag into a slim design for daily use. You can release these straps to allow the bag to expand to fit in more items for travel.
A waterproof interior pocket provides the ideal place to stow your toiletries to avoid leaking onto your clothing. The laptop sleeve is padded and fits a 17-inch laptop.
Pros
The ability to carry the bag in different ways is handy
The compartments are roomy
The expansion zipper is great for keeping the bag small when needed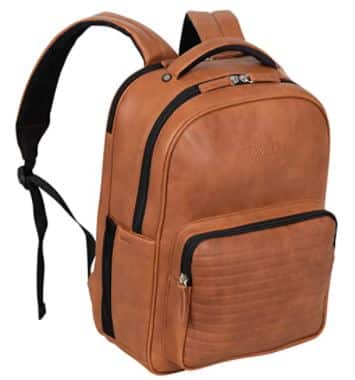 In 1982 American designer Kenneth Cole founded a fashion house with Sam Edelman. The brand began creating footwear and today offers a wide selection of apparel, shoes, accessories, and eyewear engineered for city living.
Kenneth Cole is a brand that is recognized the world over, with items such as the Kenneth Cole On Track Pack Daypack becoming coveted by even the most critical fashion-forward individuals. We love this backpack for its retro style and comfort.
Specs
Features RFID blocking technology
Padded laptop compartment fits 15.6-inch laptops
Made with a tear-resistant faux leather exterior
Includes adjustable shoulder straps
Who is it Best for?
If you want a lightweight, retro-style backpack that you can use as a day-to-day briefcase, you may have found it. This backpack from Kenneth Cole offers remarkable style and functionality that make taking your laptop to work a trendy task.
This travel bag comes in three different colors: cognac (tan), brown, and black. While minimal, each of these color offerings pairs well with most other colors, making the bags versatile in that they match well with your existing wardrobe.
This backpack is a little pricey compared to others in this review, and while we understand that it is the offering of a designer brand, the fact that the leather is faux makes this bag, in our opinion, a little expensive.
Key features
This backpack is made from tear-resistant faux leather and a soft textile lining. The laptop sleeve is padded to provide additional protection. A zippered mesh pocket makes an extra place to store documents and smaller items.
The main feature of this backpack is undoubtedly the Tecnicole RFID Technology. This is an RFID blocking tech that prevents skimmers from obtaining the personal information stored on access cards, credit and debit cards, and ID cards.
A padded back panel comes with a mesh covering that allows breathability and air circulation, keeping your back from overheating and becoming sweaty.
The adjustable shoulder straps can be lengthened or shortened to fit you perfectly. These straps are slightly padded, too, for added comfort. However, it is advisable not to overpack this bag as the straps aren't as durable as one would hope.
Pros
Comes in three stylish colors
Includes dual-sided water bottle pockets
The retro look and feel is trendy
Cons
The straps could be a lot more durable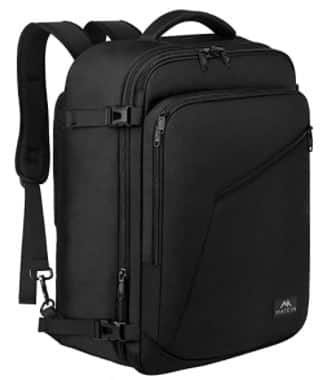 Matein is a backpack brand that, although it is a relatively new company, has made its mark across the globe with its fashionable designs and high-quality construction. Matein puts forth a selection of backpacks for every occasion and need, and many offer a versatility that makes them ideal for multipurpose use.
The Matein Carry-On Expandable Daypack is the perfect example of the brand's versatile designs, which is why we felt it only fair to add it to this backpack review.
Specs
Includes an expandable compartment
The bag is a flight-approved size
Comes with adjustable straps
Offers a 40-liter capacity
Who is it Best for?
Made with the constant traveler in mind, this extra-large weekender backpack from Matein is sizeable and expandable, making it great for when you need to carry clothing for a weekend away or for business travel.
The sleek and compact design makes the backpack easy to fit into overhead storage on an airplane and simple to carry when in transit.
The bag is exceptionally priced for what it offers, especially when it comes to capacity, durability, and airline carry-on approved.
What we enjoyed the most about this backpack is that the zippers are durable and sturdy. It allows for easy top-loading packing and fits a good few bags for simple packing. In addition, the handy compression straps keep everything in place and leave the bag slimmer when not full.
There are little to no downsides to this epic backpack, only that it is a little large for daily use if all you need to pack is your laptop.
Key features
Matein makes this travel bag from lightweight, water-resistant polyester that protects your possessions so that you don't need to search for a rain cover should you get caught in a downpour.
The backpack features a roomy main compartment that comes with inner compression straps. An organizer compartment provides a place to store tablets, phones, magazines, and power banks. A zippered pocket at the front is ideal for your passport or tablet.
When it comes to shoulder straps, this bag provides two that are comfortable and padded. Better yet, they can be tucked away for when you carry the bag like a duffel.
The sternum strap secures the back to your body for a more secure carrying experience.
Pros
Comes with a lifetime warranty
The durability is impressive
It compresses down to offer a slim size
Cons
The bag is large for daily use with few items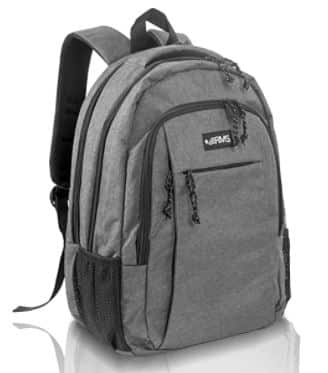 RMS is a brand that focuses on the design and manufacture of what it deems daily living aids. The brand offers everything from walkers and walking sticks to dressing aids, hiking canes, and backpacks. RMS makes sure life is made simple with each of its premium quality products.
The RMS Travel Backpack is one of the brand's business and travel solutions, offering a quick and simple solution for those who need to carry multiple items daily.
Specs
Includes a main compartment and a separate laptop compartment
Holds a laptop up to 15.6-inches in size
Features an anti-theft pocket
Non-stick zippers are easy to unzip
Who is it Best for?
Designed with busy professionals in mind, this sleek and easy-to-carry backpack is stylish and elegant but equally functional. It provides the ideal way to carry your possessions to and from work.
The size of the backpack makes it ideal for frequent travelers too. The bag fits perfectly under an airplane seat but is still large enough to provide you with ample space for necessities for a few days' travel.
Considering the bag's design, impressive features, and capacity, it would be easy to assume it would cost a pretty penny. We found it to be entirely the opposite. This backpack is one of the most inexpensive in the review, and we decided to test it out to see if the quality lacked as a result. We can happily report that the quality and durability of the bag surpassed the expectation.
Key features
The RMS business backpack is made from a durable polyester blend and unique metal zippers with a non-stick design that makes them quick and easy to unzip.
A spacious interior sees the main compartment for your daily sundries, a separate padded laptop sleeve that fits up to a 15.6-inch laptop, and multiple front pockets to hold smaller items. The protective nature of the laptop pouch and the added luggage strap make this backpack ideal for use when traveling to keep your equipment well-protected.
Keep your items safe in the anti-theft pocket located at the back of the backpack. This pouch is the ideal place to store wallets, phones, and passports.
To ensure your comfort, the backpack features soft foam padding and a breathable mesh covering that allows for breathability to prevent you from overheating. In addition, the straps feature the same comfort and design.
Pros
The bag is durable and sturdy
The straps are extremely comfortable
Cons
The bag is not water-resistant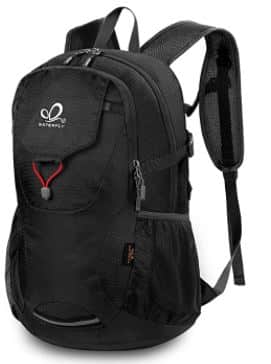 Waterfly is a brand that focuses on the design and manufacture of professional yet affordable outdoor products and sporting accessories. So whether you need a fanny pack, waist bag, sling bag, or even a backpack for hiking, Waterfly is sure to have it. The brand weaves the concept of the Water-fly through its designs, making each product lightweight and sturdy.
The WATERFLY Travel Hiking Backpack captures a sense of adventure and provides explorers and hikers alike the opportunity to carry their necessities with ease.
Specs
Features a waterproof wet pocket
Offers three zippered pockets and a total of ten small compartments
Provides a 40-liter capacity
The bag includes a cable port for charging devices or listening to music
Who is it Best for?
This travel bag is made with outdoor adventurers in mind. It comes with a few unique features that make it perfect for outdoor use, such as a durable nylon construction, a waterproof water pocket, and a large capacity.
Whether you are a surfer, a hiker, a mountaineer, or someone who likes to go paddling, this backpack makes an exceptional addition to any adventure. The bag provides a large capacity that makes it easy to carry an extra set of shoes, wetsuit, or swimming towel with you. In addition, its lightweight design allows you to carry it with ease.
We took one of these Waterfly backpacks on a hike or two of our own to see how it fared. It handled the rough and tough of both trips exceptionally well, and the water pocket didn't leak at all. The only downside is that it doesn't come with a waist strap to stabilize it should you want to use it for trail running.
Key features
Waterfly makes this hiker's backpack from a durable nylon material resistant to water and won't easily tear. The only downside here is that neither the back nor the shoulder straps are padded, so keeping sharp or edged contents inside may cause some discomfort.
The backpack comes with an internal water pocket designed to allow you to keep wet or soiled items inside without causing other things in your bag to become damp or dirty.
Three spacious pockets and ten smaller compartments offer a range of spaces to store different things. These multiple compartments make it easy to access your items with ease. In addition, two water bottle holders make keeping hydrated on your adventure a breeze.
The straps are made from breathable fabric that won't cause you to become sweaty.
Pros
The water-resistance of the bag is impressive
IT comes with water bottle holders
Cons
Doesn't include a waist strap for stabilization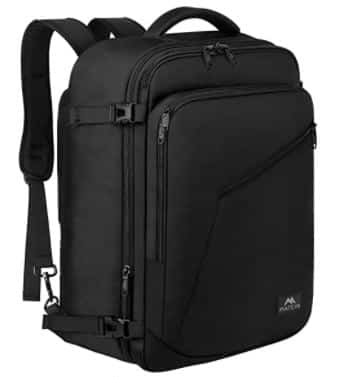 Matein was founded by two mates in Denver, Colorado, with the thought of providing adventurers and explorers with backpacks that offered excellent capacity, security, and style. Although founded in 2014, the brand today is recognized globally as a premium provider of backpacks.
Functional and sleek backpacks such as the Matein Expandable Travel Pack / Weekender Bag make it easy to see why this brand is so world-renowned.
Specs
Features an expandable design with a 40-liter capacity
Converts from a backpack to a duffel and even a briefcase
Includes lockable zippers
Comes with a lifetime warranty
Who is it Best for?
If you enjoy getting away for the weekend, often find yourself going away on business, or you have a fair amount of equipment you need to carry around for work, this backpack is made for you.
Matein designs this sleek yet sizeable backpack to provide you with a 40-liter capacity. This larger size makes it easy to pack sufficient clothing, camera gear, work items, or a combination with ease.
The backpack is also quickly converted from a backpack to a briefcase or duffel bag by concealing the hide-away shoulder straps. It is this design that allows you to put on a professional appearance when needed.
After trying this travel weekender for ourselves, we can conclude that the bag is durable and makes packing and unpacking a breeze because it opens out in a clamshell fashion, much like a traditional suitcase.
Key features
Matein excels with this versatile travel bag. The durable and comfortable padded shoulder straps fold away to transform the case into a duffel bag or briefcase. A breathable and well-padded back panel allows the bag to sit comfortably against your back without poking or prodding you and causing you to become sweaty.
The bag comes with multiple compartments, including the main compartment with compression straps, a front organizer, an internal organizer pouch, and space for a water bottle.
The main compartment features an expandable design that allows you to pack more than you would expect to be able to fit. In addition, compression straps allow you to keep the slim design of the backpack when you don't have it packed full, preventing it from becoming bulky.
Pros
Opens out like a traditional suitcase for easy packing
It is compact enough to use as carry-on luggage
Easily fits multiple packing cubes
Cons
It can become heavy after a day of travel
Things to Consider When Buying the Best Carry-On or Backpacking Travel Bag
1. Compartments
When choosing a backpack, be it for travel or business, one of the most important aspects to consider is the number of compartments the bag offers. If you are purchasing a new bag, you will most likely have in mind how many different pouches and pockets you will need. Take care to ensure that your proposed backpack meets these needs.
Also, consider whether you need a padded laptop compartment, how big your laptop sleeve will need to be to fit your computer comfortably, and whether you want this to be an entirely separate pocket.
Have in mind whether you want to have water bottle pouches or perhaps a secret anti-theft pocket at the back of the bag.
2. Features
Different backpacks provide different features. A few you can expect to find include:
These zippers are designed to unzip quickly and with ease without catching or jamming. For example, YKK zippers are ideal because they are sturdy and non-stick.
Durable Weatherproof Fabric
Material such as Ripstop, nylon, PVC, and polyester are all designed to be durable and sturdy. In addition, these materials are often water-resistant or treated to be so and will protect the contents of your bag from moisture.
Removable or Hidden Shoulder Straps
Some bags offer the ability to remove or hide the shoulder straps to leave you with a sleek-looking duffel or briefcase.
USB Ports/Headphone Jacks
These allow you to charge your device from a power bank kept inside your backpack while you still use it or listen to music while your phone or iPod is still in the bag.
When looking for the best travel backpack, there are several things to consider. Giving thought to the brand, durability, compartments, comfort, style, and quality will all put you a step closer to finding the travel bag that most suits your needs.
By closely examining and testing each of the best travel backpacks in this review, we concluded that they each meet the criteria discussed above, making it simpler to find the best hiking or laptop backpacks to suit your storage needs.