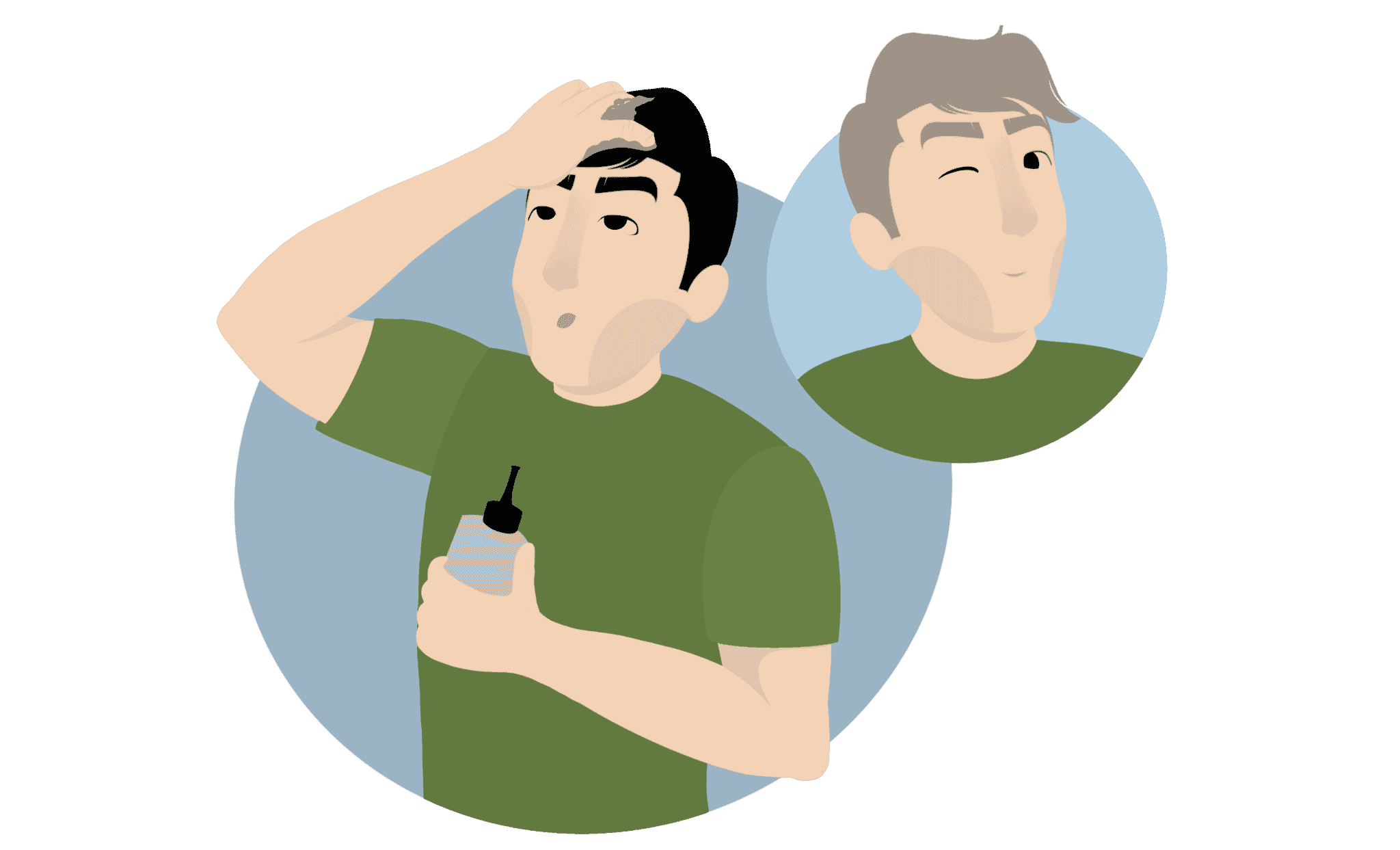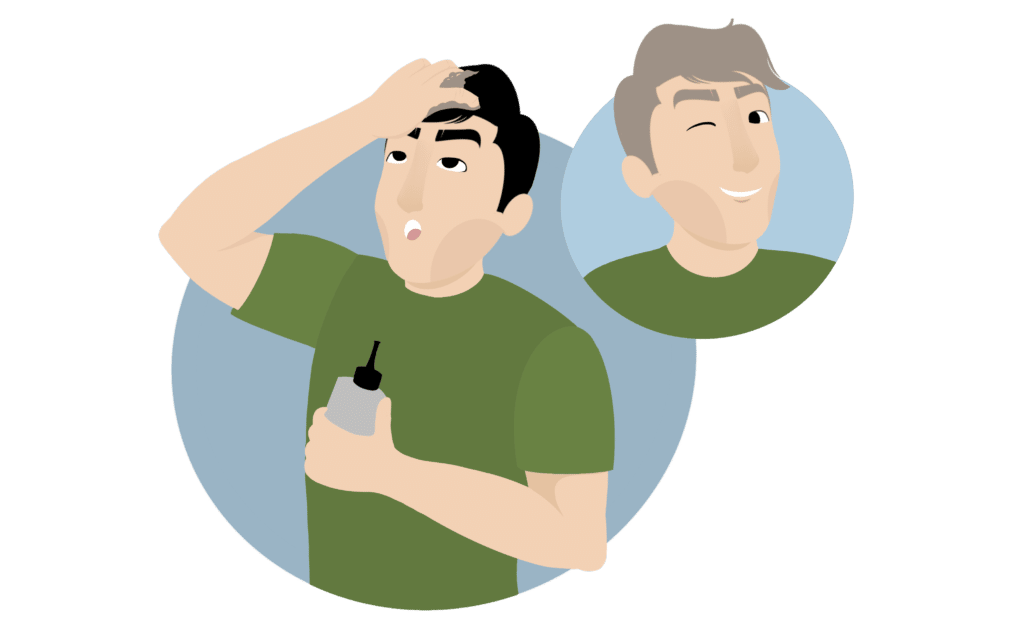 Perhaps you have found one or two, or maybe a whole lot more than just a few. And maybe you're not quite ready to embrace them yet—those stubborn, sneaky little grey hairs. Plucking them out one by one works for a little time, but eventually, it gets to the point where not even that cuts it anymore.
In that case, it's time to whip out the one thing that will help – hair color for men. While most women have been using hair dye for decades, for men, this may be a reasonably new concept, but as the ladies will tell you, it works.
So, if you've got the grey hair blues or want a new look, hair color for men may be the solution you need. Keep reading to find out more about which hair color is the best to try.
We have scoured the web, spoken with stylists and barbers, and done our research to find the best hair dye for men. Here, you will find our list of the ones we found to be of top quality, which entirely covers greys and won't fade.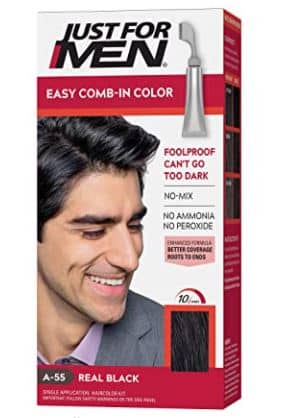 Just For Men offers simple solutions for men who are looking to combat grey hair. Their Easy Comb-In Color comes in various shades, so no matter what color your hair is, you can beat the advancing silver.
The unique formula of Just For Men's hair dye takes only a few minutes to process, so you can get on with your day, looking and feeling great. And those greys? What greys?
Specs
Rich black color
Ammonia and peroxide free
Ten-minute processing time
Includes gloves and instructions
Who is it Best for?
If you're the sort of guy who favors a more manicured look over a rugged, greying style, then these men's hair coloring products by Just For Men is what you need.
Or, if you want to change your look, then this hair color for men offers just what you're looking for.
As one of the leading manufacturers of men's hair color, Just For Men knows what their customers want and need. A fast-acting dye that completely coats your greys.
If you're not the sort who is willing to spend the time or money sitting in a salon or barbershop, then this dye is for you. It is simple enough to do in the comfort of your own home. Our only suggestion is to have an extra set of hands and eyes around to help you, especially when coloring the back of your head. Patchy color is never a good look.
Key features
When coloring your hair, there are a few things you want to make sure the dye offers, all-over coverage and color that won't fade. Just For Men offers both of these and more.
Their dye is simple to use. It comes pre-mixed in a tube, so you don't need to waste time creating concoctions. A useful brush applicator screws onto the end of the color tube, making it easy to brush the color directly onto your hair. This applicator makes it easy to apply the dye without causing a mess.
The processing time on this hair dye is minimal, too, taking just ten minutes. Once your color is processed, shampoo it out in the shower, and you're done.
To make life easier, Just For Men includes gloves and instructions in the box. This keeps your hands free from staining, and it sets out the steps in a handy step-by-step guide.
Best of all, this permanent color lasts up to eight weeks before you will need to reapply it when the greys start growing out.
Cons
Not ideal for use by men with sensitive or irritated skin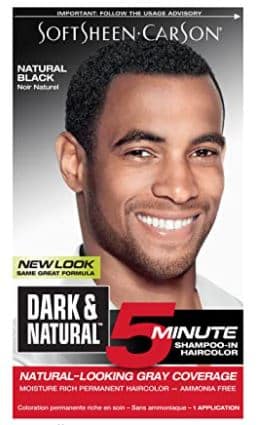 For over a century, Softsheen-Carson has been manufacturing and perfecting hair care products. Their innovative beauty products are designed specifically for people of African descent. And their ethos? To allow people of color to celebrate their unique and individual style.
Softsheen-Carson Dark & Natural Hair Color for Men does just that. This luxurious moisture-rich color leaves you with natural-looking grey coverage and nourished hair. Quick and easy to use, this formula is ideal for men on-the-go.
Specs
Provides coverage for up to six weeks
Five-minute processing time
Ammonia-free
Permanent color
Who is it Best for?
Designed specially to meet the hair care needs of men of color, this hair dye is the perfect solution for combatting grey hair. It offers complete coverage without damaging and drying out your hair.
SoftSheen-Carson offers their hair color in an assortment of shades, so no matter whether you have deep brown or rich black hair, there is a color for you.
If you're the kind of man who is always on the go, whether it is for business or adventure, then this hair color is just what you need. It offers quick applications and minimal processing time. So you don't need to waste time on your hair and instead spend it on things you want to be doing.
Key features
SoftSheen-Carson has come up with an innovative formula that offers a quick application. The unique applicator makes it simple to apply the dye. It prevents any dripping or splashing (trust us, you do not want that stuff on your clothes).
Once your hair is completely coated with the color, processing takes just five minutes. When the five minutes is up, shampoo the dye out in the shower.
This drip-free solution comes infused with aloe vera and honey. These two elements are widely regarded for their nourishing and moisturizing properties. The addition of these nutrients and the absence of ammonia ensures that your hair stays healthy and soft while the dye does its job.
One of the best features of this hair coloring for men is that it doesn't carry a heavy chemical smell. Usually, a dead giveaway that someone has dyed their hair. Instead, it offers a soft, gentle fragrance that men appreciate.
Pros
Offers natural-looking grey coverage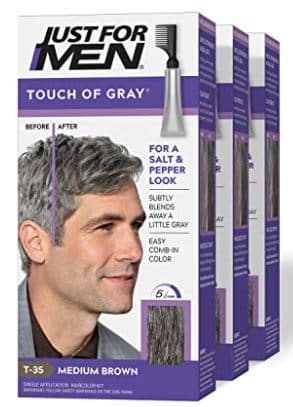 Just For Men offer a full range of hair care products designed specifically for men. Known for their affordable and long-lasting color, it is no wonder that they are rated as offering the best men's hair color products.
Their Touch of Grey formula is quick and straightforward to use and requires little to no fuss regarding the application. Men can enjoy a new look without having to spend the afternoon in a salon or at a barber. Saving time and money.
Specs
Includes a comb applicator
Five-minute processing time
No-mix formula
Ammonia and peroxide-free
Who is it Best for?
So maybe you have given up the fight against the increasing grey hairs you are growing, and you have decided to embrace them instead. What you need then is this Touch of Grey by Just for Men.
A unique formula that lessens the look of the greys without covering them completely. The result? A distinguished salt-and-pepper look.
If you are the sort of man that has no problem styling or coloring his hair, but you are loathed to spend hours doing so, then this dye is the solution you need. It offers a simple application and takes just a matter of minutes to process—a fast, effective way to achieve a natural look.
If this is your first time dyeing your hair, then giving this hair color a try is worth a shot. Instead of covering your hair entirely, it adds subtle tones that soften the look of the grey—a gentle introduction to the world of hair dye.
Key features
This softer color offers the perfect way to tone down the appearance of grey. You are left with a natural look that doesn't appear dyed.
Just For Men provides men with hair dye that is quick to apply. It comes pre-mixed in a tube. All you need to do is unscrew the cap, pierce the film, and screw on the applicator comb. Once that is done, comb the color through your hair until it is completely covered. Wait five minutes – yes, that's all it takes to process, and shampoo the dye out in the shower.
This unique hair color is activated by air, not heat, containing no ammonia or peroxide. Combined, this means that the dye won't damage your hair; instead, it leaves your hair soft and supple.
Cons
Not for men who are looking for full grey coverage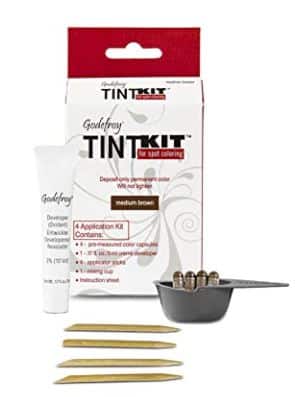 Godefroy offers premium hair color in a unique form. Their thinking behind the concept was convenience. Instead of consumers buying one lot of hair color, using what they needed, and then throwing it out, Godefroy had a different vision.
They came up with the concept of color in a capsule. Each aspect of this hair color kit is packaged separately, allowing you to mix as much or as little as you need and keep the rest for another time. This ingenious solution is ideal when you need only a little color to touch up grey patches.
Specs
Offers coverage for up to six weeks
Features four applications
Color comes in pre-measured capsules
Designed for head and facial hair
Who is it Best for?
This well-thought-out kit is ideal for men who are starting to experience patches of grey around their temples. Or men who already color their hair and need a root touch-up. This set by Godefroy makes it simple to mix up little batches of color to cover only the areas that need tending to.
If you have facial hair as a beard, mustache, goatee, or sideburns, then this is the formula for you. This is a hair dye for beards as well letting you color your facial hair, too, something most other hair colors don't allow for.
This color can even be used to tint eyebrows. So whatever your need is, Godefory's Hair Color Kit has you covered.
Key features
A color as unique as its packaging, Godefroy's color kit provides you with small-batch color that makes it simple to cover little areas of hair.
The set comes with a mixing bowl, four applicator sticks, a creme developer, and four color capsules. This means you get to mix only the amount of dye you need, no more wasting color or money.
Because the solution comes as a creme, it is non-drip. This is ideal for small area applications and for use on facial hair. You don't want hair color running down your cheeks or chin. The staining it leaves behind could last for a few days.
The ammonia-free formula is free from odors. This is fantastic in our book, as the smell hair dye normally leaves behind is usually a big clue that you have recently colored your hair. Also, no one enjoys walking around smelling of ammonia, especially if your mustache is colored.
Pros
Free from Ammonia and Parabens
Blends with your existing color
Cons
The color will not lighten once applied
Things to Consider When Buying Hair Color for Men
Now that you have been through our men's hair coloring reviews, you may be contemplating buying color and giving it a go. However, before you dive right in, there are a few things to consider. These will not only make finding the right color simple but will make the entire process more straightforward.
1. Before You Color
Before you open that box and start madly applying color, there are a few things to keep in mind. The first being your schedule for the next few days.
Never ever color your hair just before a big event. If the color ends up being too dark, if it comes out patchy, or if you somehow wind up with it on your face, you will need a little time to rectify this.
While most of the colors in our men's hair dye reviews are creme-based and are non-drip, that won't save you if you have brought a color that is a few shades too dark.
2. Planning
If you are ready to go ahead with the color application, there are a few things you should have on hand to help you as you go. Planning like this makes the process much simpler.
One of the first things you will need is time for yourself. Being interrupted during this process is not ideal.
Next, you will need cotton swabs and fragrance-free body lotion. This is to wipe any dye from your face should it accidentally spill. Rubbing a little lotion around your hairline will also prevent the color from bleeding into your skin.
A pair of latex gloves are a must-have. Trust us, you do not want hair dye all over your hands.
And lastly, to dispose of items as you use them, keep a garbage bag or packet nearby. This makes clean-up much more straightforward.
3. Choosing Your Color
When choosing your hair color, stick with one that is up to three shades lighter or darker than your natural color. Anything further than that may end up looking unnatural.
Often, hair dye dries down a lot darker than you expect, so try staying away from shades outside your natural color. When covering grey, you are doing so to get back to your original color. Choosing a shade too dark will also look odd, in which case you should have stuck with the grey.
If you are using hair color to cover up those strands of silver, then buy a hair color made for this purpose. You are more likely to get better, more natural results.
Now that we have been through the ins and outs of men's hair color, we hope our reviews have been of use and have shed a little light on the topic. If you feel inspired to go and give it a try, then keep our reviewed products in mind. They are all on this list because of their outstanding quality.
Although if we had to pick the best hair color for men's grey hair, we would go with Godefroy's Hair Color Kit. Being able to mix as much as you need when it suits you is convenient and saves you money.