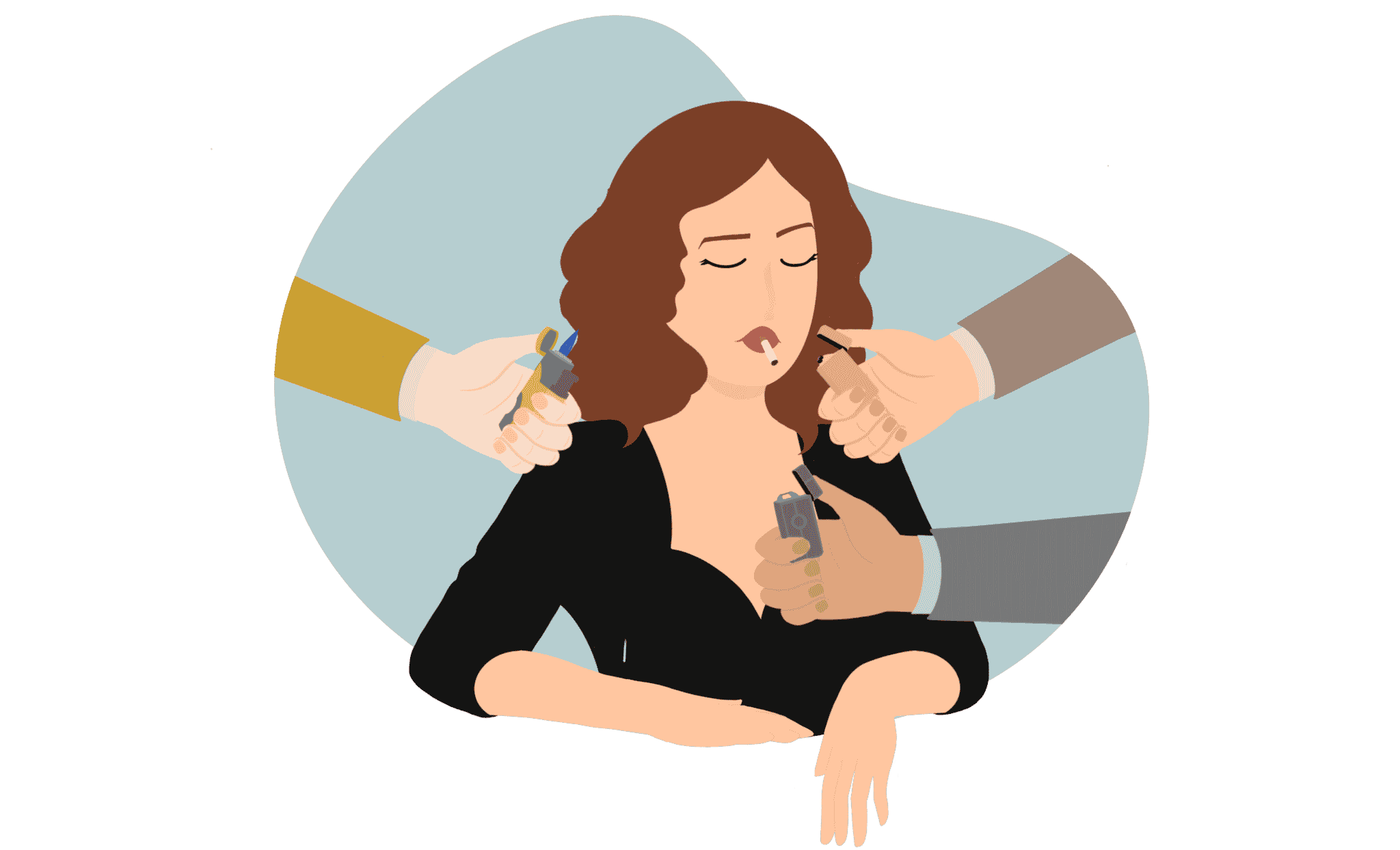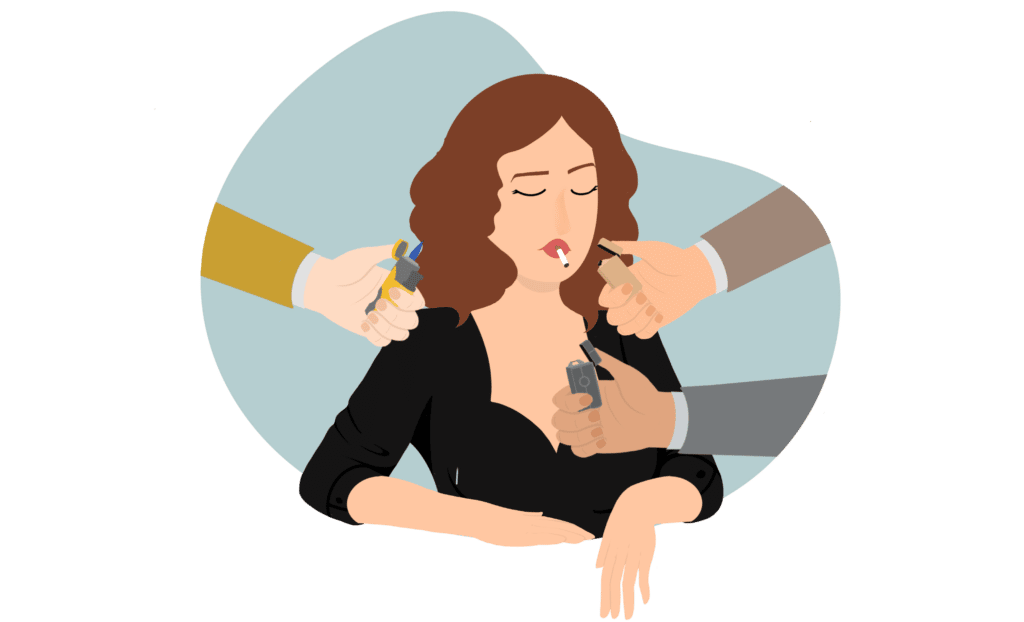 When it comes to lighters for your stogies, any cigar lover will tell you that a simple BIC lighter won't cut it. You can always try one, but chances are things will end in frustration. So what will work?
A lighter explicitly designed for use with cigars is your best bet. These cigar lighters often come with a built-in cutter that makes things a whole lot simpler. They offer a steady, windproof flame that gets the job done.
If a cigar lighter and cutter sounds like something you need, keep reading to find out more about the best cigar lighters available.
QUICK OVERVIEW: Best Cigar Lighter
lcfun Dual Arc Plasma Lighter

Windproof
Offered in gold or multi-colored

VIEW ON AMAZON →

Electric Arc Lighter by Sipoe

Includes USB charging cable
Seven-second auto shut off

VIEW ON AMAZON →

Tesla Coil Lighters USB Rechargeable Windproof Arc Lighter

Comes in four color options
Safety feature prevents ignition when the cap is on

VIEW ON AMAZON →

Vertigo by Lotus Cyclone Triple Torch Cigar Lighter

Comes in a pack of two
Includes a fitted cloth pouch for storage

VIEW ON AMAZON →

The Burner by Alec Bradley

Lights up to 1000 cigars before a refill is needed
Wind-resistant

VIEW ON AMAZON →

Zippo Matte Pocket Lighters

Durable
One-handed operation

VIEW ON AMAZON →

Transparent fuel tank
Comes in a stylish gift box

VIEW ON AMAZON →

Honest Quad Torch Lighter by Jobon

Includes an adjustable flame controller
Sturdy

VIEW ON AMAZON →

GUEVARA Butane Torch Lighter

VIEW ON AMAZON →
There are a few key features that make the lighter worth having when it comes to cigar lighters. With that in mind, we did the hard work for you by scouring the web to find the best of the best and then reviewed them. Keep reading to see our findings below.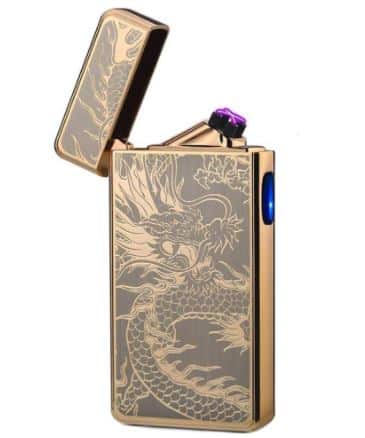 LcFun's Dual Arc Plasma Lighter is a game-changer. Gone are the days of burnt fingers, flames blown out by the wind, and refilling the tank with butane. Their electric lighters offer a simple solution to lighting your cigars.
The Dual Arc Plasma Lighter sees a high-voltage electrical current that runs between two points. This current forms an arc of plasma, and it is this highly-charged plasma that lights your cigars.
Specs
USB rechargeable
Butane-free
Dual-arc plasma
Includes USB charging cable
Who is it Best for?
If you're a cigar aficionado and you're tired of having to refill lighters with butane or burning your fingers, then this lighter is what you need. The plasma arc lights your cigars up without heating the lighter. When the battery light indicates low power, charge it with the USB cable provided – no more refilling!
These powerful lighters also make the perfect gift for the cigar lover in your life. Easily one of the best smoking accessories, this lighter will light up their stogies in an instant. While it doesn't feature a built-in cigar cutter, this lighter is still an impressive piece of equipment and one that will be well appreciated.
Key features
LcFun's plasma lighter offers a dual arc, making it better suited to lighting up cigars. This electric lighter works off of a rechargeable battery that you can charge with the USB cable provided. We think this is pretty handy considering you can charge it with a laptop, a computer, or a power bank. The lighter takes only an hour and a half to charge fully.
A simple switch makes turning on the lighter a breeze. It will automatically shut itself off after seven seconds. This isn't the only safety feature it offers, though. The lighter also includes protection against short-circuiting, leakage, discharge, overheating, and overcharging.
LcFun's plasma lighter features a 75-degree angled pole that makes it easier to light things like cigars and candles. It is both windproof and flameless, so you can light-up even in gale-force winds.
A stylish design on the exterior of the casing adds a dash of refinement to this versatile lighter.
Pros
Offered in gold or multi-colored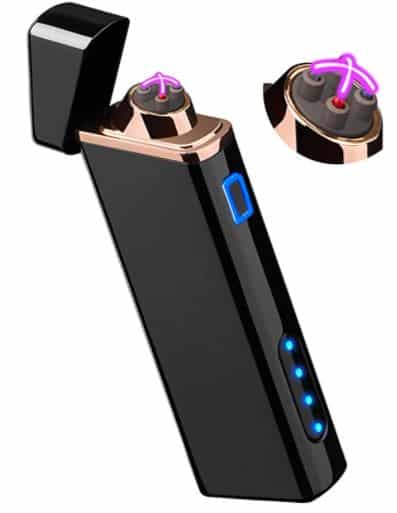 Sipoe's Electric Arc Lighter offers it all, windproof, rechargeable, and flameless. But then, how does it work? Sipoe's lighter makes use of a dual plasma arc that is positively charged. It is this arc that then lights your cigar.
This lighter offers a sleek design that fits neatly in the pocket and comes with an assortment of safety features. The electric design makes this smoker's accessory easy to recharge and negates the need for butane refills.
Specs
Features a dual arc
USB rechargeable
Butane-free
Battery indicator
Who is it Best for?
While not the best cigar lighter of 2016, it is five years on, and Sipoe has upgraded its Electric Arc Lighter- securing its spot on the list today. This durable lighter, offered in a sleek shade of midnight black, makes the ideal accessory for any cigar smoker.
If you are prone to carrying your lighter around in your pocket, then this lighter is a must-have. It comes with a handy feature that prevents the ignition button from activating while the cap is on. Should you accidentally press the button while the lighter is in your pocket, you won't set your pants alight.
Finding the perfect gift can be tricky, but if the person you are looking to gift happens to be a cigar fan, they will love this lighter. They will tell you that a standard lighter used to light cigarettes doesn't quite cut it when it comes to blazing up a stogie. It would help if you had something with a little more oomph, and this dual arc lighter does the trick.
Key features
When lighting up a cigar, a hassle-free experience adds to the pleasure of the smoke – this lighter offers just that. The rechargeable nature of this lighter means no fussing with refilling the chambers with butane. It also means no shaking the lighter about to try to get one last effort out of it.
Because you recharge this lighter with a USB cable, you can charge it anywhere. Use your laptop, power bank, or even car charger to repower it. Four blue lights on the display let you know how much battery power you have remaining, so you can get it charged before the battery runs flat.
The plasma arc is not affected by the wind so that you can light up in all kinds of weather and experience no problems – finally! When pressed for seven seconds, the ignition button will auto shut off, a necessary and useful safety feature.
Pros
Includes USB charging cable
Seven-second auto shut off
Cons
Does not include a cigar cutter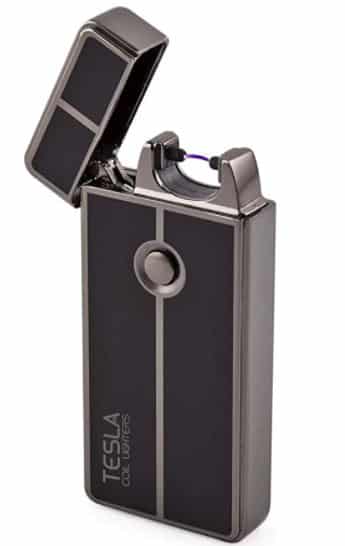 Tesla Coil Lighters' Arc Lighter offers a quick and easy solution to lighting up your cigars. It was Nikola Tesla himself that invented the coil that creates low current, high voltage charges. Today, these coils are put to various uses, and cigar lighters are one of them.
Tesla Coil Lighters make lighting up simple. They are resistant to the elements making lighting your cigar with even the best soft flame butane lighter a waste of time.
Specs
USB rechargeable
One full charge lasts a week
Windproof
One-touch ignition
Who is it Best for?
If you live in colder climes, or you enjoy spending time outdoors having a cigar as you watch nature do its thing, then you will know how frustrating it can be trying to light your stogie if it's even slightly breezy. If you are one of these folks, then this Arc Lighter is just the thing you need.
Because it is an electric current that lights up your smoke and not a butane flame, the lighter is fully windproof.
Gifting your stogie-loving pals with this handy device will make their year. Not only does it make lighting up easy, but it's pretty safe too. Tesla Coil Lighters have fitted their device with a safety feature that prevents the coil from igniting if the lid is closed. Even if you push the ignition while the lighter is in your pocket, it won't light up.
Key features
Buying butane canisters to refill your lighters is a thing of the past when you invest in an arc lighter. These technologically advanced devices need recharging, not refills!
These lighters charge via a USB cable and offer between 100 and 300 uses before they need to be recharged. And how do you charge them exactly? By power bank, laptop, or car charger – quick and easy.
A bonus is that this lighter looks pretty cool too. Offered in four color options for you to pick from, you can choose the one that best suits your personality. And while the arc may look impressive, too, please don't touch it; it can give you a nasty shock, or even worse, a severe burn.
Pros
Comes in four color options
Safety feature prevents ignition when the cap is on
Cons
Cannot be placed in the sun for extended periods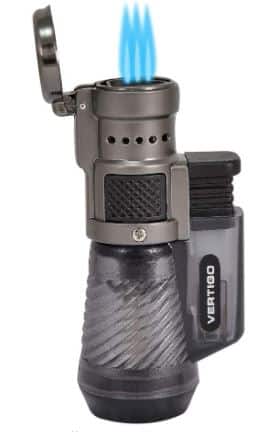 The Lotus Group was founded in 1991. Since then, they have been manufacturing premium quality smoking accessories. They claim to be your go-to for all smoking-related paraphernalia, and after you try their lighter, they very well might be.
Vertigo By Lotus's Cyclone Triple Torch Cigar Lighter is an impressive butane lighter. Unlike your average butane lighter, this one is resistant to the wind, and it comes with not one but three flames. If this doesn't light up your stogie efficiently, nothing will.
Specs
Offers a three-torch flame
Wind-resistant
Quartz-powered ignition
Refillable
Who is it Best for?
If you're more of a traditional type of guy who prefers butane lighters to electric arc lighters, then give this one a try. This unique lighter offers a triple-flame designed for use with cigars, making lighting up quick and easy.
Spending large quantities of money on lighters, for some, is something they would rather not do. If you fall into this category, then you will appreciate Vertigo by Lotus's lighter. It is one of the most cost-effective, low-priced lighters you can find. And best of all, it doesn't skimp on quality.
These lighters' low price point also makes them an ideal stocking filler or gift for friends or family members who enjoy their cigars. Not only will they be impressed with the quality but the sleek design too.
Key features
While a soft flame cigar lighter is excellent if you want to smoke indoors, it won't cut it outdoors if there is even the gentlest of breezes blowing. Here is where the Cyclone Triple Torch Lighter makes all the difference. It offers three jet flames that are resistant to the wind. Enjoying a cigar outdoors as you take in the view just became simple.
The quartz-powered, dual-action ignition activates the flame the first time you press it. This is perfect for smokers who hate having to attempt repeatedly to ignite their lighter before a spark takes.
These sleek lighters come in a pack of two so that you always have a spare on hand. They come in a fitted cloth pouch that keeps them protected and looking like new.
Pros
Includes a fitted cloth pouch for storage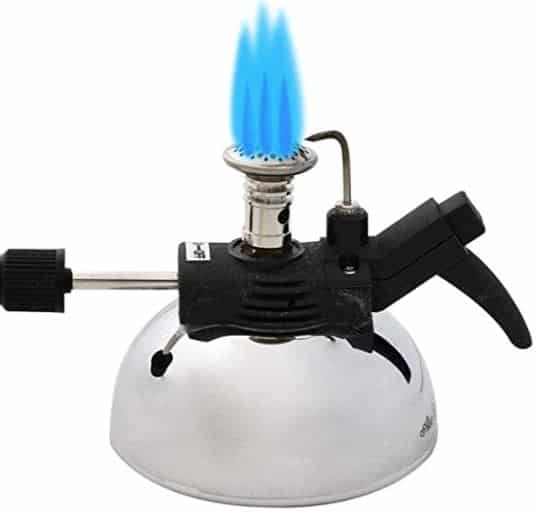 In 1998, the Brand Alec Bradley was born. It started with making a cigar, and today the company provides both quality cigars and cigar accessories. The brand bases its ethos on providing the cigar smoker with an unforgettable experience. They make their cigars and accessories for every man, from the store clerk to the Wall Street financier.
The Burner is a tabletop cigar lighter designed to give you a fuss-free smoking experience.
Specs
Made from stainless steel
Tabletop design
Adjustable flame intensity
One-touch ignition
Who is it Best for?
Whether you own a cigar lounge in a hotel or you have a bar at home, you need the best tabletop cigar lighter there is. Alec Bradley's The Burner is one such lighter. It offers a high-end design that will bring a touch of gentlemanly class to any room it is placed in.
If you are the sort of person who frequently loses their lighter, this may be your solution. The Burner is a tabletop lighter that stays put. It offers both the functionality of a lighter, and it works as a decor accessory for your man cave or bar. Because of its shape and size, you won't be tempted to pop it in your pocket and misplace it elsewhere. So, no more rooting about for a lighter at home when you have this stylish one waiting in your bar.
Key features
The Burner takes its name from the efficient Bunsen burner you find in labs. It works much the same, offering a jet flame that ignites at the touch of a button.
This lighter is unique because it offers the ability to adjust the throw and size of the flame, something rarely found in a tabletop lighter.
The lighter, shaped similarly to a traditional bicycle bell, rests firmly on surfaces thanks to its sturdy form. The design of The Burner sees a high-shine chrome casing. This large chrome area is the home of the expansive butane tank.
The flame is both scorching – mind your fingers please, and it is wind-resistant. This makes it perfect for use on your patio while you enjoy a summer sundowner.
Although The Burner runs off butane, you won't find yourself refilling it too often. One tank makes it possible to light over 1000 cigars before it needs filling.
Pros
Lights up to 1000 cigars before a refill is needed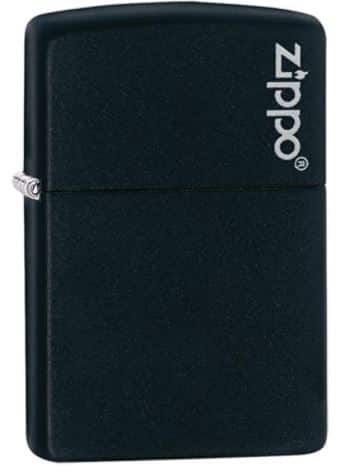 Zippo has been around for quite some time, 91 years to be exact. Starting from humble beginnings in 1930, they fast became the leading brand for lighters in both the US and internationally.
Zippo prides itself on crafting reusable lighters that not only withstand wind but can be operated with just one hand. Their Matte Pocket Lighter is no different. Zippo designs their lighters to last a lifetime – durability and reliability at its finest.
Specs
Wind-resistant
All-metal construction
Designed to last a lifetime
Refillable
Who is it Best for?
If you are a smoker, chances are you know the name Zippo. A staple in American culture for nearly the past century, this reusable lighter is iconic. If you are a man who values the traditional way of things, this lighter is for you.
The Zippo lighter, with its resounding click, brings comfort to those who enjoy a smoke. Zippos are designed to last a lifetime, and should it break, Zippo will cover the costs – they are that confident of their product. So if you prize durability and reliability, then Zippo will have you impressed.
If you are one of those who frequently lose their lighter, this may be your solution. Perhaps owning a lighter of such standing will have you holding on to it just a little tighter.
Key features
When it comes to Zippo lighters, there are features aplenty. The durable metal casing ensures these sturdy lighters last a lifetime. While these particular ones come in an assortment of matte colors, Zippo offers an extensive selection of designs.
Zippo crafts their lighters to be usable with only one hand, making them easy to use. Simple and straightforward, no mess and no fuss.
These lighters are also wind-resistant so that you can light up pretty much anyplace. The chimney of the lighter protects the flame, ensuring the wind won't blow it out. This means no more igniting the lighter with one hand and guarding the flame with the other.
When refilling or wicking your Zippo, it is always best to use Zippo products. That's no problem because they are readily available pretty much everywhere.
Pros
Offered in an assortment of colors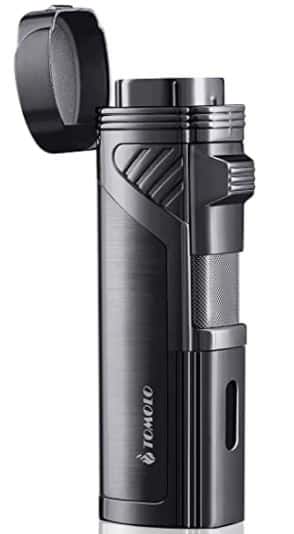 Tomolo is a company whose sole focus is the creation and manufacture of butane and rechargeable lighters. Because they put all their energy into designing lighters, the quality of their products is top-notch.
Tomolo's Torch Lighter with Quadruple 4 Jet Flame is a force to be reckoned with. The narrow cylindrical design makes it simple to carry with you while the high-powered flame lights up your cigars in an instant.
Specs
Features a four-jet flame
Windproof
Refillable
Includes a cigar punch
Who is it Best for?
If you are looking for a cigar cutter lighter combo, this may be what you need. While Tomolo's Torch Lighter doesn't offer a cutter per se, it features a built-in punch. A cutter and a punch provide similar assistance, with a punch cutting a hole in the cap, while a cutter slices off part of the cap completely.
This lighter looks as though it would fit right in on a Star Wars film set. It looks and acts like a lightsaber, so if you are into tech-style gadgetry, then this one is right up your alley. The sleek gun-metal grey finish of the lighter's exterior further adds to the intergalactic look it offers, making it slick and stylish.
Included with Tomolo's lighter is an elegant black gift box. Together these items make for a gift that any cigar aficionado would love.
Key features
Tomolo's Torch Lighter comes fashioned from premium zinc-alloy, making it both sturdy and durable. A transparent window allows you to see into the fuel tank, making it simple to recognize when it needs refilling.
Ignite this lighter with ease with the simple click of a button. Four red jet flames come together to provide you with a light for your smoke so powerful, not even the wind can blow it out.
At the base of the lighter is a cigar punch, making this a two-in-one cigar accessory. The convenience this offers to cigar smokers is outstanding. No more lugging about countless items so you can enjoy a puff – this compact lighter does it all.
Pros
Comes in a stylish gift box
Cons
Should not be ignited for a period longer than 60 seconds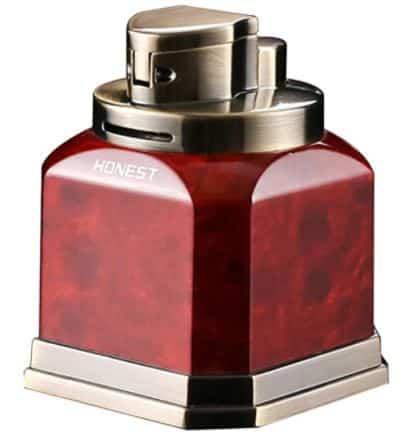 Another tabletop lighter that caught our eye is this stately lighter by Jobon. A gentlemanly addition to any cigar lounge or bar, this lighter's refined design brings with it a touch of class.
Jobon assures top-quality products that make your smoking experience a pleasant one. They are fast becoming known for their cigar lighters, and we are not surprised, looking at their elegant Honest Quad Torch Lighter. It is lighters such as these that bring us back to the sophistication of smoking a cigar.
Specs
Rosewood finish
Made from zinc alloy
Tabletop design
One-touch ignition
Who is it Best for?
Perhaps you are dedicating an area in your bar or office to cigar smoking. If you are, you will want to invest in one of these tabletop lighters. They are designed to be stationary lighters that stay put, so you never lose them. They also prevent you from having to rummage about looking for a lighter.
But they offer more than that – these lighters are often considered statement pieces and add to the room's look and feel. This tabletop lighter by Jobon does just that with its sophisticated shape and gleaming Rosewood finish.
Losing lighters to other smokers can be frustrating. You lend yours out, and the next minute it's gone, never to return. If you battle with this, then you will love Jobon's Honest Quad Torch Lighter. Its shape is not designed to fit in a pocket, so no one will be tempted to pop it in by accident.
Key features
Jobon's Honest Quad lighter is not just elegant; it is sturdy too. Beneath the Rosewood finish, you will find a durable zinc alloy body.
The lighter features four jet flames that, when ignited, burn a deep red. Sitting underneath the lighter is a switch that allows you to adjust the size of the flame. This switch makes it easier to control how much butane you end up using.
A large, stable base doubles as the fuel tank, allowing you to light up plenty cigars before it needs to be refilled.
The lighter is simple to ignite. All it takes is the push of a button, making lighting your stogie quick and easy.
Whether you plan to store this lighter or give it as a gift, you are sorted either way. It comes with a stylish fabric pouch and a sleek black gift box.
Pros
Includes an adjustable flame controller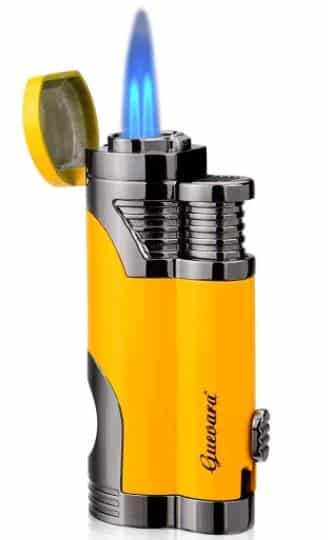 Guevara has many years of crafting premium cigar accessories under its belt. They offer an assortment of tools to make cigar smoking not just a pleasure but luxurious. From humidors, holsters, and even ashtrays, their selection is extensive, yet they make each piece with the cigar smoker's enjoyment in mind.
Guevara's Butane Torch Lighter is no exception. This double flame lighter set in a Lamborghini yellow is the supercar of lighters.
Specs
Includes a punch
Features double jet flames
Offers a fuel window
Refillable
Who is it Best for?
If you like bright, flashy lighters that offer a sense of sophistication, then this one's for you. Guevara's Butane Torch Lighter comes in a vibrant yellow with deep grey metal detailing. It certainly won't be easily lost, and it looks pretty cool too.
This cigar lighter and cutter, well, punch, offers a two-for-one deal because it works as two accessories in one. This makes a cigar smoker's life much more simple – no need to carry around a bag of tools when you have them incorporated into your lighter.
Included with this vivid lighter is a stylish fabric pouch to keep it looking like new and a gift box. The inclusion of these two items along with the lighter makes it the ideal gift for your father, grandfather, brother, or husband.
Key features
Guevara's Butane Torch Lighter is easily refillable, so you can keep using it over and over. Because it is reusable, it is reasonably environmentally friendly too.
The lighter comes fashioned from durable metal made to last, so you can enjoy your lighter for years to come. An impressive double jet flame lights up your most-loved cigars in an instant, making the lighter efficient and easy to use.
You will find a flame adjuster at the lighter base, although you will need to use a screwdriver to change the flame setting. Guevara does this as a safety measure so that it doesn't adjust if it brushes against something in your pocket.
The cigar punch is also located on the base. Aside from offering all these features, the base itself is sturdy.
A transparent fuel window allows you to monitor the fuel levels, so you can tell when your lighter will need to be filled.
Things to Consider When Buying Cigar Lighters
With so many cigar lighters out there, it is best to give some thought to the kind of lighter you want before you head out to buy one. A few key points to consider will help you narrow down the exact style of lighter that best suits your needs.
1. Lighter Style and Size
Give some thought to the style and size lighter you need. If you are looking for a tabletop lighter, your needs will differ compared to seeking out a cigar cutter and lighter combo.
Tabletop Lighters – These usually weigh substantially more than a pocket lighter. This is because they are designed to sit on a table or countertop and not in your pocket. If you think of buying a tabletop lighter, think about where you will be keeping it and what size will be best for that spot.
Pocket Lighters – A pocket lighter is far more lightweight and much smaller. This allows them to sit comfortably in your pocket without taking up too much space.
2. Flame Type
Flame type plays an essential role in the style of lighter you buy too. A lighter with a single flame, unless it comes with a unique housing like a Zippo, will likely blow out in the wind.
A jet lighter usually offers a double, triple, or even a quadruple flame. These offer impressive lighting abilities but typically require more butane to fire them up. As a result, these are often a lot bulkier than your single flame lighters in both size and weight.
3. Flame Adjustment
A flame adjuster is a vital safety feature that should be included if you buy a high-end cigar lighter. These adjusters allow you far more control over the flame size and are less likely to damage your cigars.
4. Features
When it comes to buying a luxury cigar lighter, there are a few features you will want to consider. A cigar lighter with cutter added is one of the handiest features. Not only does this offer you two cigar accessories in one, but it means less to carry in your pockets.
A transparent fuel window also makes a big difference. It makes it easier to see when your lighter needs refueling, so you don't get caught out and about with a lighter out of gas.
A carry bag or travel pouch is another helpful extra to consider. They protect your lighter and provide a neat place to pop your other smaller accessories into as well.
Another thought would be about how easy your lighter is to refill. You don't want to be left with one that is more hassle than anything else. Luckily, the cigar lighters we have reviewed here are all simple to fill.
Cigar lighters come in all shapes and sizes. Taking time to consider the type and style of cigar lighter you need will help you find the right lighter for you. Hopefully, our reviews have helped you find one that sparks excitement and meets your needs.
If you were to ask our opinion on the best cigar lighter? It would, hands down, be Tomolo's Torch Lighter with Quadruple 4 Jet Flame for the pocket lighter. It offers a steady windproof flame, and it comes with a cigar punch. When it comes to a tabletop cigar lighter, The Burner by Alec Bradley has our vote. It's sleek, stable, and offers an impressive flame.