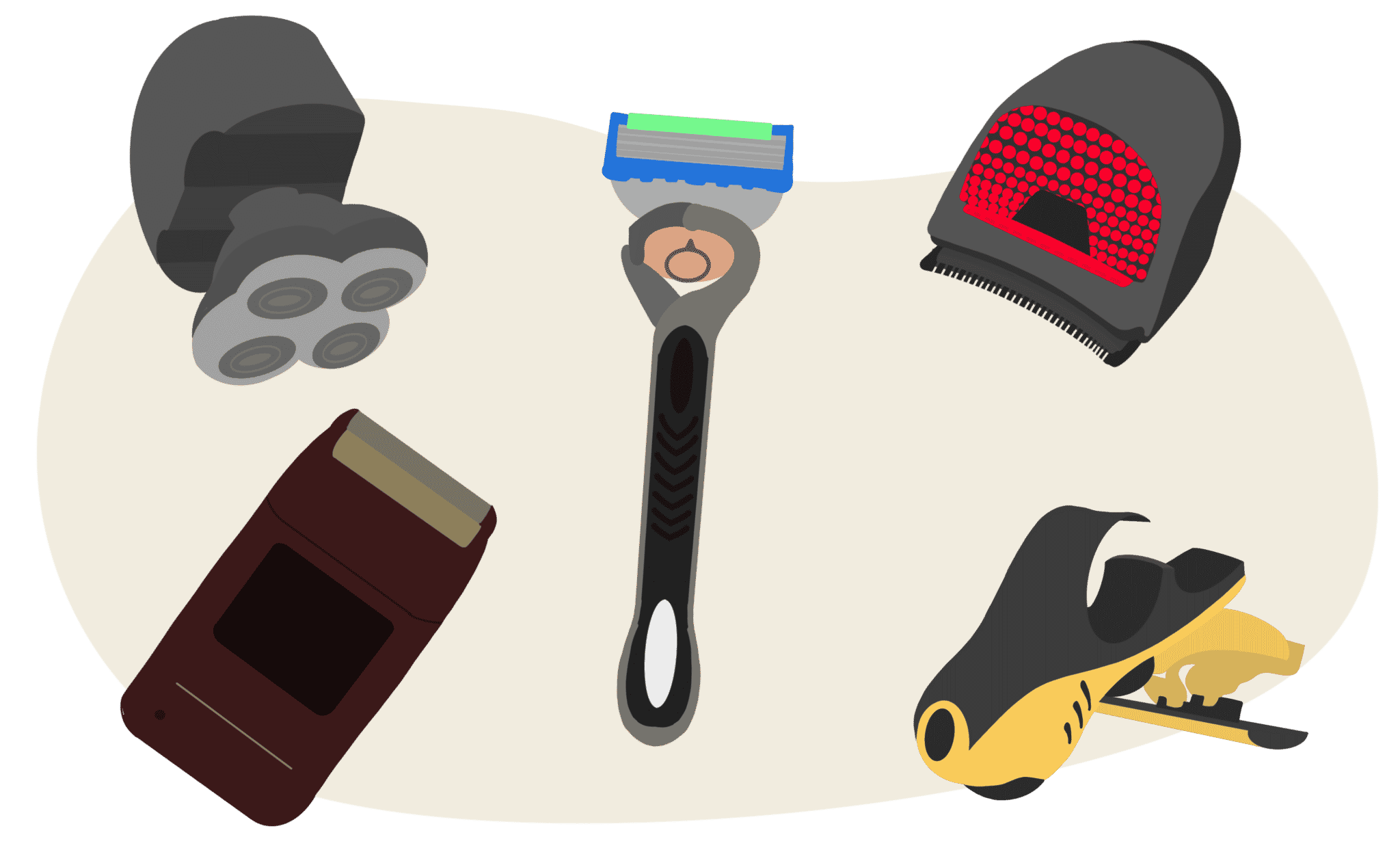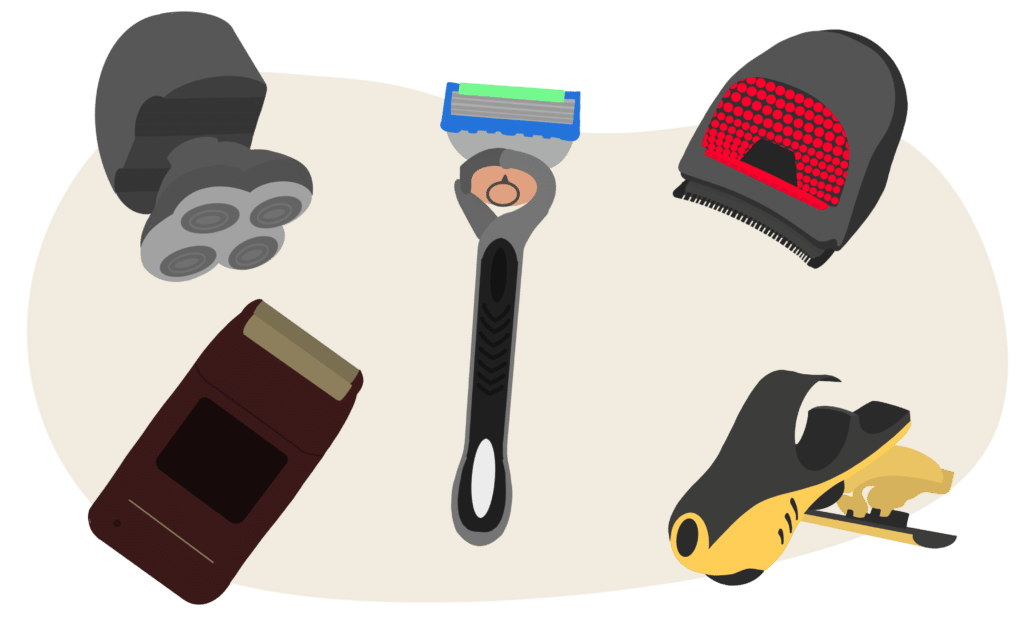 There are many reasons men choose to share their heads.
Sometimes it's because they love the feel of a clean-shaven head, or it's their chosen look.
Other times it's to deal with a receding hairline or pattern baldness. And let's be honest, comb-overs and powder concealers just don't cut it anymore.
Whatever the motivation is, to achieve your hairless look, you will need a shaver that does the job well. Finding the right one is imperative, seeing as you will use it frequently.
So, let's get started and find the perfect head shaver for you.
After chatting to men who shave their heads and doing some research, we got down to the nitty-gritty on head shavers. With this insight, we set about finding 12 of the best head shavers on the market to review for you.
Sigma Grooming developed a fantastic electric head shaver that we believe to be the best because of its affordability, quality, and multi-functionality.
Shaped to fit well in your palm, this shaver gives you a quick, easy, and close shave.
Use it to shave your head, shape your facial hair, exfoliate your face, or trim your nose hair. Sigma Grooming has made this tool a one stop shop.
Specs
5 Shaver Attachments
5 Floating Heads with Dual Blades
Cordless and Rechargeable
Waterproof
Who is it Best for?
This head shaver is great for men that want a quick, yet close shave and for men that want more functionality out of one tool.
Incorporating 5 floating heads with double blades, this head shaver allows you to get a close, precise shave in minimal time. The ergonomic shape fits comfortably in the palm of your hand and makes it easy to get around all the curves of your head.
This tool is also great for traveling – even if you forget the charger. With 2 hours of shave time, you hardly ever need to plug this shaver in to charge. It's also small enough to fit in a small toiletry bag so you can take the whole barbershop experience with you since it has 5 grooming attachments.
Key features
The 5 attachments that come with this shaver are: the five floating blade head shaver, a trimmer with 4 comb lengths, a nose and ear trimmer, a facial cleanser brush, and a facial toner.
These attachments basically give you the whole barbershop in one tool.
The head shaver specifically, though, is top-notch because of the floating head design. This flexible design helps the shaver flex and adjust to all the contours of your head.
If you suffer from shaving irritation, this is the tool for you.
Utilizing a lithium-ion battery and a USB charging cable, one hour of charging time gives you two hours of shaving time.
Shave wet or dry and then easily clean this device afterwards under running water because it is fully waterproof – with every attachment.
Pros
Comes With 5 Interchangeable Attachments
Floating Heads Prevent Friction and Irritation
Pitbull offers you the best head and face shave you have ever had when using their Platinum PRO Shaver. A step up from their Silver PRO, this shaver features new and improved blades.
Convenient to clean and offering a closer shave than ever before, this is one tool you need in your grooming kit. Rated as one of the best head shavers for men, it offers you unparalleled control and a sleek, smooth shave.
Specs
Made from stainless steel
Rotary head
Cordless and rechargeable
IPX5 waterproof rating
Who is it Best for?
Offering a close shave, this head shaver is perfect for men who have short hair.
If you like having options, then this shaver is one to try. Offering wet and dry shaving, you can pick the method that suits you best. With an IPX5 rating, this shaver is 100% waterproof. So, if shaving in the shower is your thing, you can do so without concern. The shaver is also simple to rinse off under running water.
If you travel, then this shaver is perfect for you. Neat, compact, and rechargeable, you can pack it in your bag with ease. It won't take up much space, and it's great for that quick, on-the-go shave. Use it for your face or beard. The versatility adds to the convenience of the shaver-no more packing a razor and clippers.
Key features
As one of the best men's head shavers, the Platinum PRO offers many impressive features.
One of the standout elements is the control the shaver offers. A unique grip allows you to hold the device and guide it with your entire hand, enabling a smooth shave each time. This ergonomic design makes using the shaver enjoyable and straightforward.
The pivoting blades take things a step further. Offering impressive flexibility, they reach even the most difficult of areas. By rotating as they move across your head, they provide you with a multidirectional shave.
The cordless design means you can shave your head wherever you are. A battery that offers 90 minutes of shaving time and recharges with a simple USB cable makes life simpler.
A helpful travel lock ensures the safety of your shaver and your clothing. Set the lock in a matter of seconds by holding down a button, and you're good to go.
Pros
Suitable for all skin types
Leo J. Wahl created the first hand-held electric shaver over 100 years ago. His vision was to supply the public with well-priced products of excellent quality. Over the years, Wahl has continued this ethos, and we see it here today with their remarkable men's shavers.
Wahl's Professional 5-Star Series Rechargeable Shaver is no exception. With its comfortable yet classic style, it offers a shave so smooth you will wonder if you ever had hair to begin with.
Specs
Rechargeable
60 minutes of run time
Features a hypoallergenic gold foil
Includes accessories
Who is it Best for?
If you're the kind of man who loves a precise shave with no fuss or attachments, then this shaver is for you. It offers a classic look and feels with a rich burgundy finish.
Sensitive skin is tough to deal with, especially if you need to shave almost daily. If you battle with razor burn, skin irritation, or ingrown hairs, then give this shaver a try. It comes with a hypoallergenic gold foil that protects sensitive skin.
And if you are a traveler, then even more reason to invest in Wahl's rechargeable shaver. It charges quickly and packs neatly into your luggage, so you can enjoy the perfect shave wherever you go. Because the charging plug is so small, packing it is no problem either.
Key features
One of the best features of this shaver is that it is simple to use. Switch it on, and when you're done, switch it off. Nice and easy. Wahl has taken things back to the old-school ways with both the simplicity and design of this male head shaver. And for some, this is perfect; it lets you get your shave over without a fuss.
That it is cordless makes things even better. Charge it and be done with cables. The battery offers a full hour of run time, which equals quite a few shaves you can get through before needing to recharge it.
If a close, sharp shave is what you are looking for, then you will find it with this shaver that doubles as a shaper. Designed for use at home or by professionals, this device gives you a smooth shave each time.
As an added bonus, Wahl also includes cleaning brushes so you can keep your shaver looking like new.
Pros
Ideal for head, neck, and face
Offers an ultra-close shave
Manufacturing disposable razors as far back as the 1800s, Gillette understands the need for a precise, smooth shave. Whether you use their razors for your face, neck, or head is up to you, but expect a clean shave each time.
Gillette's Proglide Shield Men's Razor includes an ergonomic handle and four razor cartridges. A full month's worth of smooth, sharp shaving. In providing you with four extra cartridges, Gillette leaves it up to you to decide when to refresh your blade.
Specs
Includes four cartridges
Features a precision trimming blade
Sees five anti-friction blades
Offers a micro-comb
Who is it Best for?
Some men enjoy using electric shavers to shave their heads. Others prefer a manual razor. If you're the kind of guy who likes to do things manually, then this one is for you. With a handle and a set of disposable blade cartridges, you can get the sharp shave you love.
If you suffer from sensitive skin, then this may be the razor you need. Each cartridge features five blades placed in close succession. The idea behind this is to cause less friction against your skin while offering you a closer shave. Added to these blades is a lubrastrip that moisturizes and soothes your skin.
Because this razor allows you greater control, you can achieve the shave and shape you want with ease.
Key features
Let's talk about the cartridges for a minute. They come in a set of four with the handle, so you can swap them out as you need to.
Each cartridge comes with five extremely sharp blades, placed near together. The concept behind this design is two-fold. First, the close proximity of the edges to one another prevents skin irritation. Second, the blades are each angled, allowing them to slice the hair right down to your skin for a smooth, even shave.
A micro-comb sits just before the first blade. Its duty? To comb the hair down, allowing the razor to do its job efficiently.
At both the top and the bottom of the cartridge, is a lubrastrip. A moisture-filled band that lubricates your skin, allowing the razor to glide over your contours. It also supplies your skin with nourishment, reducing skin irritation.
At the back of the cartridge, is a precision trimmer. This handy blade allows you to trim those areas that need a more precise finish. Sideburns, mustaches, and goatees all benefit from this.
The handle of the razor is a marvel in itself. Offering a pivoting head that allows the blades to sweep over your facial contours, no more cuts and nicks, thank you.
Pros
Adjusts to the contours of your face
If you are into award-winning razors that take on a futuristic look, then these razors are made for you.
HeadBlade offers razors of a unique sort, so fantastical in fact that they are on display in art museums. But don't for one second think that they are all about looks. Their functionality and efficiency are remarkable. Ergonomically designed to give you greater control and a smoother shave, their MOTO Men's Head and Skull Shaving Razors are a force to be reckoned with.
Specs
Ergonomic design
Includes an HB4 blade cartridge
Ideal for head, face, and body use
Features dual-action suspension
Who is it Best for?
Small, compact, and fits neatly in your hand – sounds like the perfect razor for any man, and it is. HeadBlade's MOTO razor features a unique shape, unlike any manual razor you have ever seen before.
It comes made from durable plastic and comes with a built-in rubber finger ring. The ring allows for added grip and control, so you get a precise shave, especially around the ears. So, if you find areas such as this to be tricky, then perhaps you ought to try this razor.
Having an option about what color your razor is, is always a bonus. HeadBlade is kind enough to allow you a little personal choice by offering their razors in a variety of colors. Although, we think the yellow and black makes for a pretty smart combo.
Key features
When it comes to features, this razor is, in itself, a feature. But aesthetics aside, it offers some pretty cool design elements too.
The MOTO Head and Skull razor comes specifically designed for use on the head. A dual-axis suspension allows the razor to move with the contours of your head, hugging the surface as it goes.
Why is this so great? First, it allows you to achieve an even shave all over. Second, it won't cut or nick your scalp, so no pain and no need to worry about whether you have removed all the blots of tissue paper from your head. Because the razor hugs close to your skin, it allows you to get a smooth, clean shave.
HeadBlade's razor works with both their HB4 and HB6 blades, so you can select the ones that work best for you.
Pros
Uses both the HB4 and HB6 blade cartridges
Offered in a range of colors
Cons
Only works with HeadBlade cartridges
When it comes to the best electric shaver for the head, neck, or facial use, you can't go wrong with a Philips Norelco Shaver.
Philips strives to improve people's well-being and health through innovation. Their Norelco shaver fits in with this standing perfectly. Its original design and convenience make it one of the most efficient head shavers on the market. Best of all, it comes with some pretty neat accessories, making it the ideal travel companion.
Specs
Stainless steel design
Waterproof
Offers wet and dry shaving
Cordless
Who is it Best for?
If you enjoy a shave that sits just above the skin, then this Philips shaver is a good bet.
ComfortCut Blades sit gently on the surface of your skin of a smooth, even shave. With 27 self-sharpening blades, this gentleman's shaver offers a sharp shave. Rounded blade caps allow the shaver to move effortlessly across your skin while protecting you from cuts and scrapes.
If you travel often, then this shaver is one you will want to investigate. It comes with a handy travel pouch and a charging dock, making it easy to use on-the-go. The rechargeable battery allows up to sixty minutes of run time. That's the equivalent of 20 shaves-ideal for the frequent traveler. It also means no more hassling with cords or trying to find plug points close enough to a mirror.
Key features
Philip's innovative shaver catches every hair by gliding over every contour of your head and face with ease. With its unique 5D pivot and flex heads, this shaver reaches each inch of your skin, leaving no hair untrimmed.
Aiming for convenience and hitting the spot dead on, Philips' shaver can be used anywhere. Use it in the shower or at the vanity with your most-loved shaving cream; the wet or dry shaving options leave it up to you.
If you often forget to charge your shaver, this beast by Philips has your back. A five-minute quick charge gives it enough power for a single shave. So you never need to leave the house without feeling fresh.
And if you're wondering about how this shaver does with sideburns and mustaches, the answer is: brilliantly. A pop-up trimmer makes trimming tough edges as simple as pie.
Cons
Does not include skin protect
If a grooming kit is what you are searching for, take a closer look at the Men's 5-in-1 Electric Shaver & Grooming Kit by AsaVea.
Alongside the quality shaver, it includes an assortment of accessories. Daily grooming is now easy and enjoyable. Shave your head, shape your mustache, give yourself a facial, and trim your nose hair, all with this kit by AsaVea. Now you can enjoy the full barbershop experience in the comfort of your own home.
Specs
Cordless
Waterproof
Made from stainless steel
Ergonomically designed
Who is it Best for?
Designed for men who prefer a precise shave, the AsaVea electric head shaver is shaped for ultimate control. A compact design that allows you to grip it with your entire hand makes it easy to feel what you are doing as you go along. Many men agree this feature is one that draws them to the product.
If you often find yourself away for business, then this head shaver will bring convenience to your life. It is small enough to fit neatly in an overnight bag, and because it is cordless, you can take it just about anywhere.
Love going to the barber for a good facial and grooming but don't always have the time? Perhaps you should invest in this comprehensive kit? It includes a nose hair trimmer, a facial deep cleaning brush, a facial massage brush, a hair trimmer, and a five-headed shaver. If this set doesn't keep your grooming game strong, nothing will.
Key features
When it comes to features, this shaver has plenty. A compact, ergonomically designed body fits the shaver comfortably into your hand. The shape combined with the five-directional floating head gives you ultimate control.
Together the five heads combine to cover a larger area, reducing friction and irritation. So if you suffer from sensitive skin, try out this shaver. The floating design of the heads allows them to flex, fitting the contours of your skin. Each head moves in five different directions, reaching every hair there is. The result? A smooth, even shave with no irritation.
Charge this versatile shaver for just two hours and enjoy 60 minutes of run time. You can quickly charge it with a USB cable, great for when you are away on business.
Whether you prefer wet shaving in the shower or dry shaving with cream, this shaver offers you both. It is fully waterproof, making it simple to clean.
Pros
Offers a 5-in-1 grooming set
Uses HyperFlex technology
Cons
Travel pouch not included
Zippy and neat, you can't go wrong with Philips Norelco's OneBlade Hybrid Electric Trimmer and Shaver. This electric shaver may seem simple, but it offers a lot of power.
A cross between an electric shaver and a razor, this handy gadget uses disposable blades. The best part? Each blade can last up to four months before it needs replacing. It is battery-operated, though, making it simple to take with you wherever your adventures lead.
Specs
Battery operated
Dual-sided blades
Includes three stubble combs
Waterproof
Who is it Best for?
Perfect for men with facial hair of any length, this head shaver allows you to trim even the wispiest of hair. It comes with three stubble combs: one for a close, clean shave, another to leave behind a light stubble, and the third for a longer cut.
This unique shaver makes it simple to shave off your hair entirely or trim it to leave a little behind. Whatever the look you are going for, you can achieve it with this nifty shaver.
Because it is rechargeable, you can use it anywhere. No more being tethered by frustrating cords that don't reach. The versatility of the battery operation allows makes it ideal for travel too. And while you may not be able to pack it in hand luggage on the airplane, you can certainly fit it into your stowed luggage with ease.
Key features
Designed for men who enjoy wearing their hair or facial hair in various styles, this shaver offers impressive versatility.
A pivoting head allows the blade to match your face and head's contours as you move the shaver over your skin. This flexibility makes it easier to get a smooth, more even shave. And, it prevents shaving cuts.
It is waterproof, so whether you use it in the shower for a wet shave or at the basin with cream for a dry shave is up to you. The water-resistance of this shaver makes it a breeze to clean too.
The OneBlades used by the shaver last a long, long time, four months to be exact. The blades are simple to switch out, making convenience one of the key features of this device.
An eight-hour charge leaves you with 45 minutes of continuous run time. Place it to charge overnight and be ready for action the next morning.
Pros
Offered in three unique colors
Can be used with hair of any length
Cons
Designed for facial use only
Philips Norelco has done it again, but this time with a 29-piece grooming kit. Designed to leave you feeling like you've spent the morning at the barber's, this kit has it all.
Use this comprehensive set for all areas of your body, head, and face. And when you're done, rinse off this stainless steel shaver for an easy clean. Looking this good has never been so simple or so cost-effective.
Specs
Made from stainless steel
Rechargeable
Includes 29 accessories
Self-sharpening blades
Who is it Best for?
Whether you need it as a bald head shaver, a body hair groomer, or a beard trimmer, this shaver is for you. Why? Because it does all these things and more. It comes as a 29-piece set that packs neatly into a travel bag so you can take it with you wherever you go.
It includes a rotary nose and ear trimmer, a body shaver, a detail trimmer, and even an extra-wide hair trimmer. Enjoy a close shave or a shave that leaves a little stubble behind.
The best part of this handy groomer is that it doesn't need any blade oil to keep it running smoothly. You simply rinse it, dry it off, and pack it away; it is more low maintenance than you could imagine
Key features
The thing that leaves us most impressed with this shaver is the battery run time. While most shavers offer around an hour run time before they need recharging, this one features up to six hours. It also auto-adapts to fit either 110V or 240V. If that wasn't remarkable enough, it also quick charges, allowing you to shave after only five minutes on the charger.
DualCut blades give this shaver its edge, offering precise and versatile trimming. Whether you are shaving your head or shaping your beard, this shaver has you sorted.
The handle on the shaver is easy to grip with its rubberized detailing. Simple to use switches and easily interchanged heads make this shaver convenient and enjoyable. Shaving is no longer a chore but a pleasure.
Pros
Offers six hours of battery life
Comes with a storage case
Cons
Not for use in the shower
For years, Remington has, as they put it, design tools to express the real you. Crafting and designing innovative devices that help you achieve your own personal style. Their head shavers for men are just some of their many products known the world over.
If you are looking to elevate your style and try a new take on personal care, then the Remington HC4250 Shortcut Pro Self-Haircut Kit is the tool you need.
Specs
Ergonomic design
Features an extra-wide curved blade
Includes nine length-adjusting combs
Rechargeable
Who is it Best for?
If you are one of those people who favor control above all else, then this device is the one you need. It fits securely in the palm of your hand, allowing you complete control when guiding it across your skin. The closeness of your hand and head makes it easier to know if you have missed a spot, as though there was no shaver at all.
The compact and sleek design makes Remington's head shaver ideal for frequent travelers. Included are also a charging adapter and a travel pouch, making it perfect for packing into your luggage.
If trying out various hairstyles and looks is your vibe, then this shaver will make your day. Nine length adjusting combs come with the shaver, so you can cut your hair to the length that suits you most.
Key features
While this unique shaver may offer a relatively low battery life of just 40 minutes, it more than makes up for it in other areas. For instance, the fact that it is cordless and can be used anywhere is pretty handy.
The extra-wide, curved blade shape reduces the amount of time you need to shave your head by covering a greater area. By contouring the form of your head, it also provides a cleaner, more even shaves. So no more hitting the same spots over and over to get the look you want.
And then there are the blades. Made from stainless steel, these sharp, durable blades offer the perfect shave every time. Cutting through the thickest of hair without pulling or snagging, this shave will be a comfortable one.
The blades remove quickly, making switching them out simple. Cleaning them is a breeze too.
Cons
Not completely waterproof
Small, lightweight, and versatile, OriHea's Electric Shaver for Men is worth a try. A barbershop in the palm of your hand, it offers a range of features to complete your daily grooming routine.
This five-in-one grooming kit offers not only the best shaver for a bald head. It also includes a facial cleansing brush, beard trimmer, nose hair trimmer, and hair clipper guide combs. Whether you want to shape your beard or go the whole hog and groom your face, this shaver has you sorted.
Specs
Rechargeable
IPX7 Waterproof rating
Features 5D floating heads
Can be used for dry or wet shaving
Who is it Best for?
If you're a man who loves convenience, then you should give this head shaver a spin. It is cordless, rechargeable, and can charge while connected to a host of different devices.
This makes it perfect for the man who loves to travel. Pack it in your bag without missing the space. And while you're out and about seeing the sights, charge it on your laptop.
It charges in just 1.5 hours and leaves you with 90-minute battery life. The travel convenience doesn't end there, though. A useful travel lock prevents the shaver from turning on while in your bag.
If you are a fan of taking the time to groom your head and face, then please, don't pass up the opportunity to treat yourself to this shaver. The cleansing brush attachment allows for gentle exfoliation, while the nose trimmer keeps things tidy. Finish it off by shaping your beard and shaving your head for a fresh, stylish look and feel.
Key features
Designed for use on your head and face, this shaver needs to be able to reach each hair comfortably. And, it does just that, thanks to the five multidirectional floating heads. Each flexes and adjusts to fit the contours of your head and face, giving you a smooth, clean shave. The best part? No cuts, scrapes, or razor burn.
These heads are fully waterproof and can be cleaned under running water.
Perfect for a wet or dry shave, you can use it in the shower or at the vanity mirror, whichever works best for you.
Because it is ergonomically designed to fit in the palm of your hand, this shaver provides you with unprecedented control. Giving you an effortless shaving experience.
Pros
Offered in four unique colors
Includes an LED display screen
Cons
Does not include a travel pouch
Even some electric shavers need to have their blades and heads changed periodically. Philips Norelco makes this easy with their SensoTouch Dual Precision Heads. These durable heads offer a lifespan of up to 12 months, making them pretty convenient too.
Offering a vast range of high-quality men's shaving products, Philips Norelco knows their stuff. With this in mind, you can believe that these shaving heads provide only the best features and materials.
Specs
Features dual precision heads
Uses GyroFlex 2D technology
Stainless steel blades
Offers a 12-month life span
Who is it Best for?
If you use a Philips Norelco series 6000 shaver, then this shaver head is for you. It works fits with any of the shavers in this range, allowing you to switch out your shaving heads with ease.
Using even an electric shaver, you will want to change the heads often, unless it has self-sharpening blades. This ensures it always leaves you with the smoothest, sharpest shave.
If sensitive skin is something you suffer from, then give these heads a try. They use unique GyroFlex 2D technology that allows the blades to glide over your skin without applying too much pressure. In doing this, it prevents friction and the irritation associated with it. The lack of pressure also prevents razor burn and ingrown hairs.
Key features
These shaving heads leave no hair behind, with their dual precision blades that catch even the shortest of stubble. No matter how short your hair may be, these blades will trim it all, leaving you with a head as smooth as a bowling ball.
Philips Norelco makes use of innovative SkinGlide technology. This allows the shaver to move effortlessly over your skin, reducing friction and irritation. Because the blades move smoothly over the contours of your skin, you are left with an even, precise shave.
A unique seal makes these heads ideal for wet or dry shaving, so you can stick to the method that works best for you.
The GyroFlex 2D tech enables the blades to pivot and flex as they move over your skin, tilting slightly inwards as they go. By doing this, they can fit each curve perfectly, allowing for a clean, even shave and not cuts or nicks.
Pros
Allows for wet or dry shaving
Cons
Only works with the SensoTouch 1150, 1160, 1180
Telfun brings our reviews to a close with what is possibly the most impressive shaver of the lot. Packed neatly into a durable carrying case, their 5-in-1 Electric Razor for Men does it all. It covers every aspect of facial grooming and a perfect head shave every time.
This unique kit includes five detachable accessories so you can feel like you've stepped out of the barbershop every day. This device is easily noted as the best head shaver for men.
Specs
Made from stainless steel
Level IPX7 Waterproof
Ergonomic design
Ideal for head and face
Who is it Best for?
If noisy shavers get you down, then Telfun's 5-in-1 shaver will lift your spirits. It offers a quiet, efficient shave. With this compact shaver, your days of shaving accompanied by a high-pitched buzzing are over.
Sensitive skin can be downright uncomfortable. Many men who suffer from this tend to shy away from shaving, as most find that using a shaver often makes it worse. This men's shaver is different. It offers a hypoallergenic design that prevents irritation, ingrown hairs, and razor burn. Now you can achieve the smooth shave you have always wanted, without the bumps and rashes.
For those who travel, this impressive device comes with a travel bag of its own. The case is both hardy and sleek, but if this is too big to fit in your luggage, the shaver has a travel lock. This little button allows you to lock your shaver, so that should it come into contact with anything in your case, it won't switch on accidentally.
Key features
The list of key features for this shaver is so long we could talk about it all week. Don't worry, we won't, though. Here are some features that left us wowed:
The shaver's battery life lasts up to 90-minutes, and it fast charges in just two hours. If that isn't convenient, we don't know what is!
An LED display keeps you on top of the battery and how it is charging. It also lets you know your selected setting and whether the shaver is on.
Offering five unique applications, the shaver not only gives you the smoothest head shave of your life but offers extra features too. A sideburn trimmer, hair clipper guide combs in three sizes, a nose trimmer, and a cleansing brush all come as part of the set.
The shaver is completely waterproof, so you can use it in the shower. Whether you enjoy a wet or dry shave, the choice is yours, and once you are done, a quick rinse under the tap will leave your shaver clean.
Pros
Includes a hardy carrying case and five attachments
Cons
None – this one scored ten out of ten
Things to Consider When Buying Head Shavers for Men
When buying a head shaver, there are a few things to keep in mind. Each of these aspects affects how the shaver feels and the shave it gives you, and ultimately the end result.
Finding the shaver that works best for you depends mainly on personal preference. However, certain design elements contribute to the comfort and effectiveness too. Let's take a closer look at what these could be.
1. Ergonomic Design
A shaver that fits comfortably in your hand will make the process much more enjoyable. It will also leave you with a better result.
A shaver that feels uncomfortable to hold or slips about will find you rushing to get the job done. In most cases, this leaves you with an uneven and patchy shave and a few shaving cuts or grazes.
Take the time to find a shaver designed to fit correctly in your hand. Many of the shavers we highlighted in our reviews offer a comfortable fit. You just need to see which works best for you.
2. Corded or Battery Operated
While most of the shavers we reviewed here are cordless, you may, at some point, look at a corded shaver. In which case, it is essential to consider what the best option is for you. Both offer their pros and cons.
A corded shaver means you need to find a plug point and always have the correct adapter. It also means that you never have to worry about recharging the thing.
Conversely, a rechargeable shaver offers greater convenience in that you don't need to fight with a cord that is always in your way. You also have far more options in terms of where you shave.
3. Cutting Options
Head shavers, while designed to leave you with a smooth head, may not always meet your standard of what you consider as smooth.
Some manufacturers leave you with a slight "peach fuzz." If that's not what you were after, you could end up somewhat disappointed with your chosen product. Take the time to see precisely what level of smoothness they are offering.
Reading reviews on the product will also be beneficial in helping you find the finish you are after.
4. Waterproof
If you're the kind of guy who enjoys shaving in the shower, you will want to find an entirely waterproof shaver. How you clean your shaver also depends on how much water exposure the device can handle.
For this reason, you must find out what waterproof rating the shaver has. An IPX7 waterproof rating means the shaver can be submerged in water up to one meter deep for 30 minutes. Conversely, a shaver that has an IPX4 rating is resistant to water splashes only. The higher the number or rating, the more waterproof the shaver is.
The importance of owning an excellent quality head shaver is high, especially for men who shave their heads frequently. Taking into consideration the needs you have will help define the type of shaver you should buy.
If we offer you our opinion on the best head shaver out there, it would hands-down go to Telfun's 5-in-1 Electric Razor. It provides more than your average head shave, and it looks sleek too.
With that being said, each man has his own preferences. Take your time in doing your research and find the best head shaver for you.