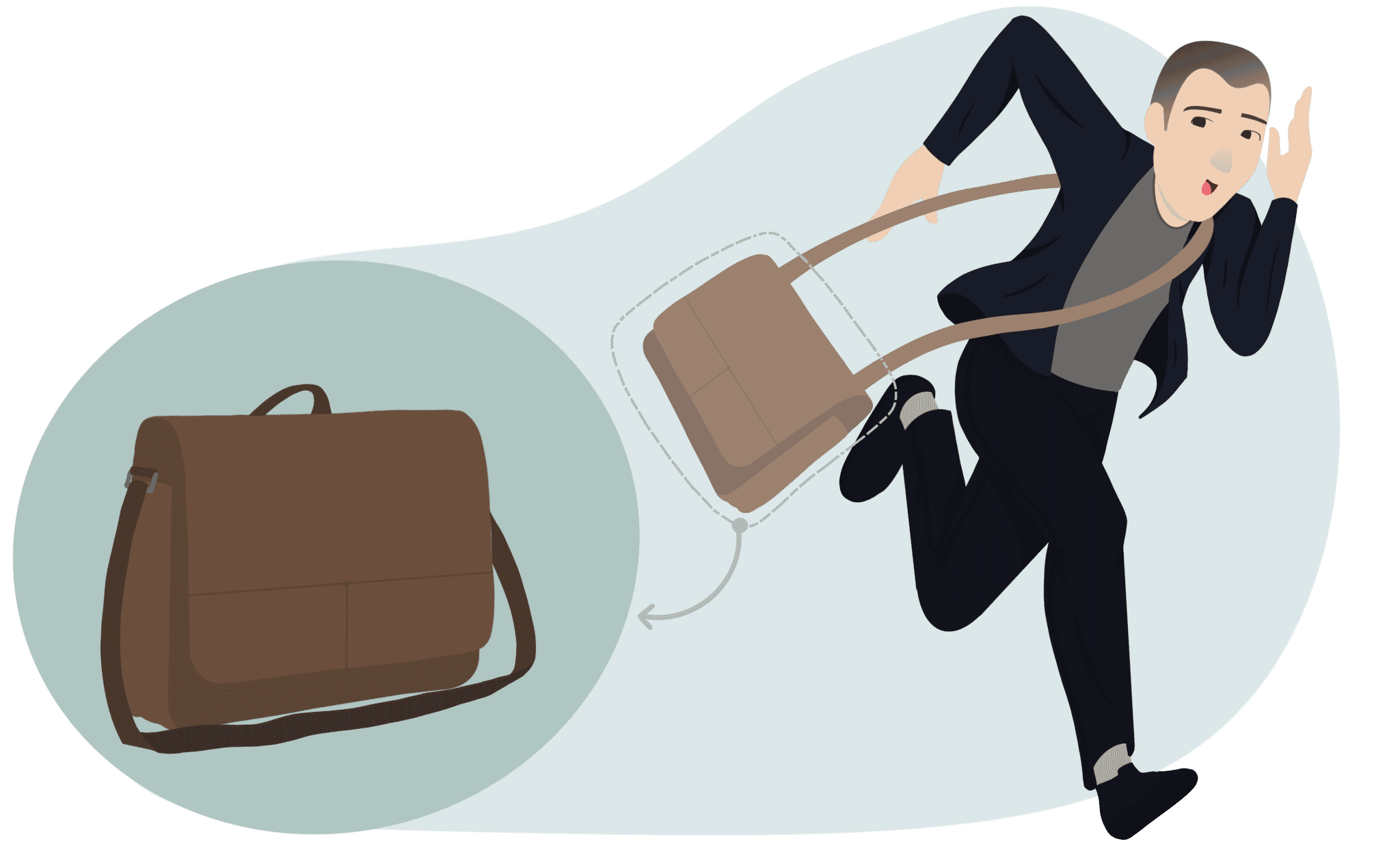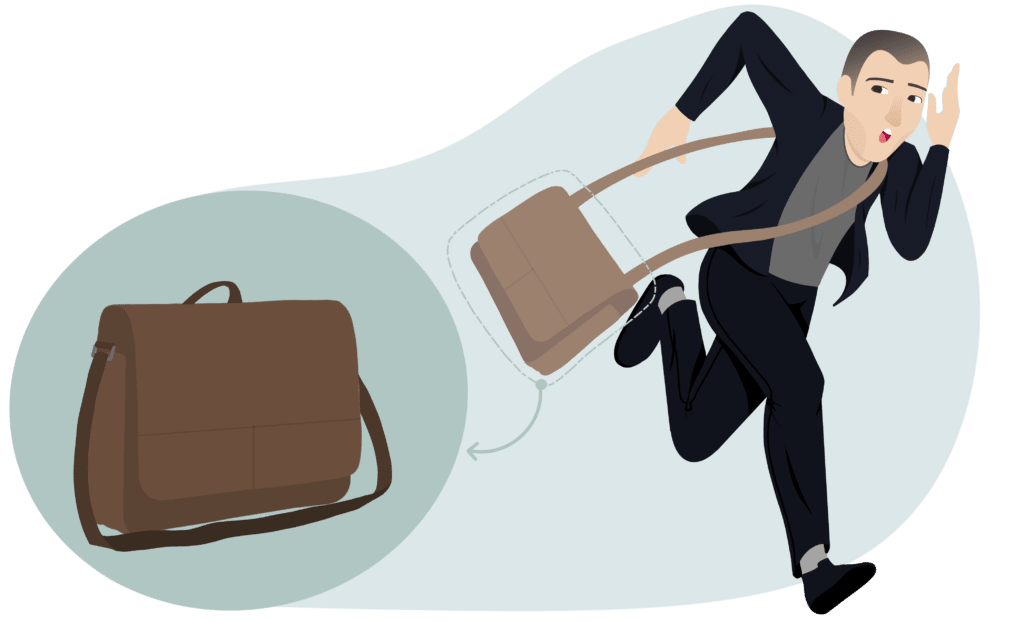 Briefcases and laptop bags, while useful either tend to look stuffy, old-fashioned, or overly corporate. They are not always comfortable to carry either. So what else can you use to hold all your documents and laptop that still adds a touch of your personality?
A premium men's leather messenger bag tops our list. These bags offer it all. They look trendy; they are designed to last and are easy to carry- they are the perfect solution.
If you are looking for a bag that does the job and imparts to the world that you are stylish and sophisticated, keep reading because we have just the products for you.
QUICK OVERVIEW: Best Leather Messenger Bags
Men's Messenger Bag by Newhey

Durable
Removable and adjustable strap

VIEW ON AMAZON →

Leather Messenger Bag by Clifton Heritage

Adjustable and removable strap
Spacious

VIEW ON AMAZON →

KPL 18 Inch Leather Laptop Messenger bag

Offers multiple pockets
Handmade

VIEW ON AMAZON →

KPL Rustic Vintage Leather Messenger Bag

Vintage look
Artisan crafted

VIEW ON AMAZON →

Augus Leather Briefcase for Men

Offered in two unique shades
Features a back sleeve

VIEW ON AMAZON →

Leather Briefcase for Men by Time Resistance

Comes with a dustbag
Durable

VIEW ON AMAZON →

Offers three internal compartments
Internal zippered closures

VIEW ON AMAZON →

KPL 18-Inch Leather Messenger Bag

Offers both a handle and a strap
Features a lockable inner compartment

VIEW ON AMAZON →

Vintage Leather Laptop Bags for Men by Hulsh

Offers multiple pockets
Handmade

VIEW ON AMAZON →

Kenneth Cole Reaction Risky Business Messenger Bag

VIEW ON AMAZON →
Best Leather Messenger Bags
To find the best leather messenger bag, we scoured the web, taking time to look closely at each one we came across. By the end of our research, we had found not one but ten bags that each offer remarkable style, durability, and functionality. Let's dive in and take a closer look.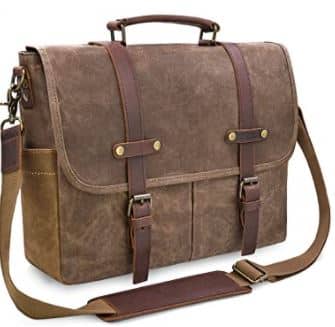 Young, wild, and free- three words NewHey uses to describe their bags and the men who wear them. This well-established brand promises style, durability, and versatility for its products.
These messenger bags see fine detailing, expert craftsmanship, and a style to suit men of all ages. NewHey considers essential aspects when crafting these carryalls. Space and comfort combine to create a bag that feels light on your shoulder and makes it easy to carry all your worldly goods.
Specs
Made from genuine leather
Waterproof
Fits a 15.6-inch laptop
Waxed finish
Who is it Best for?
If you are a man with impeccable taste, then this bag is one to own. It comes fashioned from premium cowhide horse leather that looks incredible and feels just as great. The soft, buttery material features scuffs and texturing that can only come from natural leather.
While looking neat, the interior offers enough space to carry a laptop, documents, books, and even an umbrella. So, whether you need a messenger bag for transporting items to and from the office or books for college, this bag is for you.
This exclusive messenger bag makes transporting your things a painless and stylish task, making it the ideal bag for men of all ages.
Key features
NewHey's messenger bags feature a blend of premium cowhide horse leather and waxed canvas. The incorporation of the canvas gives the bags their waterproof quality. Some companies opt to use one material or the other. NewHey sees benefit in using both. Why compromise the style leather brings or the protection the canvas brings?
The space in the NewHey messenger bag is generous. It offers a laptop compartment large enough to house a 15.6-inch laptop. Included are also nine pockets, so you can keep your things organized- no more rooting about for that ever-elusive USB stick.
An adjustable shoulder strap allows you to carry the bag in a way that suits you best. Wear it crossbody, slung over your shoulder, or remove it entirely so you can hold it by the handle instead.
One of the best things about this bag is the low maintenance required to keep it looking new. A simple rub-down with leather cream and a soft cloth will do the trick.
Pros
Removable and adjustable strap
Cons
Only offered in one color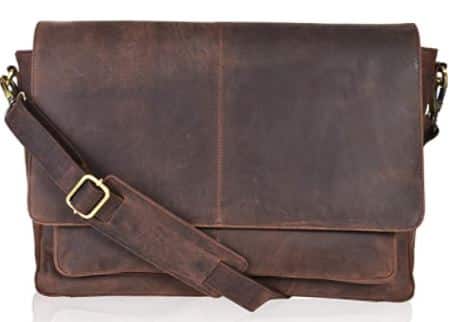 Clifton Heritage gained a name for themselves with their sturdy, leather messenger bags. They make their bags with functionality in mind to make your life simpler and better. That they threw some impressive style into the mix goes to show Clifton Heritage knows what they are doing.
These messenger bags for men offer sleek simplicity with a touch of sophistication. And let's not forget about space-these bags come with enough room for your average-sized laptop and a range of other personal items.
Specs
Made from genuine leather
Polyester lining
Features a magnetic closure
Holds a 15.6-inch laptop
Who is it Best for?
Clifton Heritage creates their bags for men who are life's go-getters. Achievers and established business executives who know what they want will find these bags to be precisely what they need.
Offering plentiful space to keep the items you need most during your busy day, this bag provides convenience. Store your laptop, your sunglasses, your folio with your latest deal, and your business cards.
For the man who doesn't have time to stop and look for a pen or a mint before a meeting, this bag has you covered. It includes multiple pockets in its design, providing a place for everything. Find what you are looking for in seconds with this efficient bag.
Key features
When it comes to sophistication, nothing says it quite like a genuine leather bag. Clifton Heritage knows this, which is why their satchels come made from only the finest leather. Supple and textured, this material promises durability and style.
This refined style carries through into the design of the bag. An adjustable shoulder strap allows you to set the bag to your favored length. It also offers many ways to wear it-slung over your shoulder, worn crossbody, or carried by the handle.
Clifton Heritage completes the design of this bag with precise and detailed stitching. Sleek finishings in the form of magnetized brass buckles round off the look. Here, you will find craftsmanship at its finest, with each aspect of the bag considered bringing you a bag that lasts.
An internal zipper closure adds security to the satchel. It ensures none of your belongings slide out of the bag, making it ideal for carrying an assortment of items.
Pros
Adjustable and removable strap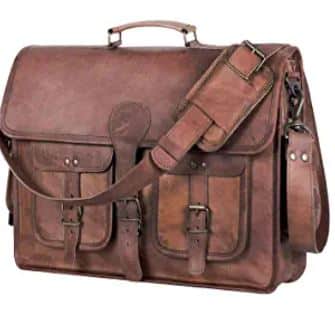 An American brand born out of a little girl's passion for leatherwork is known today as Komal's Passion Leather, or KPL. Based in Chicago, they now supply customers worldwide with genuine leather bags.
KPL places each bag through a three-step authentication and quality checking process. This means that the bags they supply are always top grade and made to perfection. Their 18-inch leather messenger bag is no exception. Painstakingly crafted with only the finest leather, this is one bag you don't want to pass up.
Specs
Made from full-grain leather
Features space for a 17.5-inch laptop
Removable shoulder strap
Comes with concealed locks
Who is it Best for?
Whether you are a high-powered executive, a CEO, or a college student, this KPL's men's leather bag makes it clear you are a man of style.
The bag comes with a unique look that implies the carrier is both sophisticated and intelligent. This richly colored bag develops a darkened patina with time that lends it a vintage look. So, if you prefer a bag that ages like a fine wine, then this one is for you.
There is a key feature to keep in mind when considering whether this bag is for you, and that is the size of the main compartment. This bag can fit a 17.5-inch laptop comfortably, along with various other personal items. So, if you are a designer, a gamer, or a draughtsman who uses a larger size laptop, then this bag will be a game-changer for you.
Key features
KPL's handcrafts their messenger bags from full-grain goat leather. They line the pack's interior with a sturdy canvas that offers added protection for the thing you place inside. The leather softens with age, lending it a supple quality and a worn look that only leather can deliver.
Nine pockets each of various sizes offer ample room to store your belongings. These include the main laptop pouch with a zippered closure and pockets for iPads, smartphones, and documents.
When it comes to carrying this messenger bag, KPL has made it easy. A detachable shoulder strap can be lengthened or shortened to fit you comfortably. Remove the strap and take it by the handle instead, if that is more your vibe.
KPL considered safety too when they came up with the design of this bag. A concealed push-lock keeps your belongings secure with the help of other zippered closures.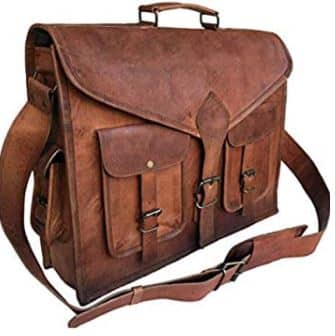 Crafting leather-made products for over a decade, Komal's Passion Leather, or KPL, has fine-tuned its products. Delivering pieces that are akin to artworks, KPL knows what their customers love.
These handmade leather messenger bags offer unrivaled style and durability. They go through stringent quality checks before they ever reach our hands, guaranteeing a perfectly made bag each time.
KPL offers an assortment of bags and accessories, but one that caught our eye was their Rustic Vintage Leather Messenger Bag. Because let's be honest, vintage never goes out of fashion.
Specs
Made from genuine leather
Includes a padded laptop pouch
Adjustable strap
Multiple pockets
Who is it Best for?
If vintage is your style, then this messenger bag has your name all over it. It comes made from full-grain leather that features a textured look. This texture comes from the scratches and wrinkles that naturally occur in the leather. The result? A retro-vintage look that brings a touch of the wilderness with it.
The authenticity of this bag makes it perfect for those who seek the real deal in life. It is free from lacquer or other coverings, and better yet, the leather is ethically sourced. Doing your part for the environment has never looked so good.
This bag offers a timeless look that suits men of every age, making it the ideal gift for brothers, fathers, uncles, and grandfathers.
Key features
If you are looking for a bag that offers ample storage, you've found it. KPL's vintage messenger bag comes with a padded internal compartment designed for laptops up to 17.5-inches. Two other internal pouches, also with zippers, add even more place to keep iPads and other items. A zippered back pocket creates a space for documents to be kept crease-free.
This messenger bag fits with your preference when it comes to how it is carried. It includes an adjustable strap that allows you to wear it over your shoulder or as a crossbody bag. However, if you would instead carry it by the handle, you can detach the strap with ease.
KPL's bags are known for their durability. It takes over 25 processes to create each bag, and 80% of these are done by hand. This attention to detail leaves you with an expertly crafted bag that is made to last.
Cons
May carry a slight smell at first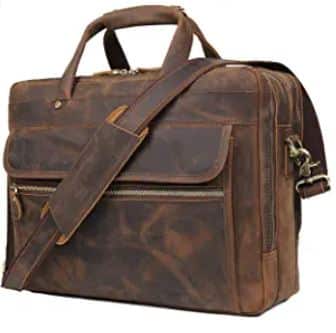 Augus prides itself on tailor-making luxury leather bags for men. They offer sturdy, minimalist cases and bags that speak to the heart of fashionable men the world over. Instead of dotting their bags with finishes, they focus on providing bags with ample space they know men need.
Augus' Leather Briefcase for Men is the epitome of the gentleman's case. It is roomy and sophisticated without appearing flashy or overstated—the perfect solution to carrying daily business necessities.
Specs
Features zipper closures
Offers space for a 15.6-inch laptop
Made from genuine leather
Includes a soft cloth lining
Who is it Best for?
As a business executive who finds himself out and about for meetings, you will need a bag for carrying your belongings. A bag that offers sufficient space for your laptop, essential documents, iPad, and other office supplies makes it simple to keep what you need with you. This leather messenger bag by Augus is the perfect solution.
This elegant messenger bag, made from full-grain leather, offers a minimalistic approach to men's luggage.
The durable material and the abundance of storage space make this bag perfect for men who often travel for work. A handy sleeve on the back of the pack allows it to slip over the handle of a trolly case. Doing this frees up your hands and keeps your luggage together, making it more manageable.
Key features
Augus' messenger bag, while it may not be the most stylish one we have reviewed, it certainly is the most functional. It is made from genuine leather, and to ensure the finishes are as durable, Augus uses only YKK zippers. A lining of soft cloth provides a protective layer to nestle your belongings in.
An interior padded pouch offers a place for a laptop up to 15.6-inches. On either side of this pouch are two full-size pockets that also feature zippered closures. Two smaller outer pockets provide additional space. You can find a handy pen and cardholder inside the bag too.
You can wear the bag in multiple ways, as it comes with both handles and a shoulder strap. Sling the strap over your shoulder or wear it as a crossbody bag. Or, if you are traveling, slip the sleeve over the handle of your luggage.
Pros
Offered in two unique shades
Cons
It will not hold a 17.5-inch laptop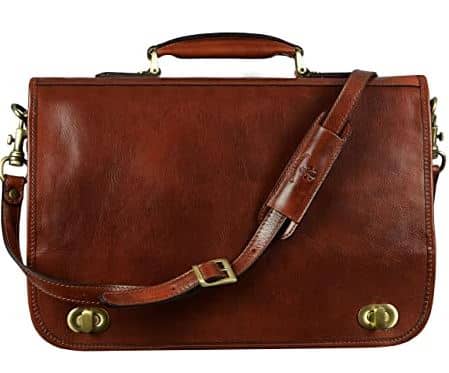 Time Resistance, founded by an artisan passionate about quality and timeless design, is a leading purveyor of men's luxury bags. Their goal is to craft bags that don't last for a season but a lifetime. They hit this nail on the head with their Leather Briefcase for Men.
A timeless classic, their men's messenger bag comes made from the finest Italian leather. Packaged in a protective dust bag, Time Resistance crafts this case for men with flair.
Specs
Made from genuine Italian leather
Features brass hardware
Twist-lock closures
Classic design
Who is it Best for?
For men who appreciate the finer things in life, this messenger bag by Time Resistance is a solid investment. This bag sees a sleek design that comes to life as a blend of Italian leather and brass detailing. Each element complements the other, balancing the form of the bag perfectly.
While the interior may be smaller than most, the bag brings with it an unrivaled sophistication. It is ideal for men who prefer working with smaller laptops or iPad, a stylish carryall for those items you need most.
Time Resistance describes this messenger bag as a piece of men's wear that combines the formal and the poetic. It is designed for any man who favors style, durability, and quality.
Key features
Understated and refined, two words come to mind when we describe Time Resistance's men's leather bag. It offers a classic messenger bag design with two interior compartments. These pouches fit A4 documents and laptops up to 15-inches in size. On the exterior of the bag and internally, you will find a range of smaller pockets for items such as phones and pens.
A handy clasp provides a place to store your keys, so no more scratching about trying to locate them.
Time Resistance prides itself on hand making each bag from full-grain leather. Extra strong stitching and YKK zippers enhance the durability of the case. There is no question these bags are made to last a lifetime.
The leather is hand-dyed with vegetable tannins, so no harmful chemicals here. This also means that the small inclusions and wrinkles in the leather come to the fore—a testament to the material's natural and unique quality.
Cons
Only fits laptops up to 15-inches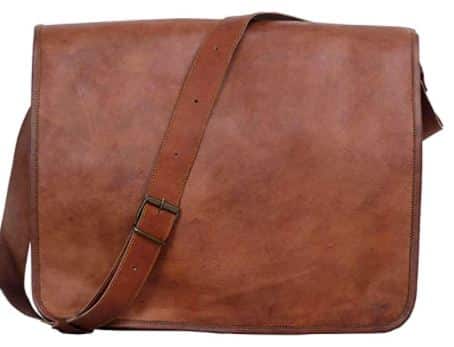 For a classic leather messenger bag, look no further than KPL's Leather Laptop Bag. A versatile addition to any man's wardrobe, this bag never goes out of style.
KPL commits itself to quality products that stand the test of time, and their leather messenger bags are no exception. If you are looking for a leather bag that will last for years to come and that will be on-trend no matter what year it is, then this is the bag you need.
Specs
Made from full-grain leather
Adjustable strap
Magnetic closure
Fits laptops up to 17.5-inches
Who is it Best for?
If you are looking for a leather bag that is all business and no fuss, then this is the one for you. KPL's leather laptop bag offers a simple yet stately design with ample space to store all your gadgets and stationery.
Three internal compartments provide a place to store your laptop and documents. An external zippered pocket offers space for smaller gadgets or pens and other items. If having space but not too much suits your style, you will want to check this case out closely.
If you are looking for the ideal gift for your husband, brother, grandpa, or uncle, then a bag that suits men of all ages is an excellent choice. This versatile bag is fitting for any man, and they can use it in a business or casual environment.
Key features
When it comes to a bag, you want something convenient, spacious, and secure. KPL's bag ticks all three of those boxes. The bag comes with sturdy YKK zippers and magnetic closures to offer you safe compartments in which to store your things.
Because there aren't too many compartments, only enough to store the things that matter, your days of rummaging about to find things are over. This is convenience at its best, supplying sufficient space without being overly fussy.
Another great feature of this bag is the shoulder strap. While it doesn't come with handles, the strap offers a far more comfortable option. Sling it over your shoulder, or carry it across your body, either way, it leaves your hands free.
And if you are thinking about durability, it ticks that box too. Heavy-duty stitching and expert craftsmanship combine with sturdy leather to leave you with a bag that will last a lifetime.
Pros
Offers three internal compartments
Internal zippered closures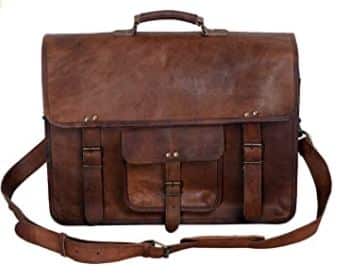 KPL is a brand renowned for its expert craftsmanship and its vast assortment of luxury leather bags. Each bag offers its unique style and fits a range of needs.
This 18-Inch Leather Messenger Bag is no different. It features a school-bag style take on the messenger bag. This classic design, combined with leather's worn look, leaves the bag with a quintessential vintage feel. A bag that is as refined as it is functional makes the ideal bag for men of all ages.
Specs
Made from genuine leather
Fits a 15.6-inch laptop
Lined with durable canvas
Sees a school bag design
Who is it Best for?
These men's leather bags take on the look of a vintage school bag. A unique style that never seems to go out of fashion. For men who appreciate a more casual, classic look, this bag is a sure winner.
And if you are looking for durability, then you're in the right place too. KPL's leather bags each come fashioned from sturdy full-grain leather. Heavy-duty stitching and reliable YKK zippers make sure the material is not let down by design.
Wear it for years and be in fashion always. These bags age with grace, becoming more supple and soft with time. They offer a trusty place to store your belongings and will travel with you through the years, no longer just a bag but a travel companion.
Key features
Keeping the contents of your bag safe is simple when you use KPL's leather messenger bag. The inner compartment is lockable, ensuring your belongings stay put. A second large pocket provides space for files and documents. At the back and in the front are two zippered pockets for smaller items and a much smaller pocket right in the front for phone or other minor things.
The form balances out the space offered by this bag. We see this in the front flap with two buckled straps that give the school bag look and feel. Push and lock clasps secure the straps but remain concealed to not compete with the vintage style. Completing the look is a neat front pocket that also comes with a buckled strap detail.
A sturdy handle and an adjustable strap offer various ways for you to carry the case. Whether you sling it across your body or hold it in your hand, it's up to you.
Pros
Offers both a handle and a strap
Features a lockable inner compartment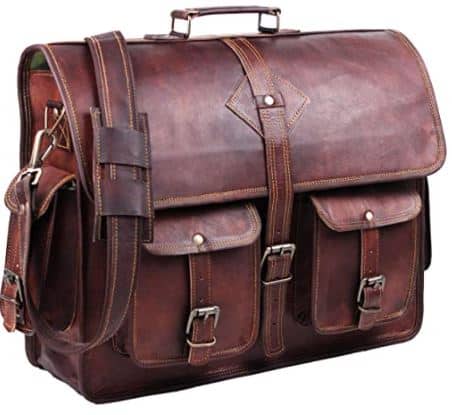 They may be the new kids on the block, starting in 2013, but that doesn't mean Hulsh doesn't have what it takes to compete with the big boys. Their Vintage Leather Laptop Bags for Men offer a well-balanced blend of modern and traditional design.
Their messenger bag offers vast space for storing multiple items and a unique style that catches the eye. Hulsh strives to transform a luxury accessory into an everyday must-have, and as far as we're concerned, they do it well.
Specs
Made with full-grain genuine leather
Fits two 17-inch laptops
Includes a detachable strap
Lightweight
Who is it Best for?
If you're a leather messenger bag man, then this particular bag will spark joy for you. It comes fashioned from full-grain genuine leather, that with age will darken and take on a vintage patina.
However, if it is the space you seek, you will find this bag suits your needs. It offers space for two 17-inch laptops, making it ideal for gamers, designers, and the IT crowd. The offering of room doesn't stop there, though. It also offers three zippered compartments and four small pockets.
If you are looking for a gift for the man in your life, this is a great option. The prestige that comes with owning a vintage-style leather bag is right up there with owning top-of-the-range pens and cologne.
Key features
This messenger bag comes fashioned from full-grain leather that, with time, develops a darker patina. Scratches and scuffs that come with wear and tear make themselves known as a map of the journey you have gone on with your bag.
The wearing of the bag will also come mainly from how you carry it. A handle makes it easy to hold or use the detachable strap to wear it slung over your shoulder or across your body.
A concealed push clip sits under the brass buckle of the front strap. This provides you with discreet security and the assurance your items will stay put.
Hulsh uses a sun tanning process to cure the leather used to make these bags. This method leaves the bags with a rich, earthy fragrance that fades with time but conjures thoughts of new car interiors and luxury.
Cons
It May be a bit large for some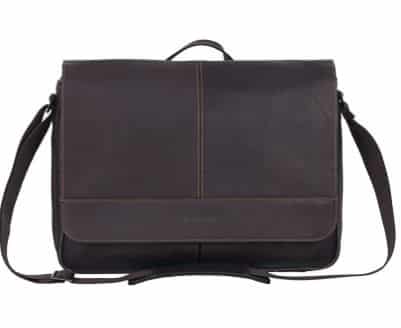 Kenneth Cole began his business in 1982. Today his designs are widely regarded by people the world over. As a New Yorker, his style takes on the energy of the vibrant city he lives in, leaving us with contemporary designs for the fashion-conscious.
The urban-casual essence of his work stands out in his Kenneth Cole Reaction Risky Business Messenger Bag. The bag combines quality materials, clean lines, and bold colors and forms—a case for the trendsetting gentlemen of today.
Specs
Made from full-grain Colombian leather
Features a tear-resistant lining
Comes with an adjustable strap
Fits a 15.6-inch laptop
Who is it Best for?
Designed for the city slicker, the man-about-town, this bag is sleek and edgy. If you love bold, precise forms and striking color, then take a closer look at Kenneth Cole's messenger bag.
The slim design makes it ideal for what the brand refers to as the modern traveler. The man who traverses the bustling city to make meetings or to make the next underground.
A padded shoulder strap allows you to carry the bag close to your person in a crossbody style, perfect for tightly packed train rides. Or, hang it over your shoulder as you make your way home. A stitched-in handle allows you to carry the case in by hand for a more astute look-perfect for meetings.
Whether you are a business executive on the go or a casual traveler, this bag will help you go places.
Key features
Offered in three striking shades, you can select the bag that best suits your style.
Whichever color you go for, you can be sure of the quality. Kenneth Cole makes each bag from full-grain genuine Colombian cow-hide leather. Heavy-duty stitching holds the bags together for a lasting design. This bag, designed for daily use, sees a tear-resistant interior lining, ensuring each part of this bag lasts as long as the others.
Free from fussy embellishments, the bag makes use of magnetic closures. This goes a long way in keeping your belongings well contained.
Space comes in the form of a main zippered compartment that holds documents, laptops, or an iPad. An open exterior pocket found on the back of the bag creates an easily accessible place to store other small items.
The lightweight bag may darken and soften with time as part of the natural aging process of leather. The result? A contemporary bag with a vintage feel.
Pros
Offered in three unique shades
Things to Consider When Buying Leather Messenger Bags
When it comes to finding and then buying the best leather messenger bag for men out there, you want to find the one that ticks all the boxes for you.
To truly find the right bag, there are a few things to consider first. You should factor in style, the type of leather, and where the leather comes from to your decision. Once you have made your checklist of needs or wants, it will be far simpler to find your perfect bag.
With so many options available out there, having some idea of what you are looking for is most beneficial. So, let's take a closer look at things to consider when buying a leather messenger bag.
1. Style
When looking for a messenger bag, you will need to consider the style you want. There is a vast assortment of shapes, looks, and forms. Knowing which one appeals to you most or that best suits your style will narrow down your choices. Let's take a look at some types available:
Vintage – A popular style that never seems to be out of fashion. Vintage offers a worn or aged look, often with embellishments that complement the rustic appearance. This style fits well with casual wear.
Minimalist – Minimalism refers to that which features little to no embellishment. These bags steer clear of additional external pockets, buttons, buckles, and studs. The focus falls more on the material used to create the bag, and sometimes the form. This sleek style fits well with corporate as it gives a modern, clean look.
Functional – This style focuses more on what the bag offers than on the aesthetics. These bags often feature multiple pockets and compartments. They are ideal for daily use as the design is usually quite sturdy.
2. Compartments and Storage
Once you have chosen a style, think about what you want to use your bag for and what you want to carry.
If you are looking to use the case to transport your laptop, a perfect place to start would be your computer's size. Not all bags fit all laptop sizes. Some only offer space for a 15.6-inch notebook; others provide space for larger models.
Main Compartment – This compartment is likely where you will store your laptop and a few other items. A padded section is a way to go if you want to protect your computer. Another consideration is the size of this space. Having one large pocket only is not ideal. It becomes tough to find things, and it increases the chances of things becoming damaged.
Secondary Interior Pouches – Having a few extra internal spaces is excellent because it helps you separate your things. It also adds protection to your belongings, and it makes staying organized a breeze. Whether you want these pouches to have zippered closures or open is up to you.
Exterior Pockets – These pockets come in an assortment of shapes and sizes. You get back zippered pockets that are great for small notepads or documents. Small pouches found on the sides for things like keys or phones or front pockets for similar items also make an appearance.
3. Type of Leather
Leather comes in many types. The sort of leather used for your messenger bag will help determine its durability. Let's look at the varieties available:
Nubuck Leather – Nubuck takes on an appearance much like suede. It features a velvety soft texture that comes from the way it is treated. Unlike suede, Nubuck comes from Top Grain leather, making it far more durable.
Top Grain Leather – This is the best of the best. A buttery soft leather that has had all imperfections, markings, and wrinkles buffed out of it. Top Grain is often used for furniture and some clothing. With time it develops a patina that adds value to the look of the leather.
Full-Grain Leather – If you are looking for a leather that lasts a lifetime, then full-grain is the one you want. It is far more durable and sturdy on account of its thickness. Full-grain often features the scars and scratches that come naturally with leather and, with time, also develops a patina.
4. Carrying Style
A shoulder strap can make or break a messenger bag. If the belt is painful to carry or bites into your shoulder, then chances are you will rarely, if ever, use the bag. Shoulder straps come in a selection of styles:
Padded – A padded shoulder strap is the best way to go if your bag will be heavy. The padding prevents the strap from digging into your skin and provides a softer and larger surface area for weight distribution.
Detachable – A detachable strap works well if the case comes with handles too. If you are more inclined to use the handles, then removing the strap makes sense. It prevents you or others from tripping over it or for you to have to stuff it back in the bag each time you open it.
Adjustable – An adjustable strap goes a long way to adding comfort to the way you carry your bag. It allows you to set the length of the strap, so the bag sits neatly at your side while you walk.
5. Closures
You will need to think about the closures your bag offers. The more zips, buckles, and clasps you have, the safer your belongings will be. Some closures you can expect to find are:
Zippers – Zippers make the ideal closure for compartments that contain personal items or laptops and gadgets. It keeps them better protected and prevents them from slipping out of your bag.
Magnetic Clasps – These work well if you are going for a more minimalist look and feel. They are not as sturdy as other forms of closures, though. So if you are going to go for a bag with this clasp, ensure that the interior pockets offer a little more security.
Push Clasps – A push clasp is a little more reliable and requires a bit more effort than a magnetic clasp to open. These work by pushing down on a tab to release it from its hold, and they often sit concealed under the straps of bags.
Buckles – Buckles are an excellent thief deterrent. They are fiddly, though, and will become painful to use should you have to undo and redo them every few minutes. If you prefer the buckle look, some bags feature them as a decorative element with a more straightforward clasp hidden behind the strap.
6. Additional Features
Many bags offer additional features too. These come as a range of unique options.
Some feature a ring or connector to attach your keys to, making them easier to find.
Other bags offer a waterproof finish or a waterproof lining to lend a little extra protection to the belongings stored inside.
Padding is another feature that we advise you to look for if you plan on carrying your laptop in your messenger bag.
Card slots, penholders, and phone compartments are also pretty handy to have. They certainly beat digging about trying to find your phone, especially if it's ringing. Pulling a business card out of a designated slot looks far more professional than scratching about to find one.
7. Budget
Keep in mind when buying a leather messenger bag that they will come with a substantial price tag. With anything that is of excellent quality, the price is higher. Ultimately you pay for what you get. Outlaying a little extra now for a bag that will last a lifetime is far better than dishing out money frequently to replace a low-quality bag.
A quality leather messenger bag brings a touch of style to your look. They offer great functionality and sophistication. These bags take a little effort to maintain and cost a bit more than your average messenger bag, but the bags are well worth it. A leather bag is designed to last a lifetime, becoming a daily companion that will see you through many adventures.