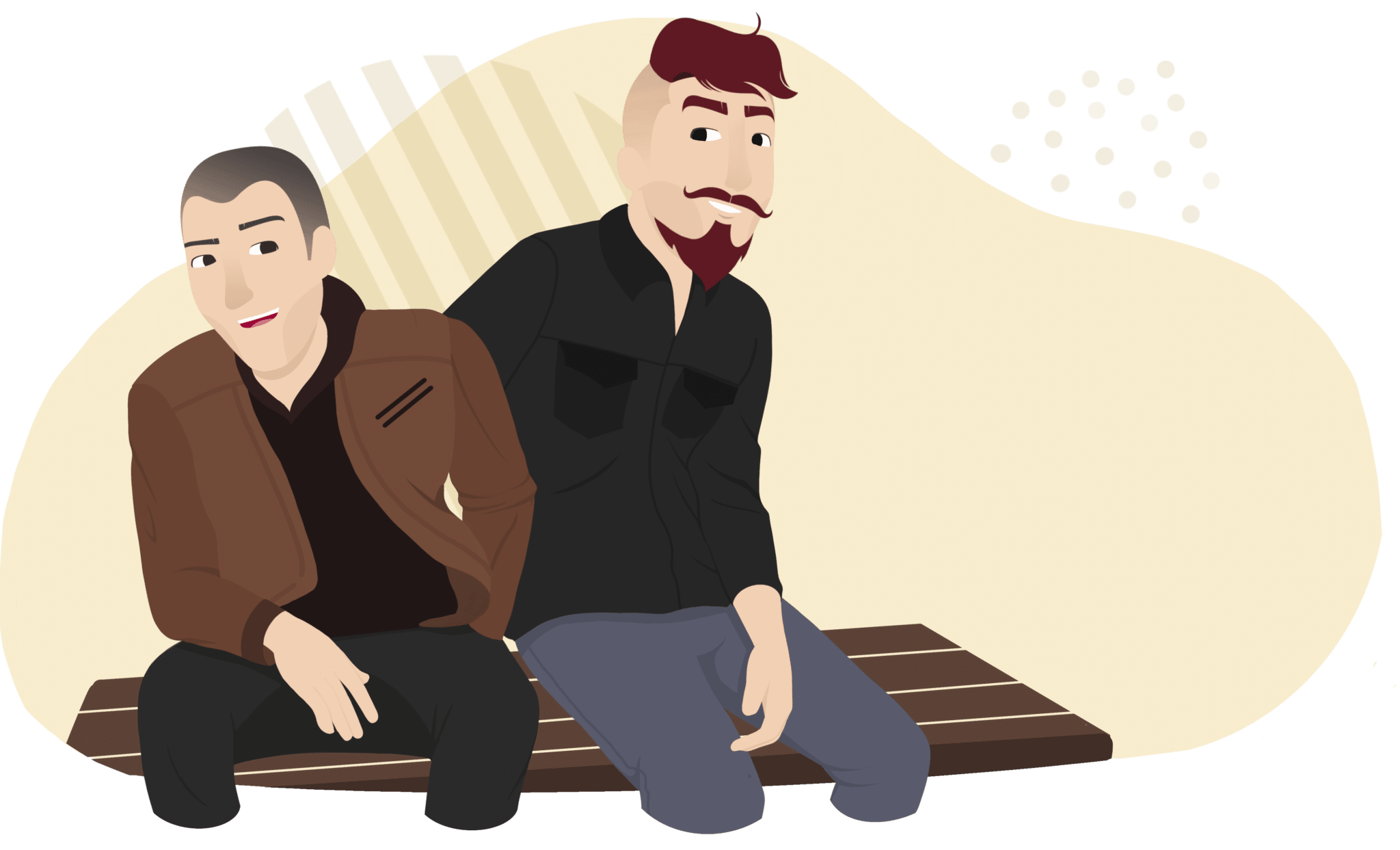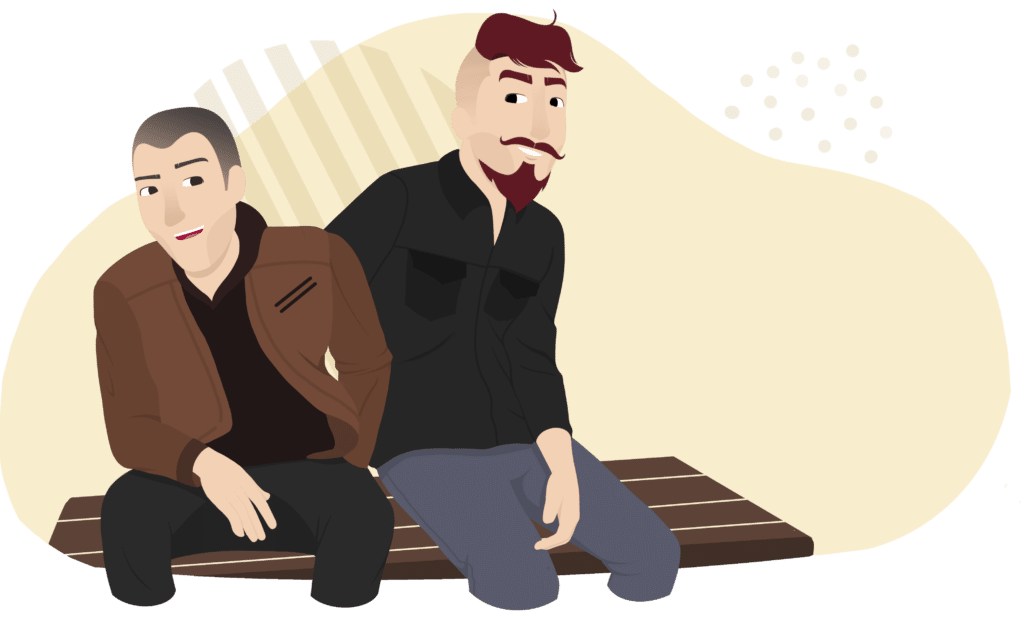 Finding the perfect combination of functionality and style in a men's jacket can be tough. Finding a coat that you like that actually lasts is even more challenging. The one you do find will tick one box, but rarely all there. So, what is the solution?
A leather jacket for men is the answer. They offer style and are excellent at keeping you warm even in sub-zero climes. And best of all, if you care for them right, they will last you a lifetime.
With that being said, there are various leather jackets on the market, making it somewhat tricky to find the ones that are worth your money and time. We decided to take the legwork out of it for you by reviewing the best men's leather jackets on the market. Keep reading to find out which we found to be worthy.
Best Leather Jackets for Men
In our efforts to bring you the best leather jackets, we have searched far and wide. The jackets we review here are not only the best leather jackets brands, but those that offer style, functionality and will last you a good few years. To peruse our findings, read on!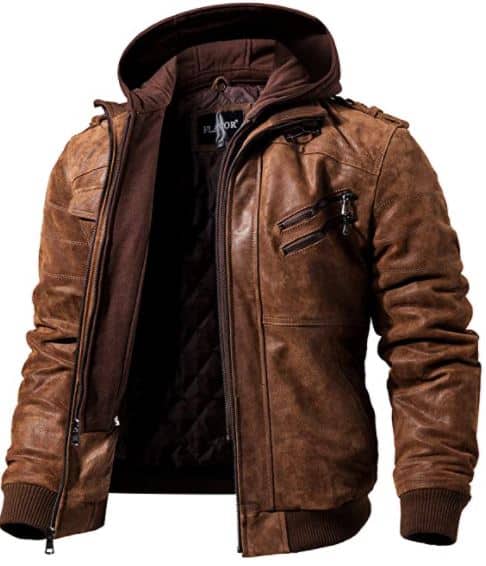 Flavor is a global business that focuses on providing international customers with top quality fashion at affordable prices. Their specialty? Leather. They offer an assortment of men's leather jackets, all made from premium genuine leather.
Their Brown Leather Motorcycle Jacket is no exception. It is elegantly tailored and designed for men who take a regular, big, or tall fit. Flavor's coats are considered to be one of the best leather jackets for men. They offer style, warmth, and they are guaranteed to last.
Specs
Motorcycle style
Includes a removable hood
Made from genuine leather
Features a full-length zipper closure
Who is it Best for?
If you are a man who appreciates style, then this one is for you. Flavor's jacket sees a rustic yet contemporary design made to suit the modern man.
A detachable hood makes this leather jacket perfect for those who favor having options. Wear the hood with the coat on windy or freezing days, or remove it on warmer days. You could also leave it to rest on your back – the choice is yours. The hood itself sees a full front zipper closure, adding an extra layer of protection from the cold.
Men who are tall or who are bigger will love this jacket too. It comes offered in a selection of cuts, making it perfect for every man.
Key features
Flavor's men's hooded motorcycle jacket offers an assortment of features. First off, it is made with genuine leather and sees a polyester lining. Sandwiched between these two fabrics is a layer of 100% cotton padding. The use of cotton is essential, as it allows the jacket to breathe and ultimately keeps you from over-heating.
The waistband and cuffs offer a ribbed edging. While stylish, this is not the ribbing's primary purpose. This unique fabric hugs the waist and the wrists preventing the cold from coming in and the heat from escaping.
The abundance of pockets on this jacket is a huge plus. Two hand pockets sit on the front on either side of the zipper. A top fold-over pocket and two top zippered pockets provide the perfect place to store valuables. You can find two further pockets inside the jacket, so you have ample place to keep your belongings.
Pros
Offered in four unique colors
Cons
Not everyone will enjoy the double zippered look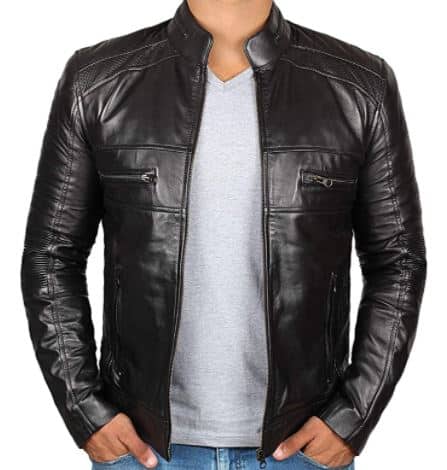 Decrum offers a more classic take on the motorcycle jacket with their Cafe Racer Leather Motorcycle Jacket. A brand loved in both the UK and USA, Decrum prides itself on offering quality products made to last.
While they don't only offer leather jackets, these are a popular buy. When it comes to who makes the best leather jackets, Decrum is right up there with the best of the best in leather fashion.
Specs
Cafe Racer style
Made from lambskin leather
Features a fitted cut
Offers a full-length zippered closure
Who is it Best for?
The classic style this jacket offers makes it perfect for any man who has his heart set on a traditional biker-style coat. The sleek, fitted cut places this piece of men's wear firmly in the bracket of fashionable.
If you are a biker looking for a leather jacket that will keep you protected from the wind or road rash, then this may be the solution you need. The durable leather makes it impervious to the elements and will keep you protected should the need arise.
Whether you are seeking out a slick new jacket to add to your look or new riding leather, then this jacket has you covered. If you are looking for a unique gift for the man in your life, this jacket provides you with the ideal present to give.
Key features
Decrum's jacket comes made from genuine lambskin leather. A soft viscose lining is gentle on the skin and makes it easy for the jacket to breathe, preventing you from overheating and sweating in it.
When it comes to space for keeping your belongings, this leather jacket offers plenty. Two hand pockets and two top zippered top pockets provide ample place to keep all kinds of things.
While they aren't ribbed, the sleeves offer a sleek look that comes with a traditional biker jacket. A unique quilted pattern sits over the elbows, adding a stylish edge to the overall look. The zipper detailing on the cuffs adds a further edginess to the design.
An upright collar brings a touch of refinement to the jacket, too, while also helping to keep your neck warm on colder days.
Pros
Offered in four unique colors
Features a distressed finish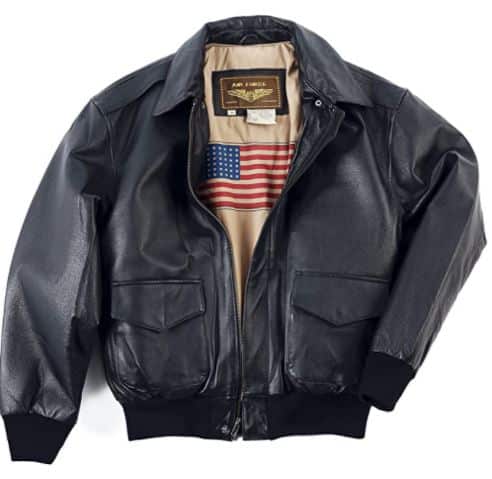 Landing Leathers is a family-run business operating out of the heart of America. As their niche, they offer replica WWII jackets. Their inspiration? To combine the old with the historic. The integration of history into these designer garments plays an essential role in giving these unique jackets their story.
Landing Leathers' Men's Air Force A-2 Leather Flight Bomber Jacket is one such jacket. These jackets are made to the same standards as the authentic ones worn by the A-2 pilots and military.
Specs
Bomber-style jacket
Made with genuine leather
Features multiple pockets
Sees a full-length zippered closure
Who is it Best for?
If you are a fan of military wear or vintage clothing, this jacket is for you. It comes styled to be a replica of the Men's Air Force A-2 Flight Bomber Jacket.
A WWII U.S flag comes imprinted on the jacket's interior lining, adding a touch of history and a nod in acknowledgment to those who served.
If you prefer leather jackets that are fashioned after the bomber jacket style, you will want to add this one to your wardrobe. It offers a loser fit than a motorcycle-style jacket giving you more room to move.
This jacket makes the perfect gift too, for a father, grandfather, boyfriend, or son. And, of course, anyone who loved TopGun.
Key features
Landing Leathers Men's Air Force A-2 Flight Bomber Jacket comes fashioned from genuine Nappa leather. The lining of the body of the jacket sees a blend of polyester and cotton. This blend allows the jacket to breathe. This allows air to circulate, preventing you from overheating and sweating.
The waistband and cuffs are made from ribbed acrylic. This ribbing, while it looks cool, is functional too. It sits snugly against the wrists and waist, keeping the warmth in and the cold out.
A selection of features adds an edge to this jacket. The snap storm flap sits neatly over the full-length YKK zipper closure. This handy feature protects the zipper and conceals it while keeping the cold out. Box-stitched shoulder epaulets add to the military look and feel.
Two outer pockets that seal with a snap button can be found on the front of the jacket on either side of the zipper. An internal pocket provides the perfect place to store valuables.
Pros
Offered in four different colors
Features a WWII imprinted flag on the lining
Cons
Not everyone enjoys the bomber style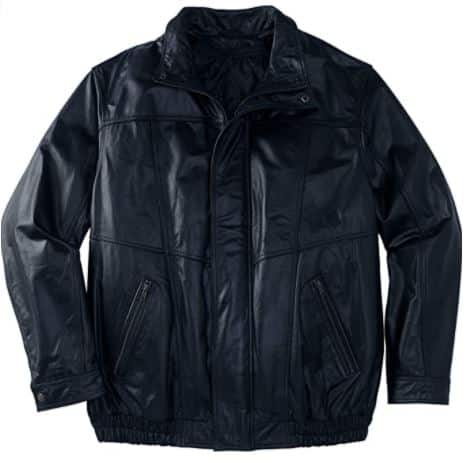 KingSize offers classic size clothing, but where they really shine is their clothing sized for big and tall men. These garments are designed to be comfortable and stylish. KingSize strives to ensure that men who need larger sized clothing have an ample selection of sleek, fashionable clothing.
KingSize's Men's Big & Tall Leather Bomber Jacket is one such garment. The jacket made to fit comfortably is cut in a bomber jacket-style.
Specs
Bomber jacket style
Made from genuine leather
Elasticized waistband
Designed for tall men
Who is it Best for?
If you are tall or larger in stature than most, chances are you have a tough time finding clothing that fits well and looks great. KingSize understands your frustration, which leads them to create these jackets with you in mind.
If you are impressed with options, then this jacket is right up your alley. It comes offered in slick black and deep chocolate brown. So whichever shade suits you best or most appeals to your sense of style can make its way into your wardrobe.
Perhaps you are a friend or relative of a man who battles to find clothing that he likes in his size. One of these jackets would make the perfect gift. Not only do they fit well, but they give that classic edginess only a leather jacket can offer.
Key features
KingSize's bomber jacket comes fashioned from genuine leather. It features a zip-out lining that makes it easy to wash – the perfect blend of convenience and style.
A full-length zipper closure on the front of that jacket makes it easy to pull on and off. It also makes it much more comfortable to wear as you can have it zipped up when it's cold but should you begin to feel warm; you can leave it unzipped.
Two hand pockets on either side of the zipper give you a place to keep your hands when the weather gets icy. A typical bomber collar adds a dash of style, as do the studded cuff closures.
An elasticized waistband brings comfort for the wearer yet; it also helps keep out the cold, making it perfect for days when the weather turns.
Pros
Offered in brown or black
Full-length zipper closure
Cons
The sleeves do not have ribbed cuffs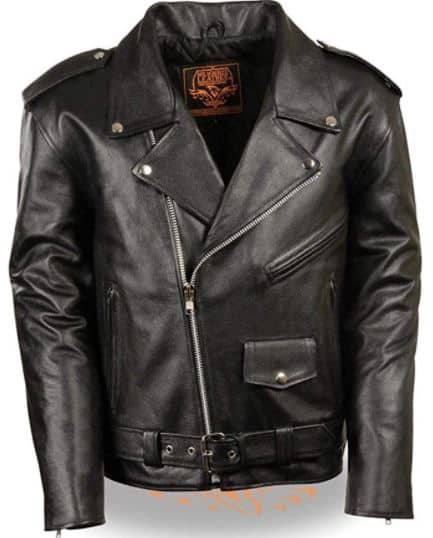 Milwaukee Leather was founded in 1991. They specialize in classic riding apparel. Their pride lies in their garments' expert craftsmanship and the premium quality leather they utilize to craft these pieces. Milwaukee Leather is considered one of the best leather jacket brands out there, and it is easy to see why.
Milwaukee Leather's Men's Classic Police Style Motorcycle Jacket is the epitome of sleek biker style. It offers an edginess that is unrivaled, making it a firm favorite of ours.
Specs
Motorcycle style jacket
Made from genuine leather
Features a diagonal zippered closure
Includes a half-belt
Who is it Best for?
One of the best leather jackets men can own, the Milwaukee Leather Men's Classic Police Style Jacket offers both style and comfort. If it has always been your dream to own a biker jacket, then this is the one to invest in.
For those men who place a high value on quality and design, this jacket will leave you impressed. Milwaukee Leather prides themselves on their form-fitting cuts and premium leather. So you can be sure this is one jacket that will not only look incredible but will last you for years to come.
If you have a son, brother, or husband who loves to ride and you know he is in search of new riding leathers, this jacket will make the perfect gift. The perfect fit and the durable leather make these jackets perfect for keeping out the wind, rain and preventing road burn.
Key features
Milwaukee Leather makes their biker jackets from top quality, hand-picked leather. Their leather is that of milled cowhide and measures around 1.3mm thick so that you can be sure of its durability and longevity.
The jacket features a specific biker style that sees a full-length zipper closure placed diagonally across the coat's front. A studded collar and matching shoulder epaulets bring an edge to the jacket.
You will find four pockets across the front of the jacket – two hand pockets, a smaller pocket with a studded closure for keys. A top pocket that comes with a zippered closure provides the ideal place to keep other valuables.
While the cuffs aren't ribbed, they do feature a zipper detail. The waistband is secured with a half-belt that adds to the jacket's biker look and feel while also allowing for a more comfortable fit.
Things to Consider When Buying Leather Jackets
Buying a leather jacket will cost you a pretty penny, which is why you need to consider a few things before you make your purchase. It is essential to consider aspects such as fit, style, and, most importantly, quality. Once you have done your research, you will find it simpler to find the best leather jacket for you.
1. Style
Leather jackets come in a variety of styles. Each offers its appeal and design elements that make it what it is.
Cafe Racer – A Cafe Racer combines a bomber jacket's comfort with the slick styling of a motorcycle jacket. It provides a happy medium between the two styles that makes it more suited for daily wear to the office or about town.
Bomber and Aviator Jacket – These leather jackets are considered flight jackets. They originated as styles worn by the military airforce. They offer a boxier cut that provides additional warmth and allows for greater ease of movement – two elements needed for wear in a cockpit.
Motorcycle Jacket – A jacket James Dean is famed for wearing. The traditional biker jacket offers a more fitted cut. They come with features that further give them their classic look. Shoulder epaulets, a belted waistline, notched lapels, and diagonal zips are just a few of these iconic features.
2. Fit
If you are going to spend top dollar on the best men's leather jacket, you will want to make sure you get the optimal fit. Whether you chose it to be that way for a more relaxed feel or just because you got the wrong size, a coat that is too big or oversized will look cheap and unflattering.
You want to go for a jacket that fits perfectly across the shoulders and hugs the armpit. The jacket should fit comfortably over a lightweight sweater, and the hem should sit at the waistline.
3. Quality
If you want a leather jacket that will last you for years to come, you need to invest in a quality leather jacket. Faux leather will last around a season before it starts looking tatty.
Most motorcycle jackets come made from cowhide leather, which is thicker and more robust. This is because bikers need the added warmth and protection from the elements.
If you are looking for softer leather that is more buttery to the touch but still offers excellent durability, a lambskin leather jacket is the way to go.
When investing in a leather jacket, you want to find one that not only fits perfectly but that offers you premium quality. The amount these jackets cost makes sense in that they are designed to last a very long time. So take the time to find out which style and fit suit you best and which leather most appeals to you. Once you have these answers, the best leather jacket for men that most suits your needs will be easy to find.
We hope our leather jacket reviews help you find the jacket you are looking for, or at the very least, provide you with a little inspiration.