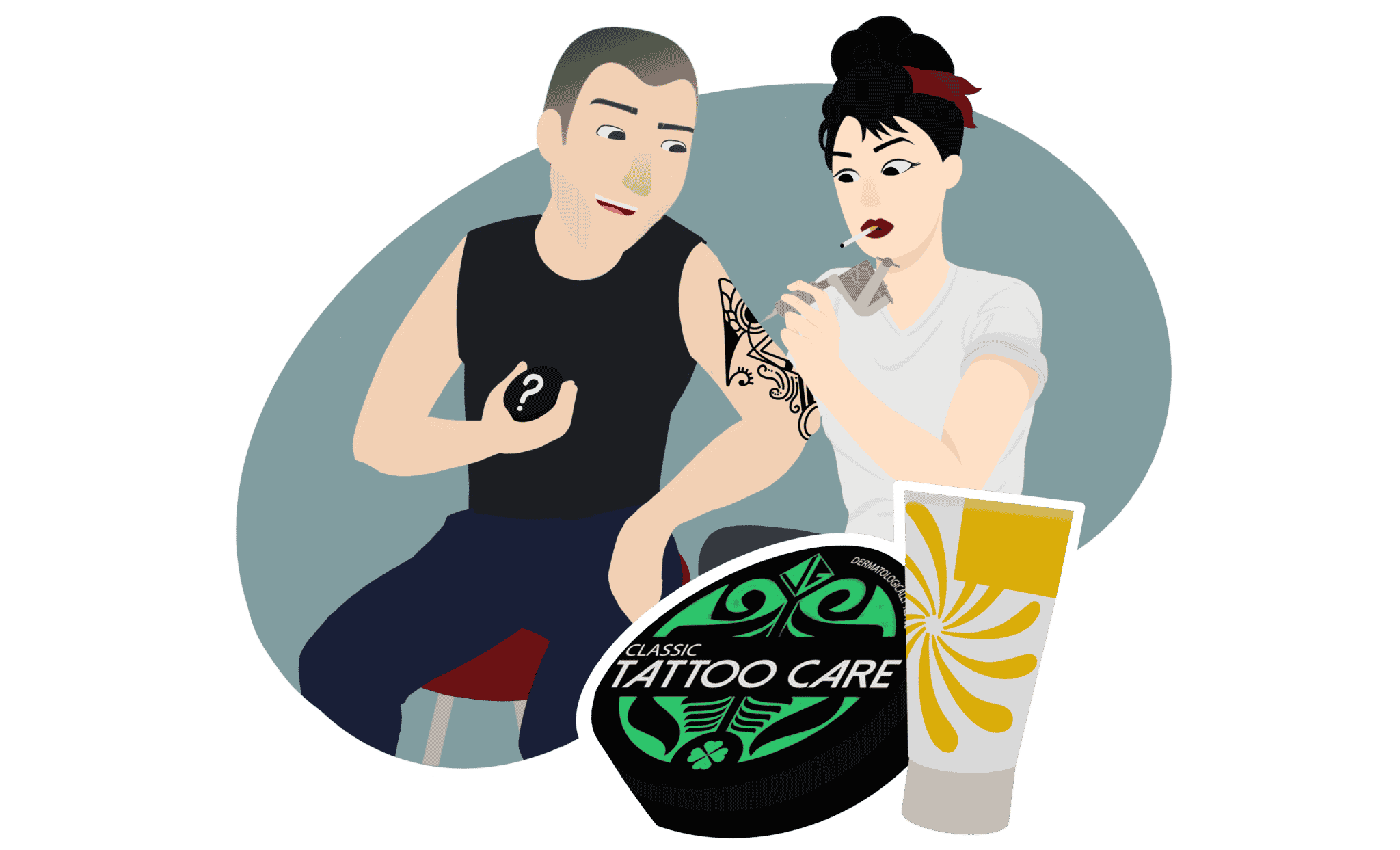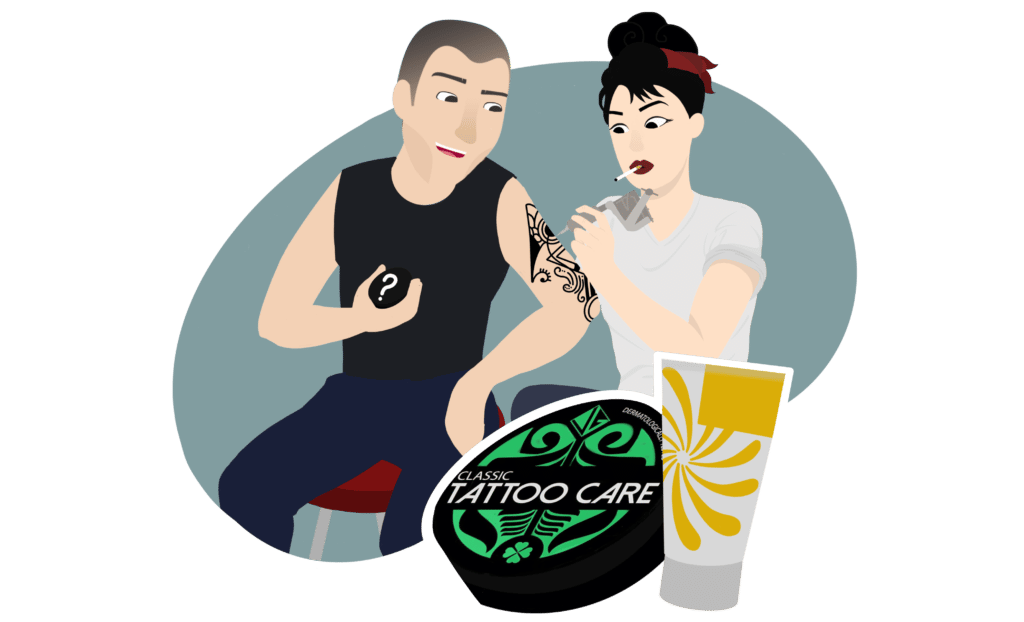 Perhaps this is your first tattoo, or maybe it's your tenth. Either way, you have been told by the tattoo artist to keep it moisturized and out of the sun. Great advice, but what exactly are you meant to keep it moisturized with?
Lotion for tattoos is precisely what you need. These creams see unique formulae that help soothe and protect your skin to prevent it from drying out and scabbing. This allows your tattoo to heal quickly and correctly.
With so many options available out there, it can be tough to find those that do the job right. Here, we review the best lotions for new tattoos, so keep reading to find out more.
QUICK OVERVIEW: Best Lotion for Tattoos
After Inked Tattoo Moisturizer and Aftercare Lotion

Clinically tested
Designed for all skin types

VIEW ON AMAZON →

Viking Revolution Tattoo Care Balm

Vegan-friendly
Can be used before, during, and after you have your tattoo done

VIEW ON AMAZON →

Tattoo Goo Aftercare Lotion

Absorbs quickly
Promotes healing

VIEW ON AMAZON →

Tattoo Goo"The Lotion" with Healix Gold Formula

Comes in a pack of four
Lanolin-free

VIEW ON AMAZON →

Keeps your tattoos moisturized
Everything you need in one pack

VIEW ON AMAZON →

Tattoo Care Classic Tattoo Aftercare Ointment

Stimulates healing
Suitable for all skin types

VIEW ON AMAZON →
Tattoos are essentially wounds when you first do them. And like any other sore, they need to be treated. The lotion you choose to treat your tattoo with will depend on personal preference and often climate.
With that in mind, we did our research and found six of the top lotions for tattoos. Each has something different to offer, making it easier for you to find the one that works best for your skin. Keep reading to find out which ones to try.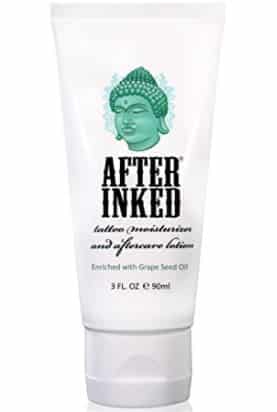 After Inked is known the world over, international artists claim After Inked's Tattoo Moisturizer is their recommended lotion for tattoos. The product is so well recognized it has even been featured on top TV shows such as Ink Master and NY Ink.
After Ink formulates their patented moisturizer to nourish the skin deeply, allowing your tattoos to heal and keep their color vibrant. Easy to apply and small enough to carry with you, this small, three-ounce tube is your miracle cream.
Specs
Infused with grapeseed oil
Dermatologist tested
Paraben-free
Comes in a three-ounce bottle
Who is it Best for?
Whether you have new ink that needs moisture to help it heal or old ink that needs a little maintenance, this cream is for you. Designed for use on body tattoos, permanent makeup, and even ink removed by a laser, this is one versatile lotion.
After Ink crafts their moisturizer the responsible way. The lotion is cruelty-free and vegan-friendly, making it perfect for those who take animal welfare seriously.
The tubes the moisturizer comes in are made from post-consumer recycled plastic. So, you can do your bit for the environment while caring for your skin.
Key features
After Ink designed their moisturizer specifically for use with tattoos. Infused in their blend, you will find grape seed oil, known for its nourishing properties. The lotion works by moisturizing your skin to prevent your tattoo from drying out and forming scabs. A tattoo that builds thick scabs can lead to the ink falling out with the scab once it comes off. Your tattoo will end up looking distorted or faded.
This lotion has been dermatologist tested and is hypoallergenic. After Ink has taken care to formulate the cream this way and have it clinically tested as you will be applying it to an open wound.
It also is free from fragrances and parabens that can cause irritation. You don't want to scratch or pick at your healing tattoo.
Pros
Designed for all skin types
Cons
It should not be combined with other products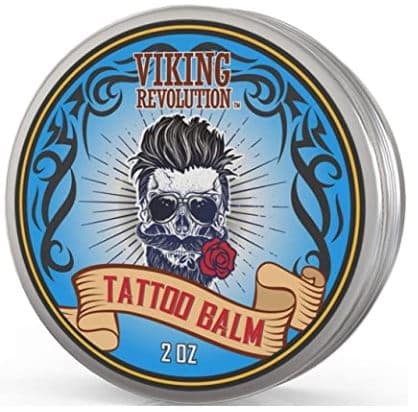 Viking Revolution is a specialist company that focuses on crafting grooming products for men; their Tattoo Care Balm is one of them. Viking Revolution offers a large selection of beard balms and pomades. It makes sense then that the tattoo lotion they offer also comes as a balm.
They claim that their tattoo care lotion is not only for new ink but for old ink and your skin before being tattooed. Using the balm before you have your tattoo done allows for a smoother application of the ink. However, checking with your tattoo artist first is always your best bet.
Specs
Made with natural products
Chemical-free
Increases recovery process
Comes in a two-ounce tin
Who is it Best for?
If you prefer the all-natural route when treating your tattoos, then you need to look more closely at this balm. Viking Revolution uses shea butter, coconut oil, marigold oil, and Vitamin E to craft their cream.
Older tattoos will also benefit from this nourishing lotion as it soothes the skin. It will also help brighten the colors of your existing ink.
So, whether you have an existing tattoo or this is your first one, Viking Revolution's balm was made for you. Applying the lotion directly after your tattoo is the best form of action so that you can begin the healing process.
Key features
Viking Revolution offers us a non-greasy lotion designed to hasten the healing process. It is free from petroleum jellies and other chemical substances, leaving it safer for your skin.
Infused with Vitamin E and Grape Seed Oil, the balm helps soothe inflamed skin and prevents the itchiness that comes with dry skin. By offering increased moisture, this lotion encourages the body to heal itself faster.
This balm may be thicker than other lotions, but you only need the smallest amount to cover your tattoo completely. The rich moisture also enhances the colors of your existing tattoos, bringing them to life. There is no reason for your tattoos to look dull and faded with a balm-like this around.
Pros
Can be used before, during, and after you have your tattoo done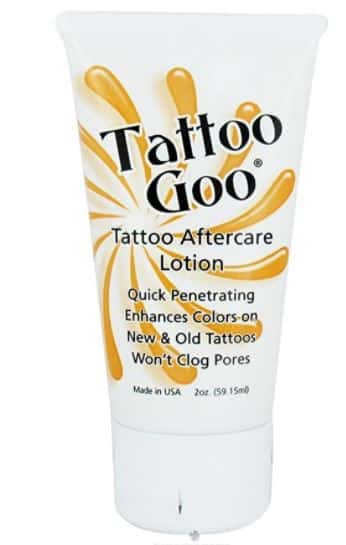 Tattoo Goo is a company that crafts products for the aftercare of tattoos and piercings. Their slogan "Don't neglect it, protect it!" sums up what their products do. Tattoo Goo aims to help people heal their ink while preserving it to keep it looking healthy and vibrant.
They offer their Goo in both a balm and a lotion; however, it's their Aftercare Lotion we love most. It comes made from natural ingredients that allow people of all skin types to use it.
Specs
Comes in a two-ounce tube
Contains Vitamin B5 (Panthenol) and Olive Oil
Dermatologist approved
Petroleum-free
Who is it Best for?
The best lotion for tattoos is one that works for people with all skin types. Tattoo Goo's Aftercare Lotion does just that. This formula, designed for people with sensitive skin, is free from harsh additives such as Lanolin and Petroleum.
Petroleum is not ideal for application over healing tattoos as it clogs pores and prevents your skin from breathing. Blocked pores can lead to infections, and it prevents your new body art from healing.
Lanolin can cause allergic reactions that lead to rashes, breakouts, and infection.
Tattoo Goo's products are clinically tested to ensure they don't cause allergic reactions. With PETA's stamp of approval, they are cruelty-free too. So if you are conscious about the products you use and how they are made, you can be sure that these do no harm.
Key features
Tattoo Goo prides itself on using only natural ingredients that include the likes of olive oil and panthenol. The olive oil provides the skin with natural moisture without clogging pores. Panthenol, or Vitamin B5, penetrates deep into the skin. It is an effective moisturizer that allows for water-enabling skin nourishment and promotes fast healing.
Infused in this natural lotion are Vitamins A and E. These vitamins, both known for their ability to help repair skin cells, help promote healing. Vitamin E also helps to enhance your tattoos' colors, restoring them to vivid and vibrant works of art.
This blend of nutritive ingredients helps to encourage faster healing, so you can get to enjoying your tattoo sooner. Tattoo Goo claims that people who have used this lotion correctly saw a recovery in just three days.
Cons
You will need more than one tube for large tattoos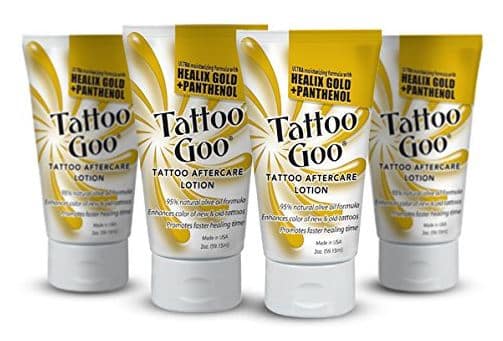 Loved by tattoo artists the world over, Tattoo Goo offers natural products designed to care for tattoos. Balms and lotions made with vegan-friendly ingredients and free from chemicals will soothe your skin.
Tattoo Goo looks to help their customers heal their new tattoos faster. They also strive to help you nourish existing ink, leaving it vibrant and moisturized. The best tattoo lotion to achieve this is Tattoo Goo's "The Lotion" with Healix Gold Formula.
Specs
Features a unique Gold Helix formula
Dermatologist approved
Petroleum-free
Vegan-friendly
Who is it Best for?
If you suffer from sensitive skin, then this is a tattoo lotion you want to try. Tattoo Goo uses only natural ingredients such as Vitamin B5, olive oil, and Vitamins A and E to leave your skin moisturized and protected.
This formula contains no harsh chemicals that will cause skin irritation. It is free from petroleum that tends to block pores and lanolin that sparks allergic reactions. Without these two ingredients, you are far less likely to suffer from a rash, breakout, or infection.
Tattoo Goo's products are endorsed by PETA and are cruelty-free. These products are not tested on animals and contain no animal by-products, making them perfect for anyone who puts value in animal rights.
Key features
This lotion is designed to help your new tattoos heal faster. By nourishing your skin, Tattoo Goo's cream helps stimulate your body's natural healing processes.
Tattoo Goo's lotion is non-greasy and fast-absorbing so that it won't stick to your clothes.
Free from fragrances, dyes, and mineral oils, this lotion won't irritate your skin or dry it out. The rich olive oil and B5 work together to moisturize your skin on a deeper level, preventing itching and irritation. Vitamin E prevents your tattoos from forming thickened scabs that cause your tattoo to distort or fade.
Perfect for creating new and existing tattoos, the B5 works as a moisturizer. It helps enhance the colors of the pigments in your tattoos, leaving them looking vibrant and healthy.
Cons
A bulk pack is not ideal if you only have a small tattoo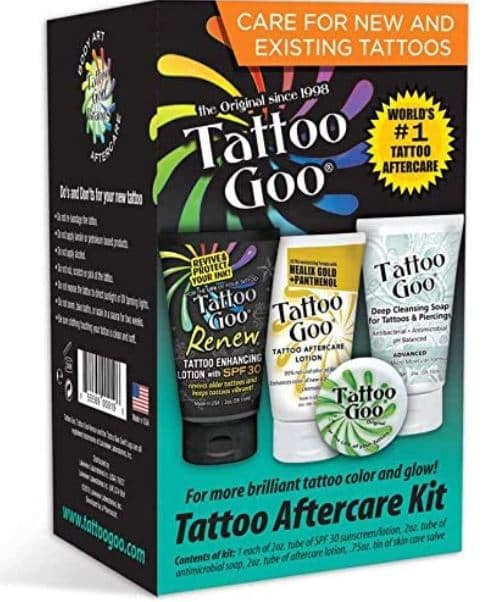 Professional tattoo artists across the globe use their products. However, this should come as no surprise since Tattoo Goo makes products specifically for tattoos. They offer a wide selection of lotions and balms, many of which you can find in their Tattoo Aftercare Kit.
This kit combines the best lotion for tattoos aftercare, not only for new tattoos but also for older ones. Included in this kit, you will find healing balm, moisturizing lotion, deep cleansing soap, and Renew Enhancing Lotion with SPF 30.
Specs
Includes four unique products
Made with natural ingredients
Cruelty-free
Free from chemicals
Who is it Best for?
This is the ideal starter kit for anyone getting their first tattoo. It offers a selection of products, each designed to help care for your tattoo correctly.
If you have existing tattoos, then you, too, will love this pack.
Tattoo Goo makes all their products with natural ingredients. Free from chemicals and made in a cruelty-free environment, these products are safe for use.
Because Tattoo Goo does not use Lanolin or petroleum in their products, you can be sure that they won't irritate sensitive skin. Rashes, breakouts, and infections are not something you will experience with these products.
Key features
This kit contains everything you need to care for your tattoos.
The set contains a Tattoo Goo Deep Cleansing Soap that has antibacterial and antimicrobial properties. It is ideal for keeping your skin clean and germ-free. Because this soap is pH neutral, it won't agitate sensitive skin.
The Healing Balm provides a barrier that protects your new tattoo from germs and from drying out. Anti-oxidants found in this balm help stimulate circulation that encourages faster healing.
The Aftercare Lotion (our favorite) combines Vitamin B and Olive oil to provide rich moisture that keeps your new tattoos soft and supple. This lotion encourages faster healing by stimulating your body's healing processes. It absorbs quickly and is non-greasy, so it won't make your clothes sticky.
The Renew Tattoo Enhancing Lotion with SPF 30 is designed to maintain your tattoos after they have healed. Keeping your ink protected from UV rays will ensure your tattoos remain vibrant and won't fade. This unique lotion offers that protection with its SPF 30. It also works to moisturize your skin, leaving the colors of your ink vibrant and dazzling.
Pros
Keeps your tattoos moisturized
Everything you need in one pack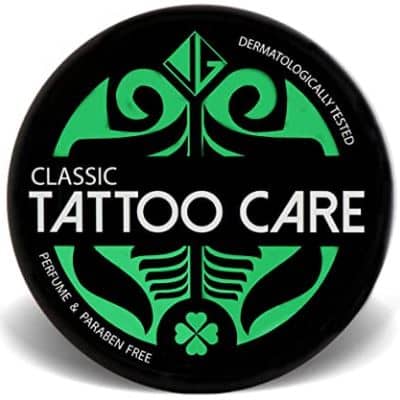 Pharmacists and tattoo artists developed Tattoo Care's Classic Tattoo Aftercare Ointment. This lotion, formulated specifically to assist in the healing of tattoos, is rich in moisture and Vitamin A. Because it is so full of moisture, you can use it to treat cracked heels and dry elbows too.
Tattoo Care offers a safe product formulated from natural ingredients. Aimed at healing new tattoos and protecting existing ones, this is not just a good lotion for tattoos; it's a great one.
Specs
Made with natural ingredients
Dermatologically tested
Paraben and fragrance-free
Comes in a 1.23-ounce tin
Who is it Best for?
This lotion is ideal for tattoos that are new or old. So whether you need a salve for your new tattoo or for ones you got years ago, this cream is your best bet. It nourishes and protects, keeping your skin healthy and your ink bold and bright.
Ideal for anyone with sensitive skin, Tattoo Care uses only natural ingredients in its formula. You will find elements such as Calendula, Jojoba Oil, and Vitamins A and E. Each of these works to soothe and moisturize.
If you are one of those people who suffer from itchiness, especially when your skin is dry or healing, then this is the lotion you need. Tattoo Care's cream reduces redness, inflammation, and itching so that you don't scratch at your new tattoo.
Key features
One of the things we love the most about this lotion is the fact that it's waterproof. So if you get caught in the rain or wash your hands, your balm won't wash away.
This lotion works twice as hard as any other, as it both brightens your ink and helps your new tattoos heal. It moisturizes your skin, nourishing it at the same time. This promotes healing while leaving your skin soft and supple.
The lotion is made in small batches to ensure premium quality always. It is not greasy and won't stain your clothing. What makes this lotion even better is that it contains no parabens, no fragrances, and no chemicals. If this lotion doesn't sound perfect for everyday use, we don't know what does!
Pros
Suitable for all skin types
Things to Consider When Buying Lotion for Tattoos
Before buying a lotion for your tattoos, there are a few things you need to keep in mind. Different additives found in cream for tattoos sometimes cause more harm than good. Because tattoos are essentially open wounds, certain ingredients can cause inflammation and itching. Knowing which additives to steer clear of will help you find the best lotion for tattoo care.
1. Fragrances
Fragrances are usually added to lotions to make them smell appealing. While these are typically okay to use on other areas of your body, using them on a new tattoo is inadvisable. If you chat with your tattoo artist, they will likely tell you the same. Chemicals or alcohols that are used to add fragrance can cause inflammation, redness, and even dryness, not something you want to experience on a fresh tattoo.
2. Dyes or Colorants
Applying lotions with added dyes or colorants to a new tattoo is a big no-no. These dyes can alter the color of your tattoo. This is not something you want to happen after you have spent money on having the artwork done.
Another thing to consider about colorants is that they are often chemically-based. These chemicals can hinder healing or cause irritation. Burning or itching can lead to you scratching at your tattoo, peeling off scabs, or creating bigger ones and damaging your tattoo.
It is always best to stick with a lotion-free from both color and fragrance when caring for your new tattoos.
3. Consistency
When using a lotion to care for your tattoos, the lotion's consistency or thickness plays a large role—the thinner the cream, the better. Thicker creams or petroleum-based balms can clog your pores, preventing healing. This may even lead to an infection.
After reading these reviews, we hope that you have a bit more clarity about which lotion for tattoos will best suit your needs. If you were to ask us what is the best lotion for tattoos? We would have to say our top pick is Tattoo Goo's Tattoo Aftercare Kit. This neat box has it all, the right soap, the ideal lotion, and the best maintenance cream.
Taking care of your tattoo is simple and goes a long way to keep your ink looking vibrant.