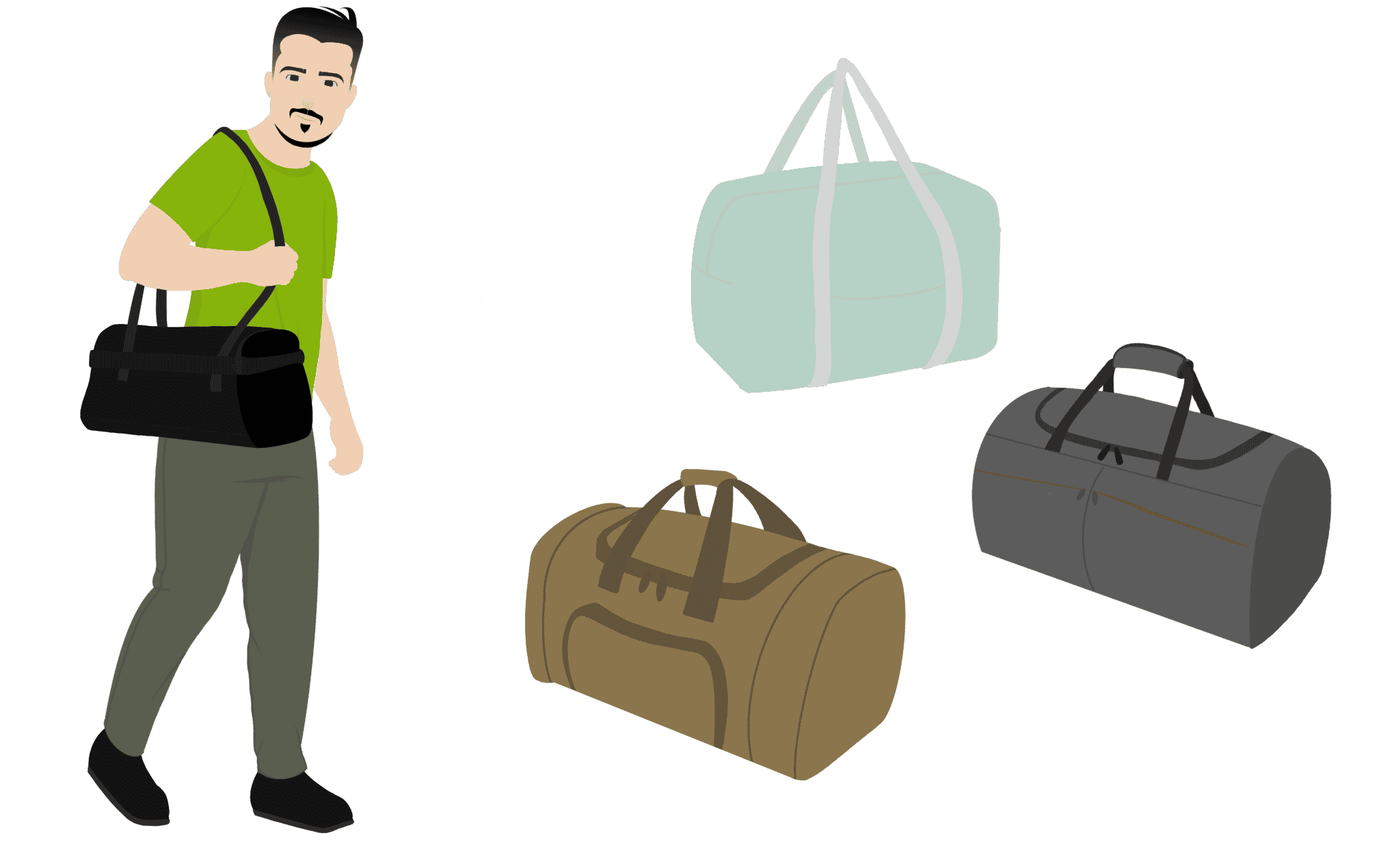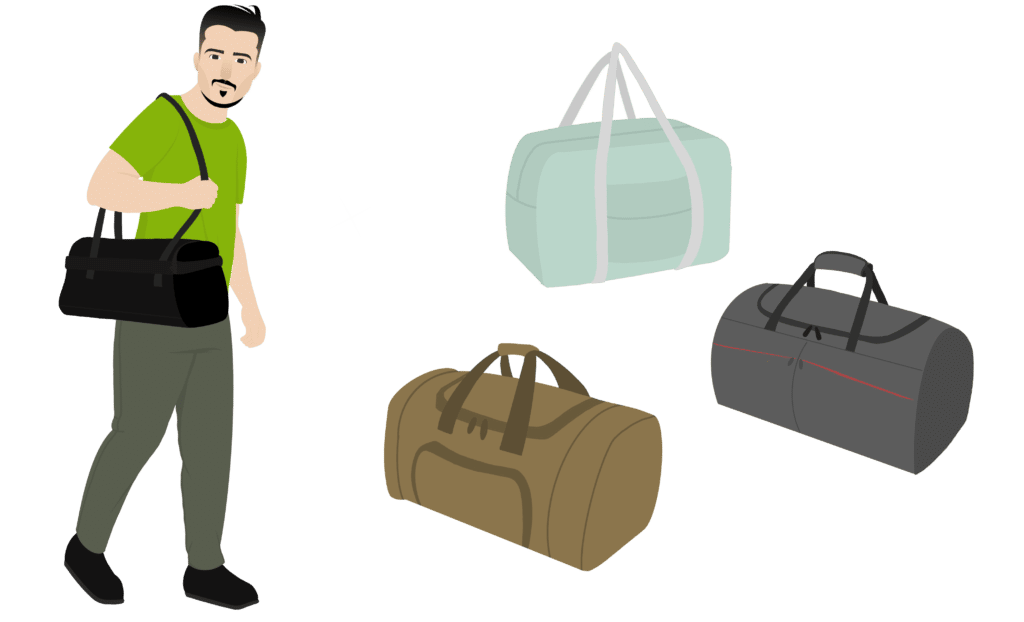 After years of attending the gym, one item remains a staple, the trusty gym bag. While very handy, you may find that your bag doesn't meet your expectations. Perhaps it offers too few compartments, or it hangs on to the musty smell of your used gym wear.
The gym bags we reviewed here take things to the next level. Offering large compartments and freshness like never before.
If you've got the gym bag blues or are searching for an upgrade, then these may be the bags you are looking for. Keep reading to find out more about the top gym bags available.
After hours of research and testing, we have gathered a selection of the best gym bags for men. Each one you see here made it onto the list because of its functionality, quality, and visual appeal.
So, let's dive in and take a closer look.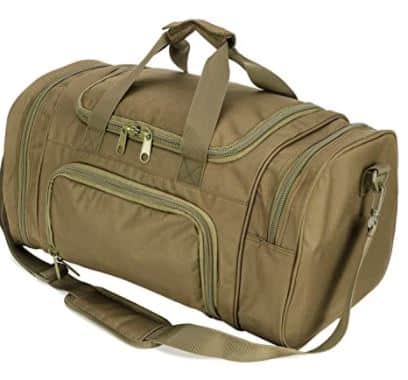 If you are a person who loves adventure, then WolfWarriorX's Gym Bag for Men is made for you.
This carryall is stylish and durable and offers more space than you thought possible. With a separate compartment for your gym shoes and two ways to carry the bag, versatility takes the lead. Gone are the days of shoving everything into a single section. Now you can keep your items where you need them most.
Specs
Offers a 68.6-liter capacity
Comes with four main compartments
Features heavy-duty, self-healing zippers
Water-resistant
Who is it Best for?
This bag is suitable for men of all ages. If you hit the gym before college or after work, it is the perfect accessory for you. By offering multiple compartments, the bag stores items simply. Keep your dirty gym clothing and towel in a section of their own.
Men who carry various items in their gym bags will appreciate this duffle. It is made from heavy-duty fabric to ensure it lasts. Because it is so sturdy, you need not worry about how full you pack the bag.
This gym bag offers impressive versatility too. You can use it on weekends when you go camping or hiking and use it for the gym. The assortment of compartments combined with the quality of the bag makes it ideal for any occasion.
Key features
When it comes to space, this bag offers plenty. Four main compartments include a central section, a zippered shoe compartment, a front pouch, and a zippered side section. Inside the side pocket, you will find a place for keys, a cellphone, and other small possessions.
Heavy-duty, self-healing zippers form the closures of this bag. Their robust design makes the bag durable and ensures it won't easily break.
A reinforced handle and a padded, two-inch shoulder strap offer two ways to carry the bag.
The gym bag comes made from a triple layer of fabric. The outer layer comprises thick 600D nylon, while the inner layer is a tear-resistant liner. Sandwiched between the two is a waterproof sheeting. This waterproofing keeps your goods safe from water damage, making the carryall ideal for outdoor use.
Pros
Offered in an assortment of colors and patterns
Includes a separate shoe compartment
Adjustable shoulder strap
Cons
Does not include a wet pocket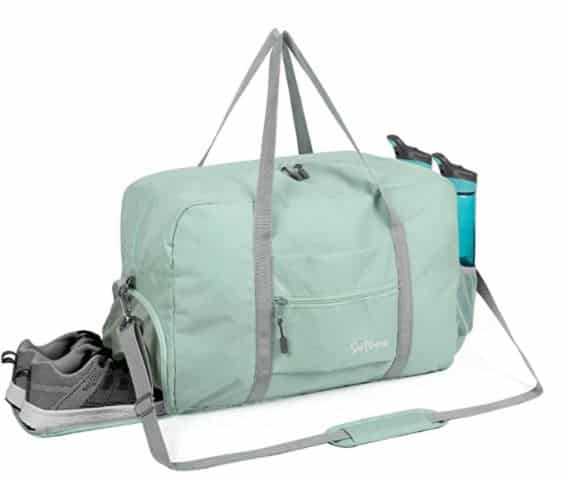 Sportsnew's Gym Bag is one of the hottest sports bags out there. A combination of vibrant color, durable fabric, and a spacious design leaves you with a unique bag.
With five separate compartments, there is nothing you can't keep in your gym bag. A wet pouch for storing sweat-soaked gear makes carrying dirty clothes much simpler. The shoe compartment provides the perfect place to keep your trainers. If this versatile gym bag sounds like something you need, then keep reading!
Specs
Features heavy-duty zippers
Includes a wet pocket
Offers a shoe compartment
Padded shoulder strap
Who is it Best for?
If you're the sort of man who enjoys everything in its place, then you need to consider this men's gym bag. The main compartment creates a space for you to store clothing and other larger items. Inside, you will also find a wet pouch for soiled or damp clothes—ideal for your post-workout gear. On the left, a shoe compartment gives you a place for your trainers, while on the right, two mesh pockets are waiting to hold your water bottles. A front storage pouch keeps your smaller items protected.
You can carry this bag in three different ways, so if you like having options, this is a gym bag for you. Sling it over your shoulder with the padded shoulder strap. Carry it in your hands with the reinforced handles, or throw them over your arms and wear it like a backpack. The choice is yours.
Key features
With a 600D nylon fabric making up this gym bag, you can be sure of its durability and longevity. The material offers a water-resistant surface. This means getting caught in the rain won't leave the contents of your bag saturated.
This heavy-duty fabric matches the sturdy zippered closures. Together they make up a gym bag that can be used for every event, camping, hiking, or gym.
A PVC-lined pocket sits on the inside of the bag. Use this to store wet or dirty clothes to keep them separate from your clean garments. It is ideal for people who love to swim too. No more bundling up a damp towel or costume in a packet.
This lightweight carryall is available in a selection of fun colors. You can pick the one that matches your gym gear or pick your favorite shade—a little dash of fun to liven up your exercise routine.
Pros
Offered in a variety of colors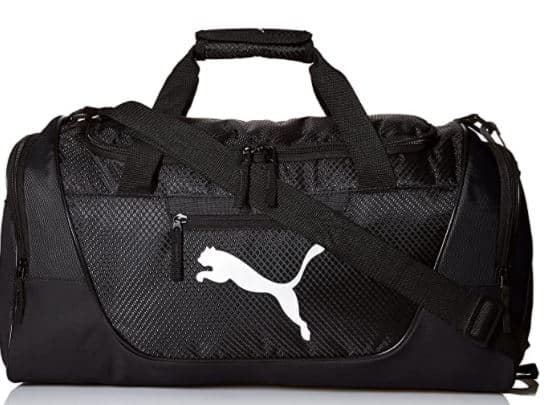 When searching for the best duffle bag for the gym, one that shouldn't be overlooked is Puma's Men's Contender Duffel Bag.
Puma offers some of the best sporting apparel on the market. They have over 70 years of manufacturing and designing sporting goods for athletes. Their passion for creating top-quality sporting goods comes to light in this gym bag.
Specs
Offers four compartments
Zippered closures
Includes handles and a shoulder strap
Made from 100% polyester
Who is it Best for?
Designed for athletes and me who take their gym sessions seriously. This top gym bag carries the stamp of high-end sporting equipment in the form of the Puma logo.
Whether you are a training athlete or someone who enjoys their workouts, then this bag is one to consider. It offers four spacious compartments so you can keep your gear where you want it. Store your shoes away from your clothes and keep smaller accessories safe.
If your focus is on style, you will love this duffle. Sleek black lines, mesh detailing, and a compact design comes together elegantly. Bringing the concept of less-is-more to the fore, Puma puts their best foot forward with this trendy gym bag.
Key features
When seeking out the best gym duffel bag, the first thing to look for is capacity. Puma's stylish bag offers that and more with four large compartments. The main section, a division for shoes, and two further pockets provide ample space.
Durability is another standout feature of this bag. Made from 100% polyester and fitted with a polyester lining, this duffel is as sturdy as they come. Adding to the robust design are zippered closures that keep your items protected.
Carry this gym bag in two simple ways. Sling it over your shoulder using the padded shoulder strap, or carry it by hand with the reinforced handles.
As one of the best small gym bags for men on the market, it is also offered in various colors. From subtle detailing to colored panels, you get to select the design and shade that appeals to you most. Whether you pick your favorite shade or one that matches your gym attire, that is up to you.
Pros
Offered in an assortment of colors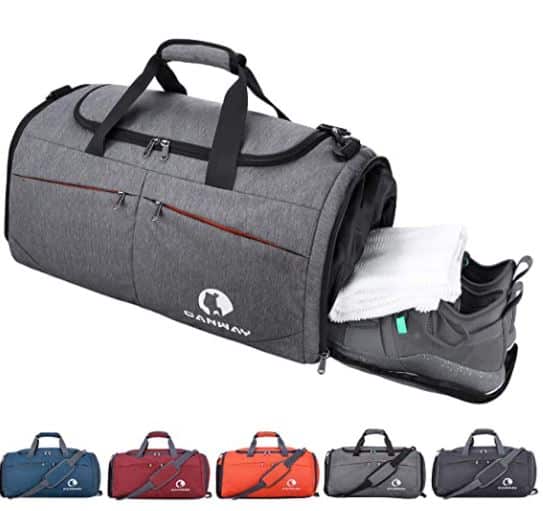 Canway's Sports Gym Bag is a bag like no other. It does not feature your usual matte black fabric but takes on the look of a stylish weekender. With its waterproof base and heavy-duty zippers, this bag offers a durable solution to transporting your gym wear.
Canway takes things a step further by making their gym bags for men as versatile as possible. Use your men's gym bag as an overnight bag, a carryall for camping, or bring your gym attire to training.
Specs
Offers a 45-liter capacity
Features a wet pocket
Includes a separate shoe compartment
Waterproof base
Who is it Best for?
Whether you are a pro swimmer, a runner, or a guy who loves to work out, this bag offers everything you need. A built-in wet pouch provides the perfect space to store damp towels, costumes, and sweaty gym clothes. Keeping your shoes separate from your other items is easy, too, thanks to the shoe compartment. With one main section and eight further pockets, you won't be short on storage space.
Canway's gym bag offers a touch of sophistication besides all the compartments it has. Sleek detailing and an assortment of colors allow you to add a dash of your own style to your gym accessories.
Carry your bag with swag and make use of either the detachable shoulder strap or the handles. For the men who appreciate options, this bag offers them in multiple ways.
Key features
There is nothing worse than a gym bag that falls apart after a few weeks of use. Canway knows this, which is why they took the durability of their bags into consideration. They fashion their bags from heavy-duty 600D polyester. While a waterproof and tear-resistant finish keeps your goods protected.
Zippered closures make it simple to access your gym wear and accessories. Canway reinforces their zippers at all significant areas of tension, preventing tears.
Moving to the bottom of the bag, you will find a sturdy, waterproof and wear-resistant leather finish. Something that isn't often considered is the wear-and-tear that happens to the base of a bag. Canway has taken extra measures to ensure all aspects of this gym bag are durable.
If that kind of attention to detail doesn't grab you, then maybe the interior features will. A useful keyring provides a place to keep your keys. No more scratching around through your things to find your keys. A pouch inside provides a space for your shampoo and shower gel, too, for your post-workout shower.
Pros
Offered in various colors
Comes with a soft pocket for valuables
Includes two mesh pockets for water bottles
Cons
Does not include plastic feet at the base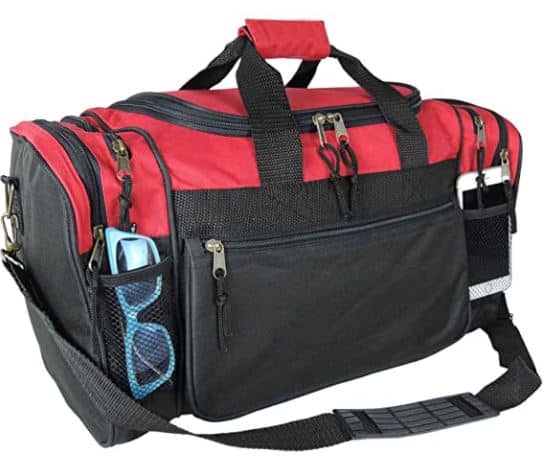 Dalix's Sports Duffel Bag is designed for men inspired by adventure. Unique and versatile, it is the perfect companion for any outing. Various spacious pockets and compartments provide a place to store your gear.
Take Dalix's bag with you up a mountain, along a trail, or to the gym, and feel confident that everything you need is right there with you. Plain gym bags are a thing of the past, now that Dalix has arrived on the scene.
Specs
Made from polyester
Includes a detachable shoulder strap
Zippered closures
Offers a shoulder strap and handles
Who is it Best for?
The good news is, this bag is best for everyone. Men of all ages can enjoy the benefits of this luxury gym bag.
Ideal as a gift for sports-lovers, this bag offers plentiful space for transporting gear of all sorts. Use it to carry towels, balls, hiking boots, or a change of clothes for after your workout. The main compartment provides ample room for many things. Two side pockets offer a place for shoes or other equipment. Keep your valuables safe and easy to find by placing them in the front zippered pocket.
If you are a man of style, you will want your gym bag to match your workout attire. Luckily, Dalix offers their bags in an assortment of shades, so you can find the one that best suits your taste.
Key features
A bag that you intend to use once, if not twice daily, needs to be durable. Dalix's best men's gym bag is sturdy and durable. It comes made from 100% polyester, a material that can withstand daily use with ease.
Heavy-duty zippered closures keep the items you store in your bag safe while making it simple for you to access them. A long shoulder strap with a stainless steel buckle allows you to carry this bag over your shoulder. Alternatively, detach the strap and take it using the handles instead. How you carry your bag is up to you.
Deep mesh pockets with elasticated openings are found on the outside of the bag. These neat pockets create the perfect place to keep your iPods, water bottles, or smoothie shakers. The elastic serves to keep your goods secure, so they don't slide out of the pouches-a handy detail.
Pros
Comes with mesh pockets for water bottles
Offered in various colors
Cons
The bag is not waterproof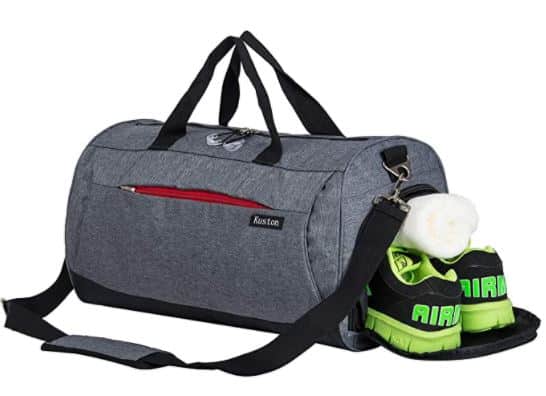 The best small gym bag is the one that is both stylish and convenient. Kuston Sports' Small Gym Bag for Men ticks both these boxes and more. Offering ample space for all your gym apparel and even a place for your shoes, you can't go wrong.
Made from high-quality material and fittings, this bag not only looks sleek, it is durable too. Having to choose style or sturdiness is now a thing of the past; you can have a bag with both.
Specs
Features a wet pocket
Offers a capacity of 44-liters
Water-resistant
Includes ventilation holes to prevent odors
Who is it Best for?
Kunston Sports made this bag for men with impeccable taste and style. Fashioned from durable but sophisticated Oxford fabric, it is offered in a selection of colors that range from slate grey to purple. The handles, straps, and zippers all match and come in a sleek black, complimenting the bag as a whole.
Continuing the sophisticated flair of this bag is the built-in shoe compartment. This is not just any shoe compartment; it comes with two air vents that prevent the odors caused by shoes. These vents allow your shoes and your bag to breathe, avoiding unpleasant smells. Men who struggle with foot odor will appreciate this neat feature.
Small gym bags for men often only offer tiny compartments with no place for bulkier items such as towels. Not this bag! Kunston's men's gym bag provides an abundance of space so you can store any number of items. Making this a bag that you can use for adventures or for the gym.
Key features
When it comes to features, this gym bag is packed full of them. A variety of unique finishes and details make this bag stand out from the rest.
This bag comes made from fabric that is water-resistant and tear-proof. So, you can be sure when placing your possessions in the bag that they will be safe. Another safety feature is the heavy-duty zippers that allow for the use of locks. This detail prevents theft and stops people from gaining access to your things.
Storing your items in this neat bag is a cinch, thanks to all the handy pockets. Featuring no less than five compartments, this bag keeps your things well organized. Included is a wet pouch. This convenient pocket provides a place to store damp or dirty garments. This separates the clothes that need laundering from those that don't.
An adjustable strap with stainless steel clips makes it easy to carry the bag on your shoulder. However, if you are more of a hands-on kind of guy, you can take it by the handles.
Pros
Offers an adjustable strap
Cons
Does not feature plastic feet on the base
Things to Consider When Buying Gym Bags
If you are looking to buy the best gym bag for men, there are a few things you will want to consider first. Take the time and do your research to make sure the bag you want to buy fits the bill. Think about things like capacity, whether there is a wet pouch, and how many compartments you need. Narrowing these down makes finding the best men's gym bag a cinch.
1. Capacity
Carrying more than two bags because not all your stuff fits into one is frustrating. When looking at new gym bags, consider the things you want to bring in them. The next step is figuring out whether the bag you would like offers sufficient space.
Having to shove your possessions into a bag is also not ideal. Find one that features enough room for everything to fit without squashing it all in. This will ensure your change of clothes does not come out of your bag looking wrinkled and creased. It also prevents your shoes from getting flattened.
2. Compartments
Having the right amount of compartments should also take preference. Especially if you are the sort of guy, who enjoys having things well organized. The more sections you have, the more place you have to keep your things individually.
Keeping your shoes separate from your clean clothing by finding a bag that comes with a shoe pocket. The same goes for your more valuable items. You don't want them packed in with a damp towel or with your shampoo-you can't rinse the shampoo off a smartphone or iPad.
Storing your gear neatly in individual pockets makes it easier to find things when you look for them. So, in our perspective, the more compartments, the better.
3. Convenience
Your gym bag should provide you with convenience. Convenience can mean different things to different people, so you will need to decide what it is for you.
It could be the form of a wet pouch, especially if you are a swimmer, or you sweat heavily during your workout. This handy compartment provides a waterproof section. This is the perfect place to keep damp clothing or towels separate from your other items.
Convenience could be in the form of the straps the bag has. A padded shoulder strap offers comfort and is simple to use. Reinforced handles may be better for you, in which case the shoulder strap should be detachable.
Gym bags are every athlete's best companion. It doesn't matter what sport or exercise you do, a gym bag is always necessary. We took the time to source only the best gym bags in conducting our reviews, which offer excellent capacity and convenience.
Our top pick, however, goes to Canway's Sports Gym Bag. With an impressive offering of space, a useful wet pouch, and a wear-proof bottom, this bag is convenience wrapped up in style.