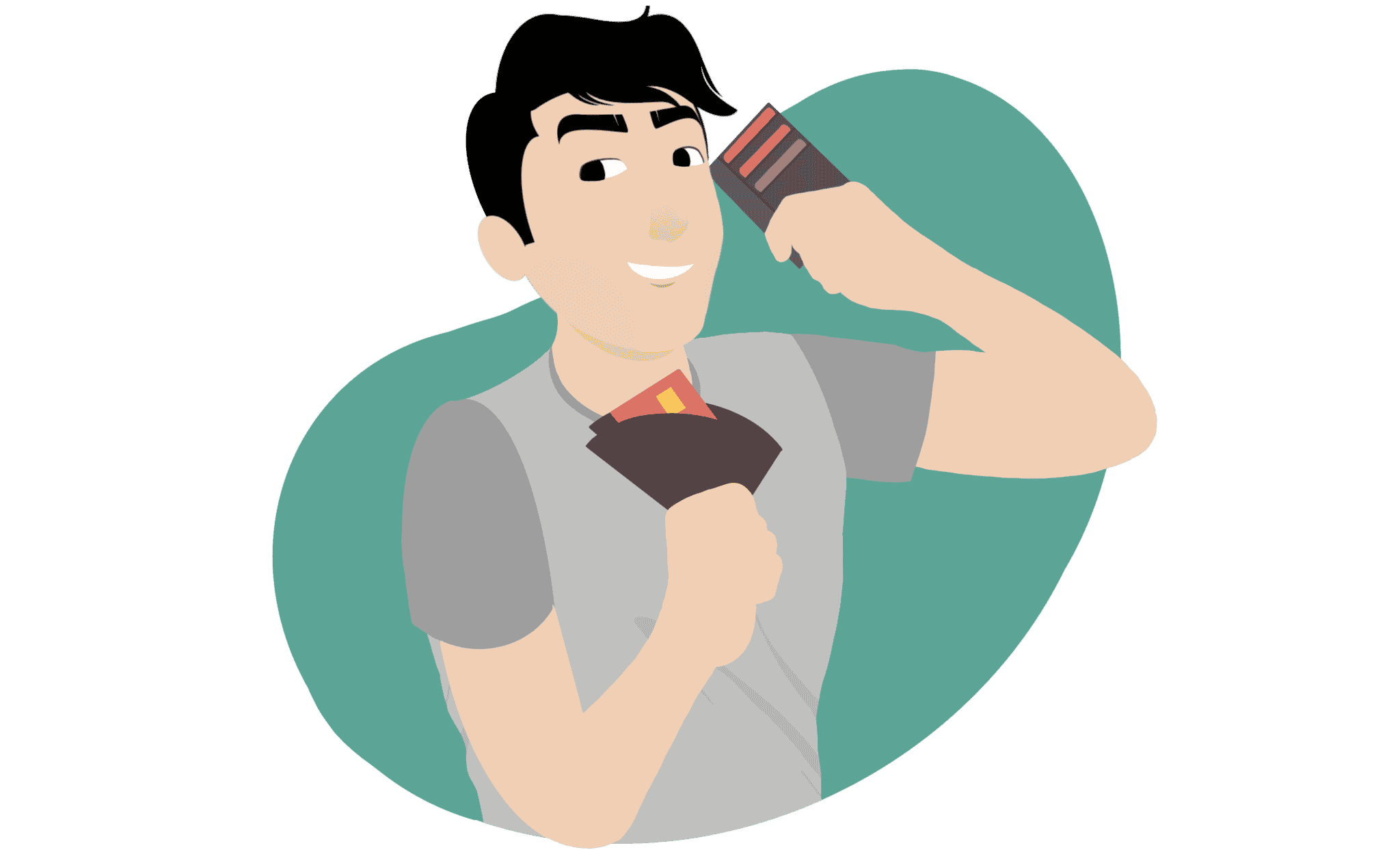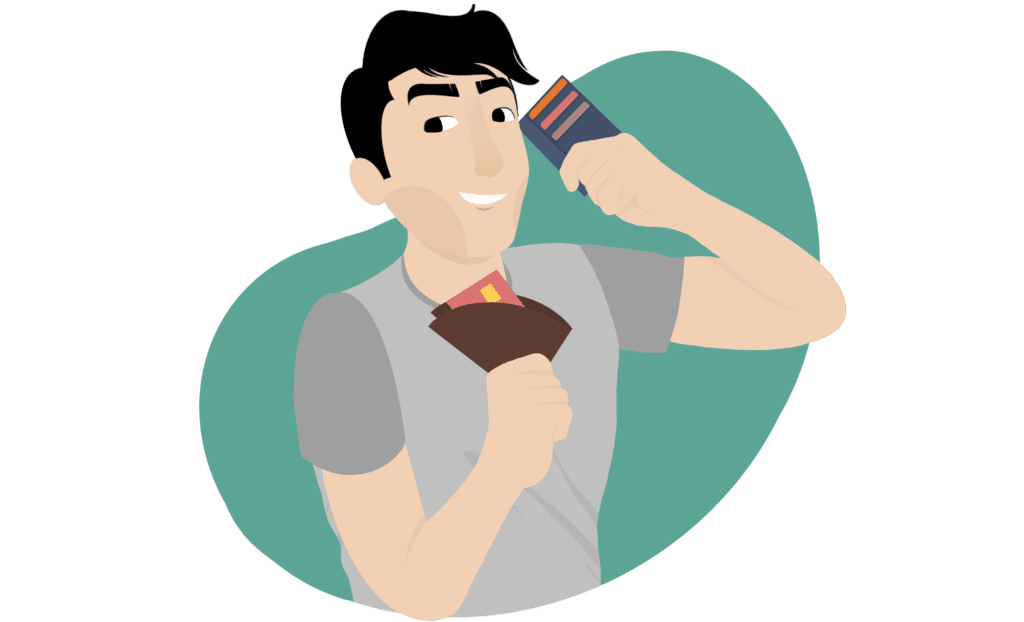 If you own a wallet, you might have experienced it before. A thick, awkward wad that sticks out of your back pocket. Not only does it look odd, but it is uncomfortable to sit on. Are there any wallets out there that look great and aren't cumbersome?
The front pocket wallet is a revolutionary way to carry your cards and cash. By fitting into your front pocket, these unique wallets make life a lot easier.
Frustrated with your existing wallet? Keep reading to find out more about which front pocket wallets to try.
We have scoured the web, seeking the best front pocket wallets available. This review combines the most fashionable and durable wallets on the market. Put together to provide you with an insight into the best of the best for men's wallets.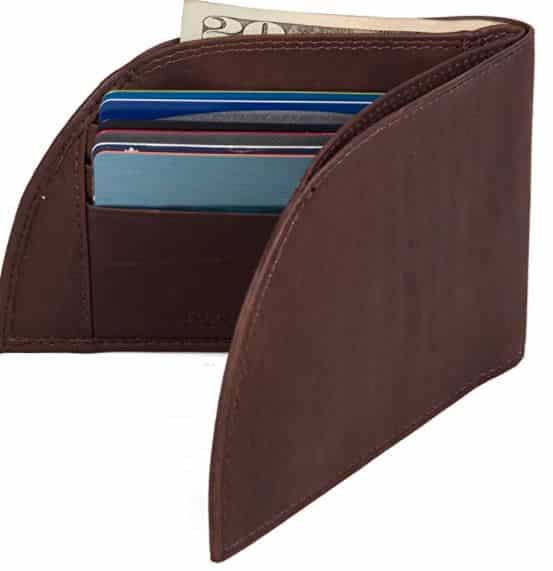 Rogue Industries takes the simple wallet to the next level. Their uniquely shaped front pocket wallet features a design like no other. Crafted with comfort and ease of use in mind, they make this wallet for the modern-day man.
Fashioned from premium leather, this Front Pocket Wallet by Rogue Industries is both durable and stylish. Days of carrying a bulky wallet in your back pocket are over, thanks to this fantastic accessory.
Specs
Made from premium leather
Unique shape for ease of use
RFID block
Slim design
Who is it Best for?
If design and comfort take priority in your life, then consider this stylish wallet. Rogue Industries offer a wallet with a unique shape that echoes the inner shape of your front pocket. This design makes it simple to pull the wallet in and out of your pocket.
The elegant leather used to craft these wallets adds a touch of class. Offered in a range of shades, you can find the one best suited to your look and keep on-trend.
An added benefit of a leather wallet is that they last. This durable material will keep your cash and cards for years to come—all the while softening into a comfortable and familiar part of your daily outfit.
Key features
This one-of-a-kind wallet is not made to sit in your back pocket. Instead, this slim and sleek billfold finds its place in your front pocket. By moving your wallet to your front pocket, you prevent your risk of being pick-pocketed. Why? Well, it is a lot harder to reach.
This front pocket wallet for men also features an RFID block. A steel plate comes embedded in the wallet. This plate prevents electronic pick-pockets from skimming your credit card information. Keeping your money and your wallet safe.
The internal design of the pocket wallet offers space for up to six cards with three card slots. It also comes with a full-size banknote divider. A useful ID slot comes with a clear front so you can display your ID without having to remove it.
By keeping your wallet in your front pocket, your days of backache are over. No more sitting on a bulky wallet, and no more leaving your wallet behind! Now you can sit comfortably with your wallet in place.
Pros
Offered in multiple colors
Cons
Does not offer a coin holder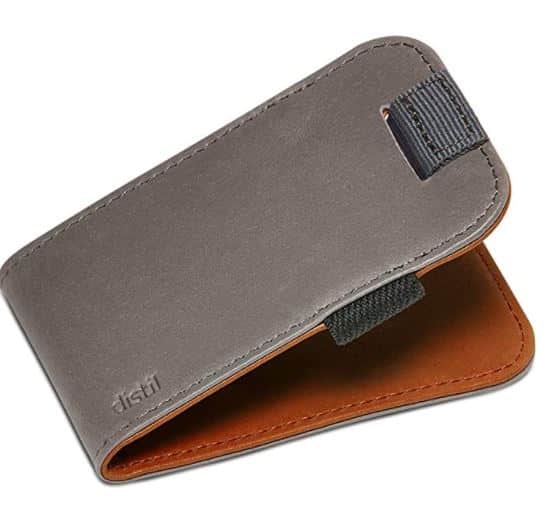 When describing Distil Union's Wally Micro Slim Wallet, three words come to mind – sleek, slim, and versatile. This compact men's front pocket wallet makes the ideal travel companion. By offering space for the necessary items without being bulky, it fits into your front pocket.
Front pockets are the way forward. They offer a solution to all the problems faced when carrying your wallet in your back pocket. Backache from sitting on a thick wallet or losing your wallet because you took it out of your back pocket, those days are gone.
Specs
Made from premium leather
Holds up to ten cards
Reversible design
Features a pull-tab design
Who is it Best for?
If you find thick, cumbersome wallets displeasing, then look no further! We have the perfect wallet for you. Distil Union's Wally Micro Wallet is as slim as they come. It slides into your pocket with ease and comes with a handy pull-tab, making it simple to remove too.
Men who have their sights set firmly on style will appreciate this wallet too. It features a fun reversible design. One side of the wallet presents a vibrant color, while the other sees a slate-grey. This means you get to decide on the color of your billfold each day.
This versatile wallet makes the ideal gift for men of every age. From teens to grandfathers, who wouldn't appreciate this useful billfold?
Key features
For such a small accessory, this cool front pocket wallet indeed offers many features. Made from genuine leather, this billfold guarantees long-lasting quality. This wallet only gets better with age, thanks to its durable nature and ability to soften over time.
Although this wallet may be slim, it provides a place for between one and ten cards. By being fully NFC compatible, this billfold works well with tap-to-use cards. This means you can use your access card without having to remove it from your wallet. Hello, convenience!
The slim design of Distil Union's wallet makes it easy to store in your front pocket. It won't dig or poke into your leg, nor will it leave you with an aching back. Best of all, when kept in your front pocket, it is inaccessible to pick-pockets.
Pros
Offered in a range of colors
Cons
Does not feature RFID protection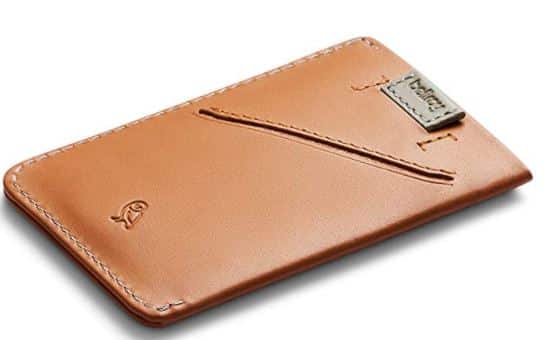 Whether you are looking for a stylish way to carry business cards or a compact wallet for your credit cards, we have the solution. Bellroy's Card Sleeves are the most refined front pocket wallets for men. These precision-crafted accessories make carrying your cards a fashion statement.
Pulling your billfold out of your front pocket is smooth enough. However, when people see the wallet you own, they will be in awe.
Specs
Offers space for two to eight cards
Made from quality leather
Features quick access pockets
Minimalistic design
Who is it Best for?
Perfect for business executives on-the-go! This front pocket bifold wallet compliments any suit. Offered in a variety of neutral tones, this accessory is both functional and stylish.
The slim design allows Bellroy's men's front pocket wallet to slip neatly into any pocket. Place it in your blazer or suit jacket, pop it in your shirt pocket, or slide it into the front pocket of your trousers. It is so minimalistic people won't even know it's there.
If you are a man of many cards, then this handy little sleeve may be the thing for you. It provides the perfect place to store overflow business cards or access cards. Keep your wallet uncluttered and your cards safe by using this neat holder.
Key features
This front pocket wallet takes refinement to the next level. It comes fashioned from sustainable leather that looks sleek and is soft to the touch. The durability offered by this billfold is remarkable, offering you years of use.
The robust design enables you to carry between two to eight cards along with folded bills. A pull-tab releases your cards from the holder, making pulling out the card you need a simple task. This means no more fussing with trying to retrieve a business card in front of an associate.
The front and back of the wallet feature quick-access folders – place your most-used cards here for quick and easy access. Reduce your chances of being pick-pocketed by making use of this impressive wallet. Storing your cards in your front pocket makes them difficult to reach, even for the most accomplished thief.
Pros
Offered in a range of colors
Cons
Does not offer a coin holder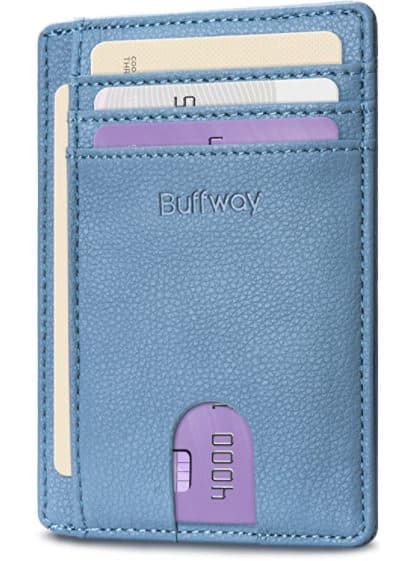 Discreet yet spacious, Buffway's Slim Minimalist Front Pocket Wallet is everything you need. Offering multiple pockets for your credit cards and cash and RFID protection.
Buffway considers both the functionality of a front pocket wallet and its aesthetic appeal. This thought shows in the design we see in this slim front pocket wallet. If you are looking for a billfold that ticks all the boxes, this is a definite winner.
Specs
Includes RFID blocking technology
Made from premium leather
Slim and stylish
Offers place for up to eight cards
Who is it Best for?
Have you had your wallet pick-pocketed before, or your credit card information skimmed? If your answer to this was yes, you need to look at this men's front pocket wallet. It comes with built-in RFID blocker protection. This means that should someone attempt to skim your information, they won't be able to.
By keeping this wallet in your front pocket, you also run less risk of having your wallet or cards taken. This billfold offers unrivaled safety, making it ideal for men on-the-go.
If you are searching for the best gift for the man in your life, you have stumbled on perfection. These useful wallets are something every man needs, young or old. Buffway makes their wallets in an assortment of colors, ensuring there is one to suit every taste.
Key features
These premium leather wallets are both discreet and durable. Made from leather, they will soften with time, taking on a feel of comfort and familiarity. Buffway makes their wallets are from superior quality materials, ensuring they last.
Ample space in the form of eight card slots is one of the features of this wallet. A quick-access slot is ideal for the card you use daily, while a transparent window slot is perfect for your ID. The main folder does well in holding bills and receipts. The remaining other spaces provide a place for business cards and credit cards.
Designed to be lightweight and slim, this wallet slips in and out of your front pocket easily. By transferring your billfold to your front pocket, you eliminate backache. You also are far less likely to lose your wallet as you no longer have to remove it to sit down.
Pros
Offered in various colors
Cons
Does not offer a coin pocket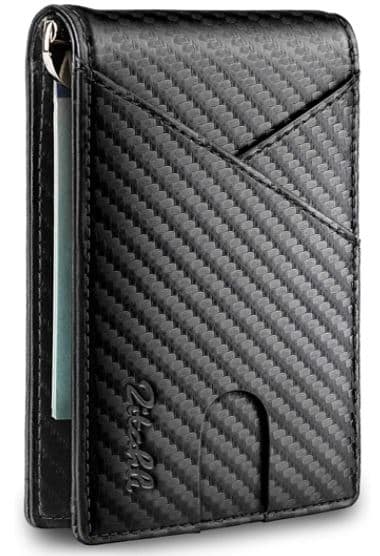 Zitahli's Men's Wallet offers a sleek design combined with top-quality materials. This combination leaves you with a wallet that is functional and aesthetically pleasing.
The bifold closure of the wallet makes accessing your cards and cash simple. When not in use, slide this wallet into your front pocket. Made to fit in the smaller pockets found at the front of your trousers, these billfolds are slim. They allow you to keep your most essential cards and cash without becoming bulky.
Specs
Includes a money clip
Comes with RFID protection
Slim design
Made from microfiber leather
Who is it Best for?
Men of all ages will appreciate one of these front pocket ID wallets. Fashioned from microfiber leather made to look like carbon fibers they are as stylish as it gets. The billfold comes packaged in an elegant black gift box, making it the perfect present for dads.
If you like your wallet to have a touch of color, this is the one for you. Zithali offers their bespoke wallets in shades of brown, blue, or black. For the adventurous souls out there, they provide black wallets with colored detailing.
This wallet comes with a bifold closure, ideal for men who enjoy that aspect of their larger wallets. By the billfold opening out, you can locate your cards and cash with ease.
Key features
Zitahli's front pocket wallets for men come with a built-in metal money clip. This clip holds your bills and business cards in place and provides space for up to 12 cards, ideal for the man with credit, debit, and membership cards.
The premium leather used to craft these wallets ensures they are durable. They are designed to withstand the wear-and-tear that comes with daily use.
A strategic pull strap makes accessing your cards a simple task—no more struggling and trying to pull out the correct card. A thumb-hole in the one slot makes retrieving that card simple and is ideal for the card you use most often.
Built-in RFID blocker protection keeps thieves from skimming your ID and credit cards. This wallet ensures your information remains safe.
Sitting on a cumbersome wallet that sits in your back pocket is terrible for your back. It throws out the alignment of your hips and leads to backache and muscle tension. So having a front pocket wallet is so handy; it keeps you pain-free.
Pros
Offered in a range of colors
Includes an easy-access pull strip
Cons
Does not offer a coin pouch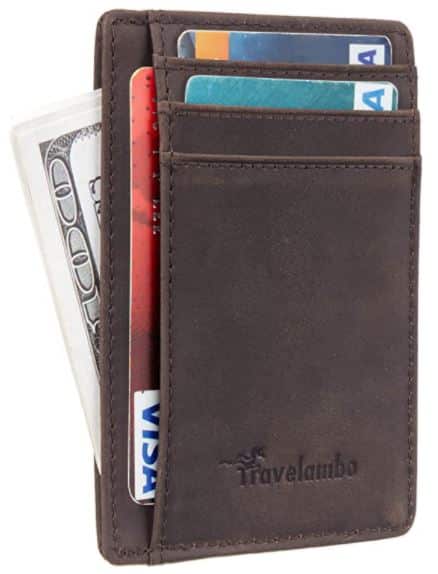 Travelambo's Front Pocket Wallet offers a rugged look for men who love adventure. They come made from genuine leather and are treated to feature a rough, textured look. The branded Travelambo logo on the front adds to the overall feel.
By combining quality materials and a solid design, Travelambo provides its customers with a wallet unlike any other. It fits neatly into the front pocket of your trousers, offering a unique and safe way to carry your money.
Specs
Features RFID blocking
Slim and minimalist design
Offers six card slots
Includes a transparent ID sleeve
Who is it Best for?
Men who prefer rustic or more natural-looking accessories will love this wallet. It comes fashioned from leather and is built to last. No matter where you take this wallet, hiking, climbing, or to a barbeque, it won't let you down.
Travelambo crafts this sturdy wallet in various neutral tones, from coffee-brown to khaki. So whatever shade most appeals to you, you will find it. The wallet comes offered in three textured finishes too. Whether you want a more rugged look or a sleeker style, the choice is yours.
This is a luxury leather wallet in a design that appeals to men of all walks of life. It is simple to see why we describe them as the best men's front pocket wallets on the market.
Key features
These great wallets come with a silver embroidered lining that works as an RFID blocker. This blocker protects the information on your credit cards and ID. The silver prevents thieves from skimming your data, keeping your details safe.
Another way this wallet keeps your money protected is through design. Made to sit in your front pocket, these wallets are no longer the target of pick-pockets.
While this billfold may be minimalistic in looks, it is big on space. Featuring six slots to hold your cards and bills, this wallet enables you to carry all the cards you use most. A transparent sleeve with a thumb grip provides the perfect place to store your ID. This wallet offers superior quality for men of all ages.
Pros
Offered in a variety of colors
Cons
It cannot block access cards operating in 125 kHz
Things to Consider When Buying Front Pocket Wallets
When shopping for front pocket wallets, there are a few things to take into account: the most critical being capacity, security, and quality. In our review above, we cover wallets that fit within these bounds. However, should you shop for one at a later point, these are the things to keep in mind.
1. Capacity
Capacity, in this case, refers to the number of cards your wallet can hold. The average front pocket wallet keeps about five or six cards and perhaps a few bills. The capacity that appeals to you will depend on how many cards you need to carry with you. Keeping in mind how many cards you currently have and which of those you need to have at all times will help you decide.
Another aspect of capacity is how the cards sit in the wallet. Some feature one or two card slots that all your cards sit in. Others offer a single space for each card or a few places that hold multiple cards. How you like to arrange your credit or access cards will dictate your new wallet's slot capacity.
If you intend on keeping bills in your wallet, then you will want to ensure there is space available for these too.
2. Security
Security plays a vital role in wallets these days. Thieves have taken to committing electronic theft, making keeping your data protected critical.
Data skimming involves using a device known as a skimmer that thieves run over your credit or ID cards. This skimmer extracts your banking information from the magnetic strip on your card. With this information, they can then process transactions using your card data.
Most front pocket wallets come with an RFID blocker. This blocker scrambles the signal of the skimmer, preventing thieves from retrieving your data. Sometimes the blocker comes as a metal panel built-into the wallet. In other cases, you may find silver embroidered into the lining of the billfold. This blocker has no impact on the magnetic strips on your cards.
What you may need to keep an eye open for, though, is that some blockers can only protect cards at a particular frequency. They usually will be able to block skimmers from ID and credit cards. However, access cards are sometimes left vulnerable.
3. Quality
With quality, don't quibble. If you are looking for a wallet that will last many years to come, you need one that offers premium quality.
The material used to make your wallet plays a large role in determining its quality. Synthetic materials won't last, and you will spend more money replacing your wallet. A more durable material such as leather may cost more initially but will save you money in the long run. Premium leather wallets offer great longevity, lasting for decades.
Craftmanship makes a difference too. Poorly made wallets won't stay in one piece for long. Because you use your billfold daily, it needs to be well put together. Nobody wants a wallet that falls apart after a few uses.
Inspect the wallet closely before buying it. Note the materials and techniques used to make the wallet.
It is plain to see that the front pocket wallet is the new trend in men's accessories, and understandably. There are many variations available on the market, yet, the ones we have reviewed here tick all the boxes.
The award of best men's front pocket wallet goes to Buffway's Slim Minimalist Front Pocket Wallet. With eight card slots and RFID blocking protection, this minimalist wallet has it all. It scores full points for design, security, capacity, and quality—a wallet made for the modern man.