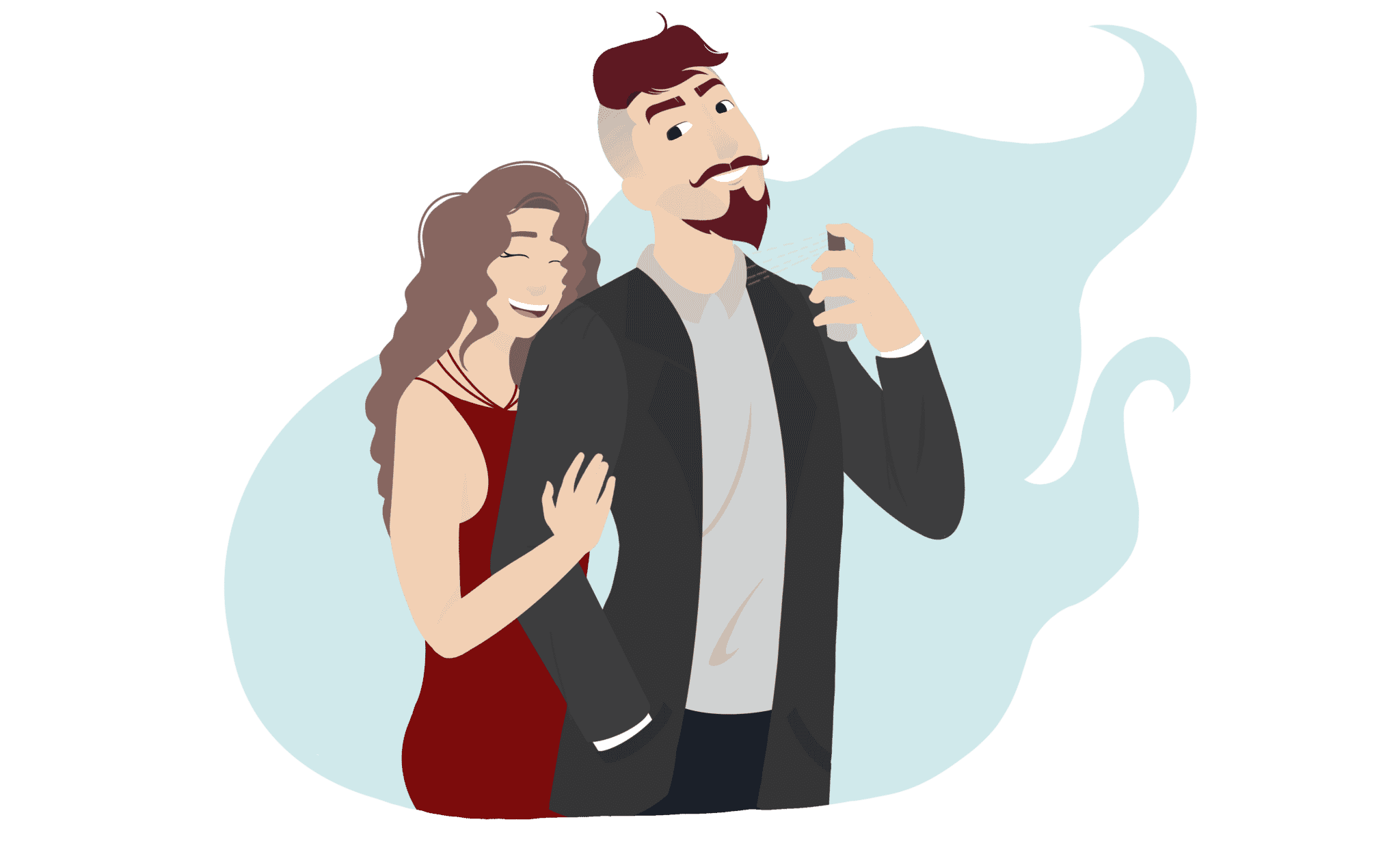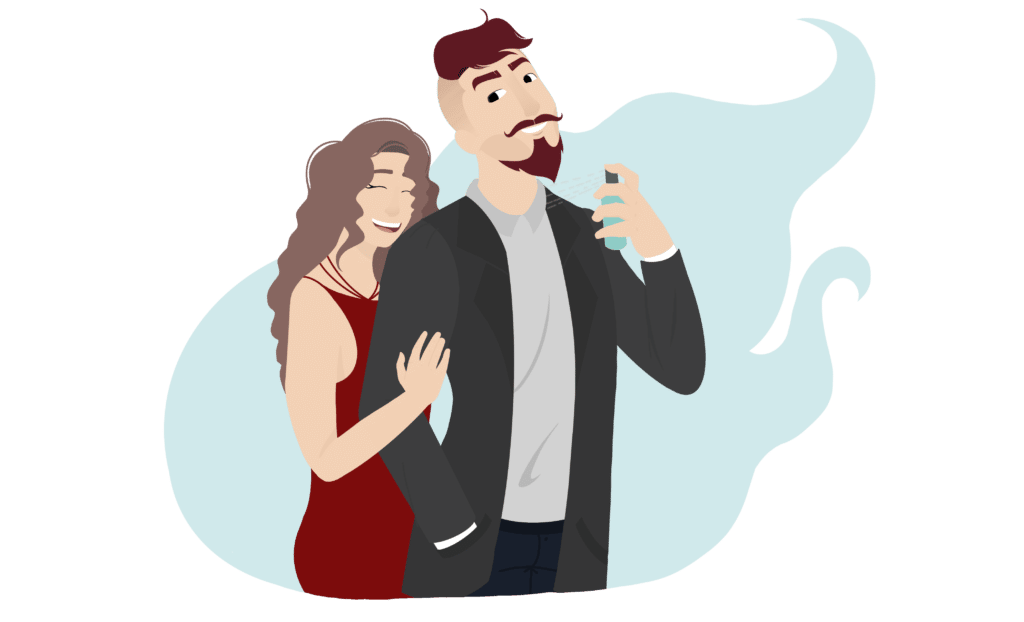 If you've ever been dragged into a makeup store, odds are you've found yourself spending a little time in the cologne aisle. They all smell so delicious, and you might find yourself wanting a bottle of your own.
Inevitably, the price tag keeps you away. $70 for a bottle of smell-good? No thanks. But there is yet hope for men who want to smell fresh and pay rent. Check out these aromatic colognes under $40.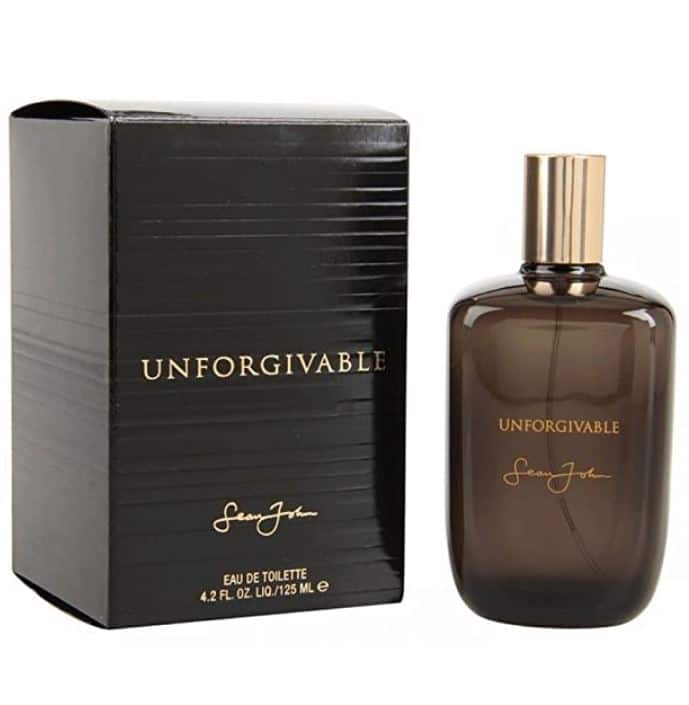 The key to a good cologne is to perk noses up without crumpling them. A good cologne will make the room wonder where the smell is coming from without wondering how they can get away- powerful but subtle like the cool, flowery scent of spring.
Unforgivable by Sean John is one of those rare scents that accomplish just such a feat.
What it Brings to the Table
Fruity top notes.
Flowery middle notes.
Savory-sweet bottom notes.
Woody, natural scent.
Who's it Best For?
Imagine this: you're sitting in a parlor drinking a cup of whiskey. Around you, there is rich mahogany furniture, a vase of flowers picked at the height of their blooms, and a decanter filled with deep amber rum.
If you find yourself connecting with such a scene- this is the cologne for you.
Unforgivable by Sean John offers men a little bit of what they so often neglect. A good, flowery scent is both attractive and suggestive, treating the nose gently on the top notes and preparing it for the dark, heavy bottom notes.
Keep in mind that this is, for certain, a men's cologne. If you want something that won't assault the person across from you, you've got it right here. This cologne is for men who want to smell something like classy burgundy mahogany and good rum.
The notes of lavender and herb show a sensitive side, as well. While it's all well and good to smell manly, it's imperative to smell dreamy as well. Flowery top notes introduce the nose to the scent without battering it down. Think of them like a seductive hel-lo in an aromatic form.
Key Features
This cologne features an expertly selected blend of floral and umami scents that will delight and astound. Keep your Axe body spray at home, because this delicious medley will get you through the night without nauseating or annoying any of your friends or colleagues.
Unforgiveable's top notes are an interesting cocktail. Hints of basil, mandarin, and lemon are deftly complimented by the subtle aroma of bergamot, birch leaf, and juniper. The blend works to entice passer-byes and introduce the wearer as a sensitive, aesthetically inspired type.
Middle notes of lavender deepen interest by soothing the nose and reminding of warm summer days and the blooms of springtime. For a truly dynamic cologne, you're going to want to try this classic medley infused with the personal touch of a careful designer.
The base notes are where we get our really strong, masculine foundation. The scent of rum greets you on this bottom layer of smell as the aroma of sandalwood dances through the background. It's a dark, shady undertone to serve as support for the sunny, exciting overtones. These are the scents doing all the heavy lifting backstage as the stars play their roles.
Cons
Bottom notes of rum may be too heavy for some.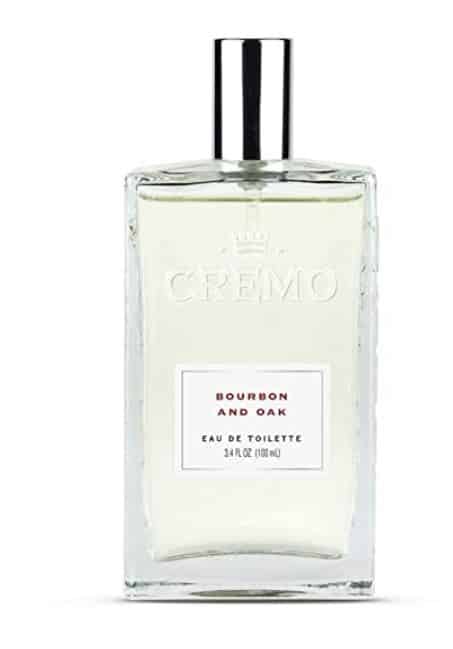 Cremo is a trusted brand for men's cosmetics, and this 4 ½ star rated cologne is a great, cheap answer for men who want to go to their next event smelling like heaven. Cremo more commonly makes beard products like beard oil, cream, and combs.
Cremo Bourbon and White Oak is a feisty little scent and a great way to brighten up and keep yourself smelling fresh.
What it Brings to the Table
A trusted name in men's cosmetics.
A beautifully styled bottle.
High-end boutique-quality scent.
Layered and complex aromas.
Who is it Best For?
If you want a scent designed by a trusted brand and used by men across the nation, you've got it in Cremo's Bourbon and White Oak cologne. Odds are, you probably already have a bottle of Cremo cosmetics in your bathroom- why not get another?
Searching for a trusted name can be exhausting, especially when most of the names are in French. This might tempt you to a bottle of Old Spice, but don't give up. The search for a good, trustworthy cologne from a familiar company ends with Cremo.
This cologne is great for men who want to give off a decisive and powerful scent without seeming pretentious. With cologne, the biggest danger is overdoing it. You want to smell like a smooth cut of varnished wood, not a high school locker room. Cremo is a spectacular subtle solution.
This cologne adds a little bit of spice to the common men's cologne formula. The simple, unaided smell of a good whiskey or bourbon is good but adding the smell of paprika or chili makes it even better. If you like the smell of Fireball better than Jack Daniel's, this is the scent for you.
Key Features.
Where our last cologne preferred to be dynamic and enthusiastic, this one keeps it simple. Top notes reveal a mysterious blend of spices, while middle and bottom notes present the classic, savory smells of brown liquor. Bourbon and whiskey, pepper and spice- this is a blend that's sure to entice.
Top notes of Cremo entice the smeller with a bombastic and attractive orchestra of exotic spices. Hints of chili, notes of paprika, cayenne, or perhaps cinnamon- just imagine it. This is the first layer of your cologne, and you want it to greet someone as warmly as possible. Best to do it with the scent of a busy Moroccan spice market.
The middle note is simple- but simple is often the way to go. The scent of bourbon reminds one of the stunning glass decanters in homey living rooms. This comfy scent is a wonderful way to calm the nose and give off a commanding, masculine scent that's sure to impress.
Finally, we have our bottom notes. These serve as the foundation for your scents, the base that will hold up the lighter top and middle notes, so you want it to be dark. Oak and whiskey make for perfect bottom notes and finish off this scent perfectly. Using very little, Cremo missed out on nothing- and you'll get the same.
Pros
Comfy scents of whiskey and oak.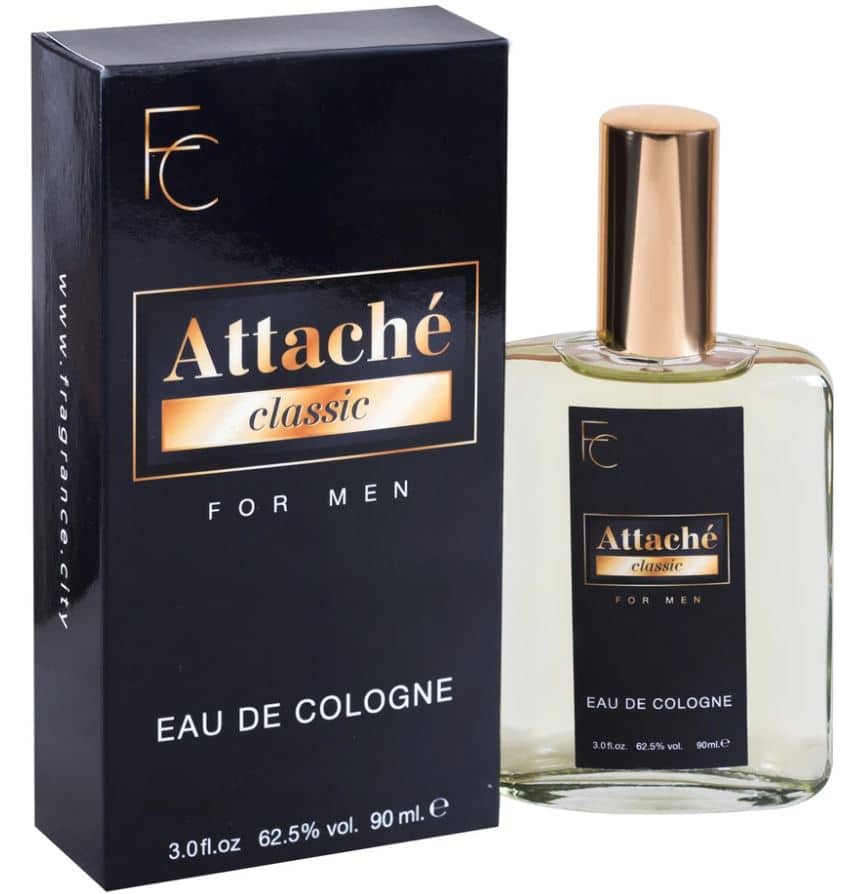 The old scents of liquor and smoke are so common- so boring. If you want something that's going to impress while calming the nerves, you're better to look toward mother nature for inspiration.
Attache Cologne for Men draws its inspiration directly from the earth. Fields of ferns, dewy beds of moss, and pine forests are all invoked by this cool, subtle scent.
What it Brings to the Table
Light, airy scent.
Balanced aromas.
Woody fragrance.
Natural inspiration.
Who's it Best For?
This cologne is best for anyone who doesn't like to stay inside the box. You could reach for something dark brown, smelling of bourbon and whiskey, or you could try something new and get a scent with a little more character.
If Teddy Roosevelt wore a cologne, this would be it. With top notes of dewy, watery scents and a foundation of green foliage and pine needles, this scent is for anyone who loves the smell of the outdoors. That might be you, or it might be your sweetheart. Either way, this is a shoo-in to impress.
Imagine yourself in a field of ferns. Below you, there's a spotty bed of thick moss that drains cool water like a sponge with every step. All around you, there are towering green pines and dark, rain-drenched oak trees.
If you find yourself connecting with this scene, please, do yourself a favor and try a bottle of Attache. Attache focuses on the spectacular aromas God's green earth has to offer and places the wearer right in the middle of a dewy field on a cool, blue morning. Take it from us, this is the fragrance for men who want to smell light and natural.
Key Features
What are you looking for in a cologne? Whiskey? Bourbon? Butter and cinnamon? If none of these things entice you, it might be because they're all inside scents. What you want are outside scents- stone, dew, and pine. Attache has those scents.
Top notes of oak provide the introduction to a smell that is multi-layered and complex. One sniff will draw you in with these raw, natural scents. Don't reach for some glorified bottle of pepper spray. Get something with a little more style.
The middle notes go on to reveal a green, springy scent reminiscent of wet grass or ferns. The smell of lemongrass, the scent of newly fallen rain all play an integral part in making this cologne so unique. Ordering a bottle of Attache may just be the smartest choice you make all week.
Finally, the scent of pines serves to ground the cologne in such an irresistible way. Pine trees remind us of only the best of times, and the smell of crushed pine needles on a cold winter's day can serve to brighten up the world, if only for a moment.
Pros
Cool top notes and earthy bottom notes.
Cons
Not the dark, oaky scent so many people love.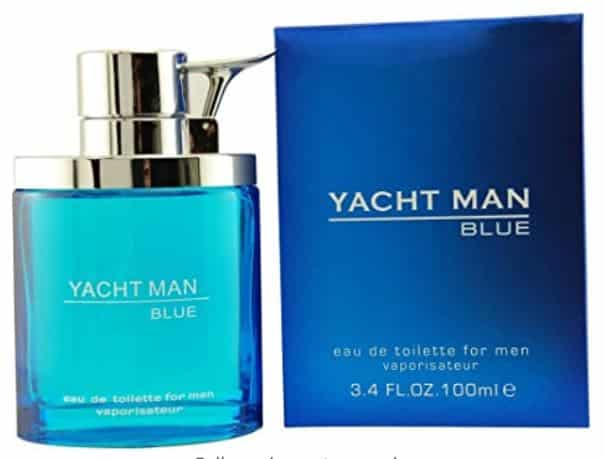 Let's face it. Cologne has always been somewhat of a showy addition to a night's ensemble. Having a distinct, delightful smell floating around you is like walking around with a cape dangling from your shoulders.
Why not play into that show-off mentality? Yacht Man Blue is one of those colognes that knows what it is and embraces it.
What it Brings to the Table
Unique melon-y scent.
Jasmine and carnation essences.
Background scents of leather and sandalwood.
Dirt cheap.
Who's it Best For?
Yacht owners don't get to be yacht owners by throwing away their money every chance they get. They save, they pinch pennies, and in the end, it pays off. That's why you shouldn't brush a cologne off just because it is cheap. Like its namesake, this cologne caters to sensible men who are just in it for the scents.
If you're looking for a cheap cologne that will turn noses, look no further. Yacht Man Blue is infused with delightful aromas of carnation, jasmine, and leather and appeals to even the pickiest of noses. This isn't just some magazine perfume sample. It's the real deal.
You may have heard of big brands like Polo or Versaci, but odds are you'll be getting the same rambunctious, tempting smell out of this cheap little bottle as you'd be getting out of one for $80. It's all about branding in the cologne business- or, at least, mostly.
You still can't deny that the scent makes the real difference. Smell is one of those things you can't fake. You could splatter paint on a canvas and call it art, you could serve one bite of fish and call it gourmet, but you could never convince a man a pile of manure is cologne. Yacht Man wouldn't have four stars if it weren't genuinely a four-star scent.
Key Features
Yacht Man is an intriguing orchestra of fruity, citrusy, and otherwise summery scents with distinctly masculine undercurrents of leather and sandalwood. This is a cologne that combines the best of everything you might find by the bayside on a summer day.
Top notes are suggestive of lemon, melon, and green apple. Think of summer with its beautifully colored fruits, the smell of a fruity drink on the beach, or of a pineapple smoothie. What you get out of this scent is something that pulls you in and reminds you of warmth and freedom.
Next comes the middle notes, decked out with the sensuous scents of jasmine and carnation. You'll be floored by these utterly floral scents, unique as they come and selected with loving care by expert designers. Frankly, we're not sure what gives this cologne its low-low price.
Finally, base notes of leather and almond bring the smeller down for a comfy landing. Leather reminds us of leather bicycle seats, car seats, and comfy jackets. Almond's pleasant, savory scent is like a pillow for your nose, and after the excitement of the sunny top notes, it is well-received.
Pros
Well-paired top and bottom notes.
Simple combinations create huge effects.
Cons
The price may scare some off.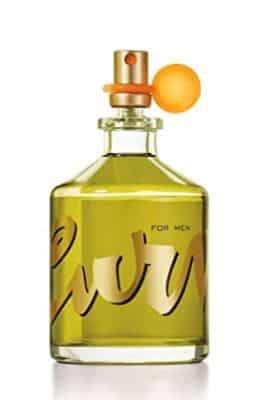 The smell of a man's cologne can get so dull. It sometimes seems that the only scents cologne companies can think to put in their cologne is a little whiskey and a little leather- maybe some flowers if you're lucky.
Curve For Men is different. Here we have a cologne that truly embraces its fun side, offering all the aromas men so often miss out on.
Who's it Best For?
This cologne is best for men who want to smell like something between a party and a day at the beach. Citrusy, woody, and delightfully fresh and spicy, this is a cologne that's not afraid to perform. If you've got no problems strutting your stuff a little, go for a bottle of Curve.
Curve for men is the kind of cologne that wants to out-perform. It's not content to mimic other scents. It wants to tell the world- I am unique and in a big way. Curve goes great on confident, outgoing men who aren't afraid to show their more light-hearted side.
Curve For Men has been around since the '90s, and in terms of what that decade has to offer, it's far beyond anything else. The reason this cologne has stuck around so long is because its distinct, confident scents have inspired recommendations year after year. Men who try Curve recommend Curve. It's that simple.
If you're looking for a quality cologne that stands the test of time without being outdated, you haven't known it, but you've been looking for Curve. Curve is a scent neither you nor your partners will forget, and odds are, when that first bottle runs dry, you'll end up ordering another.
Key Features
This cologne has a scent profile like no other men's cologne. One might be tempted to call it the best cologne of all time if there weren't so many great contenders. With unique and outrageous scents like pineapple, cactus, and pepper, you'll be making a statement just by stepping into a room.
A good statement.
The top notes are suggestive of a citrusy, pineapple medley of fruits and flowers. Think of a floral fruit-bowl laid out on a warm summer day. These scents are the perfect introduction to a cologne that stands the usual formula on its head, getting bolder and bolder as it sets on.
The unique scent of cactus greets you next- a flowery, nectary scent that makes the wearer stand out from the crowd. Desert-dwellers familiar with the scent of cactus can tell you that the plant is not just some big green weed- it's more like a flower in its own right.
Finally, we reach the bottom notes, which are riotously spiced with the scent of pepper. While some colognes choose to set you down gently, this one chooses to liven you up, giving you a swift kick in the pants and twirling you around for a dance. If this cologne were a person, it'd be Don Juan.
Pros
Unconventional ingredients.
Cons
Maybe too energetic for more sensitive noses.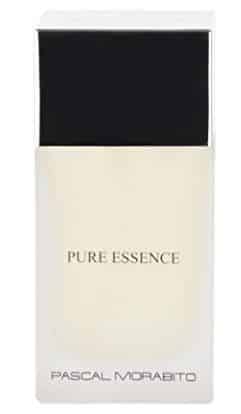 Pure Essence is a bit of a change-up from our last listing because it is, at heart, a classic cologne for classic men. If you're looking for a simple but powerful men's cologne that delivers all you need out of a scent, go for Pure Essence.
What it Brings to the Table
Trusted, time-honored scent.
Classic, dark aroma.
Slight fruity zing.
Simple but effective scent medley.
Who's it Best For?
This cologne is best for men who like to keep things subtle and subdued. After all, the real lady killers are the ones who know when not to say something. Pure Essence is one of those colognes that says what it needs to say and lets its wearer do the rest.
If you're looking for a cologne that will make an impression without making your friend thank God for their facemasks, you're looking for something a bit like Pure Essence. This cologne is powerful and assertive yet comfortable, gentle.
Imagine yourself at a party. You've spotted a girl you know from work, from school, or from wherever else you make your friends. You want to approach her, but you don't want to pester her. In short, you don't want to make her feel uncomfortable.
The first thing someone will notice about you is your smell- if you have one, that is. Smelling awful will turn someone off for good, and that doesn't have to mean B.O. A pushy cologne can do just as much work as a week without a shower, so it's best to stick with a scent that announces you without forcing itself on others. Pure Essence is that scent.
Key Features
Simplicity. That's the recipe for a bottle of Pure Essence… Ok, well, there are other ingredients, but you get the point. Pure Essence offers something a lot of other colognes just can't match- a comfy, woody smell with a fruity zing that's not too pushy.
Top notes suggest the scent of citrus and green apple- a common, homey set of scents that entice without over performing. We know the scent of green apple from our home kitchens and our backyards, but that doesn't mean it's not just as delightful as rose or honeydew.
The middle note, cinnamon, is a homey smelly indeed. Nothing reminds us of comfort and safety more than apple pie, gingersnaps, or warm strudel. The scent of cinnamon is a smell like no other in terms of familiarity and ability to draw someone in.
At the bottom of it all, we have sandalwood and cedar. Not a bold and plentiful concoction like the rest of our selections, but an effective one indeed. Cedar and sandalwood are two of the most common smells in popular colognes, and whole industries revolve around the pleasant aroma of sandalwood.
Pros
Popular and proven aromas.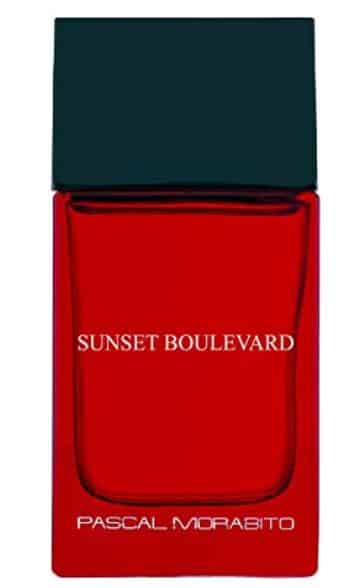 Morabito is a name so well-known that Microsoft Word doesn't even put a red underline on it. The reason we've included two Morabito selections in our list is that while other big-name colognes may give you complex, showy scents for half your month's rent, Morabito gives you something different and interesting for a manageable price.
Sunset Boulevard is another subtle yet fiery addition to the Morabito line.
What it Brings to the Table
Fiery aromas.
A more mischievous scent profile.
Floral scents like geranium.
A dash of aromatic patchouli.
Who's it Best For?
If you liked the sound of our last entry but want something a little more powerful, you'll be wanting a bottle of Sunset Boulevard. This scent brings to the table everything offered by Pure Essence and more. If you're looking for a simple yet pronounced scent, Sunset Boulevard is for you.
This cologne is designed for men who have a little flair about them and want their aroma to reflect that. Wearing just a spritz of Sunset Boulevard is like pairing a confident red tie with a subdued black suit. It completes you without embarrassing you.
If you've got so much more to offer than strict traditionalism, you'll be satisfied by Sunset Boulevard's spicy mixture of scents. This cologne has roots, but it also takes the trail less traveled by, and the result is a stunning scent that never fails to impress.
Take a minute to ask yourself what you want out of cologne. If you don't want something fruity, sweet, and show-offish, but don't want the same old thing, then this cologne is your compromise. Sunset Boulevard is a sunny yet dark little scent that never fails its wearer.
Key Features
It's better to ask what this scent isn't than what it is. Whether you're looking for a subtle and assertive scent, a fiery and unique aroma, or something to entice, you've got it in Sunset Boulevard. Perfect for any occasion, this cologne keeps noses on their toes and helps a wearer out in any way it can.
With its spicy kick, Sunset Boulevard lets you know it's not going to limit itself to the most common scent combinations. Notes of fiery, peppery smells grace every whiff of this cologne and help it to stand out in the crowd.
A little red bottle with a fiery kick is a tale as old as time in the cologne industry- but this one is different. The spicy heat gives way to a juicy sweetness that can't be matched in other brands. Hints of bergamot and apple help you down from the height of excitement you got out of the spice, giving you something to hang on to.
Finally, a floral heart welcomes you and creates a sense of belonging and comfort. Sunset Boulevard is a lot like a garden surrounded by fire- exciting and interesting on the outside, comfy and beautiful on the inside. This is a cologne that knows how to let them down gently.
Pros
Combination of spicy and sweet.
Interesting without going too far.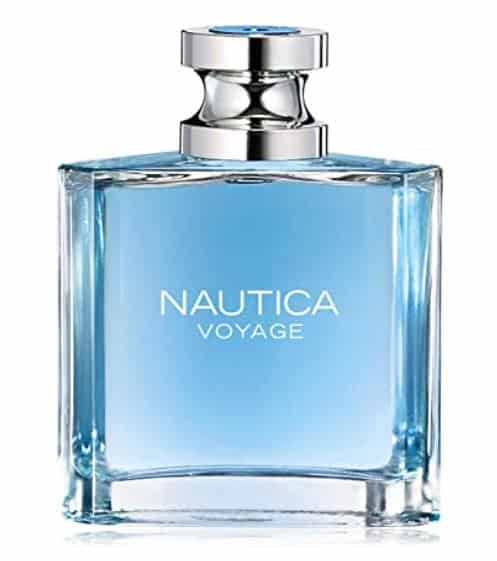 Nautica Voyage has a special place in our hearts because its blend of mysterious scents creates a deep smell profile we've yet to see out of other cheap colognes. This is definitely a cooler, more subdued scent, but that doesn't mean it can't be picked out from the crowd.
What it Brings to the Table
Cool, calm scents.
A pleasant, earthy profile.
Reminds us of the ocean.
Simple combos for big effects.
Who's it Best For?
This cologne is best for men who want to smell like they've just arrived on the tail end of a spectacular journey. Voyage is an outgoing, exotic medley of very simple, subdued smells that will remind you of far-off places and sunny, sandy shores.
If you like cold drinks, hot days, and fruity concoctions, you'll absolutely adore this mixture of all three things. Voyage plays off its namesake, bringing in a foreign yet delightful mixture of scents to do the work of emphasizing the wearer and his adventurousness.
People who like to go exploring will love this cologne. Its scent profile provides an adventurousness all its own and is a smell that will match your personality. An adventure is never a bad thing, so why not make your cologne an adventure in a bottle.
One spray of this cologne will give your aroma all the mystique and adventurousness of a man who's traveled the world. Whether you're adventuring to far-off shores or your backyard for a nighttime patio party, this cologne is a match for you.
Key Features
Where do we begin? Voyage's scent profile isn't traditional, but it isn't exactly new either. What it brings to the table is a complex mixture of unique ingredients that all work together to produce a deep, enticing, and suggestive scent. If you're looking for the best of many worlds, try this cologne and be amazed.
Voyage is different in that it won't wear out on you. So many colognes will last an hour, maybe two- but not Voyage. This is a cologne that promises a long-lasting scent, so you can keep smelling good throughout the day. Don't doom yourself to dipping out and sprucing up- stay in the action with a cologne that goes the distance.
We're introduced to this masterful scent profile by a floral, fruity combination of apple and water lotus. This is a combination that says, "I'm approachable, but I'm also interesting." Water lotus is an absolutely unmatched scent that doesn't get nearly enough attention from the cologne industry.
Finally, we descend to a base level of musk and cedar, a masculine and assertive combination that evokes confidence and control. If you're looking for a cologne that can attract while enticing, this is it. Nautica's been serving its customers for years and isn't stopping any time soon.
Pros
Unique smell of water lotus.
Cons
Some might say it's a little too subdued.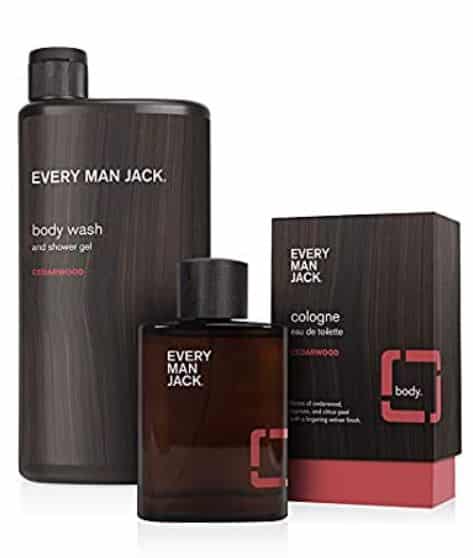 Every Man Jack is a proud, dignified cologne that goes a different route in terms of smell and ethics. This cologne commits itself to a cruelty-free recipe for a familiar yet astonishing scent. The product here included comes with a body wash to treat the underlying cause of bad smells while leaving good ones.
What it Brings to the Table
Huge bang for your buck.
A comprehensive aroma-routine that doesn't just mask B.O.
A dye-free recipe.
Cruelty-free manufacturing.
Who's it For?
You're thoughtful, you're kind, and you're practical. You're the kind of person who wants to keep up standards without buying yourself out of house and home doing it. You know what you want, and Every Man Jack can give it to you. This cologne is for the practical and the sensible.
Every Man Jack isn't just any cologne. It combines a tried and true recipe with unparalleled ethics to produce a cruelty-free, dye-free cologne that anyone can use. It understands the needs of its customers and respects living things.
Undoubtedly, Every Man Jack would be looked down upon by the makers of $200 bottles of cologne. But this isn't about what they think. Its cedar scent is just as good as any, and the promise of ethical production is one that can't be looked over.
You're searching for a cologne that reflects both your values and your standards, and Every Man Jack can do that for you. Don't get caught up searching labels for dyes, looking around the internet for cruelty-free brands; we've got the answer to your prayers right here.
Key Features
Every Man Jack is cruelty-free, meaning that no animal testing was conducted during its production. If you've got a passion for nature and don't want to see other living things harmed, Every Man Jack is your company for ethical colognes.
Looking for natural, delightful cologne has never been easier. One whiff of Every Man Jack will prove to you that it really is all it's cracked up to be. Dye-free, paraben-free, nastiness-free, this cologne uses the best of what mother nature has in store to produce a cologne that won't harm you or anything else.
The price may seem steep at first, but keep in mind that you're not just getting cologne. Every Man Jack's cologne and body wash bundle is a comprehensive smell system that will keep you smelling fresh by chasing off underlying smells and replacing them with the smell of fresh cologne.
If you want a good, cheap system for keeping yourself smelling fresh and delightful for cheap, Every Man Jack is it. This cologne bundle is for sensible people who want to smell good and feel good. Cleanliness is close to godliness, and you can't get much cleaner than this.
Pros
Full, comprehensive clean.
Cheap for each item individually.
Cons
Altogether a pricey item.
Things to Consider when Buying Cologne.
Buying a good cologne can be a rather confusing experience. What are top notes? Bottom notes? How do I know what a cologne smells like? Does this scent fit me? The rest of this article will give you a few things to consider before buying a cologne and answer some of the most common cologne questions.
Does a Cologne Fit You?
This is probably the single most important consideration when buying a good cologne. Wearing an unfitting cologne can throw off your style entirely. IF you don't believe me, think of the reactions you'd get wearing your mother's perfume on a date.
Darker colognes are for more subtle men. If you're the more introverted type who likes to use his words wisely, a dark, subtle cologne will compliment you perfectly. Dark tones like coffee and leather will fit right in with a more subtle wearer.
If you're a more showy, flamboyant person, a floral cologne will do you well. Floral colognes have energy and zing that helps to energize everyone around you so that you'll have excitement to match your own. IF you like to be the life of the party, something more floral is right for you.
Meanwhile, many men don't like to stand out at all, and that's quite all right. For men with more familiar, traditional styles, there are more familiar, traditional scents. Try bourbon and whiskey, perhaps with hints of green apple for a little bit of life.
Reviews
Since you can't smell a cologne through the internet, you're going to need a helping hand to determine whether or not a scent is right for you. Online reviews can help you find out what a cologne smells like, whether those who have bought it like it, and who made it.
You might also ask close friends about their cologne and how it's helped them- whether it smells good or not. They might even let you sample a bottle to see if you like it. Never doubt the power of good friends in any situation- especially not when buying cologne.
Dyes/Parabens
This is something the shampoo industry gets a lot of heat for. Most shampoos will say something about being paraben or dye-free, but cologne manufacturers seemed to have gotten away with it. Either way, you don't want unwelcome chemicals in your body, so you're best to check your ingredients.
Parabens are thought to disrupt hormone function by mimicking estrogen. This can harm fertility and reproductive health. If you're one of those people who avoids unwanted chemicals (and for a good reason), you'll want to keep all of this in mind.
Parabens can also cause skin irritation, meaning you might end up with a bad rash if you're susceptible to these symptoms. Colognes can be made without using parabens, and you should make an educated decision as to whether or not you want this chemical on your skin.
Who do you Want to Impress?
If you're trying to impress a specific person, you might want a specific kind of cologne. You might want no cologne at all. It all depends on who that person is and what kinds of things they're into. Buying the right cologne can make a big impression on the right person. Here's how you do it.
If someone seems a bit more flowery and excitable, you might want to match their energy with an exciting cologne. For this, spicy or fruity flavors are best, and can help you draw someone in by saying, "Hey, we're a lot alike."
For a more traditional, introverted person, a more traditional and subtle cologne might be best. Try such scents as whisky or leather to get into the good graces of more introverted people. Don't be afraid to get a good shave and wear good, formal clothes.
And remember that you don't have to eyeball someone to figure out what they'll like. Simply listening to someone might tell you a lot about what they're attracted to and what will work. It might even let you know that they're not into cologne at all. In which case, leave it off.
How Much Cologne is Needed?
Not much. Remember that cologne is very powerful and should be used as sparingly as possible. We've done a lot of talking about show-offish or commanding colognes, but in the end, your smell should fade into the background as you take center stage.
One spritz of cologne on the neck and wrist should be enough. Keep in mind, though, cologne isn't permanent. Throughout the course of a day, cologne particles will wash off your hands and neck and become less potent.
To keep yourself smelling fantastic, make sure you reapply throughout the day. Look for longer-lasting colognes if you don't want to be dropping out of the fun quite so often. A good spritz whenever you stop smelling fresh can keep things interesting all night.
When Should You Wear Cologne?
You should wear cologne on special occasions mainly, but this recommendation might change from place to place.
In certain parts of the middle east, for example, people like to wear cologne all the time. In these places, Oud cologne is quite popular, and it leaves them smelling fresh as daisies all day long. In France, people sometimes forego showers in favor of their favorite cologne.
Please shower, though.
What we're saying is that you should go with your gut. Dates, parties, and formal occasions are great places to wear cologne, but you can get a little help from your scent anywhere you need to stand out. And you shouldn't be afraid to stand out just a little.
Here are a few commonly asked questions to help you on your cologne journey.
All in all, a good cologne should be subtle but commanding. It should match your personality and bring a little zing to your overall aura. Cheap colognes can be just as good as expensive ones and can freshen you up for any special event.