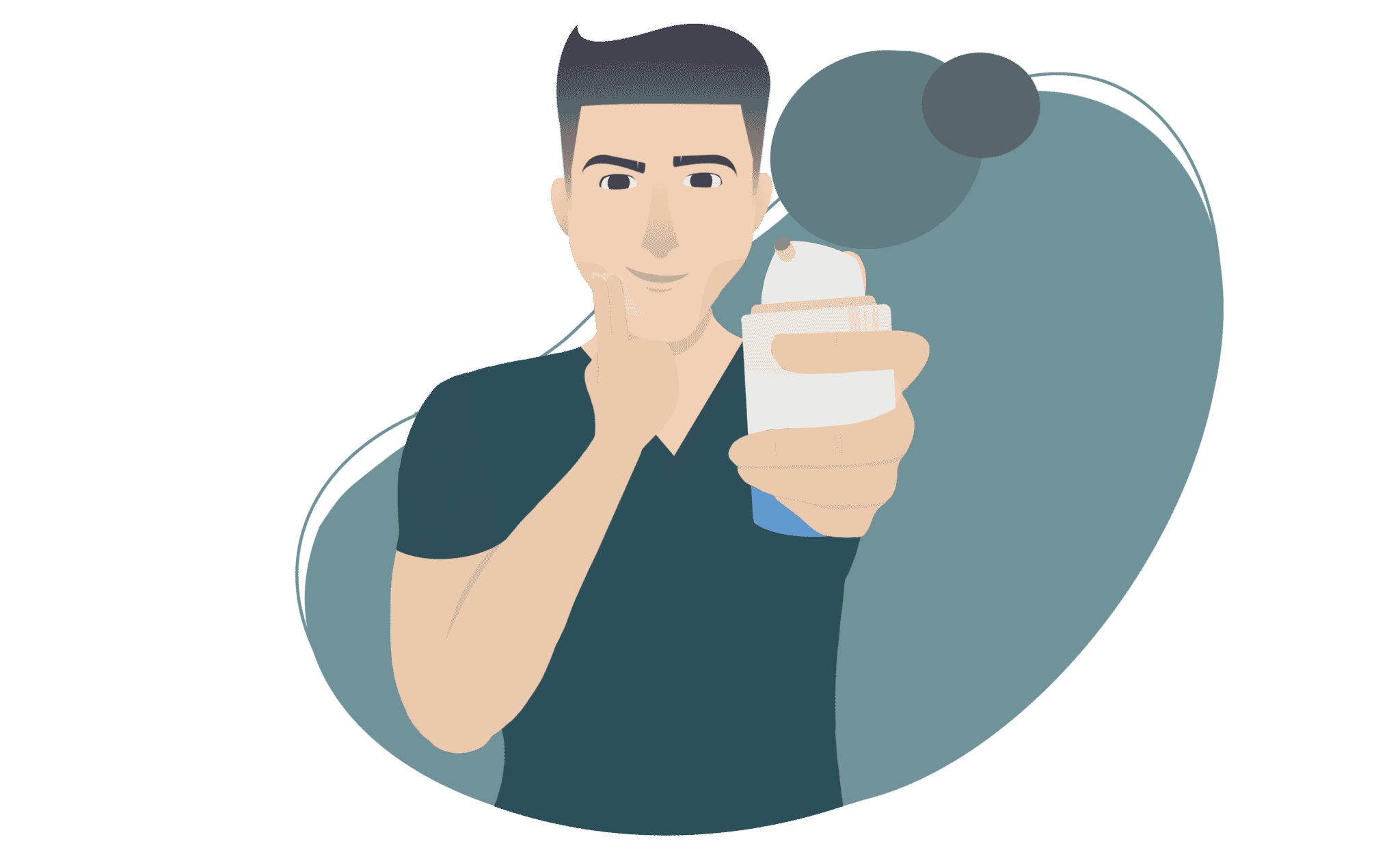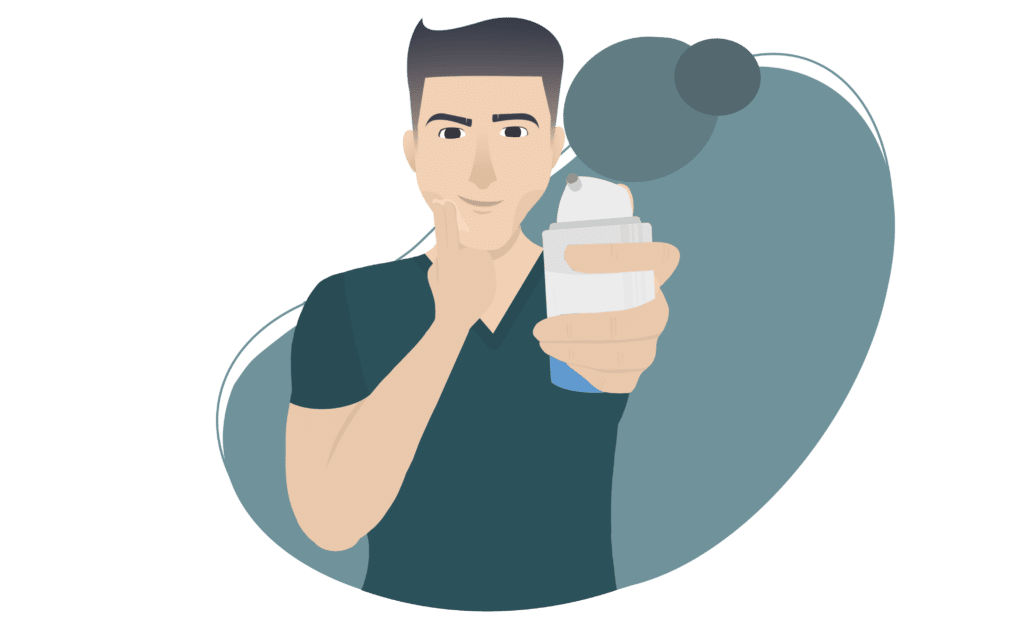 Dark Spot Correctors: The Solution to Dark Spots and Uneven Skin Tone
You may experience this on your face or arms. Maybe you have always had it or perhaps you experience it after spending time outdoors. Either way, uneven skin tone is making you feel self-conscious. Is there anything that will make this hyperpigmentation go away?
Dark spot correctors use a unique formula that eradicates dark spots by inhibiting melanin production and brightening the skin. Less melanin means fewer dark patches.
If you suffer from melasma and you want to enjoy even-toned skin without having expensive treatments, then dark spot correctors may be the solution for you. Keep reading to find out which dark spot correctors are worth using.
QUICK OVERVIEW: Best Dark Spot Correctors
Essy Naturals Dark Spot Corrector

Rosemary leaf extract for brightening the skin
Low price point

VIEW ON AMAZON →

Sualsoce Dark Spot Corrector Serum

Ideal for all skin types
Contains squalene oil for natural hydration and nourishment

VIEW ON AMAZON →

Evagloss Dark Spot Corrector Serum

Designed for all areas of the body
Contains Kojic Acid

VIEW ON AMAZON →

EnaSkin Dark Spot Corrector

Designed for use in the mornings and evenings
Fast absorbing

VIEW ON AMAZON →

WhiteningLabs Dark Spot Corrector Cream

Made from natural ingredients
Family pack

VIEW ON AMAZON →

EnaSkin Dark Spot Remover

Contains Morinda Citrifolia extract
Made for Vegans

VIEW ON AMAZON →
Best Dark Spot Corrector for Men
We have scoured the web, searching high and low for the most effective dark spot treatment available so you put your self-conscious days behind you. Whether you are young or old dark spot removers can be used to even out your skin, and we've got the products you need.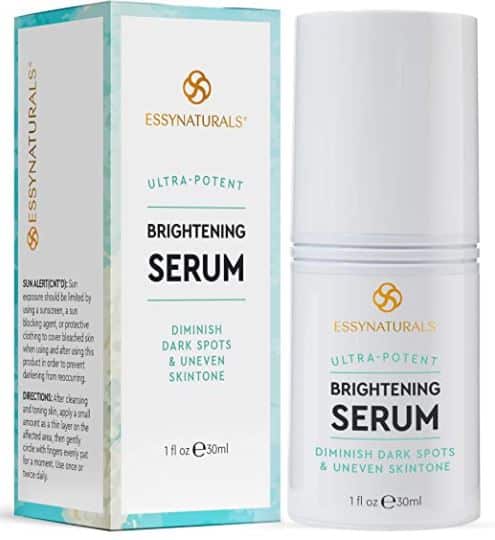 If you're the sort of person who prefers using natural ingredients to treat your skin, then EssyNaturals face cream for dark spots is right up your alley. Their unique formula includes extracts of Rosemary leaf and Soy Bean to both lighten and brighten your skin, in a natural and gentle way.
For a solution that uses the best Mother Nature has to offer while keeping your skin even and nourished, try EssyNaturals dark spot corrector.
What it Brings to the Table
Inhibits melanin production
Brightens and fades dark patches
Clinically proven
Gives visible results in four weeks
Who is it Best for?
EssyNaturals prides itself on using natural ingredients that work to brighten your skin effectively. Providing a serum that works without using harsh chemicals, means that this product targets problem areas and nourishes your skin at the same time.
Their all-natural formula works to delay the signs of premature aging too, so you end up with skin that glows. If the idea of having youthful skin free from hyperpigmentation appeals to you then this may be the solution you are looking for. This formula offers the best treatment for dark spots on the face and hands and, it keeps you feeling like a million bucks.
Key features
With 4-Butylresorcinol and its melanin inhibiting properties, EssyNaturals' dark spot corrector for men helps fade existing dark spots and evens out your skin tone. If you have spent time in the sun and have noticed your hyperpigmentation becoming darker, you may want to give this innovative correcting serum a try.
EssyNaturals offers a solution that is unique. By using natural ingredients, they keep harsh chemicals off your body and in the science labs where they belong. This all-natural formula, when used correctly, provides visible results in just four weeks.
With beneficial additives such as SoyBean Ferment and Rosemary leaf extract, you can be certain that your skin will receive all the TLC it needs. Together these extracts work to brighten your skin while keeping it smooth and supple. And the bonus? They leave your skin smelling sensational.
And, as the cherry on top, you don't need to spend money on over-priced anti-aging creams either, because EssyNaturals' dark spot corrector for men provides nutrients that slow the signs of premature aging. Add this serum to your morning routine and you will be well on your way to healthy, patch-free skin.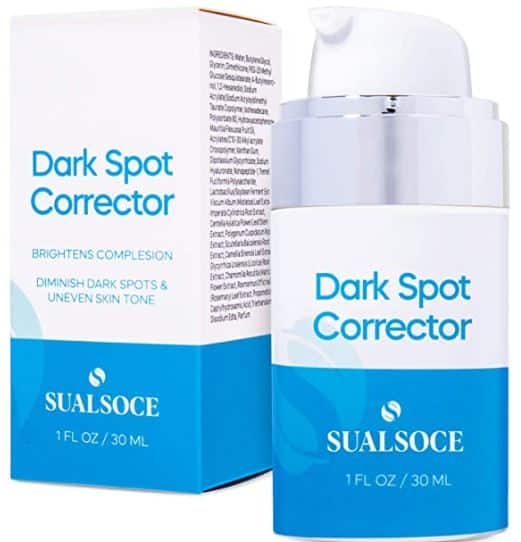 If you have combination skin, you are probably looking for a formula for all skin types. Sualsoce offers just that with their uniquely formulated dark spot corrector serum.
Sualsoce's carefully formulated lotion brightens your skin while targeting stubborn dark spots. Say goodbye to splotchy skin and hello to a supple, even complexion. Packed with highly effective active ingredients, this formula gives you results, and fast!
What it Brings to the Table
Adds luminosity to your skin
Targets stubborn dark spots
Ideal for all skin types
Sees visible results in four weeks
Who is it Best for?
If you have oily or dry skin, or even if you are one of the lucky ones with a normal complexion, this serum is for you.
You shouldn't have to spend time or money on two products, one for your dark spots and one for your complexion. Sualsoce offers you both in one with their carefully balanced formula.
Brighten up your skin's luminosity while you combat long-term dark spots that just don't seem to go away with Sualsoce's advanced formula that includes miraculous ingredients such as Shea butter and Squalene.
So whether you are a father, a husband, or a college student just trying to make it through a tough semester, this one's for you.
Key features
If you are tired of looking in the mirror and seeing a dull-skinned face dotted with splotches of hyperpigmentation, then look no further than here. Using a combination of potent active ingredients, Sualsoce has developed one of the best dark spot removers.
A blend of Shea butter and Squalene oil nourish and protect your skin while the serum works on your dark spots. With ingredients such as Squalene oil that is used to fight inflammation and the signs of aging, you can be sure your skin will reap the benefits.
Sualsoce knows that customers don't want to have to wait for months on end before they get results. By using this cream as indicated you can expect to see results in just for weeks. Don't believe us? Give it a try.
Designed for use by individuals with all skin types this formula won't dry out your skin or leave it feeling greasy. Fighting one skin problem is enough without having to contend with another! This dark spot corrector penetrates skin cells, nourishing them and leaving them hydrated.
Working this product in with your morning routine is simple and it will leave your skin even and looking refreshed.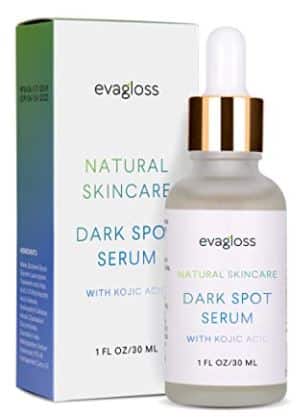 Evagloss dark spot corrector serum uses Kojic acid to mitigate the signs of dark spots and uneven skin tone. This specialized formula prevents the formation of Tyrosine, an amino acid needed to create melanin. With no melanin being made, dark spots start to fade as your skin brightens.
The best dark spot corrector should also include natural products, right? Well, this one does. Evagloss makes use of a formula that sees natural ingredients that sensitive skin will love.
What it Brings to the Table
Made with sensitive skin in mind
Targets stubborn dark spots
Ideal for face and body use
Perfect for daily use
Who is it Best for?
Do you suffer from sensitive skin as well as melasma? If your answer is yes, then you may want to look a little more closely at this beneficial serum.
Evagloss designed this lotion for use all over the body, including areas that are more sensitive, such as your armpits or face. Because it is free from hydroquinone, a bleach used to lighten skin, you won't experience any burning or nasty reactions.
Key features
Staying looking your best is tough when you are faced with pigmentation issues. Having a reaction to the product that is meant to help you with this only makes things worse, which is why Evagloss's dark spot corrector for men is so beneficial. Free from harsh chemicals that cause sensitive skin to become inflamed, you can bet on this formula to leave you feeling on top of the world.
Keeping your skin bright and free from pesky melanin spots is the main objective of this formula, but it does more than that. It works to nourish your skin and even out your skin tone too. No more dishing out cash for multiple tonics to attend to your skin, this one does it all.
And while you're at it, wasting time finding one serum that works for your face or other sensitive areas, and another for the rest of your body is a thing of the past. Not only is this one of the best treatments for dark spots on your face, but it works on your body too.
Pros
Designed for all areas of the body
Cons
Does not mention being for all skin types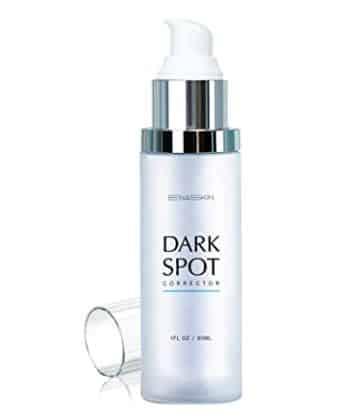 EnaSkin's dark spot remover for your face adds to your morning and evening grooming routine. Made for use on the sensitive skin on your face, this cream for all skin types protects as it gently fades hyperpigmentation.
Absorbing quickly into your skin, it leaves you feeling fresh without making your skin sticky and uncomfortable. Perfect for men of any age, this exceptional dark spot treatment allows you to treat your skin in the comfort of your own home.
What it Brings to the Table
Cruelty-free and ideal for Vegans
Targets a range of spots and melasma
Ideal for all skin types
Perfect for daily use
Who is it Best for?
Maybe you spend time outdoors for work and this sun exposure causes hyperpigmentation flare-ups, or perhaps your son has struggled with uneven skin tone throughout his years. Either way, this product may be your solution to these problems.
If you are an animal lover, this serum may also appeal to you. The formula is cruelty-free and comes designed for use by Vegans, so you can tend to your skin without causing harm to others.
Composed for use on the face, this lotion works with all skin types. So, no matter whether your skin is prone to overproducing oil, or it is excessively dry, this serum will nourish and soothe your skin while leaving it bright and free from dark spots and patches.
Key features
The professionals at EnaSkin have worked tirelessly to craft a remarkable lotion that gets to works on a variety of dark spots and areas of hyperpigmentation. Designed as a daily treatment for use in the mornings and evenings this product is both effective and will leave you feeling like a new person.
Ingredients that cause allergic reactions or sensitive skin to flare up are a thing of the past now that EnaSkin's unique formula has arrived. A combination of Kojic acid, Lactic acid, 4-Butylresorcinol, and Morinda Citrifolia extract blends together to prevent the build-up and production of melanin. These powerful ingredients also prevent inflammation while they gently nurture your skin cells.
No dark spots are a match for this dark spot correcting lotion. Whether you suffer from post-acne marks, redness, sun spots, or even dull skin, a month of treating your skin to this nourishing blend will leave your complexion bright and blemish-free.
Pros
Designed for use in the mornings and evenings
Cons
Not designed for full body use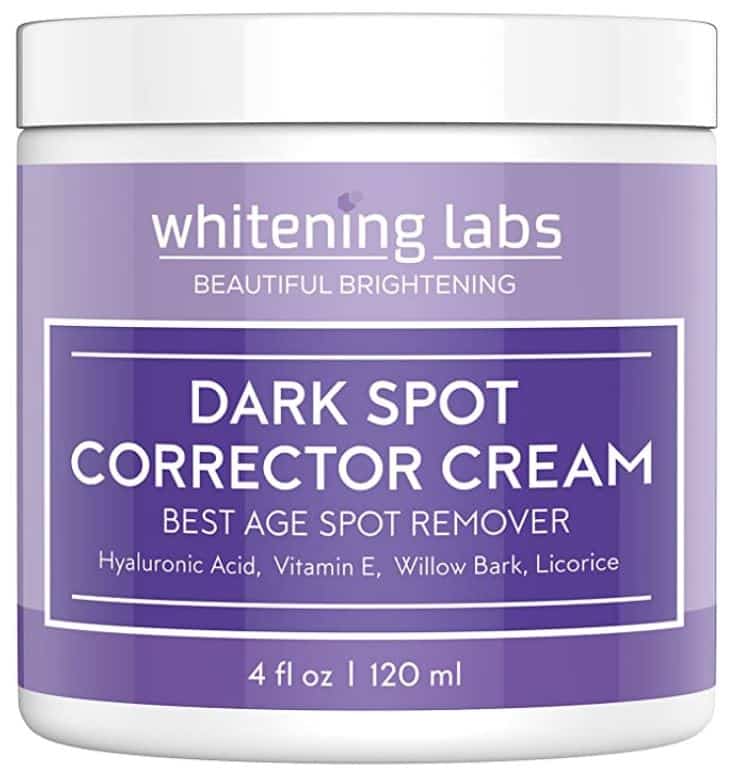 Not all the best dark spot removers for face and body come in the form of a tiny little bottle. WhiteningLabs' dark spot solution comes in a handy tub that makes it easy to lather all over your body.
Their tagline, "Beautiful Brightening" says it all, as they claim to leave your skin bright, soft, and free from those dark spots that leave you feeling self-conscious. The proof is in the pudding, try it, test it out, and see the results!
What it Brings to the Table
Designed for face and body use
Free from Hydroquinone
Sustainably sourced ingredients
Safe and highly effective
Who is it Best for?
For animal lovers and those who oppose cruelty and testing on animals, this one's for you! WhiteningLabs feature a strict cruelty-free policy with their products, so you can be sure your dark spot remover cream harmed none in its production.
Free from silicones, parabens, and other harsh chemicals this cream may be the answer for you if you suffer from sensitive skin. Made from natural ingredients that are sustainably sourced, you never have to worry about dull, uneven skin again.
The large tub this lotion comes in makes it simple for the entire family to use. Instead of having to fight with tiny droppers to cover your body with solution WhiteningLab's cream comes in a more accessible form; ensuring a little goes a long way.
Key features
Keeping up appearances becomes much easier when your skin glows and your dark spots have faded into nothing. And when you use sustainably sourced natural products to achieve this, it becomes even easier. WhiteningLabs pride themselves on offering their customers well-researched corrector cream that uses only the best ingredients.
And, if knowing your dark spot corrector cream is sustainable isn't enough, the fact that it is free from harsh chemicals should do it. This outstanding formula makes use of powerful natural ingredients such as Hyaluronic Acid, Willow Bark, Licorice, and Vitamin E to treat your skin.
Eliminating areas of hyperpigmentation on areas such as elbows, knees, hands, on your face, and across your body becomes a simple task with the "best age spot remover". In claiming to be the best, WhiteningLabs sets the standard high for an all-over-use brightening cream, one we are sure you will find hard to beat.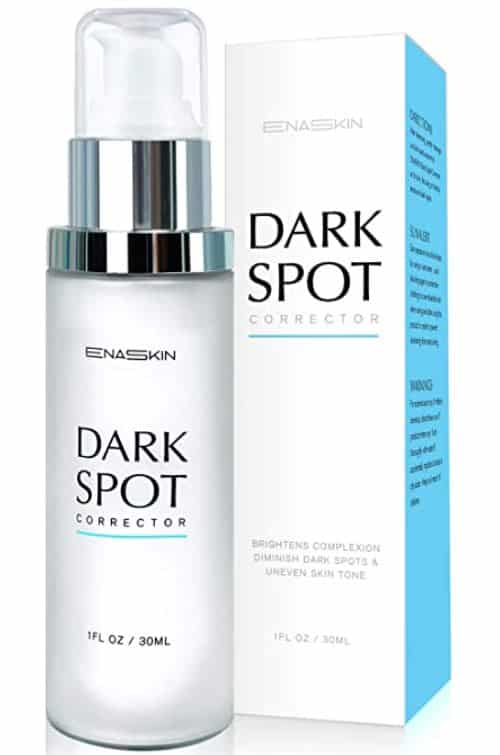 Men of all ages and all skin types will be stocking up on this extraordinary skin treatment once they have experienced its bounty of benefits.
An impressive formula that uses science and all the best ingredients, EnaSkin's dark spot remover eliminates hyperpigmentation and corrects your skin tone all in one go. The benefits don't stop there either. If you are looking for a multi-purpose serum that nourishes and protects as well, then you have just found it.
What it Brings to the Table
Designed for face and body use
Perfect for use twice daily
Brightens dull skin
Fades existing dark spots and prevents new ones from forming
Who is it Best for?
With active ingredients that don't include chemicals that burn and irritate your skin, this solution is ideal for men of all ages. And if you shave, this is possibly the best cream for dark spots on the face that you can try. Why? It comes with an anti-irritant compound that won't aggravate skin that is already sensitive due to shaving.
Don't enjoy sticky residue? Us neither, which is why we recommend giving this fast-absorbing serum a try. It won't fuss about on the surface of your skin but instead soaks in quickly, getting to work where it counts most.
And, if you have an unusual routine, that's no problem. This impressive formula is designed to combat the formation of new dark spots during the day while working at night to reduce redness, dark marks from past acne, and break down existing spots of pigmentation. Use this formula day and night to achieve the results you want to see.
Key features
EnaSkin's one-of-a-kind skin tone correcting compound sees a blend of only top-quality components. Kojic Acid prevents the formation of amino acids needed to create melanin, used to prevent further dark spots from forming. While Morinda Citrifolia extract soothes your skin and fights off free-radicals that lead to signs of aging. With this exceptional blend you can see results at home – no astronomically priced treatments needed!
This environmentally conscious formula steers well clear of animal testing and uses ingredients that vegans will appreciate. Skincare doesn't need to be harmful to others in order to work. So, you can rest assured that you have done your bit for the earth when you use products such as Enaskin's Dark Spot Remover.
All dark spots best beware when they see this lotion making its way into your skin. Designed to target a range of different dark spots from melasma, acne markings, and even redness, this formula serves as a multi-purpose solution. If this isn't the path to bright, glowing skin, we don't know what is!
And, if you are concerned about whether this brightening cream will suit your skin, don't be. Formulated for use with all skin types, whether oily or dry, this lotion gets the job done!
Pros
Contains Morinda Citrifolia extract
Cons
Exposure to sunlight will diminish the effectiveness
Things to Consider When Buying Dark Spot Correctors
While using a dark spot corrector to eliminate areas of pigmentation may seem like the ideal solution there are a few things to keep in mind.
1. UV and Sun Exposure
If you experience melasma or increased pigmentation density on areas of your body, you will want to keep out of the sun.
Our skin naturally forms melanin when we expose our skin to UV rays. It is our body's way of protecting us from UV damage. Spending time in the sun can lead to increased Melasma and hyperpigmentation.
If you spend a lot of time outdoors take care to keep your skin covered and if you can't stay covered or in the shade, use a proper SPF sunscreen. Taking these simple steps does a lot for the health of your skin and it prevents the spots you are trying to remove.
2. Dark Spot Corrector Usage
Make sure to always follow the guidelines for the recommended amount of serum to use. Applying too much product to your skin can leave your face feeling sticky and uncomfortable.
Taking care to familiarize yourself with other advice given by the manufacturers goes a long way. Certain products should not be applied to broken or inflamed skin, as it only makes the situation worse.
Expecting results on day one will get you nowhere. The age-old phrase of "Rome wasn't built in a day" definitely applies here. Be patient with the product and give it time to properly break down your areas of pigmentation. Most of these serums advise that results are visible within four weeks.
3. Consult Your Dermatologist
If you are concerned about applying products to your skin only to have them result in a reaction, check with your dermatologist first. These professionals know what works and what doesn't and which would work best for you.
Years of studying and experience in the world of skincare leaves these individuals with a wealth of knowledge. This puts them in the best position to help you if you are suffering from melasma or other melanin-related skin problems.
4. Know Your Ingredients
When it comes to the lotions and potions you put on your body, knowing what is in those products is crucial. Different people react in unique ways to various ingredients, if you have an allergy we recommend checking out the listed ingredients before applying the serum to your skin.
Knowing which elements can cause harm to your skin and whether they are in the product you want to try. Most of the dark spot correctors we discuss in this article list themselves as being free from these harsh ingredients. But, that doesn't mean you won't encounter another product on the market that makes use of them.
One such chemical set that rears its ugly head all too frequently are parabens. Manufacturers use these to prevent bacteria build-up in your products. They are all too often found in creams and lotions that are meant to be gentle on the skin.
Hydroquinone is another skin no-no! This organic compound can be found in many skin tone correctors or dark spot removers. It acts as a bleach to lighten areas of pigmentation. What they don't tell you is that the FDA proposed banning this substance. Why? Studies on rodents show that it may act as a cancer-causing chemical. And while studies are yet to be carried out on humans, we would rather not take the chance!
Gluten is another one of those scary additives that may seem harmless, but if you suffer from pigmentation issues, this sneaky little ingredient is not your friend. Gluten is known to increase redness in the skin and stimulate new patches of melasma.
Make sure, before buying a product, that you scan the ingredient listing carefully. If parabens, hydroquinone, or gluten are mentioned in the list, leave the product out of your cart. You and your skin deserve better!
At the end of the day, skin problems and issues of hyperpigmentation are part of life. We all experience aspects of our bodies we wish we could change. If melasma or your freckles leave you feeling self-conscious, there are ways to combat these issues. By using dark spot correcting serums, and keeping out of the sun, you can eliminate the spots you hate and end up with glowing skin that looks and feels great.