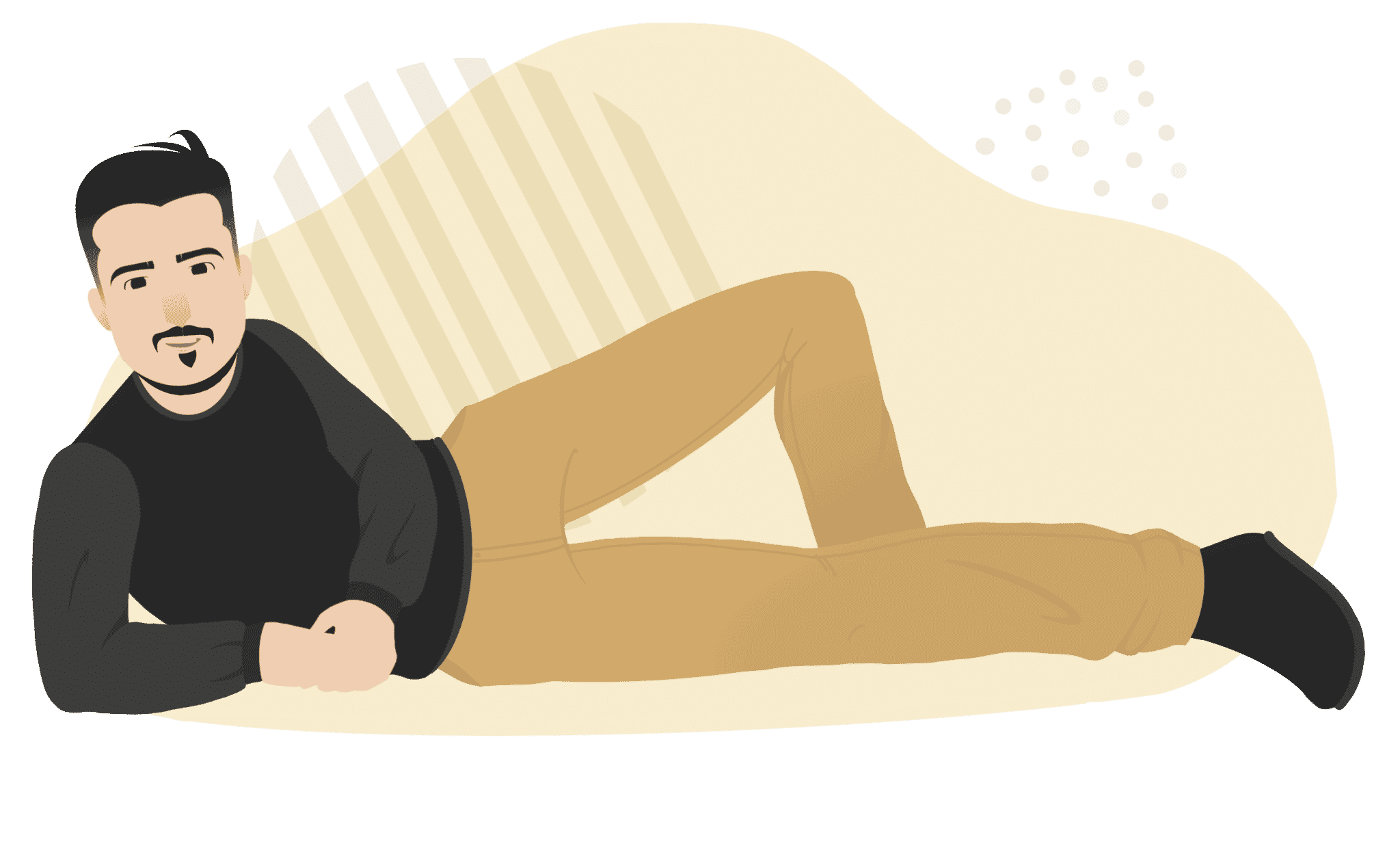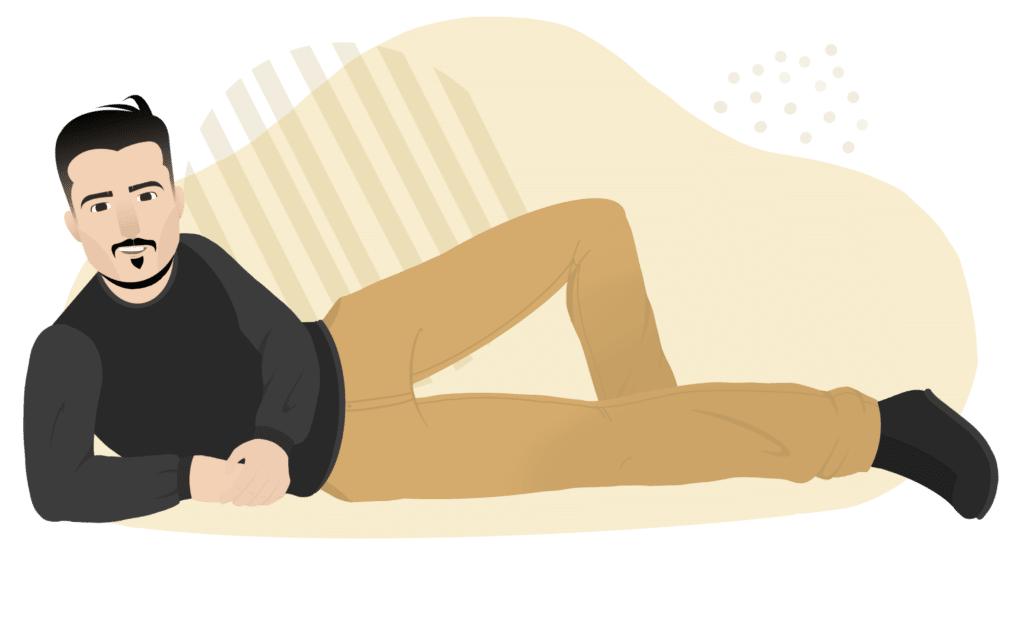 Chinos – The Comfortable Khakis
Comfort, style, and grace- these things mark a good pair of chinos.
These silky cousins of the more uptight Khakis make for great cruising-around pants. Comfortable enough to lie on the couch all day in, sturdy enough to go out in, they're the perfect addition to any man's wardrobe.
But you don't want just any pair- you want the best. That's why we've compiled this list of the best men's chinos on Amazon.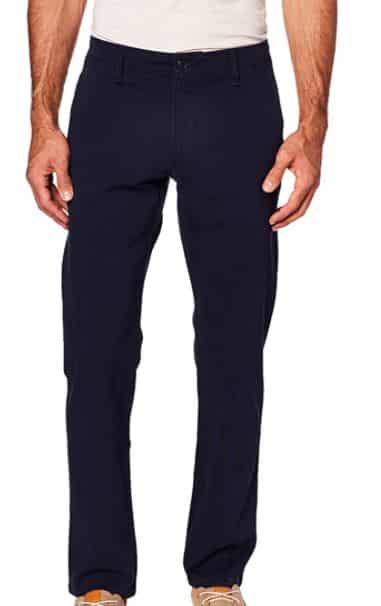 Dockers, a trusted name in men's wear, make a great pair of chinos with superior flexibility and breathability. Seamless design and a diverse range of colors mean these pants will look good on you anywhere you go. For a great pair- try Dockers.
Benefits
Diverse range of colors for outfit pairing.
Straight-legged, classic cut.
Double-needle stitching for durability.
Flexible waistband for ultimate comfort.
Who's it Best For?
These chinos are best for men who want a trusted name brand and supreme flexibility and comfort. Of course, the aim of a pair of chinos is always comfort, but these pants have a trick up their sleeve to take their comfort to the next level.
A straight cut- that's the trick. With a pair of straight-cut pants, you won't worry about squeezing the stuffing out of some… more important parts. Your legs will be blessed with breathability and mobility while still looking sharp.
If you're looking for a pair of pants that looks stylish enough to work in and feels good enough to have a drink in, chinos are what you're looking for. Take them to the bar, the office, or the living room- any seat's your sofa.
Chinos are uniquely functional because of their seamless design and classic style. Without clunky, abrasive seams, you might feel like you're walking in a pair of pajamas rather than dress pants. And yet, you'll most certainly have everyone else fooled. These pants look oh, so fine.
Key Features
Elastene, which makes up 2% of this pair's overall fabric composition, creates a good fit while allowing maximum mobility. Men who don't like having their legs constrained to a small circle on the ground should take fabric composition into consideration when choosing a pair of pants.
Speaking of mobility, did we mention the elastic waistband built into the pants? Well, we'll mention it again. Too tight- too loose- these problems always seem to plague your favorite pair of pants as your waistline grows and shrinks.
With an elastic waistband, you can be sure that you always have a comfortable fit that hugs your waist without cutting off circulation to your brain. Elastic waistbands make sure you have a tailored fit without paying the tailor's price.
Finally, Dockers' Chinos come in a diverse range of colors, meaning you can pair them with almost any shirt, jacket, suit, or silly hat in your wardrobe. A khaki-colored pair will go great for a board meeting or a day at the office, while a stylish pink pair will accompany you to a party as your trusted wingman.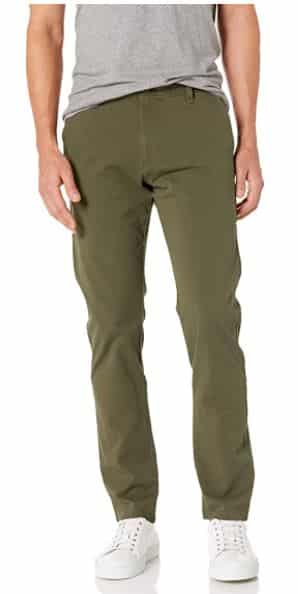 If you didn't like the casual, old-fashioned straight fit of our last pair, you'll love these. Dockers Slim Fits bring in the best of two worlds- form-fitting style and comfort and mobility. Just like our last pair, but a bit more daring, these pants accentuate your form while letting you move.
Benefits
Chic slim-fit.
Comfort and mobility.
Diverse range of sizes.
Beautiful, formal style.
Who's it Best For?
Just like our last pair, these pants are great for men who want to feel more like they're lying in bed than sitting on a stiff chair in an office. Try Dockers slim fit if you want something that functions as a daring alternative to the traditional drab dungarees of the office setting.
These pants have high utility levels for what they are. While you might not be jostling around in the office so much as you would on a hike or a run, you can be sure that you won't lose your valuable. Dockers come with invisible security zip pockets to keep your belongings safe and sound.
And, since chinos cater to the lazy and the comfy alike, you'll appreciate that these beautiful formal pants can be machine washed. Save a trip to the dry-cleaners- get a pair of formals that can go right on the washer and come out looking clean and trim.
Finally, if you're going for a bit of weight loss, these pants will help you through it. With the flexible waistband, you won't have to worry so much about adjusting your belt to get your fit just right. These pants hug the waist without strangling you.
Key Features
Again, elastane, also known as spandex, elastane is mixed in with more traditional fabrics like cotton to provide maximum flexibility while retaining a spectacular fit. Never fear, these pants will hug your good-lookin' long legs, but they also won't keep you from some good ol' The Office-style parkour.
Did we mention cotton? Yes, the same fabric that keeps your nice white tees breathable and cool is used to make every pair of Dockers Slim Fits as aerated as possible. Don't burn your butt off. Get a pair of pants that'll let in some cool air. You'll thank yourself- and the cotton fabric- for it.
Since these pants can be machine washed, you won't have to worry about which laundromat can be trusted with your darlings. If you're tired of hanging your formal pants up on a hanger alongside your suit and tie, try Dockers.
The Dockers Slim Fits listed here come in a few different flavors- navy, white, gray, dark gray, and burgundy. Perfect for more formal settings, these colors will grace your legs with a style that can't be matched for their comfort. And if you're looking for something a little more out there, try burgundy.
Dockers are an old, trusted name and listed on other best men's chinos lists like the ones at apetogentleman. If you want style and functionality and can't compromise, these are the pants.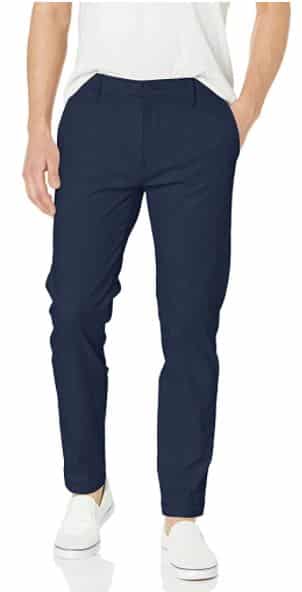 Levi's Men's Tapered are a glorious little pair of chinos. They're what you get when you combine a prestigious name with a comfortable cut and luxurious fabric. If you're looking for a pair of chinos to make you look like you know how to put together an outfit without overdoing it, Levi's is your brand.
Benefits
Sustainable manufacturing process.
Clean and slim.
Low waist.
Narrow from knee to ankle.
Who's it Best For?
These pants come from a trusted, age-old brand, so you know they're good. Gear Patrol called Levi's jeans, "the gold-standard for an affordable, classic pair of jeans." And we can't imagine they don't bring the same to the table with their chinos.
Levi's isn't just a jeans company. It's a pants company. From jeans to khakis to chinos, Levi's has been making comfortable, stylish jeans for men all over the world since before your grandpa tightened his first belt. This is a brand you can trust.
If you want a comfortable fit along with a tapered, form-accentuating style, you've got it here. These chinos provide the stylish flair of a pair of tapered pants with unique breathability and comfort and have superior stitching for a clean look.
Levi's tapered chinos are a gloriously smooth little pair of pants with clean stitching and soft fabric. If you're not into holes, wear-and-tear, or hard, angular stitch-jobs, these pants cater to you. A pair of Levi's will keep you looking sharp and clean wherever you may decide to wear them.
Key Features
The tapered cut on these exquisite little pantaloons keeps you in-style while keeping you out of discomfort. Wear them to the park, the office, or the bar. Just don't get them dirty. You won't want anything coming between you and a chance to wear your favorite pair of pants.
According to thread.com, chinos were originally made for the U.S. Army during the Spanish-American War to keep soldiers mobile and cool. The senior analyst at threads once said, "When you're sick of your jeans, chinos work just as well with almost everything." And he wasn't lying.
Levi's has revolutionized the chinos industry by introducing sustainable, green manufacturing techniques. According to their website, they use Water>Less technology to create the most sustainable, water-efficient manufacturing processes they can.
If you're the sort of person who cares for the environment and wants to see it prosper, a good pair of Levi's won't put a strain on your conscience. Enjoy comfort and style without the guilt of the sustainable manufacturing processes offered by Levi's.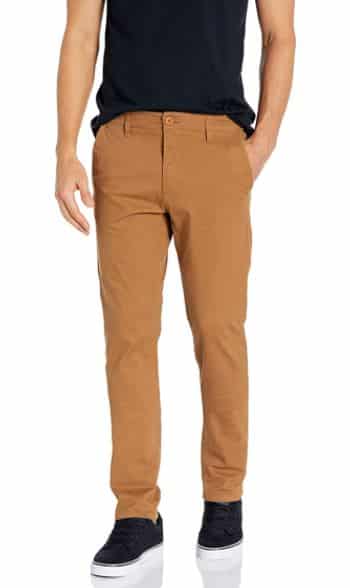 Let's keep it short and simple- or, maybe, long and simple. Southpole's Men's Flex Long Chinos are a straight-cut pair of chinos straight out of a storybook. With dreamy thinness and airy breathability, you'll be thanking the chino gods you came here today- should you buy a pair.
Benefits
Affordable prices for versatile pants.
Imported.
Simple, straight fit style.
Range of formal and casual colors.
Who's it Best For?
These pants are the best fit for men who want a good, classic cut and clean seams. It's just another addition to our fine little list of classic, functional pants. These pants help you get the job done and look and feel good doing it.
If you're looking for a pair of chinos that can keep you comfortable and looking good for a low price, Southpole is your best bet. Compared to Levi's, you can get a pair of Southpoles for around half the price. Don't break your bank.
Southpoles also come in a few different colors, suited for both semi-formal and casual occasions. If you're rushing around and need to be in a couple of different settings in one day, these jeans will keep you dressed for all of them. A date, a party- whatever. Southpole chinos have your back.
And, of course, these chinos come outfitted with the best possible cut for breathability. A pair of chinos is a simple formula- comfort plus breathability plus style. Nothing can stop a man in his chinos, and nothing will be able to stop you in these.
Key Features
98% cotton and 2% spandex. Now there's a recipe for greatness. Cotton's not America's number one value-added product for nothing. With superior softness and breathability for warmer days, any clothes made from cotton are bound to serve you long and well. This might even become your new favorite pair of pants!
And let's not forget that spandex. Spandex is a unique material that was originally developed as a substitute for rubber. When mixed with other fabrics, it created clothes the stretch and bend as you do, giving you superior mobility.
In fact, spandex can stretch up to 500%! This is no figure to scoff at, especially when you consider all the bending, running, stretching, and sitting you do over the course of a day. Don't let inferior fabrics jostle you around, get a pair of pants that moves with you.
Finally, you'll be glad to know that Southpole offers free returns on some of its sizes. If you don't get the pants you need, you can return them. It's just another one of the ways this company is looking to serve its customers.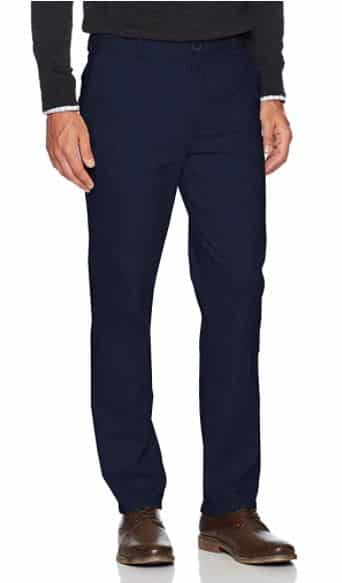 Here we have yet another IZOD product and yet another winner. We can't stress enough that IZOD is a trusted brand for luxurious, functional clothing. If you think about it, the IZOD Company and chinos were a match made in heaven- a company that loves to make comfy pants- and an especially comfy sort of pants called chinos.
IZOD's Men's Saltwater Stretch Chinos are proof of that.
Benefits
Wide variety of sizes.
Range of colors.
Saltwater wash for a worn-in feel.
Still maintains its classic style.
Who's it Best For?
There are some men in this world who make compromises and some who are so stubborn they break. Then again, there are some men who get what they want without having to give up a thing. These pants are for just this sort of man.
If you're looking for chic, classic styles and colors without the stiffness and stuffiness of chic, classic pants, your search has ended. With IZOD's Saltwaters, you can rest assured that your formal style won't come at the cost of comfort.
A saltwater wash is your guarantee that these pants won't keep you constricted in any way. With a quick saltwater bath, IZOD makes a pair of pants that feels worn in from the moment you buy them.
Whereas your average pair of pants might take days to really break in, +these trousers come pre-broken in for maximum comfort. Don't spend your first few days in a new pair of pants waddling around awkwardly. Go saltwater for a comfy fit.
Key Features
While these pants may look and feel like a top-of-the-line pair, you don't have to give them a top-of-the-line wash. Any old washer- personal or Laundromat- will work for these exquisite chinos. IZOD's out to save you a buck or two- if it can.
Keep your stiff, stuffy pants. These chinos are saltwater washed for a gloriously relaxed and mobile feel. A good pair of chinos should combine formality and style with comfort and mobility, and this is exactly what these pants do.
Speaking of comfort, the Saltwaters come in a wide range of sizes, so you can be looking your best no matter your size. From big, burly men to little guys, you can be sure that a pair of IZODs will serve you just as well, if not better than any other brand.
IZOD has been in the business since 1938, so you can bet that they've picked up a few tips and tricks over their long journey. You may think every pair of pants is the same- you may also be horribly wrong. IZOD has time-tested and proven methods for making comfortable, functional pants that will serve you long after you pick them up from the store.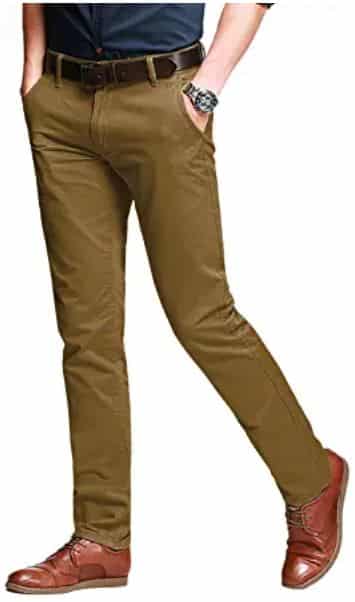 Of all of our selections so far, Match's Men's Slim Casual has the widest range of styles and colors. If the last pair listed had a problem with formality, these pants are the solution. Pink, green, yellow, burgundy- whatever you need, Match has it.
Benefits
Lots of pockets for high utility.
Lycra Spandex for superior mobility.
Wide range of colors goes well on spring and autumn casual outfits.
Subtle tapering for style and grace.
Who's it Best For?
These pants are best for men who want to go out with a little bit of flair- without sacrificing superior quality and mobility. Whereas some holey, acid-washed pants may look flashy without giving you any real benefits, these pants are both stylish and comfortable.
If you find yourself in need of a comfortable, useful pair of pants for your spring and summer outfits, these men's chinos are the way to go. With both breathability and mobility, you'll be able to move and keep yourself cool while you're doing it.
You'll also love to buy them if you're a little stingier than the rest. No shame in that, of course- we prefer the term, 'frugal.' Keep your finances in good shape while keeping your legs in good pants with Match's Men's Slim Casuals. From our team to you, we recommend this brand with high hopes.
And it's not only us. Onpointfresh also included these casual men's chinos in their list of the absolute best. Not to toot our own horns here- but with such recommendations, you can't really go wrong. We spend our lives thinking about styles and stylish designs, so you can spend your life looking stylish.
And, of course, staying comfortable doing it.
These pants are a practical, stylish solution to your yearning for a neat and trim little pair of chinos. But practical men don't have to be boring. Match also offers their pants in a wide range of luxurious styles- all for you, their (future) loyal customers.
Key Features
We really can't express in words how excited we were to see Match's huge range of color choices. It's why we put their chinos on the list in the first place. Any outfit of really any style can find a match with Match, just so long as you aren't planning on wearing their bright baby blues to a board meeting or a funeral.
Their tapered fit grants a subtle flair of style that just can't be beaten. Wide at the top, thinner at the bottom- a classic look with no competitors. Tapered pants accentuate your form and emphasize your legs, and these pants are a spectacular example of that classic style.
With 3% spandex fabric, you'll get the most range of motion possible out of your pants. If you've ever been at the office, a party, or whatever else, and felt your pants squeezing you like they were trying to strangle you, then you know the importance of a movable pair of pants.
Match recommends its chinos for use with autumn and spring outfits, undoubtedly because their subtle colors and soft fabrics pair perfectly with cool weather. Wear them with a hoodie, a sweater, or a flannel for a stunning style.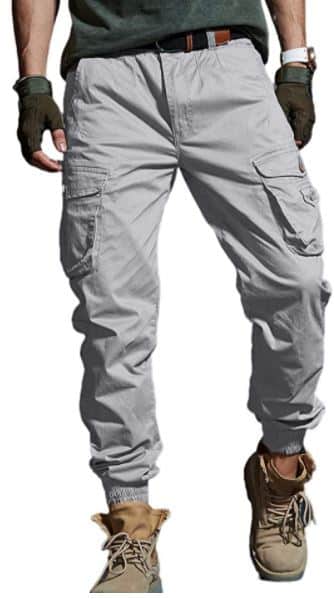 You wouldn't know from looking at them, but these are chinos. These pants are great utility pants for hikes or outdoor activities. They stay comfortable all day by virtue of their breathability while still functioning as a multi-use set of cargo pants.
The Jackielove Men's Cargo Joggers are great for anyone who wants to stay active while staying comfy.
Benefits
Lots of pocket space.
100% cotton for breathability.
Comfortable fabric.
Good durability.
Who's it Best For?
These cargo joggers are best for people who want to stay active without sacrificing their comfort. So many pants have high use-values in terms of pocket space but get stiff or hot as the day wears on. We've selected these chinos because they're a great example of a pair of pants that avoids this issue.
Do you love climbing, hiking, or jogging? Do you want to stay cool and mobile while still being able to carry a phone, wallet, and whatever else you may need? These chino joggers are great for that purpose because they take advantage of a pair of chinos' natural ability to cool and keep mobile.
Not many people know this, but chinos were originally for soldiers in the U.S. army. During the Spanish-American war, the army wanted a way to keep soldiers from overheating while keeping them on the move. The elastic, breathable chinos were that solution.
These pants look at their history and work with it to create the best possible outcomes. For guys who want to move like warriors and keep active, these pants are a gift from heaven. You could even lounge around in them they're so comfy. The world is your oyster in a pair of Jackielove Men's Joggers.
Key Features
These pants are versatile, and not just in terms of overall utility. Jackielove Men's Cargo Joggers are a pair of pants that can be matched up with just about any shirt, jacket, polo, or denim. You can get utility that doesn't compromise for style out of these useful little trousers.
These pants come outfitted with 6- count 'em- utility pockets. That's enough space for your phone, wallet, keys, pocketknife, hand sanitizer bottle, and whatever other small items you may want to have on your person.
We must confess that we've got a soft spot for outdoor activities, so we wanted at least one pair of chinos that would take advantage of chino pants' natural cooling abilities. These pants made our list because they're so versatile and useful. You really can't count them out on any list of good chinos.
Not to mention, they come in a diverse range of colors and styles, from beige to blue to camo. There's really nothing you can't pair with the right pair of Jackielove Cargo Chinos. Here we have a pair of pants that can do it all and look good doing it.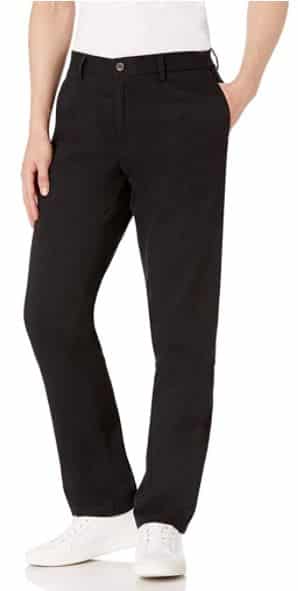 This selection comes right from the Amazon Company and has made our list because of Amazon's tendency to listen and respond to customer feedback. These pants come from a company that pays attention to what its customers want, and you can tell by their quality.
Amazon Essentials' Men's Slim-fit chinos shouldn't be treated like some store-brand garbage.
Benefits
Responsive to customer input.
60-40 cotton-to-polyester ratio.
Edgy slim-fit style.
Much like a pair of Dockers.
Who's it Best For?
Here's a super practical pair of pants. They may not be the U-Haul cargo pants we showed prior to this selection, and they might not have high durability for outdoor activities, but if you're looking for a casual pair of chinos for any situation, you've found them.
The reason these pants are so practical is that their price and customer reviews make them an affordable and stylish brand that pays attention to customer suggestions. You can bet that your Amazon Essentials will fit well, look good, and keep you cool and comfy.
These pants are best for guys looking for a cool, clean style. Slim-fit with almost invisible seams, these pants will provide a great backdrop for whatever flashy- or subtle- shirts you may choose to pair them with.
Their assortment of colors grants them serious leeway in terms of formal and semi-formal outfits. Guys who need clothes for the office, formal get-togethers, or other semi-formal events will love the selection Amazon Essentials brings to the table.
Key Features
Amazon Essentials has some spectacular bang for your buck. Coming in at a little over $20, these pants are a great mixture of affordability and quality. Amazon keeps up this quality by listening to customer suggestions and making necessary adjustments.
Amazon loves keeping its customers happy and can keep you happy in a brand-new pair of their ultimate chinos. These pants bring the chic, modern slim-fit style we all know and love without bringing the price tag. Don't sacrifice your savings for your style. Try Amazon Essentials.
These pants contain a 60-40 blend of cotton and polyester. This means that they breathe well, feel great, and wick away moisture like no others. It's an ingenious design, and so simple, really. Made from the same material as comfy tracksuits look like a pair of formal khaki pants.
Finally, these pants have built-in wrinkle resistance. If you're the kind of person who hates ironing your pants and shirts, again and again, you'll love these. Wrinkles have no place on a pair of Amazon Essentials, and they'll most likely be ready to wear the second you take them out of the dryer.
Keep in mind; chinos aren't most people's first choice when looking for a pair of pants. Most people think casual and reach for a pair of jeans, while formal settings almost require khakis. Chinos are a great middle-ground that most people skip over in their considerations.
These suggestions will help you figure out which pair is right for you.
Activities
We don't mean to sound like your mother here, but what do you think you'll be doing in those chinos? These pants are great for semi-formal, casual, and even outdoor settings if you find the right pair.
A pair of cargo chinos will go the distance for you on the trail, on a rock-climbing wall, or even on a camping trip. Chinos have spectacular breathability compared to denim jeans and were originally designed for people constantly on the move.
If you want a pair of chinos that keep you moving while keeping you cool, go for the cargos we've included in our list. If you want something casual for a setting like an office or a party, go for any of our other pairs.
Color
Color is a consideration people often skip over when choosing a pair of pants. Most people assume their blue, black, or khaki- but this is incredibly drab. If you want a pair of pants that make you shine, you'll want some color and flair.
We've included a few products in this list with expansive ranges of colors and styles. If you want something for a crazy, wild party, go for a pair of pink chinos. For a date, maybe lean towards navy blue. If you want a good, casual pair for classes or day-wear, try dark green.
You can also choose camo designs on our more versatile selections. The right color can get you through a party, an office meeting, or a hiking trip just fine. Just keep in mind that chinos are not winter pants, and their breathability makes them somewhat susceptible to cold temps despite their warm cotton fabric.
Your Wardrobe
We can't stress this enough- before you buy a new pair of pants, a suit, or anything else, take a look at your wardrobe. If you buy the wrong color, you could end up with a pair of pants that don't match with anything you own.
As for this writer- I once bought a pair of baby blue khakis that looked just splendid on the shelf. They looked so nice; in fact, I didn't even think to try them on.
Big mistake.
Although you won't be able to try on your selected pair of chinos over the internet (unless you've found some intriguing new technology), you can look through your closet and decide what will match with what you have.
For example, if you're rather conservative with your styles, you might want to try a more toned-down color. The beige-and-khaki spectrum works best here, but feels free to be adventurous with navy blue or burgundy. Just don't get yourself kicked out of your board meeting.
If your closet's overflowing with flashy tees and colorful Hawaiian shirts, however, go big. Bright, flashy, colorful- red, blue, or gold. Any of these will work well with the right shirt.
If you want help pairing colors, here's a little secret that you'll only get here. Canva, an online color wheel, helps you find complementary colors using color theory. With such a useful tool at your side, you'll never have to worry about mismatched clothes again.
Durability
We're just going to admit it- chinos aren't the most durable pants the world ever saw. True, they were originally designed for soldiers, but the chinos soldiers had on didn't come from IZOD or the Gap. That doesn't mean you can't get durable chinos. It just means you should read the descriptions.
For a more durable pair, try the cargos we have listed above. Most likely, people who want durable pants also want a little more utility, and these are a great combination of both. We recommend these pants for burly, bearded woodsmen who just want a little extra space for their carabiners and pocket knives.
If you're just planning on going to parties and the office, however, you'd be better off with any of the other pants listed above. While chinos aren't going to burst at the seams the second you sit down, they might tear on a rough surface or become coarser with wear, so be careful.
Style
Of course, you have to consider style in any wardrobe decisions.
Three common styles for chinos are straight-cut, slim-fit, and tapered. Tapered chinos provide a more relaxed fit while accentuating the upper portion of your legs. If you like something a bit more roguish and interesting, tapered chinos are great.
Straight cut's your classic, urbane style. If you want something subtly stunning, you can bet that straight-cut pants will give you what you need. Straight-cuts are best for men who want to look relaxed and loose but upright and somewhat formal at the same time.
Finally, we come to the slim-fit, the straight-cut's bad little brother. If you're the kind of person who likes to show off his form just a little, these jeans will be great for you. They follow along with the natural shape of your legs and keep you looking smooth.
Slim-cut jeans are great for guys who want a chic, urban look. They fit right in at a café, uptown bar, or a club. In short, they're fun, and they'll keep you from looking like a stiff at your hipper get-togethers. In general, the skinnier the pants, the trendier they are.
Your Group Style
Here's one you probably haven't thought of: group style. Having a cohesive style among friends can be a great way to bond and create unique cultures. If chinos are in your friends' wheelhouse, buy a pair. They might be a good topic for conversation.
If your people are more likely to be seen wearing ripped denim jeans, you might want to try something else. Keep in mind that the right clothes, when worn around the right people, can win you huge points socially. Just gauge the room next time you get together with friends and see if they'd like your chinos just as much as you do.
That's not to say you should only wear what other people will like. If you love a pair of pants, who cares what others have to say about it? All we want to say is that sometimes you want to impress, and to impress, you have to play to other peoples' interests and desires.
You might have a few questions after all of that. How do you pick out your size online? What colors go best with what? Here, we hope to answer them.
How Do You Measure Yourself?
There are many different ways to measure pants, but most likely, you'll be concerned with the length of your legs and waist.
Pants sizes usually come with a W and L measurement. W is your waist-length, while L is your leg-length. The process for measuring these two places is actually very simple and can be done in a few minutes. All you'll need is a tape measure and a little bit of time and determination.
With your feet spread slightly apart, wrap the tape measure around your waste. Connect the beginning of the measure with the point on the tape that makes your measure fit snugly. Make sure your measure is parallel to the floor. The number your tape measure points to is your W length.
Next, take the tape measure and run it along the outside of your leg from where you did your waist measurement to the cuffs of your pants. The number at the bottom of your measure will be your L length.
As long as you can use a tape measure, you can get an accurate measurement for your pants.
Do You Have to Measure Yourself?
Yes.
Not getting your measurements just right could mean you have to return your pants. If the company you bought from doesn't have a return policy, you're out of luck.
Taking a measurement before buying helps you get your length and width just right so your ankles aren't showing and your underwear isn't sticking out. A well-measured pair of pants is a comfortable pair of pants, and this goes for chinos just as well as it does for other pants.
Don't expect an elastic waistband to save you either. Just because it's stretchy doesn't mean it's one-size-fits-all. Elastic waistbands are there to make sure you've got a bit of leeway before you've got to go up or down a size, not to fit your form.
Not to mention, no elastic waistband, no matter how incredible, can save you from the embarrassment of two short pant legs. Best case scenario- you'll end up looking like you're trying to keep your pants dry in a flood. Woe to you if there's no flood.
Are Chinos Warm?
Chinos certainly aren't winter pants, but they're not terrible either. Cotton is a breathable fabric, which means it lets air in. If that air is cold, you'll get colder.
However, cotton is also a pretty warm fabric. There's a reason some of our listings were suggested for spring and fall when the temps might be fifty or below.
But just because chinos won't get you through the winter doesn't mean they aren't a smart investment. When the cold winds start blowing, just switch over to a pair of wool or gabardine pants. Jeans work well too. Anything that keeps your legs from shivering off as the raindrops turn to snowflakes.
All in all, chinos are stylish, comfortable pants that can fit right in with most settings and outfits. Out selected items have a diverse range of colors, styles, and levels of utilities. We're trying to cater to all kinds of guys with all kinds of needs. We hope you found what you needed, and we hope you'll check out some of our other articles.