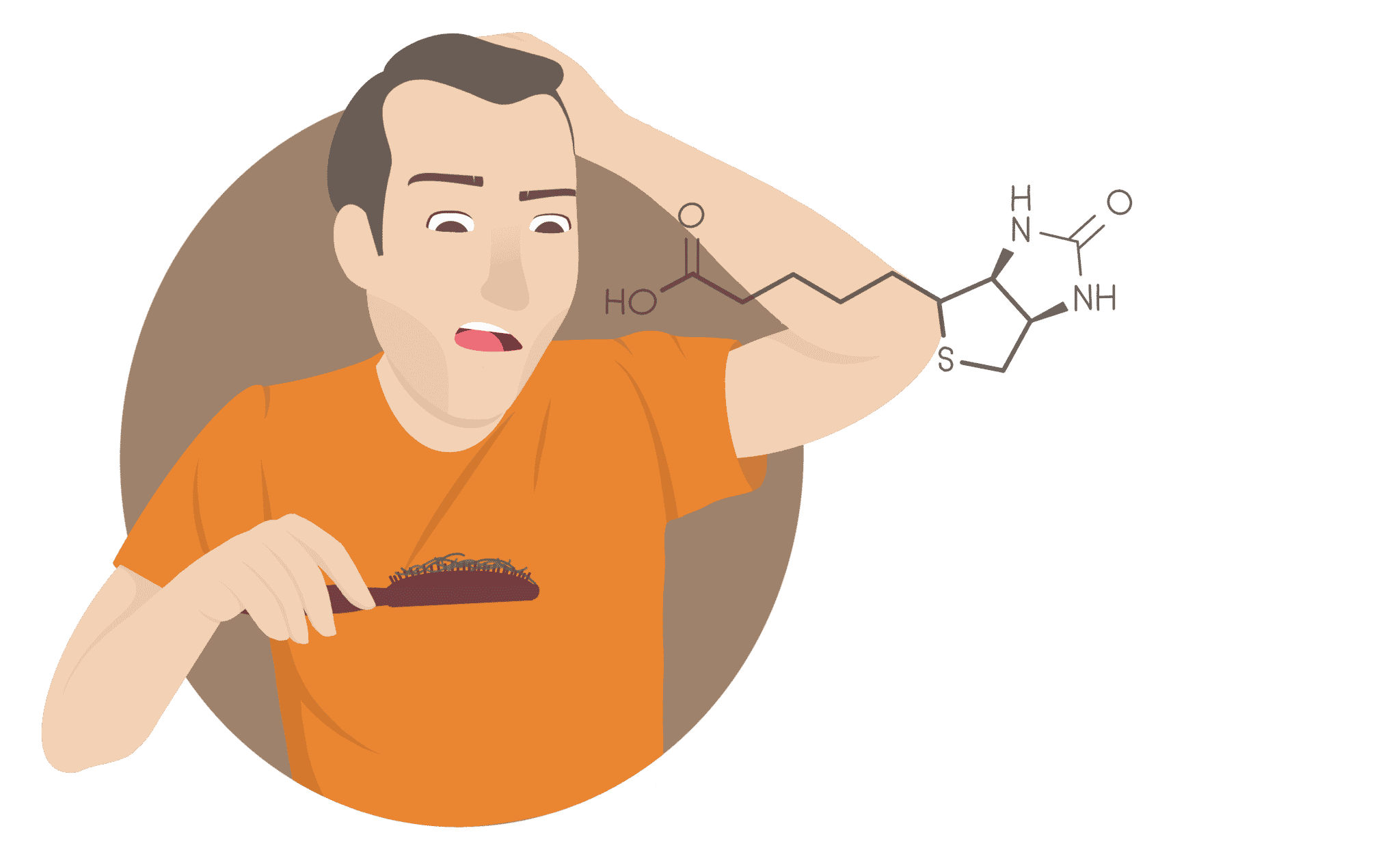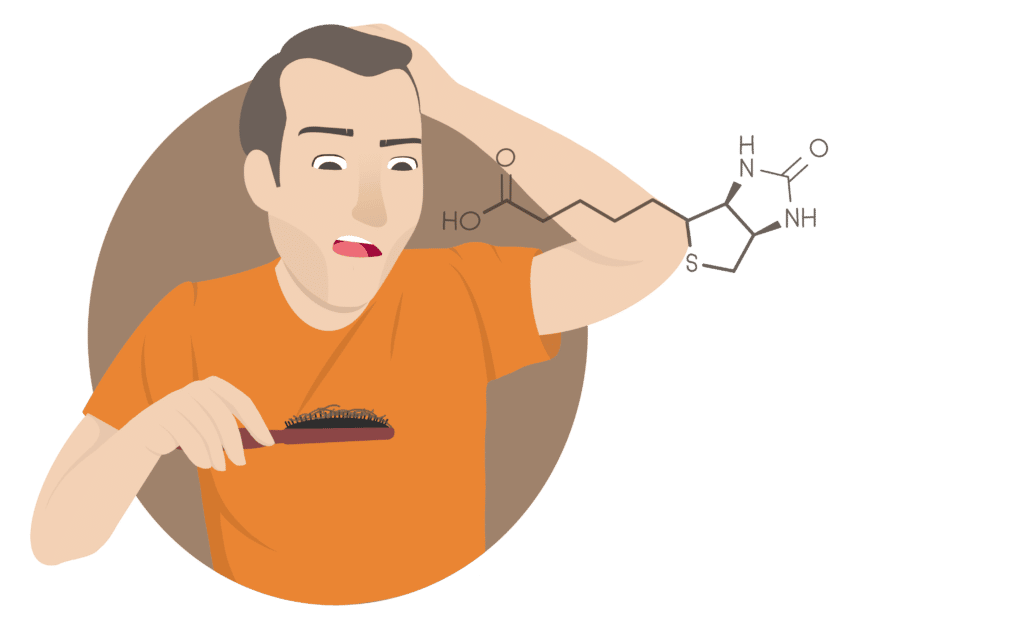 Biotin: A Thickening Solution that Really Works
You might have experienced it, and if you have, you know. Maybe you noticed it after a haircut or after waking up in the morning. Perhaps you saw it on a night out when you were supposed to be looking your best. Either way, your hair is thinning out- is there anything that can prevent hair loss?
Biotin shampoos are a shampoo variety that helps mitigate hair loss by supplementing your body with Biotin and strengthening your hair. Healthier hair means more resistance to hair loss, which means less lost hair.
If you've got the hair-loss blues or want to get a jump on hair loss without using any wacky products, biotin shampoo might be the solution for you. Keep reading to find out which biotin shampoos to try.
We've combed the internet, searching out only the best in biotin shampoos so you can keep some of your beautiful hair as you age. Whether you're rich or poor, a hippy or a fashionista, Biotin can be used to strengthen your hair, and we've got the products for you.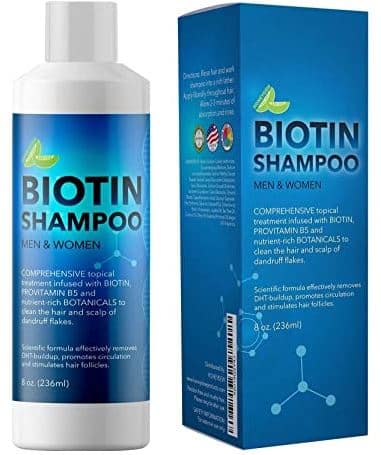 If you're the kind of person who grows their own herbs and makes their own deodorant, Maple Holistics has the biotin shampoo for you. With tea tree oil for treating dandruff and rosemary essential oil for hair growth, you can be sure that your shiny new hair is coming from a natural source.
Try Maple Holistics biotin shampoo for a natural solution to hair loss and thinning that combines incredible science with the best mother nature has to offer.
What it Brings to the Table
Acts as a DHT blocker shampoo.
Deeply cleanses hair.
Detoxes oily hair.
Sulfate-free.
Who is it Best for?
Maple Holistics has supplied the best in natural hair care products to chemically-conscious consumers long enough to know: you don't have to fire up chemicals in a lab to strengthen hair.
Their website says: "Maple Holistics was born out of the desire to get back to basics and tune into what Mother Nature has known all along – natural is better. That's why, at the core of who we are, lies the belief that there is no better way to express your natural beauty than by using natural products."
If this appeals to you, you know where to go. Buying natural products is a great way to protect yourself from unknown additives. If you can't pronounce it, you might want to steer clear. This shampoo will help you take care of yourself and see real, tangible results.
Key Features
With DHT blocking properties, Maple Holistics' biotin shampoo helps promote regrowth of lost hair. If you've been noticing your once luscious hair thinning out or your once commanding hairline being pushed back by the hands of father time, you might want to try this revolutionary shampoo.
Maple Holistics is a different kind of shampoo in that its creators didn't have to go searching the chemical cabinet of a lab to find the best hair-growth supplements. This shampoo increases your body's intake of vital Biotin, which is used to strengthen hair.
With the added benefits of Rosemary Essential Oil at your side, you can be sure that your biotin shampoo will be working for you. Rosemary has unique properties that promote abundant hair growth. Think of it like fertilizer for your scalp, a fertilizer that looks and smells a whole lot better than what you put on your garden.
If you wouldn't spray your tomatoes down with pesticides and all other kinds of nasty chemicals, why do it to the garden on your head? This shampoo hopes to help your scalp grow robust and natural hair without putting your health at risk.
Finally, there's no need to buy an extra, chemical-filled anti-dandruff shampoo because Maple Holistics has natural tea tree oil for dandruff prevention. Pair it with the right conditioner, and you've got a natural solution to your hair thinning problems.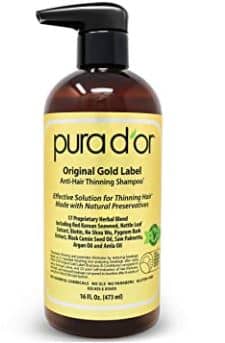 Pura D'or claims the auspicious title of 'leader in hair-thinning therapy, but to prove that for yourself, you'll have to try it.
Pura D'or's exclusive hair care formula is a blend of herbal ingredients that create the best possible conditions for your hair to survive and thrive. Hate bad hair days? Take some years off your hairline with Pura's unique blend of herbs, designed to strengthen hair and keep your widow's peak looking sharp (if you've got one, that is).
If you're looking for a shampoo that emphasizes both volume and health, look no further. Pura's got what you need.
What it Brings to the Table
DHT-blocking formula.
DHT herbal blend to prevent hair loss.
Vegan recipe.
Reduced breakage.
Who is it Best For?
Who is this herbal blend biotin shampoo best for? Answer: your sister, your mother, your brother, and everyone in-between.
This herbal-blend shampoo combines the absolute best of natural ingredients to produce a DHT-blocking formula that strengthens hair and increases volume. Reduce split-ends and other signs of breakage with this vegan formula and see real results.
If you're the kind of person who wants to go natural without giving up the luscious volume of industry-standard shampoos, Pura is the way to go. The expert creators at Pura designed their shampoo to increase biotin absorption and volume without throwing in a slew of chemicals.
That's a win-win for luscious hair fanatics and health freaks.
With ingredients such as nettle extract and pumpkin seed, hippies, hipsters, and homemade holler-dwellers will love this shampoo and won't have to do a double-take when they read the ingredients.
Skip out on those unpronounceable chemicals- join the natural club and find a hair-care solution that won't make your momma worry.
Key Features
With such ingredients as nettle extract and black cumin oil, you can be sure that what you're receiving is a cruelty-free solution to hair loss and thinning. Don't fear for how your shampoo is made. Turn to Pura D'or and gain a little confidence.
If you've ever looked in the mirror and wondered where your hair's gone on vacation, Pura D'Or can help you track down your once glorious hairline and volume.
Pura knows that customers want the most possible volume and shine out of their hair care products, and that's why they've created a vegan herbal blend that combines volumizing ingredients with natural DHT blockers.
This shampoo is tested and proven to reduce hair thinning and hair loss and can help you regain what you've lost. Don't lie down and take hair loss- put up a fight. You get what you pay for in Pura D'or, and don't have to worry about any harmed animals as you scrub your luscious hair.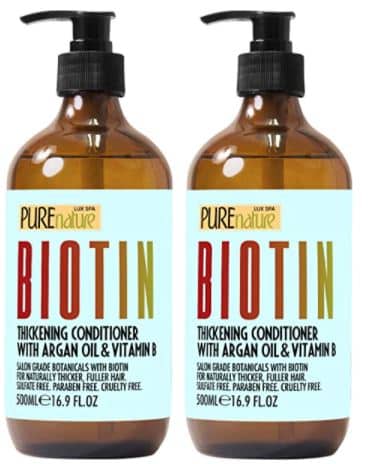 If you want a working solution to your hair-loss fears, try Pure Nature's Sulfate-Free Biotin Shampoo. With its utterly sulfate-free recipe, you can wave goodbye to questionable ingredients and say hello, or hello! to a shampoo that works for you.
Before you go searching the shelves of your local grocery store for a suspicious, industrial shampoo that looks more like it belongs in the home-plumbing aisle, try Pure Nature's soothing sulfate-free mixture for maximum hair growth and health.
What it Brings to the Table
Sulfate-free recipe.
All-natural ingredients.
Moroccan argan oil for shine.
Collagen for hydration.
Who's it Best For?
For those who struggle with dry hair, we offer you an apology on behalf of your scalp. Dry hair can absolutely ruin your good hair day and turn a head of luscious locks into a bird's nest of brambles and broken hay.
Throw in a little collagen and B5, however, and you won't need an apology anymore.
Collagen and B5 are dryness-fighting super-substances for unruly heads of hair. If you're looking for something that can help you fight off that desert-dryness, try this natural blend. Pure Nature wants to turn heads and can do precisely that if you use it right.
If you're the kind of person who wants to be in control of your hair instead of letting your hair control you, this is something you've got to try. Get on the ball- take a step towards hydrating and volumizing your hair that you won't soon regret.
Key Features
Pure Nature is another one of those shampoos that does it all without filling your scalp with industrial ingredients. If you're reading your shampoo label and seeing ingredients that look like they belong in a drain cleaner or a detergent, throw it out and go for something all-natural.
With Moroccan argan oil, your hair will shine like silk. Shiny hair compliments a beautiful dress or a straight-cut tux and really announces you in a crowd. When the light starts glinting off your hair, you can bet that it's the Moroccan argan oil mixture working for you.
Collagen and B5 are nothing to scoff at. These ingredients help turn bone-dry hair into a well-watered garden of luscious locks. Don't let your hair get all kinky and frizzy. Keep it hydrated and stay beautiful. These ingredients are sure to help you ward away your dryness problems.
With a sulfate-free recipe, you won't have to put the same chemicals in your hair that you find in household detergents. Sulfates are an ingredient used in the same household cleaners you put on gloves just to work around.
If this worries you, turn to Pure Nature for a solution. Pure nature only uses the best of natural ingredients and is entirely free from parabens and petrolatum.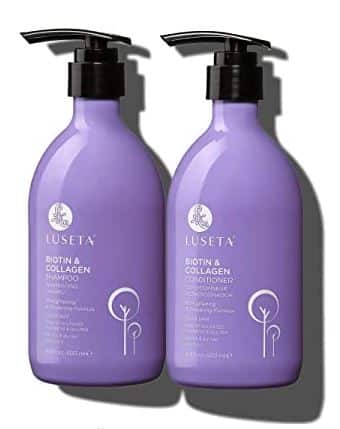 Luseta shampoo uses collagen, the most abundant protein in the human body, to help renew cells and create a head of hair you'll love to look at. If you want a blend that will fortify and strengthen your hair for a younger, healthier look, you want Luseta's paraben-free biotin shampoo.
Paired with their conditioner, this shampoo really pulls its weight to keep your hair healthy and vibrant.
What it Brings to the Table
Paraben-free solution.
Collagen for cell renewal.
Volume and dimension for fuller hair.
Sulfate-free.
Who's it Best For?
This solution is best for anyone looking for a recipe to solve their lousy hair blues. By combining the strengthening power of vitamin H (Biotin) and collagen, this formula strengthens hair and promotes moisturization.
Why take care of one problem when you can take on two? With Biotin to strengthen hair, your hair will be looking fuller than ever. If you've been having problems with thinness and aging, Luseta may just be your lifeline. Biotin is a substance that's proven to strengthen hair, and more of it could be just what your body needs.
Biotin deficiency is never suitable for those who want fuller, healthier-looking hair. Although Biotin can be absorbed from other sources, Luseta is a quick, scalp-nourishing way to give your hair what it needs.
When combined with collagen, Biotin's strengthening effects are bolstered by superior moisturization, which helps to prevent the harmful effects of dry hair.
If you've got dry, frizzy hair, the collagen proteins in Luseta may be just what you need to get it under control.
Key Features
Luseta helps strengthen and fortify hair for a thicker, healthier look. When you go out, you need to be looking your best, and dry, frizzy hair simply won't do. Luseta works to reverse the effects of hair loss and dryness by strengthening and moisturizing hair.
The product we've included in this article also includes a conditioner, which is also sulfate and paraben-free. Pairing these two is a perfect recipe for healthy hair that will last all day. Take care of your hair, and it will take care of you. This product is an excellent way to thicken hair and keep it moisturized.
Luseta also promises that its shampoo and conditioner are never tested on animals. If you're a conscious kind of person who hates the idea of harming another living thing, you can be assured that when you buy Luseta, you aren't doing any harm.
With all of this peace of mind, you'll wonder why you hadn't bought a bottle of Luseta before reading this.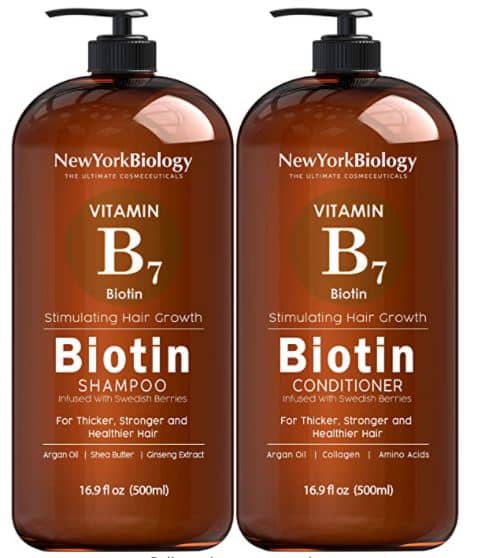 NewYorkBiology's biotin shampoo formula claims to be moisturizing and revitalizing without weighing hair down. This means that wearers can be sure their hair will retain a voluminous and weightless look even after application.
This shampoo and conditioner also work as anti-dandruff agents, so people who struggle with dry, flaky scalps won't have to struggle anymore.
What it Brings to the Table
Hair-loss preventing DHT reduction.
Helps eliminate follicle-clogging dirt.
Known to calm itchiness and irritation.
Supports natural scalp circulation for flake-free hair growth.
Who's it Best For?
Maybe you or someone you know struggles with dandruff. If so, you know how hard it can be to deal with the flakiness, itchiness, and dryness of an unruly scalp. Finding a good shampoo and conditioner can be next to impossible.
Luckily, NewYorkBiology's shampoo and conditioner set come ready-made with all you need to clean, revitalize and moisturize your hair. Don't get caught in a blizzard of flakes. Get the healthy, clean hair you need.
NewYorkBiology's formula is also completely free from sulfates and is made in a cruelty-free environment. Animal loves don't have to fret for their furry friends. You can rest assured that your beautiful hair didn't come at any price other than the one listed on the bottle.
The flake-fighting solution also helps to clean your skin, meaning that unwanted dirt and bacteria have no place on your precious scalp. If you want a shampoo that will clean out the gunk and leave only a full, moisturized head of hair, this is what you need.
Key Features
NewYorkBiology claims to have hair-growth and hair-loss-prevention qualities. Its creators have worked tirelessly to make a formula that leaves hair feeling healthy and light. Get healthy, flake-free hair with this biotin shampoo solution.
Without sulfates or parabens, NewYorkBiology hopes to create a shampoo whose ingredients label won't scare you. Sulfates used in household detergents have no place in NewYorkBiology's revolutionary new solution and no place at all in your hair.
Flakiness is a thing of the past with this shampoo. Anyone struggling with a dry, itchy scalp should try this shampoo and conditioner. It hopes to give you the satisfied, healthy scalp you need. After all, you can't be thinking about an irritated scalp when you've got a day's work to do.
If you got problems with hair loss, thinning, or dryness, NewYorkBiology wants to help. Everything about this shampoo is geared toward healing and health.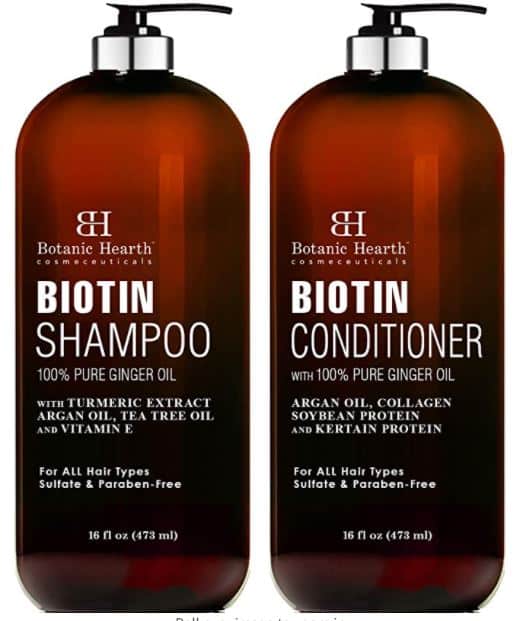 The makers at Botanic Hearth have packed a blend of nourishing and restorative ingredients into their little brown bottle with the highest standards of hair health in mind.
Safe for color-treated hair, gentle enough for daily use, and completely cruelty-free, this biotin shampoo is the ultimate in salon-quality hair care products.
What it Brings to the Table
Sulfate-free solution.
Cruelty-free.
Infused with ginger oil.
Moisturizes and revitalizes hair.
Who's it Best For?
This high-quality hair care product is best for people who like to buy shampoo from their local salons. With a blend of nourishing and restorative ingredients, this shampoo is sure to match or even exceed the recommendations you might get from your hair-care professional.
If you have trouble matching a good shampoo to a good conditioner, look no further. The link we've included in this section of the article comes ready-made with a shampoo and conditioner combo that will help you out.
If you're the type of person who doesn't like to remember how long it's been since you last used your shampoo, this product is ideal. For the lazy moisturizers who don't want to follow a schedule, Botanic Hearth can be used every day.
That beautiful new dye you got in your hair will also stay right where you put it. Botanic Hearth's formula is designed to be gentle on your hair and not strip it of any dyes or essential materials. Botanic Hearth won't dry you out, and will regenerate hair for a clean and healthy look.
Key Features
Biotin is a hair-loss preventing ingredient that helps to strengthen hair and fortify it against the hands of time. If you've been having trouble with a retreating hairline, this shampoo might be able to help.
With moisturizing properties, you won't have to worry about the mess of a dry head of hair. Botanic Hearth aims to keep customers' hair in good spirits, with moisturization and fortification that will keep hair thick and dreamy.
Botanic Hearth also guarantees that no animal is tested in the making of its product. Undue cruelty is something we all want to avoid, and with a cruelty-free guarantee, you'll be able to do just that. Turn to Botanic Hearth for a cruelty-free hair care solution that won't dry you out.
This hair care product is also great for people who love to dye their hair. Hair dye can be a fun and interesting way to spice things up, but fading dye can end up looking somewhat lackluster. Don't hurt your brand-new burst of color. Get a biotin shampoo that avoids damage while keeping hair clean.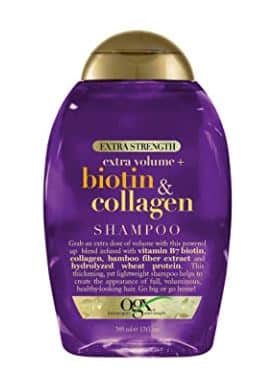 Biotin for the win is OGX Thick and Full's slogan, and with a premium ingredient blend infused with bamboo fiber extract, you can be sure that Biotin isn't all your getting. This is a great hair-loss prevention formula for those who want adequate protection without breaking the bank.
What it Brings to the Table
Vitamins and proteins to energize fine strands.
Beauty power blend for a nourished look.
Volume enhancement.
Wheat protein infused.
Who's it Best For?
This product will be best suited for people like it. Where other formulas look to the big picture, OGX focuses on the little details to produce a stunning outcome. In short, it's different and can help you get the healthy hair you've so desperately been looking for.
OGX focuses on fine-strands to produce voluminous hair that can't be matched in other brands. If you want a shampoo that's going to work on areas that often get neglected, this is the formula for you. Nothing is tossed aside with OGX.
This solution is also great for people who love companies that go outside the box for inspiration. With wheat protein and bamboo fiber extract, this solution is stretching the limits of what a shampoo can be.
If you believe that shampoo shouldn't take up the bulk of your budget, this is an excellent product for you. With all this ingenuity in hair care for only around $7, you'll be bouncing off the walls. We know we were.
In short, this shampoo is best for you if you want to get the absolute most bang out of your buck. Nothing is skipped over here, and no hair gets left behind.
Key Features.
What's wheat got to do with hair care? As it turns out: a lot. The wheat protein-infused blend in OGX Thick and Full nourishes hair without stripping it of its natural beauty. It's a gentle, cost-effective way to treat your hair-loss blues.
This shampoo promises that extra body doesn't mean extra weight. If you want to get light and luscious hair, this product will work like a charm. Other products might increase the volume of your hair but also add undue weight and keep it from really flourishing.
No OGX Thick and Full.
The bamboo fiber extract blend in Thick and Full cares for hair without holding it back. Let your luscious locks really strut their stuff. This hair care product is for people who want a gentle, full clean without breaking the bank.
Finally, just like our last selection, this product is a color-safe way to take care of your newly dyed hair. Professional hair dye can cost a pretty penny, and lord knows you want to get the most out of your investment. Don't lose the beautiful color you paid good money for. This product takes care of your hair while leaving any additives you want to be kept in.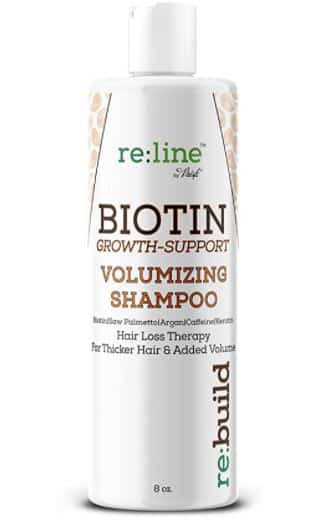 Men and women alike will absolutely adore this addition to their hair care regimen. Re:Line's Biotin Shampoo is another salon-quality product that will help you in your quest to thicken or preserve your hairline.
With added caffeine, Re:Line hopes to create the best possible hair-growth solutions. There's tremendous value in this small bottle.
What it Brings to the Table
Caffeine to energize and promote unparalleled growth.
Pleasant botanical scent.
DHT blocking formula.
Argan oil for shine.
Who's it Best For?
With palmetto and argan oil, this hair growth formula is for anyone who wants an unconventional shine and volume without risking their hairline. Re:Line is best for the amateur stylists out there who want to turn heads.
With argan oil at your side, you'll never have to worry about dull hair. The wholesome ingredients in this shampoo promote your hair's natural shine and moisturize to prevent bad hair days. If you're someone who loves your hair sleek and shiny, argan oil is a definite plus.
Added caffeine means that your hairline will be just as energized as you are after your morning coffee. Folks suffering from a retreating hairline or thinning hair don't have to go without help. Think of caffeine like that extra bit of reinforcements your hair needs to hold the line.
This salon-quality shampoo is a real fighter. In one small bottle, it's packed enough hair-fortifying ingredients to give your scalp the materials it needs to fight back the hands of time. Don't let aging take your thick, beautiful hair- give your scalp some tender loving care with this biotin shampoo.
Key Features
Argan oil promotes hair's natural shine and volume to produce thick, healthy-looking hair. Too many shampoos overlook natural ingredients in favor of synthetic ones, but not Re:Line. Nature has so much to offer, and argan oil is just one of its many hair-revitalizing treasures.
DHT, the primary cause of thin, weak hair, is no match for this biotin and keratin shampoo. Don't go searching the shelves for a DHT-blocking solution that may or may not work. Re:Line has the solution for you right here!
Re:Line's DHT-blocking formula is the best keratin and caffeine cocktail for revitalizing hair. If you're hair's been looking a little sad as of late, give it a pick-me-up. Keratin and caffeine work to fortify and energize your hair and create the volume and thickness you'll love.
And that pleasing botanical scent- unmatched. With the scents present in one bottle of Re:Line's energizing hair growth formula, you'll be smelling like a warm spring day, even in the depths of winter.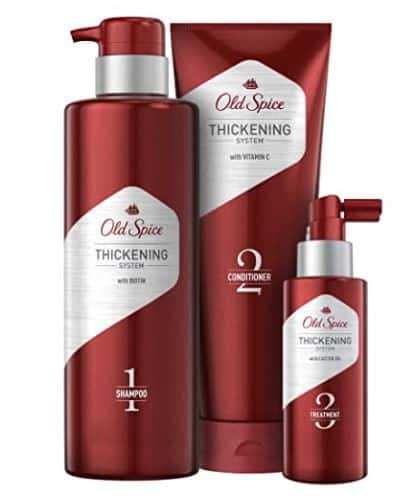 Here's a brand you may recognize. Old spice has been serving men cosmetic products since your grandfather was just a young buck. Odds are he had a bottle of Old Spice cologne somewhere in his bathroom cabinet.
And odds are he didn't have the Old Spice Hair Thickening Bundle, which may be why his hairline looks like something out of a monastery.
What it Brings to the Table
A trusted brand.
Full hair-care regimen.
Castor oil and vitamin C.
Conditioner and treatment system for optimal results.
Who's it Best For?
This biotin shampoo and conditioner bundles are best for classic men who want a classic scent. If you love old spice colognes and body wash, you'll love this bundle. After a shave and a cut, you'll feel great washing your hair out with this biotin formula.
This bundle gives you a spectacular bang for your buck. At only $26, you get a full hair care regimen with a comprehensive treatment system that will last you weeks. For the lazy consumer, this bundle is a godsend. It does all the work of combining hair-care products, so you don't have to.
Old Spice knows men. It's been making products for them for years on end. It knows that men care about their hair and want to really turn heads, not only with how their hair looks but with how it smells as well.
Some say they've noticed the effects of this bundle after just one use, but the full effects will kick in after two weeks. Maintaining regular use of the Old Spice Thickening Bundle with biotin shampoo will keep your hair looking shiny, clean, and full.
Key Features
This biotin shampoo hair loss solution offers visible results in three simple steps. Shampoo, conditioner, and thickener work together to produce the best possible results for men who've noticed thinning hair. After two weeks, you'll notice your hair thickening and becoming healthy again.
Step one is a biotin-infused shampoo designed to fortify your scalp against further hair loss. Biotin, or vitamin B, is a crucial chemical for strengthening hair. Taking in enough Biotin could be the key to your hair-loss dilemma.
Step two is a comprehensive conditioner with vitamin C. Added vitamin C means your hair will stand up to breakage like it was meant to. No more mussy, stringy hair- get a hair care solution that will give you that good, clean head of thick hair you've been praying for.
Finally, step three introduces Old Spice's innovating thickening system with castor oil to produce a noticeably thicker head of hair.
If you're wondering what kind of castor oil for hair is useful, we have chosen the top ones for you.
For hair that really pops, castor oil is your workhorse. Old spice combines the best of its formulas with an age-old ingredient to get optimal results.
If you're a classic man looking for a classic head of hair, Old Spice can help you out with their biotin-infused Thickening Bundle.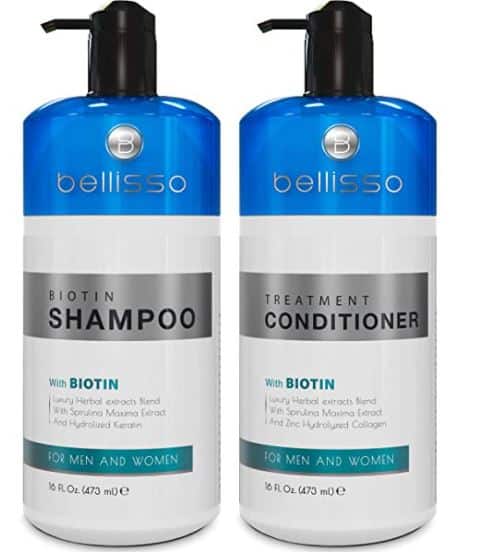 Bellisso is a great brand for thickening hair and preventing hair loss. This is another bundle that will do the work you need done and preventing thinning hair. Using Bellisso regularly will show serious results in terms of thicker, fuller hair.
Bellisso is one of your best bets for a salon-quality product that really prevents hair loss.
What it Brings to the Table
Essential vitamins.
Gentleness for sensitive scalps.
DHT-Blocking technology.
Great for men and women.
Who's it Best For
Young or old, male or female, Bellisso doesn't plan on failing you anytime soon. Bellisso rolled out this hair-care bundle with people suffering from thinning hair in mind. This biotin-infused shampoo strengthens and fortifies hair while their treatment conditioner keeps hair moisturized and fresh.
This product promises thicker, fuller hair, and according to reviews- it delivers. Bellisso has made themselves a name by taking the best of their hair-care solutions and putting them together in this bundle.
Regular usage of Bellisso biotin shampoo and conditioner has been shown to produce thicker, healthier hair for people who have been struggling far too long with hair loss and thinness. Don't lose your well-earned hair. Pick up a bottle of Bellisso to get help.
People who want to keep their healthy, robust hairlines will find a spectacular helper in biotin shampoo, and this product is a prime example of what makes for a working hair-care solution. It may not have aloe, tea tree, or other fancy additives, but it still works.
Key Features
This bundle comes equipped with not one but two biotin-infused DHT-blocking products. If you're tired of searching for good conditioners to match your shampoo, or vice-versa, you'll love this bottle. This combines the best products Bellisso has to offer in one thinness-fighting powerhouse.
Bellisso promises fuller and thicker hair with regular use of its thinness-fighting biotin super-pair. This bundle features a luxury herbal blend with hydrolyzed collagen and keratin. This cunning, state-of-the-art formula is a real super-soldier in terms of hair-loss fighting power. Never underestimate a little bottle's potential.
Curly-haired? Never fear. This hair-care solution is great for preserving your hair's natural, beautiful curls. Give what God gave you a little boost with the thickness-promoting solution present in Bellisso. Whatever you need, Bellisso is geared to please.
Trust the reviews. 2798 customers have reviewed this product to a stellar end-result. This product has a rating that just can't be beaten, and positive reviews abound. The convenience and hair-loss preventing power of this product is what landed it a spot on our 11 best biotin shampoos list.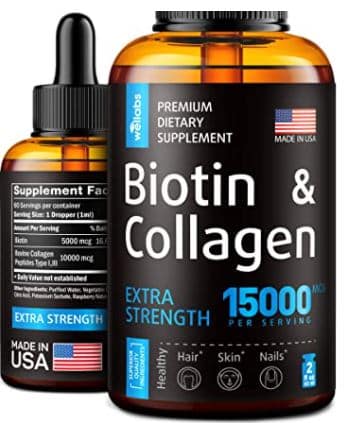 Now for something a little out-of-the-box. For our last listing, we thought we'd treat readers who stuck with us all the way to the end to a little industry secret: you don't have to buy an expensive shampoo to get the best out of biotin' hair-loss prevention qualities.
Wellabs's Premium Biotin and Collagen Drops are an unconventional, effective way to get the best of your hair without breaking the bank.
What it Brings to the Table
An unconventional hair-loss solution.
60 servings per bottle.
Hyper-potent nutrients in liquid form.
Collagen and Biotin in an easy-to-use dropper system.
Who's it Best For?
This innovative new biotin solution is best for money-savers who want to get the most bang for their buck. If you're quivering at that price- look twice. I quick examination of the facts here will reveal that this biotin solution is an excellent money-saver.
Let's do some math. Considering that you only have to take one serving daily for optimal results, 60 servings of this hyper-potent serum will last you two whole months. Longer than most shampoos, we assure you.
At the incredibly cheap price of only $20, this means each dose of Wellabs' biotin solution is only costing you 33 cents. So, for 33 cents a day, you could be getting thicker, healthier hair that will turn heads without having to worry about all these unneeded additives.
Ten bucks a month. How many services do you spend ten bucks a month on? Hulu? Netflix? What's one more if what you get is a comprehensive solution for stunning, thick hair that puts up a fight against father time? If you want an intelligent solution to your hair loss problems, try Wellabs.
Key Features
You could go into your bout with hair loss swinging madly and blindly with an unfamiliar shampoo, or you could go in with confidence. This biotin mixture is great for people who want to really hit hair-loss hard. It's efficient, intelligent, and simple to use.
This product's liquid form provides for the best possible absorption and bioavailability. Your body already takes on many of its nutrients in liquid form and is uniquely equipped to do so. Use the advantages your body has by working with its natural methods of absorption.
Free of soy, gluten, and GMOs, Wellabs' incredible solution is proof that you don't have to go peering through a microscope to create solid, working hair-loss solutions. For a brand you can trust, turn to Wellabs' efficient biotin drops.
7944 customers have trusted Wellabs Biotin Drops for a solution to their hair-loss nightmare, and these customers are what gives this product its 4 ½ star rating. With this intelligent solution to hair loss, you can bet that you won't be missing out on any possible advantages in your fight against a retreating hairline.
Things to Consider When Buying Biotin Shampoo
While buying a working Biotin shampoo may be the answer to your hair loss problems, keep in mind that personal health and well-being isn't just a matter of buying new products.
Diet
By eating a well-balanced diet, you can help fight hair loss in ways you never thought you could.
Biotin, or vitamin H as it's known in the medical world, is an essential vitamin that helps strengthen hair. Using a supplemental shampoo or dropper can help, but you can also help yourself by eating right.
Eggs, fish, meat, seeds, and nuts all have Biotin in them and can help you reach your daily biotin goals. If you really want to see results from your shampoo, incorporate some of these foods into your diet.
Adolescents and adults need around 30 to 100 micrograms of Biotin per day, and deficiencies in biotin intake can cause weak hair. Biotin shampoo can be a great way to up your intake, but don't forget to tend to your diet.
Shampoo Usage
Also, make sure to take a look at the recommended amount of shampoo to use per shower. Using too much shampoo can have detrimental effects on your hair and reverse some of your progress.
If you struggle with dandruff, consider that you might be putting too much shampoo in your hair. Too much shampoo means some of it doesn't get washed out, which means little white flakes falling from your hair.
Also, remember that the best way to get strong, healthy hair is to assemble an adequate hair-care regimen. Simply using body wash on your hair won't cut it (but of course, you know that).
If you really want to get the most out of your shampoo, pair it with a good conditioner. Many shampoos come as part of a bundle, with conditioner and perhaps a thickening solution included. These are a great deal and can help you put together a working hair care routine.
Also, remember that a huge part of your overall cost is going to be determined by how much shampoo you're using.
Imagine your favorite shampoo actually requires only a pea drop's worth to be effective. If you're using it properly, it may last you weeks or even months.
If you're filling you're palm with it and slathering your head. However, you may run out in a week or less.
Keeping your shampoo usage as low as possible is a great way to drive down costs and make your hard-earned money work for you.
Sales and Subscriptions
Another thing to consider is sales and subscriptions.
While biotin shampoos may be a bit more expensive than some other varieties, you can get the cost down by looking for the best possible sales and deals.
Amazon, for example, offers many discounts and free shipping for those who subscribe to its Prime program.
Most of the shampoo brands on this list were on sale at the time of writing, and sales continue throughout the year. So, no matter what your budget is, you can probably find a biotin shampoo that works with it.
Salon Recommendations
While you may like to think of yourself as an independent person, salon recommendations can be a spectacular way to find the right product for you. Just ask your stylist about biotin shampoo, and they'll most likely have the information you need.
Also, keep in mind that many people don't need biotin shampoo. Talking to your stylist can help customers find out whether they need supplemental Biotin or not.
Keep in mind that stylists are trained professionals who go through schooling or apprenticeships just like nurses, plumbers, and all other sorts of skilled laborers.
Don't overlook that well of knowledge. Next time you get your hair cut, ask your stylist what you can do about thinning hair and whether he or she thinks biotin deficiencies might be your problem.
Ingredients
Ingredients are something you do not want to overlook. From the good to the bad to the downright ugly, ingredients can seriously affect whether or not you trust a particular brand of biotin shampoo to answer your calls for help.
Most of the products listed here mentioned being sulfate-free. However, there are some products out there that contain this chemical, which can be harmful to your hair.
Sulfate is a common ingredient in household items such as detergents and is sometimes present in shampoo. Sulfates can damage hair by robbing it of its oils and leaving it without its natural texture.
Parabens are another nasty ingredient you'd do well to avoid.
Parabens are put in shampoo to keep colonies of bacteria from breeding. Somewhere around 85% of American hair products are supposed to contain these chemicals.
While they may work to sterilize your shampoo, they've been found to aid the growth of breast cancer cells and mimic estrogen. If you see the word 'paraben' anywhere on your ingredients label, you should probably get a new shampoo.
Formaldehyde is yet another scary ingredient that sometimes makes its way into industrial shampoo formulas.
Formaldehyde is a strong-smelling chemical commonly used in building products. Better it stays on the wood that builds your house than get all over your hair.
Formaldehyde has been found to cause DNA damage and cancer. It's so bad for you that the European Union has restricted the use of formaldehyde in hair-care products across Europe.
Unluckily, the US remains behind in this area. Formaldehyde is still available for use in shampoo across the United States and may be present in some of your favorite brands.
Finally, we come to triclosan, a truly nefarious intruder in the peaceful kingdom that Is your hair.
Triclosan has been linked to such horrid effects as abnormal cell growth, and abnormal endocrine system, and reproductive and developmental toxicity.
A scary list of possibilities, no?
To make matters worse, while triclosan was banned in anti-bacterial soaps years ago, it is still being used in shampoos across the nation. It is also one of those special chemicals that can accumulate in fat and keep you in a permanent state of toxicity.
To keep away from all of these harmful chemicals, make sure to buy products that explicitly mention being paraben, formaldehyde, and triclosan-free. Don't put your hair at risk- be safe when you buy.
You may have any number of questions about buying biotin shampoo, and we're here to answer them. Check out these five common questions to get the help you need.
What Is Biotin?
Biotin is a vitamin found in the foods we eat and the water we drink. It has several beneficial effects, including the promotion of strong, healthy hair. While most people call it Biotin, doctors know it as vitamin H.
What does Biotin Shampoo Do?
Biotin shampoo helps people who aren't getting enough Biotin by supplementing their daily intake.
Biotin shampoo contains high doses of Biotin, which can be absorbed through the skin. When your body has enough Biotin, it can use it to fight hair loss and strengthen your hair.
Is Biotin Shampoo Expensive?
Asking whether biotin shampoo is expensive is like asking whether the wine is expensive. Some brands can run you as much as $30, while some may cast as little as $10.
The above list contains a comprehensive guide to some of the best biotin shampoos on the market and will help you guide your biotin shampoo decision-making to get the best possible price.
Do I Need Biotin Shampoo?
It depends. If you're getting enough Biotin from the foods you eat, then no, you probably don't need a biotin shampoo. Extra Biotin in your diet is only effective if you already don't have enough, which most people do.
If you don't eat a lot of meat, eggs, or nuts, you may be at risk for a biotin deficiency. You can talk to your doctor about almost any vitamin deficiency, including Biotin, but it can't hurt to try a supplemental shampoo.
Biotin shampoos are such a great way to increase biotin intake because they take advantage of the skin's natural ability to absorb nutrients.
Why Do So Many Shampoos Contain Oils?
Natural oils are the way your hair keeps itself sleek and shiny. Oil also lubricates the outer layer of your individual hairs and helps strengthen their cores. By doing all of this, oils help protect your hair by fortifying it against damage.
Argan oil is often found in natural shampoos because it has a unique way of making hair shine. Other oils might be good for creating volume, moisturizing, or otherwise keeping your hair full and healthy.
Don't be afraid if you see an oil you're not familiar with in your shampoo. Oils occur naturally in hair and help it stay healthy. If you're really concerned, though, you can look up the oil in question to find out whether it has any detrimental effects.
All in all, hair loss and thinning are nothing to be ashamed of. They're a natural part of the aging process. If you really value your full head of hair, there are ways to keep at least some of it. By using biotin shampoo to increase biotin intake, you can help your hair retain some of its fullness and health, maybe even regrow.