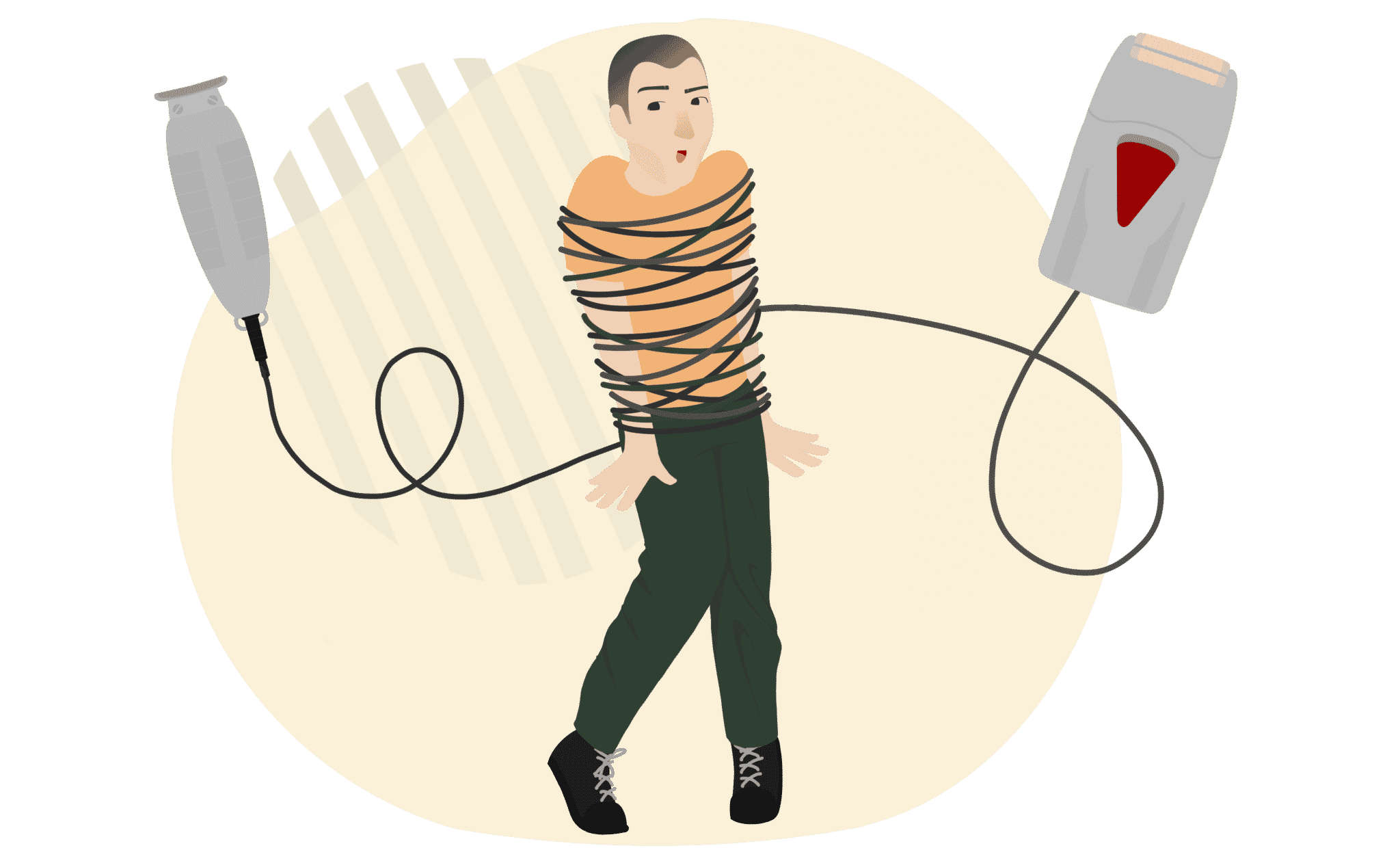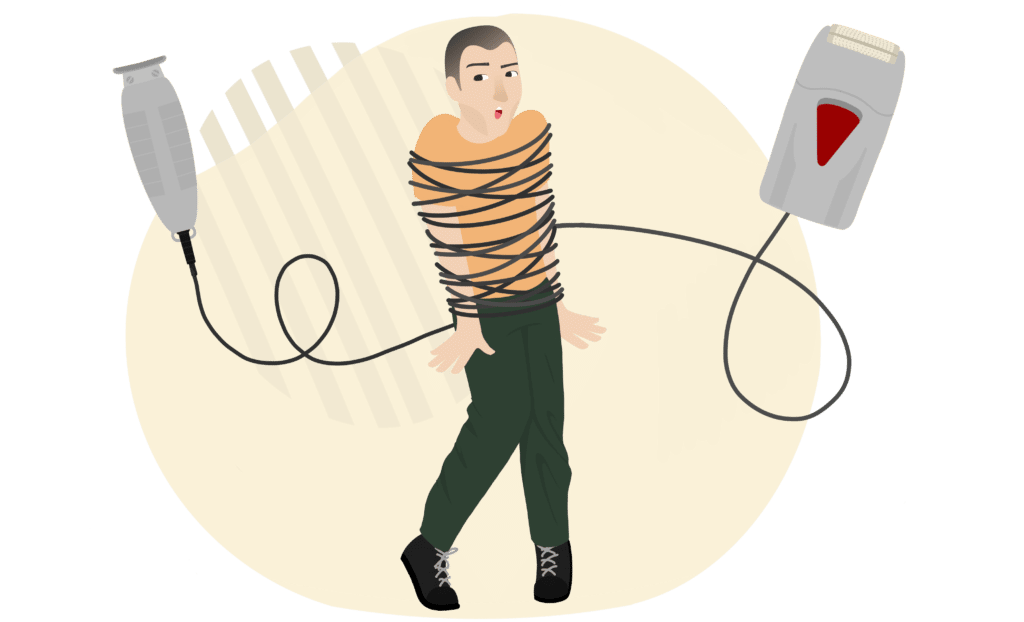 It's all part of getting older for a man. Sometimes, your hair starts receding little by little and you have to start thinking about how short you want your style to be all of a sudden.
No need to worry though, this is all part of the kind of mature style that many men have pulled off with some of the best hair shavers for bald heads. For those that are looking into finding the right clippers for the job, you've come to the right place.
Read on in this article to find 7 of the best clippers for bald heads and all the fine details on what makes them great. Also, you'll find some things to keep in mind when shopping around for balding clippers and a few frequently asked questions at the very end.
So let's get right into it and see the 7 best balding clippers for shaving heads that made our list!
QUICK OVERVIEW: Best Balding Clippers
Andis 04710 Professional T-Outliner Beard/Hair Trimmer

Versatile. Can trim beards and shave heads
Made for professional barbers to use

VIEW ON AMAZON →

Andis 17150 Pro Foil Lithium Titanium Foil Shaver

Perfect for shaving bald heads
Can be used corded or cordless

VIEW ON AMAZON →

Wahl Clipper Elite Pro High-Performance Home Haircut & Grooming Kit

Can be used for basically any kind of haircut
Comes with a bunch of accessories

VIEW ON AMAZON →

Wahl Professional 5-Star Balding Clippers #8110

Great control with its ergonomic grip
Long-lasting

VIEW ON AMAZON →

Oster Classic 76 Universal Motor Clipper

Very strong motor
Great design

VIEW ON AMAZON →

Andis 01557 Professional Adjustable Blade Master Hair Clipper

Adjustable blade
Made in the USA

VIEW ON AMAZON →

Wahl Professional Super Taper II Hair Clipper

Plenty of attachments and accessories
Fits snugly in your hand

VIEW ON AMAZON →
Best Balding Clippers That Cut Bald Reviewed

Andis is a well-known brand that boasts great and their T-Outliner is yet another great one that deserves its spot on the top of our list of best clippers for bald heads.
It has a powerful motor and can cut through hair easily. The T-Outliner is well worth the price and comes with plenty of extras to help make sure these will be the only trimmers you need to keep your hair looking prim and proper.
Specs
Blade Material: Carbon-Steel
Motor: Magnetic
Cord/Cordless: Cord
Weight: 11.2 ounces
Voltage: 120V
Who Is It Best For?
Men looking for balding shears capable of giving them a professional-looking cut that is versatile enough and can be used as a beard trimmer and works fades as well.
Key Features
The Andis T-Outliner can be used for all kinds of hair buzzing purposes like outlining, fading, and dry-shaving. So even if you're not going for the completely bald look, you have all the resources you need to for whatever style you'd like.
These balding clippers come with a carbon-steel T-blade which is good to cut all the way down to the skin cleanly with hardly any effort.
Don't be too intimidated by the carbon-steel either, they are powerful, but they're not going to tear up the skin underneath. Professional barbers use these because they're specifically designed to be powerful while also being precise in how they cut.
It is shaped to fit right in your hand comfortably so, even if you have a long hair trimming job ahead of you, you will hardly even need to take a break until you're totally finished.
The T-Outliner also comes with a heavy-duty eight-foot cord so you have plenty of room to get to all the contours of your head. It may not quite be the freedom of a cordless clipper, but you should have no trouble getting to all the spots you need to cut effortlessly.
Check out hundreds of customer reviews here on Amazon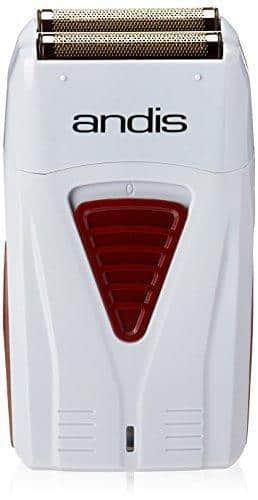 Yet another Andis product makes the list with the Andis Pro Foil Shaver. These cordless balding clippers are powerful and among the best for shaving heads.
These trimmers are quite popular and seen in barbershops and homes alike. They're easy to use and are made specifically for cutting your hair short so don't make the mistake of trying to trim your beard with these.
Specs
Blade Material: Titanium
Motor: Rotary
Cord/Cordless: Cordless
Weight: 3.2 ounces
Voltage: 240V
Who Is It Best For?
Men looking for a head shaver to smooth shave their head or cut their hair very short with powerful shears that will give you a clean and pristine look.
Key Features
The Andis Pro Foil Shaver is very lightweight and is easily one of the most mobile buzzers on this list. Only weighing in at 3.2 ounces, you'll hardly feel these clippers in your hand when shaving your head.
These are cordless balding clippers and have an 80-minute battery life to them at full charge. So even if you're not at full charge, you should have no worries getting the job done with plenty of time to spare.
Also, even if you're pressed for time, you can operate these clippers corded as well. You will never have to worry about a half-done haircut with these versatile buzzers.
The foil head is smooth and feels good on your skin but is subject to dings and damage if it's dropped. However, it is fairly inexpensive to find replacement parts, but you should still exercise caution with these balding clippers.
The rotary motor will give you a very close cut and powers these buzzers strongly. Those that tend to get ingrown hairs or bumps should be wary when using these but by no means are they completely out of reach to the more sensitive scalps.
The Andis Pro Foil Shaver is made pretty much for shaving heads and very short haircuts, so if this is what you're looking for, these clippers can definitely get the job done for you.
Check out hundreds of customer reviews here on Amazon.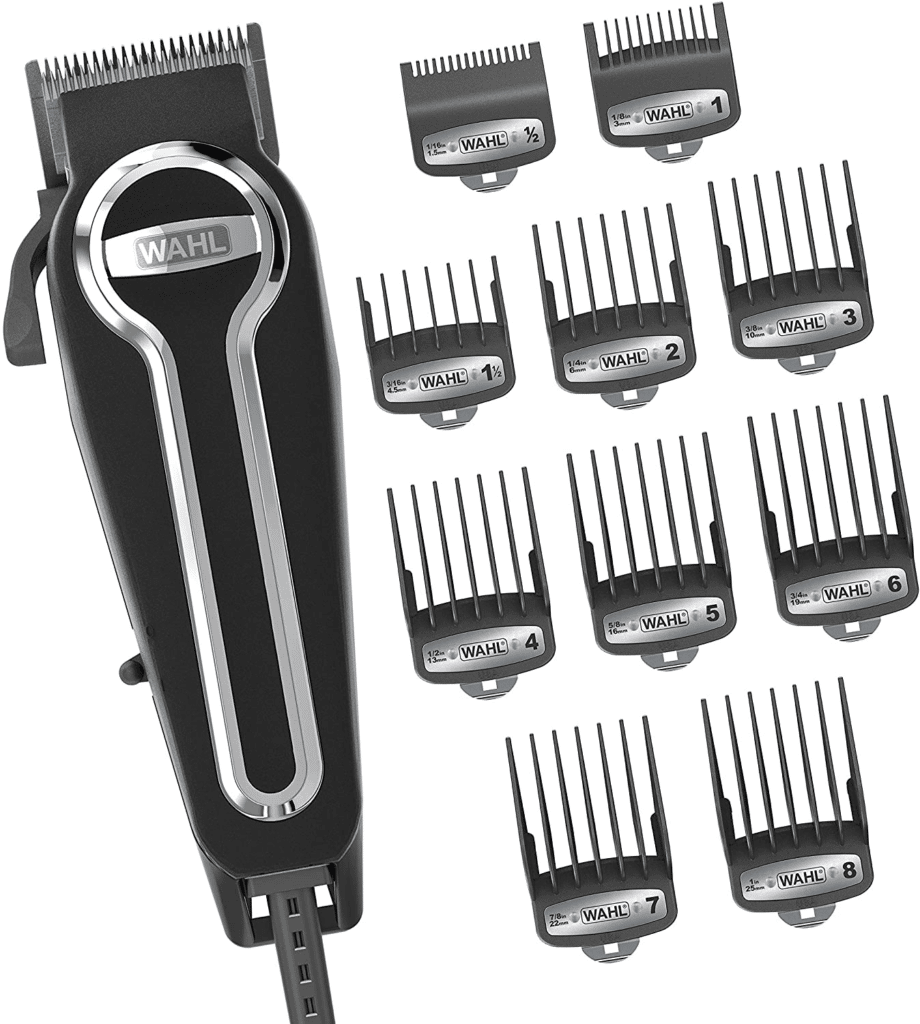 Coming off of number 2 on our list this one is enough to make your head spin with all the possibilities. This is the first you've seen of Wahl on this list but it will certainly not be the last.
This haircut and grooming kit has it all and works for shaving heads or simple trims. Whether your cutting long hair, short hair, or even trimming your facial hair, these clippers can help you out.
Specs
Blade Material: Stainless Steel
Motor: High Performance
Cord/Cordless: Cord
Weight: 2.5 pounds
Voltage: 120V
Who Is It Best For?
Men looking for all the options you could want when it comes to cutting hair. Whether you need a close shave or a short trim, these clippers give you all the choices.
Key Features
The Wahl Elite Pro Clippers feature stainless steel, self-sharpening blades so you never have to worry about them getting dulled out or rusty. It also uses an adjustable taper lever to make fades and blends easy.
These clippers are perfect for home use and could not only shave your head but keep your kid's hair short without getting it too short,
Its motor is durable and powerful and keeps nice and quiet even after long use. It comes with all kinds of attachments and accessories and despite all of that it is surprisingly affordable. This is definitely the best choice on the list for someone who wants the most value for their dollar.
Finally, these shears come with a limited lifetime warranty if you are using them for home use only. So even if you plan on putting a lot of miles on this one, you can always send it in for repairs and get it back as good as new.
Check out hundreds of customer reviews here on Amazon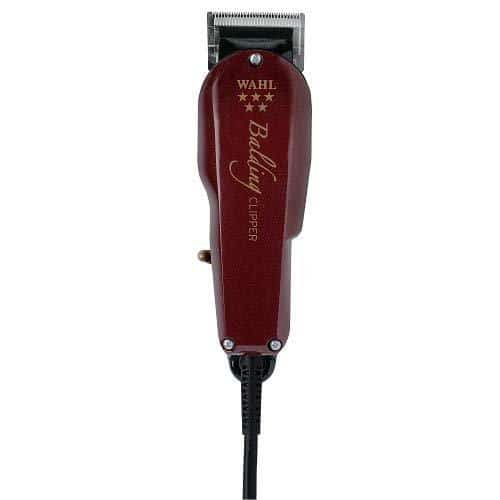 Sleek and stylish these balding clippers are simply among the best on this list. These are nothing short of professional-grade buzzers and they will give you about as close a cut as you can get.
The Wahl Professional 5-Star Balding Clippers are a little bit more expensive but are well worth the extra cash. You will be using these for years to come even if you use them every day!
Specs
Blade Material: Carbon Steel
Motor: Electromagnetic
Cord/Cordless: Cord
Weight: 1.3 pounds
Voltage: 120V
Who Is It Best For?
Men looking for a professional-looking shaved head with a long-lasting pair of stylish balding clippers.
Key Features
Using its powerful motor these balding clippers will shave your head with peak precision and leave you rubbing your hands over it all day out of admiration.
You can change up the cutting blade as well to any other Wahl blades you find. So, if you plan on sticking to this well-recognized brand, you will have plenty of options to keep your head looking exactly the way you want it.
These are corded balding clippers but with an eight-foot cord, you are certainly not sacrificing much mobility. You will have plenty of room to work around your head, even barbers have no trouble moving around with these.
You can buy these in two different varieties which are the kit and single-use. For those that are just using them at home, it's a good idea to go for the kit so you can get all the extra attachments that go with it.
The single-use is mostly for professional barbers that already have all that stuff on-hand. However, if you are one of those well-prepared men that have their hair accessories stocked, the single-use is certainly not a bad idea as well.
Check out hundreds of customer reviews here on Amazon.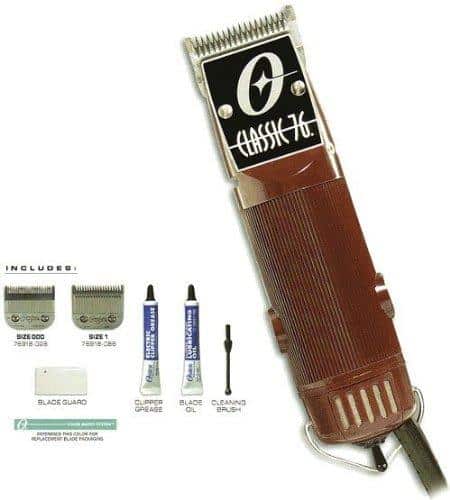 You may be thinking Wahl and Andis are just going to sweep this list but possibly the best trimmer for shaving heads is coming up with the Oster Classic 76.
Coming in with that old-school barbershop feel, these balding clippers are nothing short of stylish and can make you look just as good. These can be a bit pricey but if you have the cash these clippers will be everything you need. They come with detachable blade guards and a cleaning brush.
Specs
Blade Material: Carbon Steel
Motor: Universal
Cord/Cordless: Cord
Weight: 2 pounds
Voltage: 110V
Who Is It Best For?
Men looking for that back-in-the-day barbershop feel with a close and powerful cut. Also, if you're looking for a pair of clippers that is easy to change out blades, this is the one.
Key Features
The most notable feature is its Universal Motor which is unique to Oster clippers. You may be wondering where its extra weight comes from and it is mostly the motor. It blows most other balding clippers' motors out of the water and makes for a powerful shave.
The Classic 76 also features break-resistant housing to make it incredibly durable. It can survive drops and dings, which is great because a heavier buzzer like this one can be prone to some hard falls.
It is also a versatile pair of balding clippers and makes it easy to change out all kinds of blades and attachments. Great for cutting through thick hair all around your body, the Oster Classic 76 can help you out in many ways.
For those on a budget, we would recommend checking around for a used one if you're really set on this. It comes with a hefty price tag on Amazon but is well worth it based on its features and how long-lasting and durable it is.
Check out hundreds of customer reviews here on Amazon.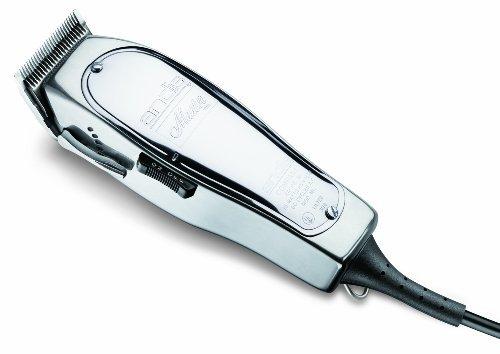 Welcome back Andis and welcome back with possibly the best clippers for shaving heads of the Andis options on this list. These USA made high-speed buzzers will be beautifully efficient when it comes to shaving your head.
It is a bit on the heavier side but it fits well in your hand and, we promise, it looks even shinier in person.
Specs
Blade Material: Carbon Steel
Motor: Magnetic
Cord/Cordless: Cord
Weight: 1.25 pounds
Voltage: 120V
Who Is It Best For?
Men looking for a shiny pair of balding clippers that offer a surgically close shave. For those looking for some adjustability as well with the blade.
Key Features
The motor on this one can pull off an impressive 14,000 strokes per minute. This is certainly on
the high-end of most buzzers and will make it that much easier to cut through your hair with ease and finesse.
There is basically no chance these trimmers will pull on your hair at all and you'll see smoother fades as well with the fast strokes per minute.
Plus, you can use this on facial hair as well for one of the smoothest shaves you'll experience. These balding clippers can handle your whole face and make you look like you came fresh out of a barbershop.
Many users of these clippers will call it a considerable upgrade over the T-Outliner Clippers mentioned at the top of our list. It certainly looks the part and with the extra strokes per minute, it is hard to argue with these believers.
The attachment combs are easy to attach and replace and this balding clipper's weight is by no means super light but holds a nice middle ground between the lightest and heaviest clippers on our list.
Also, its adjustable blade can be changed from fine to coarse sizes and could also be zero gapped if you need it.
Check out hundreds of customer reviews here on Amazon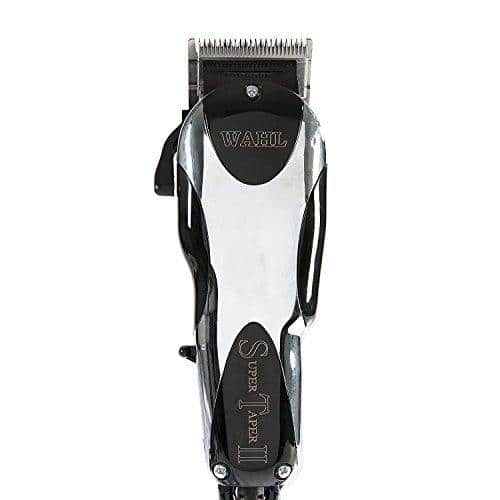 Rounding off the list of best hair clippers for bald heads is yet another from Wahl. The Professional Super Taper II comes up last on the list but remember these are listed in no particular order and these clippers are by no means the worst.
With a sleek chrome color and unique shape that fits well in your hand, these clippers are a great pair to keep on your shelf.
Specs
Blade Material: Carbon Steel
Motor: Electromagnetic
Cord/Cordless: Cord
Weight: 1 pound
Voltage: 120V
Who Is It Best For?
Men that have sensitive skin will find these balding clippers great because they cut hair a millimeter above your skin.
Key Features
The Wahl Professional Super Taper II boasts a precise haircut experience and its blade works well even with thicker hair. Its powerful electromagnetic motor makes it perfect for tapering, cutting, blending, and fading.
These balding clippers also come with a side lever you can adjust to get a cut anywhere from 1mm to 3mm. Not as close as some may want it to be but will certainly leave you with a very close cut to the scalp.
It comes with plenty of accessories and attachments that you can use to get exactly the style you're looking for. Also, it comes with an eight-foot cord which makes for plenty of maneuverability and will fit into your bathroom just fine.
Only weighing in at one pound, these clippers will be plenty comfortable for even those who like taking their time with their haircuts as well.
Check out hundreds of customer reviews here on Amazon.
Things to Consider When Buying Balding Clippers
There's a reason that balding clippers are best used by professionals. There are a lot of factors that go into what makes one pair of balding clippers better than some others. For this section, we'll go through some important things to keep in mind when looking for the right balding clippers for you.
1. Using Balding Clippers
Using balding clippers is not the hardest thing in the world. For most clippers, you just turn them on and run them over your hair but it is important to keep these things in mind when using them to make sure you get the best cut you can.
Make Sure Your Hair is Dry
This isn't entirely necessary but absolutely helps in making sure your buzzers don't get rusty or, if you have thicker hair, it doesn't get snagged in the blade's teeth.
You can cut through wet hair with scissors, in fact, some hairdressers prefer scissor-cutting wet hair. However, when it comes to shaving your head, it is better to cut your hair dry to keep your clippers in working condition for the long-haul.
Be Sure to Check the Back
Unless you trust your significant other or one of your kids to tell you if the back of your head looks good, we would suggest getting a second mirror to check and see if you missed any spots in the back.
Plenty of men miss spots behind their neck and ears. A good way of checking these spots out is holding a mirror behind you while looking into one in front of you so you can get a good view of these hard-to-reach spots.
You could also take the technological route and take a picture of the back of your head with your phone. It might take a few shots but it can be a lot nicer than holding up a mirror for a while at a pretty awkward arm angle.
Of course, you can always do it the old-fashioned way and feel around the back of your head. If some spots feel a bit thicker than others, you might want to give them a little extra attention.
Don't Forget to Clean the Clippings
No matter how short your hair is, there's going to be clippings all over the floor once you finish up. These are probably the quickest way to dirty up your floors with a mess that rarely gets totally cleaned.
Some men choose to do it in the garage or just outside so the clippings can be swept up easily or just float away in the breeze. Others will clean up their hair in the shower but unless you have the drainage system for this, this can be a bit of a risky method.
2. Cleaning and Maintaining Balding Clippers
One of the most overlooked things that balding clipper owners don't do. Most of the clippers displayed above will come with some accessories that you use to clean them. This is absolutely necessary if you want them to last long at all and here's how you do it.
These brushes are stiff-bristled and dry and can get dead skin and hair clippings that will accumulate on your clippers' cutting blades.
After a while, these tiny hairs and dead skin follicles will clog up your balding clippers and make them overheat or just become unusable. Most barbers will tell you you should run the dry brush through them after every use but you can probably get away with cleaning them every other use as well.
If you're planning on using balding clippers often, it is certainly important that your blades stay nice and oiled. Well-oiled blades are the difference between a close, clean-cut and a messy cut that can look patchy.
Again, most will recommend you oil your blades before every use but most will settle with doing it once a day. Of course, this is only something you need to do if you plan on using these regularly. Even if you don't you should still do this after every couple of uses to keep the blades running smoothly.
Oiling cutting blades is an easy process, all you have to do is add around five drops of oil underneath and to the top of the cutting edge with the power turned off. If your clippers have a lever, move it up and down to make sure it's nice and smooth and you're good to go.
Blade cleaners aren't entirely necessary but those that use clippers every day will tell you they are well worth it to keep it working in great shape. These cleaners keep your blade from rusting or dulling and keep your clippers working like they're brand new every time.
The blade cleaner you use will depend on the clippers you buy and, most of the time, they will come with them as an accessory or be available at that brand's store online.
3. Balding Clippers Vs. Hair Clippers
Balding clippers and hair clippers operate very similarly and are very often mistaken for one another. Sometimes, balding clippers will even have hair clipper attachments and vice versa. So, if you are looking for balding clippers specifically, let's clear up the distinction right here.
Balding clippers differ from hair clippers because they do not come with comb attachments that are made to cut hair at multiple lengths. They also usually have motors that are more powerful so they can cut hair very finely.
These clippers are meant to cut hair to a millimeter or less and they are the best trimmers for shaving heads without any razor bumps, ingrown hairs, or irritation. Using a razor to shave your head usually causes these irritations so balding clippers help for those that do it many times.
Also, because balding clippers are meant to work across your scalp, they typically will have a wider cutting blade so you don't have to pass over your head as many times. Professional barbers love this feature because of the time it saves.
Hair clippers are much more commonly seen as pretty much any man who gets his hair cut short will have seen these before. They usually have a lever on the side that adjusts their cutting blade for different hair lengths.
You can put attachment combs onto it to cut fades and other kinds of styles that balding clippers aren't really meant to do. Hair clippers also feature a narrower cutting blade that is meant for more precise cuts.
Hair clippers can get very close to the length that balding clippers can achieve but will at least stay above 1 millimeter. Much like balding clippers though, you will sometimes see attachments that allow you to use hair clippers like balding clippers and that is where we believe a lot of the confusion stems from.
4. Cordless Vs. Corded
Both have their benefits and drawbacks but this is a fairly big distinction between balding clippers and can be a big selling point for some.
● Cordless
Cordless balding clippers are great for people that need to take their clippers on the go as they are usually much lighter and take up less space. Also, there is no need to worry about outlets or the cord getting wrapped around you because you can freely maneuver these clippers around however you want.
Of course, these clippers do not offer the same kind of power that corded clippers do. The batteries will eventually die on you and, even if it is rechargeable, you will notice a difference in power once the battery gets low and it can take a while to charge it back to full power.
Corded
Corded balding clippers usually have better cutting performance because their motor is being powered directly by an outlet rather than batteries. The results are consistent because the power going into it is consistent.
The drawback to these is of course their mobility and the cord itself. If your bathroom doesn't have outlets close by, corded balding clippers are going to be a problem. Plus, the cord itself can get wrapped around you easily and can get annoying very quickly.
5. The Motor
There are all kinds of motors that differentiate balding clippers and going through all of them could be a whole article in itself. So, for now, we'll stick to some of the three fairly common ones and tell you the benefits and potential drawbacks of each.
Rotary motors only use a one-speed setting and are a powerful yet common motor that has been used by balding clippers for a long time.
They typically run cooler than other motors and are great for cutting through thick hair without bogging down too much. You will very often see these used in cordless balding clippers. Although, they tend to have a short lifespan and could quit on you after a lot of use.
The not so distant relative of the electromagnetic motor, these motors are very popular in barbershops. The magnetic motor gives you a blade speed much higher than most others that will make it much more unlikely hair gets tugged or pulled when cutting.
It is ideal for fades and cuts that require less power. They last you a long time if you use them sparingly and they are more of a motor for finesse rather than strength.
Similar to the magnetic motor, the pivot motor is also powered by electromagnets but does not have a spring. This results in a lower blade speed but their power is almost double that of magnetic motors.
This motor makes cutting through wet hair easy and, if you are a stylist, you could possibly use a trimmer with this motor every day. They last a while but are best used for simple cuts and are prone to snags if you're not careful.
6. Price
For the most part, quality balding clippers will go for around $60. You're pretty safe if you find one around this price if it is from a trusted brand and has a few attachments and cleaning accessories coming with it.
Balding clippers over $60 should always come from a top-brand and have plenty of goodies to go along with it. These more expensive clippers are usually made for professionals or long-term use so you should only go after these if you plan on getting a lot of use out of them.
For those on a budget, clippers that go below $50 tend to get fairly suspect. Some sacrifice motor integrity or could be used already and may not go the distance. If you plan on using bald head clippers sparingly, you might be able to get away with some cheap ones but keep in mind the reason they're being sold cheap.
7. Trimming Length
The biggest difference between balding clippers and hair clippers is the trimming length. For those that are looking for balding clippers, this length should be 1 millimeter or less. Anything above 1 millimeter and you won't quite get the look you're going for.
On the other hand, if you just want a nice fade you may be better suited to hair clippers or a balding clipper with an attachment that goes above the 1-millimeter mark. Using attachment combs will give you plenty of variety if you'd like to be spoiled for choice as well.
Frequently Asked Questions About Balding Clippers for Men
Now that you've seen our list of best balding shears as well as plenty of things to keep in mind when shopping for a pair, let's answer some FAQs before you head out.
1. For Cordless Balding Clippers, How Long Do Rechargeable Batteries Last?
Most cordless balding clippers will come with a lithium ion battery that usually is good for around 80-90 minutes.
However, if you use these a lot you'll begin to notice that the batteries themselves will die a lot quicker after a while. This usually takes a few years though, so you won't have to worry about replacing the battery for a while.
Cheap rechargeable clippers will sometimes have old or low-performance batteries in them and these vary pretty wildly with charge time. Sometimes they last an hour, others could go for only 30 minutes before they need another charge.
2. What is the Ideal Blade Width for Balding Clippers?
Really it is entirely up to you and the clippers what blade width works the best because it is a combination of cutting efficiency and how easily the blade glides across your skin.
If you go with a wider blade width, it can make cutting larger areas like your head easier but those hard-to-reach areas like your neck and ears will be a problem. Smaller blade widths are great for those areas but will take a while if you want to shave your whole head.
Most will say something around 1.5 inches is a nice compromise for blade width but, again, it is entirely up to what kind of clippers you use and how you use them.
3. What Are the Top Balding Clipper Brands Out There?
You've seen a few of them on this list but brands like Wahl, Andis, and Philips Norelco are among the most well-known and respected balding clipper brands out there.
As to which one is the best for you, well that depends mostly on you. All of these brands sell a pretty wide variety of clippers and are accessible with replacement parts. It's a good idea to do a little research and see which one gives you the best prices and accessories on the clippers you're looking for.
4. What are Attachment Combs and Are They Necessary?
Attachment combs are basically different attachments you can put onto your clippers that will cut your hair at different lengths. If you're looking to cut your hair only one length, then attachment combs really aren't necessary to keep around.
However, it is quite nice to keep these around in case you have kids and want to easily cut their hair to the length they like. They are easy to take on and off and do not really add too much to the price tag either.
5. Are Self-Sharpening Blades Really Worth It?
Self-sharpening blades are a nifty feature that not a lot of balding clippers have but they shouldn't be the deciding factor on whether you should get one clipper or another.
If anything, the motor and keeping the blades clean is much more important to the blade's livelihood than sharpening them. So if the price of a certain balding clipper is jacked-up significantly because of self-sharpening blades, it is not worth the extra money.
6. What Is An Ergonomic Handle?
Something that is ergonomic means it is designed for comfort if you're using it for a long time. An ergonomic handle on a pair of balding clippers means that they fit snugly into your hand and won't cause much discomfort.
It is great to have one of these kinds of clippers if you're working in a barbershop or are looking to cut more intricate hair designs. However, if you're using your hair clippers for more quick and simple purposes, you can get away with a more standard handle.
7. Can I Find A Waterproof Pair of Balding Clippers?
Most balding clippers will offer you some kind of waterproofing so you can clean the blades and use them to cut wet hair if necessary. So yes, you are more likely to find a pair of waterproof balding clippers than a pair that isn't.
Do not try to cut your hair while the shower is running or anything like that though, you could risk getting badly shocked if the cord gets wet. Most balding clippers won't be affected by water, but that doesn't mean using an electric shaver or an electric razor in running water is a good idea at all.
8. What Do You Have to Do to Keep A Balding Clippers Blades Sharp?
Keeping your blades sharp is necessary to keep yourself from getting hair snags or having to replace your balding clipper's blades a bunch of times.
First and foremost is to clean them properly using the brush and blade oil mentioned above. This will keep the blades from corroding or getting dull after a lot of use without even having to take them out to sharpen them manually.
Carbon-steel blades can be particularly needy but it is well worth it because these are the best blades you'll find. They will corrode quickly after using them, so try and keep them dry and free of any dead skin or hair clippings and your blades will stay plenty sharp.