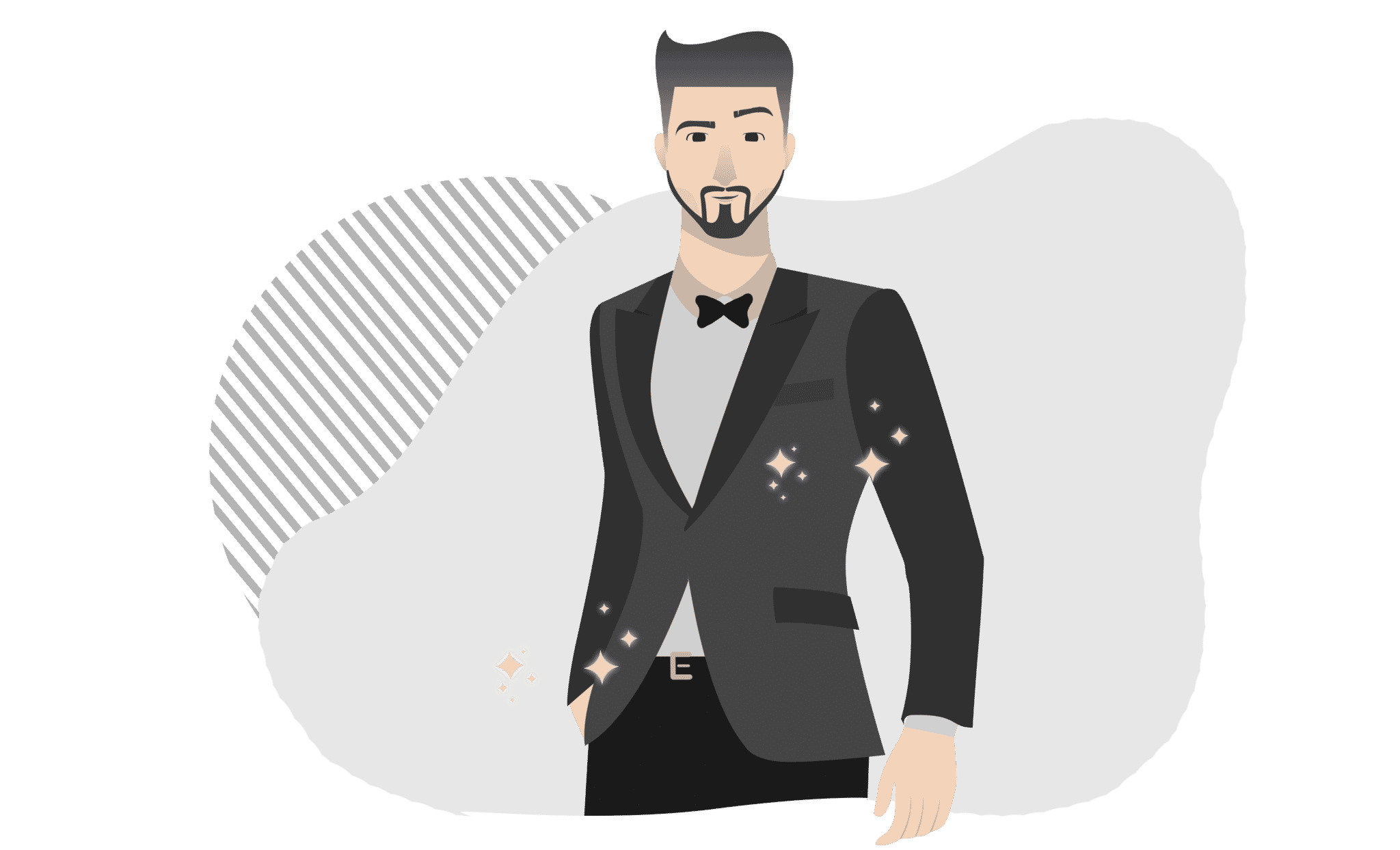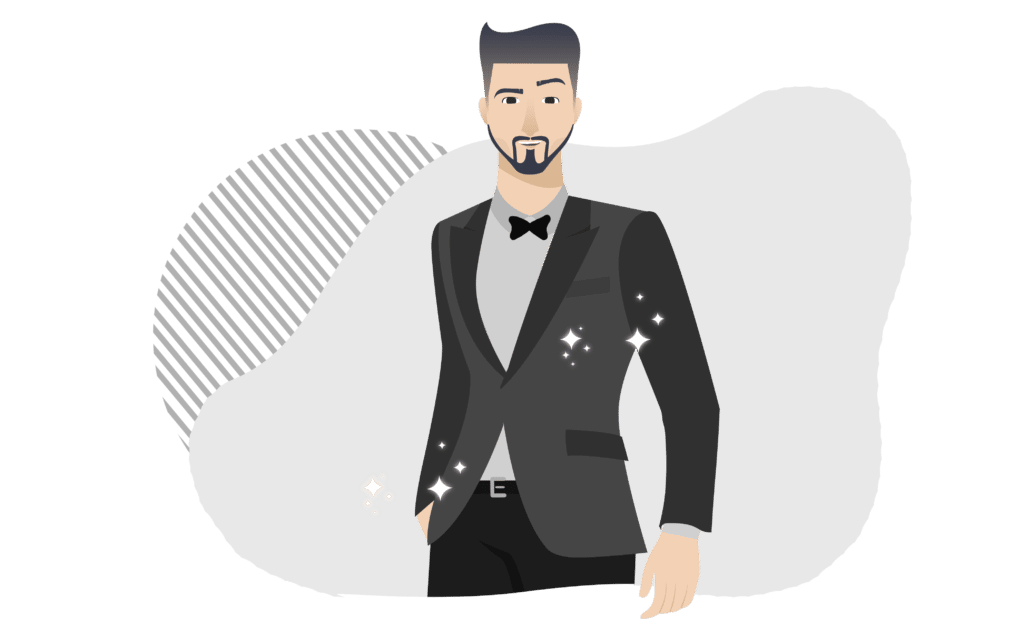 Now, we all know a stylish blazer is a non-optional part of any man's wardrobe. It completes him, announces him, enunciates him.
But which blazer is best? In this article, we'll shed some light on the subject, taking a good look at the best blazers for men.
We hope buying the perfect blazer is a velvety-smooth process for you after reading these fashion tips.
We've combined fashion, utility, and manageable price points to bring you these fabulous choices. Think of us as your personal butler- sir, not that one!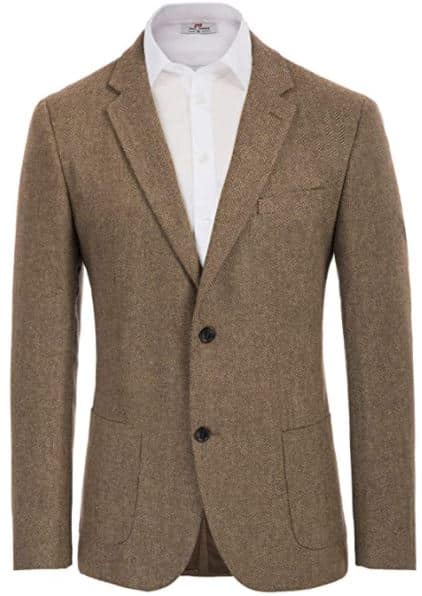 Good God, Tweed. If you've got images of Sherlock Holmes smoking a goofy little pipe in your head, get them out. Combine a sophisticated, understated tweed with a fine collared shirt, and what you get is the perfect recipe for a successful night out.
Tweed is the perfect way to peacock: it's unique, subtle, and demonstrates style-sensitivity that can't be matched in other fabrics- and the Men's Herringbone is a spectacularexample.
What it Brings to the Table
80-20 polyester to wool ratio.
Four color choices.
Inner chest pockets.
Sawtooth line pattern.
Who is it Best for?
Men, if you're looking to draw eyes instead of fingers, the Men's Herringbone Tweed is a good way to dazzle without embarrassing yourself.
This blazer is best for the office, the boat, the bar, a date; a businessman, a teacher, a student, or a vacationer. Across the board, any man can use tweed to unparalleled results. And at such a low price, why not?
If you're looking for a lounger, a piece for a formal occasion, or something to catch some eyes at the bar, this is the blazer for you.
Key Features
Odds are you've probably made a few less-than-stellar memories with wool. Though the days spent scratching your red, itchy neck in the church-sweater your grandma bought are ill-recalled, they shouldn't keep you from a comfortable wool mixture.
Through a silky 80-20 cocktail of wool and polyester, the Herringbone keeps you itch-free for whatever auspicious (or utterly un-auspicious) event you may be attending.
Inside pockets are nothing to scoff at, either. Keep a nice zippo lighter at your left breast- the black one- and use it to light the cigarette of the lady on the balcony. It'll be our secret.
Or, you know, just your phone and keys. With a total of four pockets, inside and out, you've got adequate storage space.
Finally, the mesmerizing sawtooth pattern is sure to keep eyes fixed on you. The zigzags have a unique optic effect, simultaneously enunciating the form of the wearer underneath and drawing the eyes up to the face.
Cut out all the poetry, and what you have is a flat-out beautiful suit for cheap. You'll thank us later.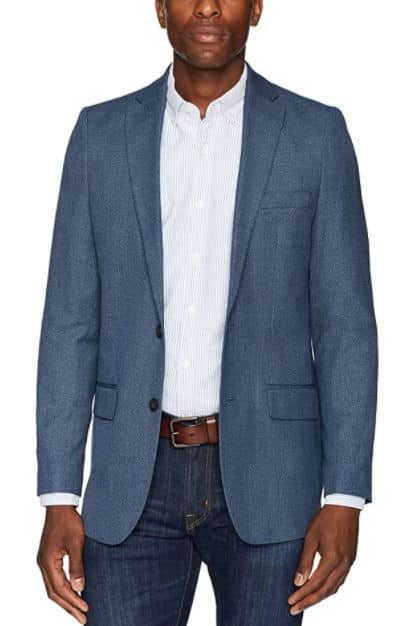 This men's blazer is another understated way to make an impression. The slim fit and slightly raised sleeves compliment your form, and that viscose fabric is not only thoroughly modern but dastardly smooth as well.
The Haggar Men's Birdseye is perfect for casual or business-casual events, and can be worn again and again with an assortment of shirts, formal or flowery.
What it Brings to the Table
66-34 polyester-to-viscose ratio.
Breathable side vent.
Notched lapel.
Four-button sleeve.
Who is it Best for?
This suit is the best fit for guys looking to make an impression without rocking the boat. The polyester-viscose fabric is soft and comfy and fits right in with the understated styles of the day.
But understatement doesn't have to match understatement. The neutral, largely pattern-less combination of subtle blue and flecks of white can compliment even the flashiest of shirts. For this one, a good floral would work well.
If you're the kind of guy who switches back and forth between formal and flamboyant, you'll find a great friend in the Birdseye.
But in terms of men's jackets, this one is uniquely permissible. So, even if you prefer to keep your head down and stick to the tried and true straight-shaves and white shirts of your father's day, this will be something you can work with.
Key Features
This suit is a lot like a Ferrari with shocks built in. It's got style to catch attention, and utility to keep you out and about.
This blazer features side-vents to cool you down as you make your way around town, or around the living room. Too many suits act like hothouses, building up temperature to unbearable levels. The Birdseye is a great men's casual blazer for keeping sweat levels down.
Two-button sleeves harken back to the glory days of the suit jacket and draw the eyes outward and toward the midsection.
According to many customers, this blazer's slim fit is what's earned it a five-star rating on Amazon. The slim fit is optimal when buying suits online because it doesn't require tailoring. Think of slim fit jeans- do you think those guys at the coffee shop have tailors, or do they just buy them that way?
This slim-fit suit is sure to provide you with just the edge you need to really dazzle at your next occasion.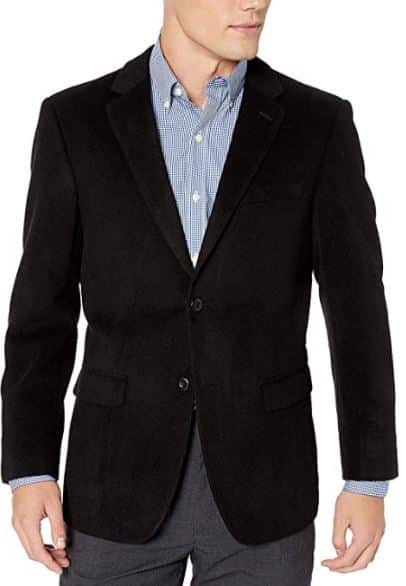 With a standout blend of wool and cashmere, you're sure to make a splash in Prontomoda's Cashmere Sport. Although it's not pure cashmere, it might as well be. This suit's soft exterior is an appealing addition to any outfit, and the collar won't rub at your neck, despite the wool mixture.
According to reviews on the product, Prontomoda's tailoring is unmatched- you might not even have to get it fitted. If you're looking for a real dazzler, this is your men's blazer.
What it Brings to the Table
A comfortable 95-5 wool-cashmere mixture.
Hand-tailored stitching and lining.
Lamb's wool.
Dual side vents.
Who is it Best For?
This suit is a spectacular fit for a fancy bachelor party, a cocktail party, or a poker night. If you've got a more formal-leaning event coming up, consider the Prontomoda.
Restaurants with dress codes wouldn't dare turn down a man in such a tasteful little piece. This suit reminds one of those old black-and-white Italian films with the classy men and their cigarettes, the busted balconies, and the high-society cocktail parties.
Guys looking to impress on date night might also find themselves giving this men's blazer a thank-you kiss. The soft, breathable fabric keeps you sweat-free and provides a tempting surface for a loving arm.
Key Features
Just like the previous selection, this casual blazer offers both formal and informal style for almost any occasion. And with a breathable design, you won't have to worry about sweating up a storm and staining your nice white undershirt.
Four buttons on each sleeve provide a brilliant punctuation mark for the arms, pronouncing your form. These compliment its dual flapped pockets around the waist, to create a very bottom-heavy geometry that's enough to stand out all on its own.
Although the price may seem steep, it's really not. The reviews speak the virtues of the Prontomoda's reasonable pricing and are especially trustworthy considering cashmere jackets commonly cost around two-to-three times more than this little beauty.
If it's classy, classic cashmere you want at an affordable price, the Prontomoda is really the best you can get.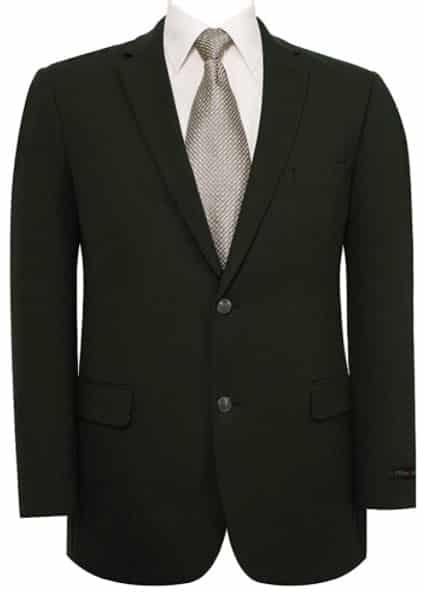 For formal occasions, this blazer is a real showstopper. With its classic, traditional design, the QSYJ Men's Stretch Blazer will truly show out at a business meeting, interview, or any other formal occasion. With a piece like this in your closet, you'll never have to go hunting for good formal wear again.
This flexible, breathable blazer is everything you need and more in a jacket.
What it Brings to the Table
A flexible 66-32-2 ratio of polyester to viscose to spandex.
Outer and inner pockets.
A diverse range of colors and sizes.
Spectacular flexibility.
Who's it Best For?
It's probably best to hide this little jacket away, taking it out on the odd special occasion. Prom, interview, or business meeting, with this blazer in your inventory, you'll be ready for anything.
Prom-going young people will find the mixture of rayon, polyester, and viscose both aesthetically pleasant and easy to move in. Don't let a stiff tux slow you down; the QSYJ is a great choice for anyone who wants to keep moving.
The sleek, old-school design is reminiscent of the Wall Street sharks of the eighties and is sure to impress any interviewer. Pair this suit with a decent shirt and a straight trim, and you'll be making impressions all over town.
Finally, if you've just got to show up your colleague at a business meeting, this is the blazer for you. The off-colored buttons, paired with a matching tie, will draw a nice visual line right down your center- an extremely pleasant optic effect.
Key Features
As we mentioned above, this suit is the first on our list to feature a spandex component in its fabric.
Added spandex increases the suit's stretchiness and allows the wearer a greater range of motion. Whether bending down for a briefcase or reaching back to bust a move, you don't have to worry about tears.
The extremely wide range of colors means that you can create a collection fit for almost any formal shirt. Can't find a good match for that beautiful gold button-down you have? Try the burgundy.
The suit's Viscose Rayon component adds a silky touch to the fabric- so irresistible, you'll be running your own hand down your sleeve. And at such a low price? It's a no-brainer.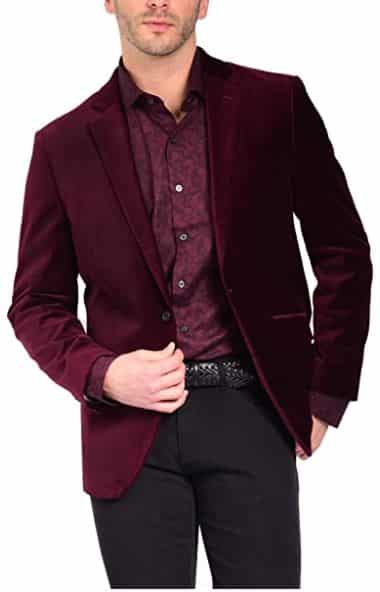 Talk about eye-catching. In terms of casual blazers, this jacket is the equivalent of a song that gets stuck in your head. You, and everyone else, will be thinking about it all night. A blazer like this is really only for the bold, but everyone will feel great in the smooth, silky velvet exterior.
So, if you've got the courage to stand out like this- why not? Craft & Soul's Slim Fit Velvet Blazer takes center stage anywhere it goes.
What it Brings to the Table
Stunning velvet exterior.
Regal burgundy color.
Silky-smooth fabric.
Floral inner lining.
Who's it Best For?
I had one of these when I was a kid, and my girlfriend would get mad at me every time I wore it. I like to think it was because I looked so suave- you can be the judge. If you're sick of the classic, strait-laced suit choices, this little blazer might just satisfy you.
With a floral inner lining, this jacket is beautiful inside and out. Whether you're buttoned-up and looking formal, or letting loose and hanging out, you can be sure that every inch of your ever important outer layer will exude style.
Going to a themed club or party? This suit has a sort of retro feel to it, harkening back to the days when blazers were cool and creative but didn't try too hard. It's the perfect combination of in-your-face style and color and calm tradition.
If you want something that will make a splash and stand out, throw on a Craft & Soul, and get ready to catch the room's attention.
Key Features
You simply can't beat velvet. With its regal, stand-out burgundy splashed tastefully on an enticing, smooth exterior, this suit is unafraid to announce the wearer's presence in a room.
Not only does this suit exude a certain exotic air, but it's also imported, so the impression is a genuine one. Having an imported suit is a great conversation piece, and imported fabrics are often high-quality. Imported wine, imported suits- that's the ticket.
Its long, bold lapel runs straight from the neck to the mid-section, drawing out the torso and emphasizing the wearer's top half. The high notches give off a retro impression you just can't beat.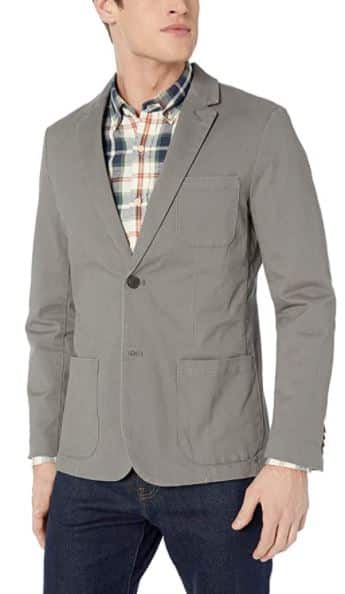 Twill- it's the calm, collected intellectual of the world of fabrics. Some may call it somewhat dull, we prefer the term, "modest." A good casual twill blazer will get you through a night out, a dinner party, or a class while still making a good impression.
The Goodthreads Men's Twill Blazer is the perfect combination of subtlety and style. If worn right, people might not even notice you're wearing a suit jacket. They'll just know you as the guy with the dapper getup.
What it Brings to the Table
Understated but sophisticated style.
Cool material.
Expansive size-range.
Durability.
Who's it Best For?
Look at that suit, and tell me- who would it go best on? Don Draper in Mad Men? Or Robin Williams in Good Will Hunting?
This suit is our last suit's intellectual, yet stylish twin. With its understated mix of style and class, this suit is perfect for professionals who want to put the finishing touches on their outfits without blowing anyone's hair back.
It takes a lot to be cool without forcing it, and that's why Goodthreads' Twill made this list. In a suit like this, you can be sure you're looking good without attracting too many looks- just the important ones.
Key Features
This suit really packs a punch for how little it stands out. It may lack the evocative fabrics of the previous pics, but the cut is beautiful and the standout lines running down the torso bring out the wearer's chest and arms.
If you've ever had a suit like this, you've probably not even considered the possibility of it tearing. Twill fabric has the durability to rival the likes of leather and looks great. Wear twill wherever you go- the beach, around the house, or to class- and it'll last you years.
Whereas the velvet of our last pick could, admittedly, get a little sweaty, this fabric is light and breathes well. The blazer's cut also includes side-vents for high aeration.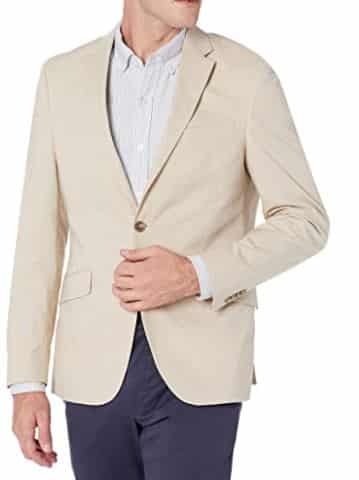 Unlisted by Kenneth Cole is yet another classy and understated addition to our list and a great way to cap off the low-price end of our list. See yourself standing in the sun somewhere, with a drink in your hand and a beautiful white blazer draped over your shoulders. When you're picturing this, I hope for your sake you're picturing Kenneth Cole's Unlisted Slim.
What it Brings to the Table
Elegant off-white fabric.
Spandex-infused fabric-mixture.
Slanted flap pockets.
Perfectly matched brown buttons.
Who's it Best For?
This suit goes great with a lazy Sunday afternoon or a relaxing summer day. If you're looking for some bright and sunny attire for a vacation or something to wear to a party, you've found it in Unlisted by Kenneth Cole.
The breathable, spandex-infused material provides for excellent range of motion, and the ventilated sides keep you cool on the hot summer days you'll be best to wear it on.
If you're someone who loves to look good while keeping it casual, you'll love this blazer. It's got elegance and a touch of style, and extremely high potential when it comes to mixing and matching with undershirts.
Key Features
The Unlisted by Kenneth Cole combines the best of two worlds- sophistication and modesty. Walking around on a summer day, you'll feel you both stand out and fit right in. For a really delightful pairing, try it with a collarless shirt.
The slanted side-pockets introduce a fairly interesting geometry to the blazer, giving it the ability to emphasize the wearer's midsection. The clean-cut cuffs are pronounced by these subtle little additions and really get their own voice.
Coordinated pattern lining means the suit's makers were careful to pay attention to how the eye moves across the suit and take advantage of that. The coordinated, straight hems are extremely pleasant to look at.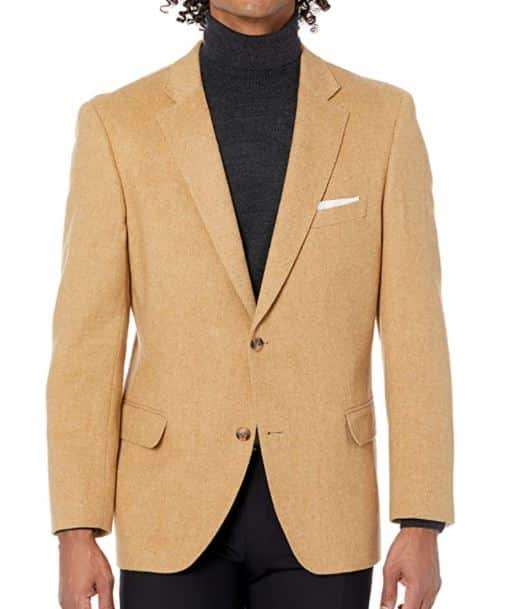 Moving into our higher price range, we have the Palm Beach Camel Hair by Palm Beach. This is a wonderfully elegant blazer with exotic and classy undertones. The color reminds one of the striking sand dunes of a place like Dubai or Bahrain. With all this luxury wrapped around your shoulders, you'll probably feel like you're on vacation in one of these beautiful sun-drenched countries.
What it Brings to the Table
Unique fabric.
Evocative color.
Excellent insulation.
Classic fit.
Who's it Best For?
This men's camel hair blazer is best for anyone who wants to make a great impression. It's stylish, exotic, and goes along well with many undershirt choices. Whether you're attending an after-party, going to an interview, or having a meeting, you'll look good in this unique jacket.
This blazer's understated color means it's easy to pair with almost any undershirt. Try a baby blue button-down for a business-casual look- perfect for office parties, holiday get-togethers, or family events.
Combining the suit with a white, collarless shirt would make for the perfect casual daytime ensemble. Unbutton and unwind, because this suit even works for men with nowhere in particular to go.
With a burgundy shirt, it could be the cherry on top of a handsome date-night getup. Whether it's valentine's day, an anniversary, or any other important day, you'll be looking good in Palm Beach's Camel Hair Blazer.
Key Features
This unique jacket is made from 100% pure camel hair, meaning that it has an elegant and unique color and remarkable breathability.
Camel's was originally used to make clothing because of its remarkable insulation capability. While it may look hot as a wool sweater, Camel's hair actually breathes like a dream and keeps a wearer insulated and cool on hot days.
The suit's long, drawn out bottom reaches down to the thighs for a vintage, classic look. Guys looking for a suit that adheres to all the best traditions while still drawing new eyes should seriously consider this as a beautiful addition to their wardrobes.
Finally, its understated coloring gives it incredible versatility in terms of outfit combos. This suit is perfect for almost any occasion; you've just got to know how to work with it.
That said, you should be careful taking it to a beach or other sandy place. The grains get stuck in the fine fiber very easily, and it can be time-consuming to get it cleaned.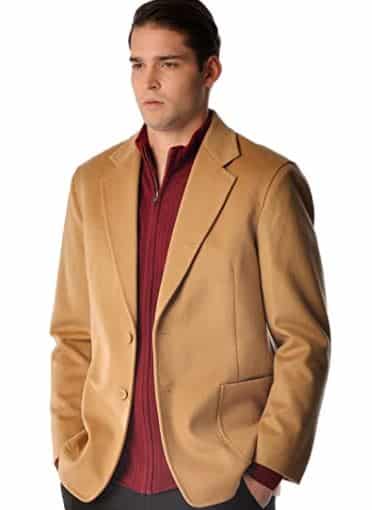 Cashmere is such a coveted fabric for a good reason. Its soft fibers can be woven into some of the most luxurious garments a man could ever ask for. It's a far cry from the itchy suitcoats of your grandfather's day, and it has remarkable durability as well.
Cashmere is an all-around sound fabric with great aesthetic appeal and spectacular durability. Cashmere Boutique's Cashmere Sport Coat is a great rendition of an old classic- the cashmere blazer.
What it Brings to the Table
Warmth.
Luxurious softness.
Good breathability.
A selection of colors.
Who's it Best For
This suit is best worn to a casual dinner party or a night on the town. It's got a comfortable, loose fit and the attractive fabric is sure to impress. If you want to roll around town in comfort and style, this blazer is what you're looking for.
The suit's loose, casual fit makes it the best choice for guys who want to stay classy and casual on a date or a night out. The soft cashmere also feels great on the neck and wrists. Not to mention, cashmere is known for its superior insulation, which means it will keep you warm in the winter and cool in the summer.
If you're looking for something to stay loose and fun-loving in, look no further. Cashmere Boutique's Men's Cashmere Blazer is the perfect addition to any man's wardrobe. In terms of cashmere, it's some of the best stuff you can find on Amazon.
Key Features
We would be amiss not to mention the suit's lovingly crafted cashmere exterior as it's first and foremost key feature. We really cannot stress the benefit of owning a cashmere suit. Cashmere is the kind of fabric you just want to run your hands along. It catches the light and reflects it in an elegant way, enunciating the wearer's form, and it keeps wearers at a comfortable temperature.
With a selection of three colors, you can make the best possible decision for the shirts you have on hand. Beige will go splendidly with a casual button-down, while black will really work for you in a more formal setting. If you're looking for something a bit more understated, go for the gray.
Cashmere boutique upholds an extremely high standard for its cashmere. Buy a cashmere suit as a gift to please even the pickiest of men or send it to the one person in your life who has everything. It makes for a spectacular gift.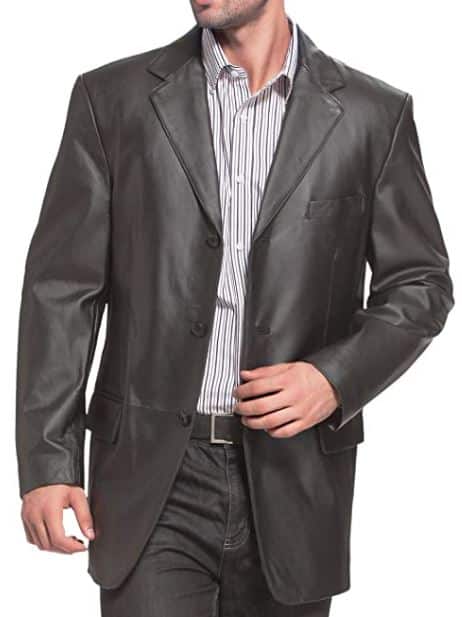 The last suit on our list is an out-of-the-box treat for anyone who wants something special for a friend, family member, or even for themselves. This little number fits right in at a party or a casual get together. With soft, luxurious lambskin leather, you might not want to take it off when you get home.
Classy, edgy, and altogether different, it' the BGSD Men's Liam 3-Button.
What it Brings to the Table
Smooth lambskin leather.
Sleek cut.
Generous room throughout for a comfortable fit.
Eye-catching hems.
Who's it Best For?
If you're the kind of person who loves a good, utilitarian jacket that looks cool and unique, this is your blazer. It's pretty pricey, but for what you get, it's reasonable. Lambskin is a beautiful, unusual material sure to make any wearer stand out.
Fans of cowboy movies, biker jackets, or any other leather-bound scene will absolutely adore this jacket. It goes well with denim and khaki and can be worn almost anywhere because of its durable material.
With a comfortable polyester lining, you won't have to worry about leather rubbing up against your skin. Its lining also provides a decent amount of insulation, just in case you wanted to wear it out on a cold night.
This blazer is best for guys who want to stand out and rock the boat. Seeing a leather blazer is a lot like seeing a flashy peacock, but a suave, tough peacock.
Key Features
Lamb skin. That's really all you need to know.
Lamb skin is a pleasant, durable material that resists crease-lines and wear-and-tear. A polyester inner lining provides maximum comfort and a noticeable amount of insulation for cold nights.
Pair this suit with a pair of jeans and a sweater for a cold day, or with a breathable button-down for a warm one.
The blazer's inner lining also houses discreet pockets for storing your keys, phone, or handkerchief. This jacket is a perfect cocktail of utility, style, and durability. Given as a gift, it will keep right on giving. A father who buys a lambskin blazer might one day give it to his son.
Things to Consider When Buying a Men's Blazer
1. Cost
As with all things in this life, what you want to keep in mind first and foremost is your bottom dollar- and you want to stretch that dollar as far as humanly possible.
Whether you're looking for a casual blazer you can wear throughout the day, or for a formal piece you'll keep in a bag in your closet, you can find something that fits your budget.
Take, for example, a suit like the Cashmere Boutique- it's pricey, and for good reason. It doesn't go very well in an overly formal ensemble, but at a party or around town you'll look great. You might be tempted, however, to leave it in your closet if it's costing you have your savings.
Consider what you want out of your suit and how often you're going to wear it. If you want a cheaper jacket that can be worn all day, you might go with the Goodthreads Twill- it's sturdy, easy to clean, and goes great with most undershirts.
If you're looking for something a little more special, however, consider Palm Beach. That fine camel hair fabric will dazzle, but you certainly don't want to get it dirty. Suits like these are more of an investment.
In the end, when you consider cost you should be asking yourself If the amount of use you get out of it and the amount of time it will last you stack up to the price.
2. What undershirts do you own?
Here's one you might not have been thinking about. Your favorite button-down, no matter how perfect and flawless and beautiful it may be, may just not fit with your beautiful new cashmere suit. You might even find that most of your shirts just don't match what you bought.
What a buzzkill, huh?
Before you drop a hundred dollars or more on a fancy new blazer, consider looking around your closet, and think about these recommendations.
If you're looking at one of our more formal or traditional choices, you might not want to pair them with a flowery shirt, as the themes of your suit and undershirt will be out of balance with one another. If that's what you're going for, go crazy, but keep in mind the impression your shirt creates and how it pairs with your suit, which should be like the cherry on top of a Sunday.
Darker, bolder colors like burgundy and navy pretty much demand darker shirts and go spectacularly well with a turtleneck or other sweater. Just make sure not to underlay dark with light. A dark, suave blazer with a bright, flowery Bermuda shirt underneath is not going to do you any favors.
Finally, for sunnier choices like the Unlisted, feel free to pair with more casual shirts like Bermudas or regular old T-shirts. Lighter, looser choices will go well with a fun-loving wardrobe and can accompany you to whatever sunny, sandy beach you may be going to. Comb your hair, get a nice shave going, and you'll be looking dapper.
3. What's your climate?
Another unexpected factor, but you might say that a hot, steamy choice like the Liam 3-button is better suited (pun intended) for colder climates. Michiganders will love the insulation this little number provides, but Floridians might find themselves sweating the seams off.
If you're thinking about a lighter, more breathable jacket, make sure you won't be burying it in coats, sweaters, and scarves. While you might want it to wear around the office, even indoor areas can get drafty in the dead cold winter months of the north.
Overall, ask yourself if you'd be comfortable wearing a suit like the one you have in mind out on an average day. If you're sweating just thinking about it, take a pass.
4. What kinds of events do you frequent?
We know that a striking cashmere suit can be a tantalizing buy, but if you're hovering over that click button with images of you in a merger meeting with a cashmere getup, stop right where you are. You'll want a couple cocktail parties in your life before you go spending the big bucks on something like that.
The right suit at the right occasion is like a specially fitted glove. At the wrong occasion, it's the same, only on the wrong person's hand. If you're a bonafide beach bum or barfly trying to buy a bit of sharpening for your common outfits, the QSYJ might not be your go-to.
Consider what vibes you want to be sending out. How do you want the people in the places you go to know you, and will the fabrics, colors, and cuts you're wearing fit in? Will they stick out like a peacock feather or a sore thumb?
What we're saying here is- you want to make a splash, but you don't want to get the pretty ladies on the towels all wet doing it. A good outfit should be subtle but daring, understated yet outgoing. Striking that balance is a lot about putting it in the right locale.
1. Is camel hair itchy?
No. Camel's hair is unique in the fact that its fibers- incredibly small- form a rather smooth fabric when bound together. Reviews of our camel hair choice say that it doesn't scratch around the neck and it won't bite into your wrists. So, leave the Gold Bond at home and have fun, a camel hair suit is for all around comfort.
2. Can you pair a T-shirt with a blazer?
Pairing a T-shirt with a blazer is a whole lot like throwing a baseball past the speed of light. Theoretically, it's possible, but it is going to require a whole lot of experimentation, a little bit of know-how, and a lot of trial and error. But yes, where there's a will, there's a way, and you can pair a T-shirt with a blazer.
Try starting with your more floral button-downs, then experimenting with your plain white ones. Whatever suits go best with both will probably work with the unconventional plain white tee.
3. How should a blazer fit?
It's really up to you, but there are a couple factors that might help you to determine what cut you want. For example, some sources recommend bending your wrist when you put on the suit. If the sleeve is about ¼ of an inch above your wrist, you've got a good fit. This helps to expose just a little bit of the cuff on that nice white undershirt you're wearing.
All in all, what you're looking for out of your suit is a way to stand out without looking like a fool. You want something that fits you well, matches your shirts, and doesn't break the bank for how much you use it. If you follow our tips and consider our list, you might be able to find just that.