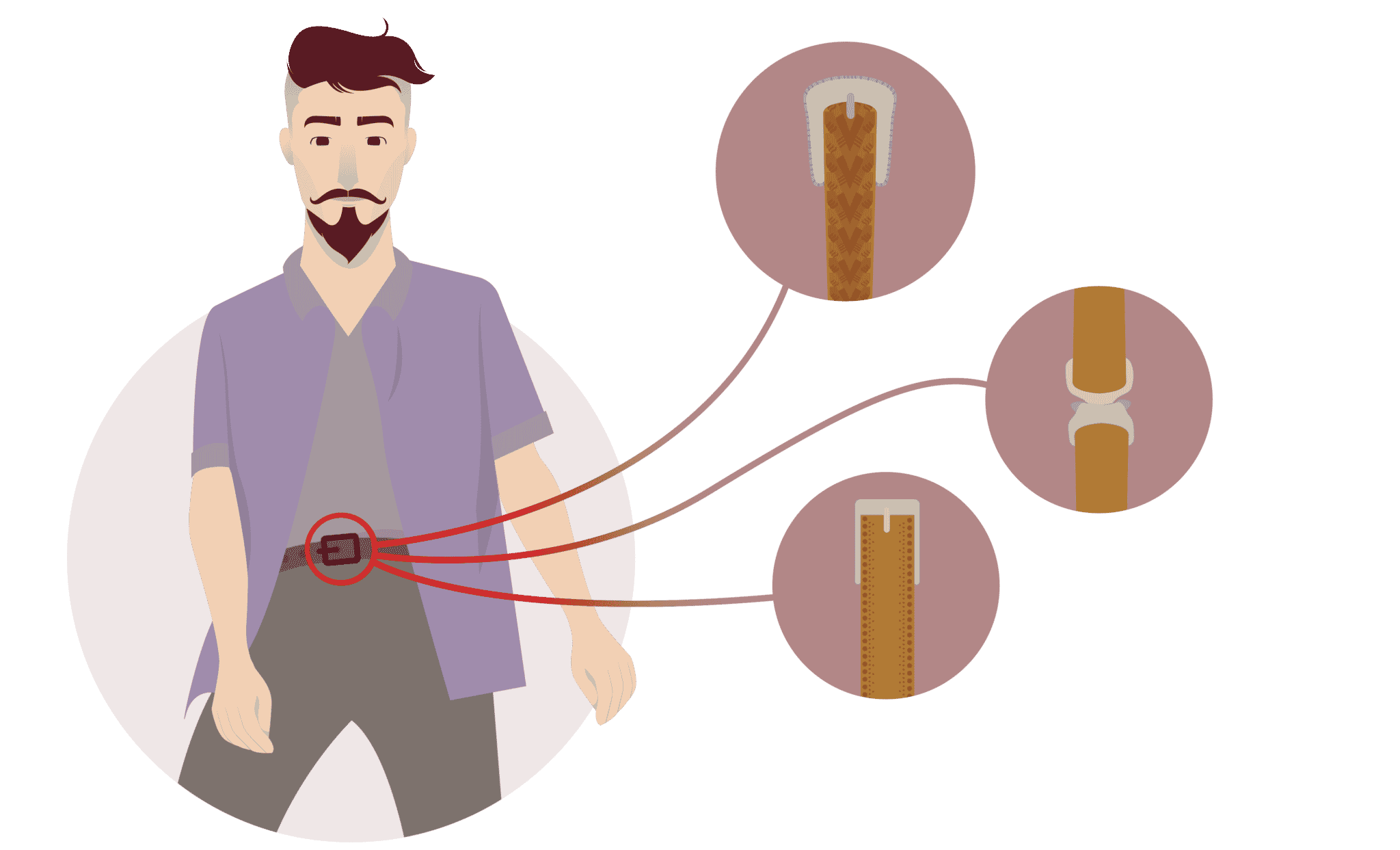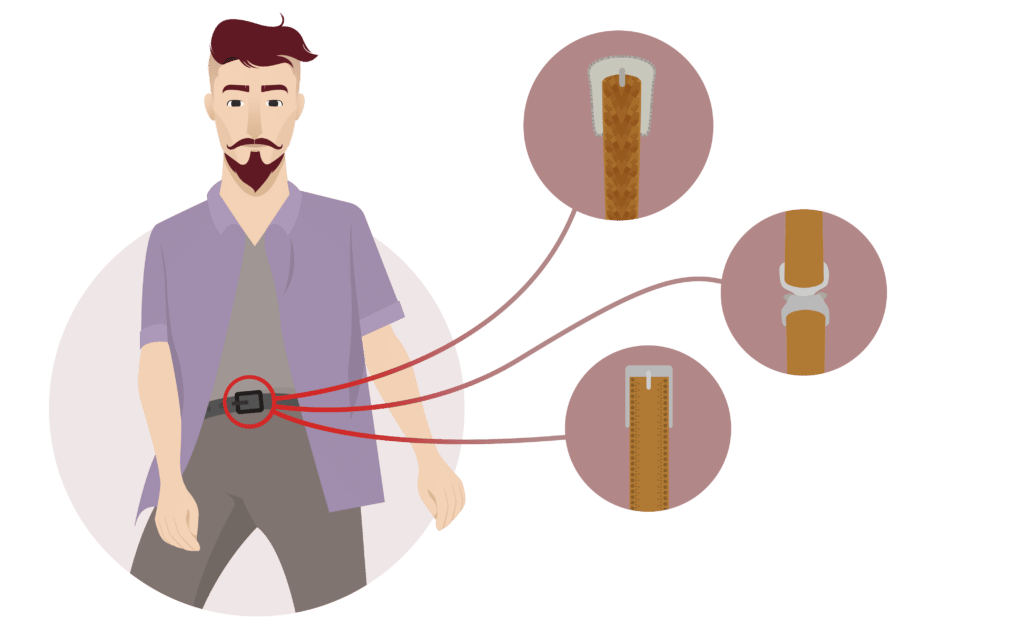 There's no such thing as getting tooled up without a trusty loop around your midsection. Good Belts are essential partners to any complete look or toolkit. Whether you're looking for the best men's dress belts, the best leather belts, or the best men's belts for action, the belt of your dreams will help boost your potential.
There are plenty of belts that will help hold your pants up for a little while, but there are few options that will allow you to go the extra mile. Some belts withstand the test of time better than others. The difference between the two is subtle but magnanimous.
Nobody wants to be caught giving a presentation with their pants around their ankles, or halfway to the summit, only to find out you'll be using one hand to hold up your pants the whole time. Many young people are ready to give up on belts as a whole, opting for suspenders or elastic waistbands.
Belts are a part of our culture, our history. Choosing the right belt will ensure they're a part of your future, too. Stop heading to big-box department stores and buying the same boring, brown thing every six months. Your Kohl's cash can be used elsewhere.
A belt with superior materials, craftsmanship, and attention to detail will save you money in the long run, and quantity has made prices lower than ever. None of the belts on this list will break the bank, but each of them can help you accomplish something your current belt couldn't dream of.
Some made for parties, others for work. Most belts are one-size-fits-all, but no belt can do it all on its own. To maximize their benefits, try using multiple belts depending on the situation. Your dress belt isn't made for getting muddy. Ensure a good back-up is on hand.
Our experts scoured belts across the rust belt and examined each option for a variety of functions. The best men's belts scored highly in materials, design, ability, price, and durability, among a host of other factors.
The belts in our lists have various buckles, widths, and designs, as there is no one universal truth for the best style of belts. Each belt on this list is the best belt for men in some categories, and all of the belts listed here will make a stellar addition to your closet.
You shouldn't wear the same belt to work and play. Each belt in your closet should be better at something than all the other belts, and no life is boring enough to require only brown leather belts.
Decide what you need your belt to do for you, and then find your corresponding matches.
QUICK OVERVIEW: Best Belts
Classic Leather Jean Belt

Best in class materials
Heavy-duty

VIEW ON AMAZON →

Original, muted design
Quality Leather

VIEW ON AMAZON →

Comes with attachment options
Simple click together installation

VIEW ON AMAZON →

Western Leather Engraved Tooled Strap

Extra protection for seams
Part of an entire patio set

VIEW ON AMAZON →

Canvas Elastic Woven Stretch Belt

The long-lasting, stretchable material
15 different color options

VIEW ON AMAZON →

Men's Casual Leather Belt

Full leather design
Brand you can trust

VIEW ON AMAZON →

Lightweight
Designed for travel

VIEW ON AMAZON →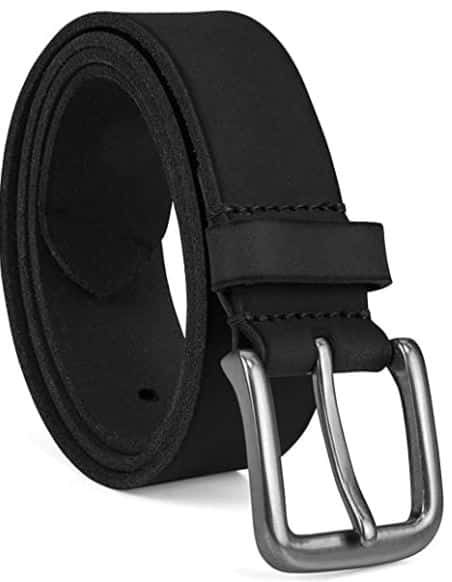 Features:
Brand: Timberland
Fit: 1 size larger
Material: Leather
Color: Black, Brown, Navy, Wheat
More features: Imported, Dry clean only, Single loop buckle, heavy-duty
Overall rating: 9.9
Timberland is known for leading the leather boot industry, and they took that toughness, look, and quality combination into the world of midsections. Their classic belt comes in various sizes and color options to find the right match for you.
The pedigree makes the belt stand out and increases the trust you can have in their long-lasting guarantee. Timberland has built its name on making products that last. The belt will fit into any casual work environment or every-day usage needs. This belt is a truly safe choice for your fit.
Whether you are heading to work in an office or the woods, this belt will fit right at home.
With a typical belt width and belt buckle, Timberlands choice isn't going to come packed with any surprises. When opening this package, all you find is a belt that is prepared to go with you to work every day of the week.
What we liked – The devil is in the details of this classic belt. No frills, no bells and whistles attached, you may not even realize it's all genuine leather at first glance. This belt reigns supreme in its durability and subtle ability to be used with every outfit.
If you don't particularly know what you want your belt to say, it's okay to keep it quiet. This belt screams confidence in a frequency too high to disrupt any eardrums.
What could be better – It's a belt that tries to do it all, which means it doesn't quite excel in any specific category.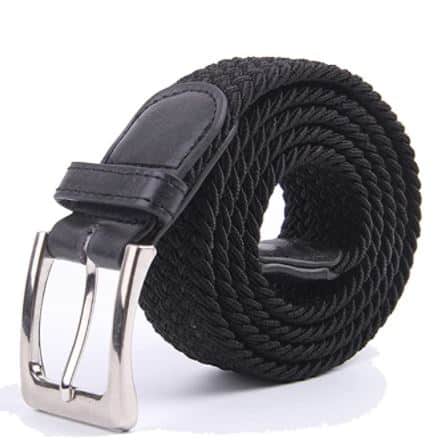 Features:
Brand: Allen-Edmonds
Fit: True To Size
Material: Leather
Color: Black, Walnut
More features: Normal buckle closure, Hand Wash, feather-edged, full-grained leather
Overall rating: 9.7
The most premium selection on this list, this belt is for those who need to dress up. If you don't feel comfortable wearing something like the Timberland Belt to work and want to embrace a higher pedigree, look no further.
Allen-Edmonds belt spares no expense, using full-grain leather to create a belt that pops while looking like you've been wearing it for years. The unique stitching and coloring of this belt makes each one look and feel original. You'll never wear another belt quite like this one.
This belt is packed full of full-grain leather, meaning it hasn't succumbed to any shortcuts some other leather belt makers may employ. Its typical buckling system combined with this provides a powerful belt that is also an incredibly safe choice to get the job done.
It accomplishes this by the brogue perforations added to the outside edges of the belt. These markings combine symmetry and style to feel easy on the eyes. Each one of the color options fits with normal work or special occasion attire.
This belt may not even see the outside of the closet on a rainy day, but it'll be right there with you on the moments you need it most.
What we liked – The simplistic design allows the wearer to find an original look without feeling too flashy. This is a belt made for the wearer to exude confidence. It's a crisp, smooth option to round out your dress look.
What could be better – This belt is a dress belt only. It won't last long if it is taken into adverse conditions and is best paired with an every-day belt to get the most out of it, as it must be spot cleaned only.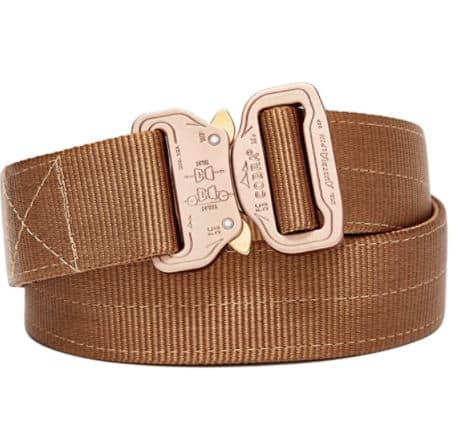 Features:
Brand: Klik Belts
Fit: True to Size
Material: Nylon
Color: Brown, Black, Grey
More features:
Double Ring Closure, quick release buckle, aluminum protection, attachment points
Overall rating: 9.4
Kilk Belts Tactical belt swears you'll never buy another belt again. Their offering promises to be one of the world's strongest belts, and they back it up with a variety of features that make the belt long-lasting. Reinforced construction around the buckle and other connecting areas are just the beginning.
The belt is made to be used outside and to help carry you through tough scenarios. They use the same materials crafted for local law enforcement attire, starting with this premise to ensure wearers get more out of their attire's most simple aspects.
The belt ties it all together with a simple look to make it not feel out of place in any scenario. If you want a belt to accompany you into the dirtiest places on your list, this belt will hold it all together.
This Klik belt offers up a snap style buckle system, similar to any camping backpack or clippable materials. This will allow greater customization in your belt's length and width while also allowing you to put the belt on and off with ease.
What we liked – A proper tactical belt at a low price instantly sparked our interest. The multiple usage options and tough material crafted make this belt a winner. Whether you work outside or play outside, this belt will be a good sidekick.
What could be better – While the buckle has many practical purposes, it stands out in a way that prevents the belt from being worn in dress scenarios. If you don't need to use your belt for serious tactical purposes, you may be better off finding something a bit lighter.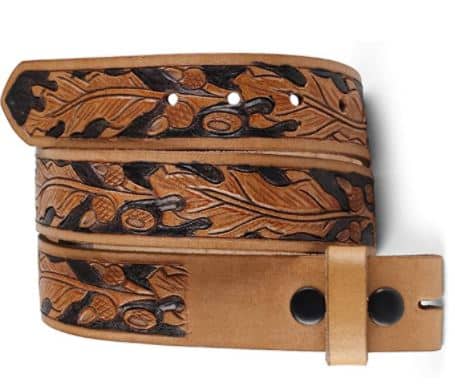 Features:
Brand: F&L Classic
Fit: One Size Larger
Material: Leather
Color: Brown
More features:
Variety of engravings, Western-style, long-lasting durability, made in the U.S.A.
Overall rating: 9.0
You may not see too many Cowboys waltz into the office, but this western-inspired leather belt may have you rethinking that proposition. Just subtle enough, this patterned leather belt can fit in any scenario.
If you want to go full horsemen, you can equip this bad boy with any sort of belt buckle in the west to complete your look. If you're worried about folks thinking you're all hat and no cattle, the belt comes buckle-free and pulls off a simplistic nature allowing it to be worn as an every-day belt.
This high-quality belt was made in the United States, with only high-quality components the best of both worlds. Please invite others to get off their high horses and go for a ride with you while sporting a fun option around your waist.
This belt does not include a plate with it, allowing you to further specialize your belt by choosing the plate buckle that's right for you. A plate buckle system is much more varied than any other fastening technique. Be sure to keep that in mind, as with this belt, you will need to supply an extra plate.
What we liked – Most western looking belts are too much to be worn casually, but this belt begs to differ. It's subtle colors allow the patterns to speak for themselves. At first glance, the belt may seem like a normal, every-day belt. Anyone who cares enough to inspect further will be impressed with the craftsmanship.
What could be better – With a western belt, you may be tempted to bring it onto the ranch. This belt can't quite hold its weight in gold, and to ensure it lasts longer, you may be best wielding something less stylish but more airtight.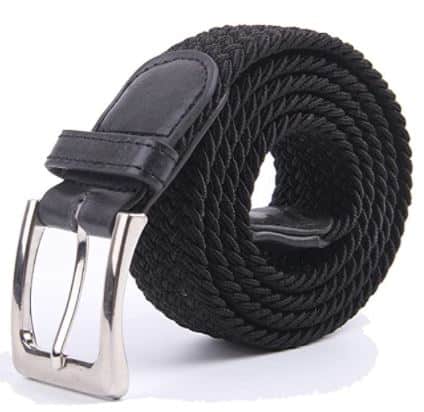 Features:
Brand: Galante
Fit: True to Size
Material: Elastic polyester
Color: Multiple
More features: Many different colors and styles available, stretches to the body's contours, Belt can be cinched anywhere.
Overall rating: 8.8
For those who want utility over anything else, this is the best choice for you. This belt's unique elastic technique serves to hold onto your belt loops, whatever size you may feel today. Elastic belts can be slotted through wherever you need them to be, ensuring you don't have to conform to the belt points' needs.
While this ability does solve a host of problems, it does sacrifice some of the finer details of your belt's look. An elastic belt will be the tool you need to fit around your waist, no matter the scenario. A favorite at Thanksgiving dinner, the belt comes in 15 different colors to match any outfit.
It has the mechanics to back up it's making. Reinforced metal buckles combine with the polyester belt material to create a sound protection system.
This belt combines features of both outdoorsy and fashionable belts. It has the bendability, flexibility, and wear resistance of an outdoors belt but features the classic buckle system seen on more dressy belts. It allows the wearer to experience the best of both worlds.
What we liked – A plethora of color options let this piece not only fit into whatever you're wearing but allows you to grab a few of the same belt without feeling too stale. It's a comfortable fit and easy adjustment. It's like having 15 belts in one.
What could be better – The infinite fit and usage will let it hold onto whatever is attached to your waistband, but it won't allow it to mesh seamlessly with your more stylish options.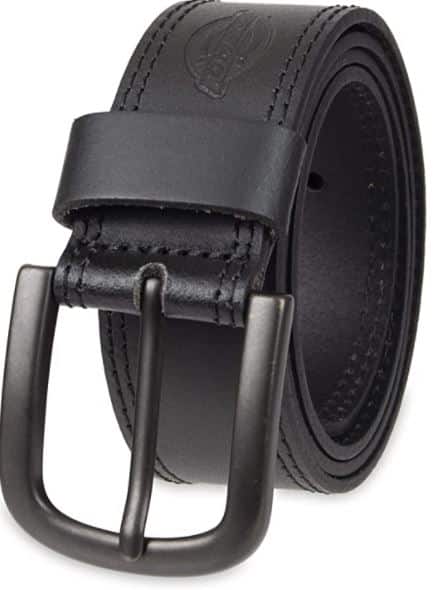 Features:
Brand: Dickies
Fit: True to Size
Material: Leather
Color: Brown, Black, Tan
More features: 100% leather, casual design, quality products
Overall rating:
8.6
Dickies quality comes to belts, with a timeless option for your day-to-day life. The Dickies casual ranks lower than Timberland's option because its finish isn't as solid, as Timberland's belt boasts a stronger leather. If your leather look isn't the most important thing on your list, this belt still packs a punch. The belt is multi-faceted and will fit into any outfit. The belt isn't trying to be anything it's not.
It's simple design doubles up to around the edges to extend the life of the belt. Dickies is a brand you can trust, which goes a long way when it comes to belts. No flashy features, just a company that is known for crafting work quality wear that lasts.
Dickies isn't trying to reinvent the wheel, and this classic looking belt is a testament to that. The belt features the same frame style seen since the beginning of fashionable belts. This belt is a classic, safe choice.
What we liked – We liked it as an easy option if you don't particularly care about what your belt looks like. Designed solely for convenience sake, this belt somehow still looks good.
What could be better – The belt buckle included doesn't come with any reinforcement, which increases the risk of easy damage. The belt could use more full-grain leather.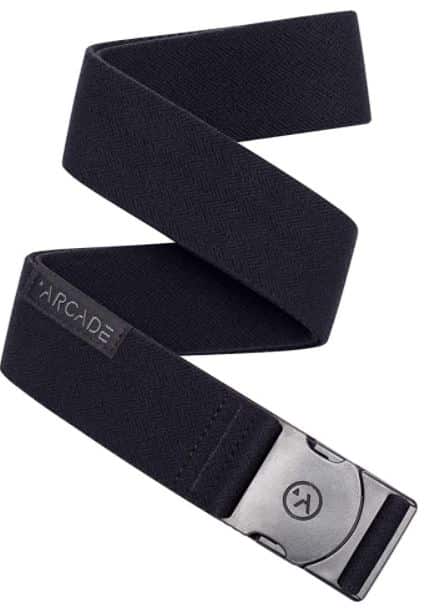 Features:
Brand: Arcade
Fit: One Size Fits All
Material: Elastic
Color: multiple options
More features: Travel-Friendly, machine washable, easily adjustable.
Overall rating: 8.5
The adventure belt is the most variable belt on this list. If you are looking for something new out of your midsection, look no further. Featuring a non-metal buckle, the belt won't even set off airport metal detectors. The Ranger Belt is packed full of whacky features like these.
Perfect for a life on the go, any owner can chuck the ranger belt into the washing machine with the rest of your clothes. These belts can be painted and colored on and were designed with customizability in mind. The brand and style are new on the market, so there are many unanswered questions still about this belt's lifespan, but if you're a risk-taker, this could be the best for you.
It is the only other belt on this list with a snap-on buckle system, solidifying the belt to choose those who live life outside. The belt's variety of colors won't fit work attire but will allow a casual wearer to feel at home whatever else they have on.
What we liked – We loved the variable uses of this belt. Best suited for outdoorsmen or travelers, this belt can carry weight and get you to your next destination with ease. It has micro-adjustable buckles and stretches patterns to help you make the most out of your fashion.
What could be better – The belt is a bit blandly designed and won't turn any heads. As long as it stays wrapped around your waist, it won't matter too much.
The belt of your choice will carry with you always. A proper belt will go beyond supporting your midsection; it will extend and influence your body's control over the world around it. There are a variety of factors to consider when buying your belt. The right choice for you will boil down to a personal choice, but ask yourself a few questions about what you want your belt to accomplish before committing to a product.
Most belts can't do everything. Each designer will take a variety of factors in mind when creating their belts and look to make an option that can be wielded in various scenarios. However, the best leather belt for work may not be the best belt for men who work outside.
Experimenting with multiple colors, frame styles, and buckle systems are the best way to navigate a complicated belt market.
That's why you can save yourself a lot of trouble by ensuring you have an arsenal of belts at the ready. Having a closet with options will extend all your belts' lives significantly and allow you always to have a right look at your disposal.
The best belt for picking beets won't be the best belt for meet and greets. The first thing you should consider is the buckle type for your specific belt needs. Deciding whether you want something that you can get in and out of quickly versus something that will have you basked in a glow will go a long way towards finding the right belt for you.
Why do you need the best belt?
You may think the best is a step up from what you need. It's easy to think that there's not a huge difference between a good belt and a great one, and you can keep buying the same old piece of fake leather that fades after two months.
If you go for a premium belt, you'll find subtle differences in the fit and feel of your belt. Genuine leather doesn't crack or crease after increased usage. The best men's dress belts will feel brand new every time you put them on.
Even if the leather isn't your style, grabbing a belt that goes the extra mile will leave you with a smile. A good adventurer needs belts as much as they need Pantalones, and finding a quality belt with extra features is essential. The tactical belts on this list can hold extra gear and come with straps and accouterments that will never have you feeling alone in the wild.
Don't wait to find out why you need the best out of your belt. One frustrated morning can tank your career. When you plan your dress shirts for a special occasion, you're likely willing to go the extra mile to get the look and feel you deserve. Your belt choice should be no different.
Features to consider before you buy your belt
Once you have taken into account what you need your belt to accomplish, try to quantify those needs by breaking down your belt needs into categories. Maybe your belt buying plan will include multiple belts, in which case you should ensure each belt is taking care of one category of your needs.
The best belts for men will help each excel at one specific part of the male experience, whether it be casual, dress, or outdoor usage. A guy's closet should have a combination of these abilities, which means belts for all occasions.
Try to get up to around 4 belts in your possession. That should help you navigate a variety of circumstances without having to worry about what is going on down south.
Each one of these features will help decide what your belt can do for you. Some belts focus on looks, while others focus on value. A good combination of belts for good looks and belts for the best support will go a long way in achieving a rounded-out closet.
Buckle
The buckle is the key to the whole operation. Without the proper loop, your belt is nothing more than a piece of leather wrapped around your body. Modern belt welders have various buckle types to sort through, giving you more options and convenience when settling for the right belt.
Some buckles will focus on easy opening properties or a more secure locking system. Others will sacrifice flexibility in the buckle region to loosen up the rest of the belt. Some fashion-forward belts will make the buckle the stand out feature of the entire belt, while others will opt for a more muted feeling to supply a subtly fashionable ensemble.
Each buckle is best at something different and is prepared for a different wearing procedure. To get the most out of your belts, don't only buy a variety of belts; make sure a variety of buckles are at your disposal. It's not a bad idea to try every type on the market and find the best ones for you.
New belt buckle varieties are being invented every day. Creators are constantly trying to get ahead of the competition and look for the newest belt fastening technology. Each belt will try to strike a balance between fashion and abilities. Decide where you want your belt to fit on that spectrum and pick from there.
Frame-style
The original buckle style, frame-style, is most likely what you think of when you think of belt loops. Featured on most basic belts, a frame style buckle features pre-set holes on one end of the belt and a needle on the other side. The two join together with a small number of variable settings. This buckle choice is the safest belt option.
Plate-style
These buckles are a prominent choice for fashion-forward belts. These detachable buckles offer a stud and hook combination that will hold together both ends of your belt when attached. This allows the outside edge of the buckle to be free for design. Some of the most prominent fashion and western belts feature gold-plated-style buckles to make a statement.
Box-frame
This variety of buckles were co-opted from military and police usage. They feature reinforced straps that are less likely to fall out of place than a usual belt buckle. They also boast the ability to withstand more wear and tear than other buckle varieties. These abilities come at a cost, specifically a large, unnatural looking buckle face. If fashion isn't your highest priority, this buckle will make up for it in other areas.
Snap Buckles
The newest variety in the mainstream market is exactly what they sound like. Two buttons snap into place with some clip or fastener. These buckles make the box-frame mentality to the next level. By changing the way the owner adjusts the belt's length; snap buckles can lock in place like a fanny pack would. This gives the wearer increased mobility and lets them move freely without a chunk of metal sticking into their stomach. Outdoorsmen best use this belt variety.
The buckle you choose will have a large impact on what shape your belt will take. The buckle is the spot on the belt where most of your attention should focus. Your buckle will likely be the first part of your belt to break, so you want to make sure the belt of your choosing has a buckle that won't quit.
Try every one of the belt buckle styles on this list, and find what scenario each one is best built for. You don't have to swear allegiance to any particular style; it is normal to switch your belt buckle style depending on the scenario.
Material
What your belt is made of is not a fickle matter. Any belt can talk a big game and claim a quality pedigree, but the materials used to craft the belt tell a greater story than any about me section could.
Watch out for details when you are choosing the right belt for you. Most belts promise they are leather made, and high-quality products, but most belts are simply using loopholes.
There is a difference between full-grain leather and any other genuine leather. It is essential to choose full-grain leather when looking for the right belt for you. Genuine leather is anything but genuine. It is the scraps left behind after full-grain leather has been cut to shape. These scraps are glued together to give the same look and experience of full-grain leather, but with a much shorter lifespan.
Not only will full-grain leather last longer, but it will also leave a sleeker finish with your belt. The extra shine offered by a uniform piece of leather will match any blazer or dress attire slightly better than genuine leather can offer.
If you are not interested in the best leather belts, that doesn't mean that quality doesn't matter. Some of the belts on this list were crafted from nylon, polyester, and elastic combinations. Each of these materials is more stretchy than leather, and each one offers up different pros and cons.
A polyester belt will be the most lightweight and stretchy belt on this list. It is a perfect belt to wear when you are worried you may get wet, as it is naturally waterproof and still holds its form when drenched in whatever life may pour on you.
Nylon belts have extra strength and protection than other belts. A proper nylon option should easily last you into the years instead of a span of a few months. Nylon belts will certainly withstand any abuse you may pour on your belt.
Elastic belts stand out because of their shape-shifting ability. They are uniquely capable of offering two sizes before a big meal and for right after a big meal. The material can move together and separately better than most other materials on this list, allowing the wearer to achieve a customization level on their belt not possible with the other varieties.
Belt Width
Belt Width has universal standards, and your belt's width is a tremendous indicator of if it is used for style or purpose. Some belts have bucked the past trends and offered up skinny belts made for Friday nights at the function or thick belts made for Saturday mornings in the woods, but these belts are the exemption to the rule, not the standard.
When you break it down, it looks like this; for a dress or formal occasions, society has accepted size of 1.5 inches or less as the optimal width. Anything greater than this width is a declaration of casual attire.
These rules only hold weight for fashion thinking belts. If you have selected a belt based on its ability to hold extra ammunition, nobody will stop to care about your belt's width. Most adventure belts don't consider the width, opting only to focus on utility.
Use the belt width as an indicator of the proper times to wear the specific belt you purchase but don't be afraid to bend the rules. At the end of the day, nobody is going to notice if your belt is a quarter-inch wider than the universal standard, and you shouldn't let that quarter-inch stop you from wearing the belt of your dreams.
If you are really trying to wear your belt to impress, use those numbers as a guideline to narrow down the possibilities and better understand which belt will be right for your scenario.
Washability
To get the most out of your belt, you'll have to clean it up eventually. Belts are just like every other part of your ensemble, meaning it can get dirty just like the rest of them. It's not always an easy task to wash a belt, depending on your materials, so an awareness of the steps you will have to take to wash your belt of choice is an important understanding to wield before you make your purchase.
Most belts that skipped the use of leather can be washed in a washing machine without hesitation. This is part of the appeal of rocking a less traditional look. Materials like nylon and polyester are ready to be washed and dried without any worry.
A full-grain leather belt can be sent through a wash cycle, but it will most likely lower the lifespan of your belt. Any specialized buckle or metal bits and pieces to your belt will be waterproof, but that doesn't mean that water doesn't affect the product.
The more you send your belt through the washing machine, the less time your belt will last. That is the truth, no matter which variety of belt you choose. Understanding alternative cleaning methods and the best way to keep your belt shiny will save you money in the long run.
A full-grain leather belt should only be washed with a towel and water. If there is a tough stain to get rid of, add some saddle soap or any other leather stain remover. Don't add on any normal soap or household cleaners.
Keeping your full-grain leather belt fresh will be the hardest aspect of owning a top-quality belt product. It is a good idea to clean and polish your belt once a month, which will also be handy if an emergency stain happens because you will have your cleaning product on hand already.
Toss in a good shoe shine or another leather sparkler, and your belt will be ready to pop at any function or event. If it looks like it will rain on your way to your meeting, consider that when choosing your belts for the day. Not all belts can withstand water like others, and sporting a full-grain leather belt in a thunderstorm could be a recipe for disaster.
All these buying factors should be considered before making your final purchase. By understanding the complexities of each different variable of the best men's belts on the market, you can realize the specific aspects of your belts you want to spend your money on.
The cheapest choice may not always be the best one, and the most expensive belts don't necessarily imply you won't have to worry about taking care of them.
1. How Do I Choose My Belt Color?
Your closet should have a variety of belt colors. This will ensure that you have the right belt for every outfit. A closet full of brown belts is not only boring, but it will also make wearing certain pants impossible. Please take a good look at the pants and shorts you enjoy and think about what will complement them best.
Most dressy belts will come in muted colors like brown, black, or grey. A black belt is generally seen as the safest choice to wear to any formal event, but fashion standards aren't cut and dry. Everything else in your attire is a factor when choosing your belt color.
Pairing the wrong color belt with the wrong color socks can lead to ridicule in some circles, but if your friends make fun of you for something that trivial, they aren't really your friends at all. If you don't take yourself too seriously, picking a belt color is the same as picking the color for any other part of your outfit.
Find the belt color that makes you feel confident and allows you to wear your dress shorts or pants proudly. Whatever style you pick that makes you smile when you see yourself in the mirror will work for those around you.
2. How Should I Store My Belt?
Your belt may not be the first thing you think of when you map out your long term storage situations, but there's no point in buying a high-quality belt if you don't have a proper storage plan in place. The most expensive belt in your arsenal shouldn't be the belt you wear every day; it should be something you only take out for special occasions.
This means that most of its life will be spent in your closet. If you make it home after a wedding weekend and toss your balled up belt in the corner of your closet, six months later, when you head to Nancy's baby shower, you may find yourself with a wrinkled, sad-looking leather belt.
Instead, try hanging your belts up on the doorway of your closet or any surface that allows them to dangle without hitting the ground. The good thing about belts is that they will only take up space vertically, allowing you to hang them wherever you have a few inches free.
You can also try to simply roll the belt up and leave it in a place where it won't be moving around or getting bunched up. It's not ideal to have the belt on a roll, but as long as no part of the belt is being pulled tight, no patterns should be made in your design.
The most important storage tip is never to fold your belt over. Leaving your belt in a folded position for a week or two will leave you with creases and folds next time you attempt to take it out for a spin.
The best men's belt had to be a popular belt that combined all other belts' features on this list while adding in its own spin. It's all-around features for its long-lasting capabilities, and its popularity as a testament to its lastability, Timberlands offering is our choice for the best men's belt.
Don't think that our declaration of the best belt is the universally right belt. You and your neighbor have different lawns, and all of us have different mindsets for our waistbands.
No matter which belts you pick on this list, you can be sure that the belt you rock will properly fill your needs. When shopping for your belt, the most important factor is what you want your belt to do for you, as there is no such thing as the best belts for men everywhere.
Whatever we spend our time doing will be the largest factor in determining what kind of belt we need. Don't be afraid to choose a belt that excels in one category while flopping in another. Belts are a part of the closet that work best together, so you won't have to wear your adventure ranger belt everywhere.
The next time you find yourself climbing up the side of a mountain, you'll be damn glad the adventure ranger had been sitting in your closet waiting for the right moment. The best leather belts on the market may not be a great hiking companion, but they will turn heads and give you the confidence you need heading into a big day.
Whichever belt you choose to wear, be sure to break it in and be patient when waiting to get comfortable with your new product. Belts, like hats and other accessories, will only get better over time. Each use will conform to the belt's contours a little bit more to your body and let you and your belt get to know each other more.