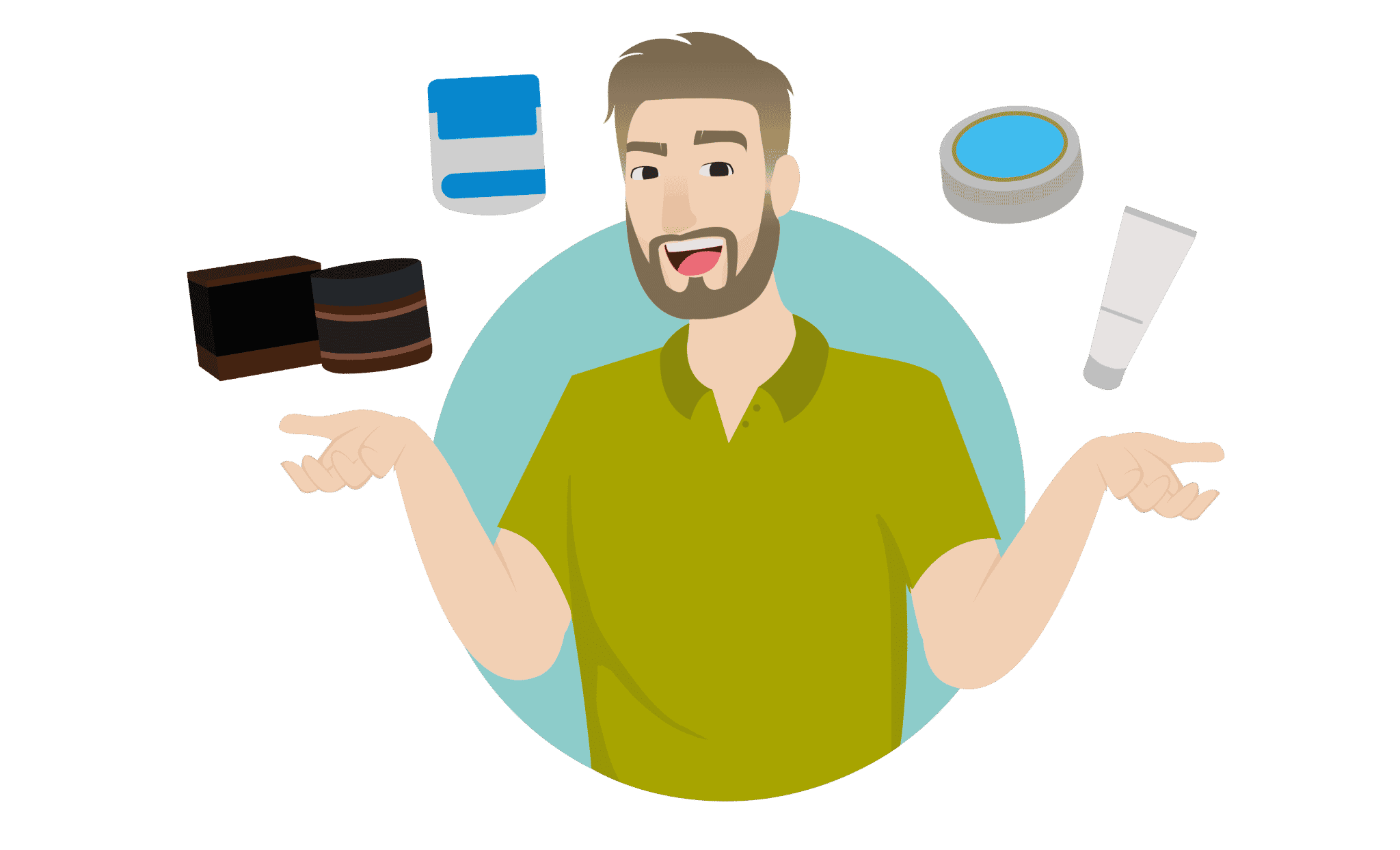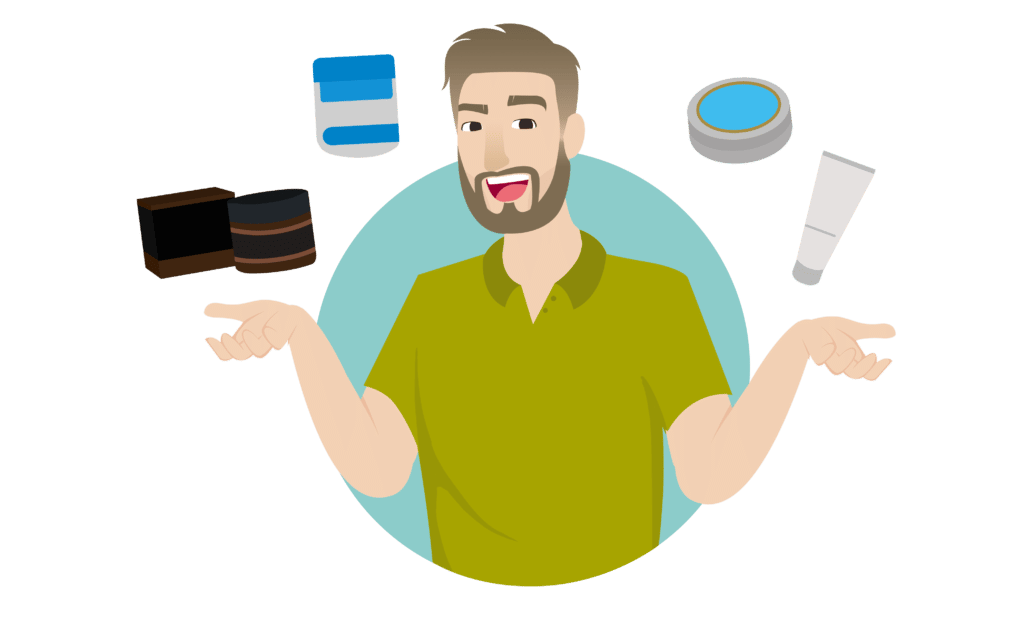 Some men have been gifted with extraordinary curly hair. This hair can sit at the top your head or surround your mouth.
Many potential beard growers glumly look on as their beard begins to take a curly shape. It can stop some of us in our tracks, and we may need beard relaxing cream to get our desired look.
Curly hair owners know how difficult it is to manage the curls on top of our head; why add more work. A curly beard is no need to give up on the beard of your dreams.
We modern beard growers have a world of options at our fingertips, and if a beard is what we want, we can commit no matter the cost. Shaving off your beard is not the answer. No matter how many times we may send in the clippers hoping that the result will be the same the next time, it grows out differently.
Some men will have to deal with a curly beard, no matter what they try. A good hair relaxer for men who have to fight this problem is priceless. Beard relaxers work to target your hair at the follicles and keep your locks in order.
They can add on length to your hair, making it seem closer to what it looks like fresh out of the shower. Curly beards have more size than meets the eyes, and untangling those curls can give the appearance of heightened growth.
Tread lightly. Not all beard relaxers are made equally. Specific relaxers for beards can be hard to track down, as most relaxers target the head's top. This means they may contain products that do not play nicely with your face.
Applying a relaxing cream to your face should be a comfortable process for your beard and you. To take some of the stress out of the decision, we have compiled a list of the best beard relaxing cream for men with curly beards.
The products on this list cover a variety of bases, as each case is different. African American beard straighteners will need to employ a different playbook than black hair texturizers.
These creams have proven to be the best at what they do, giving you the peace of mind to know the product you commit to have a track record of getting the job done.
QUICK OVERVIEW: Best Beard Relaxing Creams
Bossman Relaxing Beard Balm

All-natural ingredients
Moisturizing

VIEW ON AMAZON →

Peter Coppola Keratin Beard Hair Straightening

Most substantial option for combating curly hair
All-in-one kit

VIEW ON AMAZON →

Prophet Premium Beard Balm

Subtle relaxing option
Not damaging to the skin

VIEW ON AMAZON →

Relax coarse hairs
Brings an excellent smelling beard

VIEW ON AMAZON →

Revlon Professional Relaxer Super Conditioning Cream

Comes in a large container
Industry tested

VIEW ON AMAZON →
Best Beard Relaxers of 2020 Reviewed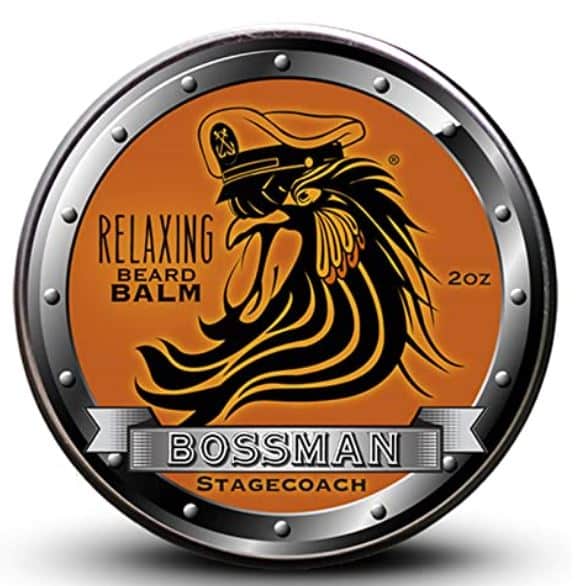 A safe all-around option that can't go wrong. The Bossman Relaxing Beard Balm gets the job done without harmful additives.
Ingredients:
Argan oil, Jojoba Oil, Mango Butter, and beeswax
Who is it for?
As the best all-around option on the list, this beard relaxer is for anyone in need of a straighter beard. It is on the lighter side of beard relaxers, letting natural ingredients coalesce and get the job done correctly.
Key features
This beard relaxer disguised as a beard balm will let you rest easy while your beard does the same. Some heavy-duty beard relaxers come equipped with chemicals that can hurt the development of your hair.
Beard relaxers of yore had to balance the need for a straighter beard with precarious additions to their health. The Bossman has solved that debate.
The product is cultivated in the USA from worldwide ingredients, holding it to high construction and manufacturing standards. They take their commitment to fair-trade a step further by avoiding any animal testing.
The beard relaxer has additional benefits from its status as a beard balm, allowing you to relax your beard while finishing your look in style. Beard balms already act as a pomade for your facial hair, so combining the effects with a relaxer creates a winning team.
This product is designed with multiple intentions in mind, making it number one on our list. Just because it is multi-talented doesn't mean it can't be the best option around for a beard relaxer.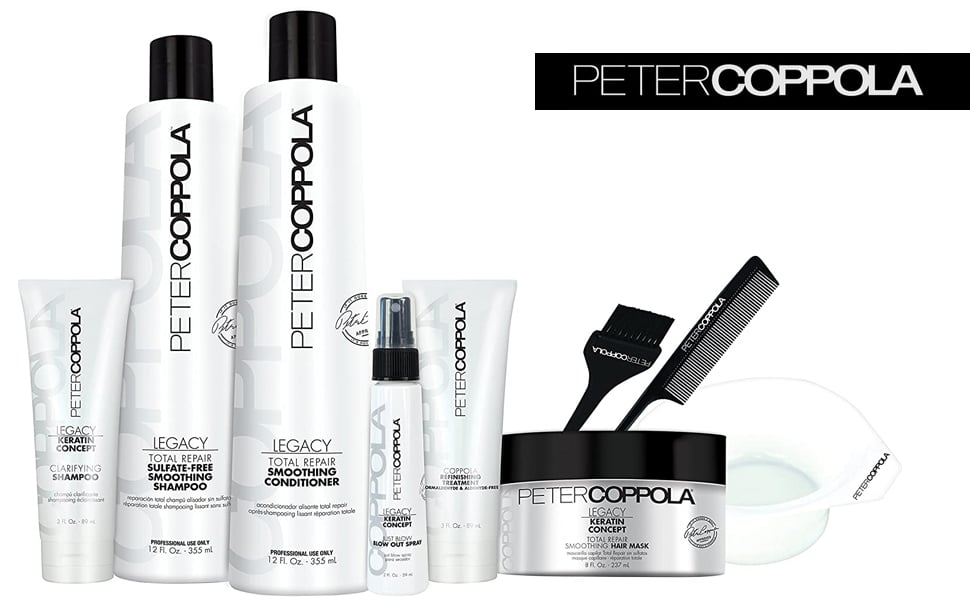 The big guns, Peter Coppola's beard relaxing cream is the choice to make for unruly beards that won't respond to anything else. This beard cream comes with an entire kit, so you can be sure you have all the products necessary to get the job done.
Ingredients:
Includes beard relaxing treatment, bowl, brush, shampoo, and comb.
Who is it for?
This beard hair straightening kit is only for those beard groomers who have tried everything and still can't get over their curly beard. The equipment is supposed to last for several weeks, serving as a final solution for the beard.
Key features
This kit packs a sharp punch, as it is similar to products the fashion designer employs on curly hair. It is designed to uniquely relax unruly beards in a way that will allow the beard grower to wait weeks between relaxing treatments.
This product represents the best of severe beard straighteners as they leave out formaldehyde and other harmful chemicals. This does not mean the product is devoid of any unnatural chemicals. It is packed full of elements that could potentially harm your face.
That is why this product is only advised if you feel you have tried everything else. If you're serious about achieving a particular look, this product could force your beard to play along.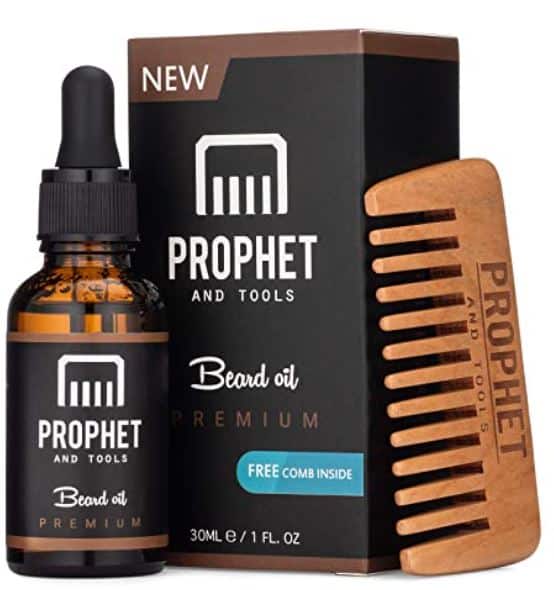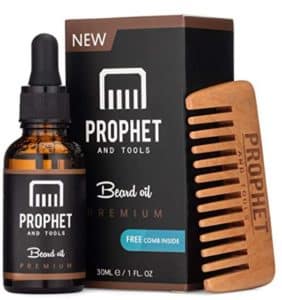 If you just need a quick boost for your troubled hairs, this option will allow your hair to stand down and style up. Focusing more on balming than relaxing, Prophet Premium Beard Balm is well designed for African American Beard Straighteners.
Ingredients:
Shea Butter, Beeswax, Oils: Jojoba Golden, Argan, Sweet Almond, Apricot, Castor, Vitamin E, Emu, Tamanu
Who is it for?
This beard option is for those who want to strike a balance between texturizers vs. relaxers. It is a light beard relaxing choice for this list, making it perfect for a first choice for someone trying to see if softening their beard is right for them.
Key features
This beard relaxer for men wants to give your beard the help it needs while keeping everything in style. It has a thick blend of different oils and kinds of butter that will help it accomplish a plethora of tasks for your beard.
Some beard straighteners chemically induce your hair, forcing it to go limp. This option puts the onus on the hair, providing a remedy that helps you style your curly hair simultaneously as you relax it. This option will let you explore texturizers on relaxed hair.
You can play around with different styles and see what best suits you with this beard balm beard relaxer hybrid. Getting the right image of texturizer before and after shots can be hard to imagine if you have a curly beard. There is not much opportunity to add texturizer to an already bumpy beard.
Premium beard balm is a one-stop-shop for beard style, and it will relax your beard without taking away any of its excitement.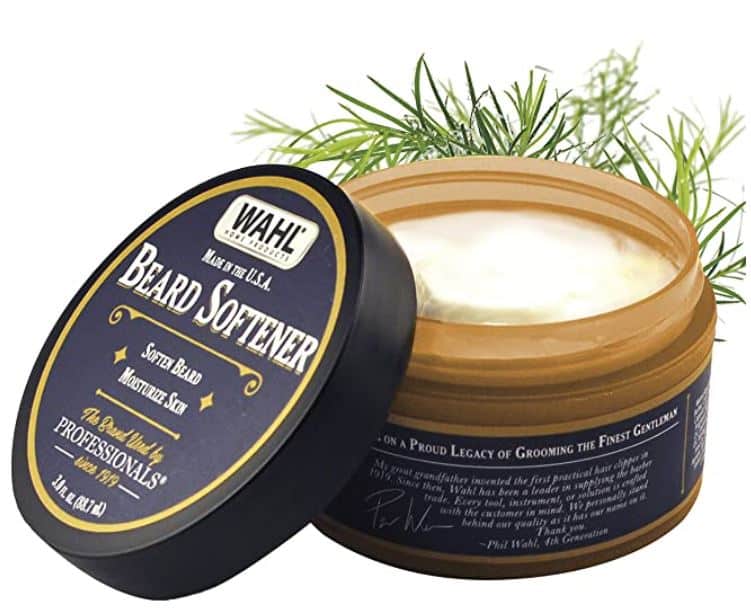 More than eliminating curls, this cream seeks to soften and relax the hair no matter what shape it's in. Its unique proprietary blend allows it to excel at softening unruly hair and leave the wearer feeling and smelling smooth.
Ingredients:
Manuka oil, Meadowfoam Seed Oil, Clove Oil, and Moringa Oil
Who is it for?
This beard relaxer is for those of us who aren't as upset that our beard is curly as they are annoyed at the feeling of a coarse touch. That makes this beard cream excellent as a stand-alone product or in addition to one of the other beard relaxers on this list.
Key features
This beard cream is a relaxing alternative to market beard oil stuffed with texturizers. Its essential oil blends make it stand out, as it gets a variety of jobs done naturally.
Essential oils not only allow our beards to feel better but will leave your facial hair smelling great. If your loved ones are known to hesitate when you get close because of the smell of your beard, look no further than essential oils to make touching you smell good.
Wahl has allowed their product to stand out by explicitly designing the ointment to relax stressed beards with the highest quality ingredients. This product stands out from the rest on our list by providing further benefits beyond sorting out cross-sections.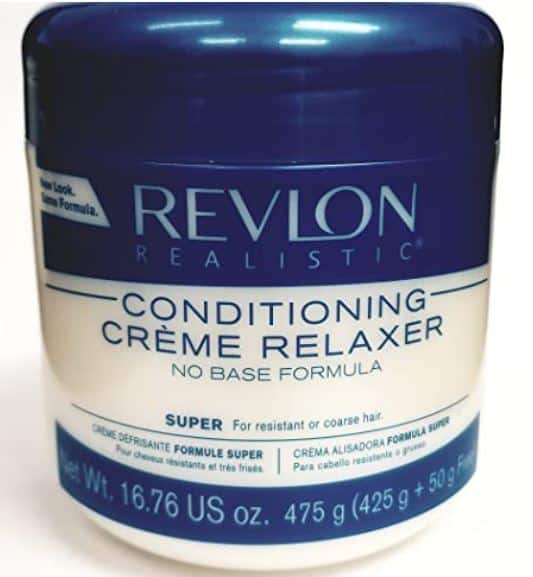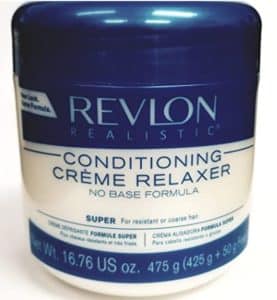 Just because it wasn't made for beards doesn't mean it can't work on them. Revlon's professional relaxer proves this to be the case. Its conditioning cream gets an upgrade and is specially designed for coarse hair.
Ingredients:
Water, petrolatum, paraffinum, liquidum (mineral oil), pulp extract, macademia intergrifolia seed oil, geraniol.
Who is it for?
This beard option is for those who may be dealing with a curly hair problem on all fronts. It is an excellent intermediate level beard relaxer, as it does include a multitude of chemicals, wrecking its safety, but doesn't have the most precarious options.
Key features
This relaxer didn't originate for beards at all but has been known to ease thick curly hair from the top of the head and de-texturize curly hair at the chin level. This product is a step above some other beard relaxers and should only be used in severe cases.
Any chemical beard relaxer will have widespread effects across your hair. If your hair naturally wants to be curly, it will take unorthodox methods to break it out of its stupor. However, if you are committed to properly straightening your beard hair, this could be the best option for you.
The cream is the number one choice out of those on this list for the professional hair industry, a testimony that if you are willing to sacrifice some health of your hairs, you can find a beard relaxation level you never thought possible.
What to look for in a beard relaxer
The answer to your search will be highly personal. There is no one beard, relaxing cream that can solve every problem faced by beard growers.
To decide the beard relaxing cream that's best for you, first ask yourself what you want out of your beard.
Personal Needs
Identifying the problem is the easiest route towards a conclusion. If you just need a little help keeping your beard together, look for something gentle and natural that will allow you to shape your beard with a splash of relaxation.
There's no need to coat your beard in a room full of chemicals over a simple problem. Try easing yourself into your duel with your curls and exploring your options before committing to chemical warfare.
If you want to declare an all-out war on your facial hair or want to decimate curls and keep your beard hair flat, try one of the more intense options on this list to combat your curls.
They are designed to be used as a last case scenario, as they will straighten your hair by damaging it. If you stop at nothing to reach the look you desire, these creams and hair products will force your beard hairs to cooperate.
If your hair feels coarse and rough, look for an oil heavy ointment that will sort out the stormy season on your chin and leave you with a beard that works together with you.
Beard relaxers that treat coarse hair are an interstellar blend of fashion and health. Don't expect them to be an industry leader in either one, but you can safely bank on them to get the job done.
Whichever beard relaxing cream you choose, try to do what is best for your beard. It may be enticing to try a product that will force your beard into the shape of your dreams, but we are all unique for a reason. Trying to fit a different mold could result in long term hair damage.
When making your decisions, don't plan everything around where you want your beard to be tomorrow. Create a strategy that begets long-term success and gets you to a point where you won't have to question what beard choices are right for you.
As soon as you have made your decisions, grab the product of your choice, and get to work. Your beard won't maintain itself.