Has anyone ever told you, "Your breath smells like mothballs"?
It's a sinking feeling; suddenly you start to wonder how long your breath has been stale and who's noticed it.
Was it bad during your last job interview?
Your last date, or even our office neighbors?
But don't sweat it too much.
Everyone suffers from bad breath at one time or another, and meals with particularly heavy ingredients and fragrances can change the smell of your breath beyond what you intend, and even if you brush your teeth thoroughly every day.
But further brushing and flossing isn't a short-term solution to terrible breath.
Instead, consider popping a breath mint into your mouth but what are the best mints?
Breath mints are an affordable and fast-acting method to tackle your bad breath head-on.
Breath mints act quickly and essentially act as a cover for the more negative fragrances that come from your mouth.
However, there's a small issue.
Whenever you are lined up at the grocery store, there's an entire rack of mints and candies all vying for your attention.
Without trying each type of mint personally, how can you know which one is best for you?
That's what we set out to determine when we put this guide together.
Our testers tried tons of separate mint products to figure out which ones are really worth the hype and which ones aren't worth space on the shelf.
Want to know what they decided?
Let's get to knowing best breath mints.
QUICK OVERVIEW: Best Breath Mints
Ice Breakers Sugar Free Mints, Coolmint

Good containers
Great value for money

VIEW ON AMAZON →

Breath Mints by Simply Gum

Assorted flavor options
Won't dry out your breath

VIEW ON AMAZON →

Altoids Smalls Peppermint Breath Mints

Powerful taste
Tins have preservative paper

VIEW ON AMAZON →

Tic Tac Fresh Breath Mints

Lots of flavors to choose from
Good container size

VIEW ON AMAZON →

Breath Savers Sugar-Free Mints

Good taste even without sugar
Lasts for a long time

VIEW ON AMAZON →

Mentos Clean Breath Hard Mints Sugar Free Candy

Containers are super thin
Energy-boosting

VIEW ON AMAZON →

Listerine Cool Mint Pocketpaks Breath Strips

Kills bad breath germs
Helps fight bad breath in the long term

VIEW ON AMAZON →
Use the table of contents below to jump to the sections most important to you.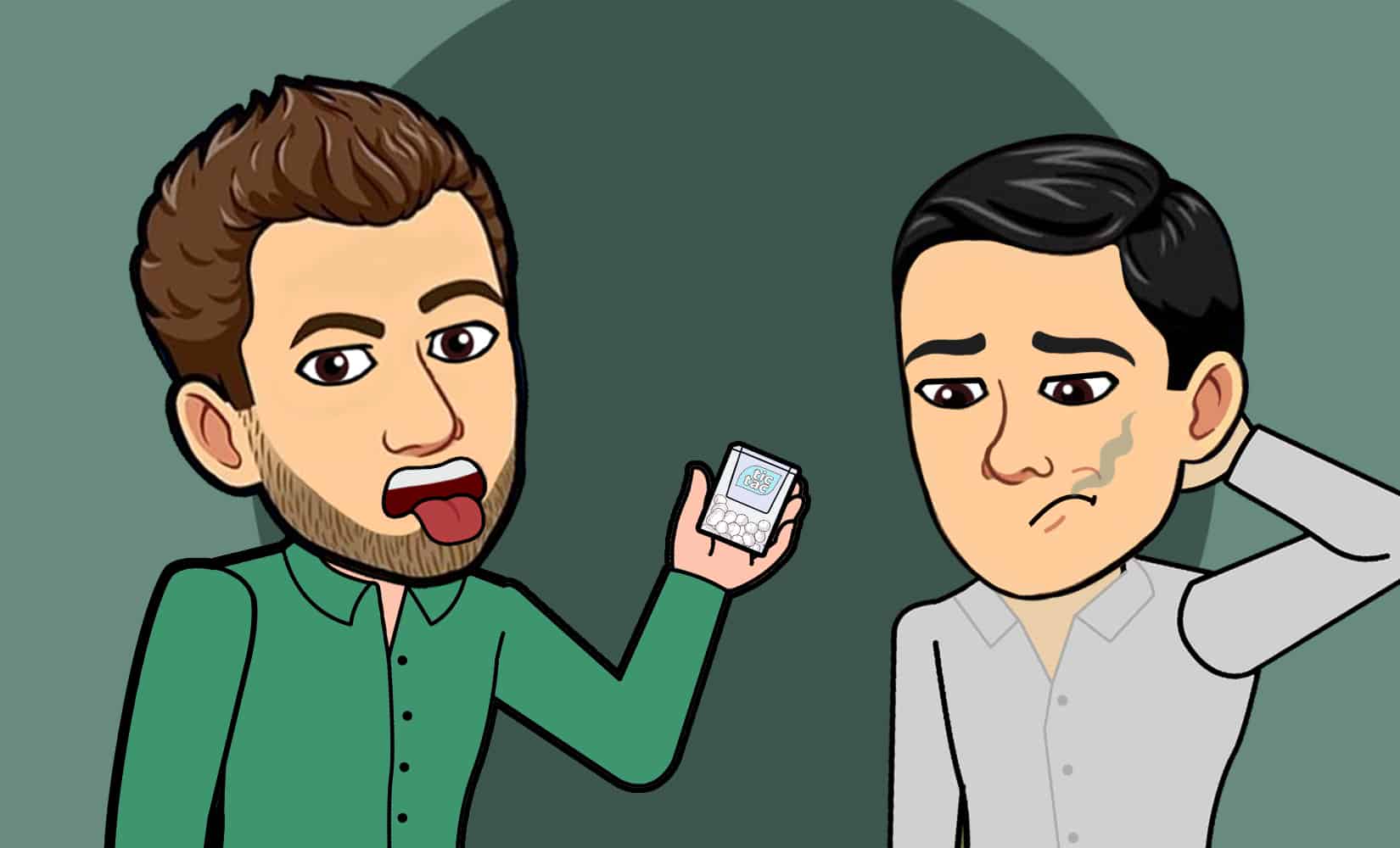 ---
7 Best Mints of 2023 Reviewed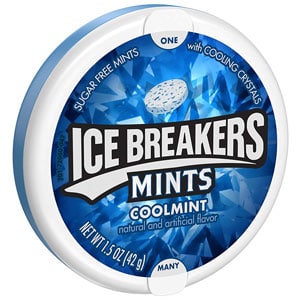 These well-known mints are icy cool and deliver great flavor for a few hours at a time.
Specs
Who Is It Best For?
These breath mints brands are good for men who like mints with a strong aftertaste, and especially men who are going to crunch on a few mints every day.
Key Features
These classic mints are free from sugar, so they shouldn't start your teeth or gums smarting as you chew them up.
They also have 30% fewer calories than many other types of mints, so they'll be a great choice if you are trying to watch your waistline.
The mints are packaged in a bulk container with eight smaller circular clasps inside the box.
Each little circular container snaps shut for careful storage in your car or pocket, whichever is more convenient for you.
Our testers found that the effects of these mints were sharp and lingered for several hours after their primary use.
Each mint can cover your breath adequately for up to a few hours, although the cool mint and peppermint varieties are more effective than the cinnamon.
Still, having a few flavors to choose from is definitely a plus.
These best breath mints are affordable, effective, and sugar-free.
There's almost nothing to dislike, except for their expiration date.
Buying so many mints in one go guarantees that you won't use them all unless you're popping several per day.
Upon expiration, these mints certainly taste a little less than ideal.
Keep in mind if you only need help from them and occasionally.
Check out the hundreds of customer reviews here on Amazon.
---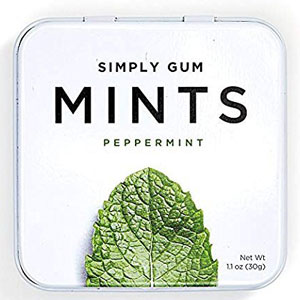 These mints can be chosen in either single-flavor or assorted-flavor types and are created with a simple formula.
Specs
Who Is It Best For?
These are an excellent choice for men who suffer from dry mouth, as these mints don't have alcohol to lower your saliva production.
Key Features
These best breath mints come in packages of six tins, each with about 45 mints inside.
You can choose between three different separate flavors or purchase a package that has all three flavors mixed inside.
It's a great choice if you're a man that likes a little variety in your mints.
Each mint is only made with a few ingredients, and the formula is noticeably sugar-free and alcohol-free.
This can help your breath remain fresher for longer since the mints won't dry out your mouth.
The packaging tin is classy and stylish, and it's the perfect size for fitting into your pocket or a glove compartment in your car.
Overall, there's a lot to like about these mints with the only major downside being the fragility of each individual mint.
Chances are several of them will break during shipping, so you may actually have fewer mints when you open the tin than you'd expect.
Be careful that you don't spill mint dust onto your lap when opening the tin for the first time.
Check out the hundreds of customer reviews here on Amazon.
---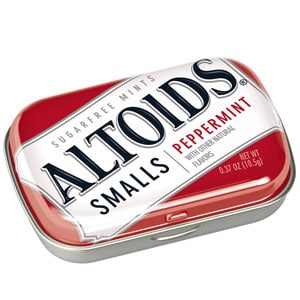 These Altoids provide sharp peppermint refreshment for a few extra hours than many other mint types.
Specs
Who Is It Best For?
These are excellent choices if you want powerful, bad-breath-crushing, and strong mints at your disposal, but take care since their flavor bites a bit.
Key Features
These best mints peppermint breath mints are some of the most well-known across the world.
Although they are sugar-free, the mints have a particularly heavy flavor and are noticeably sharper than a lot of the other mint varieties you can find at the grocery store checkout line.
These mints are so sharp that they may still irritate your teeth or gums, even though their formula lacks sugar.
Still, these are incredibly effective for covering up bad breath that you can easily smell, and their effect will last for a couple of hours longer than many other mints on the market.
The mints come in classy tins stacked atop one another, all well-sized for fitting into the back pocket of your jeans or a pocket of your jacket.
Besides, the tins come with a little preservative paper inside to make sure that the mints remain fresh and whole even after a long shipping period.
This will help ensure that the mints don't break during shipping and they last all the way until their expiration date without compromising their taste or freshening abilities.
Check out the thousands of customer reviews here on Amazon.
---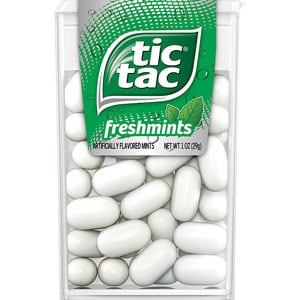 These classic best breath mints come in as many flavors as there are mints in the box.
Specs
Who Is It Best For?
Pick these up if you like having a little variety in your life, and if you only need temporary breath-freshening assistance.
Key Features
Everyone knows the classic Tic Tac mint brand.
This selection comes in up to nine different flavors so you could potentially have a different Tic Tac for every mood and occasion.
The mints do have sugar, so be aware if you have cavities or otherwise sensitive teeth that don't mix well with glucose.
The best mints come in easy-to-swallow sizes and are deposited in a crisp, classic container that's a lot smaller than the tins used by many other mint varieties.
Since each box contains 60 individual mints, this is one of the most affordable mint purchases you can make, especially if you want to buy a bunch in bulk.
The value for money here is incredible.
It's a lot more cost-effective to buy all these mints online than it is to pick them up individually in a store.
The only downside to these classic mints is that they burn through their effectiveness pretty quickly.
They'll only last for 1 to 2 hours before being practically unnoticeable.
It's best to use Tic Tacs right before you go to meet somebody and only if the engagement won't last for the entire night.
Check out the hundreds of customer reviews here on Amazon.
---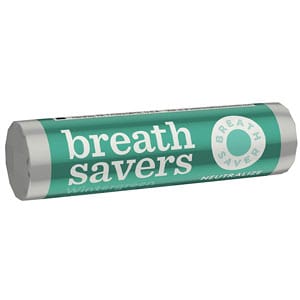 These best breath mints are extraordinarily fresh and last for a long time.
Specs
Who Is It Best For?
These are good if you need mints that can activate quickly and last for a good chunk of time before dissipating.
Key Features
These mints are made without sugar but still managed to provide one of the freshest Wintergreen tastes that our testers had the pleasure of experiencing.
The mints can cover up bad breath without being as sharp as Altoids.
The Wintergreen flavor is also quite pleasant even without the presence of real sugar in the formula.
Each mint is shaped like a doughnut, which helps the mint to dissolve more quickly on your tongue.
These are fast-acting and long-lasting, as the fresh effect granted by each mint should last you between 4 to 5 hours before needing to be refreshed.
To make things better, each mint is only 5 calories, so there one of the best options for men trying to stay on a diet.
The most effective breath mints are packaged in a roll, so storing them requires hardly any space at all.
However, this novel packaging design does have a weakness.
You see, opening the roll makes it a lot easier for the other mints to come spilling out whenever you reach for another one.
We'd recommend keeping them off your person, as the odds of you accidentally spilling donut-shaped mints into your pocket are somewhat high.
Check out the hundreds of customer reviews here on Amazon.
---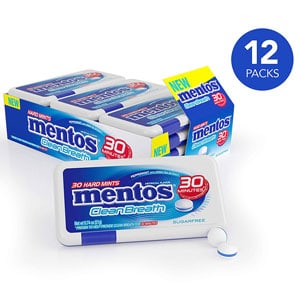 These mints combine candy and breath freshening into one practical product.
Specs
Who Is It Best For?
These are suitable for very short-term breath freshening, or for men who have a bit of a sweet tooth that they'd like to indulge.
Key Features
These best mints for fresh breath are mint candies, combining the freshening effects of regular breath mints with a little extra tastiness thrown in for good measure.
There are three layers of flavor included with each mint, and our testers found that they tasted pretty good despite not having any real sugar in their ingredients list.
To provide their minty freshness, the mints use a refreshing green tea extract, which also has some excellent energy-boosting properties.
The candies are reasonably hard, so take care when crunching down.
The mints are deposited in a thin, pocket-friendly pack that's easy to stuff into your jeans.
The biggest flaw in these mint candies can be seen in how short they last.
You only get about 30 minutes of fresh breath before you need to either pop another one or find a more long-term solution.
Therefore, these mints are best used in emergency situations, or when you know you won't be speaking to another person for very long.
Check out the hundreds of customer reviews here on Amazon.
---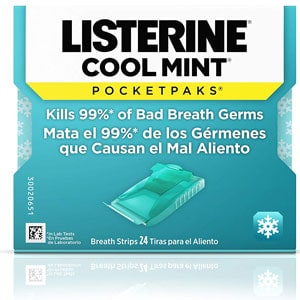 These are breath strips that dissolve in your mouth rather than requiring you to chew to activate their effects.
Specs
Who Is It Best For?
These are great for men who want to fight bad breath in the present and in the future.
Key Features
These breath strips activate instantaneously and don't require you to chew, so they might be great choices if you have sensitive teeth.
Since these are made from Listerine, they also have the added benefit of killing up to 99% of bad breath germs in your mouth.
Because of this effect, these breath strips are a particularly great choice if you want to tackle bad breath in a more long-term way.
Each pack comes with 24 breath strips, and you should only need to use one strip for any given social engagement.
The downside to the strips is that they are quite intense, so if you're not used to swishing Listerine around your mouth already, you may be in for a bit of a rude awakening.
Check out our guide on the best mouthwashes if you'd like to learn more.
Still, these are some of the most effective mint products you can use in terms of sheer breath-freshening power.
Check out the hundreds of customer reviews here on Amazon.
---
Things to Consider When Buying Best Mints
While the best breath mints have been discussed above, let's go over some important things to look out for when you're browsing at the next checkout line.
These aspects are also what our testers used to determine their favorite mints.
1. Taste
---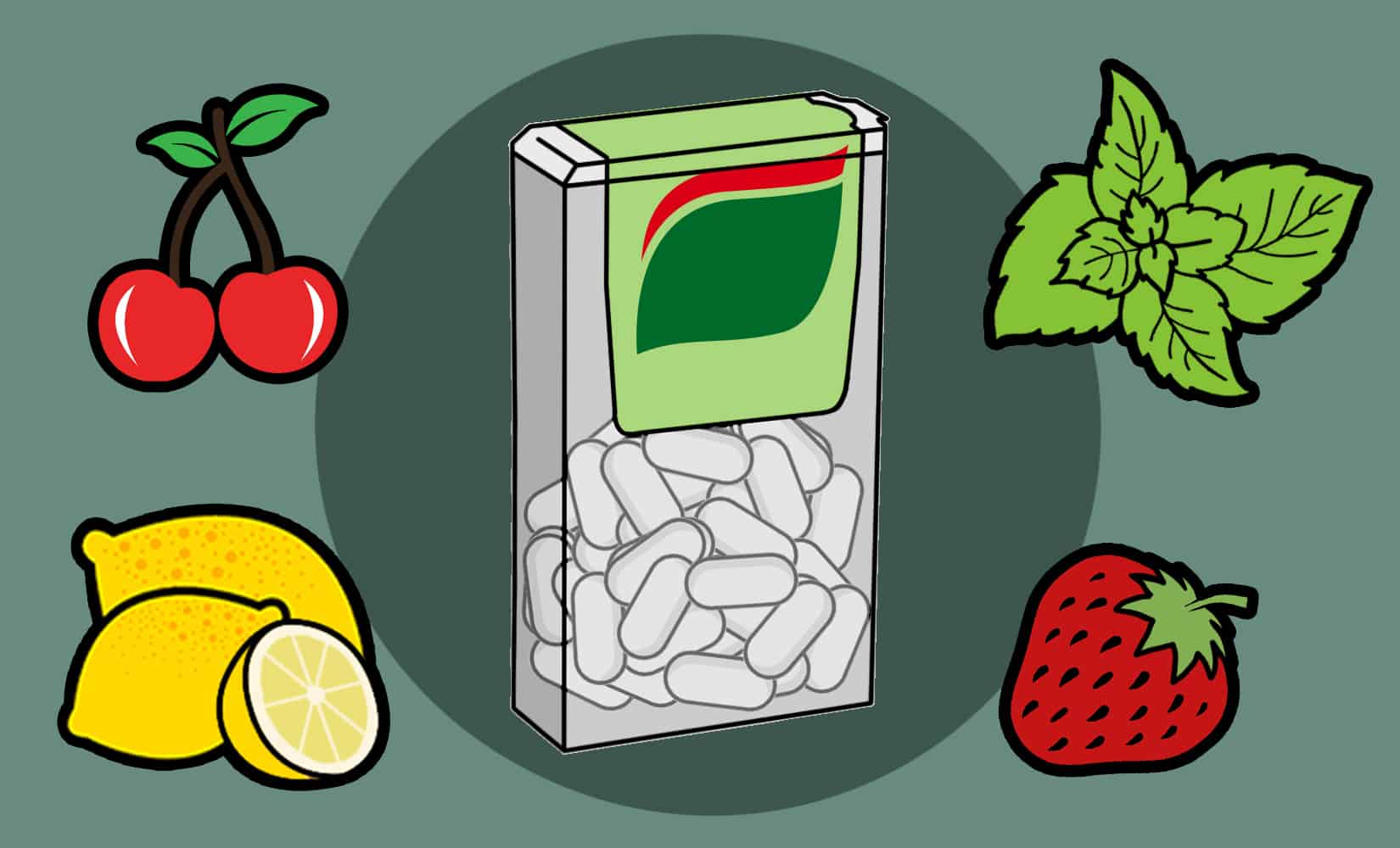 Naturally, the taste of any mint is the first thing you'll notice, and it's likely to be the single factor that weighs heaviest on your mind as you decide.
While the word "mint" refers to the general freshening effect of peppermint oil or bark typically used in breath mints, modern mints come in a wide variety of flavors including tea mints, cinnamon and spearmint flavors.
Some of the more interesting ones will even come with multiple flavors that change as time passes.
However, just because something isn't flavored like every other peppermint-flavored breath freshener doesn't mean it won't work.
There are plenty of different freshening flavors available.
In some cases, mints will combine unique flavors with peppermint to get the best of both worlds: freshness and originality.
Breath mints that have flavors other than typical peppermint can be excellent choices for men who have sensitive teeth.
Strong minty flavor candy tends to make your teeth and gums tingly or ache due to its high flavor potency.
Men with sensitive teeth might stay away from breath mints as a result, but fruity ones may not have the same effect.
We would recommend some caution when it comes to mints that have exciting flavors, especially ones that rely on fruity notes.
Chances are that these fruitier mints use a lot of sugar in their ingredients to obtain the desired flavor.
This isn't a bad thing on its face, but it might present an issue if you are currently struggling with cavities or lots of bacteria in your mouth.
Stay away from heavily flavored breath mints if you need to focus on oral hygiene more than most.
2. How Long Do They Last?
---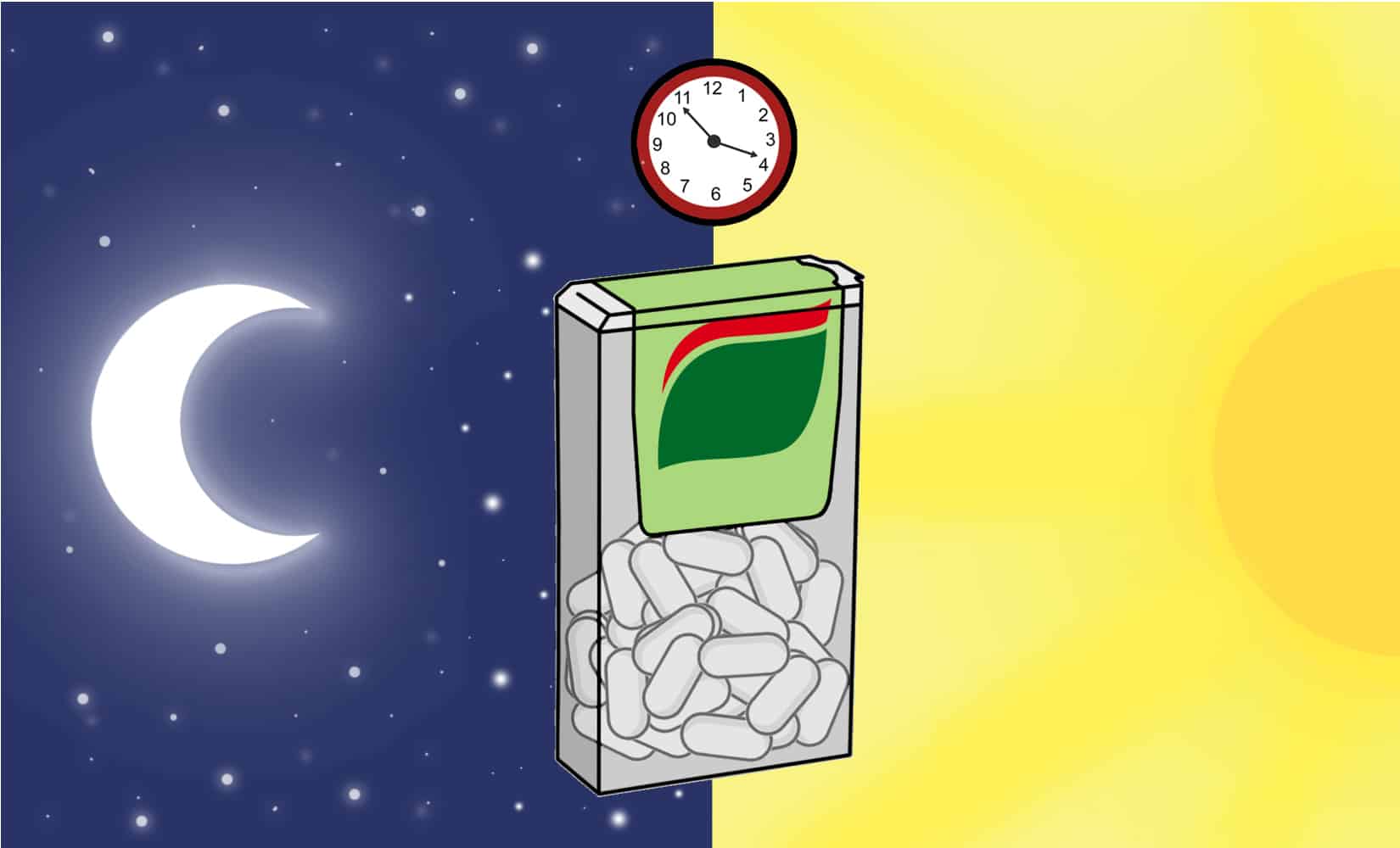 Of course, the best mints should last you for a reasonable amount of time before you need to pop another one in your mouth and get to chewing.
Some excellent mint products can be trusted to work for up to several hours before needing a refresher.
A rare few claim to last for an entire day, but in our testers' experiences, this isn't really true since you'll likely eat a meal or two after using a mint.
These are usually better than mints, which only work for an hour or less, both due to convenience and value for money.
You see, mints that expire quickly will require you to consume them more often, meaning you'll need to purchase formants overall than if you bought a box of long-lasting ones.
Be aware that many mint cases and boxes will claim that they are "high-power" or "high-strength"; they may also claim that this is related to how long mint lasts.
But these two factors aren't really related.
Mints power, or how quickly it covers up the bad breath in your mouth, is more related to the ingredients used in the product and how concentrated those ingredients are.
Besides, your unique mouth biome plays a considerable role in how effective a given mints product is at relieving you of your halitosis.
Long-lasting mints are great, but you can find such mints among both the high power and low-power varieties.
3. Amount
---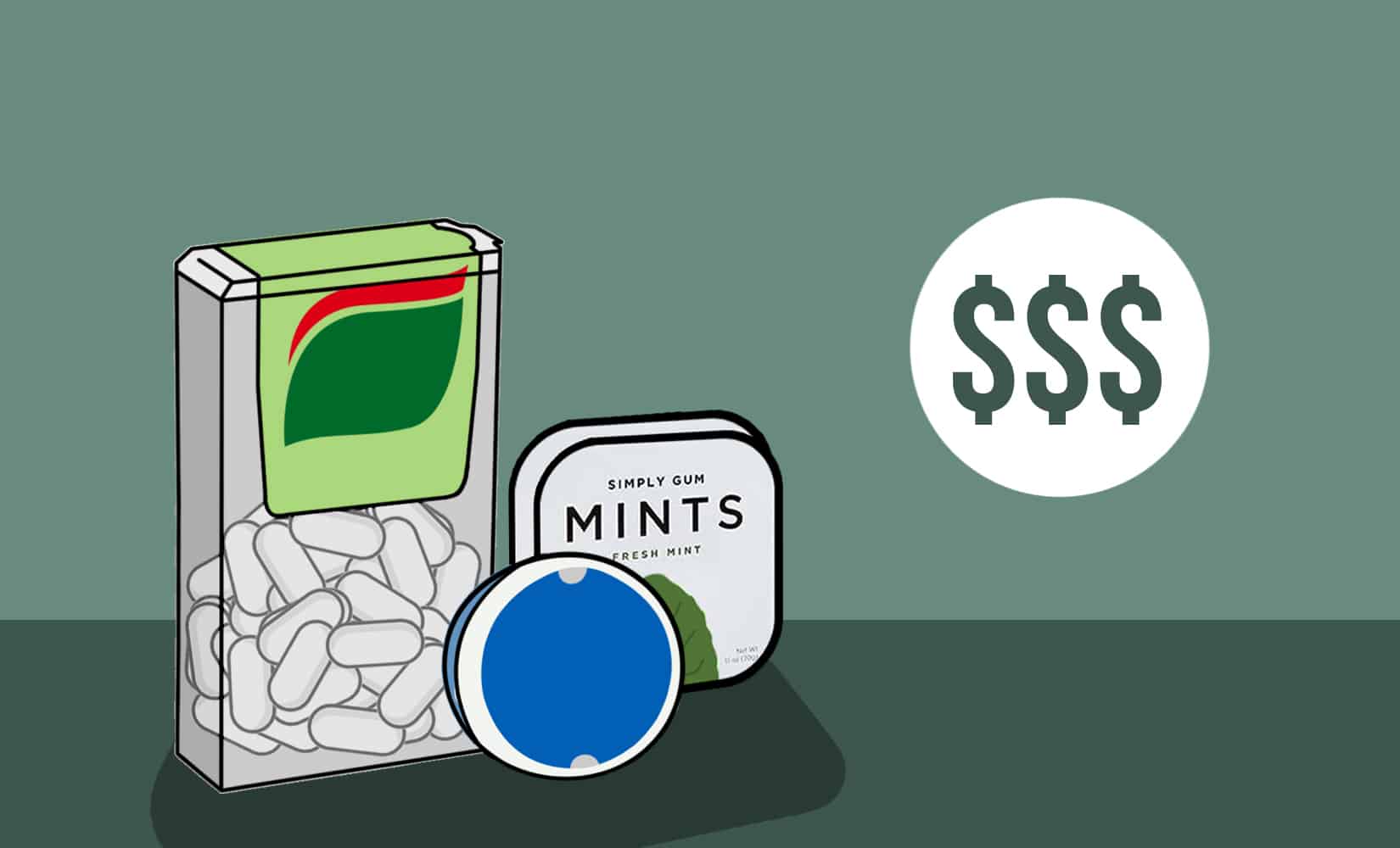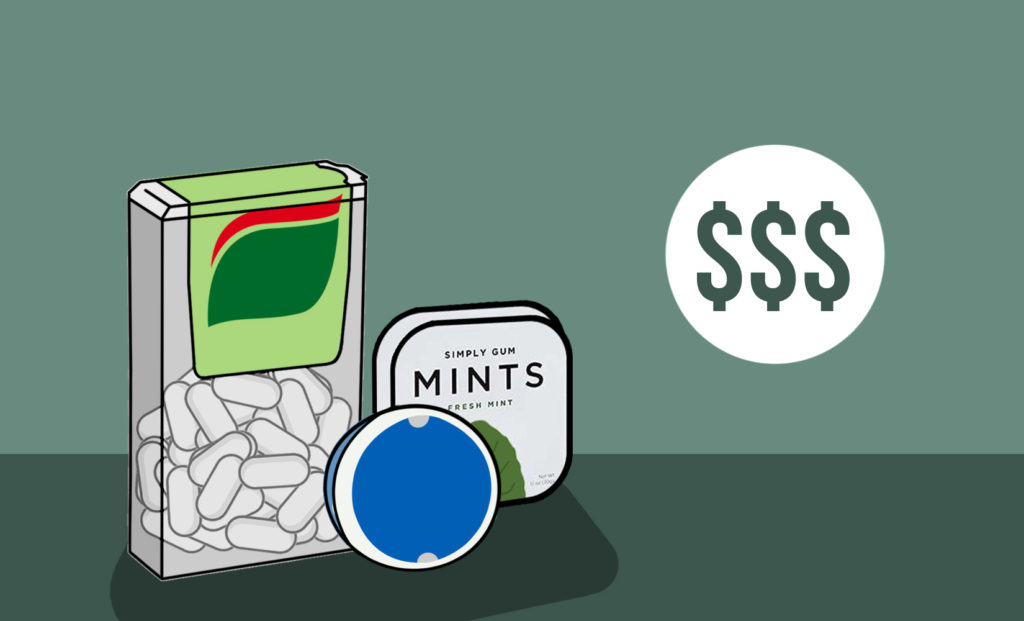 Finally, don't neglect the number of mints that come with any given purchase.
Some of the best mints can be purchased in bulk packages where you can essentially buy a lifetime supply of mints with a few clicks of your mouse.
Think about how often you plan to use your new mints once you've bought them.
If you plan to use several mints per day, it's probably worthwhile to get a bulk package with many small boxes or dispensers of the stuff in one go, rather than picking up a new package every time you go to the store.
On the other hand, if you're only going to use a breath mint before the odd date or social occasion, you can safely pick up mints as you need them.
Thankfully, these longest lasting breath mint are available practically everywhere.
Frequently Asked Questions Regarding Best Mints for Bad Breath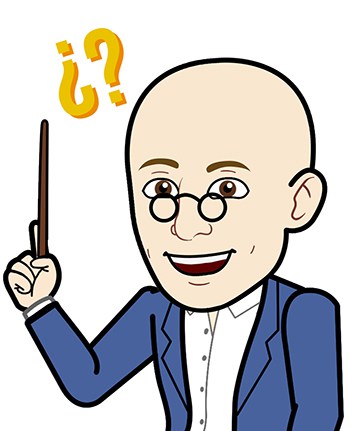 With your new mints in hand, you might be wondering how mints even work, and how best to use your new breath-fresheners.
Let us answer some of those queries now.
1. I Can't Tell If My Breath Is Bad
Our noses are amazing instruments for detecting information about our environment.
As a good rule of thumb, your breath probably smells bad upon immediately rising in the morning and shortly after eating.
2. How to Smell Your Own Breath
The hand cupping method is often recommended.
You can use your wrist as another quick breath checking method, although it looks a little odd if you do it in public.
Another best breath mints smelling method involves pinching your cheeks and pulling them out away from your teeth.
3. How to Get Rid of Alcohol Breath
Mint gum is great way to accomplish bad breath.
Onions and garlic are excellent ways to cure yourself of alcohol breath almost immediately simply because their own fragrances are so strong.
4. How Do Mints Help with Bad Breath?
Mints work by covering up a bad fragrance with a strong fragrance of their own.
Since most people perceive peppermint to be a fresh smell, using a peppermint mint replaces a negative odor (like garlic) with a pleasant one.
5. When Is the Best Time to Use A Breath Mint?
Mints are best popped right before you need to talk to somebody.
A better practice is to pop a mint a few minutes before you meet a person so that the mint has time to dissolve in your mouth and kick in fully without overwhelming anyone.
Everyone has terrible breath at some point, and that even if you clean your teeth carefully every day, feasts with particularly heavy components and perfumes can alter the smell of the breath over and above what you intended.
Breath mints are indeed a cost-effective and quick-acting way to combat foul breath.
Breath mints work rapidly and essentially serve as a mask for the most unpleasant odors that emanate from your mouth.
Our testers tried a variety of best breath mint products to see which ones are truly worth the buzz and which ones aren't worth the shelf space, we sincerely hope our guide helps you.