Just about everyone already knows that they have to brush their teeth and floss well to tackle bad breath.
But plenty of guys still suffers from halitosis each day.
They'll brush their teeth in the morning, head out to work, and watch people recoil from them in horror as their breath fills the space between them.
In the worst-case scenario, bad breath can mean the end of your chances with an attractive lady.
After all, no woman wants to kiss a guy with rancid breath!
If you brush your teeth thoroughly but still suffer from bad breath, maybe it's time to start using a mouthwash.
Mouthwash kills more bacteria and germs than any brushing could hope to achieve.
Since bacteria usually cause bad breath, the best mouthwash is essentially the closest thing you'll ever get to a cure.
But what kinds of mouthwash are there, and which is right for you?
Let us help with that.
We've put this guide together for you, testing various mouthwashes, so you know which one is perfect for your dental health needs.
Let's get started and find the best mouthwashes for bad breath!
QUICK OVERVIEW: Best Mouthwashes for Bad Breath
TheraBreath Fresh Breath Oral Rinse

Tastes great
No tingling or stinging

VIEW ON AMAZON →

Listerine Total Care Anticavity Mouthwash

Long-lasting protection
Strengthens teeth

VIEW ON AMAZON →

Philips Sonicare Breathrx Antibacterial Mouth Rinse

Affordable
Mild mint flavor

VIEW ON AMAZON →

CloSYS Ultra Sensitive Mouthwash

Very gentle for sensitive teeth
Affordable

VIEW ON AMAZON →

Dr. H & Co. Dentist Formulated Refresh Mouthwash

Only natural ingredients
Helps canker sores heal

VIEW ON AMAZON →

Oxyfresh Lemon Mint Mouthwash

Interesting taste
Helps gums as well

VIEW ON AMAZON →

SmartMouth Original Activated and Clinical DDS Breath Rinse

No aftertaste
Very effective at killing bacteria

VIEW ON AMAZON →

Nature's Answer PerioBrite Alcohol-Free Mouthwash

VIEW ON AMAZON →
Use the table of contents below to jump to the sections most important to you.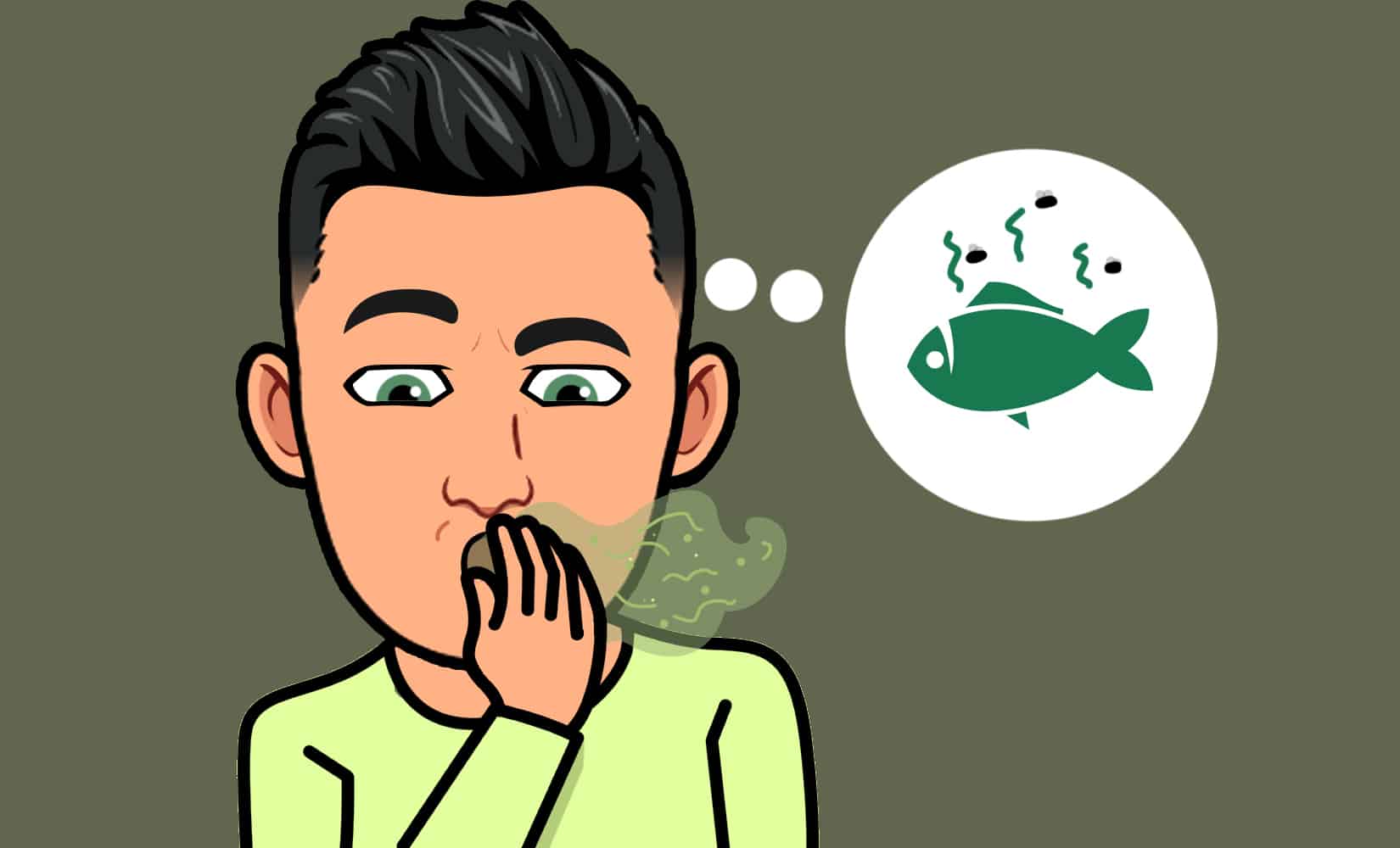 ---
Best Mouthwashes for Bad Breath of 2023 Reviewed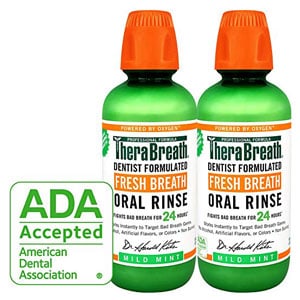 This TheraBreath oral mouth rinse combines fluoride and other natural ingredients to cleanse your teeth and soothe your gums making it the best mouthwash for bad breath.
Specs
Who Is It Best For?
This is great for men needing a few bottles at an affordable price.
Key Features
This mouthwash is sold in a pack of two, and each bottle has 16 ounces.
That's a ton of value considering that you can get the pack for a low asking price.
The unique formula of the TheraBreath mouthwash uses fluoride and several other natural ingredients to kill germs and bacteria inside your mouth and prevent the formation of plaque and other cavities.
It's particularly effective at accomplishing these tasks without making your teeth sensitive.
The mouthwash is in a mild mint flavor.
This flavor isn't intense enough to cause much discomfort, and it's great to use right after eating a meal.
What's more, is that our testers found that this is one of the gentlest mouthwashes around.
Although it tingles a little bit, it didn't sting at all.
Most mouthwashes have at least some element of discomfort, but not this two-pack.
However, this mouthwash's mint flavor does remain for quite some time after rinsing.
Even hours after use, our testers found that a minty aftertaste was present on their food and drink.
So, while this is an excellent choice for use after a meal, it might adversely affect the next when you consume.
Overall, this is a reliable mouthwash product that's ideal for men that want a comfortable experience or who haven't had a lot of time to get used to the tingling present in all mouthwash products.
Check out the thousands of customer reviews here on Amazon.
---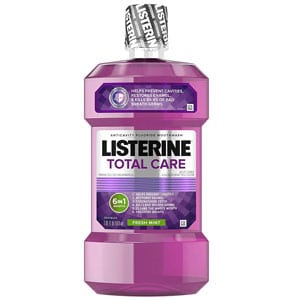 This best mouthwash for gingivitis is extremely powerful when it comes to antibacterial capability.
Specs
Who Is It Best For?
This is an excellent pick for men who can handle some intense tingling but who want to kill as many odor-causing germs as possible.
Key Features
This is easily one of the best fluoride mouthwashes you can buy regardless of your personal needs.
It's affordable, and you get 1 L of the fluid for your purchase, so guys who need mouthwash for everyday use will definitely appreciate this pick.
This Listerine provides six separate benefits: it kills bad breath germs, restores enamel, strengthens your teeth, prevents cavities, and freshens your breath all of the same time.
After swishing, your mouth will feel fresh and reinvigorated although you have to withstand a pretty substantial stinging and tingling sensation for the recommended 60 seconds.
This is a bit longer than other mouthwash products, but it's well worth the momentary discomfort if you want to cleanse your mouth from bacteria thoroughly.
Its tooth strengthening properties are particularly excellent. Some studies have shown that it makes teeth up to 50% stronger than just brushing them.
Our testers also found moderate enamel improvements after using this mouthwash over extended periods.
When used twice a day, you can 24-hour protection against bacterial growth and plaque creation. Combined with solid brushing and flossing, you'll never have to worry about bacteria-related bad breath again.
This receding gums mouthwash is easily the best when it comes to pure antibacterial results.
Its mint flavor is fairly intense but burns away quickly, so you don't need to worry about your next meal being affected.
Check out the hundreds of customer reviews here on Amazon.
---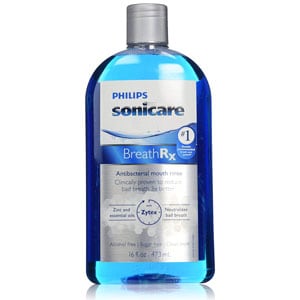 This mouthwash is reasonably comfortable and has a gentle formula that is nonetheless great for reading your mouth of germs.
Specs
Who Is It Best For?
This is an excellent choice for men with sensitive teeth who still need decent antibacterial work done.
Key Features
This best mouthwash for cavities doesn't have fluoride as an active ingredient, but it's still excellent at taking care of excessive bacteria growth and moderating halitosis.
Instead, it uses essential oils and other compounds to kill bacteria and provide a soothing sensation as you swish the mouthwash around.
Although it does tingle to an extent, our testers found that it was far from the most uncomfortable they experienced.
It's an excellent choice for guys with sensitive teeth or gums for this reason alone.
Antibacterial properties in this mouthwash are bolstered by the presence of zinc.
The zinc helps to kill other bacteria even more thoroughly than the formula already does.
You get a very reasonable 16 ounces for your purchase for a low asking price.
The mint flavor is noticeable but not overwhelming.
The only real downside to this mouthwash is that it doesn't have any compounds that can strengthen the enamel of your teeth and lead to better oral health in the long term.
This is still a therapeutic type of mouthwash, but it straddles the line between short-term and long-term results.
It's best used as a mouthwash to accompany daily brushing and flossing if you don't have any tooth weakness issues, or if you have extraordinarily sensitive gums.
Check out the hundreds of customer reviews here on Amazon.
---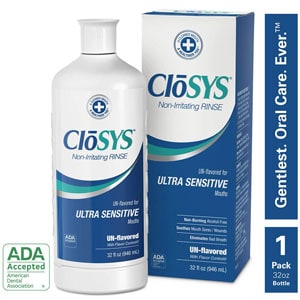 This CloSYS mouthwash lacks a flavor entirely and uses a patented ingredient to cleanse your mouth of bacteria.
Specs
Who Is It Best For?
This mouthwash is the best mouthwash for bad breath, people who can't stand tasting their product hours after they've spat it out.
Key Features
Men with sensitive teeth and gums will likely find nothing better than this mouthwash.
It doesn't have fluoride or any other typical ingredients but instead relies on a patented compound called cloralstan.
This ingredient helps fight off bacteria and gum disease while reducing plaque and balancing the pH level of your mouth.
In one fell swoop, it can eliminate bacteria and prevent them from coming back since it changes the microbiome environment of your mouth.
Tooth sensitivity isn't an issue due to this formula.
It's practically as gentle as using water since it doesn't tingle or stain nearly as much higher power mouthwashes as Listerine.
It's also totally unflavored, so you don't need to worry about your mouthwash affecting the next meal you eat for hours at a time.
Men who have trouble keeping mouthwash in their mouths for the entire duration of the swishing session will really love this product.
Since it's unflavored and doesn't tingle nearly as much as competitor products, keeping the mouthwash swishing away for the recommended 30 to 60 seconds is easier than ever.
You also get 32 ounces for your purchase, and all for a reasonable asking price.
This is great since it means you don't have to shell out extra cash just to have a comfortable mouth washing experience.
Like with our previous pick, the only area in which this product lacks is tooth strengthening.
Although its unique formula is excellent for killing bacteria, it lacks any enamel-boosting properties like Listerine.
Still, this is the best mouthwash for bad breath for men who are more concerned about tooth sensitivity and tingling than anything else.
Check out the thousands of customer reviews here on Amazon.
---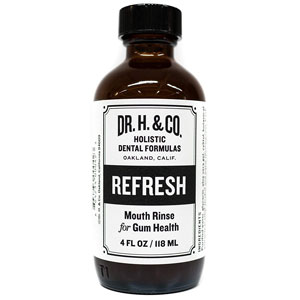 This organic mouthwash is one of the most gentle you can find and is perfect for stealing your guns from infection or canker sores.
Specs
Who Is It Best For?
This is great for men who need a gentle and sensitivity focused mouthwash.
Key Features
This mouthwash with cetylpyridinium chloride has an incredibly unique formula that uses all-natural ingredients and tons of essential oils to revitalize and thoroughly clean your mouth.
It combines some of the most well-known essential oils, like tea tree oil, cinnamon oil, and peppermint oil, all to significant effect.
These oils add a little bit of natural peppermint flavor and freshen your breath at the same time.
The oils also are anti-inflammatory and antimicrobial; they are excellent for clearing out bacteria from your mouth.
The presence of licorice root in the formula stops any bleeding gums and can even reduce your canker sores.
Men who suffer from that particular irritant will really enjoy this mouthwash formula.
There's also some white oak bark that's antibacterial and antiseptic, and it's excellent for treating any mouth infections that you might be suffering from.
Aloe Vera is also included since it's excellent for healing canker sores and reducing plaque build-up all across your teeth just like in cepacol mouthwash.
Basil is included to reduce gum inflammation.
All of these ingredients really drive home the fact that this mouthwash is perfect for men who are trying to get their oral hygiene act together.
In many cases, sensitive gums can turn men off of attempting to flossing brush more frequently.
But using this mouthwash can help alleviate the symptoms and make brushing and flossing a lot more comfortable.
It's a bit pricey considering that you only get 4 ounces in the bottle, but the ultimate value provided here is hard to argue with.
As far as all-natural or organic mouthwashes go, this is clearly one of the best you can buy.
Check out the hundreds of customer reviews here on Amazon.
---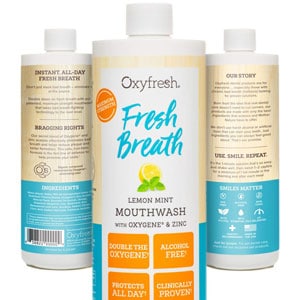 This unique mouthwash has an exciting taste and is gentle on the teeth and gums.
Specs
Who Is It Best For?
This is great for men who want a mouthwash that doesn't totally taste like mint.
Key Features
This mouthwash also uses organic and all-natural components.
The zinc helps to eliminate excess bacteria and get rid of plaque in the mouth while the patented Oxygene compound also tackles bacteria very effectively.
The resulting solution of these two ingredients mixed together is light in the mouth and great for sensitive teeth.
There aren't a lot of tooth strengthening properties here, but it's easily one of the most refreshing mouthwashes you can experience.
It does help to strengthen your gums, however, due to the presence of plenty of essential oils.
It also doesn't sting or tingle nearly as much as something like Listerine; once again, this is great for men with sensitivity issues in their mouths.
The flavor is an exciting mix of lemon and peppermint to give you a more interesting lasting impression than many other mouthwash products.
This mouthwash does have a sweetener to help make it more palatable, so men that have a cavity or two might find this mouthwash a bit uncomfortable to use.
Check out the hundreds of customer reviews here on Amazon.
---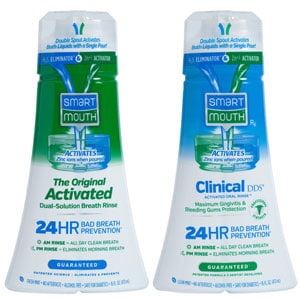 This SmartMouth mouthwash has you combine two separate bottles to create a powerful antibacterial mouthwash.
Specs
Who Is It Best For?
This is great for tackling halitosis that's progressed too far, and which requires intense antibacterial effort.
Key Features
This mouthwash with cetylpyridinium chloride solves halitosis problems creatively.
Don't be fooled by the two-pack of bottles; each bottle has to be used together during each rinsing session.
The first bottle, which is a sulfur-eliminating solution, has a deodorizing compound that can prevent the nasty sulfuric smell given off by bacteria from progressing.
When this solution is mixed with the activating solution, it's combined with zinc.
Together, both of these solutions can stop bacteria from being able to consume their fuel and grow.
Essentially, they're a super cleanser once mixed.
They'll kill all the bacteria in your mouth and leave you without any detectable odor on your breath whatsoever.
Since there aren't any flavored ingredients, this mouthwash also leaves you with no aftertaste so you can enjoy your next meal in peace.
This bundle is easily one of the most influential and active direct antibacterial agents you can purchase.
It's ideal for getting rid of gum disease and tackling excessive plaque issues provided that you supplement it with proper brushing.
However, the cost of this effectiveness is a bit high.
You also have to remember that while each bottle holds 16 ounces of solution, you'll need to combine both of them each time for maximum effect.
This means that you get around 32 ounces altogether.
Check out the hundreds of customer reviews here on Amazon.
---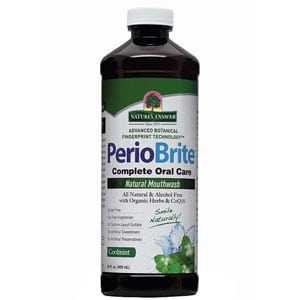 This PerioBrite mouthwash only uses organic ingredients and is one of the most comfortable and refreshing ones you can find.
Specs
Who Is It Best For?
This is a good mouthwash for a temporary pick me up or for improving your breath in the short term for a date.
Key Features
This cosmetic mouthwash is excellent for tackling bad breath on a short-term basis.
It's also one of the best feeling mouthwashes that our testers experienced.
It combines a lot of herbal ingredients and other natural compounds to leave your mouth with a sparkly and refreshing sensation, supplemented by the mint flavor and aftertaste.
Event aftertaste isn't too overwhelming, so it won't make your future meals unappealing.
The main formula combines natural ingredients like oregano, cinnamon, and clove to soothe your gums and other tissues and promote healing if they are suffering from an infection.
Folic acid is also included to cleanse your mouth of bacteria and soften up the plaque for easier removal.
Finally, phytoplenolin, which is an herbal extract, promotes cell vitality and helps improve oral health overall.
However, this mouthwash doesn't do much to strengthen the teeth, and it's not the best choice for long-term oral care.
But it's great if you'd like a boost to your oral comfort or can't handle other mouthwashes if you have sensitive teeth or gums.
Check out the hundreds of customer reviews here on Amazon.
---
Things to Consider When Buying Best Mouthwashes for Bad Breath
Not all mouthwashes are the same.
Read through these key considerations to make sure that you get the right mouthwash for your needs.
1. Type (Cosmetic vs Therapeutic)
---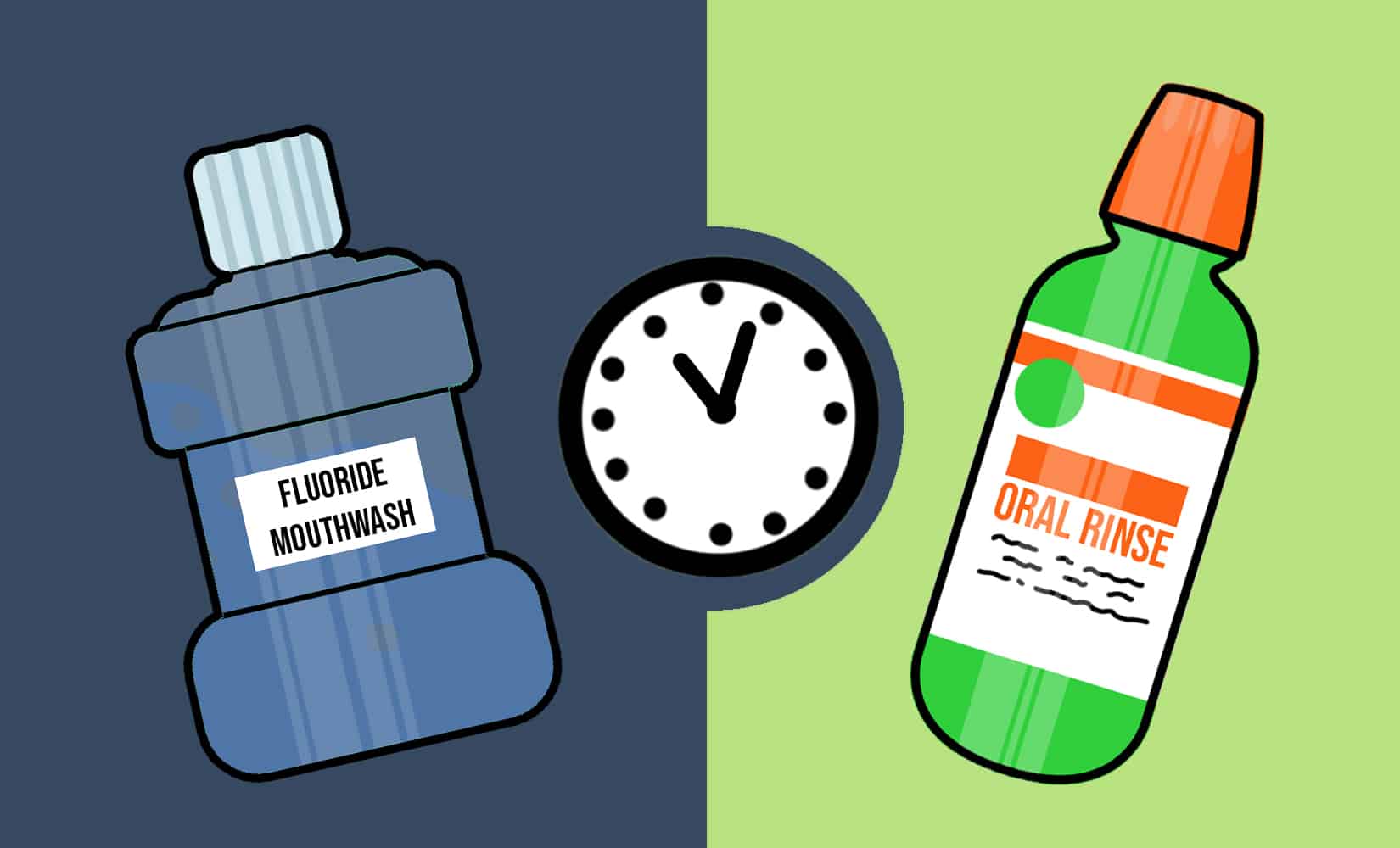 There are two main types of mouthwash that you need to be aware of: cosmetic and therapeutic.
Cosmetic mouthwash is a short-term solution that can cover up bad breath in the immediate future.
It generally relies on a heavy fragrance and usually tastes pretty good to provide the user with an enjoyable experience.
However, cosmetic mouthwashes usually don't offer much in the way of real bacteria cleansing capabilities and aren't suitable for long-term halitosis protection.
You can think of cosmetic mouthwash as an accessory to the regular mouth mint.
Cosmetic mouthwashes are best used right before you go on a date or another social event.
They can improve your breath immediately for a short period.
Cosmetic mouthwash is often a little cheaper than therapeutic mouthwash due to its more inexpensive ingredients.
Therapeutic mouthwash is much more of a long-term product.
From the ground up, each therapeutic mouthwash product is designed to kill as much bacteria as possible and make your mouth an inhospitable environment for future bacterial growth.
Since most bad breath is the result of bacteria piling up between your teeth and on your gums, therapeutic mouthwash is excellent when it comes to tackling halitosis more permanently.
Therapeutic mouthwash won't totally replace tooth brushing and flossing practices.
But when you use all three of these efforts together, you can achieve excellent results when it comes to minimizing your bad breath.
Therapeutic mouthwashes will usually have plenty of antiseptic or antibacterial compounds and ingredients.
Their flavors tend to be pretty intense as a result of these ingredients, so it can be difficult, to find an excellent therapeutic mouthwash that works well with men with sensitive teeth and gums.
However, these mouthwashes do exist, and we'll provide several examples later in our guide.
2. Ingredients
---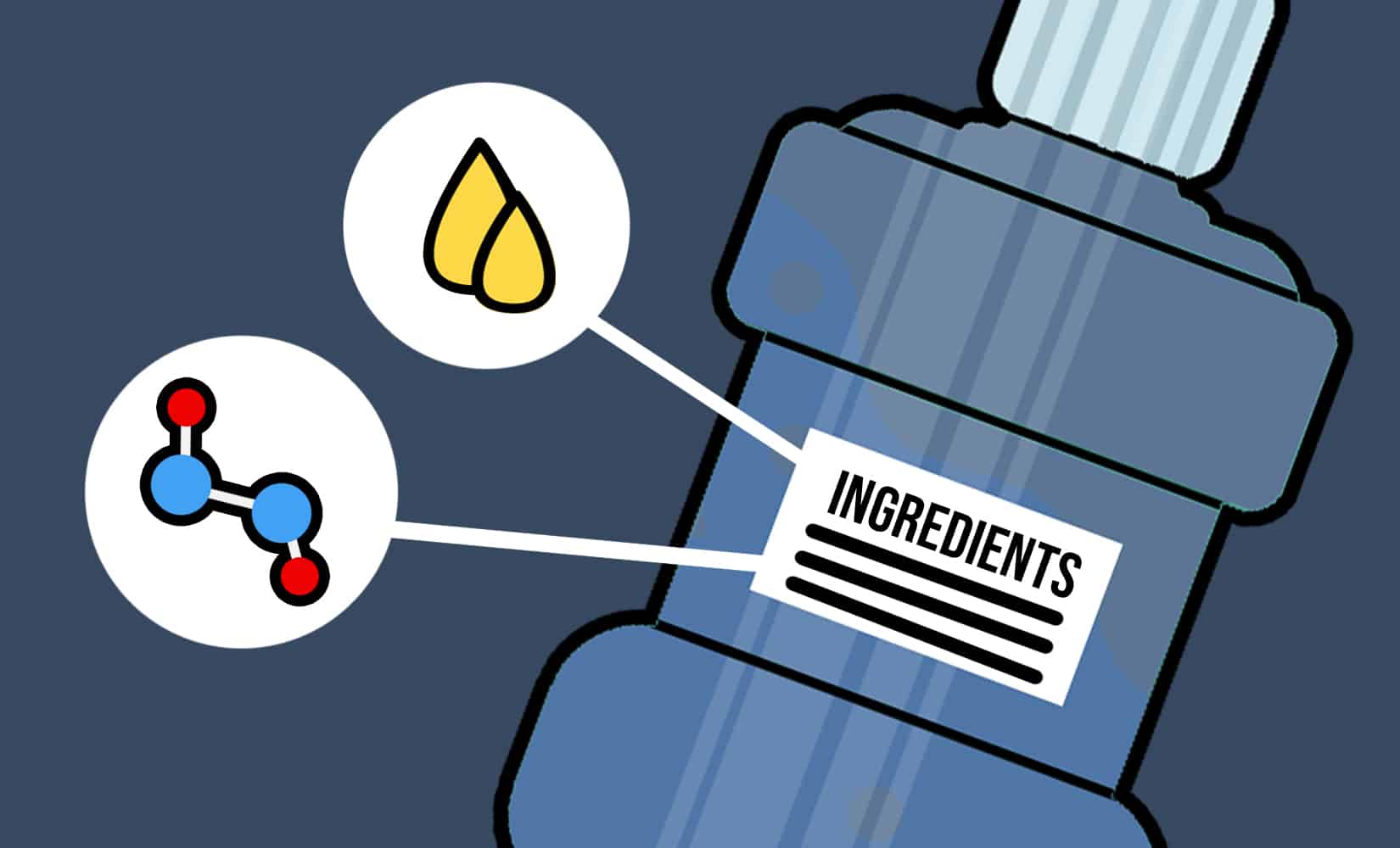 Of course, the ingredients included in any given mouthwash are essential.
Let's go through the primary ones to look out for as you browse.
Fluoride is one of the most common antibacterial and antiseptic ingredients in best mouthwash for bad breath.
You'll find it in all kinds of dental care products.
It's not just present in mouthwash but is also frequently found in tubes of toothpaste and whitening strips.
Fluoride is so common that it's practically a given that any good mouthwash will have it as part of its formula.
However, mouthwashes with tons of fluoride might be a little hard on sensitive gums.
Fluoride is a tooth-strengthener, making your teeth resistant to acidic damage over time.
But it's not the gentlest substance.
However, consistent fluoride use will likely make your teeth less sensitive over time, if not initially.
Plenty of mouthwashes also has peroxide of some kind (usually hydrogen peroxide).
This ingredient gives mouthwash its bubbly and tingly texture and helps to lift small food particles and bacterial clumps off the surface of your teeth where they can be rinsed out into the sink.
Peroxide basically works by settling into small perforations or indentations on the surface of your teeth and turning into a bubble.
This bubble is then released and rises up, carrying any bacteria or food particulates along with it.
Peroxide in best mouthwash for bad breath has a secondary beneficial effect in that it helps to whiten your teeth and eliminate staining as a result of coffee or tea drinking.
Most tooth stains from drinking dark-colored fluids are a result of tooth surfaces being impacted with microscopic particles of those drinks over time.
Peroxide can help soften these particles up and lift them away after repeated use.
It will likely take some time to see any noticeable effect, but if you use mouthwash consistently and it has peroxide in the formula, you should notice whitening of your teeth after a few weeks.
Many types of mouthwash also include essential oils.
These best mouthwash for gums feel good and soothe your gums and tongue.
Many essential oils also help control plaque and gingivitis since they tend to have antiseptic or antibacterial qualities.
Essential oils can also occasionally provide extra flavor or texture to a given mouthwash product.
Many natural types of mouthwash and organic products will use an abundance of essential oils combined with something like peroxide to achieve a similar antiseptic effect as regular mouthwashes do.
This ingredient is also an active plaque and gingivitis fighter.
It eliminates bacteria and softens plaque so that it can be removed more easily either from brushing or from the washing motion itself.
This ingredient also helps to prevent bacteria from returning.
This ingredient of best mouthwash for bad breath is a powerful antibacterial agent.
That makes it one of the most potent ingredients for eliminating bad breath as a whole.
Bad breath is almost ubiquitously caused by an excess of odor-causing bacteria hanging out in your mouth in the crevices between your teeth or on your tongue.
Powerful antibacterial agents like cetylpyridinium chloride kill lots of bacteria and make your mouth an inhospitable environment for them.
3. Good for Sensitive Teeth?
---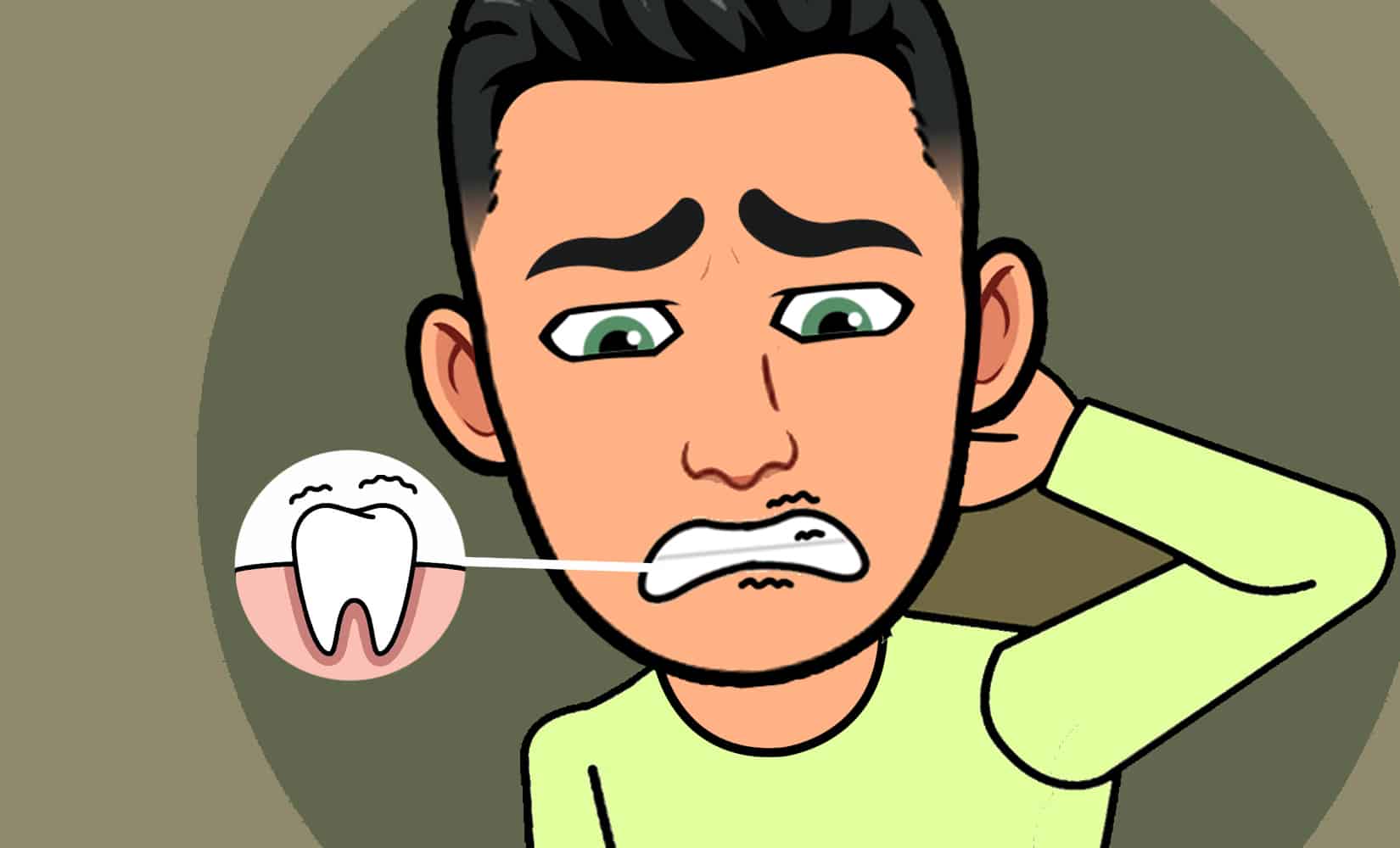 Believe it or not, there are actually several mouthwash products that are perfect for men with sensitive teeth.
A mouthwash that doesn't make your teeth tingle or ache has to be created with a specific set of ingredients that anesthetize the delicate tubules and nerves near the surfaces of your teeth.
Best mouthwashes for bad breath will also help to strengthen the enamel over time by providing materials that reinforce the layer of dentin near teeth surfaces.
Many of the best mouthwashes for sensitive teeth will have specific ingredients like potassium citrate and potassium nitrate.
Sodium fluoride can occasionally be used for tooth sensitivity, but it gradually improves tooth enamel.
It might not be very comfortable initially for men with, especially sensitive teeth.
Both potassium nitrate and citrate desensitize the nerves of teeth so you can use mouthwash without having to be in pain for the duration.
You can also check for all-natural mouthwashes that use organic ingredients like essential oils to find a mouthwash product that won't irritate your teeth.
Both the organic and the potassium nitrate and citrate types are excellent for sensitive teeth in general, though you may find that you prefer one or the other with a little experimentation.
4. Amount
---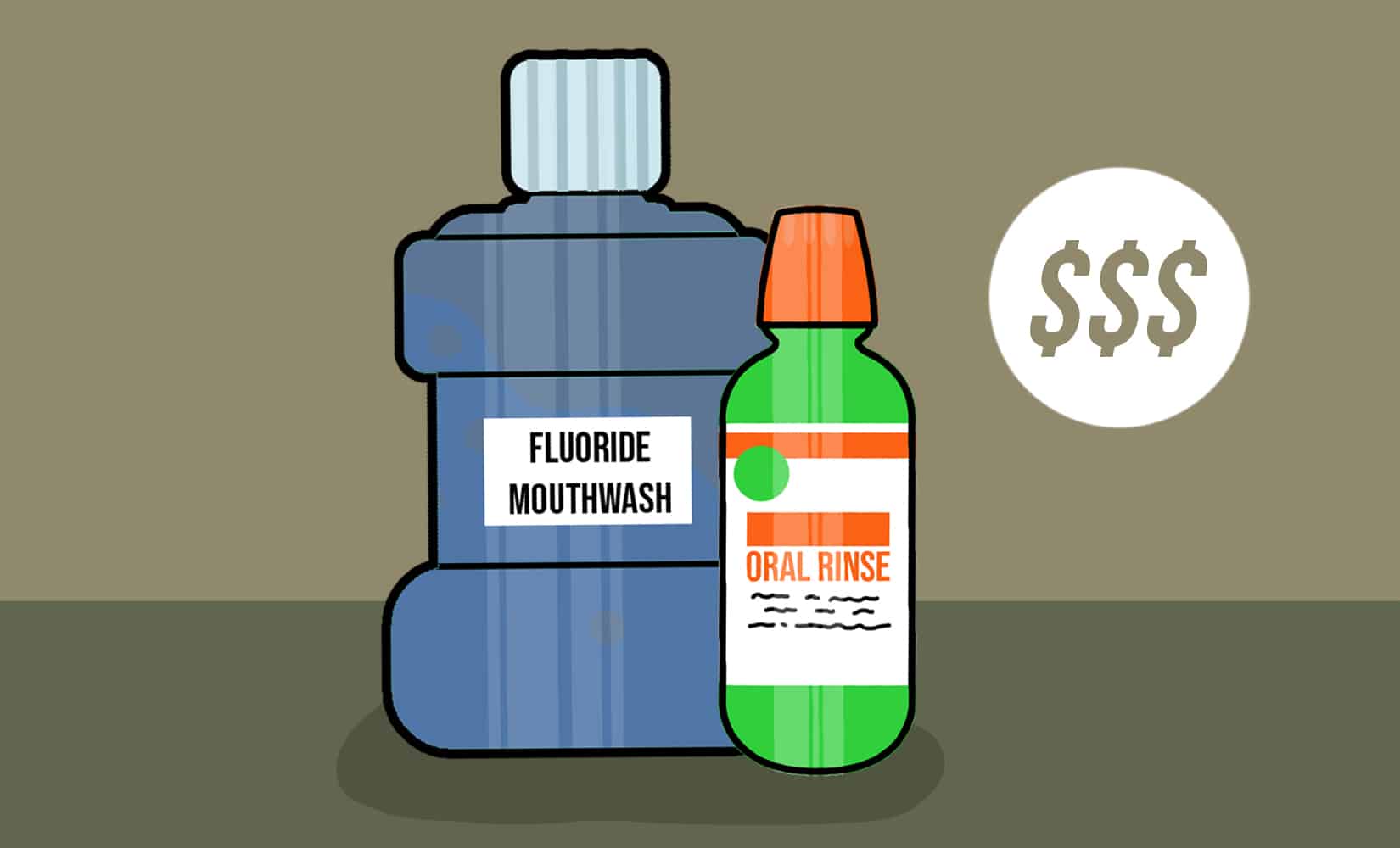 The amount of mouthwash you get for your purchase is something to pay attention to, as well.
Some mouthwash products are particularly good deals simply give you plenty of the product for an affordable asking price.
Other mouthwashes will be rather stingy and charge you a hefty sum just to get a few ounces of liquid.
The difference between the two is often in the number of effects of the mouthwash has and its overall effectiveness.
If you need mouthwash to use every day to improve your oral health over the long term, you're better off going with a cheaper mouthwash that gives you plenty of the liquid for use.
On the other hand, if you're only going to use a cosmetic mouthwash and occasionally use it to spruce up your breath before a date, you can definitely get away with purchasing a more expensive option with fewer ounces per bottle.
There's no wrong answer, as your preference will depend on your oral health objectives.
5. Flavor
---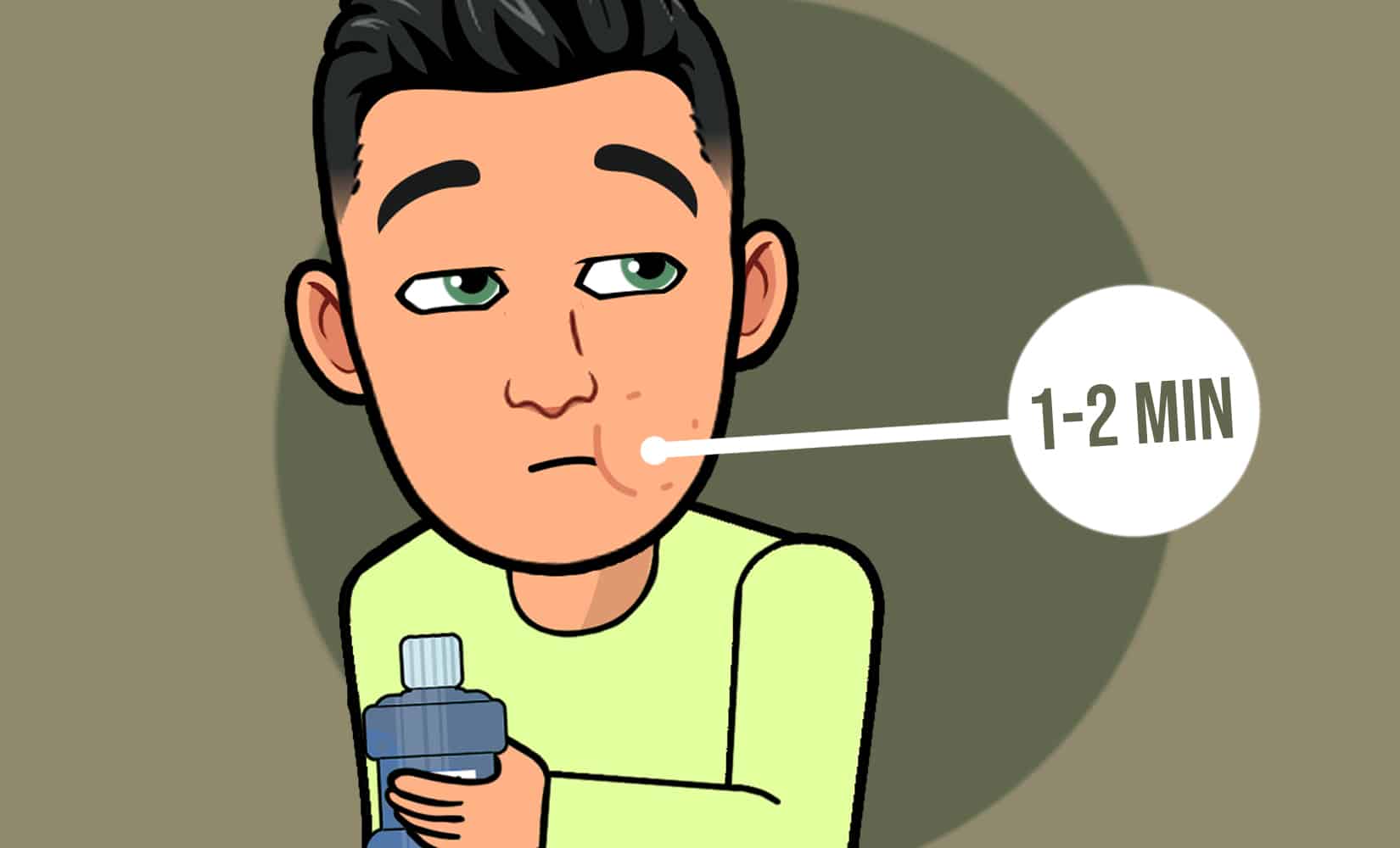 Finally, the taste of the mouthwash is something you can't disregard.
Not all mouthwashes are flavored with typical peppermint or spearmint.
Many modern types of mouthwash have more exotic flavors taking after fruits, for instance.
In these cases, you should make sure that there isn't an abundance of sugar in the mouthwash since this can lead to more bacteria production and cavity formation.
Some mouthwashes don't have any flavor at all, mainly organic or all-natural picks.
These will rely on peroxide and maybe a little sodium fluoride without any flavored additives.
Again, there's no wrong answer when it comes to which flavor of mouthwash is best.
It's just something you should consider so that you purchase a product that you can stand using day after day after day.
Remember that you'll have to hold the mouthwash in your mouth and swish it around for up to a minute or two at a time.
It's better to make your mouthwash product something you enjoy tasting!
Frequently Asked Questions About Best Mouthwashes for Bad Breath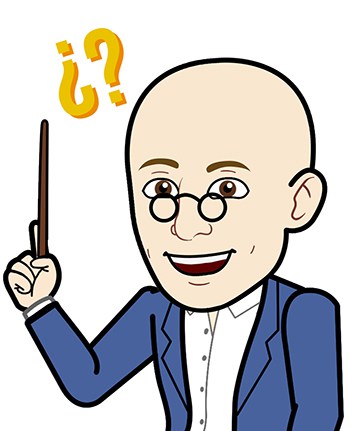 You've got a new antiseptic mouthwash and are chomping at the bit to try it out, but you might still have a few lingering questions about bad breath and how to get rid of it effectively.
Let's go through those now.
1. What Is Halitosis (Or Bad Breath)?
It's an official dental or medical term for garden-variety bad breath.
Halitosis can come about from a variety of different situations and scenarios, but it almost always revolves around bacteria lacing the surfaces of your mouth.
2. What Causes Bad Breath?
A common reason why people develop bad breath (halitosis) is because of dry mouth.
People suffering from one ailment, have terrible breath.
Men who eat a lot of sugary foods or drink lots of soda and smokers have stereotypically bad breath.
3. How Does Mouthwash Help?
Best mouthwash for bad breath acts as an antibacterial and antiseptic agent.
Mouthwash, being a liquid, isn't limited to surface-level cleaning that you can see.
Various mouthwash products also have detergents to dislodge other food debris and make stiff plaque looser for future removal.
4. How Does Mouthwash Help?
Mouthwash is best used after you've already brushed and flossed your teeth.
Simply swish your mouthwash for around 30 seconds to 1 minute and then spit.
5. Can Mouthwash Replace Brushing?
Brushing and flossing are more Oxygene than mouthwash when it comes to total oral hygiene
If you brush, floss, and use mouthwash each and every day you'll kill your bad breath after just a few solid days of work in most cases.
6. Are There Home Remedies for Bad Breath?
Eating 1 cup per day using nonfat milk improves the microbiome in your mouth and stomach.
Fennel seeds exude essential oils when they're cracked during chewing.
Parsley herb can be chewed to deodorize your breath.
Give your tongue a good scrubbing with your favorite toothbrush and a substantial amount of toothpaste for maximum results.
You should take good care of your mouth and teeth twice a day at a minimum.
Remember to drink plenty of water throughout the day.
Conclusion on Best Mouthwashes for Bad Breath
Best mouthwash for bad breath is crucial in the fight against foul breath, yet many people disregard it.
Brushing and flossing your teeth after each meal is ideal.
This aids in the reduction of odor-causing microorganisms in the mouth.
More than simply your teeth are affected by your dental health.
Self-esteem, speech, and nutrition concerns can all be exacerbated by poor patient's oral health.
They can also have an impact on your comfort and quality of life.
Many dental and oral issues manifest themselves without causing any symptoms.
The easiest method to catch an issue before it becomes worse is to visit a dentist on a regular basis for an inspection.
Using mouthwash makes lives easier and prevents long-term problems.
We hope our guide to best mouthwashes for bad breath was useful.