It seems like every time you head to the dentist, no matter how well you've done, your local oral expert says that you need to "floss more."
The only trouble is that flossing is frequently uncomfortable.
It's one of the hardest oral hygiene habits to get to stick.
Brushing is no big deal, but traditional flossing takes a lot of time.
Working the string in between the crevices of your teeth and gums is one of the most unpleasant aspects of the entire routine.
If only there were a way to get the oral health benefits of flossing without so much hassle or discomfort.
What if we told you there was?
Water flossers are special oral hygiene tools that use pressurized water to clean out the crevices between your teeth and gums.
Instead of using a real string to remove plaque and bacteria, the best water flossers use water right from your sink to accomplish the same task.
It feels better, can be done quicker, and manages to clean out about the same amount of gunk as regular floss.
But which water flosser is the best?
We've done the heavy lifting and answered that question (and many more) for you.
Our guide below has all the necessary details to help you get rid of regular floss: a dream come true for many men.
Let's get started.
Use the table of contents below to jump to the sections most important to you.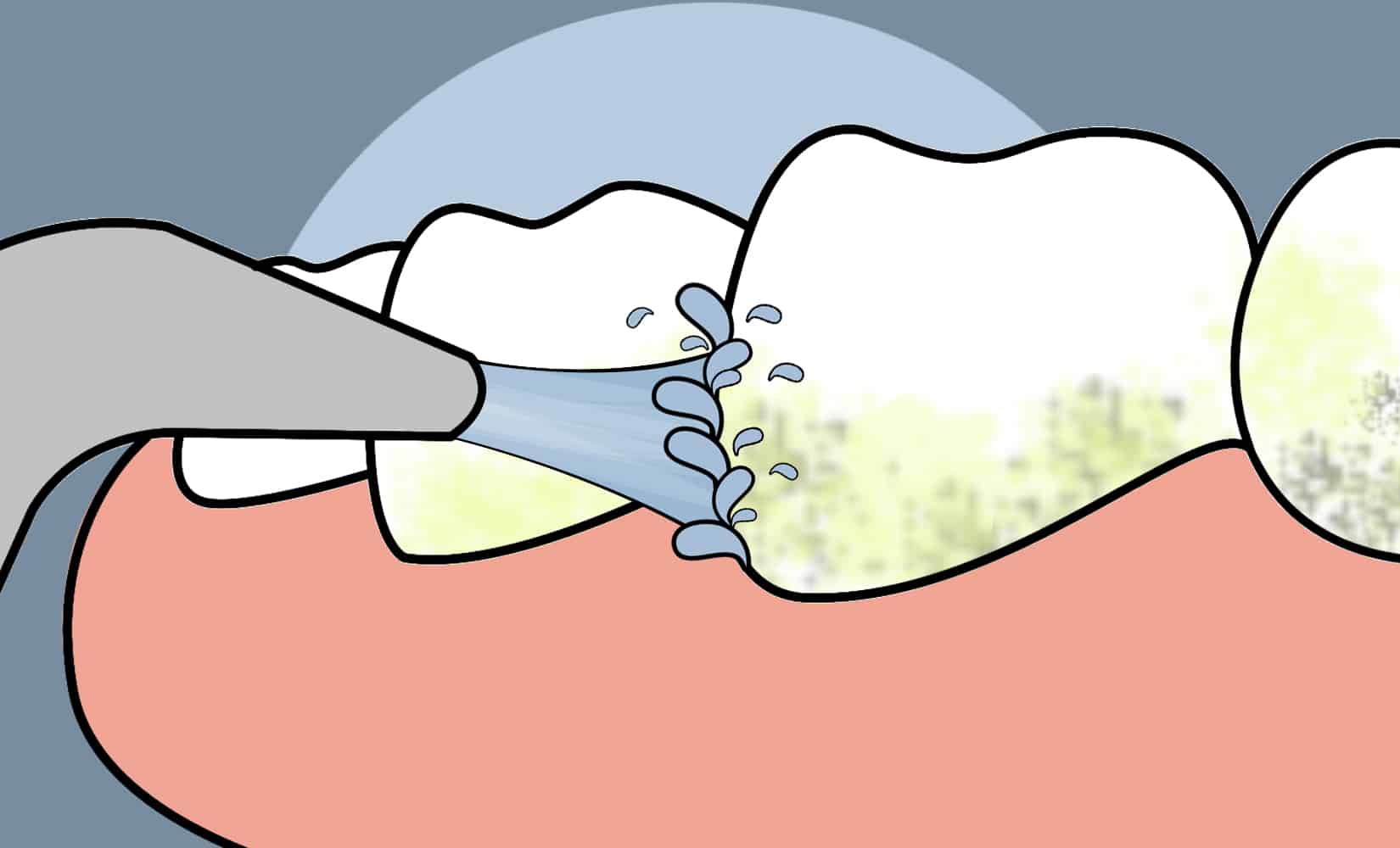 8 Best Water Flossers of 2023 Reviewed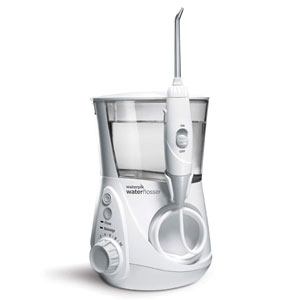 The Waterpik WP-600 is a feature-rich water flosser with plenty of customization options and ways to clean your teeth.
Specs
Who Is It Best For?
This "water pick" is one of the best water flossers if you're a man looking for the highest quality and are willing to pay a few bucks extra to get it.
Key Features
Easily one of the crown jewels in the water flosser market, this countertop flosser has it all and is approved by the American dental association.
10 pressure settings, 7 tips, and even a docking station hidden on the back of the main unit mean that this product is one of the automatic picks we'd recommend if you have the money to spare.
The pressure settings can go from 10 to 100 PSI, meaning you can clean your teeth with plenty of power or go for a gentler session if that suits your mood.
The flosser even comes with a massage mode.
It's a perfect addition for men who have sensitive gums and teeth.
The reservoir holds 22 ounces or up to about 90 seconds of water flow without stopping.
That's plenty to get you through an entire flossing session without needing to refill.
The seven tips included with the purchase have a unique plaque seeker tip that allows you to easily clean out implants and other dental work areas like braces.
A specialized orthodontic tip is what you get in between braces even more efficiently.
To make things even better, each of the tips rotates a full 360° to let you clean out every square inch of your mouth.
This water flosser is easily controlled via the knob on the left-hand side, and although it's a countertop model, it isn't even that larger compared to some inferior products.
The water flosser comes with a three-year warranty to give it an even higher value for money.
The only real thing we'd change is the connection between the tip and the handle.
It has a tendency to attract mold, so be sure to clean it out frequently, so you aren't spraying more bacteria between your teeth.
Check out the thousands of customer reviews here on Amazon.
---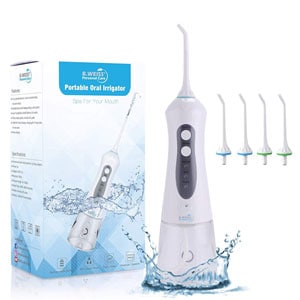 This travel water flosser is excellent for those who travel frequently, and it even has tips with little bristles to aid in tooth cleaning.
Specs
Who Is It Best For?
This is the right choice if you have really bad plaque problems but still need a portable option for your flossing sessions.
Key Features
This power flosser is a cordless Waterpik model.
Despite its small size and reliance on a battery, each of its settings can jet water into your mouth at pressures that are perfect for getting rid of food debris, plaque, and bacteria without an issue.
As one of the best water flossers, this flosser comes with three modes: normal, soft, and pulse.
The regular and soft modes are self-explanatory, but the pulse mode emits water at regular frequencies in a "pulsing" rhythm and makes it the perfect Waterpik for braces.
This setting is particularly good at cleaning harder chunks of food or plaque from your teeth.
It also massages your gums and stimulates blood flow to facilitate quick healing of gum disease.
The four tips are comprised of two regular functional tips with small brushes to add to the cleaning power of the tool and two floss jet tips to provide even greater final and pressurized cleaning.
The tips with the small brushes are great for use with braces or other dental implants since the bristles can help to reach between places where the full extent of the water pressure may not reach.
A one-year quality warranty sweetens the deal, and the company graciously offers 24 seven technical support and customer service.
Considering the already low asking price, the warranty proves that the company believes in the product.
The biggest line of this product is the small reservoir, although that comes with the territory if you choose a Waterpik cordless water flosser.
Still, it could be a bit bigger to limit the number of times you need to refill the reservoir in the middle of a flossing session.
Check out the hundreds of customer reviews here on Amazon.
---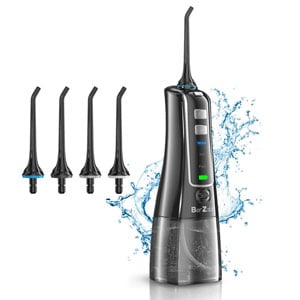 This cordless flosser has a more extensive water reservoir than most and brings lots of pressure to bear on your teeth and gums making it one of the best cordless water flossers even though it's reasonably small.
Specs
Who Is It Best For?
This is one of the best water flossers for people who need a portable water flosser that doesn't sacrifice overall power.
Key Features
This is another exceptional cordless water flosser model from BerZalah.
The pressure range of the water flosser goes from 30 to 100 PSI.
While a slightly softer setting would be great for men with super sensitive teeth, there's still plenty of range for customization and enough power to effectively kill plaque and bacteria hiding between your crevices.
Like the last flosser, this model has standard, soft, and pulse modes designed for removing plaque and massaging the gums, respectively.
Besides, this water flosser has a memory mode function that can be initialized to remember your favorite mode upon your next use.
The oral irrigator on display here is totally waterproof and has a 300 mL large reservoir.
That's pretty substantial for a portable water flosser, and it means you can likely get through your whole flossing session without having to refill.
The battery of this model is terrific, making it one of the best water flossers in the market today.
It lasts for up to 14 days of continuous use after being charged for just four hours.
It also has a battery indicator light beneath the main buttons to let you know when recharge time is coming up.
This travel Waterpik is easily one of the best water flossers for frequent travelers that our testers have ever seen.
This flosser comes with a 24-month free replacement warranty.
You can get a replacement for the model at no extra cost yourself if it starts to fail or falter.
That's a tremendous value for money that we really like.
The buttons for turning the water flosser on or off are a little sensitive, but overall this is a phenomenal product with hardly any downsides.
Check out the hundreds of customer reviews here on Amazon.
---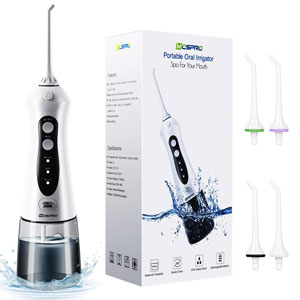 This flosser is one of the easiest to clean and has a fantastic battery.
Specs
Who Is It Best For?
It's one of the best water flossers to consider if you're looking for a budget flosser that's guaranteed to last for as long as you'll maintain it.
Key Features
This waterproof portable flosser has a full opening water tank that lets you easily clean out the reservoir and get rid of any germs or bacteria that might build up over time.
It's a much more robust cleaning system than many other oral irrigators, including countertop models.
The flosser has soft, standard, and pulse modes which we covered in the reviews above.
The flosser features a rotating nozzle design.
This means that each of the four tips included with the purchase can rotate 360° to reach every nook and cranny in your mouth.
The battery life of this portable model is also excellent.
It can run for 7 to 10 days continuously after being fully charged.
The charging indicator will let you know when you're about to run out of battery.
Also, the USB charging interface means that you'll be able to recharge the battery in practically any location, whether that's at the airport waiting for your next flight or in your hotel room.
The charging base cover included with the package can protect the charging socket from water when the tool is in use.
A 12-month warranty rounds out the features on offer.
However, our testers did find that the seal between the power floss dental water jet and the reservoir is a bit weak.
It's not uncommon to have a little water leak out when you turn the tool on.
While it's still a great budget option, the lower quality means that you'll need to be a bit more careful if you use this flosser in areas with electronics or important clothes.
Check out the thousands of customer reviews here on Amazon.
---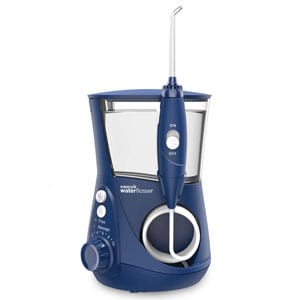 The Waterpik Aquarius flosser has a few minor improvements over the WP-660.
Specs
Who Is It Best For?
Like the WP-660, this is one of the best water flossers on any market and is ideal for men who'll settle for nothing but the best.
Key Features
This WaterPik has a few extra features to mark it as a definite upgrade to the main WP-660.
The number of tips offered by this purchase is truly phenomenal.
Three regular tips are included, along with a pair of orthodontic and plaque seeker tips that are perfect for getting rid of the harshest bacteria between braces or other dental implants.
But you also get a Pik Pocket tip that's perfect for periodontal pockets and a toothbrush tip, which comes with extra bristles for even more cleaning power and perfection.
Each of the tips can rotate a full 360° to get rid of all imaginable bacteria.
The Aquarius brings even more innovations to the counter.
Each of the three modes (regular, soft, massage) comes with a built-in timer that can posit 30 seconds and one minute to help you track your total flossing time.
This ensures that you move from tooth to tooth at a good pace without stalling in any one area.
You can set the water pressure from 10 to 100 PSI at your discretion.
Overall, it's a quality and well-built water flosser with plenty of water in the reservoir and lots of customization options to work for a variety of needs.
Unfortunately, our testers found that the Aquarius suffers from the same mold problem spot as the last WaterPik we reviewed.
Still, you can't go wrong with a machine of this caliber.
Just make sure to clean the device regularly, and you'll be fine.
Check out the thousands of customer reviews here on Amazon.
---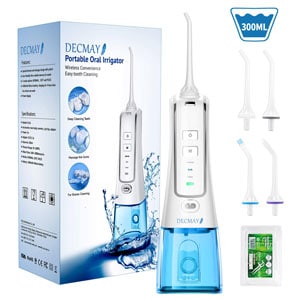 This flosser has a water reservoir with plenty of space and some well-built LED lights to give it even more value.
Specs
Who Is It Best For?
It's a great travel flosser, and the ergonomic handle might make it one of the best water flossers for men with cramped hands; alternatively, use it in the shower without worrying about it slipping from your grasp.
Key Features
This portable water flosser has a 300 mL water tank located at the bottom of the unit.
That's decent enough that you should be able to complete an entire flossing routine without having to refill for your perfect oral care routine.
The handle is specially curved for ergonomic use and to reduce the likelihood of the tool slipping out of your hand in a wet bathroom environment.
Further down the handle are three LED indicators to let you know which of the three (regular, soft, pulse) modes you currently have initiated.
A memory function like we discussed above is included, as well.
The flosser comes with four replaceable novels of different colors.
Unfortunately, they're all the same in design and function.
The lack of specialized nozzles is a noticeable flaw in this pick.
However, it's so affordable that we think those looking for the best water flossers on a budget won't mind this aspect too much.
The battery on this water flosser can be used for about a week after charging for just four hours.
The installed LCD display quickly lets you know whenever you're starting to get low on battery power.
The batteries are recharged with a USB charging cable that can fit in a variety of different ports and circumstances.
Check out the hundreds of customer reviews here on Amazon.
---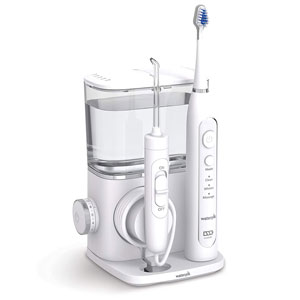 This is a combination water flosser/sonic toothbrush all in one package, the complete answer for men in need of excellent dental care.
Specs
Who Is It Best For?
This electric flosser is an excellent choice if you also happen to need a great toothbrush while investigating water flossing options.
Key Features
This Waterpik Sonic Fusion toothbrush is combined with a dedicated water flosser countertop unit.
Although it's a pricey combination, the results are certainly worthwhile.
The water flosser has three regular modes, along with 5 different heads and a docking station for easy storage.
The toothbrush also comes with three modes, one of which is specifically designed to whiten your teeth and remove stains.
When combined with the best whitening toothpaste, excellent results are practically guaranteed.
A toothbrush travel case is included, too, so you can take that aspect of the unit along with you for your travels.
The flosser has an excellent reservoir and a handy pressure control knob on the left-hand side of the unit.
As a bonus, this countertop water flosser is 40% smaller than many other Waterpik flosser models.
Overall, this is one of the best water flossers in terms of overall utility and value for money, particularly since you get a great brush with your purchase.
Check out the thousands of customer reviews here on Amazon.
---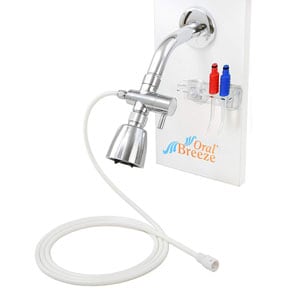 This showerhead flosser represents excellent convenience and ease of use once it's been installed.
Specs
Who Is It Best For?
Use this product if the idea of getting your flossing out of the way while showering appeals to you.
Key Features
This is a showerhead flosser that has a six-foot-long hose.
It's an optimal length for use in a variety of positions in your shower.
The adaptor comes with an extra replacement, too, so there's plenty of value for money in this affordable flosser.
Upon turning on your shower, water is immediately funneled through the ShowerBreeze apparatus and pushed through the jet tips to irrigate your teeth and gums.
Interestingly, this showerhead water flosser comes with two oral irrigator tips.
Many showerhead flossers only come with one tip.
However, they're basically just replacements since they both operate the exact same way.
Operating the irrigator is easy with a small knob located on the right-hand side.
You can switch the water on or off without having to switch the shower off entirely.
This lever also allows you to mess with the pressure to a degree.
While you can't switch between pre-set settings like with other types of irrigators, you can modify the pressure for something that's most comfortable for you.
Alternatively, you can bring as much power as possible to bear on your plaque.
Installing the showerhead flosser is easy enough, making it one of the best water flossers for beginners.
It replaces your regular showerhead entirely, and it's made of chrome-plated brass for a longer lifespan.
Be sure to clean this every time you use it to prevent it from suffering from rust or mold damage.
Check out the thousands of customer reviews here on Amazon.
---
Things To Consider When Buying the Best Water Flossers
Before we head straight into the list of the best water flossers around, let's take a moment to consider the primary aspects to keep in mind as you browse.
Our testers thought of each of these factors in turn when they were making their rankings, so they're just crucial for your personal decisions, too.
1. Type
---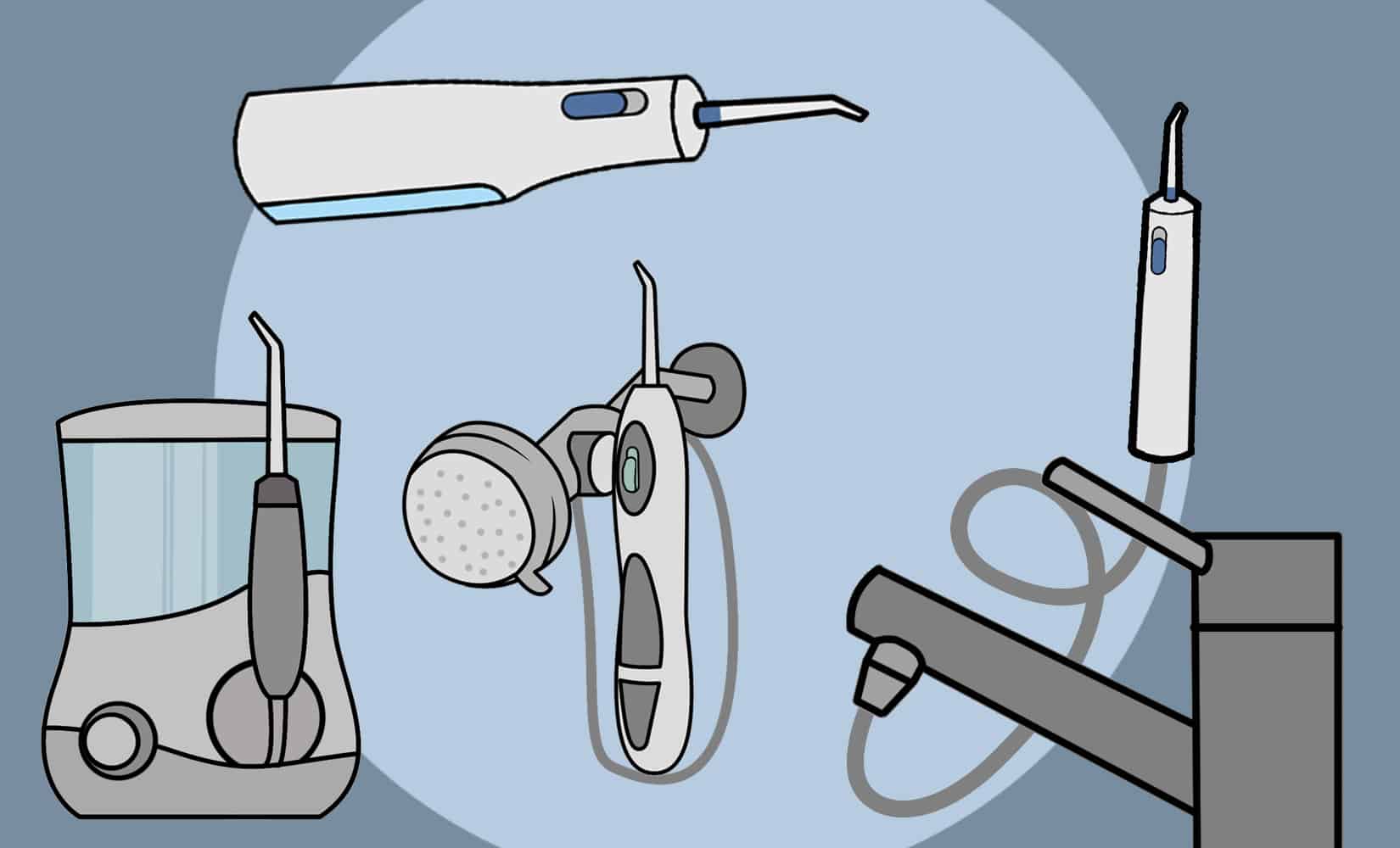 There are four major types of water flossers available at the moment.
While there isn't one clear-cut winner in all scenarios, each type of water flosser has certain advantages or disadvantages.
Countertop water flossers are some of the most common you'll find in any market.
As the name suggests, they sit on your countertop and are easily the heaviest of all four types.
Countertop flossers have a cord to provide the electricity they need to run, along with a water tank that you fill manually.
When the flosser is in use, it draws water from this irrigation reservoir to direct pressurized fluid between your teeth and gums.
Countertop flossers require a little bit of bending and maneuvering in your bathroom space, so they can be inconvenient if you have a really tiny bathroom or if you have to share counter space with your roommates.
But those with the space to spare will appreciate all that countertop water flossers have to offer.
Most countertop flossers come with many settings and pressure adjustments, and several also have many flosser tips, which we'll discuss below.
While countertop water flossers have vast irrigation reservoirs, they don't necessarily give out more pressure than the other types.
You might find more countertop water flossers with high-pressure settings, but don't think that you are locked into this type of flosser if you want the highest-pressure fluid flushed between your teeth.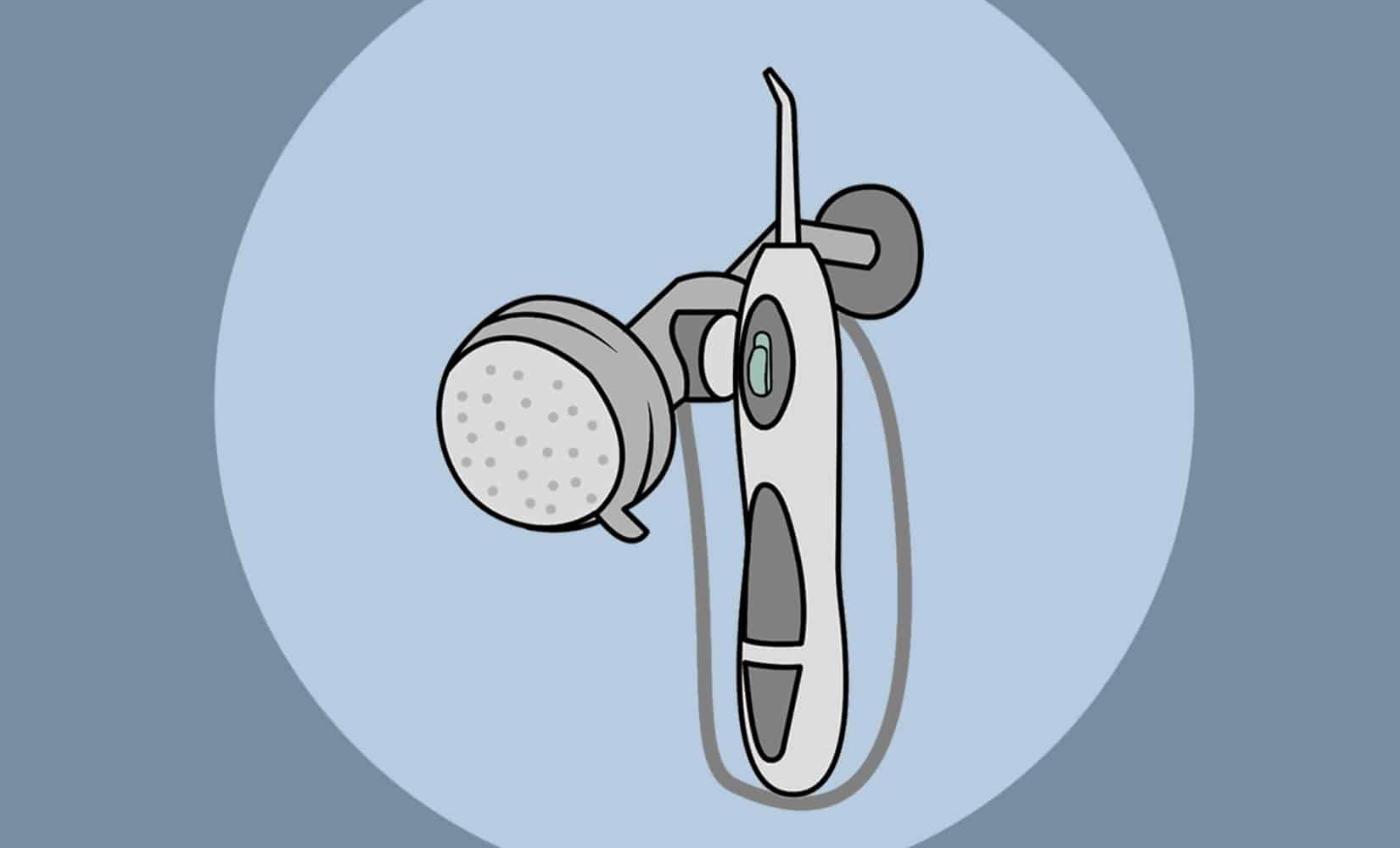 The names for these give away how they work.
Like with countertop flossers, showerhead water flossers are attached, predictably, to your showerhead.
Since these rely on water from your shower, you don't ever have to worry about refilling a reservoir or the flosser running out of electricity.
It doesn't take batteries or use a cord.
This is probably a good thing, as taking a cord into the shower is a recipe for disaster!
Showerhead flossers also allow you to take care of this part of your morning or evening routine while you are cleaning yourself.
It's a great way to truncate your time in the bathroom and get moving on to bigger and better things.
Men who like to trim everything down and have a quick bathroom routine will really appreciate this type of flosser.
However, not all showerhead flossers come with lots of attachments or tips.
Compared to other best water flossers, showerhead variants are straightforward and often come with just a tube and an attachment apparatus.
You may be forced to operate with fewer pressure settings than you like, as well.
Despite their location, though, showerhead flossers are just as accurate and maneuverable as their countertop or portable Waterpik cousins.
Still, these are probably best used by taller men rather than shorter just due to the logistics of it all.
Cordless/Battery-Operated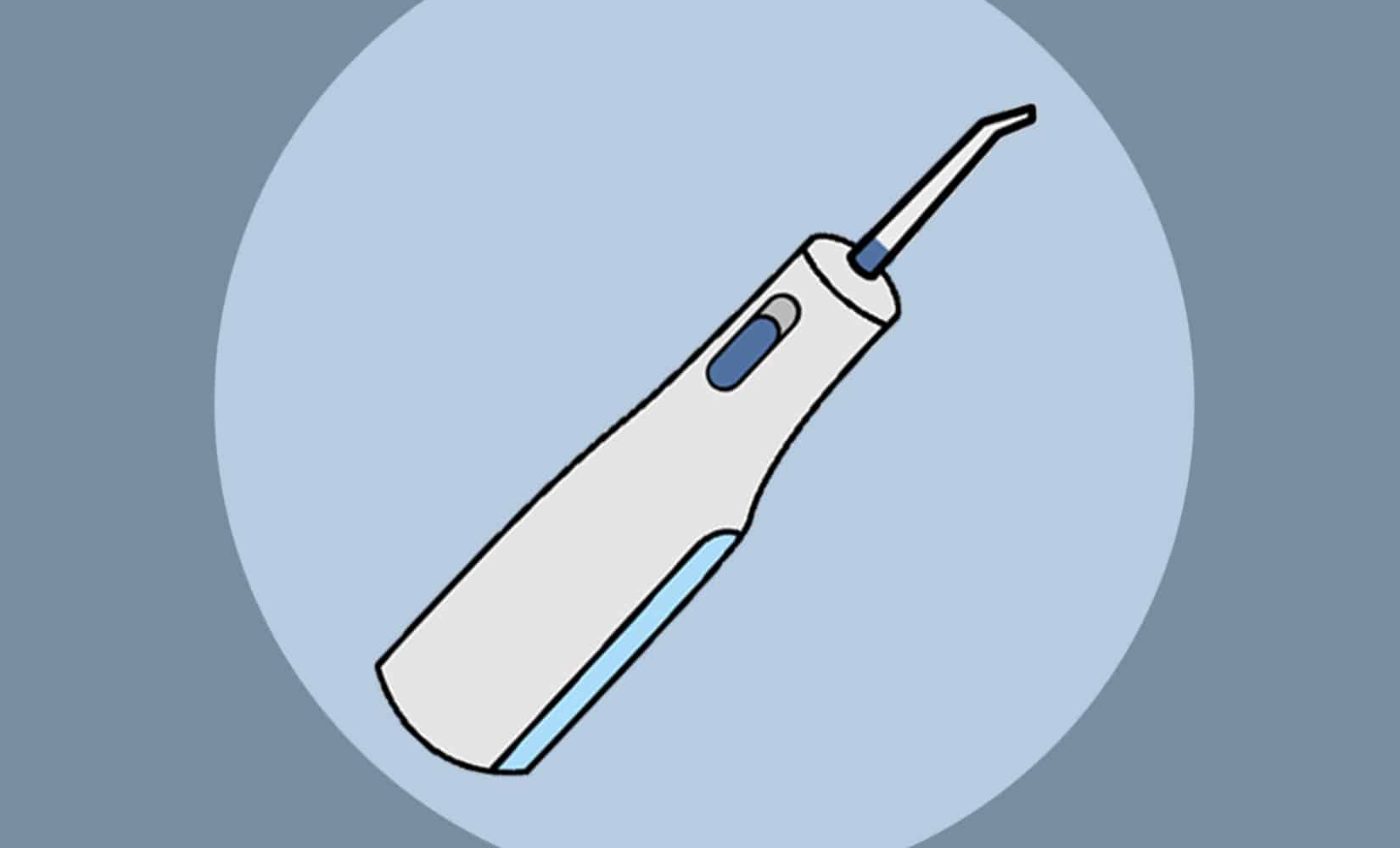 There are, of course, more portable water flosser options in the form of cordless or battery-operated models.
These are usually a lot smaller than their counterparts, particularly the countertop flossers.
Due to their small size and portability, they are optimal for men who travel on business a lot or for guys who don't have a lot of space in their bathroom.
However, their smaller size comes with a significant negative in that they do not usually have the same high-pressure settings that other water flossers can boast.
Also, many battery-powered water flossers don't come with a lot of tips or other settings to let you customize your water flossing routine.
They're simple, easy-to-use devices that are best used for those who don't need to do a lot of heavy-duty cleaning between their teeth.
Also, you'll need to replace the batteries of the best water flossers frequently, especially if you use them every day as recommended.
So while battery-operated water flossers can be cheap in the short term, don't forget to account for the lifetime cost of replacing the batteries every so often.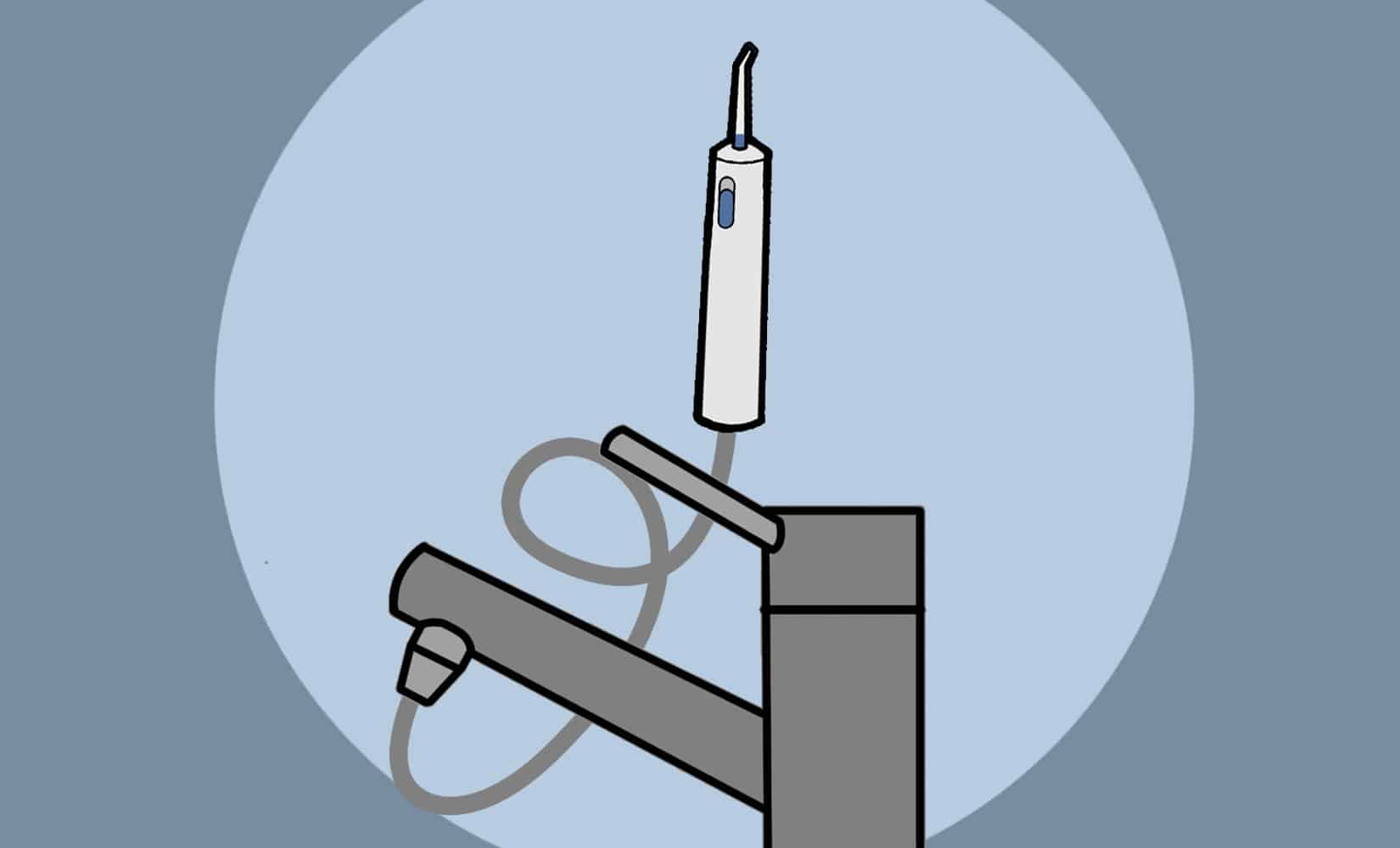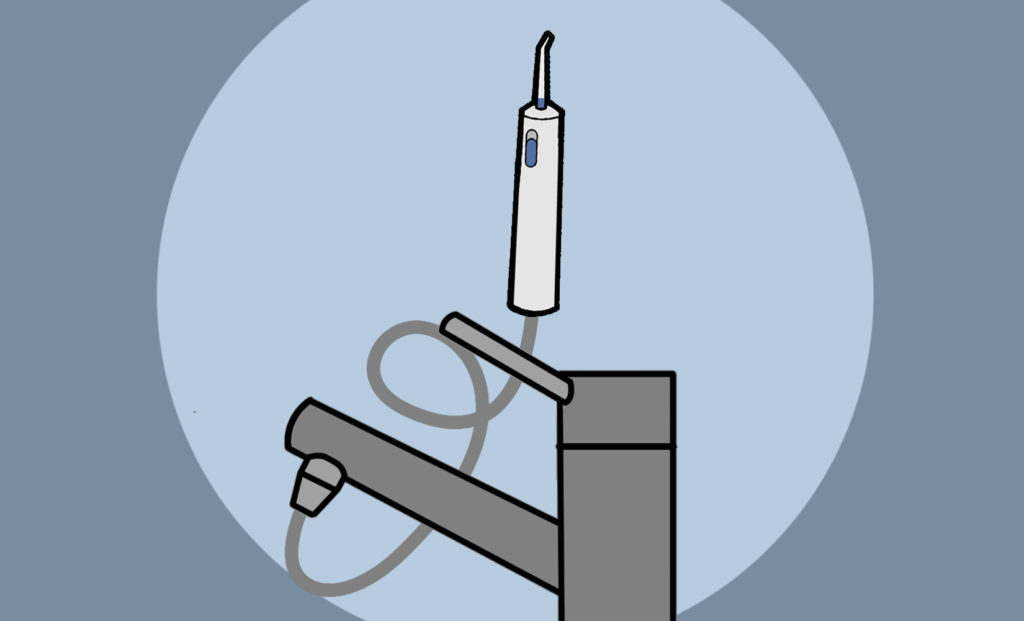 Finally, faucet water flossers attach straight to the bathroom faucet head.
These can be a great option if you have a cramped bathroom space or not a lot of counter space.
However, they can be trickier to use than the other types since you have to bend straight over and a little into the sink to use the flosser to its maximum effect.
Besides, using a faucet water flosser means that you can't use the faucet as you normally would until you disengage the device.
This means that you'll have to remove the flosser every time you want to use the sink for its primary purpose.
Such a process could be inconvenient, mainly if you live with roommates to go in and out of the bathroom frequently.
Thankfully, installing and removing the flosser each time is usually a simple affair.
2. Pressure Settings
---
The next major factor to consider is the number of pressure settings included with your chosen flosser model.
Many of the best water flossers will have multiple settings to let you fine-tune your flossing experience based on the area of the mouth you want to tackle at any given time.
For instance, one part of your mouth may be extraordinarily sensitive, while another part might be able to take some of the highest pressure settings on your device.
Higher pressure means better cleaning and faster results, while lower pressure settings are gentler on the teeth and gums and a little easier to direct (i.e., you won't accidentally splash water out of your mouth onto the bathroom mirror).
Also, the best water flossers that come with multiple pressure settings can let multiple people use the water flosser in the way they enjoy the most.
While you should never share tips between your roommates or significant other, your favorite pressure setting might be vastly different from the next person's.
Water flossers that don't have multiple settings will limit the number of people that a single unit can serve.
Naturally, countertop or showerhead water flossers are much more likely to have a high number of pressure settings, while the other two types are often more limited.
If you've never used any of the best water flossers before, be sure to pick out a model that has a wide range of settings.
You can test out your earliest efforts with a low-pressure setting and move up to a high-pressure setting once you get used to the right technique.
3. Noise
---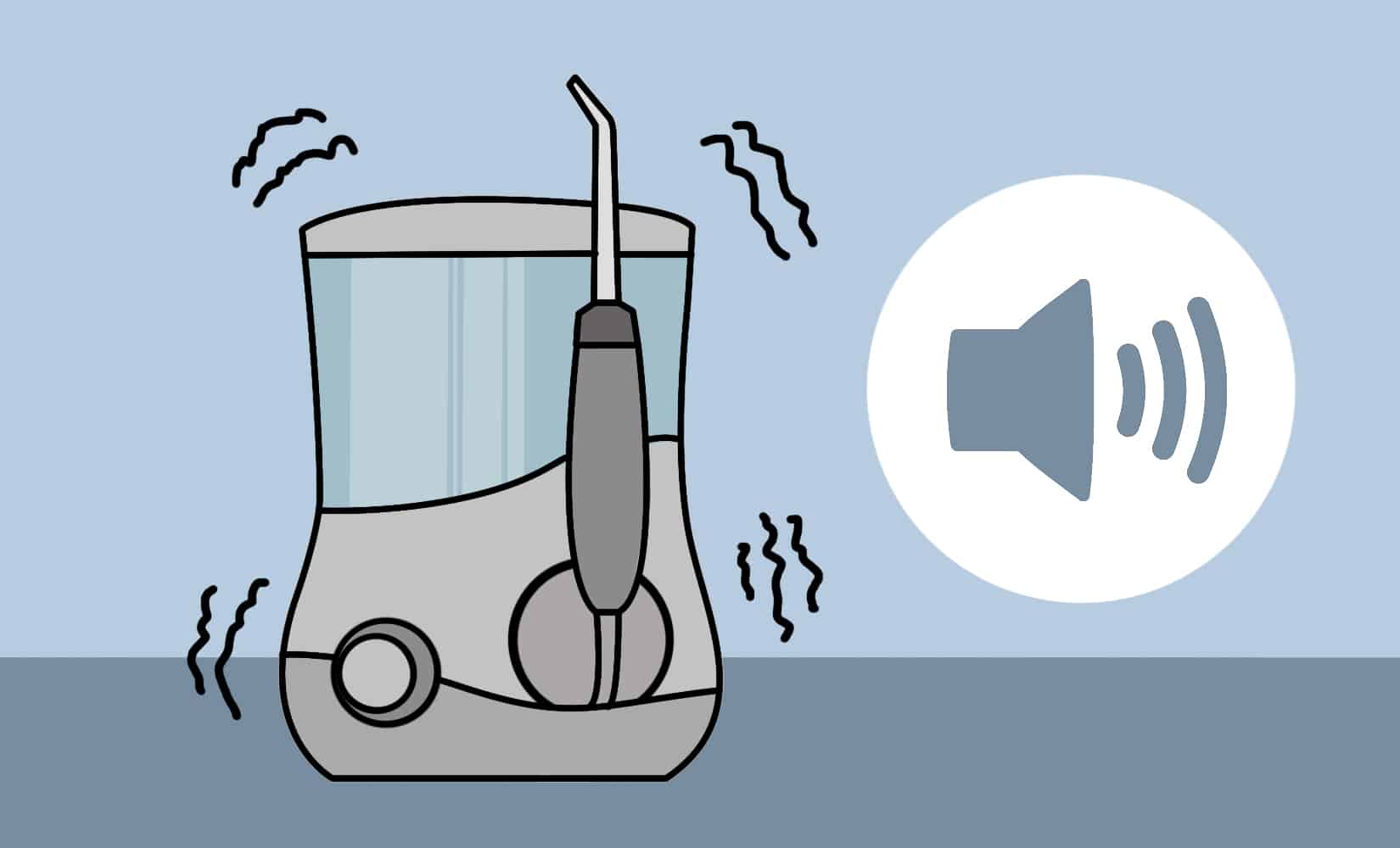 Many of the best water flossers are powered by electricity, and that means noise.
Any man that's used an electric shaver can understand the constant annoyance caused by a loudly buzzing machine.
This is a minor factor overall, but it can play a huge role in how satisfied you are with a given water flosser purchase in the long term.
Some water flossers are quiet and perfect for using with roommates or in a bathroom right next to a bedroom.
Others will be significantly louder and should only be used if you know you won't mind a high whine or buzz.
If you have a small child or a significant other that hates being woken up before they're good and ready, we'd recommend getting a water flosser that doesn't buzz like a swarm of angry wasps.
Get something more subtle and gentle, even if it costs a few extra bucks, and you'll be more pleased overall.
4. Tips
---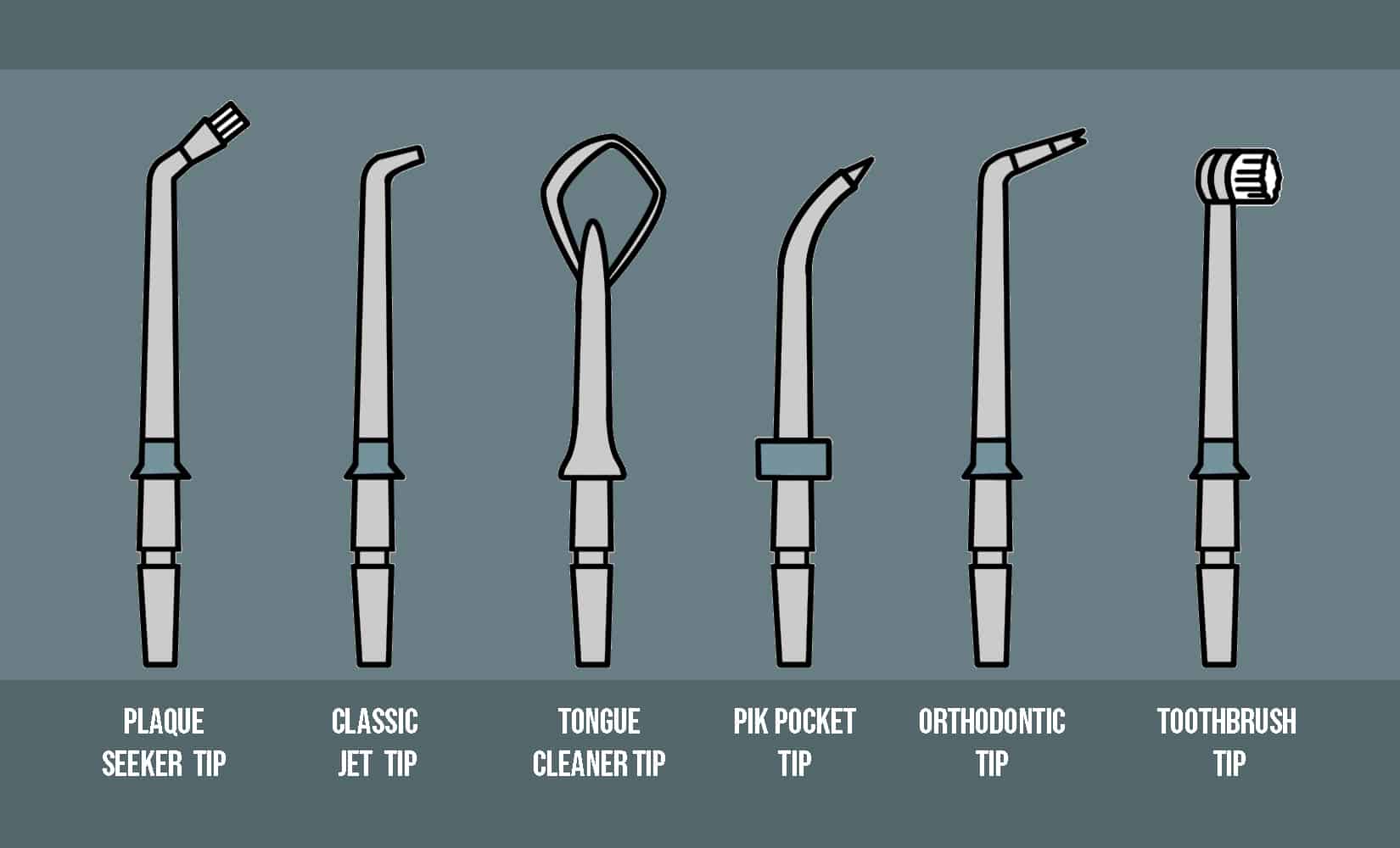 The number of tips included with your water flosser purchase is super significant, as they directly affect the overall value for money of the product.
The best water flossers will come with at least a few different tips that can all be easily swapped on and off the main projection head.
The tips of your water flosser can help provide different types of pressure and combine with specific settings to produce truly amazing results.
Besides, some water flosser tips are designed to do specific tasks or to help get rid of certain oral hygiene problems.
For instance, one type of water flosser tape is specifically designed to clean the very edge of your teeth near the gums.
This can help you get rid of gingivitis or lessen the risk of contracting a cavity or two.
Others are sensitive tips that are designed to make your water flossing experience enjoyable, even if you have gums and teeth that are smart at the very first inkling of a decent cleaning job.
Another benefit to having multiple water flosser tips is that you can let your single unit be used by multiple people.
The mouth is a pretty germy place.
You never want to share tips with another person for the same reason that you would never share your toothbrush.
But the best water flossers that have multiple tips can be safely shared between roommates or significant others since no mouth germs will be able to cross-contaminate easily.
If you're purchasing a larger countertop water flosser for the use of your entire apartment group, for instance, you must get one with multiple tips so that all your roommates can use it equally.
5. Docking Station
---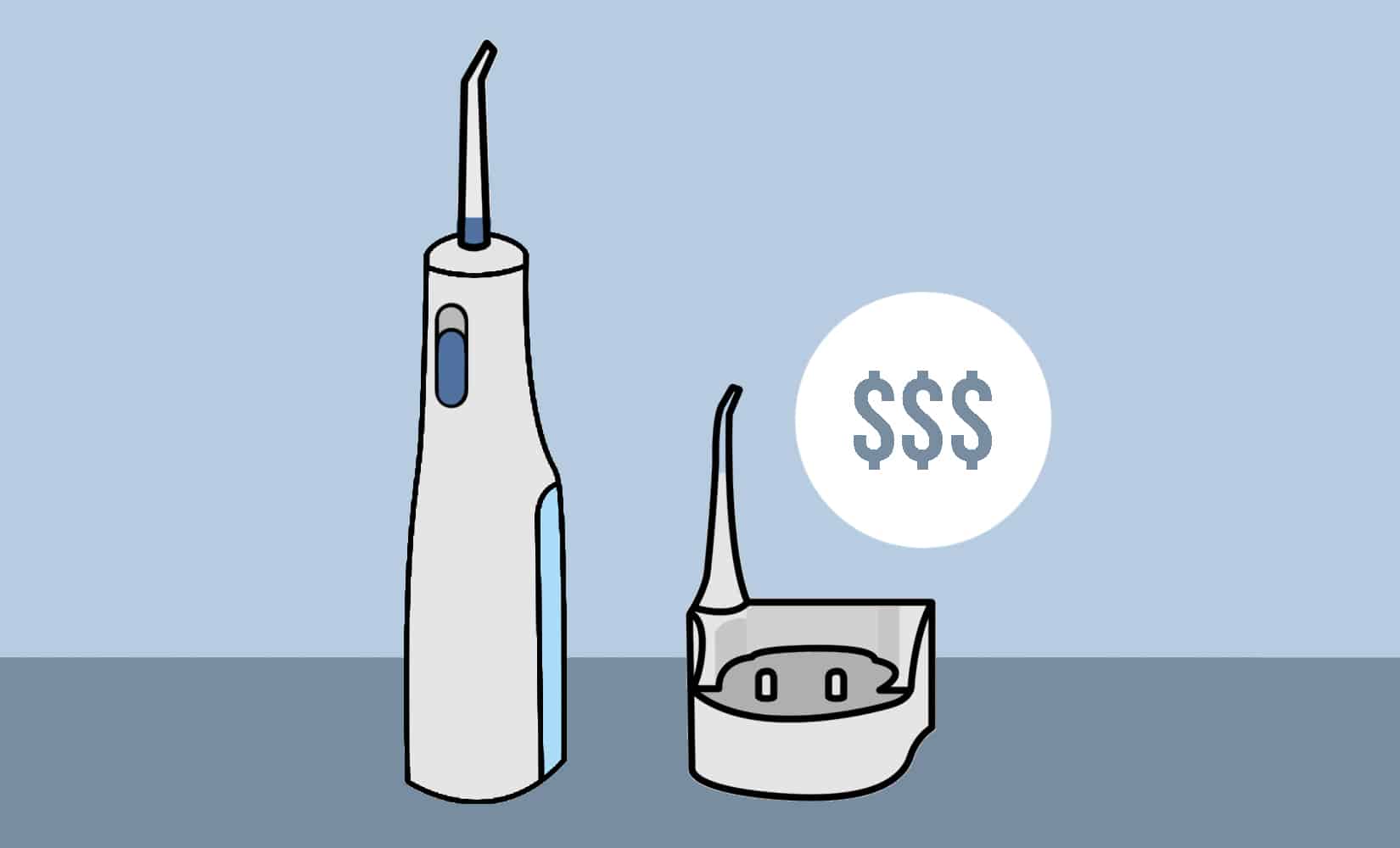 This might seem like a minor aspect, but it's more critical than you may realize.
Your bathroom is a filthy place, filled with millions upon millions of microbes that would love to germinate and contaminate your mouth.
One of the best ways for various bacteria to your mouth is by leaping onto your water flosser tip while it's being stored.
Storing your tips, therefore, just on the counter or in some kind of small container is asking for bacteria to have a great time.
Many of the best water flossers will come with docking stations that allow you to store your tips in sanitary ways.
The tips will usually be elevated or held at an angle to let the water drip off and prevent the tip from touching your bathroom counter.
Overall, it's more than worthwhile to spend a little extra money for a water flosser that comes with a docking station.
It'll pay dividends in terms of your health and bathroom cleanliness.
---
How To Use A Waterpik Or Water Flosser
Let's go over how to use a water flosser step-by-step.
Of course, make sure that your best water flossers have water in their reservoir tank if the unit comes with such.
You'll definitely need water to get going!
Most reservoirs will come with a baseline that you can use to measure the amount of water necessary to begin flossing.
If you're using a faucet or showerhead flosser, turn the water on after installing the flosser unit.
But what water should you use?
Warm water is typically better since it'll feel better on your teeth and gums.
This is true even if you don't have abnormally sensitive oral spots.
Coldwater can shock the flesh of your gums and irritate your teeth if it's sprayed on their surfaces at high pressures.
Tip: Add some mouthwash to the water once a week, and you'll eliminate any bacteria that may have slipped into the reservoir.
This step will help you maintain an even cleaner environment.
Step One
Pick your tip.
After you've chosen which of the tips you want to use, attach it to the main flosser unit.
You can also switch tips out in the middle of your flossing session if that works better for your needs.
Step Two
Start flossing your back teeth in the beginning.
When it comes to these processes, it's always better to start at the back and work your way to the front since water will naturally want to jet out anyway.
Plus, you'll be pushing bacteria out towards the opening of your mouth instead of down towards your throat.
Start with the outside of your teeth and work your way inward.
Take the flosser tip and spray water all around the edge of each individual tooth and between each crevice between teeth.
The water spray should be right at the edge of your teeth where the tooth and gum meet.
Step Three
Change your pressure as you go on.
We would recommend starting with a lower pressure at the beginning since you can more comfortably work your way up to the ideal pressure level if you have a gentler baseline.
It also tends to be a lot easier to know when some pressure is too much rather than too little.
Step Four
Take your time and work your way from tooth to tooth using the best water flossers.
As you proceed, drag the water jet from the bottom of your tooth near the gums towards the top of each tooth.
Altogether, using a water flosser on all the teeth of your mouth should only take a few minutes.
Step Five
Empty your reservoir.
If you leave water in the reservoir of the best water flossers, you'll be inviting bacteria to set up camp and make the entire thing contaminated in no time.
If you're using a faucet or showerhead water flosser, it might be a good idea to uninstall the unit when it is not in use.
This will prevent mold or mildew from affecting the flosser and eventually being sprayed into your teeth!
Frequently Asked Questions About Water Flossing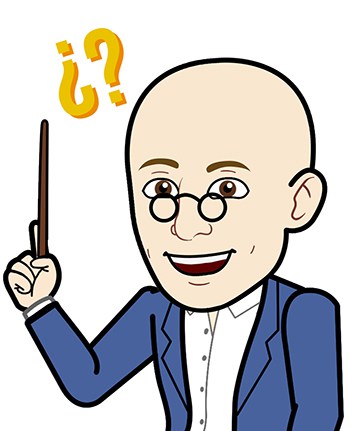 Now that you've at least got an idea for the best water flossers for your bathroom, let's go over some FAQs.
1. What Does A Water Flosser Do, Anyway – Do Water Flossers Work?
How does a Waterpik work?
The best water flossers use a pressurized jet of water to remove plaque and bacteria from between your teeth just like regular floss does.
Since it uses water instead of a tough string, water flossing is particularly great for men who have sensitive gums or for those who are recovering from a gum condition like gingivitis.
2. Do You Need A Water Flosser For Good Oral Hygiene?
You don't need the best water flossers to maintain excellent oral hygiene, but you do need either this device for regular floss.
You can't go without flossing and still expect to have good breath and pearly whites.
Tooth brushing is certainly important and is responsible for removing the majority of bacteria and plaque.
3. Is Water Flossing Better Than Flossing?
Waterpik vs Flossing (regular)
Water flossing implements are a lot gentler on the teeth and gums since they use water pressure to remove those elements.
Besides, water flossing takes less time than regular flossing overall.
While water flossing can be effective for everyone, the tried-and-true method of string flossing presents slightly better cleaning results.
4. How To Clean A Waterpik Or Water Flosser
A good cleaning solution instead of soap involves mixing warm water and white vinegar.
You should also soak your flosser tips in a container of white vinegar or hydrogen peroxide after every few uses.
This method sanitizes the tips and makes them truly clean for putting into your mouth.