Everyone could use a little skincare, including men! Get to know about the 9 best exfoliate for men. The truth is that everyone's skin gets a little dry or becomes a little flaky sometimes, and you might even have more serious problems like acne.
Or, you might have skin that just isn't quite as healthy as it should be. If you have any of these issues, an exfoliating scrub might be the perfect solution.
These scrubs are rubbed into your skin and can help remove dead skin cells and dissolve dirt and debris that digs its way deep into your pores.
They can help your skin from becoming too dry or too oily and can help you fight acne outbreaks both immediately and in the future.
There are many benefits to using a daily exfoliating scrub; we'll explain why. In this guide, we'll take you through an exploration of the best face scrubs for men.
We decided upon these after hours of intense research and testing and can't wait to share our results with you.
We'll also answer some frequently asked questions so that you can effectively use your new facial scrub without issue.
Let's dive right in!
QUICK OVERVIEW: Best Exfoliators for Men
Brickell Men's Renewing Face Scrub

Works quickly
Hydrates as well as exfoliates

VIEW ON AMAZON →

M3 Naturals Activated Charcoal Scrub

Exfoliates as well as heals skin
Quickly absorbs a ton of oil

VIEW ON AMAZON →

Thrive All Natural Men's Face Scrub

Very easy to apply/no sensitivity
Coffee grounds give you an energy boost

VIEW ON AMAZON →

Viking Revolution Microdermabrasion Face Scrub for Men

Very good at exfoliating and moisturizing
Repairs skin cell damage

VIEW ON AMAZON →

Derma-Nu Exfoliating Face Scrub for Men

Breaks down future ingrown hairs
Very good at reducing skin inflammation

VIEW ON AMAZON →

Lather and Wood Best Face Wash for Men

Strong masculine fragrance
Good for fighting acne

VIEW ON AMAZON →

Rugged and Dapper Face Wash for Men

Dissolves debris quickly
Can tone skin to look better

VIEW ON AMAZON →

Dove Men + Care Face Scrub

Cleans very deep into pores
Skin feels softer after applying

VIEW ON AMAZON →

Biotherm Homme Facial Exfoliator for Men

Exfoliates without having to rub or break things
Penetrates pores deeply

VIEW ON AMAZON →
Use the table of contents below to jump to the sections most important to you.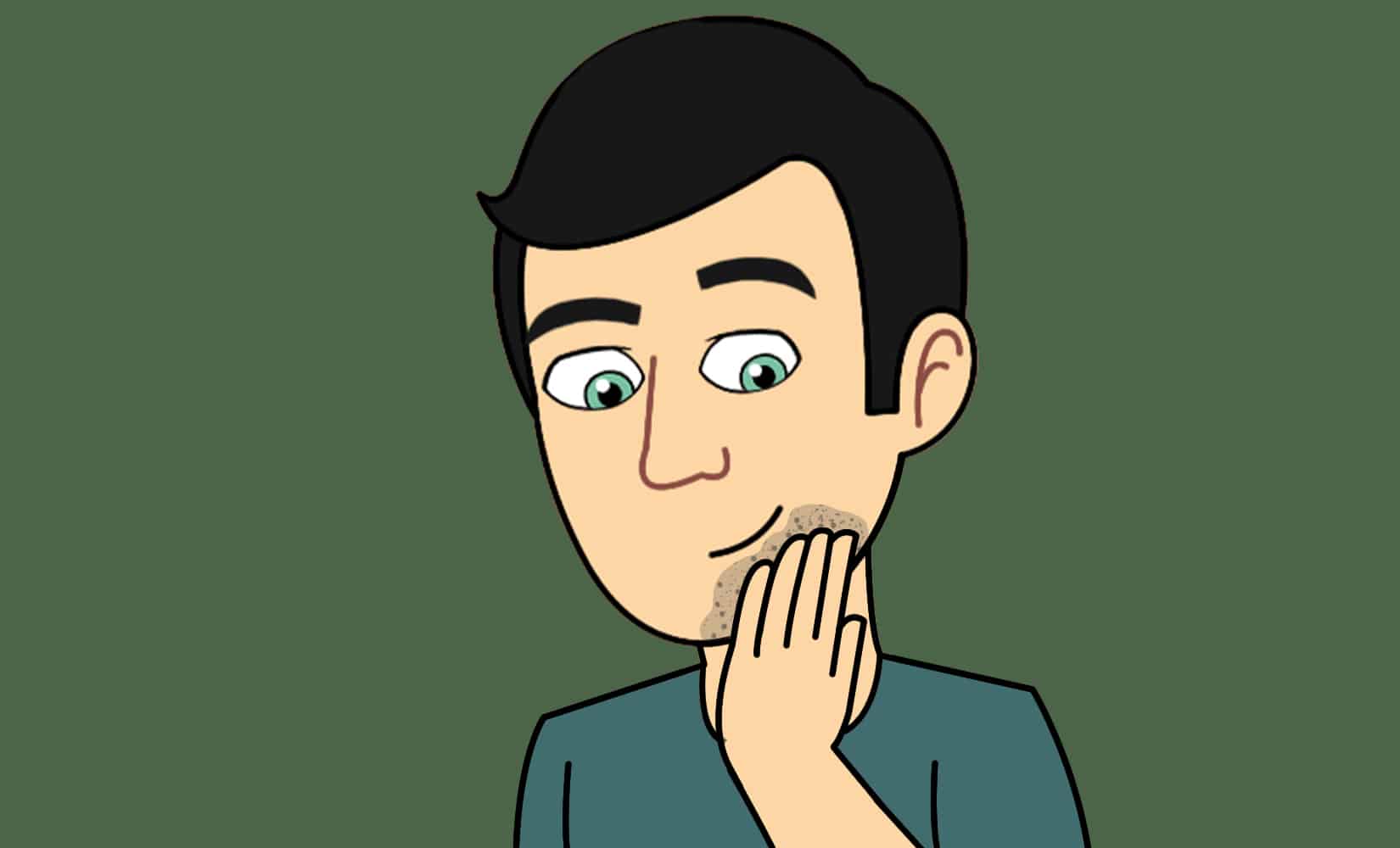 ---
9 Best Exfoliate for Men of 2023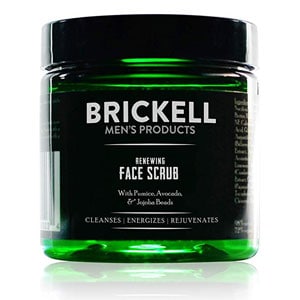 This is a scrub that combines physical components with moisturizing aloe to provide a product that can work with virtually any skin type.
Specs
Who Is It Best For?
This is an excellent exfoliator for men with skin that has a mixture of attributes rather than leaning hard in one direction.
Key Features
This face exfoliator is of the physical variety; this means that it uses physical components to slough away dead skin and debris.
The components that the manufacturers chose to accomplish this can actually accommodate men with sensitive skin, too.
You'll see that the face scrub uses jojoba beads and pumice to a great effect, as these elements combine to scrub away dead skin in just minutes easily.
In addition to those components, this face scrub also has aloe, which is a powerful antioxidant that has both restorative and hydrating effects on your skin.
This means it is an excellent choice for virtually any skin type: sensitive, dry, or oily skin can all benefit from the application of this scrub.
It's a great example of the best facial exfoliators for men. It feels relatively smooth as you apply it, and it's not too thick, either.
You'll feel fairly refreshed once it's been rubbed into your skin and after you've washed everything away.
Our testers reportedly felt energized after application. The one big downside that we found was that you only get 2 ounces for your purchase.
This is enough for a short while, but if you exfoliate every day, you'll run out relatively quickly.
The asking price isn't too high, but it isn't exactly negligible either.
Overall, though, this is still an excellent face exfoliator if you prefer products that use physical components rather than chemicals or if you have skin that counts as a combination of different types instead of leaning in one particular direction.
Check out the hundreds of customer reviews here on Amazon.
---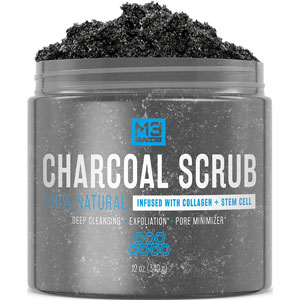 This facial scrub combines coconut oil with charcoal and Dead Sea salts to provide a deep cleansing experience that can also nourish your skin over time.
Specs
Who Is It Best For?
This is an excellent product for men who need a premium face exfoliator made with the highest quality components, and who also need a lot of it.
Key Features
This facial scrub uses a relatively rare component for its physical compound-based formula.
The component is activated charcoal.
How does this help you? Activated charcoal is quite a practical detox component and facial cleanser.
It's excellent when combined with other exfoliating agents as it can nourish and heal your skin. The activated charcoal is combined with various Dead Sea salts, which are the natural ingredients that do most of the actual exfoliating.
The real value of this product comes from the combination of salts and charcoal.
It's also been infused with collagen, which is a necessary component for skin health and which generally declines as we age.
This also makes it a great product if you're looking for an exfoliator and are starting to enter middle age.
While it does have aloe, this product is not very effective at moisturizing due to the inclusion of Dead Sea salts, which absorb water very easily.
Because of this, we wouldn't recommend using this face scrub if you're a man that has naturally dry skin.
But if you have oily skin, this ingredient combination might be just the ticket, since the Dead Sea salts will more effectively absorb any extra oil that you naturally produce.
The texture of this exfoliator is a little strange, but once you get used to it we're confident that you'll be able to appreciate all the value it has to offer.
We also really liked that you get a pretty decent amount of product for your purchase, meaning that you won't have to buy more even if you apply face scrub every day for quite some time.
Check out the thousands of customer reviews here on Amazon.
---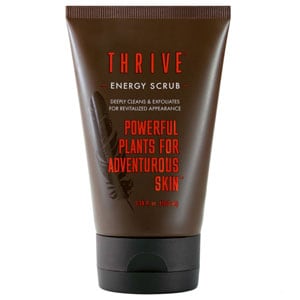 This facial scrub combines coffee grounds and plant-based oils to revitalize your skin and supercharge your day while exfoliating at the same time.
Specs
Who Is It Best For?
This is an excellent pick for men who like to exfoliate first thing in the morning and who would enjoy the coffee-based energy boost.
Key Features
This is one of the best physical exfoliants for men. This is another unique formula that combines coffee grounds with plant-based exfoliant ingredients.
The coffee grounds provide an interesting side effect; as they are absorbed into your skin, you'll get a slight caffeine boost, making this exfoliator both good for your skin and good for your daily energy.
It's an excellent exfoliator to use first thing in the morning as you are waking up and could use a slight energy boost.
The coffee grounds also help to give the exfoliator a pleasant aroma, and it combines with the plant-based ingredients very easily.
The other plant-based ingredients are responsible for dissolving any dead skin or debris that may be deep inside your pores.
When they combine with the coffee grounds, they actually make a little tingly sensation on your skin that we found to be really pleasant and refreshing.
Applying this scrub to your skin is a great way to start the day.
Because of the grounds and the special plant-based ingredients, this face scrub is an excellent choice if you have more sensitive skin than normal.
You won't face any real irritation or sensitivity after application.
Just like all products from Thrive, it also contains two super plants that originate in Costa Rica, Juanilama and Fierrillo which offer men amazing skin-restoring and protecting benefits.
This isn't a very moisturizing facial exfoliator, however, in part due to the coffee grounds being very good at absorbing liquid.
While you only get a few ounces of product, the asking price is very reasonable, and we're confident in recommending this as a facial exfoliator for any man who likes to get down to his skincare first thing in the morning.
Check out the hundreds of customer reviews here on Amazon.
---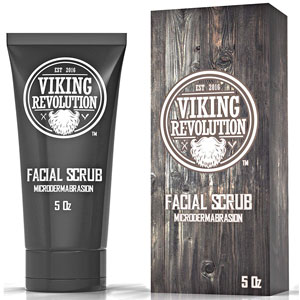 This face scrub uses natural oils to a great extent to both exfoliate and moisturize beyond many competitor exfoliators.
Specs
Who Is It Best For?
This is an excellent choice for any man who shaves frequently and who wants to avoid dry skin immediately afterward.
Key Features
This is another chemical-based exfoliator, and it uses natural oils as its primary exfoliating agent.
Despite this, you shouldn't think that the solution is incredibly oily or that you can use it if you have acne-prone skin.
The oils that are used in this formula are not thick enough to clog your pores or cause your skin to develop an oily sheen.
In fact, the oils used here are all-natural and are reinvigorating, cleansing your pores, and improving your skin's overall health.
Some of the oils on display are sunflower seed oil, sweet almond oil, and coconut oil.
On top of the health and cleanliness benefits, you'll also find that the moisturizer has a really lovely aroma that isn't too feminine, so even men who prioritize their scent will find this facial scrub acceptable.
In addition to all these benefits, this exfoliator also moisturizes your skin. This means that it's a great choice if you have naturally dry skin or skin that cracks often.
Vitamin E is further included in the formula to nourish your skin and repair cell damage that occurs over time.
Based on our testing, we would recommend using this face wash before you shave.
The ideal order of operations would have you take a shower, apply the facial wash, then start shaving.
Why is this?
The facial wash will naturally revitalize your skin and make it less sensitive to potential razor burn or small cuts that may be obtained during a shaving session.
Therefore, we would easily recommend this exfoliator for any man who shaves frequently and who likes to maintain a smooth jaw; this exfoliator will both help with the shaving aspects of your daily routine, and it will also make your skin look and feel a lot better.
Check out the hundreds of customer reviews here on Amazon.
---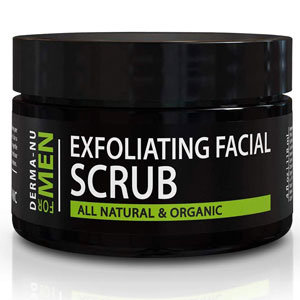 This exfoliator combines both pumice and jojoba beads to clean deeply and effectively while still being gentle enough to help men with sensitive skin.
Specs
Who Is It Best For?
This is the best combination for men who have sensitive skin but also deep pores, as they need a product that can cleanse effectively without irritating them.
Key Features
This facial scrub is a physical type and uses a combination of pumice and jojoba beads to accomplish its exfoliating tasks.
Due to the unique formula in this product, it's actually quite effective at preventing ingrown hairs.
This is because the physical components included in the formula will break down and remove small hairs that are bending or curving back towards the surface of your skin.
If you're a man who has naturally curly facial hair, you've probably already experienced some difficulty after shaving, only to discover that ingrown hairs are growing like crazy.
Using some of this exfoliator can help curb those effects and let you frequently shave without having to worry about sore spots on your face.
While this does bring to mind a rather rugged and rough exfoliating experience, the use of beads means that it's actually okay to use with sensitive skin as well.
In addition to the physical components, natural plant oils have been mixed into the exfoliating wash to nourish your skin and prevent acne outbreaks.
It's an excellent choice if acne is one of your primary concerns.
It can even help if you have dry skin since it has aloe vera to combat any drying effects and nourish naturally dry skin.
It isn't quite as effective as some other exfoliating facial scrubs that are specifically designed for dry skin.
But the overall point is that you shouldn't worry about this exfoliator drying your skin too much.
MSM is also contained in this unique formula, which has anti-inflammatory properties to stop your skin from becoming intoxicated.
It also helps to detox it from the variety of chemicals and debris that bombard it each day. Overall, this is one of the healthiest and most versatile exfoliating facial scrubs we found.
Check out the hundreds of customer reviews here on Amazon.
---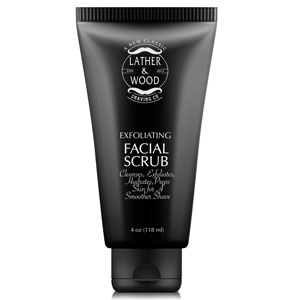 This is a combination face exfoliator, as it uses both chemical ingredients and physical jojoba beads to get the job done.
Specs
Who Is It Best For?
This is an excellent choice for men who have abnormally oily skin and who don't have a particular preference between the sensations of chemical or physical-based exfoliators.
Key Features
This exfoliator is both chemical and physical, as it uses natural oils and jojoba beads to exfoliate and nourish your skin.
It's an exceptional choice if you have oily or dry skin, although it lacks any particular hydrating effects.
But its unique formula doesn't make your skin drier than it otherwise would be, either. Its real value comes when it is applied to oily skin.
It can very effectively reduce acne and make your skin's texture a lot less oily at the same time.
In addition to all of the physical benefits, this cleanser comes with a masculine scent that will easily distinguish itself from many of your other skincare products.
The sense can best be described as "woody," according to our testers. It's what they were reminded of as they applied it to their skin.
This can be either an upside or a downside depending on how you look at it.
If you plan to wear a stronger cologne or deodorant, you should find out whether or not the particular scent included in this bottle will clash with that cologne, or if they will mix nicely.
Speaking of deodorants, we've done a great guide on the best natural deodorants for men that you should check out!
You also get a decent amount of product for your purchase, so there's good value for money here as well.
Check out the hundreds of customer reviews here on Amazon.
---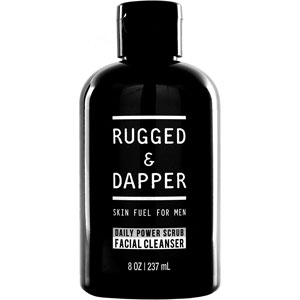 This face scrub is an excellent product that cleanses deeply and effectively while hydrating and nourishing the skin at the same time.
Specs
Who Is It Best For?
This is a good pick for men who have pasty skin that could use a nice hit of vitamins and other essential nourishing components while being exfoliated at the same time.
Key Features
Here's another chemical exfoliator that relies on both natural oils and aloe to nourish, clean, and hydrate your skin all at the same time.
This is an extremely versatile product that we would recommend for all kinds of men with various skin issues.
For starters, its chemical elements can easily attack any grime or oils that build up in your pores and dissolve them quickly.
This will prevent further acne breakouts and make your skin healthier overall.
Best of all, it can accomplish this without stripping your skin in the moisture whatsoever, making it an excellent pick if you have dry skin already.
But it will also help your skin retain moisture in the future, meaning that it can be an excellent solution to make your skin permanently better, as it will become less dry over time and retain its new texture.
Another great benefit of this exfoliator is its toning capability. Basically, the ingredients included in this formula will also help your skin regain and maintain a natural, youthful tone that is full of color.
These ingredients include Vitamin C, willow bark, and burdock root.
This can be an exceptional choice if you're a man that has a bland skin tone or pasty skin and would like to change it.
You even get eight full ounces of the product for your purchase, for a reasonable asking price to boot. Overall, this is definitely one of the most all-purpose face exfoliators that we found in our search for the best.
Check out the hundreds of customer reviews here on Amazon.
---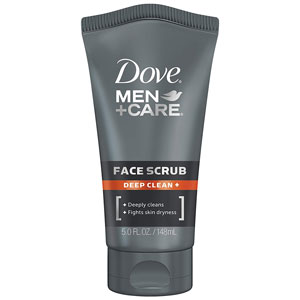 This is a pumice-based facial scrub that can deep clean without irritating the skin too drastically.
Specs
Who Is It Best For?
This is another good pick for men who have sensitive skin but also deep pores.
Key Features
Here's another example of the best exfoliating scrubs for men.
This physical scrub uses pumice as its primary ingredient. It also uses a handful of other ingredients to help with the removal of oils, dirt, and debris from your pores.
It's one of the most effective deep cleaning agents that we found.
This can make it an excellent choice if you're a man who has thick or deep pores that commonly trap a lot of dust and debris from your daily activities.
Deep pores can easily lead to a lot of acne outbreaks or generally oily skin, so you definitely need something heavy-duty to handle the exfoliation required to attain good-looking and great feeling skin.
Despite the inclusion of pumice, a few other chemical ingredients are also included to prevent your skin from being dried out as the scrub is applied.
Because of these, it can remove any dirt or debris from your pores without stripping your skin or removing liquid.
This will help your skin fight the effects of dryness and become healthier looking and feeling over time.
It will also feel softer immediately after application. Because of the intensity of this face exfoliator's effects, however, we can't recommend it if you're a man that has more sensitive skin than normal.
You will likely face some irritation if you scrub this onto your face.
But if you don't have sensitive skin, you'll find that it's very affordable and that it provides you with plenty of the scrub for a very low price.
It's an excellent budget pick and an excellent choice for men who plan to use a lot of exfoliators for the foreseeable future.
Check out the hundreds of customer reviews here on Amazon.
---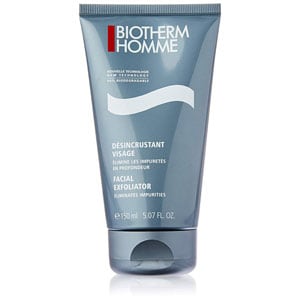 This exfoliator is a gel that quickly foams as it is rubbed into the skin, lifting away dirt and debris in an extremely gentle experience.
Specs
Who Is It Best For?
This is one of the best picks possible for men with sensitive skin since there is hardly any actual scraping or rubbing during the exfoliation process.
Key Features
Finally, this chemical exfoliator is another great, unique option that might be a perfect fit for men who don't like the feel of traditional exfoliating scrubs.
That's because this scrub uses foaming gel as its primary exfoliating process instead of physical components or a purely chemical solution.
Basically, you rub the gel into your skin, and it foams up over time.
This foam then pushes into your pores and lifts dirt and debris up and out, allowing it to be washed away with the foam itself.
This is an extremely gentle and effective way to cleanse your skin without scrubbing or destroying anything in the process.
At the same time, the foam can penetrate pretty deeply into your pores without much trouble, so it can work on skin that also has deep pores.
There isn't any abnormal fragrance to worry about.
Besides, using this exfoliating scrub will prepare your skin for a closer and more comfortable shave, as a result of opening and widening your pores beforehand.
This will allow your facial hair to be cut more closely to the root, giving you a closer shave and extending the window of time that you have to enjoy your new, smooth skin.
This does feel pretty tickly and strange, so it might take a little getting used to at first. Also, it is a little pricey considering that you only get 5 ounces of product for your purchase.
But there's no denying that it's an excellent solution if you have overly sensitive skin and just can't stand the way that traditional exfoliating scrubs feel as you rub them in.
Check out the hundreds of customer reviews here on Amazon.
---
Things to Consider when Buying the Best Exfoliate for Men
Before we go any further and explain our best picks in terms of face scrubs, let us elaborate on the aspects that we considered to find the top exfoliators for men.
Understanding these factors can help you find the best facial products for you as well as give insight into our own selection processes.
Also, you'll be better equipped to avoid products that aren't really worthwhile or that aren't effective enough for your standards.
1. Skin Type
---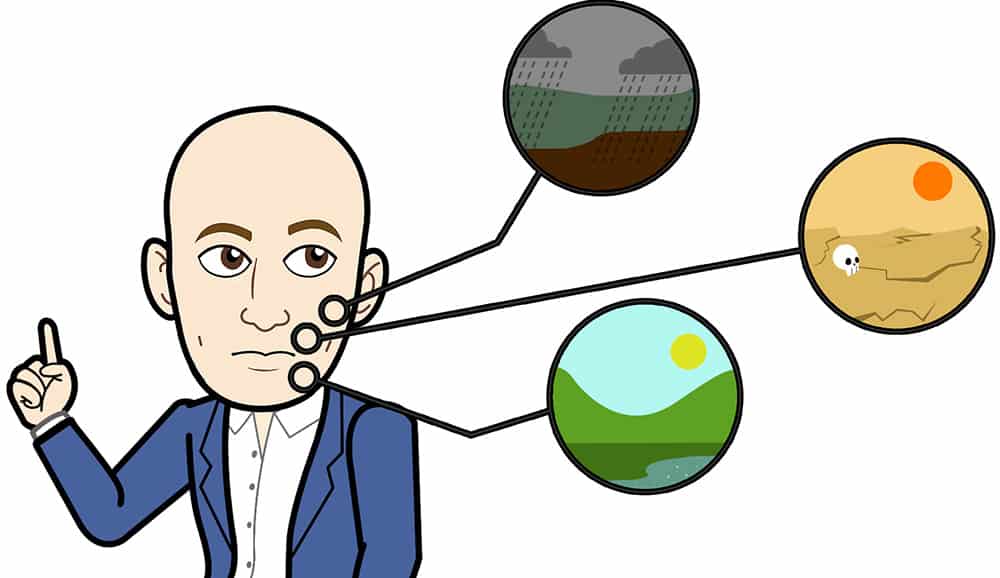 Your skin type plays a crucial role in how effective any given face scrub is.
Different face exfoliators are going to be more active on particular types of skin and less effective on others.
While virtually any type of facial hair exfoliator is somewhat functional for every skin type, it's a good idea to match the most effective exfoliator before shaving for your skin type if you want the best overall results.
If you have dry skin, exfoliation is definitely a practice you should maintain regularly. Dry skin often becomes flaky and can lead to dandruff if you have facial hair.
Dry skin can be assisted by exfoliators since removing dead skin will allow your skin to maintain its own moisture more effectively throughout the day.
While exfoliation helps dry skin by removing dead skin and debris, exfoliators can also be irritating to dry skin. This is because they might rub your skin raw by accident.
To avoid this, make sure that you get an exfoliator specifically rated for dry skin. Alternatively, use a little bit less of the exfoliation cream than the recommended amount.
However, you should also invest in a moisturizer product to directly help with the dryness of the skin.
Oily skin is another common skin type that can significantly benefit from using a face exfoliator.
Oily skin is primarily caused by blocked pores. What does this mean?
Blocked pores are usually caused by dead skin or dirt which piles up during a typical day. As your pores become blocked, your skin naturally generates oil in an attempt to remove the debris.
When this isn't successful, your skin doubles down on oil generation and can cause your skin to become oilier than before.
Furthermore, this oil abundance can later cause temporary acne outbreaks or make you more prone to acne all the time.
Using a face exfoliator can significantly assist with reducing the amount of oil and acne on your skin since exfoliation's primary purpose is to remove dead skin and dirt.
This effectively clears the way to your pores and allows them to breathe properly. It will lead to less oil generation over time and a more balanced skin texture.
Some exfoliators are rated explicitly for oily skin due to their excellent capability to remove lots of dead skin cells at once.
If you have sensitive skin, don't worry! There are exfoliators for you as well.
These types can perform the same dead skin removal and debris removal as other exfoliator types, but they can accomplish these tasks more gently than their competitors.
This can make beard exfoliators more comfortable if you have skin that is naturally prone to becoming irritated or red at the slightest provocation.
You can also use beard exfoliator brushes that are rated for sensitive skin if you have a lot of acne, as acne can often make your skin sensitive or sore.
In general, you'll want to avoid exfoliators that have alcohol, since alcohol is a heavy-duty exfoliating agent and can easily cause irritation.
Of course, if you have normal skin or a combination of the various skin types above, you can use pretty much any good exfoliator.
2. Exfoliators
---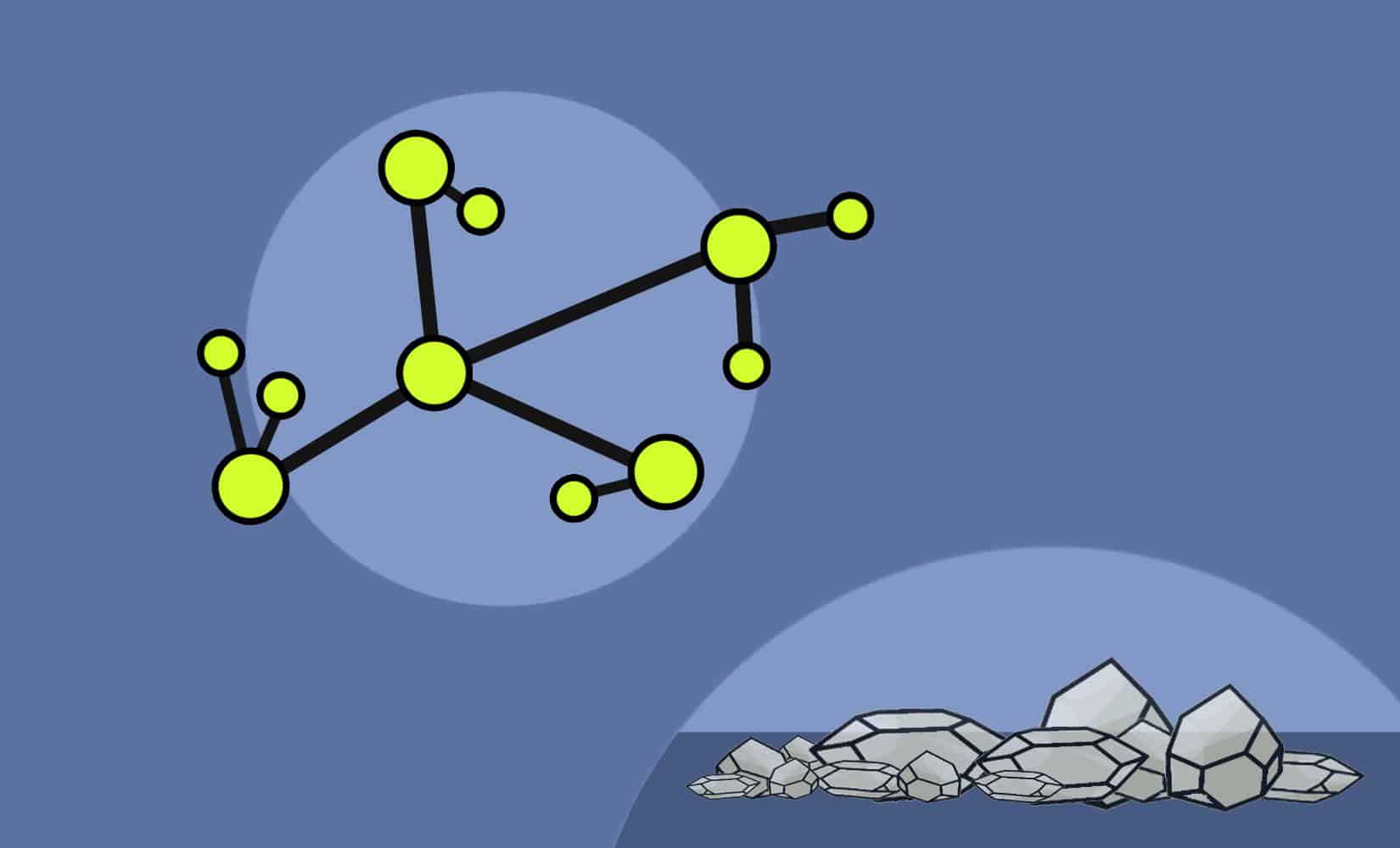 There are two types of exfoliators: those that use chemical exfoliating agents and those that use physical exfoliating compounds.
Let's go over both.
Chemical exfoliators use a particular combination of chemicals, both synthetic and natural, to remove dead skin and improve the appearance and texture of your healthy skin.
Rather than using physical compounds actually to scrub away dead skin, chemical exfoliators dissolve dead skin and debris, making them a better choice if you have sensitive skin or particularly deep pores, since deep pores resist many physical types of exfoliators.
The ingredients inherent in each chemical exfoliating formula will have a direct impact on each exfoliator's performance and effectiveness.
There are basically two varieties of ingredients that you'll find in any given exfoliator.
These are the parts of exfoliation formulas that are responsible for dead skin removal and debris removal.
These can include alpha hydroxy acids, lactic acids, glycolic acids, or various citrus and fruit acids. All of these compounds will dissolve dead skin and debris very effectively.
On the flip side, you should try to make sure that your skin is not already allergic to any of the ingredients in any given chemical exfoliant.
If you see any chemical exfoliants that have beta hydroxy acid, they'll be a great choice if you have acne-prone skin.
This is because beta hydroxy acids penetrate pores deeply and can remove all impurities. This effect will lessen the amount of acne that you experience over time.
Extra Natural Ingredients:
While some of the chemical ingredients we mentioned above are natural and some are synthetic, there are also plenty of other natural ingredients that may be added to any given chemical face exfoliator to make the texture of the compound more comfortable.
These natural ingredients may include things like green tea, aloe vera, tea tree, shea butter, cocoa butter, volcanic ash among others.
They might also add a soothing fragrance. These ingredients include various types of oils, like coconut oil, or even some moisturizing components like aloe.
While these aren't necessary for a chemical exfoliator to work effectively, they are often a great sign of excellent design and can really boost your overall experience.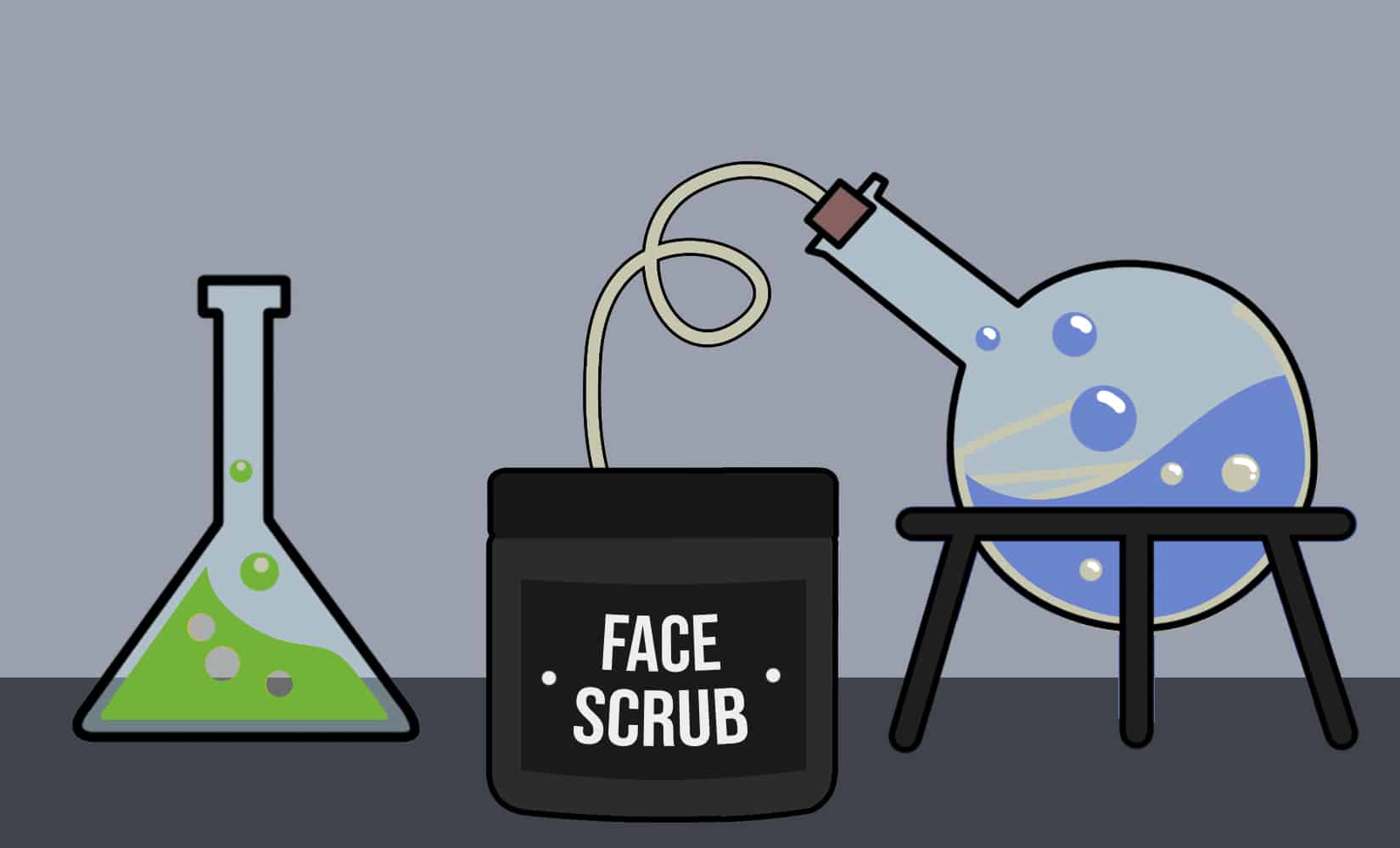 Physical exfoliators, on the other hand, use an actual physical component, such as microbeads or certain types of crystals, to slough away dead skin and any debris in your pores.
This can sometimes act a little more quickly than chemical exfoliators, but physical ingredients are often a little rougher on your skin and are therefore not recommended if you're a man with more sensitive skin than normal.
Besides, certain types of physical exfoliators can feel uncomfortable or crunchy or have detrimental drying out effects for some skin types.
Those with dry skin may find that chemical exfoliators are a better choice for this reason.
There are two broad types of physical exfoliator components that you will encounter as you search for your perfect face scrub.
These are virtually the only types of physical exfoliators you should look at.
We'll explain why microbeads are a poor choice below.
On the other hand, small beads made out of particular minerals, such as jojoba beads, are an excellent way to exfoliate physically while still remaining comfortable, even if you have sensitive skin.
These types of minerals generally do not scratch your skin and instead act as a sort of "buffing agent" that buffs away dead skin cells.
Crystals ground down to a fine powder are also a great choice if you have tougher skin that needs a strong exfoliating agent.
Pumice crystals are a common variety of these types of exfoliating agents, as they can buff away dullness in your skin or problem pores entirely.
They are also excellent for removing all types of tough dirt or debris that is ground down deep into your pores.
Microbeads: these are harmful to the environment and should be avoided at all costs.
Microbeads are commonly made of plastic, which means that they are never dissolved no matter where you dispose of them.
This means that plastic remains in the environment for many decades.
Also, plastic microbeads are no more effective than mineral beads or crystals when it comes to physical exfoliation.
If you ever find a product that uses plastic microbeads, look away! They are not worth your time, money, or the impact on the environment.
3. Moisturization
---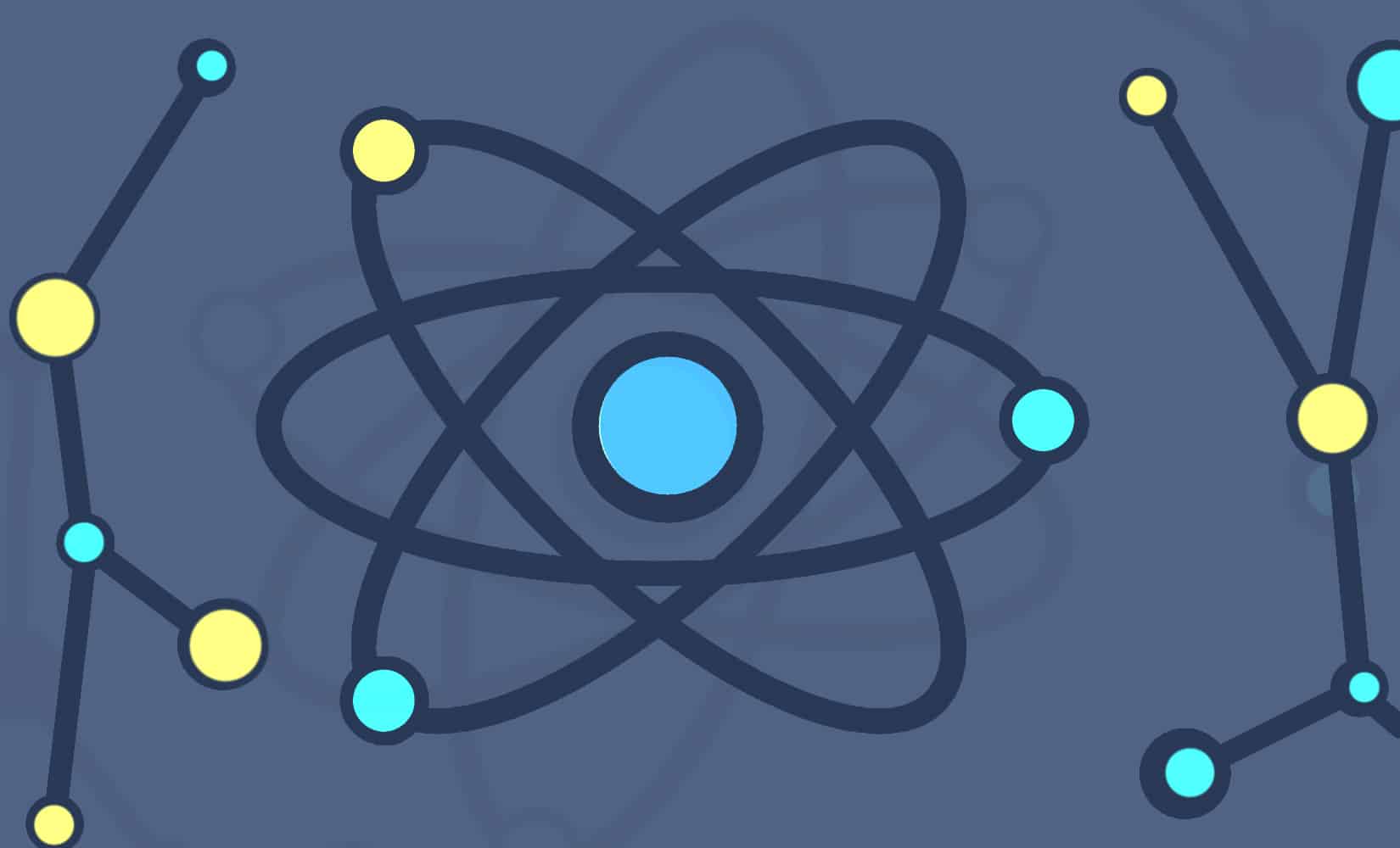 Some face exfoliators will also moisturize your skin; this is definitely an aspect you should look for in the top-tier face scrubs for men.
Why does this matter?
Many exfoliators also have an unintended side effect in that they dry out your skin as a result of the exfoliation.
If a particular face scrub also has hydration or moisturization elements, this side effect can be negated partially or entirely.
While moisturizing elements aren't necessary, they do help make an overall better product and we found that they were a great factor to consider as we narrowed down the best exfoliators for men.
4. Amount
---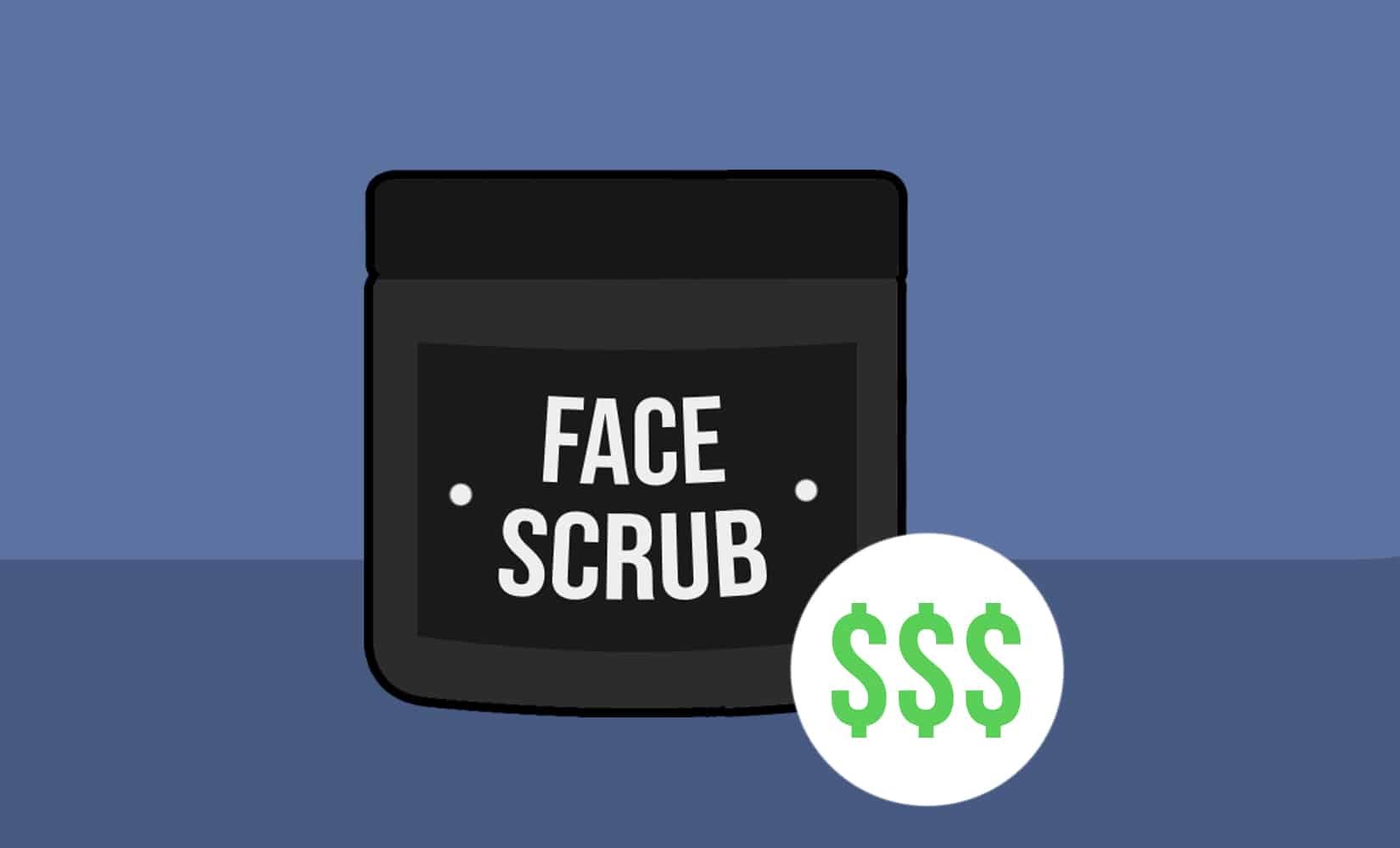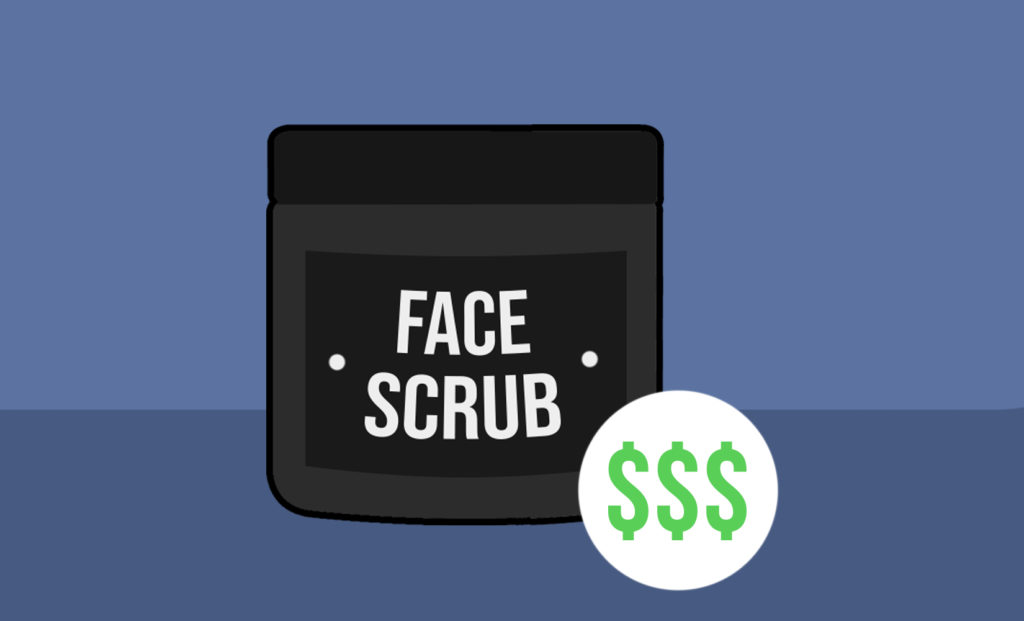 Finally, the amount of exfoliator that you get for your purchase directly impacts any given scrub's overall value for money.
Some exfoliators only come with a small amount per purchase, but they might be quite excellent in terms of overall quality and effectiveness.
On the flip side, you might find some exfoliators that come in bulk or with many more ounces than average, but these also might be of inferior quality.
You'll have to decide for yourself how much exfoliator you plan to use in the near future and make a decision accordingly.
To help yourself, try to boil down how much product you get per dollar spent to get an idea of the overall value of any particular face scrub.
Frequently Asked Questions about Facial Exfoliators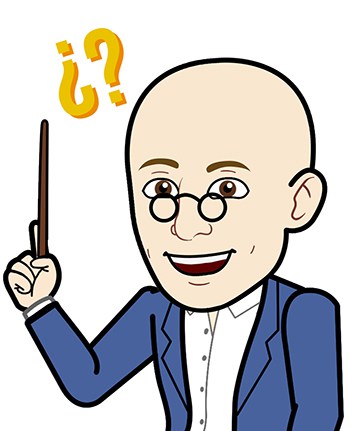 1. How often should I try to exfoliate my face?
You should try to exfoliate your face about once each day or every few days, although if your skin starts to become irritated or feel raw, you should lower this frequency to once every week or so.
You may even find that one day, you don't need an exfoliator to have great skin, as your skin will have learned the appropriate amount of oil to generate.
2. Can exfoliators help with acne reduction?
Exfoliators absolutely can help with acne reduction.
They remove dead skin and debris and cause your skin to produce less oil, which is one of the leading causes of overzealous acne.
3. Should you exfoliate before or after shaving?
In general, it's a good idea to apply exfoliators either in the morning before you start your day or at night before you go to bed.
The best practice is to exfoliate beard before shaving, rather than after.
That's because, as Gallo explains, "Exfoliating removes dirt and dead skin cells from the surface of the skin, which keeps your skin clean, unclogs your pores, and helps you achieve a closer shave.
4. Can I combine other skin-care products with exfoliators?
You can combine some skincare products with exfoliators, but not at the same time.
Exfoliators need to be the only skincare products applied so that they can do their intense and penetrating work.
If you apply another chemical or compound, it could get in the way of the exfoliating effects and cause nothing to happen.
5. How to exfoliate beard?
To exfoliate properly, douse your beard (and face) with warm water to open the pores, which will loosen any lingering dry or dead skin.