Nowadays, having the best work shoes is not a luxury, it is a requirement, for both men and women.
Nothing sucks out all the energy you have for your job like having uncomfortable work shoes.
Standing around or spending lots of time walking is a part of traditionally masculine jobs, as men don't mind being physical.
But uncomfortable men's work shoes can make any regular job a personal hell and that is why it is important to buy the most comfortable work shoes possible.
Having the best work shoes for men or the best shoes for standing all day is not only important for men who work in fast-moving industries but also for all working men.
These days, companies will advertise that their shoes are comfortable or/and good work shoes.
We've put those claims to the test and found the most comfortable shoes for working men of all types.
In our guide, we'll show you those best work shoes for men and help you identify which pair is a perfect match for your feet.
Let's get started!
QUICK OVERVIEW: Best Work Shoes for Men
Timberland Men's White Ledge Mid Waterproof Ankle Boot

Superior comfort and arch support
Laces are similarly durable and easy to use

VIEW ON AMAZON →

Skechers for Work Men's Felton Slip Resistant Relaxed-Fit Work Shoe

Easy to flex or stretch
Don't slip easily

VIEW ON AMAZON →

Hongchengye Steel Toe Shoes

Can be bought for an affordable asking price
Very breathable and cooling

VIEW ON AMAZON →

Walkchic Work Steel Toe Shoes

Provides exceptional protection on the bottom
Very comfortable for walking or standing

VIEW ON AMAZON →

Skechers for Work Men's Flex Advantage Shoes

Easy to take on and off
Excellent arch support and memory foam

VIEW ON AMAZON →

Skechers Men's Mariner Utility Boot

Very durable for a long time
Comfortable collar

VIEW ON AMAZON →

Dr. Scholl's Men's Harrington II Work Shoe

Great anti-slip soles
An excellent choice for men with sweaty feet

VIEW ON AMAZON →

Skechers Men's Relment Pelmo Chukka Waterproof Boot

Among the best waterproof boots around
One of the best sets of shoes to avoid slipping

VIEW ON AMAZON →
Use the table of contents below to jump to the sections most important to you.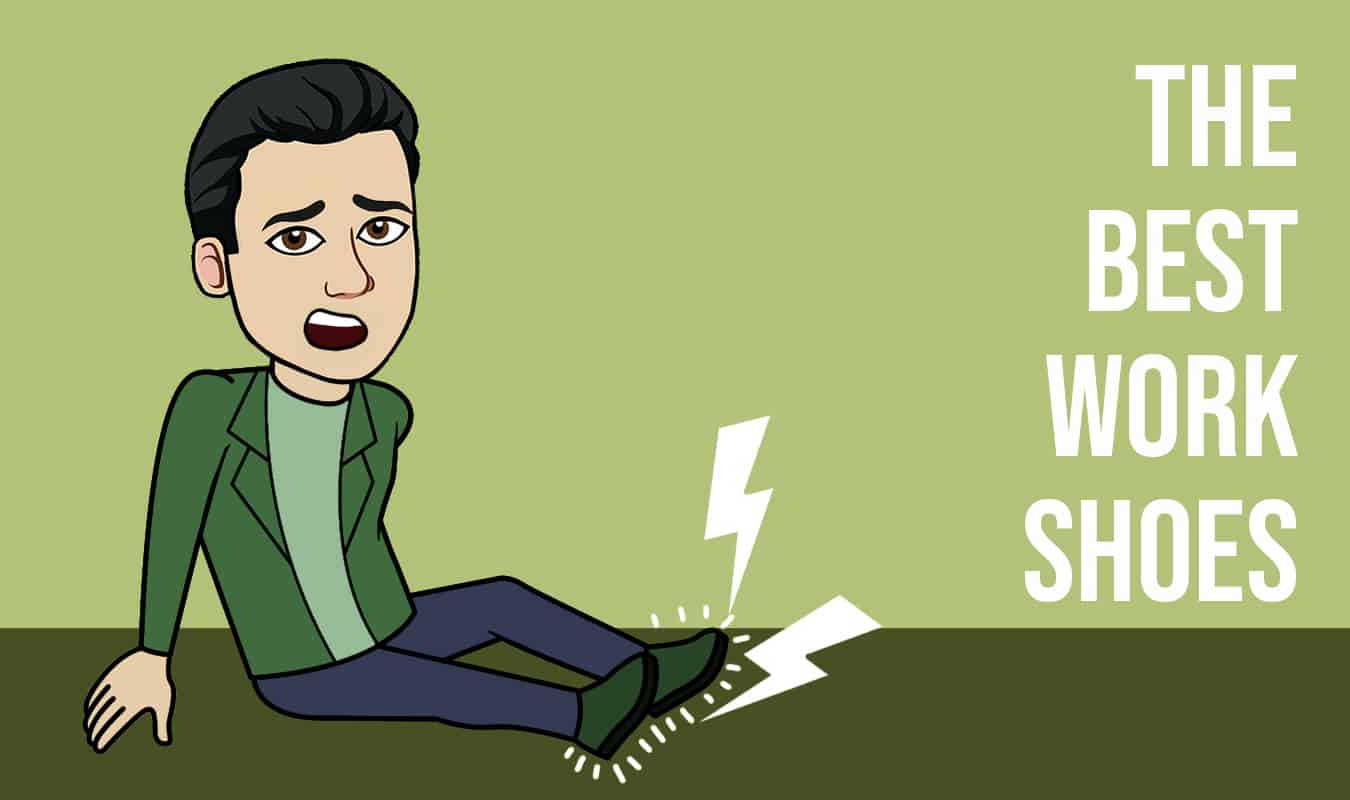 ---
8 Best Work Shoes for Men of 2023 Reviewed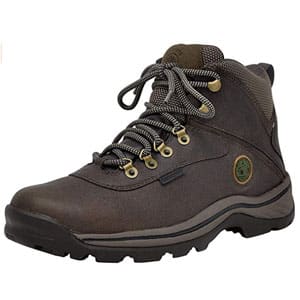 These boots are durable, waterproof, and built to last as long as you will, now that your feet are more comfortable!
Specs
Who Is It Best For?
These are a top choice for working men who need to balance comfort and durability without compromising either aspect.
Key Features
These heavy-duty working boots are built for men who spend long hours outdoors, either hiking or working around heavy machinery.
Material
They're made from 100% leather it features durable rubber soles that can withstand significant wear and tear before showing signs of degradation.
They're also completely waterproof and use full-grain leather uppers to maintain the quality and tightness of the shoe over long working hours.
Performance and Comfort
They're not the most breathable boots you can find, but they do feature plenty of arch support and superior comfort for walking or standing over long stretches.
They also feature durable laces and rustproof speed-lace hardware to make tying them in cold or wet environments easy.
The lace hardware is robust, and each hook isn't too large, either.
Value for Money
While the shoes can be quite costly, we think that men who work physical jobs over long hours will want something as top-tier as these boots.
You'll likely spend less money overall picking these up and using them for years than relying on cheaper footwear for only a few months.
---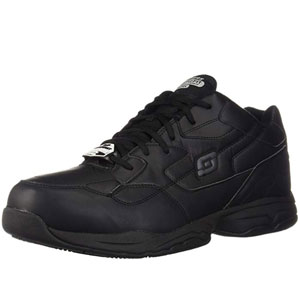 Skechers is a reputable brand name of shoes for men.
These are slip-resistant shoes that offer great comfort and excellent breathability, making them among the most comfortable on our list.
Specs
Who Is It Best For?
They're an excellent choice for indoor workers or men who need lots of space to let their feet breathe while they move.
Key Features
These best work shoes for men are the polar opposite of our first pick.
They're made from durable synthetic materials and feature padded synthetic soles that work decently well when it comes to long-term durability but really shine when you think of their comfort.
Performance and Comfort
Even though they only offer a mild amount of arch support, these work shoes are great for standing or general comfort.
It's because they have padded footbeds and padded tongues and collars to cushion every part of your foot and ankle as you walk, tilt, lean, or stand.
While the shoes are not particularly waterproof, they aren't especially susceptible to water damage either due to their synthetic materials.
Plus, they feature slip-resistant bottoms that make them an excellent choice for service industry workers or guys that spend time in kitchens.
They also have laces that are easy to assemble and tighten, which helps with how breathable and flexible each pair can become.
These are great shoes for guys who have feet that swell or sweat easily without moving entirely into mesh territory.
Value for Money
As one of the best work shoes for men, these Sketchers are an ideal pair of work shoes for guys that walk around a lot indoors or without being around heavy machinery.
They're also decently affordable, especially if you pick them in standard sizes.
---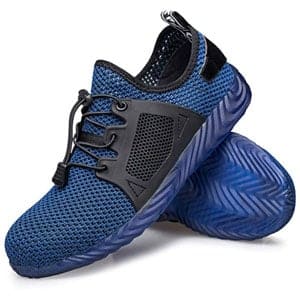 These best shoes for men are among the toughest on the market and feature Kevlar, which is commonly found on body armor; that gives you some idea as to their durability.
Specs
Who Is It Best For?
They're an excellent choice for men who have to walk over hazardous surfaces often, such as construction sites.
Key Features
These are an odd pair of work shoes because they combine lots of design elements and materials from other main shoe types.
Material
For instance, as one of the best work shoes for men these work shoes are made of rubber and fabric for the bottom and tops of their designs, respectively.
This gives them decent traction on most ground surfaces and affords them lots of breathability and cooling power for feet that tend to heat up under lots of work.
But they also have puncture-resistant Kevlar incorporated (more like indestructible work shoes) into their designs.
This makes them the best work shoes for men who spend time on construction sites since the midsole is so durable that it can withstand being punctured by nails or steel shards.
Performance and Comfort
They feature steel toes that guard the most vulnerable part of your feet from falling debris or from accidentally being stubbed on anything.
These bottoms are so intensely durable that they rival the quality of professional work boots.
The sole is also skid resistant to make maneuvering in them comfortable and safe.
This commitment to safety is oddly juxtaposed against the mesh fabric top, which is more stylish and breathable than protective.
Value for Money
The shoes also come in several bright colors or darker, traditionally masculine shades depending on your preference.
Each shoe doesn't weigh much at all, and you can pick up a pair for a very reasonable asking price.
It is not every day you come across durable shoes that are also lightweight steel toe shoes – this is a unique pair.
All in all, these work shoes are a bit strange when taken together, but we feel that they have a place in the closets of men who visit dangerous areas but perhaps don't spend all their time working there.
---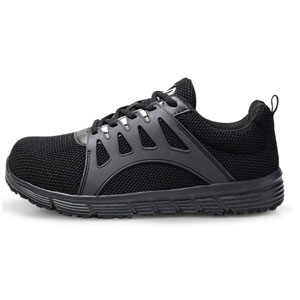 These work shoes are durable and comfortable at the same time while offering moderate arch support for men with unbalanced feet.
Specs
Who Is It Best For?
They're a good pick for guys who work at night or who work both indoors and outdoors.
Key Features
This is another pair of the best work shoes for men that our testers feel would be perfect for men of multiple professions.
Material
They feature rubber soles that are particularly durable and can withstand puncturing from nails and similar materials.
The mesh fabric design keeps the shoes stylish without compromising their durability too much.
Performance and Comfort
They are among the most comfortable shoes that our testers experienced, incorporating EVA cushioned midsoles and decent arch support.
These men's comfortable work shoes are also stylish slip-resistant shoes for men.
The padding used in each pair of shoes is fantastic for shock absorption, meaning these are great shoes for walking or running around all day.
This aspect is confirmed further by each shoe's breathability, especially when you look toward the front of each.
What's more, are the reflective surfaces incorporated into each shoe to make them more visible during nighttime working.
These are an excellent choice for workers who spend time in construction sites or in the manufacturing or auto industries due to their versatility and decent durability.
Value for Money
They aren't necessarily the most durable work shoes or the most breathable working shoes you'll find on the market, but they strike a good balance with both and managed to be superbly comfortable at the same time.
Plus, though they are not exactly cheap work shoes, they're very affordable, even for men on a budget.
---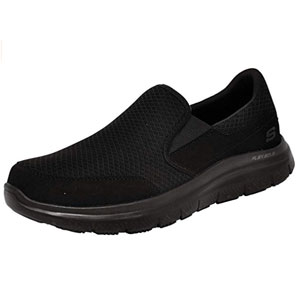 These shoes are comfortable to wear all day thanks to their superior comfort and elegant design.
Specs
Who Is It Best For?
As comfy indoor shoes and the best work shoes for men, we'd recommend these for office workers or guys who spend most time attending meetings with colleagues of equal status.
Key Features
These are working shoes for indoor professionals or guys who have the fortune to spend most of their working hours at hip locations.
Performance and Comfort
They're comfortable to wear; they have a slip-on design that can go on and off with a kick or a push.
This ease-of-use is mirrored by their overall comfort, featuring elastic opening sides and padded collars with reinforced seams.
The elastic sides are fantastic if you have thick ankles that don't necessarily reflect your real foot size.
The shoes are among the most comfortable we've tested, and our testers were particularly impressed by the memory foam insole.
The comfort levels, especially for indoor work or for standing all day, are incredible.
The more you stand in these best work shoes for men, the better they'll feel.
They even feature excellent arch support, making them a prime work shoe choice for men with high arches.
Sketchers also boast of very comfortable work shoes for women.
Value for Money
Their soles are even a bit slip-resistant, although we wouldn't call them truly anti-slip compared to other service industry-focused work shoes.
Still, they're an excellent pick for indoor professionals.
Of course, they're not very durable, and they have little to no ability to resist water damage.
These shoes definitely don't belong in outdoor working environments and will likely degrade relatively quickly as you use them.
This is a bit unfortunate considering the high asking price for each pair.
However, if you can maintain them carefully and prevent them from wearing down outside too often, you'll likely be able to enjoy them for a couple of years before you need to replace them.
---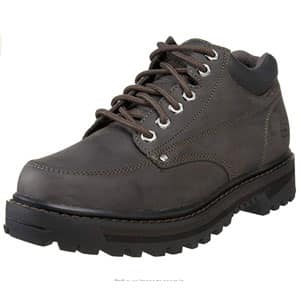 These work boots are super sturdy and feature reinforced stitches, which increases their robust charm.
Specs
Who Is It Best For?
These are an excellent choice for men that want a long-lasting and good-looking pair of work boots.
Key Features
These heavy-duty working boots are ideal for professionals who spend lots of time outside or in construction sites.
Material
They're made with 100% genuine leather, making them exceptionally sturdy and long-lasting if you take care of them the way they deserve.
They have durable rubber soles to improve traction and protect the bottoms of your feet from hazards on the ground or uneven rocky footing.
They also feature reinforced seams that'll extend the life span of the boots beyond what you'd expect.
Performance and Comfort
They are good safety shoes for men as well as they are heavy-duty sneakers.
The padded collar improves the comfort of each pair of boots even if it's a bit of a tight fit, though we'd recommend that you pick a pair with plenty of room to spare since these are not very breathable.
The laces are thick and sturdy, and threading them through their holes is consistent since each lace loop is closed rather than featuring the hooked design that many working boots go with these days.
Value for Money
All in all, our testers appreciated these boots for their quality and appearance.
Lots of heavy-duty boots end up sacrificing aesthetics for practicality, which is something all working men understand.
But it's nice to see a pair of boots that doesn't compromise on either aspect in case you want a set of the best work shoes for men, whenever your boss shows up or for your personal pride.
---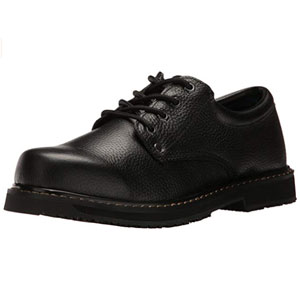 These work shoes are versatile and feature a balanced design that incorporates comfort, durability, and arch support into their materials and construction.
Specs
Who Is It Best For?
They're great for men that need a little bit of everything or guys whose work takes them inside and outside with equal frequency.
Key Features
These should be a top choice for any indoor working professional.
Material
The shoes are made from 100% leather that has a moisture-wicking lining, plus a microbe shield add-on that reduces the odor from the shoes and makes it less likely that the shoes will warp from sweat.
Performance and Comfort
They feature decent arch support and have appreciable padding on their interior, even with the rigidity of their leather shape.
The leather itself looks phenomenal and can be maintained with a little oil to look brand new for some time to come so long as you keep the shoes indoors.
Even if you take them outside, the bottoms are blessed with a thick rubber sole that features excellent traction abilities and decent protection from hazards.
While these are necessarily durable enough to take to a construction site, they're definitely good enough for service industry jobs or indoor office work.
The slip-resistant soles are robust enough that our testers didn't worry about walking on slippery surfaces while they had them on.
Value for Money
You can even pick up a pair of these shoes for a reasonable asking price.
We'd only really change their breathability if we had the choice, as they can feel quite stiff upon first use.
Like most leather products, the shoes eventually mold to better fit your shape as you wear them even though they don't use memory foam.
But we reckon that they'll become more comfortable the longer they're worn.
---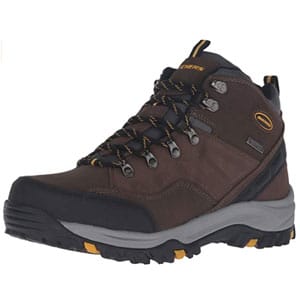 These waterproof boots are sturdy and slip-resistant, and they feature superior arch support to keep things comfy as you work.
Specs
Who Is It Best For?
These are a top choice for guys who spend time in wet environments or whose work takes them into the snow.
Key Features
For men that spend time in snow or in wet areas, you'd be hard-pressed to do better than this waterproof boot set.
The leather featured here looks and feels great to the touch and still manages to turn away liquid quite easily.
Performance and Comfort
These boots are phenomenal for outdoor work or for spending time in snow due to their durable synthetic soles that feature anti-slip traction patterns, plus their general waterproof design.
These soles are among the best that our testers found when it came to slipping resistance.
These aren't super warm shoes, of course, so men who spend time in snow will want to double up the socks they wear.
Value for Money
This leads to the only real downside, which is its breathability; the boots here are pretty stiff and don't give you lots of room to move around.
Still, they're quite durable and long-lasting and feature great lace hardware that isn't likely to rust away or fall off under heavy use.
You can also pick up a pair of these boots for a great asking price, given their durability and lifespan.
Overall, these are outdoor boots that are built to last and do a great job at resisting water no matter the environment.
---
Things to Consider When Buying the Best Work Shoes for Men
We've got the best work shoes for men already picked out, but let's go over the main things you need to focus on for your search before we get into their details.
1. Materials
---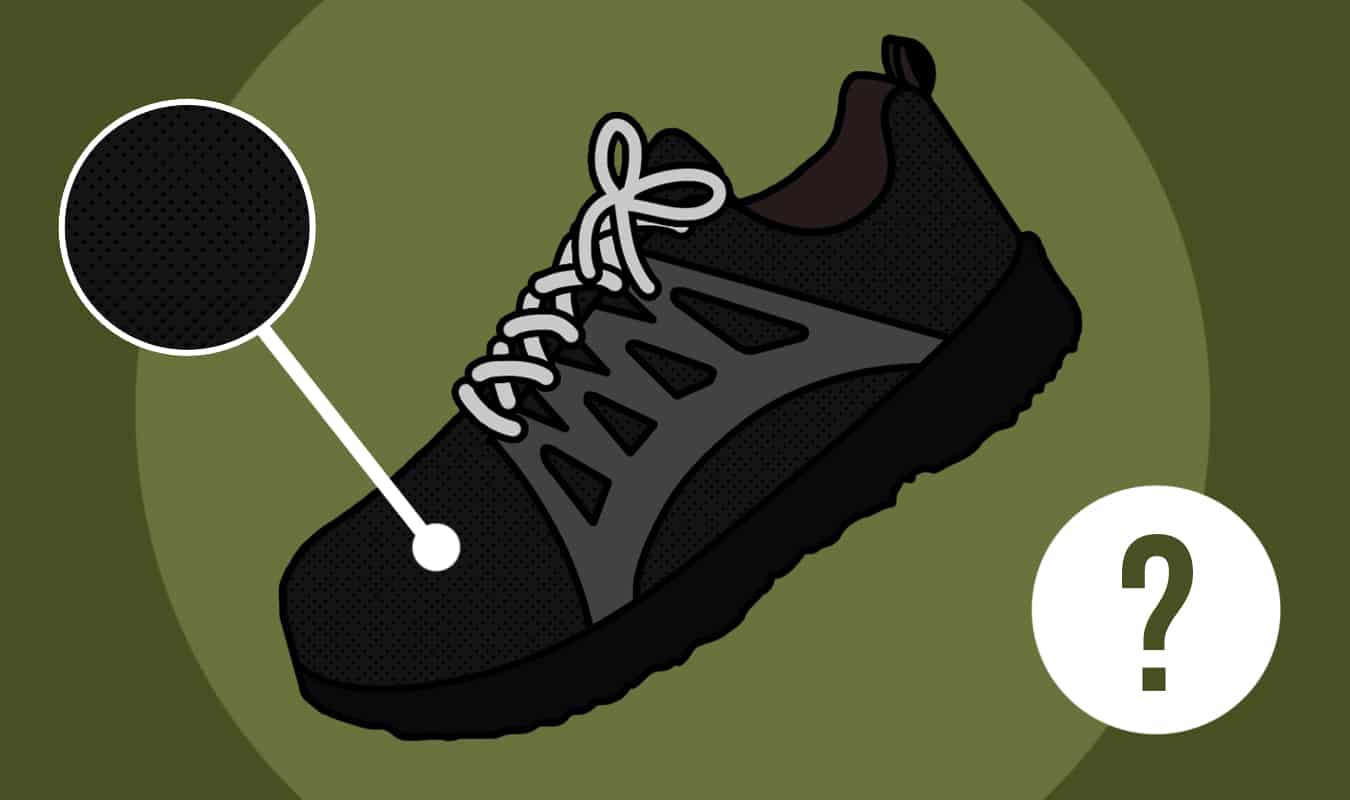 First off, the most important aspect to consider when selecting the best work shoes for men is the material.
Different materials can alter how well the shoe fits for different work environments or how well they might cushion your feet all day long.
For instance, the material used for construction shoes and food service shoes cannot be the same.
Likewise, the best shoes for working on concrete cannot be the same material as men's comfy shoes for office use.
These are just a few examples…the list goes on.
Besides, the materials used can drastically impact the price of a pair of new work shoes.
Here are the common types of materials used in work shoes for men.
a). Synthetic Material/Rubber
Synthetic shoes are usually reasonably-priced and can be quite durable.
They don't always look very sleek, but that doesn't matter so much when you're primarily looking for a pair of sturdy work shoes.
Synthetic rubber shoes come in many different sizes or types and might be specialized for different working environments or needs.
Some of the best work shoes for men made from synthetic materials are perfect for standing or walking all day.
They can withstand wear and tear easily without putting too much pressure on your feet and this makes it the best shoe for working on your feet.
Even better, synthetic shoes are usually easy to clean.
You will not need to spend lots of time carefully cleaning their cervices when a simple soap and water bath usually is fine for maintaining their condition.
This being said, synthetic shoes aren't best for men with bad arches and may not be the most comfortable if you require additional padding to make it through your workday.
But they are a top choice if you work in an environment where there's lots of heavy machinery or equipment that might fall on your feet.
Lots of synthetic shoes are quite durable and may include reinforced shells to prevent things from crushing your toes.
Definitely consider a pair of synthetic work boots if you spend lots of time on a construction site or a warehouse.
Look for steel-toed boots, specifically.
These can provide extra protection to your toes and are top choices for men who labor physically all day long.
b). Leather
Many of the best work shoes for men will be made from leather, particularly those types of men's formal shoes or if your profession has you spend most of your time indoors.
Leather shoes look excellent and can provide excellent air circulation, which is even better if you work in a heated room.
Because they look so nice, leather work shoes are often the footwear of choice for businessmen or people who spend lots of time behind a desk.
These hard work shoes can be found in many different styles or aesthetics, allowing you to mix-and-match various work shoe pairs with different outfits.
They can be slip-on work shoes or full-cover and the colors may be brown or black work shoes in most cases.
At the same time, leather shoes can be comfortable enough for daily use, although we wouldn't always recommend picking up a pair of leather shoes if you spend lots of time walking.
That's because many leather shoes don't come with additional padding or flexibility to allow for wide ranges of foot motion.
Some leather shoes can fit arch supports purchased separately from the shoes themselves, but not many.
Besides, it takes some significant time and energy to maintain your leather shoes if you want them to look their best.
This can include polishing them, depending on how you want them to look
All in all, leather shoes are often a great pick for men who work primarily indoors.
c). Mesh
Many work shoes for men will be made of mesh material.
The light shoes for men and the most comfortable men's work shoes or the best work sneakers are made from a mesh material.
This is ideal if you spend lots of time walking or running from place to place, but keep in mind that mesh shoes are not very durable and offer little to no protection to your feet.
That's why we wouldn't recommend picking up a pair of mesh shoes if you spend time moving furniture or other heavy equipment around.
If anything falls on your feet, the mesh won't do anything to protect your toes.
Still, mesh shoes allow for supreme air breathability and can keep your feet from becoming too sweaty as you work them all day.
Besides, mesh shoes usually feel quite comfortable even without any additional arch supports inserted atop their soles.
Some of the best work shoes for men come with inbuilt arch supports or additional cushioning.
These are prime choices for guys who have terrible arches or who find their feet aching after work each day.
Just be sure to keep your feet away from heavy objects!
2. Comfort Level
---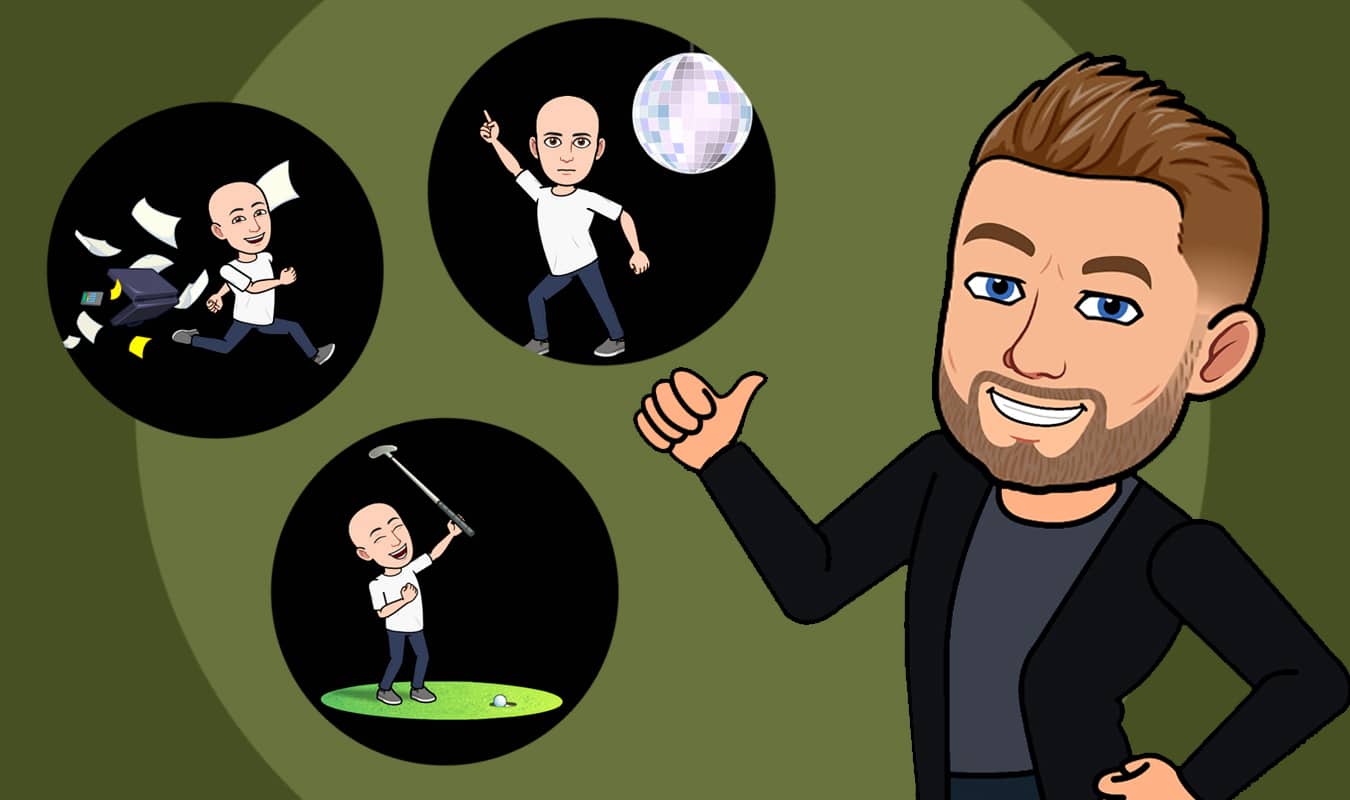 Next, think about the comfort level of a given pair of shoes when checking the shoes' brands list for men.
Not all the best work shoes for men are built to the same level of comfort.
Some are meant to be used for short periods before being swapped out, while others are perfectly fine to wear all day long both your work and when you go home.
High comfort shoes are generally more flexible than low comfort shoes and may feature inbuilt padding or cushioning to protect your feet throughout the day.
Many of the most comfortable shoes will include specialized soles that can absorb energy from each step you take to lessen the impact on the muscles of your feet.
Of course, these are the best work shoes for men that have bad arches or guys that have to walk many hours each day.
But high comfort shoes usually lose some durability and protection.
That's why many of the most protective shoes or boots won't be very comfortable and are designed to be worn only when necessary.
Pick up a pair of uncomfortable shoes if you only need to wear them for short bursts or when getting a particular task done.
3. Arch Support
---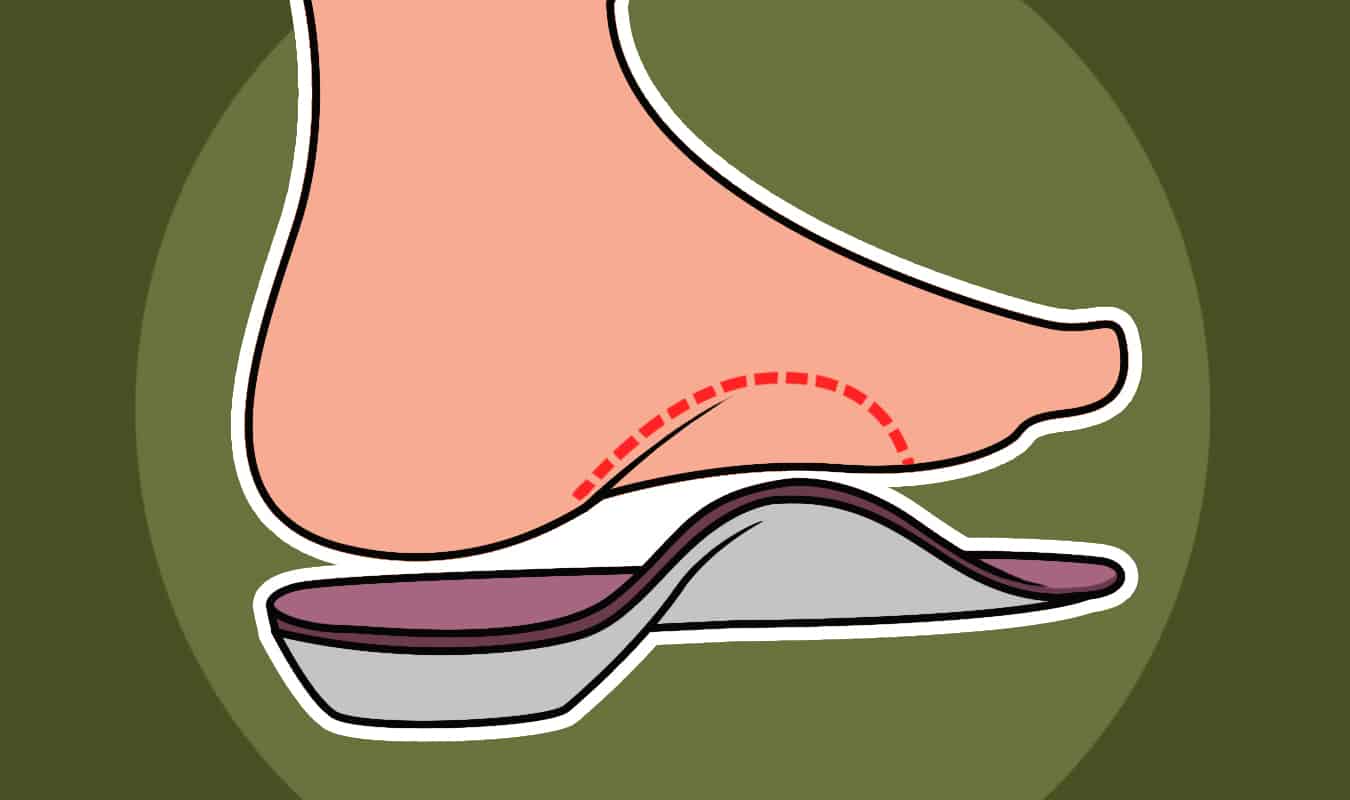 This aspect is most important for men that have bad foot arches already, but it applies to all men who want their best work shoes to be as comfortable as possible.
Very few men have perfect arches, so shoes with arch supports or with the room to accommodate separate arch supports will always be more comfortable for the majority of men.
Arch support is essentially an elevated shaping of the shoe's sole, which supports the center of your feet each time you take a step.
This reduces strain on your foot muscles and makes walking and standing more comfortable.
Arch-supported shoes are not necessarily more expensive than shoes without this feature, and the level of arch support can vary dramatically from one shoe to the next.
If you do have terrible arches, you should spend some serious time researching the level of arch support included with each pair of work shoes you inspect.
Alternatively, you can always supply your own arch supports, which you can purchase at lots of shoe stores or sports outlets.
You just need to be sure that your chosen work shoes have the room available for the supports to be inserted.
Separate arch supports can be helpful since you can achieve a similar level of support no matter which pair of shoes you want to wear.
Take special care if you're choosing a pair of indoor work shoes.
These typically have less extra room and may not take arch supports as easily as work boots or outdoor work shoes.
4. Waterproof
---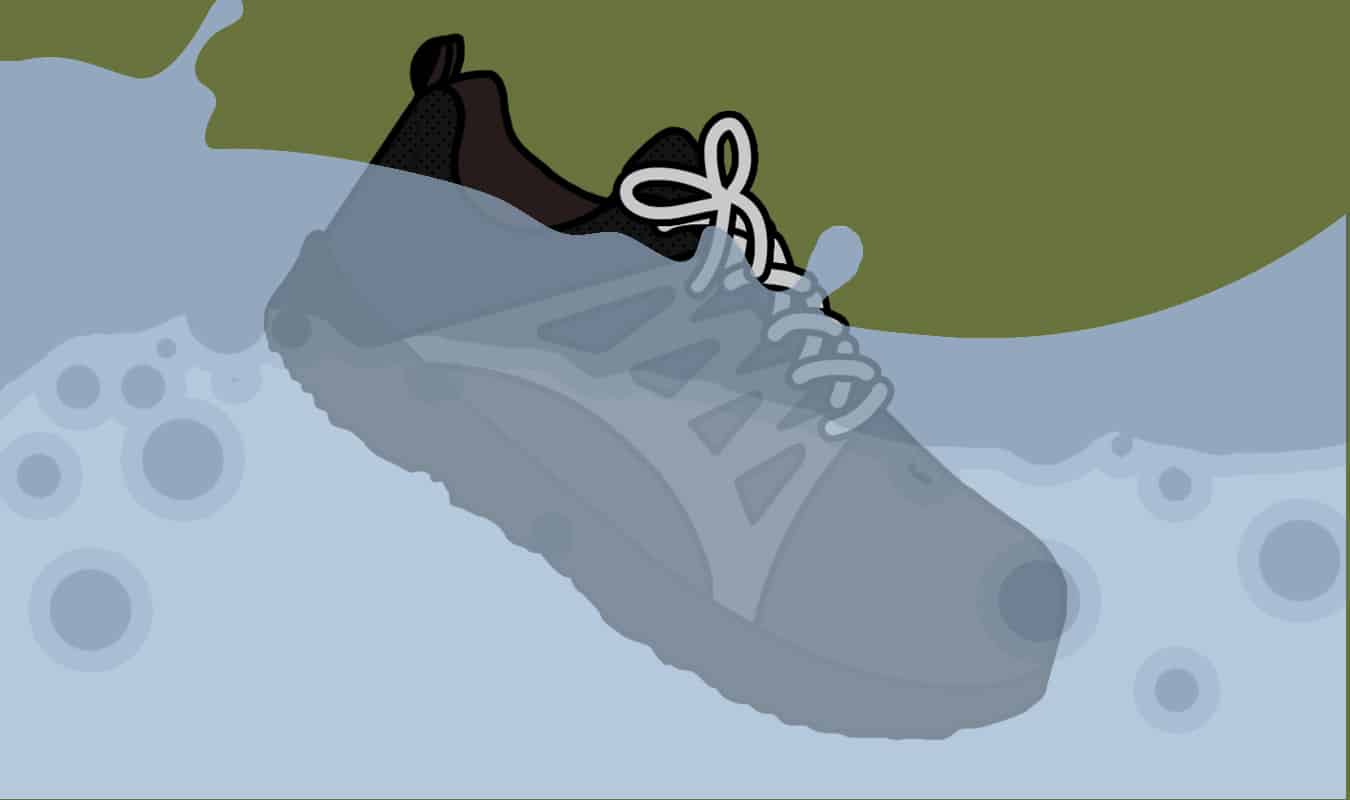 Many of the best work shoes for men will be waterproof or have some level of water resistance.
Waterproof work shoes are great because they allow you to complete your tasks in wet or muddy areas without soaking your feet and socks.
A man who spends a significant time doing outdoor activities knows how uncomfortable and irritating can be to be stuck with wet, squishy socks.
This is particularly important in the colder months of the year when cold socks can lead to chilled feet, which is not only uncomfortable but possibly dangerous, depending on where you work.
Waterproof shoes are a necessity if you work in snowy places.
While waterproof shoes won't indeed be water-impregnable, they'll be able to keep most liquid out from your feet, provided you don't soak them in a puddle for extended periods.
Even shoes with mild water-resistance are usually a better choice for most working environments than shoes without anything.
The only exception to this will be if your work takes place entirely indoors at an office.
In this case, you can settle for a pair of leather or similarly good-looking shoes that don't resist water damage since the odds of your shoes contacting the water are low.
Waterproofing or water resistance usually adds a few dollars to the overall asking price of a pair of shoes, but we feel that this functionality is helpful for most working men.
5. Breathability
---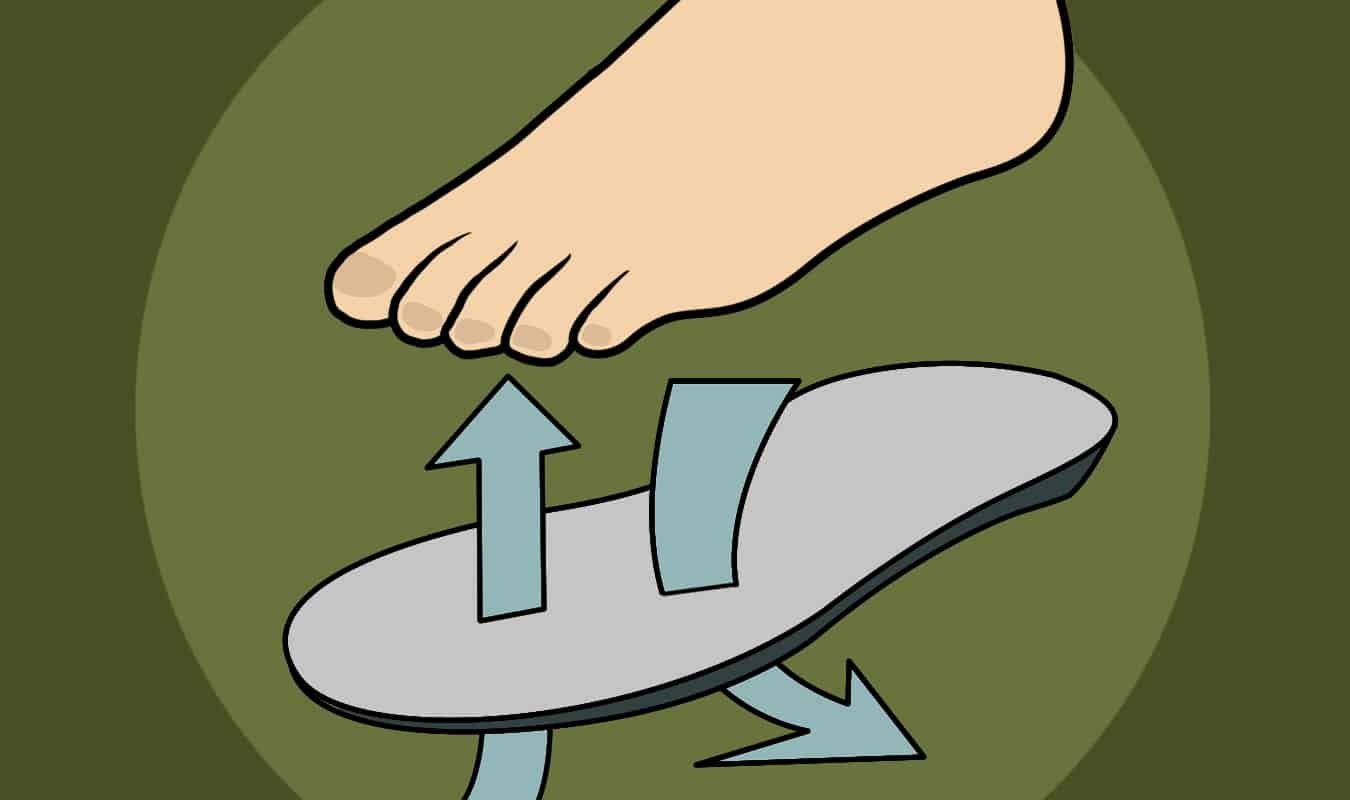 Also, consider how breathable a pair of shoes is before you buy them.
This is something a lot of guys don't consider, as they usually are more focused on comfort and durability above all other aspects.
But shoes that can't flex or breathe will make your feet sweaty and may lead to you developing a case of athlete's foot or just being uncomfortable throughout your workday.
Mesh shoes are the best type of work shoes when it comes to sheer breathability, although they sacrifice a lot of durability and water resistance.
But these shoes are fantastic if you spend time in hot environments, you don't need to worry about bulky equipment falling on your feet.
Breathable shoes are also usually more comfortable since they can flex and shift with each step you take and can accommodate extra padding or cushioning at their soles.
Keep breathability in mind if your feet struggle to remain comfortable in rigid, closed shoes.
6. Color
---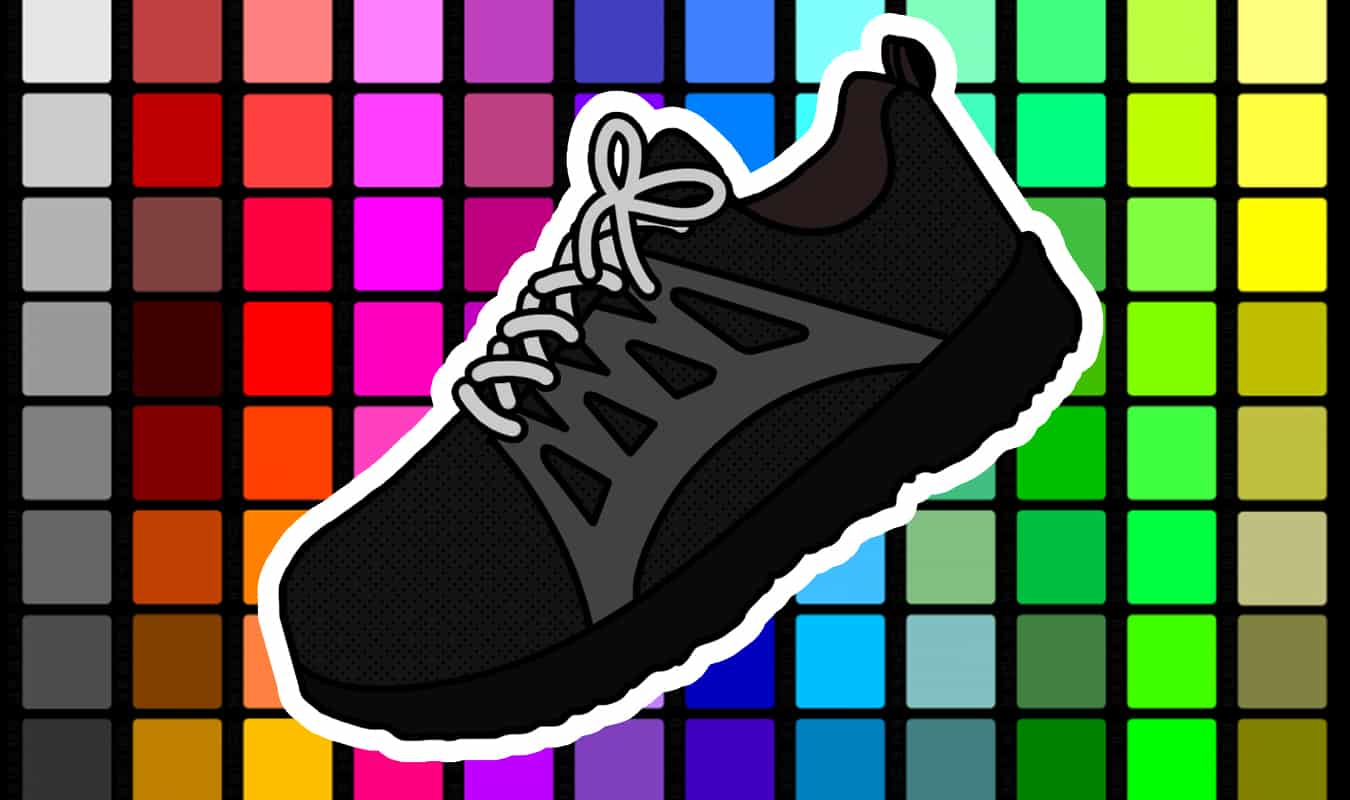 Finally, don't compromise on the color of your shoes even though they'll primarily be used for work.
Men can still look great even when they're spending time at the office or at the construction site.
Picking up a pair of work shoes that have a solid masculine color will help your everyday outfit look even better.
We'd recommend using color as a tiebreaker if you're stuck between two pairs of shoes that are both fantastic.
Men's work shoes usually come in a small range of typically masculine colors, like black, gray, or brown.
Still, it's a good thing to choose your color if you can.
Frequently Asked Questions About Work Shoes for Men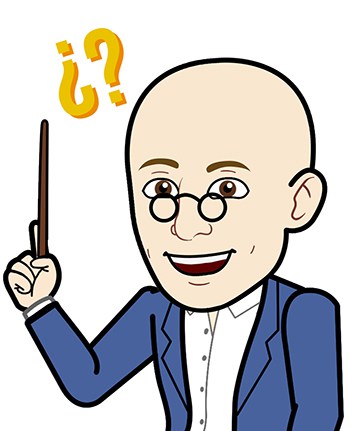 Now that you've seen our favorite work shoes for men, let's answer any additional questions you might have before you head out.
1. What Is an Ideal Heel Elevation for Arch Support?
The perfect amount of arch support for your feet is something only you can know.
The best work shoes for men will offer a good amount of elevation to provide decent arch
support.
You can measure elevation physically or look for heel elevation rating or shoes' rank in the description.
2. What Are the Differences Between Men's and Women's Work Shoes?
Men's and women's work shoes have more differences than just their sizes or color schemes.
Most male shoes are wider than female shoes because of the "Q-angles, which is the angle at which the inner and outer balls of your feet move.
Ideally, women have a wider Q-angle than men.
3. What Is a Nonslip Shoe?
A nonslip shoe is more than just a shoe with excellent traction on the bottom.
These shoes are specifically designed for use in wet environments or where the floors can often become slippery or greasy.
They have exceptional grips on their soles, made with a particularly durable kind of rubber.
4. What Kinds of Cushions Should I Look For?
When you're looking for the best work shoes for men, find cushions made from a soft foam material like memory foam.
This is much better than cotton or other types of padding, as it provides increased comfort and retains its shape for a long time.
5. How to Properly Determine Your Ideal Shoe Size
Most shoes adhere to the standard U.S. shoe size scale, which you can use to determine your ideal shoe size.
However, when it comes to the best work shoes for men, you shouldn't pick a pair of shoes perfectly sized for your feet and leave no room for your toes.
6. How Long Should Work Shoes Last?
The best work shoes for men and women should ideally last at least several months of heavy wear and tear before you replace this.
Of course, cheaper shoes will likely need to be replaced more quickly, but you get what you pay for.
7. How to Clean Work Shoes?
Cleaning the best work shoes can be easy or challenging depending on the materials they're made of and your preferences.
For machine-washable shoes, use a gentle cycle and air dry them afterward.
Those that are not can be cleaned bathtub or sink using regular soap and a sponge.
8. Is There Any Way to Improve My Standing Comfort?
Aside from comfortable work shoes, you can improve your comfort while standing or walking by paying attention to your posture.
Proper posture takes effort to develop, but it'll eventually help your back feel better, help you look more attractive, and even passively boost your confidence.
9. What Are the Different Types of Men's Dress Shoes?
Dress shoes are timeless and versatile enough to go with practically any outfit.
The most comfortable men's dress shoes for standing all day come in different styles ranging from formal to semi-formal dress shoes.
Here are the common dress shoe types;
Oxford Shoes
Derby Shoes
Chelsea Boots
Loafers
Dress Boot
Opera Pumps
Monk Straps
Chukka Boots