Whether you own your own boat, or you like to be prepared for any adventure, boat shoes are a great pair of footwear for every man to own.
Boat shoes for men are a staple set of footwear for guys who live near the water thanks to their anti-slip properties and stylish designs.
They're not only one of the most stylish shoes you can buy, but they provide excellent practical value for anyone who's not keen on slipping while on a boat's deck.
That's a win-win, in our eyes.
So, what are the best boat shoes for men, and how much research do you need to do before you find a great pair of "deck shoes"?
Just proceed below and don't worry about the research, our team of testers already found the top boat shoes for a variety of styles and needs.
Let's get started!
Use the table of contents below to jump to the sections most important to you.
Boat shoes (mens boat shoes) are exactly what you would expect them to be: shoes for wearing on a boat (or boating shoes).
They're traditionally distinguished because of their materials (which either afford water resistance or which don't mark a boat's surface) and because of unique patterns or grooves on the soles of the shoes which provide better grip on wet decks.
Essentially, they're durable and comfortable shoes you can rely on to be comfortable, stable while on a boat and are must-have shoes for men.
Modern boat shoes were initially invented in 1935, although earlier iterations of the boat shoe idea have been around since antiquity when people first realized that having special footwear for use on marine vessels was a good idea.
Today, boat shoes (sailing shoes or sailor shoes) are primarily used by sailors and have become casual footwear in many coastal countries, such as Spain, the United States, the UK, France, Italy, Portugal, and more.
Many men prefer to own at least a single pair of boat shoes not only for their practical uses but because they are something of a status symbol.
Their dark coloring and classic style are naturally aesthetically complementary to many masculine outfits already.
Additionally, their durable construction makes them great casual footwear, even if you don't primarily use them on a boat.
They're excellent beach shoes, for example.
But there's also the implication that, if you own one of the best boat shoes, you must at least sail frequently if not outright on your own boat.
Men and women can both wear boat shoes, although they're slightly more prevalent among men, who are expected/more inclined to do more sailing and walking around on an exposed boat deck than women.
---
Things to Consider When Buying A Pair of Boat Shoes
Finding the right boat shoes for your feet, or to complement your nautical outfits will be much easier if you keep these major aspects in mind while you browse.
1. Size
---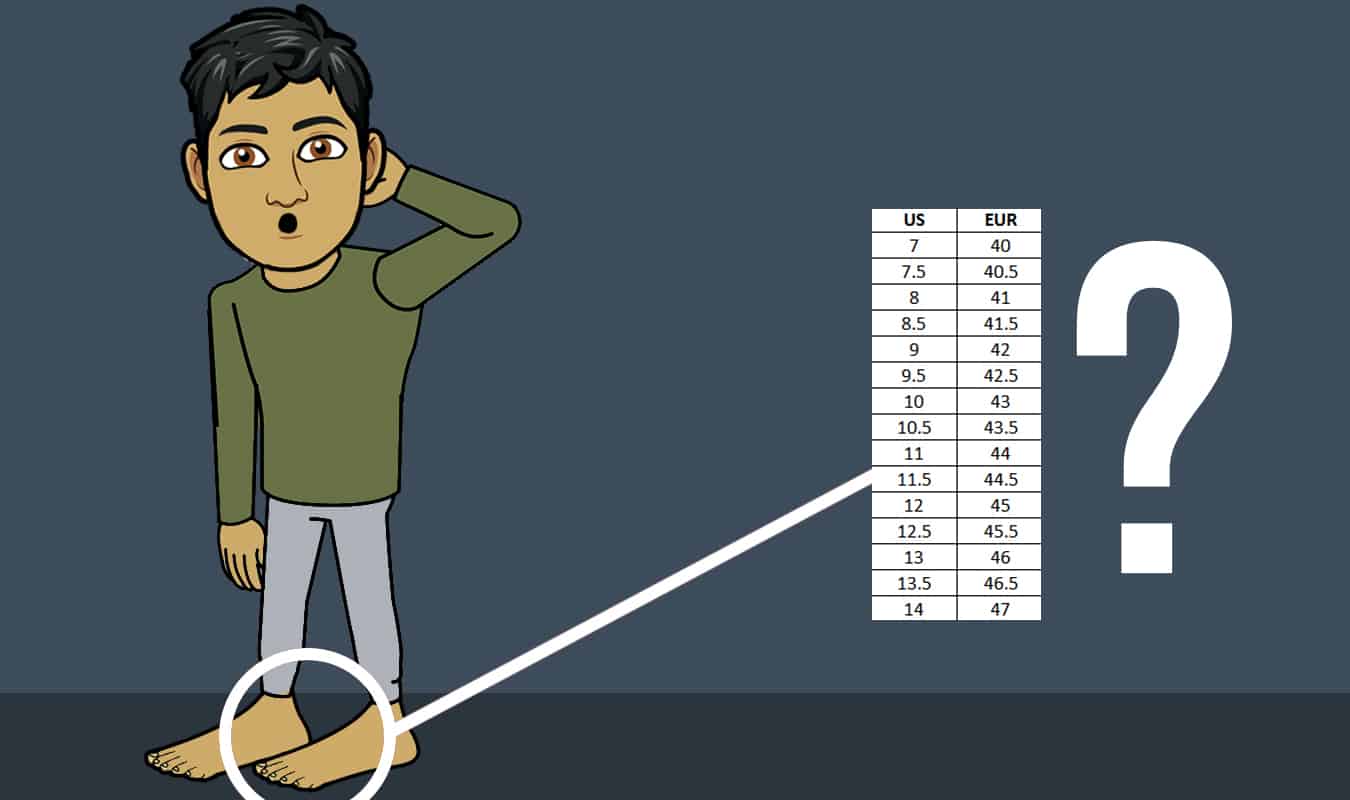 Naturally, the most critical factor in any pair of shoes you'll ever buy is whether or not they fit your feet.
You should always double-check to make sure that any pair of shoes you consider purchasing comes in your ideal size.
But in the digital era, you should also make sure that the company's recommended size matches up with sizing charts in your neck of the woods.
Essentially, don't get tricked into thinking a pair of shoes is your size because you are looking at footwear from a European company and don't translate their sizing chart into American sizes.
We'll let you know if any of the shoes we recommend only come in a single size or if they come in variable sizes, so you'll be prepared before you take a look.
Boat shoes should be comfortable above all else, so don't be afraid to get something a little loose or flexible.
These shoes aren't necessarily meant to be working shoes beyond being useful for normal sailing activities.
2. Material
---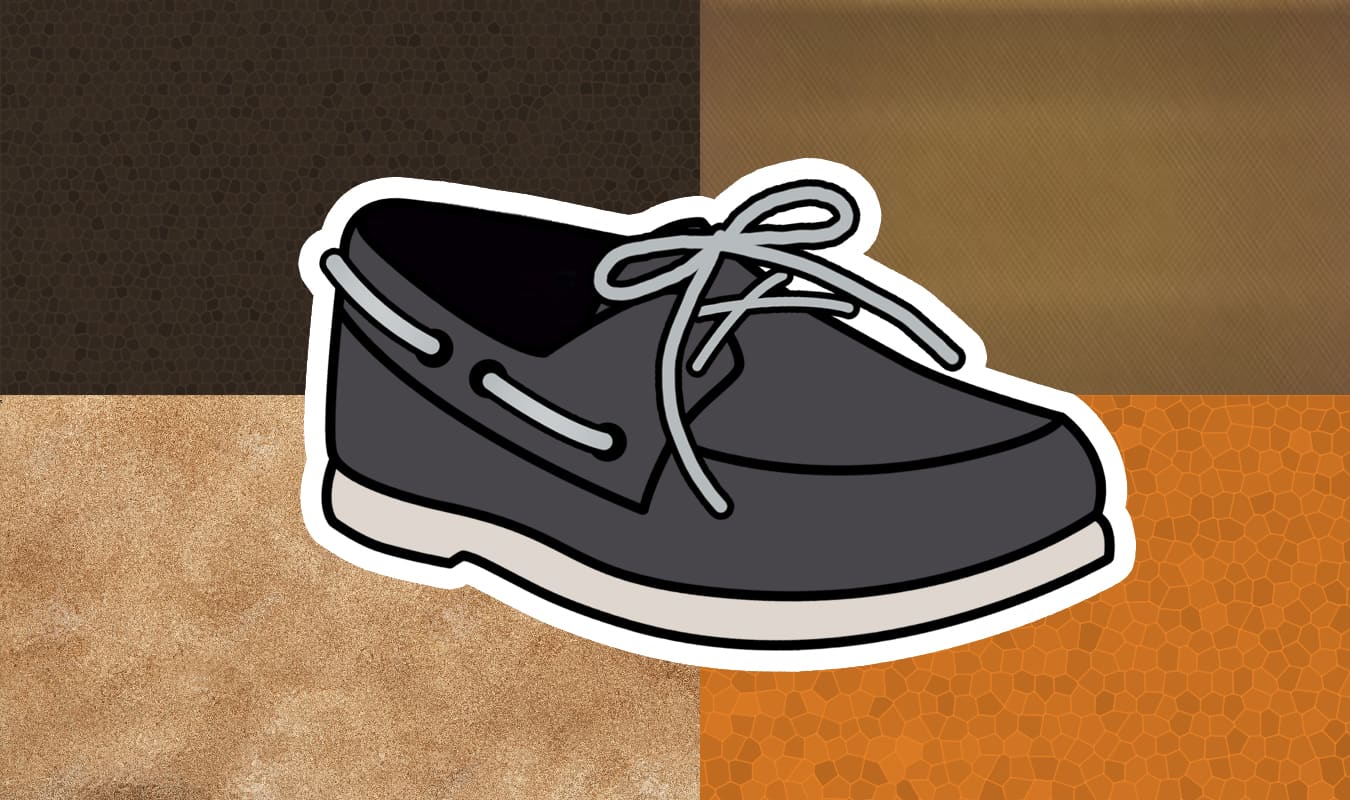 The material a pair of boat shoes are made from will also impact their effectiveness and comfort a great deal.
Most of the best boat shoes will be made of a particular variety of leather (leather boat shoes).
This leather variety is a very common kind, mostly because it has a classic but high-end appearance and feels great to the touch.
Suede leather comes from the interior level of an animal's skin, usually the skin from a calf, though the outer side has been sanded to make things smooth and clean.
Suede leather is primarily prized because of its feel and look, but it's not the most water-resistant material you can find boat shoes made from.
Some people think that suede leather can't survive any moisture exposure, but this isn't strictly true.
You just don't want to submerge them in a puddle for very long, if at all.
The general sea mist should be fine.
This leather type is distinguished from a lack of sanding on the exterior during the tanning process.
But full-grain leather is another very common type of cow leather, and it comes from the part of the animal's skin that requires the least amount of sanding thanks to a lack of defects.
This leather type is high-quality, durable, and classic for many kinds of clothing or shoes, not just boat shoes.
Nubuck leather is derived from the outer layer of calfskin, which affords it excellent durability, particularly to being torn or worn down over time.
It's much more durable than suede leather.
But it does have a higher number of surface-level imperfections than suede leather, so it doesn't have as perfect an appearance as the other two leather types.
Still, this can be an aesthetic advantage since it will make the shoes look a little more "casual" or "home-grown."
Some men prefer shoes that are too clean, anyway.
You can also find boat shoes made from canvas.
These are typically much more affordable and come in a wider variety of colors thanks to canvas' easy dyeability.
But canvas shoes are not nearly as durable as leather shoes, so you'll probably need to replace them if you wear boat shoes made of canvas for many weeks or months in a row.
Still, canvas shoes can be a great choice if you only need a pair of boat shoes for occasional wearing or if you aren't too concerned about long-term durability.
3. Sole Siping
---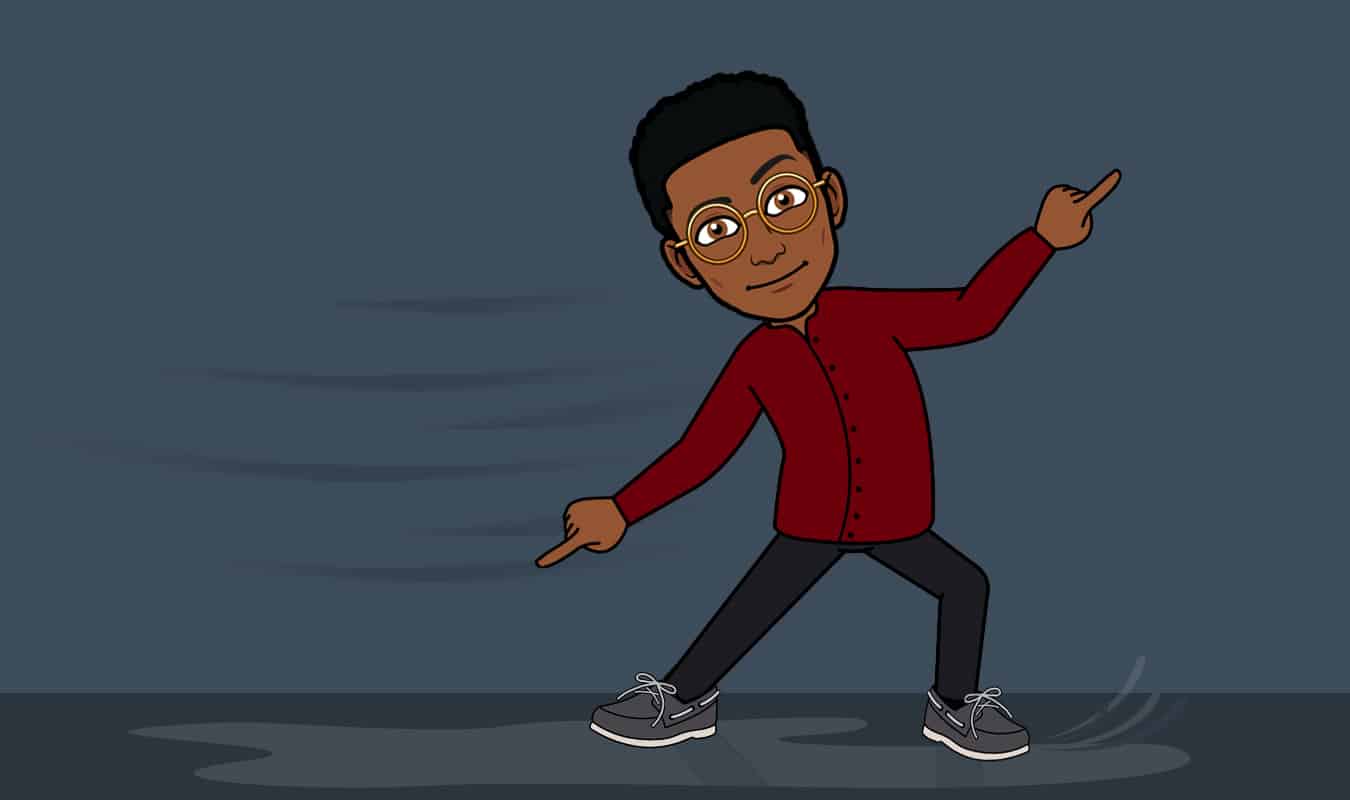 The soles of a pair of boat shoes are essential, especially since good boat shoes are supposed to make it more difficult for you to slip on a wet deck.
Thus, boat shoes will typically be made of a durable type of rubber that gives you excellent traction even on slippery decks.
But the best boat shoes will also include a unique sole design pattern called "siping."
Shoes with a siping pattern on their bottoms will feature a pattern of specific groups that are impressed into the rubber material of the sole.
The wavy shape of those groups increases the traction of the shoes by a higher degree, letting you move around more confidently on a slippery deck.
Other boat shoes may have raised siping patterns, increasing traction even further and reducing the amount of water that sticks to the soles of your shoes.
Because siping is such an essential part of traction-oriented boat shoes, we'll make sure to let you know if any of our boat she recommendations include this design.
You can also look to see if a pair of boat shoes have "gum" soles; these provide you with even better traction thanks to the type of rubber used in the shoes' construction.
However, if you do investigate boat shoes with special siping designs, make sure that the shoes are non-scuffing.
This means the manufacturer took pains to ensure that the shoes won't leave marks on your boat deck.
This is particularly important if you own your own boat and are looking for a pair of shoes to wear on your next cruising weekend but don't want to buff out scuff marks the entire time.
So you can definitely rock navy blue boat shoes in style without worrying about the deck.
4. Water-Resistance
---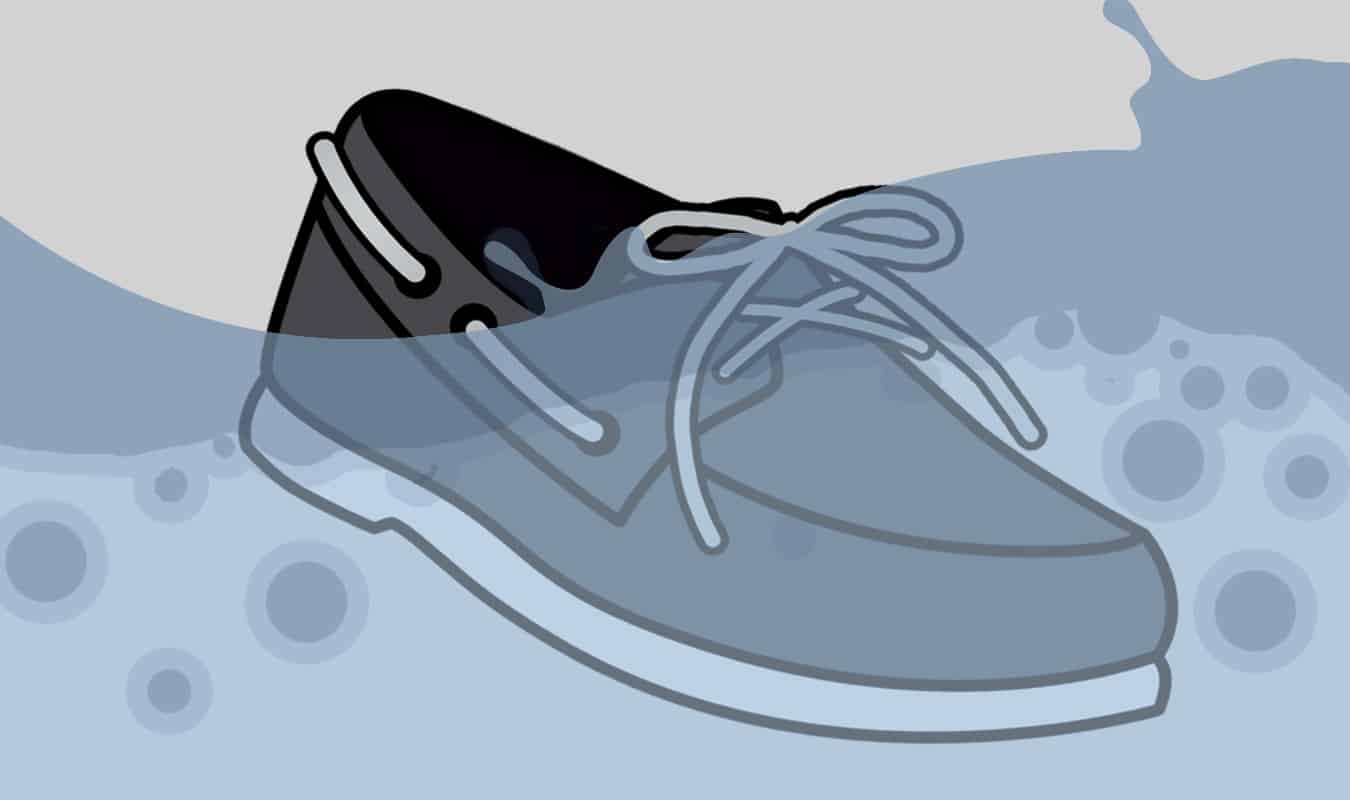 You should next consider whether a set of boat shoes are water-resistant (maybe rubber boat shoes?).
Boat shoes that you plan to wear while sailing in inclement weather or with heavy waves should probably be at least water-resistant if not waterproof, as the likelihood of seawater getting onto your deck is high.
Alternatively, particularly water-resistant boat shoes aren't as important if you only plan to sail on calm waters.
Most boat shoes made of leather are at least partially water-resistant right out of the box.
Water-resistance is vital because mens deck shoes with this extra durability will last longer in the naturally wet and salty environment of a boat deck, meaning you'll need to replace them less frequently.
Boat shoes that aren't water-resistant to any degree will need to be replaced sooner or later, especially if you wear them over long periods.
We'd always recommend picking water-resistant boat shoes if you have the choice, although there are a few affordable canvas shoe pairs that aren't water-resistant and are better as fashion statements.
5. Comfort
---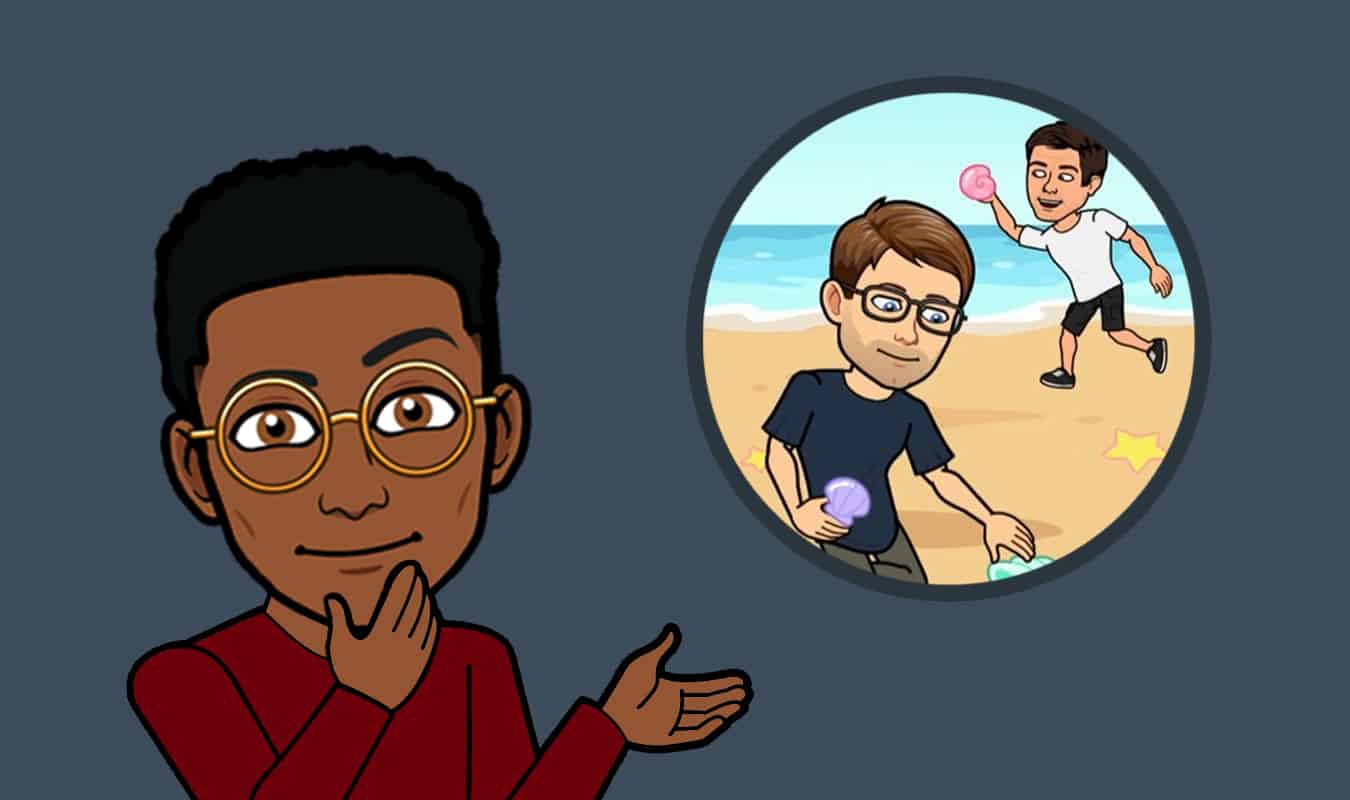 Don't forget to think about whether a pair of boat shoes are comfortable.
You'll be walking around in them at least somewhat, and many men use their boat shoes as their primary footwear as they maneuver around their boat's deck and take care of maintenance chores or attend to the task of sailing.
Comfortable boat shoes will allow you to be on your feet for longer hours before needing to break and will endear the shoes in your mind.
You'll look forward to wearing them instead of avoiding slipping your feet into the boat shoes at all costs.
Comfortable boat shoes are also ones that you can take into coastal towns or on the beach: places where you traditionally walk around for hours on end.
Alternatively, uncomfortable boat shoes are ones that you probably won't ever wear to accentuate a nautical-themed outfit (at least not as a yachting shoe).
All in all, we'd recommend that you always look for at least semi-comfortable boat shoes if you can help it, even if you are on a tight budget.
This means looking for a soft insole, which will usually be made of materials separate from the exterior of the shoe.
You can sometimes find soft leather insoles that provide great durability and water resistance without being as hard as the outer leather of the rest of a boat shoe.
You can also find mesh insoles that allow the boat shoes to be drained of water much more quickly and consistently.
These will often feature specific drainage holes and are great for leaving outside even on very wet boat decks.
Finally, you can also find removable insoles that allow the shoes to dry much more quickly and which keep things comfortable when you do wear them while out and about.
Keep all these factors in mind as you browse, and you'll be well on your way to selecting a comfortable pair of boat shoes that you can enjoy for years to come.
6. Color
---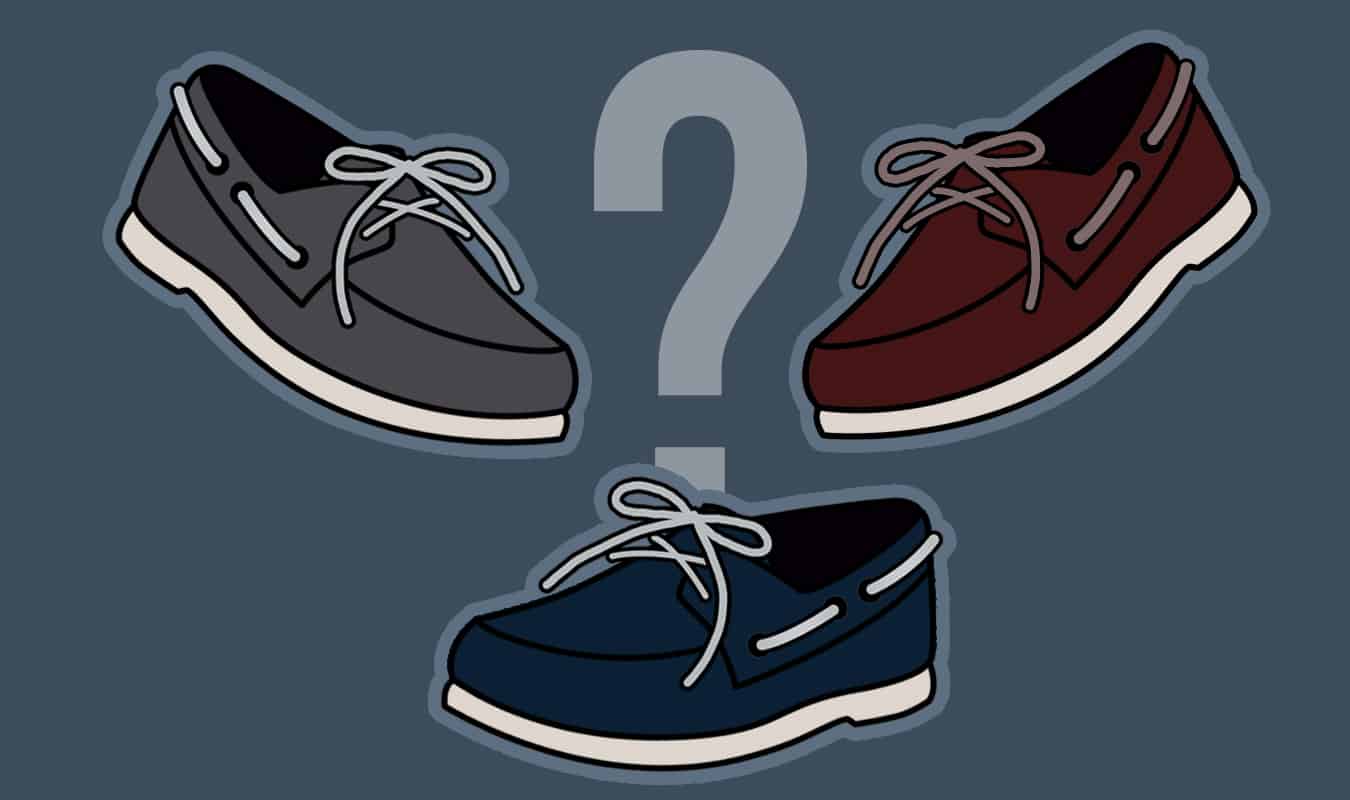 Finally, think about the color of a pair of boat shoes as it relates to your ideal boating aesthetic.
This is far from the most excellent factor to think about, but they can affect how great you look (or how not great) when you slip on boat shoes and head out to the beach.
This factor will be more important for men who are buying boat shoes for the fashion advantages they provide rather than their practical anti-slip designs.
But it's still something that all guys should consider before they buy a new pair of shoes.
If you buy leather boat shoes, your colors will be limited to neutral dark shades like brown or gray, while canvas shoes come in a much wider variety of colors.
There's no right or wrong answer when it comes to the ideal boat shoe color.
It's something you'll have to decide for yourself.
---
Best Boat Shoes for Men of 2023 Reviewed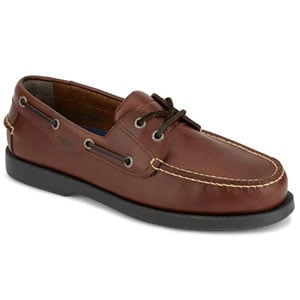 These shoes are iconic, classic, and well-made: perfect choices for men who want a traditional boat shoe choice.
Specs
Who Is It Best For?
These are an excellent pick for men who want leather, traction, and a unique aesthetic combined into a pair of boat shoes.
Key Features
This is a pair of 100% leather boat shoes using an imported, high-quality variety that both looks and feels excellent.
Right off the bat, you'll notice the traditional coloring options available – darker or lighter brown – plus the thick but subdued to stitching that connects the various shoe layers together.
The leather is fantastic both for aesthetic and durability purposes, offering decent water resistance and a phenomenal look that will go with many classic outfits.
There's a classic slotted collar used for these shoes, plus a slightly elevated heel that you'll find among many higher-end boat shoe picks.
Our testers were happy to find siping wave patterns on the bottom of the durable rubber sole.
When they tried them, they found that these shoes' soles to a great job of preventing slipping while on a wet surface.
The only real downside is their comfort, which isn't that much better than many typical dress shoes.
These shoes don't feature any firmly padded interior, which may mean that they'll become more challenging to wear for long periods.
Still, these shoes' aesthetic value can't be understated.
We think these would be a great bet for men who are looking in the boat shoes for their durability and style benefits rather than as a comfortable, loafing-style set of footwear.
See the collective opinion of hundreds of Amazon reviews here.
---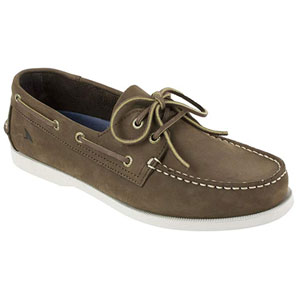 These shoes are supremely comfortable and durable: two qualities important in any good pair of boat shoes.
Specs
Who Is It Best For?
These should be a top choice for men whose own comfort is their priority… and men whose feet smell bad no matter what.
Key Features
These leather boat shoes are a relatively affordable option that combines the classic leather boat shoe style with a relaxed fit design more reminiscent of a loafer.
As a result, this hybrid shoe design likely to appeal to a wide variety of men, or at least those who are concerned about slipping.
You see, our testers found that there isn't any siping on the bottom of the rubber sole, which is the most significant downside we noted.
This isn't to say that the bottom isn't slip-resistant at all, because it is.
But just that it's not as good at stopping you from slipping as actual siping soles.
But there are plenty of other advantages to offset this negative.
For starters, the leather quality and feel and great; it also provides excellent water resistance.
The uppers and linings are well-stitching, but the interior is also quite comfortable overall.
We found that wearing these for many hours in a row didn't present any challenges for our endurance.
This excellent durability combined with comfort are two aspects you don't often see combined well; usually, it's one or the other.
Besides, these boat shoes have odor control tech integrated into their insoles.
Basically, the fibers used to create the insoles will automatically neutralize lots of the nasty odors that you'll usually produce when you wear shoes barefoot.
As a result, this is one of the top choices for boat shoes for guys and probably one of the most comfortable boat shoes that always have their significant others complaining about their smelly feet.
All in all, it's a great set of footwear and one that will undoubtedly serve a specific, if broad, proportion of men.
See the collective opinion of hundreds of Amazon reviews here.
---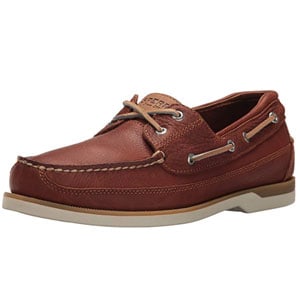 These Sperry for guys shoes are high-quality and high strength, arguably the most durable we found in our search.
Specs
Who Is It Best For?
Guys who want sturdy but traction-ready shoes will really want to give this pair a try.
Key Features
This is another quality pair of 100% leather boat shoes.
These shoes have a 360° lacing system, allowing you to adjust the fit of the shoes from both along the top above the arch of your foot and along the sides of your ankle.
The eyelets through which the laces are threaded are designed to resist rust damage.
This is a great design feature for boat shoes that will likely be exposed to significant amounts of seawater.
The rest of the shoe is similarly durable, with a well-stitched leather-and-rubbed construction and a very thick bottom and heel, which make this a great shoe for longevity.
The bottom also features siping wave patterns to increase your traction even on the most slippery surfaces, which we always like to see on boat shoes.
But even with all these benefits, these shoes have more to offer.
There's a shock-absorbing heel to improve your comfort and raise your ankle a bit, improving your posture and height.
This heel does have measurable effects on your long-term comfort.
The general insole is terrifically comfortable and has a cushioned midsole, too.
A padded tongue and collar complete the shoes, a truly remarkable set in our eyes.
The only "downside" is that you can't tighten these shoes' laces very well, but this is hardly a big deal when boat shoes aren't meant to be very tight in the first place.
See the collective opinion of hundreds of Amazon reviews here.
---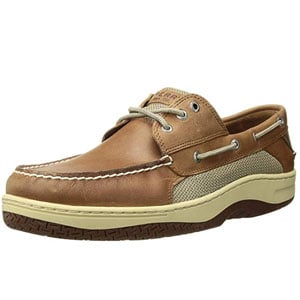 These shoes are also very durable but present even better comfort and breathability for men whose feet get hot even on cold days at sea.
Specs
Who Is It Best For?
These are a superior choice for men who want some extra breathability and cooling power in their next pair of boat shoes.
Key Features
These boat shoes are made with a combination of leather and air mesh.
Leather dominates the exterior and most of the interior of the shoes, and it comes in a wide variety of possible colors.
Like our last pick, this shoe features rust-resistant eyelets and a 360° lacing system to let you adjust the fit and tightness of the shoes for multiple spots.
They also have the same possible downside, which may result in some irritation if you prefer your boat shoes to be a little tighter than average.
But overall, we're fans of this design, and the leather has been specially treated to be staying and water-resistant.
These are among the best boat shoes for extensive use in wet or slippery environments.
This is doubly true because of the rubber outsole that includes wave-siping designs to increase your traction without scuffing or marking the deck of your boat.
There's also a padded tongue that adds extra durability and comfort to your experience, plus air mesh upper panels.
These increase your overall comfort and provide a cool and breathable atmosphere for your feet, even if you wear them for long periods.
We also found a repeat of the EVA cushioning heel from our last pick; again, this is great for long-term comfort, especially if you walk around your boat often.
Overall, these shoes are another great choice if you want to combine durability, comfort, and style all at once.
Do yourself a favor if you have feet that tend to get too hot and pick up a pair of these shoes.
See the collective opinion of hundreds of Amazon reviews here.
---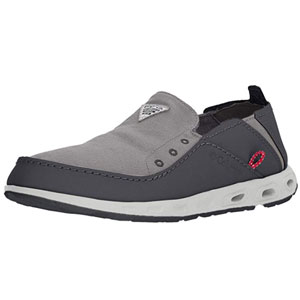 These shoes (more like boat sneakers) aren't fully leather, but they're quite tough nonetheless and present excellent comfort and traction assistance regardless.
Specs
Who Is It Best For?
This is an excellent pair of shoes for budget-minded men or guys who want exceptional comfort and breathability above a traditional leather look.
Key Features
This is a pair of shoes made of leather and textile materials.
This grants them decent durability and a great aesthetic without being as expensive as full leather shoes and allowing for some more unique colors.
The shoes' leather is full-grain, and the canvas material is also decently water-resistant, so the shoes shouldn't have any trouble providing you with comfort and style even on wet boat decks.
There's a lace-up closure designed at the top of these shoes to let you adjust your fit to be a secure or relaxed as you prefer.
The leather in canvas combination material is also breathable and flexible, in our experience.
Men whose feet tend to swell in changing conditions or temperatures may find all this versatility helpful.
These shoes also have a very durable midsole to improve your comfort if you wear them for many hours.
Furthermore, the shoes have a multi-train traction system at the bottom of the rubber soles.
This isn't quite the same as traditional siping, but it's just as effective even if it doesn't have the same wavelike pattern.
In our testing, we found that these shoes are just as good at protecting you from slipping on a wet deck than classic siping patterns.
In many ways, these shoes are a calmer, more relaxed variant of the standard boat shoe design, combining leather with canvas to make something less preppy and more casual.
Their comfort and durability are still quite good, and they come in a decent blend of color options that should be able to find something that matches your chosen aesthetic or outfits.
All in all, these are great; give them a try if you're at odds about what to think about the others.
See the collective opinion of hundreds of Amazon reviews here.
---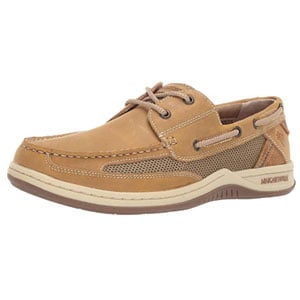 These shoes may not have full siping soles, but they do have fantastic flexibility and comfort for men with feet that are tough to please.
Specs
Who Is It Best For?
These shoes are great for guys who appreciate being able to tighten their boat shoes farther than average while still enjoying many of the same benefits that regular boat shoes provide.
Key Features
These shoes combined leather and mesh to great effect.
The mesh lining on the side and tongue provide the shoes with exceptional breathability and help to keep your feet cool in hot environments or if you move around frequently.
At the same time, the high-quality leather used for the majority of the shoes' surfaces provides great water resistance and a classic boat shoe aesthetic.
These shoes come in one of the most extensive selections of colors we've ever seen from leather shoes, too, so that's a big plus.
The shoes feature contrasting stitching to add to their style and a lace-up closure to make tightening them a breeze.
There's also a soft padded collar and tongue improve your comfort, as well as a special foam insole.
This insole is among the most comfortable that our testers tried.
They definitely felt that these shoes were a top choice for long-term comfort and durability, and particularly for guys who will be on their feet more often than not whenever they're sailing.
These shoes don't have a dedicated siping pattern on their rubber sole, however.
While the sole is well-made and delivers some good traction on its own, it's not as effective as a classic siping pattern, so we do think that these shoes aren't as good overall if you're concerned about falling on a wet deck.
Even so, they're a great pair of footwear and a solid choice for anyone interested in a mesh/leather combo.
See the collective opinion of hundreds of Amazon reviews here.
---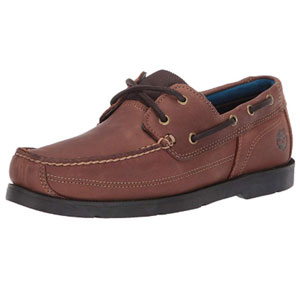 These sturdy boat shoes cross-work boots with a more relaxed style, and to significant effect.
Specs
Who Is It Best For?
These shoes are a top choice for men who want hardy, mostly-leather boat shoes that also provide good comfort for their soles.
Key Features
These leather and textile shoes come in a broad selection of colors, ranging from yellow to brown to black.
Our testers confirmed their suspicions when they tried them for themselves; these are super durable thanks to the high quality of their leather exteriors.
The stitching used for these shoes is phenomenal and very thick and noticeable.
But it all adds to the shoes' overall style.
The shoes have a very comfortable ankle and insole, allowing you to wear them for long periods without suffering from excessive fatigue.
Even better, these shoes have anti-fatigue removable footbeds; talk about extra steps for comfort!
They also have lug outsoles to improve your traction.
This isn't quite as good as siping, but it's pretty close and more than acceptable for someone looking for a pair of decent boat shoes.
With the pointed toes and low rim, these shoes represent the iconic boat shoe aesthetic, so they'll be a popular choice for men who are fans of the classics.
See the collective opinion of hundreds of Amazon reviews here.
---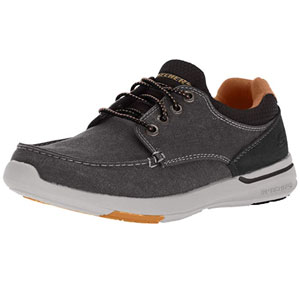 These are robust boat shoes with a relaxed style to significant effect.
Specs
Who Is It Best For?
These shoes are great for a man who wants hardy, mostly-leather boat shoes that also provide sufficient comfort for their feet.
Key Features
These boat shoes are made with a combination of leather and textile materials, which provides them with lots of the same durability you can expect full leather footwear without being quite as expensive and being significantly more comfortable.
They feature rubber soles that, unfortunately, don't have the siping pattern that we really like to see on boat shoes designed for slippery decks.
The rubber sole does have some patterned resistance to it, though, which is a decent compromise.
Where the shoes really shine is their comfort level.
Their insoles designed using air-cooled memory foam; this keeps the bottom of your feet from becoming sweaty or overheated, which can be a godsend if you're working on a hot deck or just enjoying a hot day.
But the memory foam will make the shoes more comfortable the longer you wear them.
It'll essentially cause the insole to mold to your foot shape over time, making the shoes truly yours.
They otherwise feature a generally relaxed fit, so they are likely to make your foot feel compressed or squeezed too tightly.
The shoes have durable laces for added longevity, plus excellent stitching along the rest of their outer and interior surfaces.
We also really like how varied the shoe colors are.
It's rare to find some great boat shoes that are green!
All in all, this is an excellent pair of boat shoes that are primarily designed for comfort and style above practical use.
But their decent soles and durability ensure that you can still use them for boat work if you need to.
See the collective opinion of hundreds of Amazon reviews here.
---
Frequently Asked Questions About Boat Shoes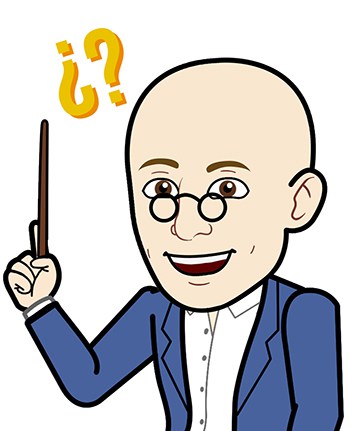 Now that you've seen the best boat shoes for men, you might have a few last-minute questions about these shoes and how to use them.
Let's answer those for you now before you head out to sea.
1. Can Boat Shoes Get Wet?
Just looking at boat shoes, no one would blame you for wondering if they're even meant to get wet.
At first glance, many boat shoes look more like casual wear or luxury footwear rather than dedicated shoes meant to withstand the harsh environment of a boat deck.
But the truth is that boat shoes are always made to get at least somewhat wet, even if not totally soaked.
This means they'll be fine for typical boat deck activities if most boat decks are moderately wet or moist for many hours each day.
This is especially true since most boat shoes, as long as waves don't fully crash on your boat deck, will only really get wet at the bottom, where rubber soles are specifically designed to increase your traction and protect the rest of the shoe.
It's a good idea to leave your boat shoes dry whenever possible, so that means storing them indoors and not leaving them out to be exposed to sea spray for hours on end.
Besides, some leather-based water resistance won't stop your boat shoes from being ruined if they are submerged in seawater over and over and aren't properly dried and cleaned.
We wouldn't recommend these for hard-core sailing work (boots that are much more durable and that can protect your feet from heavy tools and machinery are better).
But as general, relaxing nautical footwear, they're sturdy enough.
2. How To Wear Boat Shoes
Wearing boat shoes correctly, like all specific footwear, is something of an art.
But don't sweat it if you want a man that has his aesthetic style totally down pat or who doesn't have a lot of experience matching shoes with outfits.
For starters, boat shoes should almost always be worn with casual clothing.
This should already not be a problem; you're on a boat, after all.
If you're on a boat and need to dress up in a tuxedo for a formal event, you should already be wearing separate dress shoes – boat shoes shouldn't be a consideration!
Additionally, more casual clothing combines well with the laid-back style of the shoes themselves.
We'd recommend combining boat shoes blue jeans or darkly colored trousers, often rolled up a bit for some Hipster-Esque style points.
You can also wear boat shoes with knee-length shorts.
This accentuates the length of your calves and might even make you seem a little taller (always an advantage for guys).
Of course, you can always combine boat shoes with classic nautical styles and colors to really lean into the aesthetic.
That means wearing clothes that have vibrant or brightly colored horizontal stripes, nylon belts, and light-colored shorts.
The sailor-style has stuck around for years for a reason, though it's not always the most serious look you can take on.
We do have to caution you; however, that boat shoes are usually thought of as lovely casual.
That means not wearing excessively ripped or ratty clothing.
They're not meant to be paired with deliberately hipster torn jeans and secondhand clothing you found at Goodwill.
Think more, "summer kids who are spending time at the family cabin on the coast before returning to Yale," even if you aren't one of those kids.
3. Can You Wear Socks with Boat Shoes?
Typically, boat shoes are meant to be worn without socks, especially since they're designed with the intention that they can withstand some water damage.
Socks, on the other hand, don't do well with water.
The low height of boat shoes makes it all the clearer: don't wear socks unless you want to commit male fashion suicide.
You can, of course, ignore our advice and wear the thickest, longest socks in your wardrobe… but why?
4. Can You Use Boat Shoes for Work?
Some guys try to claim that boat shoes are just another variation of smart casual footwear.
Those guys are wrong.
While you might be employed by the most laid-back boss and every day might be casual Friday, we'd recommend that you not bring your boat shoes to work, as they not only expose your foot to everyone (providing opportunities for foot odor to reveal itself) but they also don't give off the right idea.
Boat shoes are explicitly something you wear either as a sailor or while on vacation, neither of which you'll be doing while at your office gig.
Loafers or sneakers are much better choices for casual office wear.
The only time you should wear boat shoes for work is, of course, if you work on a boat.
5. How to Care for Your Boat Shoes
Caring for boat shoes is critical to ensure that they last for a decent length of time.
Taking preemptive steps to maintain your boat shoes properly will result in you enjoying a top pair of footwear for years instead of weeks or months.
Boat shoes require extra love and attention compared to many regular pairs of shoes because they are often exposed to lots of sunlight and to the corrosive effects of saltwater.
For starters, canvas boat shoes can be machine washed so long as they don't contain any leather parts.
But if you decide not to machine wash your boat shoes, regardless of material (which is what we recommend), follow these steps.
Step One
Use a dedicated shoe brush to get any dirt or debris off the surface of your shoes.
Soft bristles are essential, especially if your boat shoes are made of suede.
You want to do this every time you use the shoes for more than an hour or so or any time they've gotten significantly dirty.
Step Two
After brushing away visible dirt and debris, it's time to polish your boat shoes using cream or paste solutions.
Don't use a liquid polish solution or polishes that contain alcohol; either of these polish types can have adverse effects on the leather material, like making it brittle and more prone to cracks.
You should remove the laces before any polishing session to prevent them from fraying.
After polishing, let the shoes sit for about 30 minutes, then buff them dry with a clean, soft cloth.
Step Three
You can optionally condition the leather using special oils or products.
These out the leather retain its feel and appearance for longer if that matters to you.
Do this every other time you wash the shoes if you're so inclined.
But everyone needs to dry their shoes.
Boat shoes should be air-dried whenever they become wet.
But you don't want to leave them exposed to direct sunlight, especially for many hours.
Instead, place the shoes in a cool, shaded area where they'll dry from the sea breeze.
Step Four
Clean the soles of your boat shoes by using a clean toothbrush and scrubbing the soles with soapy water.
That's it!
It doesn't take much effort to keep your boat shoes clean and looking fantastic.
Don't forget to store them in a shoe tree or in a dry, cool place where they won't be unduly exposed to moisture, dirt, or sunlight.
Closets work just fine if you don't have a dedicated shoe tree.
You can additionally insert a shoehorn into each shoe if you want them to maintain their specific shape for longer, though this is not necessary.
6. How Are Boat Shoes Different from Loafers or Sandals?
Lots of people call boat shoes loafers or sandals, but these shoes have some apparent differences.
Boat shoes vs loafers.
Loafers
Loafers are variations of moccasins, usually slip-on, and generally featuring an elevated heel (though it's not very high).
Loafers also don't usually have laces – being more like slippers – whereas boat shoes almost always have laces to secure your feet on a slippery deck.
Sandals
Sandals are probably the oldest type of shoe in existence and are defined by an open toe design and usually an exposed top.
They're very relaxed in their fit and are typically great for backyard or beach play, but they're not very good for stopping you from slipping.
They also aren't as durable as boat shoes.
Most sandals don't use laces but will instead use buckling or adhesive straps to keep them in place.