Hoodies are something that crosses class lines and that men of all ages, creeds, and jobs seem to enjoy.
They're comfortable, they keep you warm, and you can wear them while hanging around at home and while out and about.
In other words, they're the perfect all-purpose light jackets that you can turn to when you don't know what to wear.
It's no wonder they've been made in such a vast array of styles, colors, and designs.
But even though almost every guy has a hoodie, most men don't pay too much attention to finding a great hoodie that works well for their styles or body type.
They just find a hoodie that works "well enough" and call it a day.
What if we told you that a great hoodie, a perfect hoodie, is right below?
We've spent some time testing various hoodies brands and doing research to bring you the best hoodies for men online, so scroll down if you want to replace the old hoodie you have hanging in your closet.
We'll also explain some things to think about before you purchase, so you'll be happy with the same hoodie for years to come… so long as your significant other doesn't "accidentally" take it home!
Let's get started.
Use the table of contents below to jump to the sections most important to you.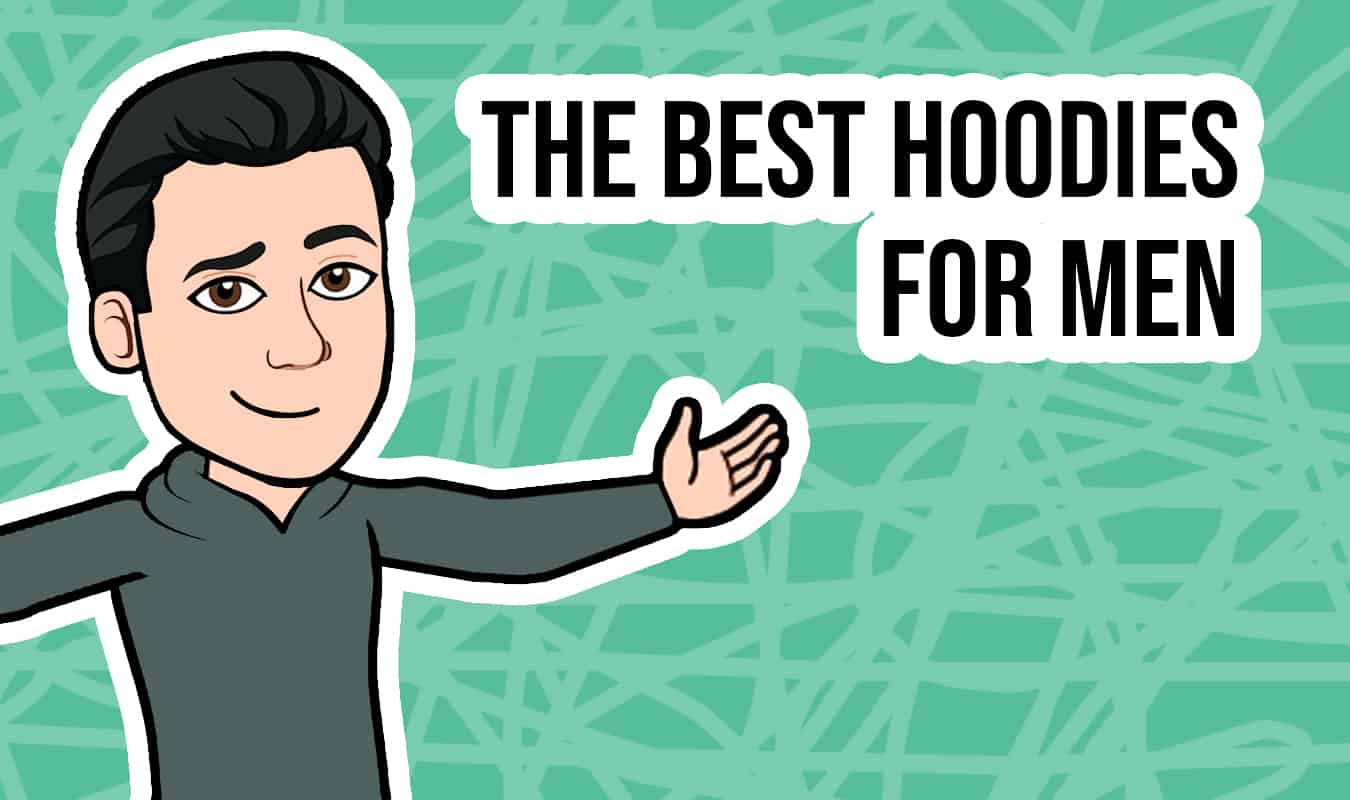 Things to Consider When Buying A Hoodie
While we've already found the best hoodies for you, let's also go over the main things we focused on as we chose.
Keeping these in mind yourself will help you narrow down an ideal hoodie, too.
1. Type
---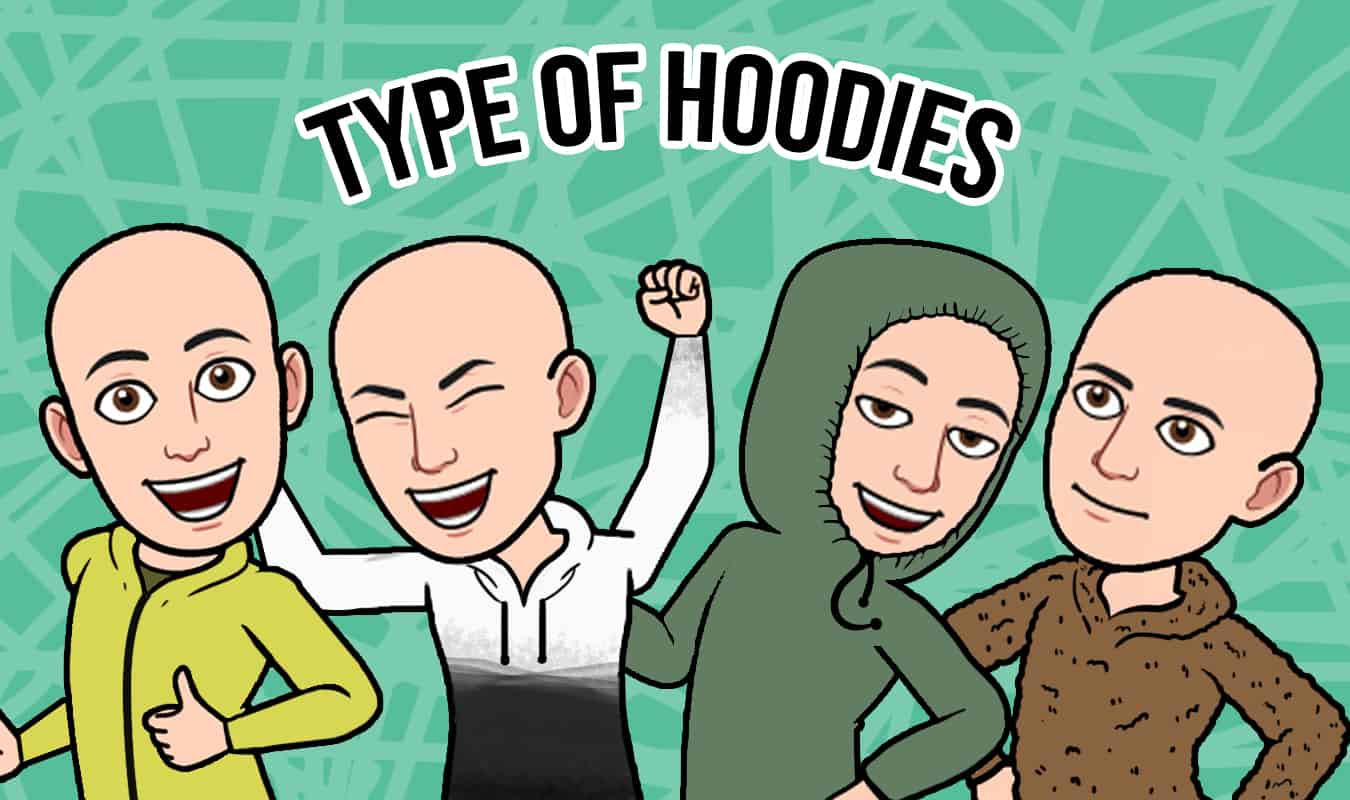 First off, hoodies come in several main types.
While they all do basically the same job, certain hoodie varieties are more suited to certain styles or aesthetics or may be preferable to you for one reason or another.
Zip-up hoodies function according to their name: they zip up!
The best zip-up hoodies typically have full-length zippers that go to the very bottom of the clothing to the base of the neck.
This is great for some men because it affords you extra temperature control.
You can wear the hoodie either zippered or unzipped, with the former being warmer and the latter being colder.
Thus, zippered hoodies are a great choice if you primarily wear these clothing articles in spring or fall months when the temperature usually isn't too hot or too cold.
Zippers also add to the style of the hoodie, oftentimes being designed to go with the general fabric color or theme.
Other times the zippers are just there and don't add much to the look of the hoodie.
All in all, zippered hoodies are one of the most common varieties you can find and are popular for their versatility and ease of putting on.
Many guys prefer zippered hoodies because they don't have to pull the hoodie over their head (possibly messing up their hairstyle in the process).
Let's talk about this type of hoodie next.
These are also called "over the head" hoodies and are donned by pulling them over your head, as they don't feature a zipper.
On the plus side, the best pull-over hoodies are usually quite warm and snug, so they might be a favorite if you want something that can keep you cozy during colder weather.
Pull-over hoodies are also usually a little thicker than zippered hoodies or other types, so once again, they'll be a favorite for men who hate to be cold.
Their added thickness often allows them to have more durable pockets, though this isn't always the case.
Skate hoodies are, as you might guess, styled after traditional skater wear.
They often lack sleeves but provide a little extra warmth and comfort from the core of your body, making them popular among guys who like showing off their arms but would be too chilly in just a shirt.
The lack of sleeves is vital for skaters since it reduces wind drag while on a skateboard.
Skull hoodies don't have skulls on them, but instead, have hoods that completely cover your head area.
They can be drawn in so tight around your head, in fact, that you can often cover the front of your face with the hood.
This is opposed to many other hoodie hoods, which generally don't come so far around or contract so tightly.
These designs are popular among guys who may have short hair or bald heads, as these hoods can keep your head much warmer than other types.
Baja hoodies were first created in Mexico about 50 years ago and combined a classic poncho aesthetic with the usefulness of a hoodie initially.
These days, you can also find them in sleeveless varieties, but most Baja hoodies are still relatively like ponchos, just with an extra hood for added warmth.
Slim-fit hoodies are usually designed with less elastane material in their fabric, which prevents the hoodie from drooping out and taking up more space when worn.
In essence, this causes the hoodie fabric to cling to your body more dramatically, which can accentuate your body shape and make you appear slimmer and taller.
These hoodies are often a favorite for tall men, as it accentuates their height advantage even more (always a plus).
They're also good for guys who wear hoodies while they exercise.
We wouldn't recommend these kinds of hoodies for guys with heavier builds, however, as this might exaggerate extra weight to your detriment.
Fur hoodies are a much rarer type, but you can find them popular in northern regions where fur clothing is more common on clothing in general.
These hoodies aren't entirely made with fur, of course, but instead have fur (either genuine or synthetic) around the neck or hood rim.
This adds some extra insulation against particularly harsh cold and looks great, too.
Keep in mind that these high quality hoodies necessarily evoke a "high-end" look, so they might not go well with very casual or warmer-climate clothing like distressed jeans.
2. Material
---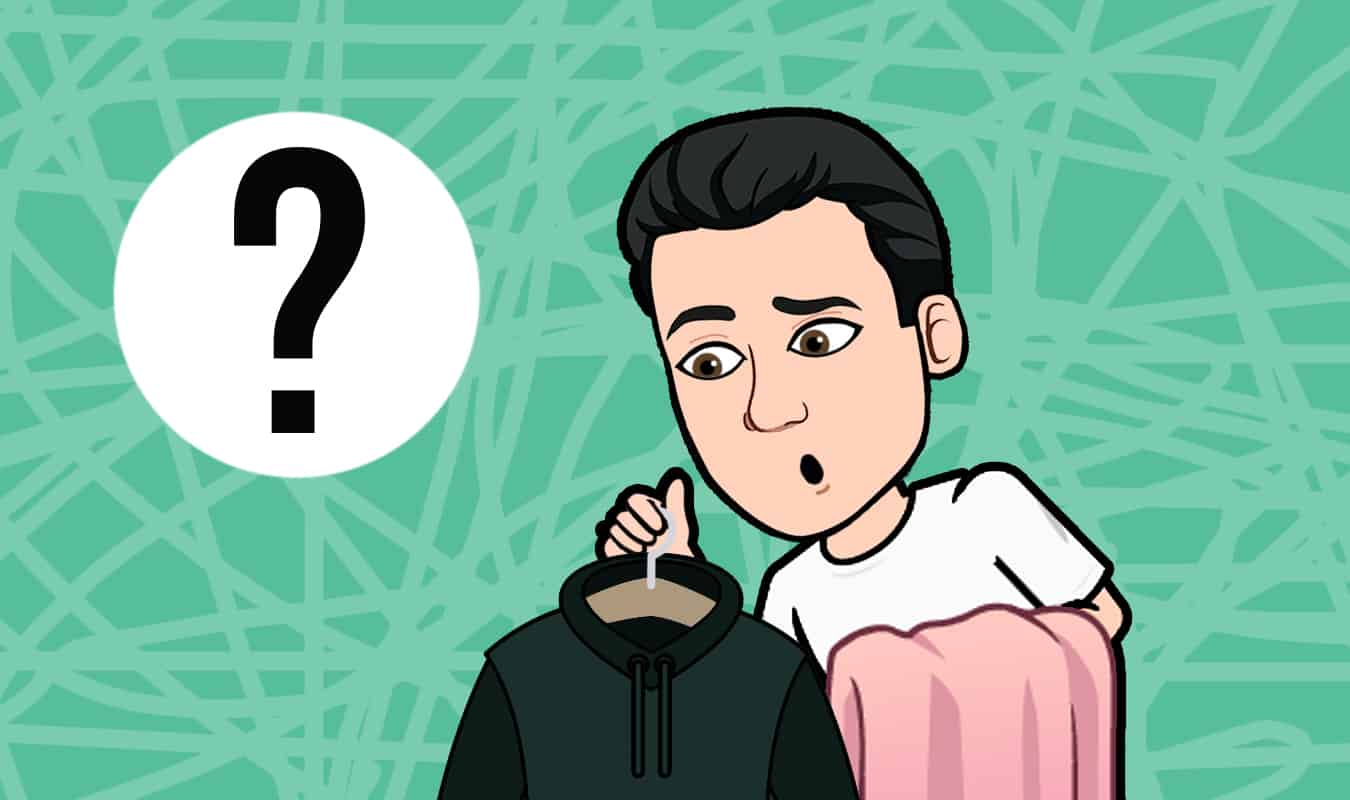 The material you can find a hoodie in place a significant role in its overall heat retention, water-resistance, elasticity, possible colors, and more.
You can find plenty of wool hoodies these days, and it's a popular choice of material because it provides excellent cold protection.
It's also extremely comfortable.
Keep in mind, however, that 100% wool hoodies are in grave danger of weighing you down and smelling bad if you get them wet.
They're best suited for cold but dry climates.
Alternatively, many hoodies are only made with part wool to provide some of their benefits without as many downsides.
Of course, cotton is probably the most popular and common material for male hoodies.
This material is soft and breathable and provides excellent insulation against cold winds and climates while working better in wet conditions than wool.
Cotton can also be colored in a variety of hues, so you can find cotton hoodies in all sorts of styles, designs, and colors.
This is another common hoodie material, though it's usually blended with either wool or cotton.
This is because polyester provides much greater elasticity without compromising a fabric's durability.
Polyester (partly or full) hoodies are usually very good at retaining their shape and comfort without shrinking too much or tearing easily.
You can occasionally find fur-lined hoodies from some retailers.
Most fur is synthetic, emulating fox or badger fur but still providing exceptional warmth and an added aesthetic benefit.
The fur is usually great because it resists water pretty well, too, all the while insulating your head from a terrible cold.
Fleece hoodies are almost as popular as cotton or wool, and some men swear by its comfort.
It's one of the lighter materials you can make a hoodie out of, and it's often combined with polyester to create a durable, lightweight, flexible blended fabric that can handle any situation.
Overall, each of these materials has the potential to create a great hoodie, especially when blended with the others.
The type of material used doesn't really dictate the quality you can expect from a given hoodie.
That depends on how well the fabric is used and its other aspects.
3. Sleeve Length
---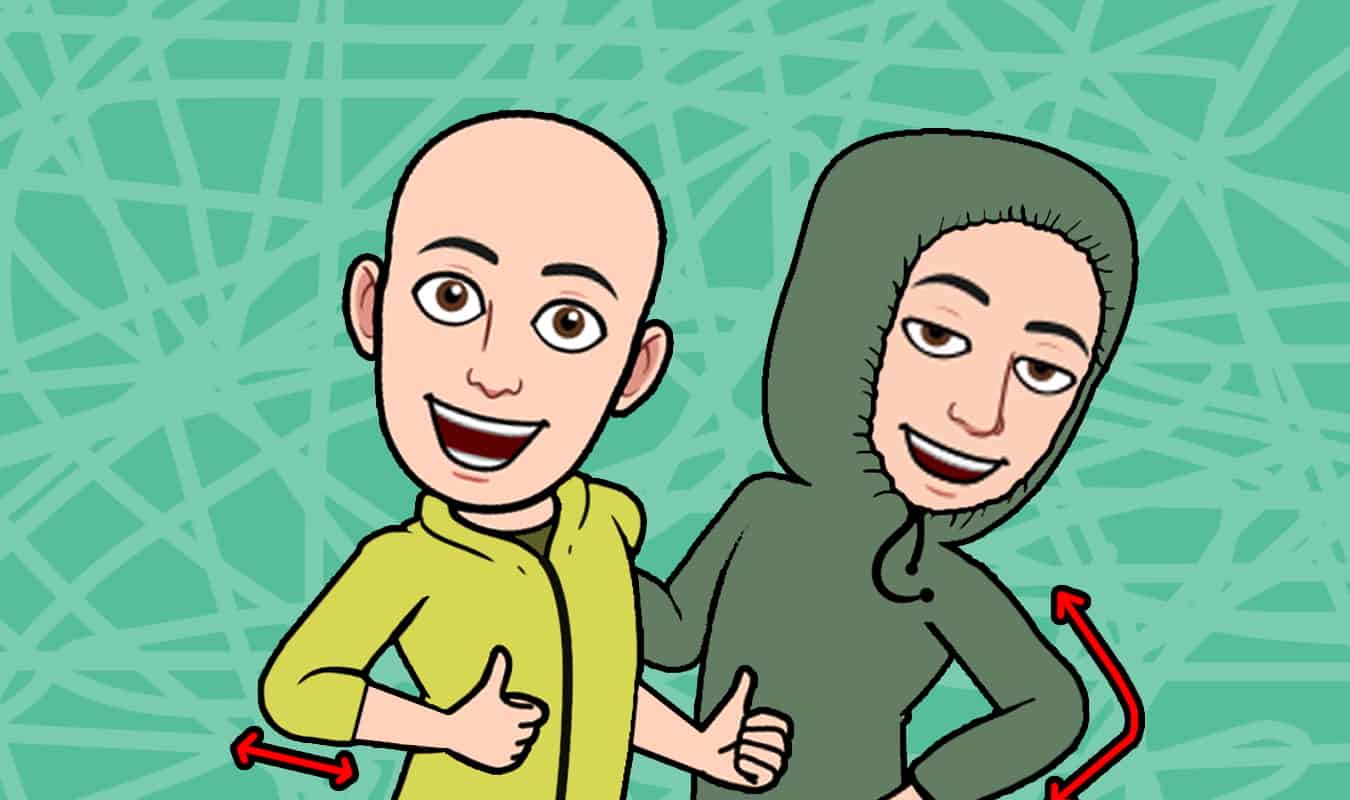 Most stylish men hoodies have sleeves that reach to your wrists, but others have different lengths to distinguish their style.
We already mentioned skater hoodies, which are usually created without sleeves to reduce wind drag.
But you can also find hoodies with sleeves that reach a "3/4" mark – usually around your forearm – to automatically create the classic, handsome "sleeves rolled up" look that many men sport.
Other sleeves will be even shorter.
Again, there's no perfect choice for all guys.
This is something that you'll have to consider based on your personal aesthetic, so we'll just mention what each of our picks has for your own decision-making process.
4. Color
---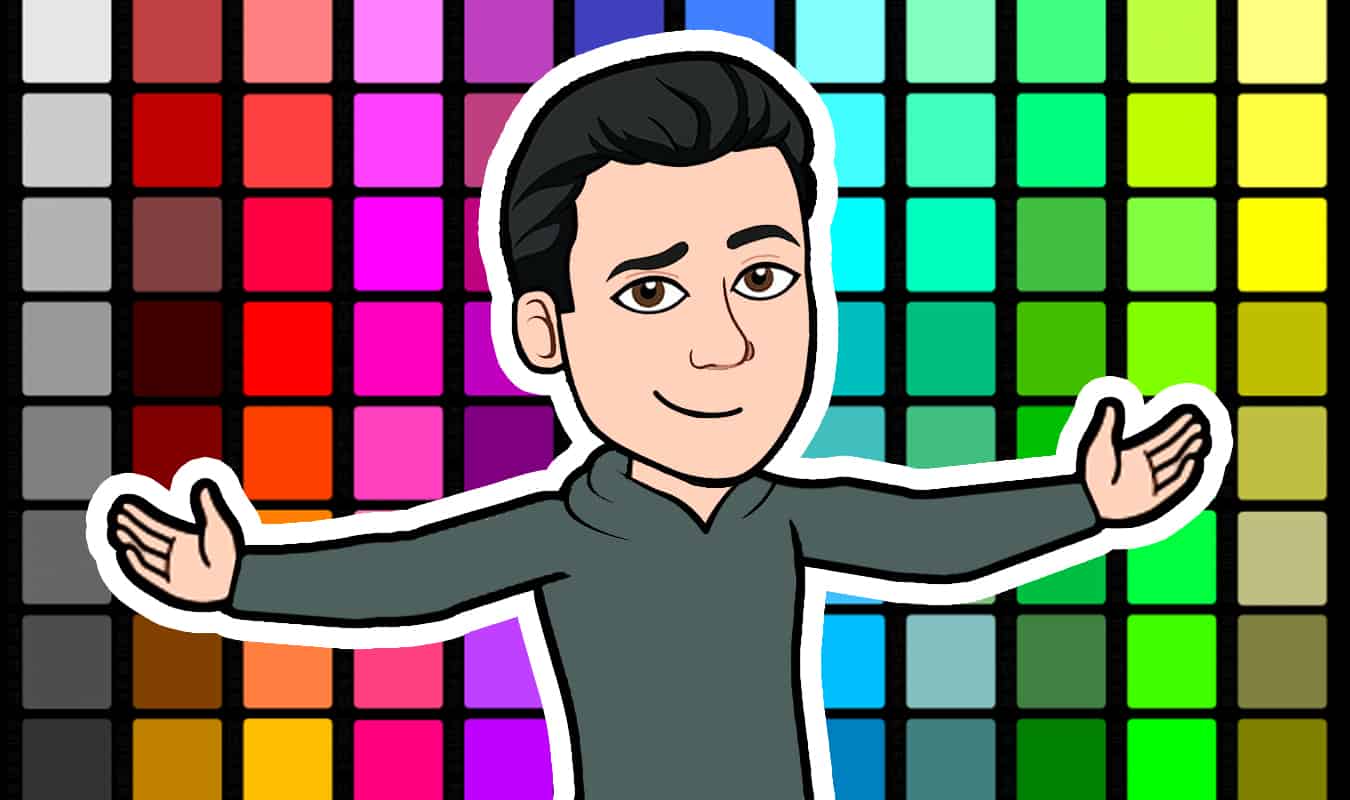 Don't forget to think about the colors available for a particular hoodie.
Many good quality hoodies come in a wide variety of colors or patterns to go with all kinds of aesthetics or styles.
The color variety is mostly dependent on the type of fabric used to create the hoodie, with cotton and polyester hoodies having an excellent range of available colors.
This is another subjective aspect rather than something we'd recommend better or worse colors for.
However, it's important to note that most hoodies are traditionally created in neutral masculine colors like gray, black, or blue, with white hoodies come in after those shades.
This might be a starting point for you to base your own color decision on.
If you want to have a classic hoodie that goes with almost anything, stick to those neutral colors we mentioned.
But if you want to stand out a little more, go for a more vibrant color like green, yellow, or even a shade of red.
5. Design
---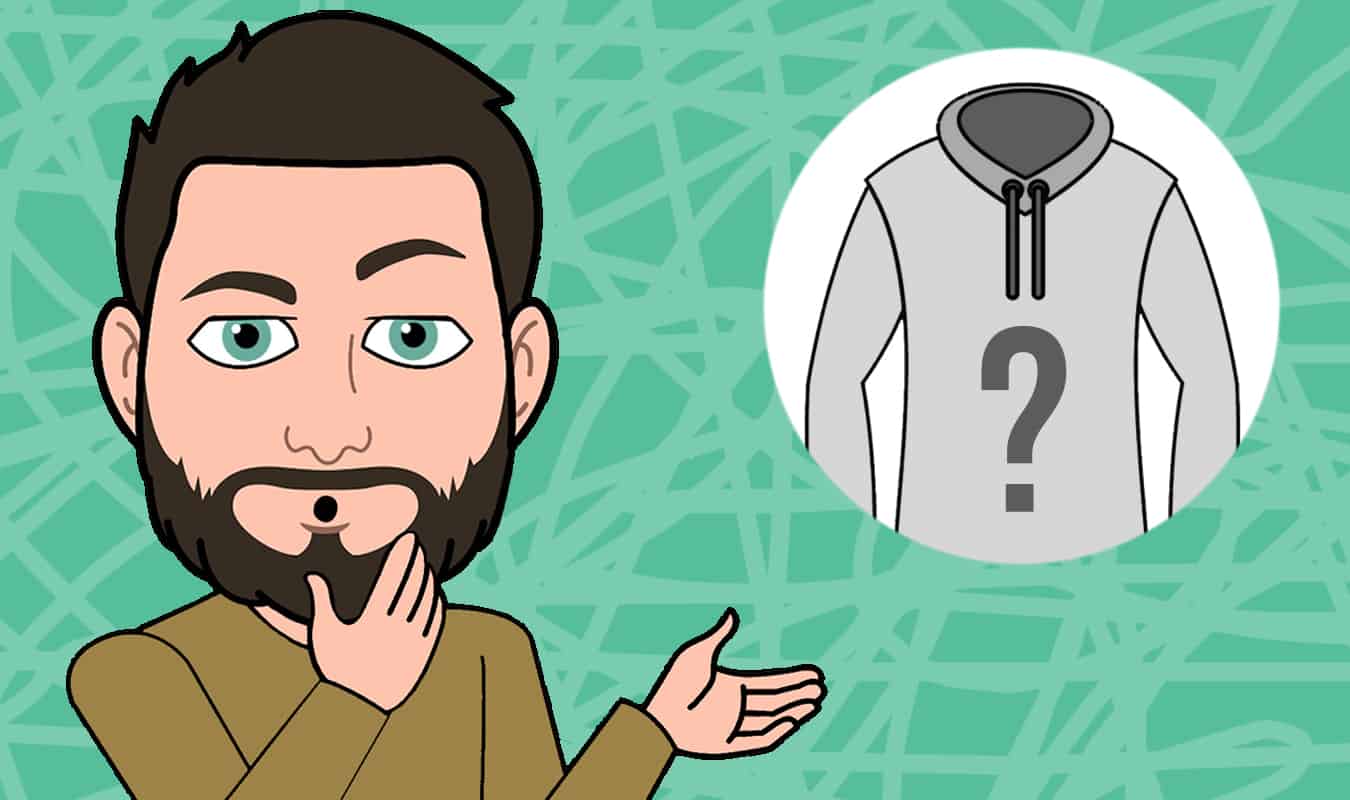 Hoodies are such a popular clothing article that you can find them in either everyday styles or with all kinds of graphic designs.
Some hoodies keep things relatively simple with their designs, featuring a logo or some basic iconography on their chest region or neck.
Others might have very busy designs, with entire scenes from cartoons or movies depicted on the front.
Keep this aspect in mind before you buy, as well, as it will determine how well your hoodie goes with the rest of your outfit and where you can wear the hoodie without being embarrassed.
6. Weight
---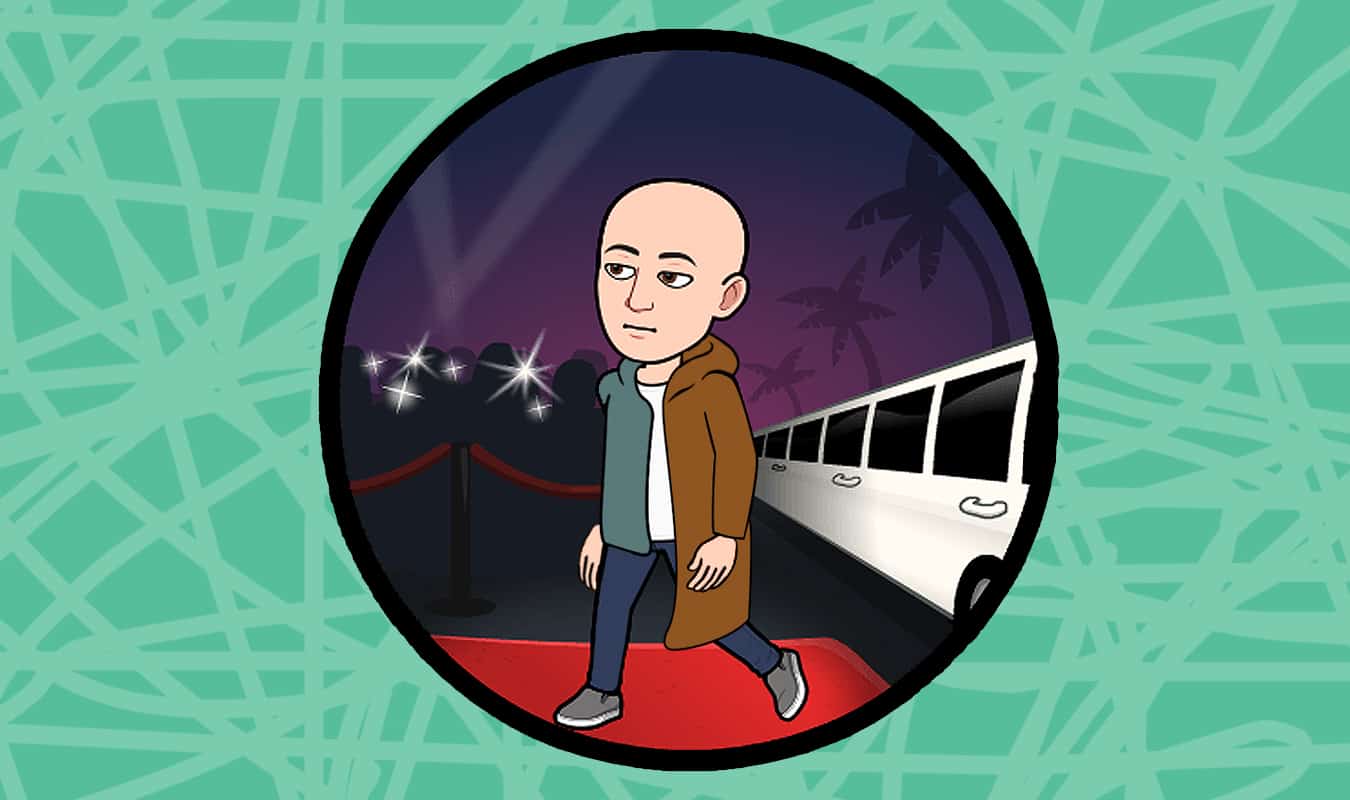 Finally, we'll also point out the weight of each hoodie we provide below.
This doesn't matter so much in isolation, but it does dictate how well that we can be combined with heavier coats during winter months.
Smart winter layering is key to remaining warm if you head outdoors.
But thicker, heavier hoodies will be more difficult to layer effectively than thinner, lighter hoodies.
Ironically, this often means that thinner hoodies are better winter choices while heavier, thicker hoodies are often an excellent choice for fall, spring, or nighttime-only wearing.
The best hoodie brands can be determined from the quality of material used in its design and the purpose it is meant to serve.
But remember, it's ultimately up to you!
---
Best Men's Hoodies of 2022 Reviewed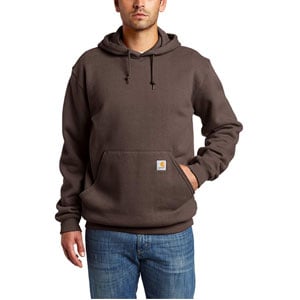 This big hoodie is made with an excellent fabric blend and provides exceptional warmth and durability despite its baggy appearance.
Specs
Who Is It Best For?
This is an excellent choice for men with bigger builds or for guys who want something that'll keep them warm as they work outdoors or walk around at night.
Key Features
This heavy pull-over hoodie is made with 50% cotton and 50% polyester, which form a combined fabric that is both soft and comfortable and decently elastic.
It'll last for quite a long time as long as you wash it regularly, and it's easy enough to machine wash since it doesn't contain any sensitive wool.
This hoodie has an adjustable drawstring hood that slumps down at the back somewhat but which can still be tightened enough to form a skull hoodie-like compartment.
It's not quite as tight as the hood of a skull hoodie, but it's close enough and does a great job of keeping you warm during cold Fall nights.
As a midweight cotton blend, this hoodie's fabric is an excellent choice if you have a very slim or a heavier build.
It's long and thick enough to provide optimal warmth and comfort, but it's not too baggy that it can fully disguise your body shape.
At the same time, it's slim enough that all guys shouldn't find that their height advantage is totally negated from wearing this hoodie.
The hoodie has banded trims at the hem and cuffs of its bottom and wrists to help it stay in place and adequately insulate your core from cool weather.
These trims are reinforced with spandex, which lets them stretch and warp with your motion without letting out warm air from within.
The front handwarmer pockets are nice and comfortable, too, with plenty of space that you can easily carry some extra stuff inside.
Overall, there's nothing too fancy or revolutionary about this pull-over hoodie, but it's a great example of classic design and something that'll fit the majority of men regardless of body type.
Check out the hundreds of customer reviews here on Amazon.
---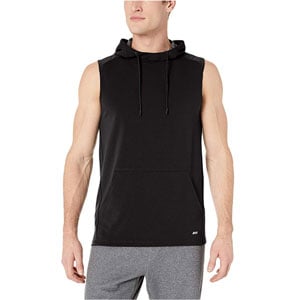 This is a sleeveless hoodie with a creative fabric blend and several features to make it a prime choice for men that like to be active or guys who can't stand getting sweaty while wearing a hoodie.
Specs
Who Is It Best For?
Like the lack of sleeves implies, this is a perfect choice for skaters, athletic guys, or runners, both because of its ability to keep you cool and the moisture-wicking fabric blend.
Key Features
This skater style hoodie completely lacks sleeves and features a thin fabric build.
As a result, it's an excellent choice for skaters or for guys that want to show off their biceps while at the gym.
The thin fabric blend, which is a combination of polyester, elastane, and viscose, also makes this an excellent choice for athletic or fit men rather than guys with a little extra weight around the middle.
It clings a little bit to your shape, which can accentuate your masculine build and help keep you cool while also preventing you from becoming too cold.
This soft-tech fabric is also moisture-wicking.
This accentuates its excellence as a gym-goer hoodie, especially since the sleeveless arms will prevent you from becoming too hot as you go through your sets.
To make things even better, it also dries very quickly after being machine washed.
This allows you to use it consistently and not have to give it much downtime.
There's a big kangaroo style pocket in the front of the hoodie, perfect for storing your hands or your accessories.
The hoodie's hood is fixable with a drawstring and can be significantly tightened or loosened depending on your preference.
It's not the warmest hood, with a soft interior lining, but it's better than nothing.
Overall, we think that this hoodie does a great job of being an exercise or skater pick rather than a top choice if you want to ensure that you remain warm while taking a walk on a chilly night.
Check out the hundreds of customer reviews here on Amazon.
---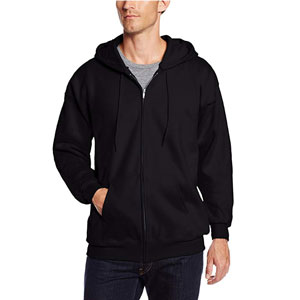 This baggier hoodie is plush, comfortable, and does a great job of keeping your core suitably warm while protecting your hands at the same time.
Specs
Who Is It Best For?
This is a phenomenal choice for guys with larger builds or men who want to stay warm rather than worrying too much about covering their heads.
Key Features
This is a large, thick zippered hoodie that doesn't weigh as much as many others on the market but is nonetheless an excellent choice for guys with heavier builds.
It features a cotton and polyester fleece blend that is plush and durable at the same time, managing to combine comfort with excellent construction all at once.
Because there's so much cotton involved in the fabric's blend, it doesn't pile very easily, which will stop it from polluting any machine-washing loads you'll use to clean it.
Its wide, heavy design makes it an excellent choice for disguising the rounder parts of your build.
The zipper style means you can open it to keep things cool or zip it up to make yourself warmer.
It is invariably one of the best zip up hoodies.
The drawstring hood is quite large and expansive.
In fact, it's a little too large if you want to ensure that your head remains warm.
Alternatively, if you want a hood that shields you from the wind but keeps you cool, there are few choices better.
The hoodie also features a set of ribbed cuffs and a relaxed waistband.
Both of these allow the hoodie to fit on a wide variety of heavier men and keep its original shape even after months or years of use.
The roomy front pockets are another big plus, with tapered edges to keep your hands warm if you don't have gloves.
All in all, it's a great heavyweight hoodie and a prime example of a zip-up pick.
Check out the hundreds of customer reviews here on Amazon.
---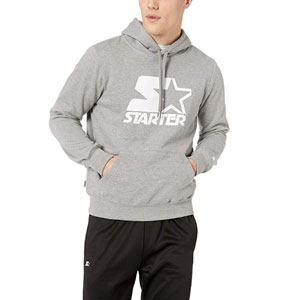 This hoodie features a tight fit and has one of the more comfortable fabric blends we found during our search for the best sweatshirts for men.
Specs
Who Is It Best For?
This is an excellent choice for athletic guys who need something that doesn't bag or droop while also wanting something really comfortable; with this hoodie, you don't have to choose between either benefit.
Key Features
This is a pull-over hoodie made with a cotton and polyester blend that's easy to machine wash and which clings somewhat to your shape.
It's not quite as slim as a true slim-fit hoodie, but it's an excellent choice for men with builds that they want to show off since it doesn't turn baggy at the elbows or sides.
It's a great hoodie in terms of sheer comfort, especially when you throw the hood over your head.
This can be drawn in quite tightly with the drawstrings, keeping your ears and skull much warmer than if they were exposed to the elements.
This most comfortable hoodie also features ribbed cuffs and a ribbed hem, both of which help the hoodie keep its shape and protect your arms and interior from getting cold as you move around.
Because of its tight fit, this hoodie is an excellent choice for athletic men that want to remain warm without having to pull their hoodie back into place always.
Alternatively, you can pick a size above your standard number and have a more relaxed fit as a result.
This hoodie does feature a rather large logo in the middle of the chest, but it's not very busy.
In fact, it helps the hoodie appear more attractive than many bland, logo-less hoodies.
All in all, this should be a top choice for athletic guys or men that want warm hoodies above other kinds.
Check out the hundreds of customer reviews here on Amazon.
---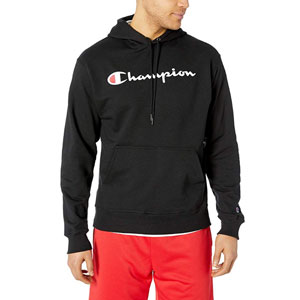 This is a versatile hoodie with a unique fit and a hood that can alternatively be drawn tight across your face or left loose to prevent you from getting too hot.
Specs
Who Is It Best For?
This is an excellent pick for guys who want a casual hoodie that'll suit a wide variety of builds and heights.
Key Features
This hoodie is made with a cotton and polyester fleece blend and is a pull-on variety.
In terms of fit, it straddles the line between a baggie heavyweight hoodie and a more athletic, tighter fit.
The soft and comfortable fabric that comprises the hoodie will help it work for a wide variety of men across variable body sizes.
It's also made with recycled fibers, so it might be a great choice if you are concerned about the environment.
The hoodie has a generally relaxed feel, especially around the middle, and it features ribbed cuffs and hem like many top hoodies on the market.
These help to keep you warm and keep the hoodie in place and properly shaped.
The drawstring hood is also relatively middling compared to others on our list.
It's tight enough to help you keep your head and ears warm, but it's not so tight that it'll make you overheat indoors.
The logo across the chest of the hoodie is noticeable but is not overpowering.
Finally, the pockets on either side are separated by a thin wall of fabric in the middle, which essentially turns the main pocket into two smaller compartments to keep your hands warm or store items.
Overall, this hoodie is a good middle-of-the-road choice if you aren't sure about what type of fit will be perfect for you.
It's decently comfortable and does an excellent job of keeping you warm without being too heavy or hot while featuring a good pocket design.
Check out the hundreds of customer reviews here on Amazon.
---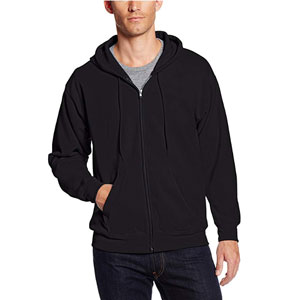 This zippered hoodie is soft, durable, and doesn't cause annoying piles in the wash.
Specs
Who Is It Best For?
This will be a favorite for men interested in more advanced fabric blends and who appreciate being able to tackle warmer or colder weather with the same hoodie.
Key Features
This hoodie is made with a unique "smart fleece."
What is this mean?
It basically means that the fleece is made with cotton and polyester like most other fleece varieties, but it also uses up to 5% recycled polyester, along with a patented low-pill design.
All of this together means that you get many of the benefits of traditional fleece (such as durability and comfort) without having to worry so much about the fabric sending little pills everywhere each time you wash it.
The hood of this hoodie is made of the exact same material as the rest of the piece, which provides your head and ears with exceptional comfort and warmth.
It can be tightened or loosened using the dual drawstrings that don't include annoying metal tips.
As a zippered hoodie, it's also good for alternating between warmer or colder weather, as you can adjust how well the hoodie keeps you insulated at any time.
Like many Hanes products, this hoodie also doesn't feature a tag.
No need to worry about annoying itchiness of the back of your neck as a result.
The dual pockets on either side of the zipper are necessarily separated, and they're not too large.
In our testing, they were barely large enough to hold most hands, so you may want to wear gloves if you are focused on finding a hoodie that can keep your hands warm as well as your head.
They're exceptional for keeping your wallet or other stuff, though.
Check out the hundreds of customer reviews here on Amazon.
---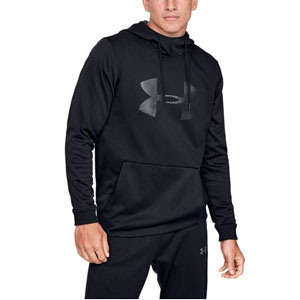 This athletic hoodie to keep you warm without making you too hot as you exercise at the gym or run.
Specs
Who Is It Best For?
Athletes or men looking for a protective hoodie that can keep them from becoming too hot or too cold will appreciate all that this hoodie can offer.
Key Features
This is another pull-over hoodie with long sleeves and made with a proprietary type of fleece manufactured exclusively by Under Armour.
This fleece is made from 100% polyester, which gives it different properties compared to most other cotton and polyester blends.
Specifically, this fleece is much lighter and more breathable, and it offers a lot more mobility.
All of these aspects combined should clue you into this hoodie's purpose: to provide athletic guys with an additional layer for core insulation that doesn't heat them up too much as they run or exercise.
Indeed, the polyester fabric used here does an admirable job of keeping your core warm, but it's not anywhere near the warmest hoodie on our list.
Instead, it's notable because you'll find it difficult, if not impossible, to overheat while wearing this hoodie.
Its breathability and stretchiness are truly superb.
The stretchiness is an excellent aspect for athletes to pay attention to as they won't feel confined when wearing the hoodie, and they'll be more comfortable when going through the exercises.
The hoodie can be adjusted quite well, even though it features a closed neckline that you would, at first glance, think would make you feel trapped.
Our testers didn't have much of a problem with it.
There's a large front kangaroo pocket, though this will mostly be used for storing your accessories rather than keeping your hands.
The ribbed cuffs and hem do a great job of keeping the hoodie pressed to your body instead of getting in the way during exercises.
All in all, it's a phenomenal choice if you want something insulating but not too hot and, thus, an ideal pick for any runner.
Check out the hundreds of customer reviews here on Amazon.
---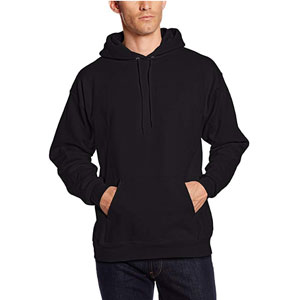 This primarily cotton hoodie is really comfortable and has a relaxed waistline to promote lounging while wearing it.
Specs
Who Is It Best For?
Guys interested in a hoodie that will feel comfortable all day will want to check this out.
Key Features
This final choice is a heavyweight pull-over variety made from a cotton and polyester blend, with 90% of the former.
This provides it with excellent comfort and softness, making it one of the more comfortable hoodies on our list.
Despite its heavyweight design, it's not the baggiest we've looked at, either, with a tighter press in the middle of the waist than at the elbows.
This fit will make it an excellent choice for most men.
The fabric blend used here provides it with excellent pill-resistance, so that's one less thing you need to worry about when you machine-wash this hoodie.
It features the ribbed cuffs we've come to expect from many top hoodie choices.
It also has a relaxed waistband.
While this doesn't do a great job of keeping warm air to your core, it's hard to deny the comfort that it provides when you're lounging on a couch while wearing this hoodie.
The drawstring hood is easy to adjust and is also supremely comfortable.
Overall, we came away thinking of this hoodie as a great choice if comfort and relaxation are your two primary factors, rather than excellent warmth or athletic flexibility.
Check out the hundreds of customer reviews here on Amazon.
---
Frequently Asked Questions About Hoodies and Wearing Them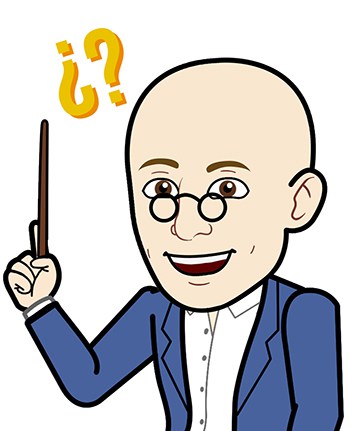 So now you've seen the best hoodies online.
If you have any last-second question, no worries; we'll tackle those now.
1. What Makes A Hoodie Distinct from Other Jackets or Sweaters?
The term "hoodie" is often used pretty interchangeably with jackets or sweaters, or even sweatshirts.
But these clothing items are all distinct things that differ from one another.
Hoodie
At this point in our guide, you probably already know what defines a hoodie.
It's a variation of a classic sweater that includes a hood sewn into its neck.
While it doesn't have a raised or distinct collar, the hood attached to the neck can serve similarly in terms of silhouette if the hood is down.
Hoodies are usually relatively thick and are meant to be used as light jackets, straddling a thin line between a long-sleeved shirt and a full-on jacket.
This gray area has led hoodies to be used in both casual and more formal scenarios, with the appropriateness of the hoodie being determined by its style and the event or aesthetic in question.
Hoodies are usually popular because their titular hoods are easy to use whenever your head gets a little chilly, but they're not as bulky or involved as a full jacket.
Sweatshirts
The main difference between a hoodie and a sweatshirt is that sweatshirts don't have hoods.
That's it.
In truth, most hoodies also have pockets in the front that sweatshirts usually forgo.
Sweatshirts are the most straightforward "thick overshirt" clothing article you can imagine.
Its sole purpose is to keep your core and arms warm.
Sweater
Sweaters and sweatshirts are also often used interchangeably, but did you know that the term "sweater" actually refers to an overshirt that is crocheted or knitted.
If it's not crocheted or knitted, it's not a sweater – it's a sweatshirt.
Sweaters are, therefore, usually a little thicker than sweatshirts and are generally not worn with hoodies, instead being more commonly paired with full jackets.
Jacket
A jacket, of course, is typically a much thicker piece of clothing that is meant to protect you against outside elements, usually while keeping you warm.
We know, we know, jackets can also have hoods, so what's the real difference between the two?
Jackets usually are much better at protecting you from inclement weather, either from a water-resistant outer layer or just thicker insulation in general.
Hoodies, by contrast, don't do much to protect you from the rain.
Besides, jackets are very rarely pull-over, while many (possibly even the majority) of hoodies are.
In the end, the differences between jackets and hoodies seem relatively minor on paper, but you'll never actually mistake a jacket for a hoodie when you're in a store, right?
2. What Can Hoodies Be Paired With?
Hoodies enjoy a lot of variety in the kinds of settings you can wear them appropriately, and in the clothing, you can combine with them.
This is because of their ability to protect you from the cold without being as bulky or formal as a full jacket.
Hoodies aren't formal, per se, and they aren't strictly casual, either.
They're somewhere in between.
It's always a good bet to combine a hoodie with jeans, although these can be nicer or more distressed or casual depending on your preferences and the weather outside.
Hoodies are also generally combined with t-shirts, long-sleeved shirts, or sweatshirts depending on the season.
Some guys wear hoodies with shorts, even in the Fall months of the year, but this doesn't always look quite right.
We'd stick to jeans in most cases.
Hoodies are also a great clothing article to pair with gym clothes, as its casual nature but insulating properties make it an excellent choice for early-morning exercise or for traveling to and from a gym.
You can also pair hoodies quite classically with sweatpants, although beware that the "sweatpant and hoodie guy" stereotype is alive and well.
Only don both articles of clothing together if you're actually fulfilling the stereotype – say, running by the gas station on a Sunday night before work the next morning – unless you want people to give you some odd looks when you stop by the DMV on a Wednesday to renew your registration.
Washing your hoodie isn't hard, and it's also something you should endeavor to do every time you wear a hoodie for more than a few days in a row.
This is especially true if you usually combine your hoodie with only a t-shirt, as your sweat and dead skin cells will start to pile up in no time.
The most common question guys ask as they ponder washing their hoodies is, "can it be machine-washed?"
That depends on the material the hoodie's made of.
100% cotton or cotton blended hoodies are almost always machine washable, though you'll need to take care to wash them properly, so they don't shrink.
Wool hoodies aren't nearly as durable, so you should avoid washing these types of hoodies in machines.
Instead, wool hoodies should most often be taken to a dry cleaner or washed by hand.
Hoodies with fur or polyester are generally fine for machine-washing.
How to Machine-Wash
When machine-washing, first turn the hoodie inside out.
If your hoodie uses zippers, zip them up before turning the clothing inside out.
This will prevent the zippers from either catching on other articles of clothing in the washer or from damaging the washer interior.
Turning the hoodie inside out will wash the most important part of the clothing and also protect the exterior from being washed too hard.
You should combine your hoodie with articles of clothing that are similarly colored.
Don't combine a red hoodie with your whites, please!
You'll also want to avoid washing the hoodie with towels since lint from the towels can stick to the hoodie material.
Hoodies should be machine-washed on cold water settings and with a mild detergent – this detergent type is gentle enough to avoid damaging the fabric, and the cold water will assist the hoodie in keeping its shape and size.
Hot water can often make clothing shrink if you're not careful.
Delicate cycles are always best unless you really need the machine to scrub a stain away.
Hand-Washing A Hoodie
If you do need to hand wash your hoodie, start by filling a bucket of cold water.
You can alternatively use a bathtub or sink if you don't have a bucket big enough for the job.
Either way, make sure the immediate area around the cold water container is free from stuff that'll get damaged if some water spills out, as this is likely when hand-washing clothing.
Take a mild soap or shampoo a rub it into the hoodie, particularly areas that you notice need to be washed.
But you'll be best off scrubbing soap all into the hoodie if possible.
After you've rubbed the soap into the fabric, rinse it all out with cold water and use a dry cloth to wipe away any visible shampoo bubbles once you're done.
This is really important, as leaving behind too much soap or shampoo can end up staining the fabric.
Now it's time to dry.
Press the hoodie gently to get rid of excess water and soap.
Avoid wringing the water out as you would with a rag, as this can put too much stress on the fabric and cause it to wrinkle or tear.
It's a good idea to place the hoodie on a dry towel as you do this to absorb any water that comes leaking out of the hoodie.
Another good trick is to roll the hoodie up in the towel by laying the towel flat, then roll the towel into a bundle with the hoodie lying flat atop it.
After doing this, lay the hoodie on a separate, dry towel and let it air dry.
It'll take longer if there isn't sufficient airflow, but either way, your hoodie should be dry the next day.