Underwear is one of those clothing items that we don't think about as much as we should.
Think about it; is there any other article of clothing that you wear every single day no matter the weather, season, and both when you're sleeping or awake?
Underwear is the single clothing item that we're practically always wearing, yet too few of us pay any attention to the quality of our current undergarments.
In fact, many men have terrible boxer briefs that are uncomfortable throughout the day or that ride up during athletic activity.
Other subpar boxer briefs will keep you sweaty and smelly.
By the time you take a shower, they stink like you've been wearing them for a week.
However, just because you have been wearing whatever underwear you got for last Christmas doesn't mean you have to keep wearing it.
Finding the top boxer briefs isn't rocket science, of course, but it does take a bit of research.
Good thing we've already done the leg work!
In fact, we've collected the best boxer briefs for men (or best mens underwear) and put them below so you can find a new set right away.
We targeted only comfortable boxer briefs and found several across various styles or sizes.
So there's sure to be something for practically every guy.
Let's get started!
Use the table of contents below to jump to the sections most important to you.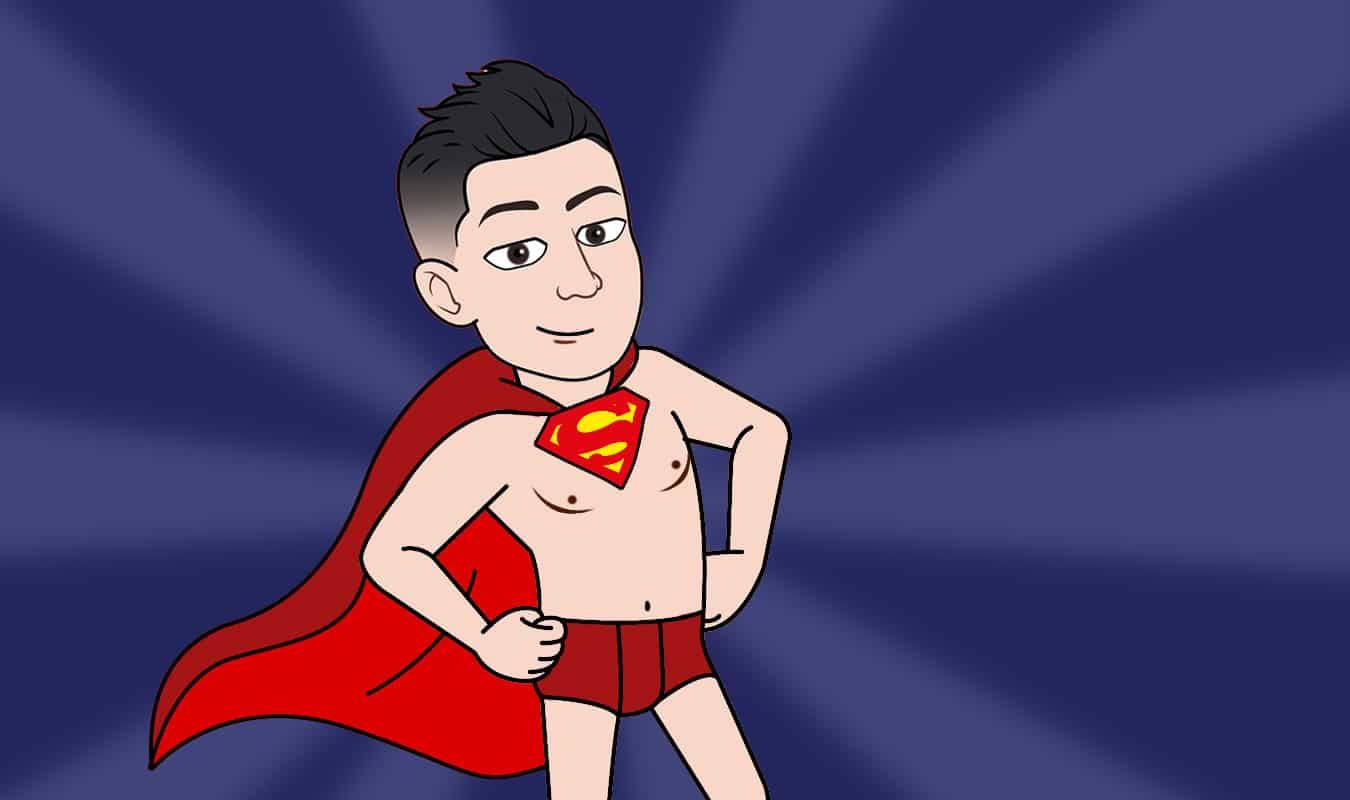 Things to Consider When Buying the Best Men's Underwear
You might think that picking up any pair of boxer briefs will do the trick for your underwear drawer, but you'd be wrong.
Keep these primary considerations in mind when you browse, and you'll locate a set of underwear that are comfortable and perfect for you.
1. Material
---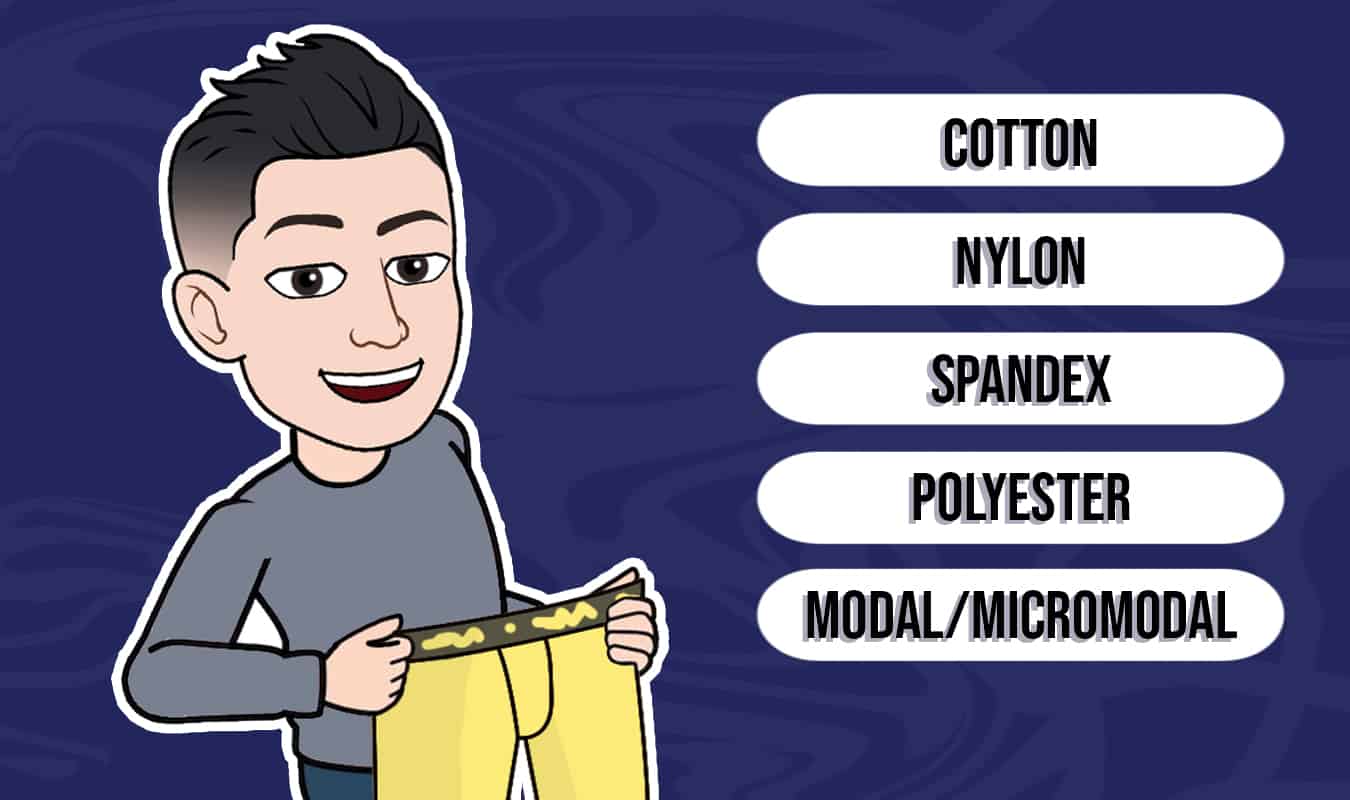 The material or fabric of your chosen boxer briefs is the most crucial element, as it affects how comfortable the briefs are, how they are washed, how they look, and so on.
Not all boxer briefs are made the same, and their materials will grant you benefits or disadvantages depending on that fabric's composition.
Let's go over some of the major fabrics you might find in your search for the most comfortable men's underwear.
Cotton is perhaps the most common boxer brief material type, partially because it is incredibly breathable underwear and easy to care for.
Cotton is also quite affordable since manufacturers can make cotton clothing without too much trouble on their end.
100% cotton briefs feel fantastic, at least at first.
But over time, pure cotton underwear will eventually lose its shape and may start to feel uncomfortable as it wrinkles and wedges into cramped areas.
This is why many underwear products (and other clothing, for that matter) are actually made with a blend of both cotton and other fabric material.
This isn't to say you can't go with 100% cotton underwear; just be prepared to replace those briefs when they start losing their shape or integrity.
Nylon is another familiar boxer brief material used for men's underwear.
That's because nylon retains its shape over a long time, even if you subject the underwear to lots of wear and tear.
Even better, nylon is moisture-wicking, so things will get a sweaty down below the belt if you're wearing a nylon or nylon blend pair of underwear.
As you might expect, many sports-oriented boxer briefs are made either with nylon or have some nylon in their fabric blend.
It's almost impossible to find a set of underwear made purely of spandex, but plenty of boxer briefs products have fabric blend with a little spandex mixed in for stretchiness and comfort.
Spandex is incredibly flexible and soft, so adding it to a cotton or nylon weave will enhance the comfort and longevity of any pair of underwear.
Keep in mind that spandex has a pretty iconic look; spandex underwear or any other underwear with the majority of spandex in its fabric blend will be easy to recognize.
Some men's briefs are made with a blend of polyester and other material, usually spandex.
Polyester feels quite comfortable and cool to the touch, and it can usually get you a lot of briefs for an affordable asking price.
However, polyester is notorious for holding in body odors for an extended period, so be prepared to stink if you plan to wear them during athletic activity.
Polyester has one other advantage in that it is very moisture-wicking, especially when combined with spandex.
This fabric material is derived from the beech tree, and it's incredibly soft even compared to cotton or spandex.
It's also one of the lightest underwear materials on the market; many men compare it to silk in terms of texture or feel.
To make things even better, this material is shrink resistant, so you can wash it as often as you please and won't have to worry about suddenly feeling tighter down there the next time you slip them on.
Just like nylon, the modal fabric is also moisture-wicking, making it an excellent choice for boxer briefs for athletic men.
It's a more modern fabric than the other options, which have all been around for quite some time.
So now that we've gone over the major fabrics, you might find in a pair of boxer briefs, which is best for which purpose?
In general, we'd recommend that you find a pair of boxer briefs with moisture-wicking or anti-odor tech integrated into the fabric if you plan to use the briefs for athletic events or if your job is necessarily physical.
We'd also recommend that you prioritize comfort above almost every other aspect since uncomfortable underwear can be like a splinter in your mind, constantly reminding you of your poor choice of briefs!
Indeed, comfort is the most crucial aspect when choosing fabric because, unlike many other types of clothing, you'll always wear underwear.
It does you no good to settle for something that isn't 100% comfortable 100% of the time.
Because of this, we'd also recommend spandex or cotton underwear for most men, at least in part.
Modal or MicroModal underwear can sometimes be a little more expensive than other types of boxer briefs, but it's well worth the effort for many men who prioritize comfort and have a limited budget to spend to get it.
2. Style
---
Let's go through some of the most common mens underwear styles.
Firstly, the type and style of underwear men wear depends mostly on individual preferences above all else.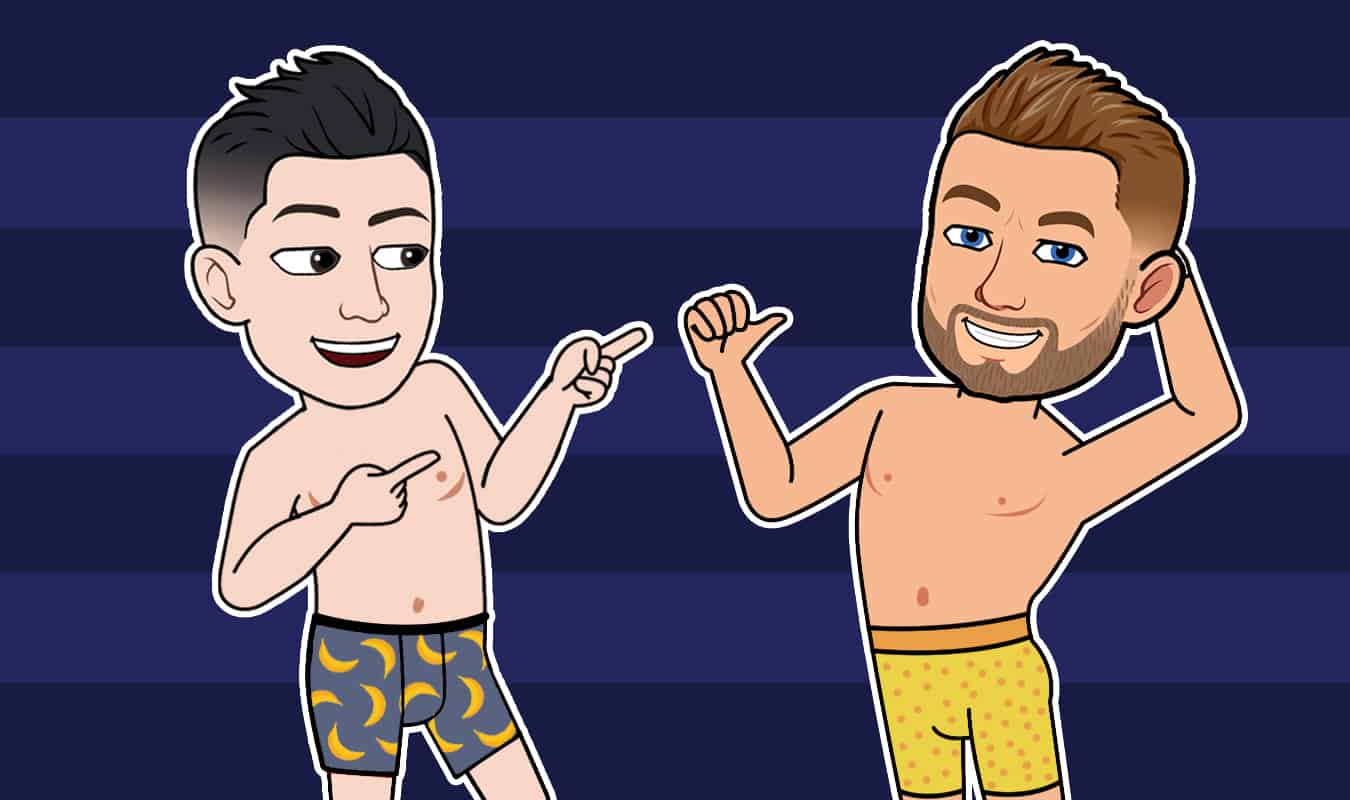 You should also consider the general aesthetic style of the underwear before you finalize a purchase.
Most boxer briefs come in plain colors because men tend to buy simplistic underwear more than flashy or frilly stuff like women might.
But that doesn't mean there aren't snazzier or more decorative boxer briefs in the market.
More extraverted men or guys with a sense of humor might find boxer briefs with a silly pattern or bright colors to be just the ticket.
We'd typically recommend keeping your underwear as simple as possible because few people will ever see them.
Still, buying flashier boxer briefs can be a great way to surprise your spouse or significant other.
Ultimately, the aesthetic style of your briefs is purely personal and doesn't affect the efficacy or comfort of briefs in most cases.
So, go with what you prefer most!
3. Fly Type
---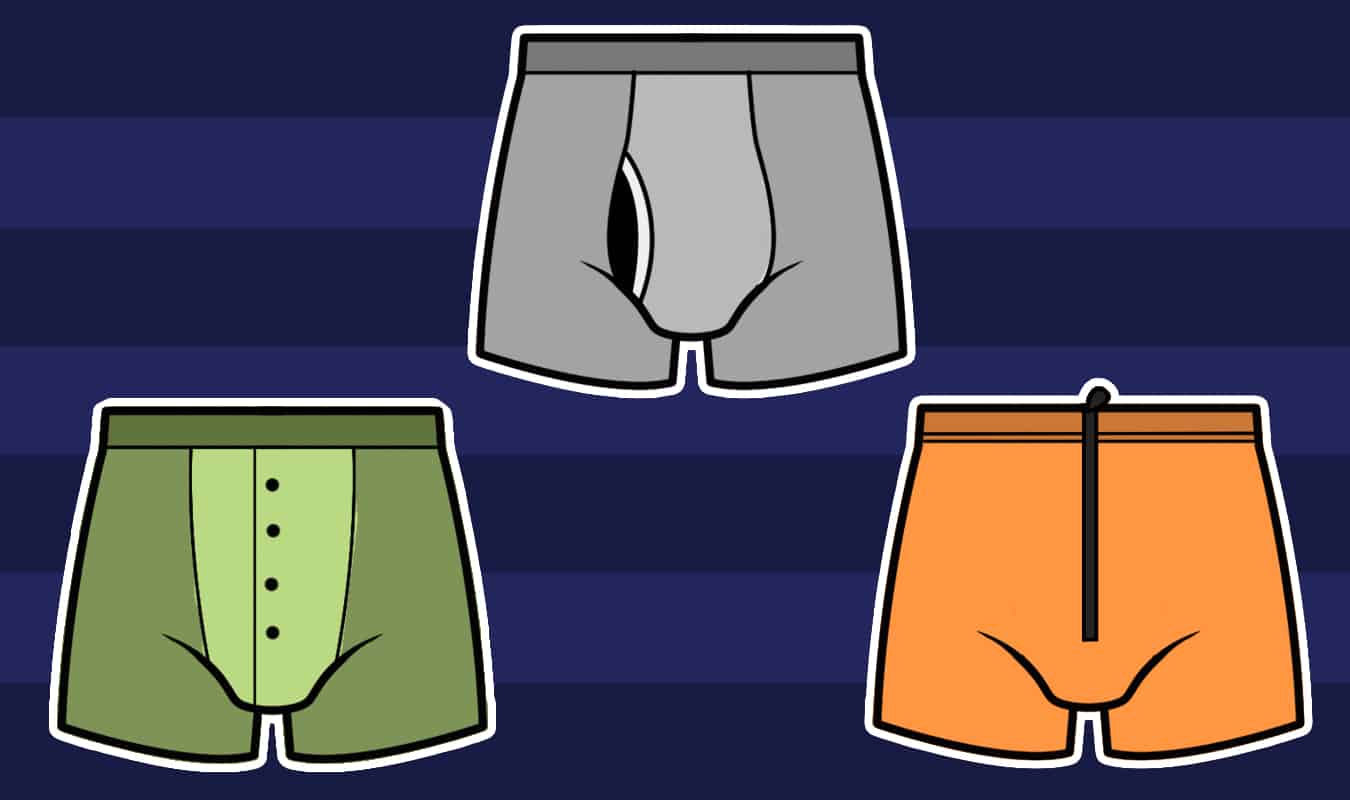 The next most important factor to consider is the type of fly or pouch that a set of briefs is made with.
There are three major mens underwear types.
Most boxer briefs (pouch underwears) have folded flies, as this requires less material and makes the briefs more affordable overall.
Folded flies are easy to access and use, although some men prefer other styles because of a folded fly's tendency to, ah, compress certain aspects of our bodies.
This problem is more pronounced if you have a much larger "package" than average, as the folded opening might be a bit too cramped for your comfort.
Many boxer briefs incorporate buttoned flies.
These are also very easy to use and are arguably just as quick to access as folded flies.
The buttons are usually made of plastic, and most briefs only have a single button to secure the fly close.
The downside to this style is that the fly aperture isn't as secure as with a folded variant, so things might slip out from time to time if the fly isn't sewn in the correct position or if it becomes loose over time.
Of course, a loose fly might lead to chafing around your sensitive parts, particularly if you're wearing jeans or any other kind of pants with a metal zipper.
But buttoned flies are easier for many men, so they're a valid alternative to the classic folded style in our eyes.
The final type of fly you might find on boxer briefs is a zippered variant, although this is much rarer than either of the other two styles.
Zippered boxer briefs are usually designed with the zipper going vertically from the bottom of the briefs to near the top, allowing the fly to open cleanly and widely.
However, having a zipper so close to your junk carries its own risks.
Many of us (including a few of our testers) have had risky experiences with zippers and their metal teeth.
While boxer briefs fly zippers are not as sharp or sturdy, they can still pinch quite a bit if you aren't careful.
Besides, any briefs whose zippers break in the course of their use will need to be replaced, as it's much more challenging to fix a zippered fly than either other types.
Still, lots of men prefer the ease-of-use and easy access of this fly type, so we've included a pair of briefs with this fly style below for your consideration.
4. Size
---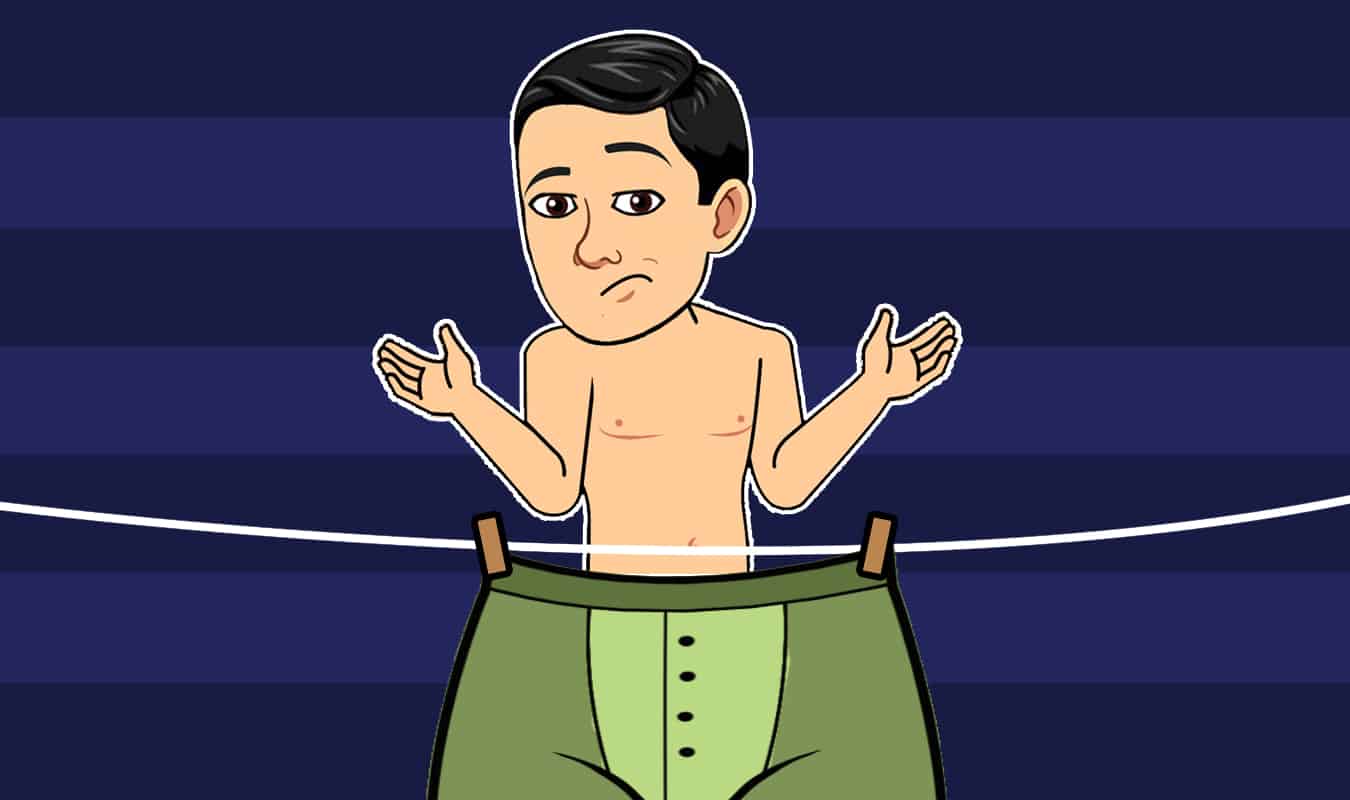 Next, consider the size of the boxer briefs in question.
Obviously, the size of your chosen boxer briefs will dictate how well they fit and affect their overall comfort.
Briefs that are too small will compress your sensitive parts and make things feel tight and uncomfortable.
Briefs that are too large will require constant readjusting and stand more of a risk of riding up all the time.
Like Goldilocks' porridge, you have to find a size that's just right to get the most out of your briefs.
Most underwear companies in the United States use size markers from XS, for extra small, to XXL, for extra extra large.
Others go even higher than this maximum size.
The good news is that virtually every underwear company as an included size chart that matches different size abbreviations to waist measurements.
Most companies also use the same waist measurements, so it's easy to go from brand to brand once you identify your own measurements.
Check out this sample chart for an example.
Ultimately, we'd recommend that you try to go for the size that affords a little more room than a little less if you find yourself in-between measurement categories.
That's because underwear won't be likely to fall down your hips if it's a little too loose because of the pressure of your outside clothes and normal friction with your skin.
But briefs that are too tight will be uncomfortable immediately.
All in all, just make sure to identify your waist measurements before finalizing a purchase, and you'll be fine.
5. Length
---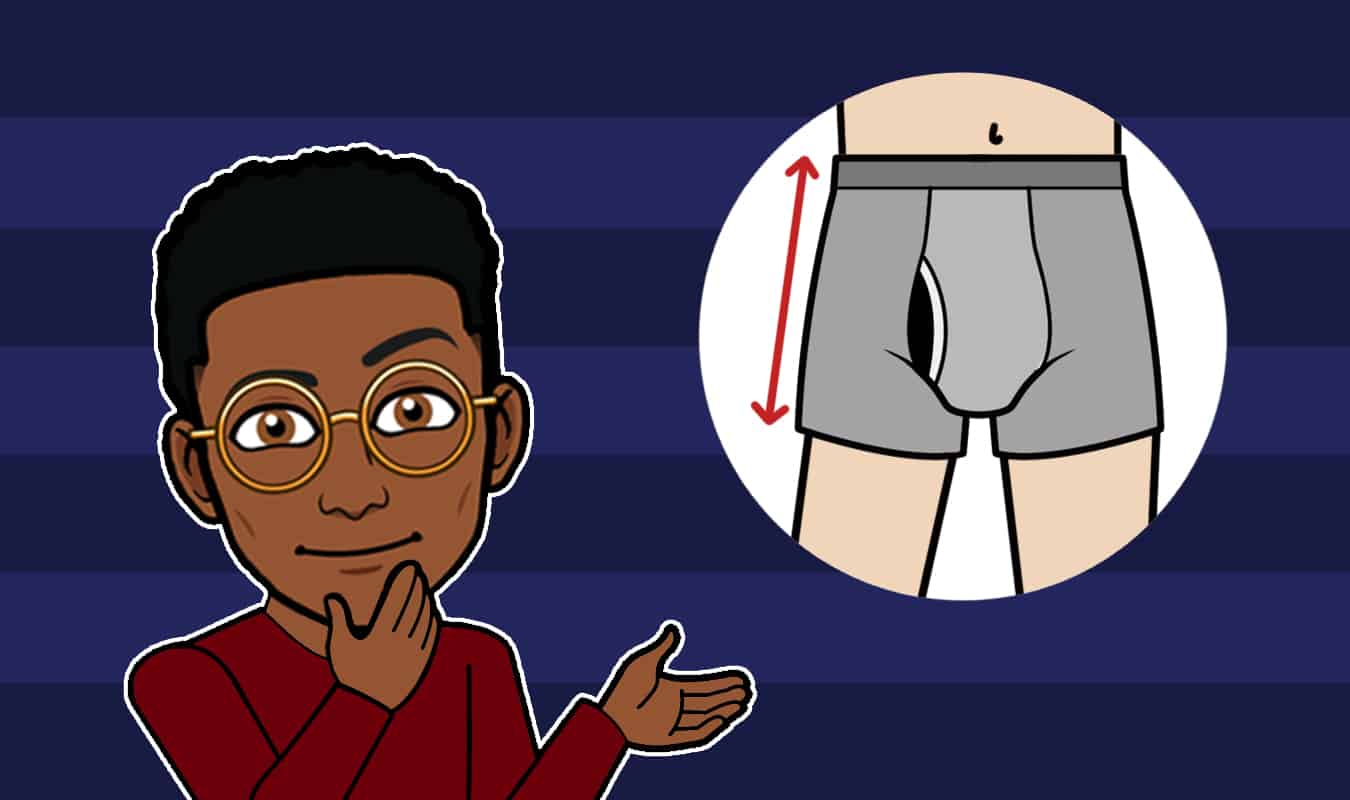 Not all boxer briefs are cut the same.
In fact, some are more suited for pairing with different shorts or pants than others.
Boxer briefs with long legs (long boxer briefs) will usually reach down to the mid or lower thigh.
These types of underwear are great because they resist the "riding up" effect that many other boxer briefs or underwear types suffer from, which can make things uncomfortable until you have a moment to retreat to the bathroom.
As you can imagine, long leg boxer briefs can be ideal for heading to the gym or other physical activities where your legs will require a full range of motion.
In these scenarios, short leg boxer briefs are more likely to ride up and become uncomfortable.
Long leg boxer briefs have an additional advantage in that they provide a snug fit for everything below the belt.
Lots of men, including many of our testers, appreciate the security they feel when slipping on a longer leg, well-fitted pair of briefs.
Short leg briefs can also be comfortable depending on how snug you appreciate things and how hot it is.
There's no doubt that long leg boxer briefs are warmer than their short leg counterparts, so short leg briefs usually are better for the summer months or when you are wearing shorts that go above the knee.
This ensures that your briefs never poke out from beneath your shorts and keeps your legs cooler overall.
Also, you can negate some of the risks of the briefs riding up by picking the perfect size of underwear.
Done correctly, everything should be snug and secure, preventing the legs from ascending when you move your legs around.
For most men in underwear, all they really want is to be able to find the most comfortable mens underwear in the market whether it is cheap underwear or a high-end brand.
All in all, either type of boxer brief can be comfortable and a great choice depending on your preferences or needs.
---
Best Underwear for Men of 2022 Reviewed
Let's take a look at the best mens underwear brands we found.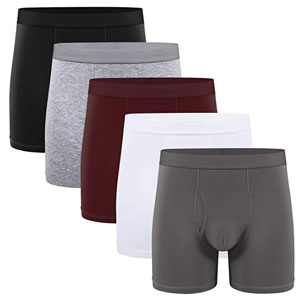 These briefs as classic but straightforward, offering an easy choice for guys who need something decent that doesn't reinvent the underwear wheel.
Specs
Who Is It Best For?
These are perfect for guys who like traditional boxer briefs for men made of cotton.
Key Features
Comfort is king when it comes to these briefs.
They're mostly made of cotton, but they have a bit of spandex mixed in to add some moisture-wicking potential and keep things from getting too hot.
The fantastically comfortable feel is what makes these briefs worth it in our eyes.
The super-soft cotton they utilize is truly exceptional, and the briefs are fitted with a decent elastic band that conforms nicely to the hips without squeezing too tightly around the middle.
The leg length is excellent, reaching down long enough for added comfort but not going so far as to make them too long to wear with shorts.
The briefs are all tagless and can be purchased in a variety of masculine but straightforward colors, which is how we like our briefs.
The briefs are "active fit" which basically means that they're styled to accommodate the muscular upper legs that many men have, so athletic guys will find these really comfortable as well.
You get five briefs for a pack, and the asking price is pretty reasonable compared to other briefs on the market.
We also appreciate that these briefs come in the largest available size range; they'll be able to fit more men across waist sizes than any other pick on our list.
Well, these are arguably the best cotton underwears you can find in the market today.
Overall, while these briefs don't reinvent the wheel, we think they're an excellent pick and a great choice if you want to prioritize all-around comfort more than moisture-wicking or anti-sweat tech laced into the fabric.
See the collective opinion of hundreds of Amazon reviews here.
---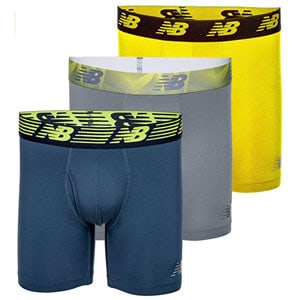 These briefs are mostly polyester and provide fantastic comfort and sweat-wicking at the same time.
Specs
Who Is It Best For?
These are ideal for men who want to get rid of sweat capably and who don't mind washing their briefs very thoroughly.
Key Features
These briefs are also quite comfortable, though their fabric composition is quite different compared to the cotton ones above.
Instead, these are made with polyester and spandex, making them exceptionally comfortable on hot days or when you've been sweating.
Of course, the majority of the fabric is polyester, so be careful when washing these; you may need to take extra cleanliness steps actually to get the stink out of them.
Aside from this downside, we only have good things to say.
They're designed with a special inseam that will prevent the briefs from riding up, plus 4-way stretch support to keep things secure and comfortable over the long term.
What's more is the mesh gusset that removes sweat away from your body, letting you continue to run and exercise for longer without too much discomfort.
We think these are actually among the most supportive briefs in the market.
Their excellent breathability and moisture-wicking are sure to make these a popular pick among athletes or those who live in humid climates, as well.
These briefs come in a wide range of colors, as well, ranging from plain black to banana yellow.
There's definitely a color combination hidden in their options for most men.
The asking price is reasonable, given that you get 3, although the last pick's value of 5 was a bit better.
But overall, we're quite pleased with these briefs and would readily recommend them to athletic men.
See the collective opinion of hundreds of Amazon reviews here.
---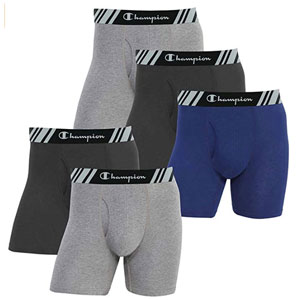 These briefs are another classic choice, though they provide superior security compared to many other briefs.
Specs
Who Is It Best For?
These should be a top choice for guys concerned about frontal support, particularly around the groin.
Key Features
These briefs are definitely among the kings when it comes to all-day comfort.
Like our first choice, these are made with cotton and spandex combined, but these feature a specially contoured front panel near the fold of the fly.
This provides extra security and comfort for the most sensitive areas on your body, and, when combined with an elastic but comfortable waistband, create some of the gentlest yet most supportive briefs we ever tried.
To make things even better, this particular cotton/spandex blend has been specially treated to provide extra moisture-wicking technology and keep you even drier than many other kinds of briefs.
These are an exceptional pair of briefs for men in hot climates or guys who spend most of their time being active.
Since they're mostly cotton, getting the sweaty smell out of them will also be a lot easier than with other materials.
The asking price for these briefs is very reasonable, as you get five briefs for the purchase.
However, different sizes can result in drastically different prices, which can be unfortunate if you're a guy who needs briefs closer to the extra-large sizes.
All in all, we think these are another excellent choice for guys who are primarily interested in briefs that can make their day-to-day more comfortable or who want to avoid sweaty groins.
See the collective opinion of hundreds of Amazon reviews here.
---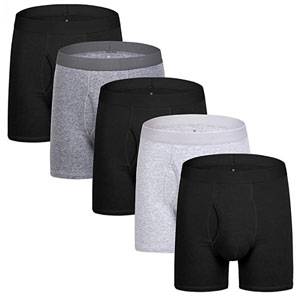 These briefs are comfortable and become more so over time as they contour to fit with your body.
Specs
Who Is It Best For?
These are a great choice for guys with particularly sharp hips or who have trouble finding a perfect size for their waist.
Key Features
Cotton and spandex make a return once again with this set of briefs, which come in packs of five and in a wide variety of simple colors.
There's even a package with particularly flashy and extroverted colors, such as neon yellow or aqua, if you prefer briefs of this kind.
Most of the packs are in simple colors, however.
These briefs are made mostly from all-natural cotton and have a front pouch that has been specially designed for extra support and comfort.
The briefs are cut to mold to your body shape over time.
They're one of the rare briefs that actually become more comfortable the longer you use them, probably because of their specific material fabric blend.
We found that they were a little tight at first and eventually loosened up to provide a perfect fit.
For that reason, it might be smart to pick these up if you need to err on the side of looseness over tightness, as you're likely to get a perfect fit eventually even if they're a bit loose at first.
These briefs also have legs that go about midway compared to other briefs on the market, so they straddle a fine line between ultimate comfort and a better range of motion.
Finally, these briefs have been double stitched to add to their durability.
While we still recommend that you wash them properly, they're likely to last for a long time to come even if you subject them to a lot of wear and tear.
See the collective opinion of hundreds of Amazon reviews here.
---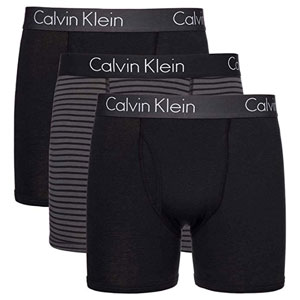 These are super soft briefs that only become more comfortable with time.
Specs
Who Is It Best For?
These are an excellent choice for guys who love cotton and want the gentlest fabric blend of the stuff as possible.
Key Features
It wouldn't be a top list of the best boxer briefs without Calvin Klein, and we're happy to say that their offering is among the best of the best.
Calvin Klein boxers are made of 95% super soft cotton that is some of the most stretchable and breathable we tried on.
It's been specially fabricated to improve comfort and shape retention, even when considering how naturally comfortable cotton fabric is typically.
The shape retention we speak of is similar to that of another pick; basically, this underwear will become more comfortable the longer you wear them.
They feature an easy-access folded fly, plus some additional support to keep things comfortable over the long term.
To make things even better, innovative moisture-wicking spandex is included in the fabric mesh that's even more moisture-wicking than ordinary spandex.
An antimicrobial finish has been laced throughout the fabric as well.
When you put both of those aspects together, you get a pair of boxer briefs that are particularly great at both wicking sweat off your body and negating the sour odor that usually accompanies it.
These are mostly the opposite of polyester briefs that continually smell bad no matter how many times you wash them.
These briefs?
Wash them once, and they'll smell like new.
Their waistband is flexible and supportive, and you can get most of these briefs (which come in simplistic colors) for affordable asking prices, at least until you get up into the larger sizes.
Then again, this is Calvin Klein, so we weren't too surprised to see that these were on the upper end of cost, even though you only get three pairs of briefs for the purchase.
Still, we'd readily recommend these briefs for guys who are committed to top-tier briefs and who want the ultimate choice in terms of daily comfort and antisweat capabilities.
See the collective opinion of hundreds of Amazon reviews here.
---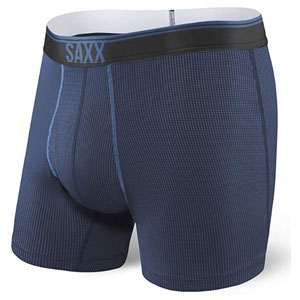 These are a set of briefs with a unique material mix and fantastic cooling and moisture-wicking properties.
Specs
Who Is It Best For?
These should be a top choice for guys concerned with sweat or their legs overheating or guys who just aren't fans of cotton.
Key Features
These briefs don't go along with the cotton trend that most other manufacturers stick to.
Instead, these briefs are made with a combination of mesh, nylon, polyester, and spandex to create a unique fabric blend that does a lot of things at once.
For starters, they're a little slimmer than you might expect, given the four total above materials woven into the fabric.
This keeps them cool and flexible and is bolstered by shorter legs that provide a more excellent range of motion for athletic men or guys who just don't like long leg briefs.
This fabric blend provides added lift for the frontal pouch without using an interior seam.
Despite the lack of seam, we found that it offered excellent support when we tried them on for ourselves.
As you can guess, this fabric blend is particularly great at moisture wicking and reducing chafing thanks to its softness and sweat elimination.
It does have a little polyester that can sometimes retain a negative smell, but it only takes up 9% of the fabric blend, so we don't think you'll experience rank briefs too often.
But these briefs really excel at keeping things cool down there.
These briefs are possibly the best underwear for working out on our list, as any men who get super-hot or sweaty below the waist will find them comfortable.
They also come in a wide variety of aesthetics or colors, allowing you to choose simpler or flashier designs based on your preference.
The one downside is that you only get a single brief for your purchase, and the asking price is quite high: a little higher than many packs of 5, in fact.
We think it is still worth it in niche scenarios, though.
Like we said above, it's cooling potential, and moisture-wicking capabilities are virtually unmatched.
We would recommend picking up a pair of these briefs for specific situations or sporting events rather than relying on them for all-purpose underwear.
See the collective opinion of hundreds of Amazon reviews here.
---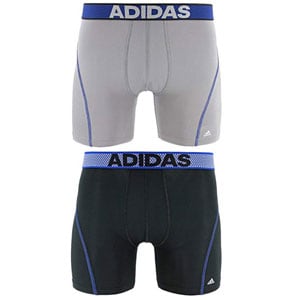 These sporty briefs are comfortable and ideal for spending lots of time in action.
Specs
Who Is It Best For?
These are a perfect choice for guys who engage in sports or men concerned with sweat-based discomfort.
Key Features
This is a polyester and spandex blend from Adidas, known for its commitment to quality sporting goods.
Therefore, it should be no surprise that these briefs are a great pick for sporty men or guys who spend lots of time in the field.
Not only does it use polyester and spandex in its blend, but it also has a micro-mesh fabric stretched over most of the briefs.
This micro-mesh provides extra moisture management and control.
When it's combined with the natural moisture-wicking properties of the above two materials, the result is a pair of briefs that virtually eliminates sweatiness no matter how intense.
Even with this dedication to sweat removal, these briefs are super comfortable and have a plush feel that's distinct from many other cotton repairs.
There's a mesh line pouch that gives extra breathability and support to the groin area, but this area also has the one negative: no-fly.
That's right, these briefs don't open easily at the fly; instead, you'll have to pull everything down to relieve yourself.
On a pair of sport-focused underwear, that's a bit odd to us.
Even so, these are still a good pair of briefs, and you get two in each purchase.
They come in a vast variety of styles and colors, ranging from simplistic and masculine to truly flashy or flamboyant.
All in all, athletes will probably get the most mileage out of these briefs.
See the collective opinion of hundreds of Amazon reviews here.
---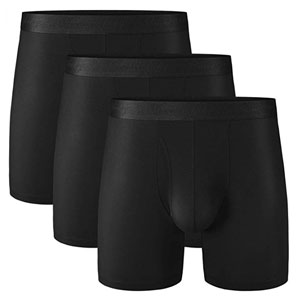 These are high-end but high-comfort briefs that make cotton look almost scratchy by comparison.
Specs
Who Is It Best For?
These are the most comfortable boxer briefs we could find, and an excellent pick for men who want the best of the best in terms of overall feel.
Key Features
These briefs are made with MicroModal fabric sourced from beech trees.
They also have 8% percent spandex woven into the fabric overall, which provides better moisture-wicking and a little extra stretchiness while retaining structural durability.
This fabric feels excellent against the skin and does a phenomenal job of keeping things fresh and comfortable.
Compared to cotton, the difference is like night and day.
Our testers felt confident they can walk in a desert and still not get overheated while wearing these.
It features a long leg inseam to prevent them from riding up as you move, too, which is a big plus.
The shape/design of the briefs is such that wedgies and riding up are practically impossible, actually, as the briefs' overall texture is flat and doesn't hug to curves easily.
The fly is very easy to manipulate, as well.
Of course, MicroModal briefs as usually a little pricier than cotton ones, and these are no exception.
But MicroModal is an experience in and of itself, and we'd readily recommend these for men who want briefs that are softer and more comfortable than most other cotton blends.
See the collective opinion of hundreds of Amazon reviews here.
---
FAQs About the Best Boxer Briefs for Men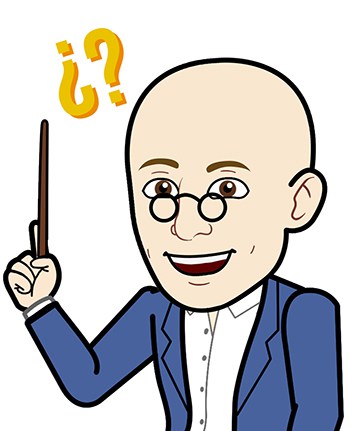 Now you've seen the best boxer briefs for men, but you might have a few last questions or concerns before you pull the trigger.
Let's lay those to rest now.
1. Should You Wear Different Boxers for Different Activities?
This might sound a bit unsatisfying, but ultimately, we think it's up to you.
It largely depends on how many boxers you want to buy, as most boxer briefs come in packs of three or more.
Therefore, purchasing multiple packs of boxer briefs, all made with different materials are in different styles, might not be very economical for most guys.
Instead, we'd recommend either going with a specialty pair that are specifically designed for athletic motion and sweating, or a generally comfortable pair and just dealing with sweat if it doesn't have a moisture-wicking material.
The truth is that it's often more economical to pick up multiple packs of the same kind of boxers and simply change them out if you become uncomfortable after a long, sweaty session at the gym.
New briefs, new you.
Plus, if you pick up a few packs of the same briefs, you'll always know they'll be comfortable, no matter if you go through two pairs in a day.
This is another subjective question that we found ourselves often asking as we researched the best boxer briefs.
Aesthetics is a tricky subject, especially since you don't want to limit anyone from doing what they wish to necessarily.
But we always err on the side of classic masculinity.
In our opinion, boxer briefs with simplistic, monotone colors are the way to go, especially if you live with a lady friend, and she'll be seeing you in them often.
While you can get briefs in rainbow colors, you probably shouldn't.
3. How To Wash Boxer Briefs
Just throw them in the washer with the rest of your clothes, right?
Actually, the right washing procedure depends on the material that your briefs are made of and what you'll be washing them with.
Only college guys make the mistake of lumping all their clothes into a single load and washing it with a bit of baking soda.
Cotton
Cotton underwear needs to be washed like any other kind of cotton laundry: in light loads with a gentle cycle and warm water.
All-purpose detergent usually works fine, especially for common stains or dirt (we don't imagine you'll be spilling wine on your briefs, right).
Nylon
Nylon is a little more flexible.
You can actually use warm or cold water as you prefer, or as you mix them with other loads, but never use hot water on nylon fabric.
Hot water will easily distort the size and shape of the underwear, far beyond normal washing machine shrinkage.
You'll also want to use nonchlorine bleach if you ever do need to bleach the briefs.
We'd recommend adding a fabric softener, as well, to make the nylon feel even more comfortable the next time you wear them.
Finally, dry them on low heat to avoid straining the fabric further.
Spandex
Spandex is comfortable, and you should feel free to mix it with other fabrics without too much worry.
Just run the machine on a gentle cycle and use warm water; although cold water won't harm the material, it also won't be as good as warm for cleaning power.
Tumble dry any spandex briefs on low power.
Setting the dryer any higher than this may lead to shrinkage, so you can also air-dry the briefs if you have space or time.
Modal/Micromodal
You can wash any modal fabrics with traditional stuff like cotton or spandex unless otherwise specified.
Cold water is best for this material, although any temperature will do just fine.
We will just recommend mixing it with a cold water load if you have other clothes that also need to be washed without temperature.
Chlorine bleach will also weaken this fabric just like nylon, so avoid that stuff and use oxygen-based bleach if you need to really attack a particular stain.
Finally, dry your modal boxer briefs on low to medium heat rather than high.
Like with many materials, high heat may cause the modal fabric to shrink, ruining the briefs entirely.
4. What Are Other Washing Tips?
Although we've mentioned bleach, we don't recommend using any bleach at all if you can help it.
While bleach is phenomenal at removing pesky stains that can be embarrassing or ruin the look of a pair of briefs, it also ruined the color and can damage the fabric itself, weakening it over time.
Briefs that are continually exposed to bleach are liable to rip or tear the next time you play football.
Remember not to dry any of your clothes on the hot setting unless absolutely necessary or unless otherwise specified.
Finally, it's often a smart idea to only wash your underwear with lighter weight clothing items, like shirts or socks.
While there's technically nothing wrong with washing your underwear with jeans, these heavier materials can cause physical damage to your underwear.
Even worse, your briefs can get caught on the teeth of the zippers or buttons of your jeans, ripping them while they're being washed.
5. What's the Difference Between Boxers, Briefs, and Boxer Briefs?
Lots of guys use these words interchangeably to describe their underwear, and even we've previously referred to the above boxer briefs just as "briefs."
However, there is also lingerie for men or male lingeries, but that will be discussed in another article in much detail.
But each of those words – boxers, briefs, and boxer briefs – actually refer to specific types of underwear that have slight differences.
Let's go over those definitions in the interest of accuracy.
Boxers
Strictly speaking, boxers are only really boxers underwear if they have a loose fit and don't hug your thighs or groin.
Some boxers are shorter, and others reach almost down to your knees, but all are defined by their ability to let things "hang loose."
As you might expect, this is quite comfortable for a lot of guys and is a popular choice during the summer, especially in humid climates.
However, this loose fabric isn't very stretchy or durable, and it doesn't work well with tighter clothing.
Briefs
Briefs are the classic "tidy whitey" underwear style that many guys wore as kids.
They're defined by a Y-shaped style that has fabric run across the butt and groin without doing down to the thighs.
These underwear (also called mens panties) are tighter and offer much more support for our groins than boxers.
For this reason, they're trendy among athletes since they don't have a lot of fabric to make things hot and don't let everything hang around as you run.
Boxer Briefs
Finally, these underwear are a blend of the above two styles.
They incorporate the tighter and supportive design of regular briefs with the long shape and style of boxers.
There are especially popular among many men because they're arguably the most comfortable overall.
The additional fabric can protect your legs and groin slightly better from uncomfortable pants than regular briefs, but they still provide adequate support for the groin.
They're also great for sports or athletic events without (usually) making you too hot to move effectively.
Every style of underwear has its fans and detractors, but we think boxer briefs have the best of both worlds and suitable for just about every man.