Poolside vacations or trips to the beach just aren't the same if you have to keep your feet trapped inside your regular shoes.
In fact, letting your feet breathe in warm weather is crucial if you don't want to develop a case of athlete's foot!
Yet walking on the beach barefoot is asking for trouble, which is why flip flops are the perfect shoe to accompany any day on the waterfront or sunny situation.
But there are way too many flip flops to purchase to browse through, which can make finding the ideal sandals for your feet a tricky affair.
But you know us; we always bring you the best.
In this comprehensive guide, we've got the best flip flops for men of all ages or sizes, and we'll show you how to take care of your sandals after taking them for a spin.
Let's get into the details.
QUICK OVERVIEW: Best Flip Flops
Exceptional comfort offered by the arch support and heel airbag
Includes a bottle opener

VIEW ON AMAZON →

NeedBo NDB Men's Classical Comfortable II Flip-Flop

The strap doesn't wear down the skin between your toes
Harder to slip with these sandals

VIEW ON AMAZON →

MAIITRIP Men's Soft Comfort Flip Flips

Fairly durable for the asking price
Great for use around pools

VIEW ON AMAZON →

Great to use around slippery surfaces or water
Can be purchased in several colors/sizes

VIEW ON AMAZON →

Nike Men's Benassi Just Do It Athletic Sandal

Hard to accidentally kick-off
Provides decent cushioning even without arch support

VIEW ON AMAZON →

Quiksilver Men's Molokai Flip Flop

Simple but masculine design
Features decent padding despite material

VIEW ON AMAZON →

Oakley Men's Supercoil 2.0 Sandals

Made with decent materials
Stylish design

VIEW ON AMAZON →

Canvas strap is very comfortable
Super affordable considering the benefits

VIEW ON AMAZON →

Mio Marino Men's Flip Flops

Look very classy
Made of vegan materials

VIEW ON AMAZON →
Use the table of contents below to jump to the sections most important to you.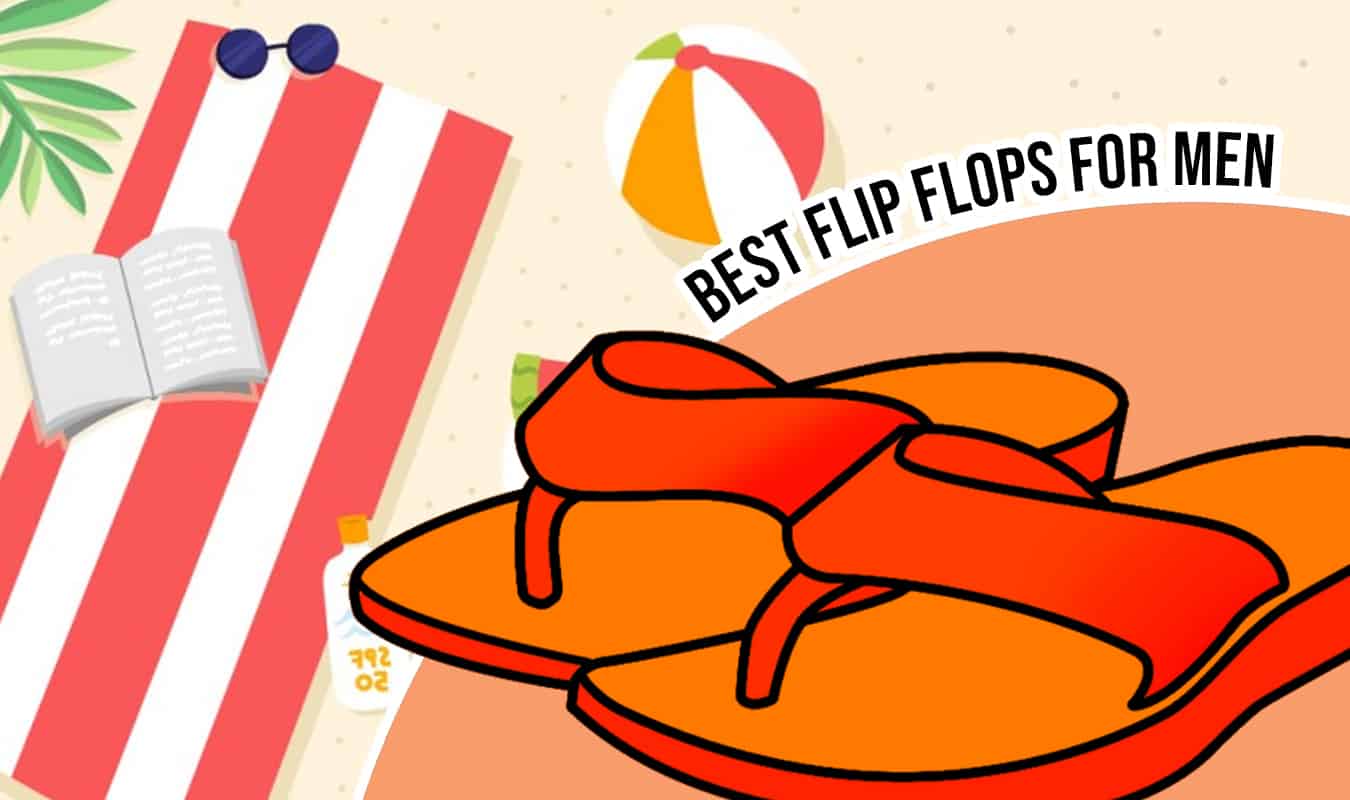 Things to Consider When Buying Men's Flip Flops
When you're looking for the best flip flops sandals for men, keep these factors in mind, and your search will be right on target.
1. How Comfortable Are They?
---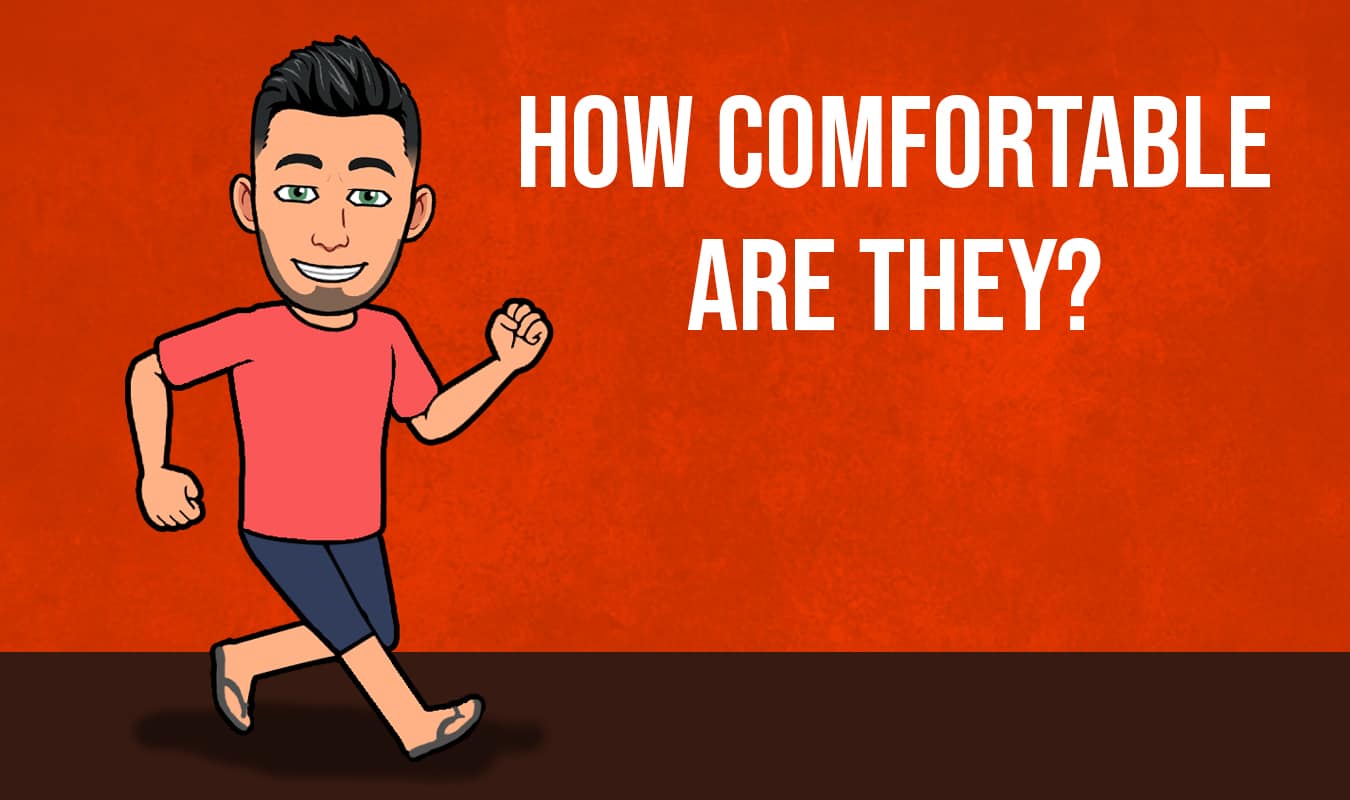 First and foremost, the most critical factor when it comes to choosing a pair of flip-flops is how comfortable they are.
Not all flip-flops are made alike, and some cheaper sandals are barely more than a soft rubber barrier between your feet and the ground.
On the flip side, other high quality flip-flops can be downright heavenly to wear and can cushion your feet no matter how long you wear them.
Some guys prefer their flip-flops to other shoes entirely, even when they're not at the beach or beside the pool!
But if you don't pick a pair of flip-flops that are known to be comfortable, you could end up with blisters or with rashes all across your feet.
One of the biggest pieces to flip-flops comfort is the Y-shaped structure that the shoes are famous for.
It's also called the "thong"; in fact, these aspects are so ubiquitous that flip-flops are sometimes called thongs as a slang term.
While thongs do a great job of keeping your sandals on your feet even as you move across uneven terrain, they can quickly dig into the skin between your toes and cause you discomfort.
Pricier or better-constructed flip-flops will have more comfortable thongs or be more comfortable in general, whether it's because of their material or special padding.
In fact, some high end flip-flops have thongs that stand no chance of riding up uncomfortably between your toes.
We would recommend flip-flops with high comfort if you plan to wear the sandals for hours on end while venturing outdoors.
You can get away with less comfortable flip-flops if you're just going to wear them from your car to the beachfront.
2. Material
---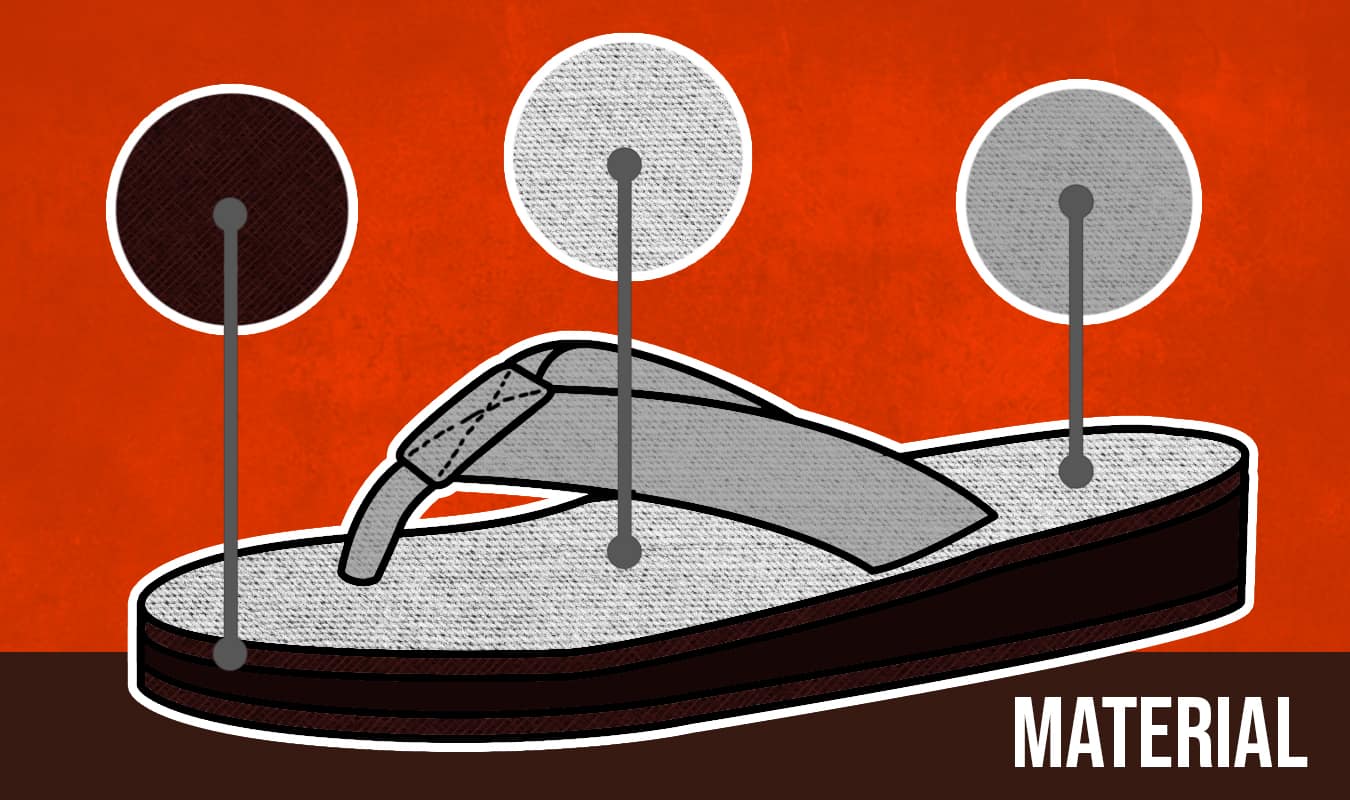 The material your sandals are made of will heavily impact their overall comfort and durability.
Like other shoes, material type easily separates mediocre footwear from phenomenal choices.
While cheaper materials can save you money, you might be disappointed with how uncomfortable the flip-flops are and how irritating they make your feet.
For this reason, we'd recommend going with a pricier material if you can afford it.
It'll be worth it, in the long run, to pick up a well-crafted sandals instead of burning through a pair of cheap flip-flops and having to replace them sooner rather than later.
When considering the material of a flip-flop, try to determine which parts of it are created from that material.
For instance, many flip-flops are made of multiple types of materials.
The foam will be made of a single material, while the padding or cushioning might be made from something entirely different.
So, don't be tricked into buying genuine "leather" sandals if only the thong is made with that material.
This is arguably the most common material for flip flops, as it's super cheap and wears down quickly.
Eventually, the PU becomes flat enough that any sandals made with the material won't provide much cushioning.
As a result, sandals made from this material are great in a pinch but indeed can't be relied upon for long.
There are tons of plastic foam flip-flops on the market.
These are excellent for budget choices or for guys who only ever wear their flip-flops for short bursts and who don't care about comfort.
There are also flip-flops for men of all kinds of colors made of plastic, so they might be ideal if you need a pair to match a specific outfit you have in mind.
Overall, though, plastic thongs are easily surpassed by most other sandals of different materials.
Lots of flip-flops are made with synthetic rubber or fabric.
These are usually affordable and can actually be quite comfortable compared to flip-flops constructed from soft plastic.
Synthetic sandals are great for long-distance walking or for trekking across the beach, but they aren't quite as durable as a few other materials.
Still, we'd recommend them for guys who want to pick up a pair of sandals without breaking the bank.
Lots of sandals have leather thongs, which promotes durability and usually are too uncomfortable if your feet don't sweat.
Leather supports your feet quite well by offering decent cushioning or sometimes a PU outsole to lighten the load of each step.
But leather flip flops will look terrible if you don't clean them periodically.
You'll need to give your sandals some extra attention and take care of the leather if you want them to look great for a long time to come.
Some higher-quality sandals will be made of vinyl, which is super durable compared to most other sandal materials.
Vinyl flip flops also offer fantastic support for your feet and usually last quite a long time, even with extensive wear and tear.
They're a great pick if you have some extra cash to spare and want to ensure that your next pair of flip flops last for a long time to come.
Lots of sandals feature cloth thongs or soles.
This material promotes comfort and durability, depending on the weaving method used.
There are also usually affordable.
Plenty of sandals are made from rubber, especially their soles.
Rubber soles can actually be a great choice if you're concerned with comfort above all other aspects of your flip-flops.
That's because rubber absorbs impact quite well and can mold your sandals to your feet quickly to reduce user comfort.
It'll even prevent you from obtaining blisters very often.
But be sure to check out whether the rubber used is soft or "padded" or if it'll be too hard for your needs.
User reviews (and this guide) are a great way to determine whether a pair of sandals feature excellent materials or sub-par stuff.
3. Durability
---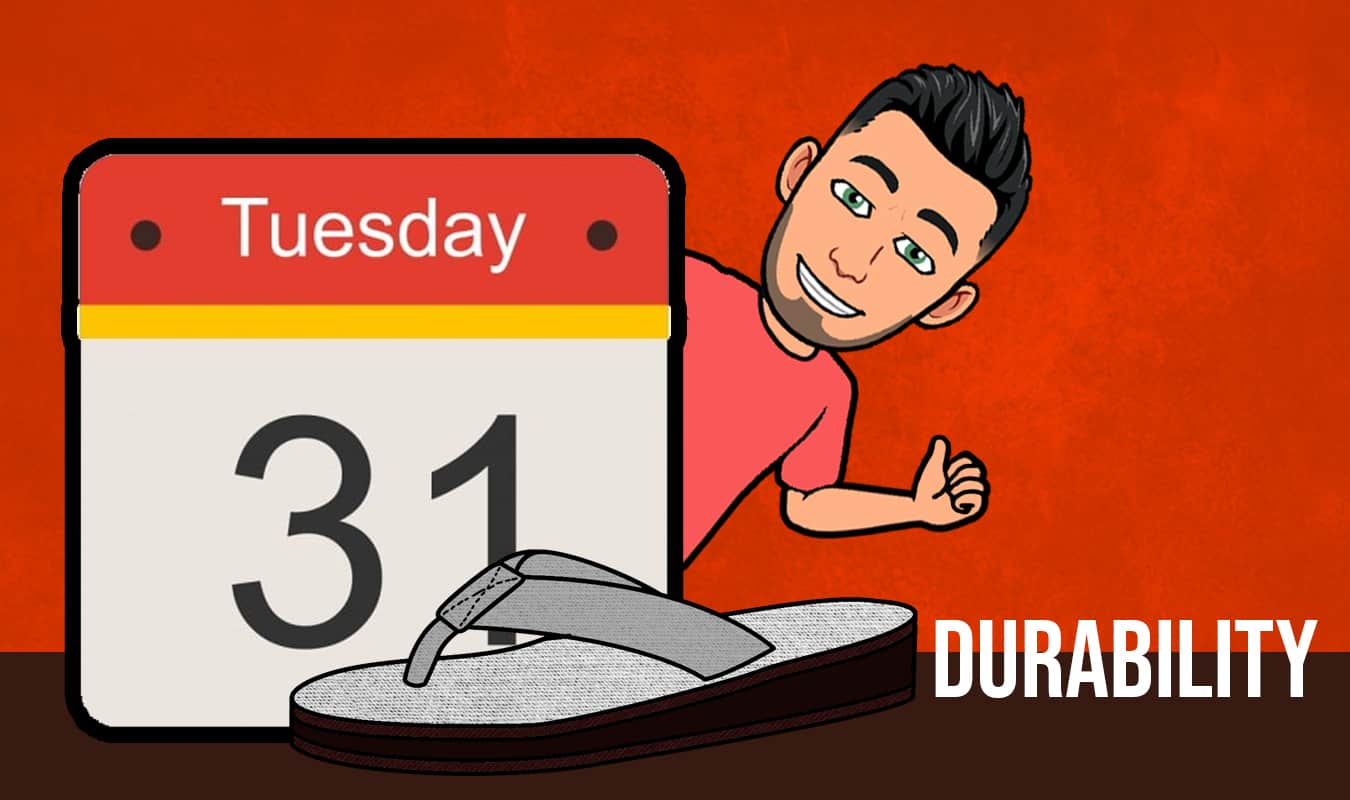 The durability of a pair of sandals matters a lot when you're considering the total cost for the shoes.
After all, a cheap pair of sandals may cost you little initially, but once they wear out you have to pick up a new pair, you'll end up spending more than if you had purchased a slightly more expensive set at first.
This isn't to say that you automatically need to pick up the toughest sandals you can find.
The best flip-flops for you will depend on how often you plan to use them.
Keep in mind that no sandals are designed for mountain hiking.
Instead, durable flip-flops or sandals should be able to withstand frequent walking back and forth or outdoor strolling without falling apart.
Adequately robust flip-flops that can weather dirt and variable environments are great.
This may mean investing in a pair with water resistance or made with excellent materials.
But picking up a pair of durable sandals can be helpful since you'll likely be more comfortable anyway; cheaper sandals rarely have good padding or a comfortable thong.
Leather is a fantastic material when it comes to durability.
Even if it doesn't look great after a few months, it should last for a long time to come.
4. Color
---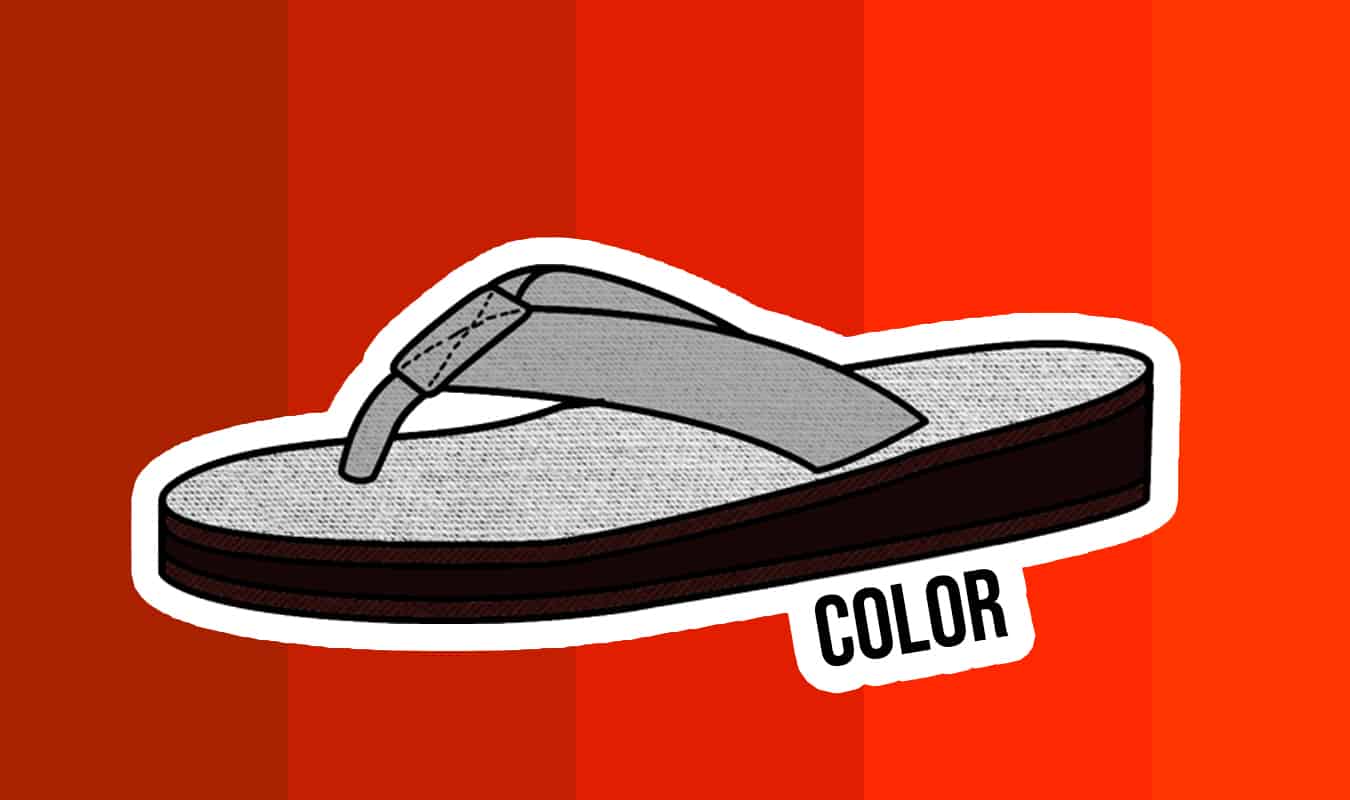 Naturally, you should also think about the color of a given pair of flip-flops so you can match them with your swim trunks or any other outdoor outfit.
Some men will care more about this aspect than others, but you should at least give the color of your flip-flops some thought.
It doesn't matter as much if you'll primarily wear your flip-flops at the beach or with colorful swim trunks.
But they do matter if you plan to take your sandals hiking or on a natural trail, where they'll be combined with other clothes.
The beautiful part about color is that there's no right or wrong answer when it comes to the ideal choice for you.
It's an entirely free aspect that you can consider or not care about as you desire!
5. Arch Support
---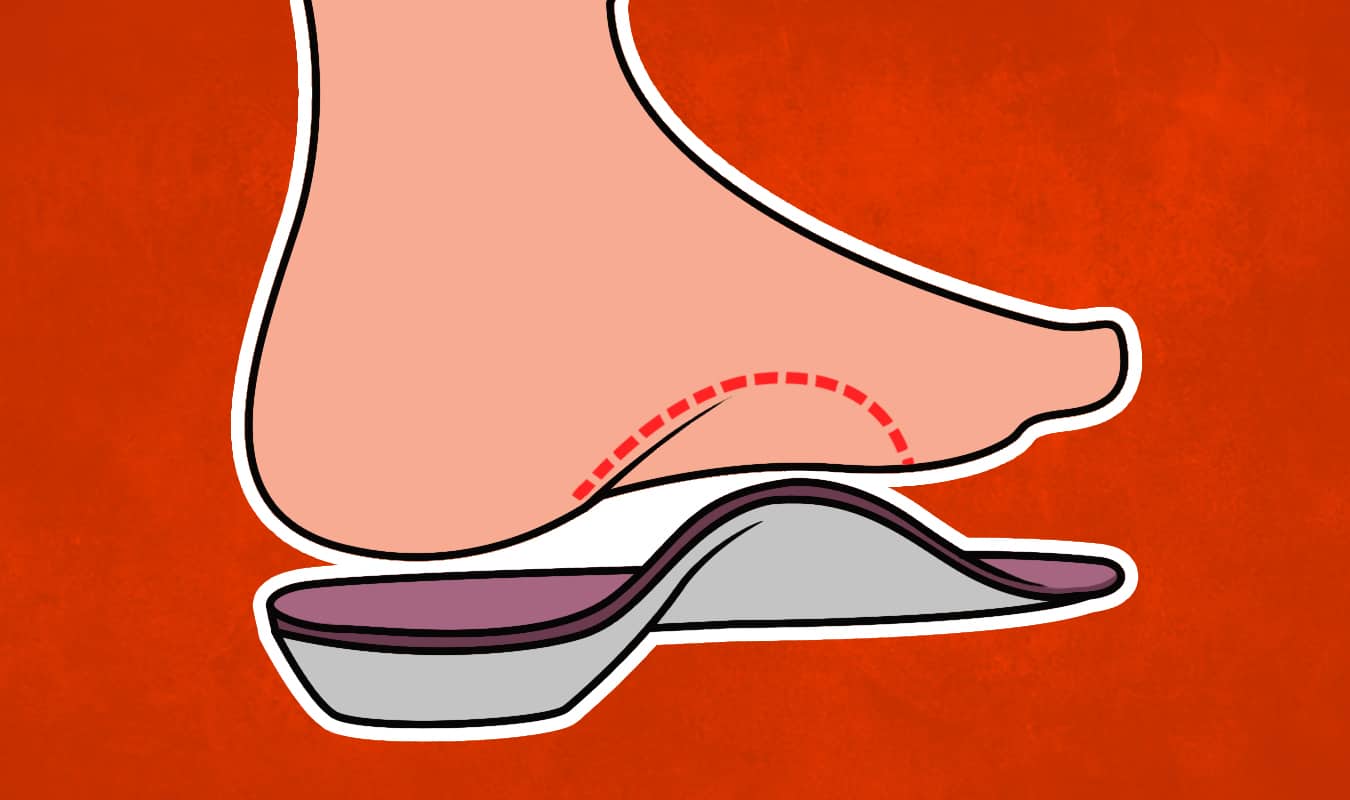 It's no secret that lots of men have poor arches and might experience incredible discomfort if they pick up a pair of flip-flops that don't have arch support to some degree.
We don't recommend that you look for a pair of thongs that can fit actual arch inserts, of course.
Likewise, you shouldn't ever expect your flip-flops to be as comfortable as your properly gelled, insert-fitted running shoes.
But that doesn't mean you have to stroll around the beach in discomfort.
Instead, try to find mens flip flops with arch support or special cushioning on the heel or sole of the shoes.
These minor measures will improve the overall comfort of the flip-flops and let you wear them for longer before you have to return to your regular shoes.
This is super important for guys that have really bad arches, which cause them lots of pain daily.
While it might seem that flip-flops simply aren't meant for your feet, we're confident that there's a pair of sandals out there with enough parts support to let you bare your toes to the world.
It just takes some looking.
6. Water Resistance
---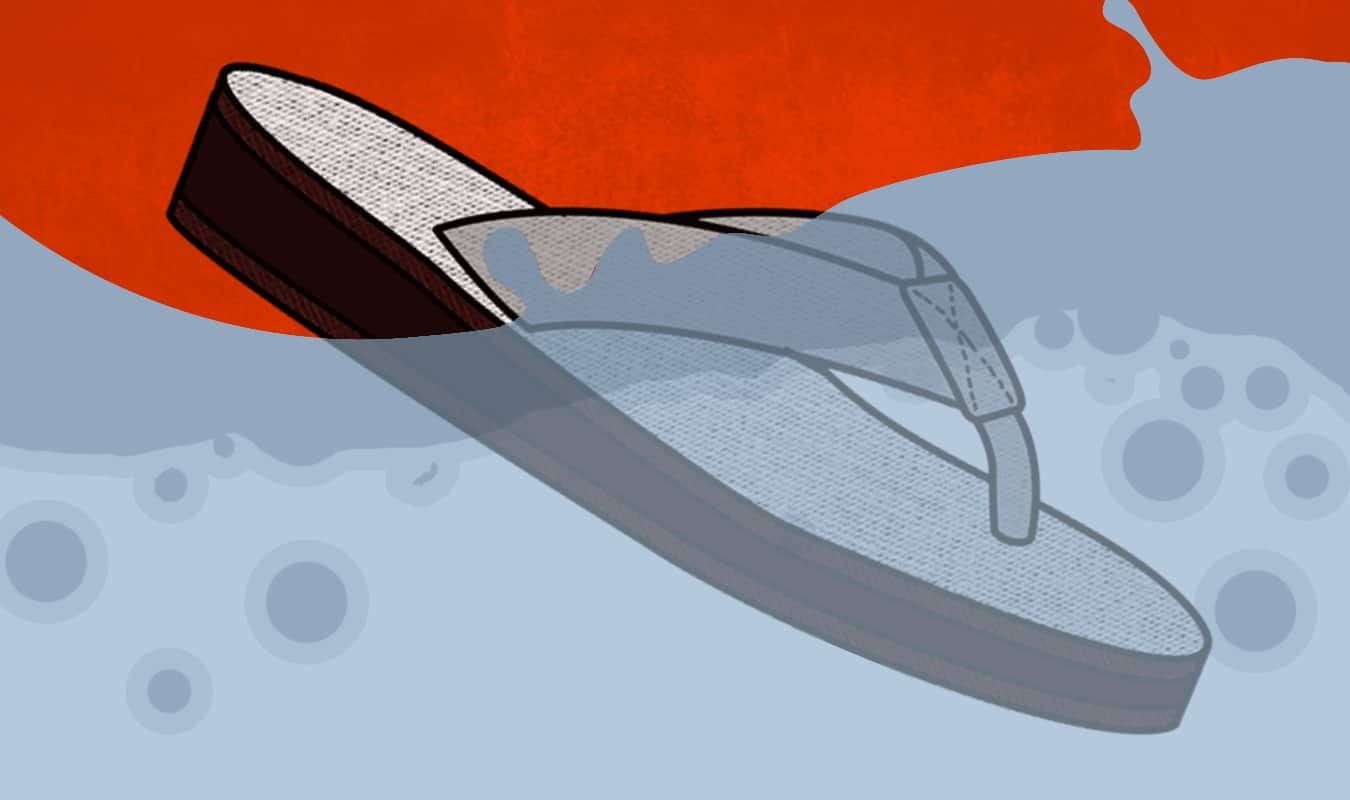 Finally, many of the best flip-flops for men will also be water-resistant.
The reasons for this are obvious: most men wear flip-flops at the beach or by the poolside where there's a high chance of them getting wet.
While not all flip-flops are designed for use on the beach, we highly recommend investing in a pair of water-resistant thongs if you can afford it.
Flip-flops that can't correctly resist water damage will end up rotting from within or breaking much more quickly than pairs that can.
The best water-resistant materials include rubber and plastic, although the latter of these two may not be very durable or otherwise comfortable.
Another advantage that water-resistant flip-flops have over their vulnerable counterparts is that you can safely leave them anywhere and not worry about splash damage or kids.
If your flip-flops fall into a pool by accident, no sweat!
Just retrieve them and let them dry in the sun, and they'll be good to go.
The good news is that most flip-flops are water-resistant to some degree by design.
Manufacturers know where the sandals will be used most frequently and take this into account when they come up with a new pair.
Still, keep an eye out just in case you are about to purchase a pair of flip-flops that don't work well in water.
You might be in for a big surprise the next time you take them off at the pool!
---
Best Flip Flops for Men of 2022 Reviewed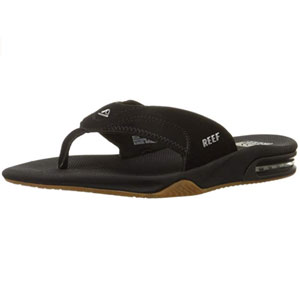 These Reef sandals are made with excellent materials and deliver comfort unmatched by most other thongs.
Specs
Who Is It Best For?
They are a perfect pick for guys who like to stroll or lounge in comfort while wiggling their toes in the free air.
Key Features
These high-quality sandals are a perfect choice for guys who want the best of the best.
Each pair of flip-flops is handcrafted and features a comfortable bed with anatomical arch support.
That makes them one of the best traversal sandals for taking long walks on the beach or for going on minor hikes.
They also feature a durable outsole that'll provide lots of traction control when you're on slippery or sandy surfaces.
Add to that a water-friendly synthetic upper strap, and you've got a long-lasting pair of sandals that'll be an ideal choice for outdoorsy guys who love to expose their feet to the air.
The flip-flops feature shock-absorbing compression-molded EVA foam, plus a 360° heel airbag.
This rockets the user comfort up to 100 in our eyes, as our testers were really impressed with how easy it was to spend lots of time in these most comfortable flip-flops for men without feeling uncomfortable.
Amusingly, there's an included bottle opener at the sole of each sandal.
You can be the star of a beach party just by bringing these flip-flops along and always offering a friendly bottle opening to whoever needs it.
These are some of the most comfortable flip flops we could find.
They're also quite durable and come in several sizes or colors, ranging from regular black to neon green.
They are quite expensive, but we feel that the asking price is well worth the high quality that the flip-flops represent.
There's no doubt in our minds that the sandals are an excellent choice if you'd prefer to pick up a pair of flip-flops that'll last you for a long time rather than having to buy a new pair each summer.
Check out the hundreds of customer reviews here on Amazon.
---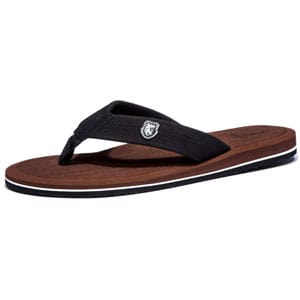 These cheap flip flops are breathable, colorful, and among the most comfortable on the market.
Specs
Who Is It Best For?
These are an excellent pick for men who prioritize comfort over durability, especially since they're cheap enough to replace easily.
Key Features
These are fabric sandals that feature EVA cushion footpads with lots of arch supports.
We'd easily recommend these for men who have extremely high arches or who like to wear flip-flops around the house or in places where they won't be worn down too often.
That's because the sandals are made from rubber and fabric, neither of which are particularly durable compared to other flip-flop types.
But these sandals are among the most comfortable we tested, especially when it comes to general wearing around the neighborhood.
They're lightweight and extraordinarily flexible, and you can choose from several sizes to ensure you get the correct fit.
The rubber soles also feature a non-slip surface.
While we still wouldn't recommend that you wear any flip-flops around slippery surfaces, these are a much better choice than cheap PU sandals that'll send you flying.
The strap in the middle of each flip-flop is also super comfortable, making this an excellent choice for guys who frequently have toe irritation when they wear sandals.
The flip-flops come in lots of different colors and are very affordable, even compared to cheaper plastic or PU sandals.
As a result, these are both a great budget option and an ideal choice for men with extremely high arches.
Check out the hundreds of customer reviews here on Amazon.
---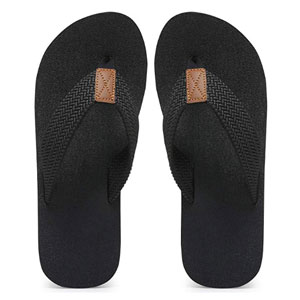 These flip flops are versatile and straddle the line between durability and comfort.
Specs
Who Is It Best For?
They're great for men that use sandals frequently in some months and hardly rough them in others.
Key Features
This is an excellent pair of affordable sandals made from synthetic materials and featuring a rubber sole.
The rubber sole has been optimized to prevent the sandals from slipping easily, although the soles are very flat, and there's no arch support.
As a result, these are sandals made for men that don't need lots of arch cushioning or who have regular feet in most respects.
The sandals are fairly durable thanks to their material and can absorb water without retaining it for too long.
They're a great pair of sandals for poolside use, thanks to the rubber soles and their ability to resist water damage to some degree.
To make things even better, this set of sandals is super affordable for all men and features a 100% moneyback guarantee for the first 90 days after purchase.
It's a great budget option that comes in a standard assortment of masculine colors, making these a good pick for guys who don't care about high-quality sandals but don't want super cheap flip-flops that'll fall apart after a week, too.
Check out the hundreds of customer reviews here on Amazon.
---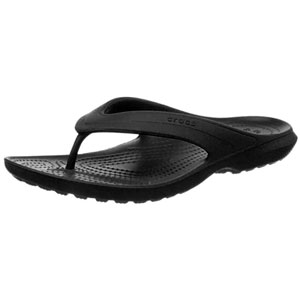 These flip flops are sturdy, water-resistant, and made for men who take their footwear on adventures.
Specs
Who Is It Best For?
These are perfect for guys who want hardy flip flops that they can depend on for months or years.
Key Features
When it comes to water-resistant and high durability flip-flops, you can't go wrong with crocs.
These flip-flops are made from durable synthetic materials and feature specially designed soles that have lots of traction.
They're one of the few pairs of sandals we would recommend for taking on off-road excursions.
The traction is so great that you don't need to worry too much about slipping on wet or sandy surfaces very quickly.
The crocs do feature a slight amount of arch support because of the incline of the heel, but they don't feature much extra cushioning or padding.
So, we wouldn't recommend them for men who need lots of support.
Indeed, these flip-flops aren't the most comfortable we tested, but they can definitely withstand significant wear and tear before showing signs of distress.
The strap is relatively durable but take care since it might rub the skin between your toes a little too much.
These shoes are fantastic for use around water, as well, since the synthetic material basically repels liquid and prevents it from seeping into the inner parts of the flip-flop.
You can pick up these sandals in a decent selection of sizes and colors and get them for an affordable asking price.
They're an excellent choice for men who are more concerned about the long-term durability of their sandals rather than comfort.
Check out the hundreds of customer reviews here on Amazon.
---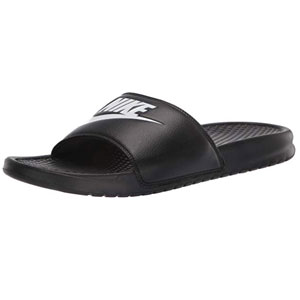 These sandals are athletic, robust, and still decently comfortable overall.
Specs
Who Is It Best For?
They're our top choice for guys that don't like traditional thong straps that go between the toes.
Key Features
These excellent synthetic flip-flops are among the most versatile pairs of shoes we found in our search for the best.
They're somewhat water-resistant to start, so you can use them around pools or beaches without worrying about their long-term durability.
They also feature a reasonably comfortable strap that goes across your foot rather than between your toes.
This can make them an excellent choice for men that have toes that are squished together or too sensitive to traditional sandal thongs.
While they have padded soles for your feet, these flip-flops don't incorporate any arch support; you can tell from the shape of the shoes that they are a flat set of footwear.
They do have a protective foam to minimize the impact of each step and a series of flex grooves that help the sandal to move with your foot.
This makes them difficult to accidentally kick off even without a traditional thong strap between your toes.
These men's flip flops also feature a sporty style in several colors to choose from, so there's definitely a pair for any man's aesthetic.
All in all, they're a great middle-of-the-road option for men who don't need to focus on any one aspect in particular.
Check out the hundreds of customer reviews here on Amazon.
---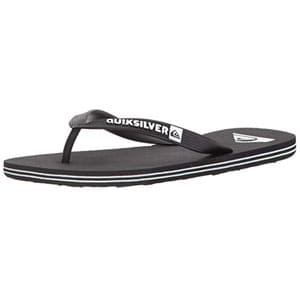 The sandals here are affordable and provide better support than dollar-store flip flops that men on a budget might otherwise buy.
Specs
Who Is It Best For?
Pick these up instead of plastic flip flops at the grocery, and you'll get more bang for the few bucks they cost.
Key Features
For men on a budget, there are few sandal choices better than this set.
While you can get cheap PU flip flops from just about anywhere, this set of sandals uses the same affordable material.
But they're built to last much more than those you can buy at the grocery store.
Their durability is low relative to many of the other flip-flops on our list, but it still miles ahead of any dollar store shoes.
They're not the most comfortable flip flops we could find, due to their flat design and lack of arch support, but they do feature a decent synthetic sole that improves their padding and how long they'll last before deflating.
The strap is similarly cheap but reasonably comfortable, although the central connective part of the thong is relatively thin.
We wouldn't be surprised if it pops out of the main sandal base at some point during its use, so be prepared to do repairs of your own or replace them soon.
Given the low asking price, replacing the sandals will be much of an issue, especially if you don't use flip-flops very often.
In fact, that's exactly what these flip-flops are designed for: guys who rarely wear sandals, and you only use them to get from the car to their beach towel.
They aren't particularly durable and can't resist water very well, but they do their job well and for a great price.
In our eyes, that makes them a winning choice for some among best flip flops brands.
Check out the hundreds of customer reviews here on Amazon.
---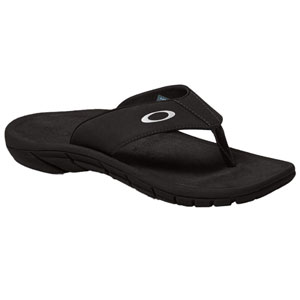 These rubber sandals offer a decent mix of comfort, support, and durability, making them ideal for most men.
Specs
Who Is It Best For?
Guys who aren't too concerned with any one particular aspect of their sandals should consider these Oakley flip flops.
Key Features
These affordable flip-flops are a great versatile option for guys who don't need flip-flops with a lot of arch support and who might wear sandals at different frequencies throughout the year.
They're made from a rubber and synthetic material, with durable rubber soles that have lots of traction and which are particularly robust compared to the rest of the shoes.
In fact, we were a bit surprised at the quality of the bottoms of the sandals compared to the foam padding where your foot makes contact.
The footbeds make use of EVA super plush material to improve your comfort and offer some minimal arch support without having actually to change the incline angle of the heel.
They also feature a comfortable synthetic strap that isn't likely to irritate the skin between your toes or break too easily.
You can get these flip-flops in several different colors or sizes, although the main color will always be black: the variation comes with the thong design and shade.
The shoes are also quite affordable, although they are more expensive than the last flip flops we displayed.
All in all, we think these make the cut due to their excellent design and balance between quality and budget.
They're not necessarily the ideal sandals for men that wear flip-flops every day, but they're good enough that you could conceivably wear them every week and enjoy them for a long time to come before you'd need to replace them.
Check out the hundreds of customer reviews here on Amazon.
---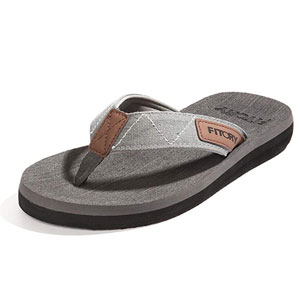 These sturdy flip flop slippers are stylish and feature excellent material blending.
Specs
Who Is It Best For?
These sandals are an excellent choice for men who want to look great and feel comfortable at the same time.
Key Features
These flip-flops are a different set of shoes that incorporate lots of different materials and design choices to make them a versatile pick for multiple kinds of men.
They're made from both rubber and fabric, which make up their bottoms and tops, respectively.
But the straps of the sandals are made of durable canvas that both last a long time and is much more comfortable to your toes than most other materials.
In fact, these flip-flops are surprisingly comfortable, no doubt thanks to the included padding beneath the fabric of the footbed.
There's also a slight raise to the heel of these flip-flops that don't quite count as true arch support but nonetheless can make them more comfortable to wear for long periods.
They're also slightly water-resistant, although saltwater will degrade their quality quite quickly, so we'd recommend that you use these more around freshwater pools and lakes than the ocean.
These sandals also have skid-resistant bottoms, so they're great for wearing around slippery environments provided you don't tax their traction abilities too much.
Best of all, these are some of the most affordable flip-flops we found in our search for the best flip flops for men.
Even with all their benefits, men on a budget can appreciate all the good that can bring to the table.
Pick your favorite color (there are multiple available) and see for yourself!
Check out the hundreds of customer reviews here on Amazon.
---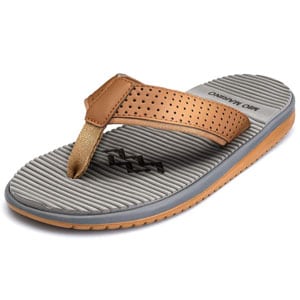 These men's leather sandals are classy, elegant, and provide fantastic durability while being super comfortable.
Specs
Who Is It Best For?
These are the flip flops for the discerning man who doesn't want to compromise any aspect, provided he doesn't need arch support.
Key Features
These are among the most comfortable flip-flops you can find on the market.
They feature a memory foam top sole, which means that they'll be even more comfortable the more frequently you use them.
This memory foam is also slightly water-resistant, which improves the sandals' durability and improves their value for money.
The foam is further shock-absorbent quite breathable, so these men's flip-flops will be cool and comfortable even if you wear them for hours on end.
They feature a faux leather strap, to make things even better.
Not only does this look classy, but it feels comfortable to your toes and can withstand significant wear and tear on its own.
The rubber roles are slip-resistant since they're designed with special catching circles that'll drag on the ground and prevent you from going too fast.
Furthermore, these sturdy flip-flops are an excellent choice for environmentally conscious men, as they are made with vegan materials.
Add to all of those positive aspects excellent asking price and you've got a top tier set of flip-flops that we'd recommend for any man what makes durability and comfort effectively.
They don't quite include arch support, but that's a very minor flaw when looking at all of their positives.
Check out the hundreds of customer reviews here on Amazon.
---
Frequently Asked Questions About Men's Flip Flops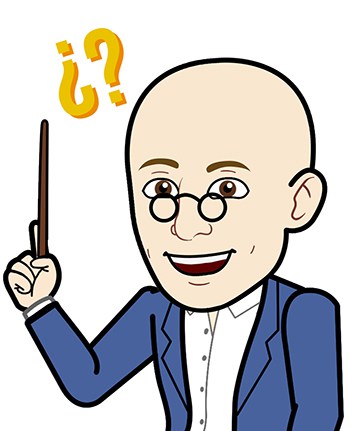 You've seen our picks for the top sandals for men, but you might have a few lingering questions about how to properly care for them or use them.
Let's answer those now.
1. How To Clean Your Flip Flops
The ideal cleaning method for your flip-flops heavily depends on the materials incorporated into their design.
Generally speaking, you can usually throw your flip-flops, a standard washing machine sent to the gentlest cycle and be all right.
You wouldn't want to do this for any flip-flops that aren't water-resistant, of course.
But since most thongs already meet this requirement, it's a rare pair of sandals that'll meet their ultimate end in the bowels of your washing machine.
However, washing your flip-flops in a machine without placing them into a bag can result in random cloth or leather threads tangling in the machine, making a huge mess.
A standard laundry bag is a perfect container for their cycle.
When it comes time to dry, just set them outside and let the air do the work.
Alternatively, you can use dish soap and water if you'd prefer to clean your flip-flops by hand.
It's very similar to washing the dishes, although you'll want to clean your sink thoroughly after scrubbing your flip-flops clean to make sure that no bacteria or dirt from the sandals remains to get onto your dishes or counters.
We'd recommend using a sponge when scrubbing your flip-flops, since the abrasive and it will be perfect for digging into any grooves or edges of the sandals.
You can give your shoes a thorough cleaning in this manner, and it doesn't take too long.
Plus, it's a lot faster than waiting for a washing machine's gentle cycle to finish.
Alternatively, you can do this exact same process in a bathtub if you'd like more space to bring your elbow grease to bear.
This also removes the risk of cross-contamination from your shoes to the rest of your kitchen.
As with before, drying your flip flops is a simple as letting the air do the work.
Place them on a towel to absorb any remaining liquid that seeps out, as well.
2. Should Flip Flops Be Loose or Tight?
The chief concern for flip-flops is whether they're comfortable.
But comfort means something different to anyone you ask.
Some men for further flip-flops to truly and loudly "flop" with each step they take.
Other guys may be more comfortable with flip-flops that stick to the soles of their feet.
There's no wrong answer here.
We'd recommend looking at the size of the flip-flops you're browsing through and comparing them to your regular shoe size.
Grab a pair slightly larger than your sneakers if you'd like a pair of loose sandals that really let your feet air out.
Alternatively, pick flip-flops that are about the same size as your sneakers shoes if you want them to be snugger than not.
Just don't buy sandals that are too tight, as these will likely be really irritating to your toes and cause blisters.
3. Can You Fix Broken Flip Flops?
It might be possible for you to mend some flip flops that become damaged, especially if it's the most common injury: a broken thong.
Most flip flops that are used all the time eventually have their thong (the weakest part of the shoe) either detach from the sole or wear down into a thin band.
While the latter injury is harder to fix, the former can sometimes be remedied by just popping the flip flop thong back into place.
You can then flip the sandal over and use tape or another adhesive to keep the thong end in place on the bottom of the shoe.
One DIY hack we'd recommend is to find a washer that's sized right for the thong's diameter.
This only really works with some flip flops, but it's better than buying a new pair of sandals.
Simply slide the washer over the thong end and place it between the broader base of the tip and the bottom of your flip flop sole.
If done correctly, the thong should be even more secure than before.
It works wonders for flip flops made from cheaper materials.
4. Are Flip Flops Safe for Slippery Environments?
Despite their primary use around wet locations, flip flops are actually terrible choices for footwear when it comes to slippery floors.
While there are a few sandal types that come with some traction on their soles, most flip flops are downright dangerous to wear if you have to take off running on slippery concrete or mud.
For this reason, we'd recommend only wearing flip flops if you plan to walk around your beach or poolside.
Running is probably slightly safer if you take the sandals off and rely on your bare feet.
This is extra true if your flip flops are a cheap plastic or rubber kind.
These sandals have mostly smooth bottoms that'll send you flying at the slightest slip across a water-soaked poolside.
Avoid the concussions, and don't run with your flip flops.
Trust us on this one.
5. Don't Forget Sun Lotion!
One critical thing that lots of guys who regularly wear flip flops forget is that their feet are exposed to the sun.
While it can feel great to let your feet breathe and get some sun, those same warming rays have the same potential to give your feet skin cancer or burn them.
Nothing ruins a lovely day at the beach like red feet that ache when you slip them into your sandals again.
If you're planning to keep your flip flops on all day, don't forget to apply a decent sunscreen all across their surface.
You'll also likely need to reapply the sunscreen periodically, and even more frequently than other areas since your feet are more likely to get sand and water sprayed over them.
We've done a guide to the best sunscreen for men if you'd like a few pointers or choice picks.
6. Where Are the Best Times to Wear Flip Flops?
Flip flops are stylish in certain parts of the U.S., but there are a time and a place for these casual slippers.
While lots of guys take their flip flops into a car, we wouldn't recommend it.
It's simply too easy for the sandals to catch on the pedals of your vehicle and prevent you from stepping on the gas or braking when needed.
Considering that driving involves you directing a moving vehicle that weighs thousands of pounds, don't push your luck by wearing loose flip flops in the driver's seat.
Even though it might appeal to your lazy side, we'd also caution against using your flip flops for yard work.
Not only does this force your feet to get super dirty, but it exposes them to dropped tools or equipment.
We've all stubbed a toe or crushed one from a fallen wrench before.
Why would you intentionally risk it happening again?
Overall, flip flops or sandals are really only meant to be worn at the beach or pool or on certain trails.
Some trails aren't a good fit for sandals if there's a chance you'll run into bite-happy critters or insects that like to nibble on feet.
Considering that most trails worth hiking has their fair share of environmental hazards, it's better to be safe than sorry and go with a top pair of hiking boots.