Whether it'll be a wedding or an international business conference, there will come a time in your life when you need your finest clothing to show up at your destination looking as pristine as it did when it was hanging in your closet.
The trouble is that most suitcases don't do a great job of protecting suits or good trousers from wrinkling or crunching up while in transit.
The problem of nice clothes being ruined during travel is one that has troubled men and women for a long time.
That's why garment bags were invented.
You've probably seen travel garment bags in the real world even if you didn't know that's what they were called.
The most basic version of these suit bags (as many call them) is the single suit sheathe that holds one business suit and is usually slung over the shoulder of some earpiece-wearing business guy racing to the airport.
But there are lots of different garment bags available, especially in the online marketplace.
This article will focus on the very best men's garment bags you can find anywhere.
It would do you well to pick up a garment bag, so the next time you have a black-tie engagement, your best clothes will truly look as excellent as they should.
Don't want to spend lots of time researching different garment bags just to find something that'll suit your needs?
Not a problem!
We've already found the best garment bags for men of all types and needs, so head down, and you'll find a curated selection of top choices our testers personally appreciated.
We'll also help you consider the main things to remember as you select a garment bag, plus give you some tips to help you pack everything nicely when it's time to fly.
Let's begin!
QUICK OVERVIEW: Best Men's Garment Bags
Univivi Garment Bag for Travel and Storage

Has a window to let you check on your garments
Great structure to prevent crumpling

VIEW ON AMAZON →

ZEGUR Suit Carry-On Garment Bag for Travel and Business Trips

Lots of compartments for organization
Can be easily attached to a suitcase

VIEW ON AMAZON →

Uniquebella Carry-On Garment Bag

Very easy to carry by the handle
Durable and waterproof fabric

VIEW ON AMAZON →

AmazonBasics Premium Garment Bag

Plenty of room on interior and exterior
Has buckles for your suits

VIEW ON AMAZON →

TravelPro Crew Versapack Carry-On Rolling Garment Bag

Wheels are ball-bearing and high-performance
Includes foam roll to protect the suit from wrinkling

VIEW ON AMAZON →

WallyBags Extra Capacity Garment Bag with Pockets

Affordable for most
Extra-large interior pockets

VIEW ON AMAZON →

Samsonite Lineate Duet Wheeled Garment Bag

Has four wheels and customizable handle for easy transportation
Comes with buckles and hangers for suits

VIEW ON AMAZON →

Nubily Carry-On Garment Bag

Has suit sleeve to prevent wrinkling
Anti-theft pockets on the outside

VIEW ON AMAZON →
Use the table of contents below to jump to the sections most important to you.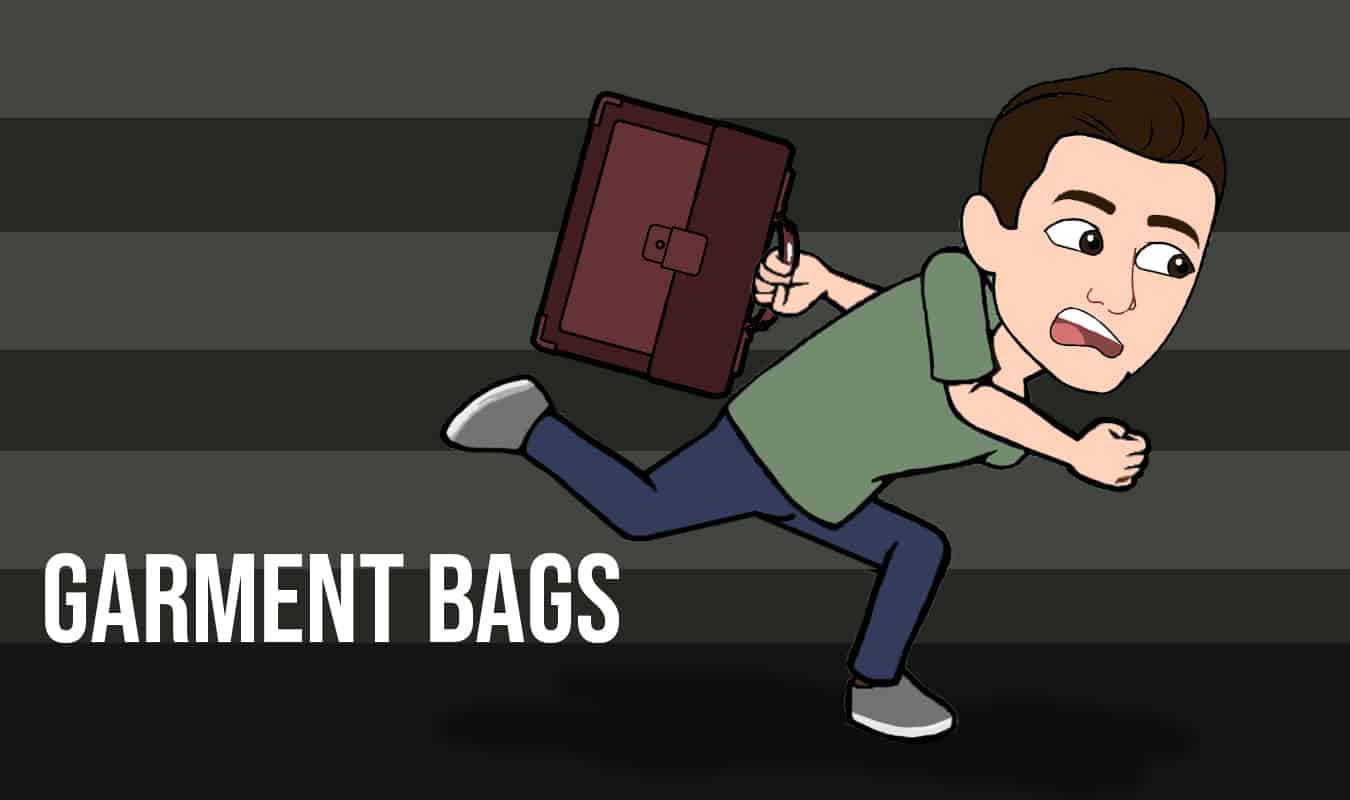 What Exactly Is A Garment Bag?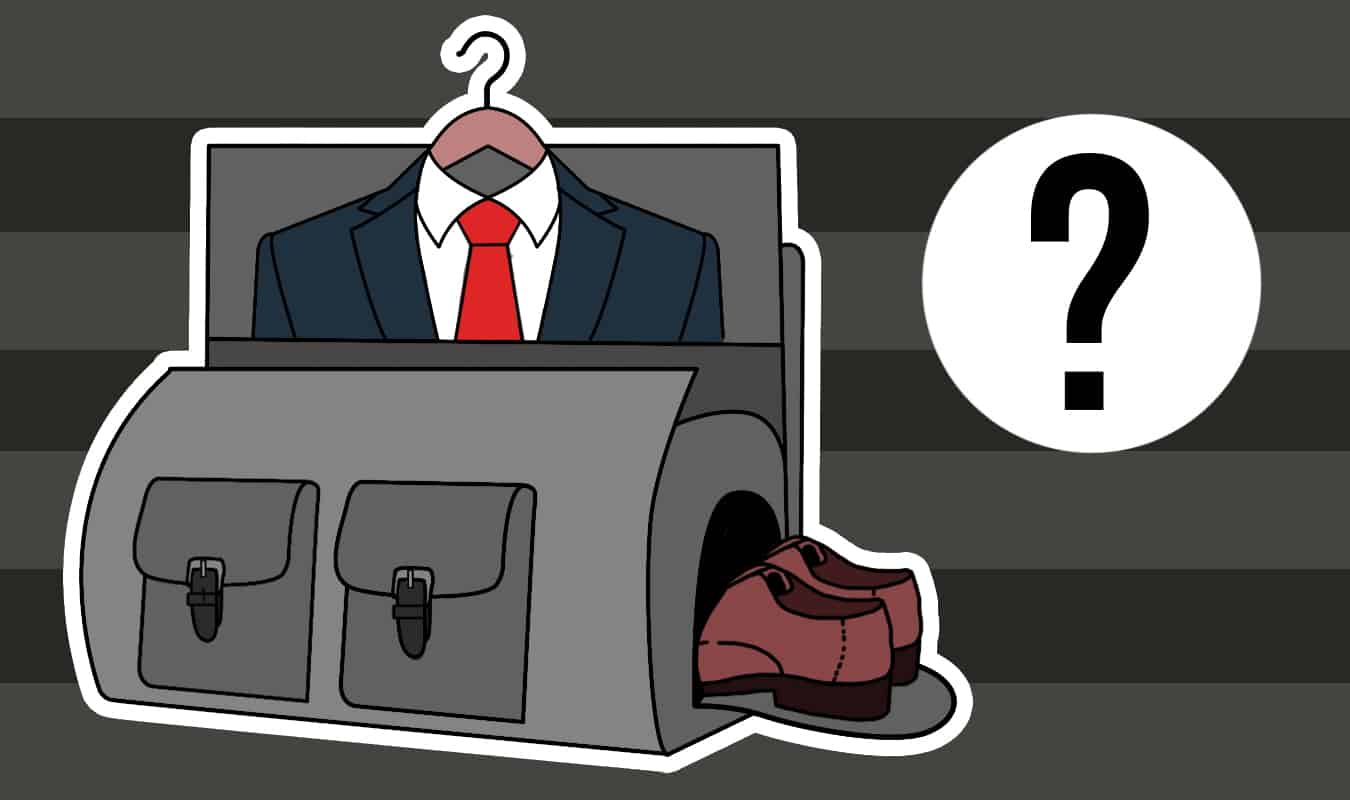 There are backpacks and bookbags and even suitcases, but what on earth is a garment bag, and why do you need one?
It's all a matter of design and purpose.
Backpacks are designed to carry your school supplies, camping gear, or hiking equipment from place to place while providing you ergonomic comfort much greater than if you carried that stuff by hand.
It's a lot easier to carry heavy things on your back, after all, then with your arms.
Duffel bags allow you to carry lots of clothing or survival supplies by spreading their contents out along a wider container.
Briefcases are for carrying legal documents, or important papers and suitcases are great for carrying your clothing, toiletries, and anything else you need while on vacation or a business trip.
So, a garment bag is a bag designed explicitly for carefully carrying garments in an organized fashion.
But these bags are further distinguished because they are usually meant to carry suits or other fine clothing that can possibly be ruined from being stuffed into another clothing bag like a suitcase or duffel bag (there are also garment duffel bags).
In fact, garment bags are so well-tailored to suits (pun intended) that men who are serious about looking their best, whether for work or a wedding, will want to own one to make sure that their best clothing doesn't have a wrinkle on it even after flying across the country.
Garment bags are carefully designed to give your finely tailored suits and similar clothing accessories enough space so that they aren't wrinkled or squeezed while in transit.
They're often small enough that you can carry them on airplanes or combine them with a suitcase set.
Other garment bags are designed to be carried on the shoulder, and they may have special hooks to help to transfer your suit from where it hangs in a closet into the case itself.
Many of the best men's garment bags will also have soft interior liners that go easy on your delicate apparel compared to the regular liners inside many suitcases or clothing bags.
So, put simply, garment bags are specialized cases designed to store and organize your nice clothing much more elegantly than regular bags.
---
Things to Consider When Buying A Garment Bag
Before you see the garment bags we chose as our favorites from hundreds, let's go over what our testers focused on in their search and what you should think about as you settle on the ideal garment bag for your needs.
1. Material
---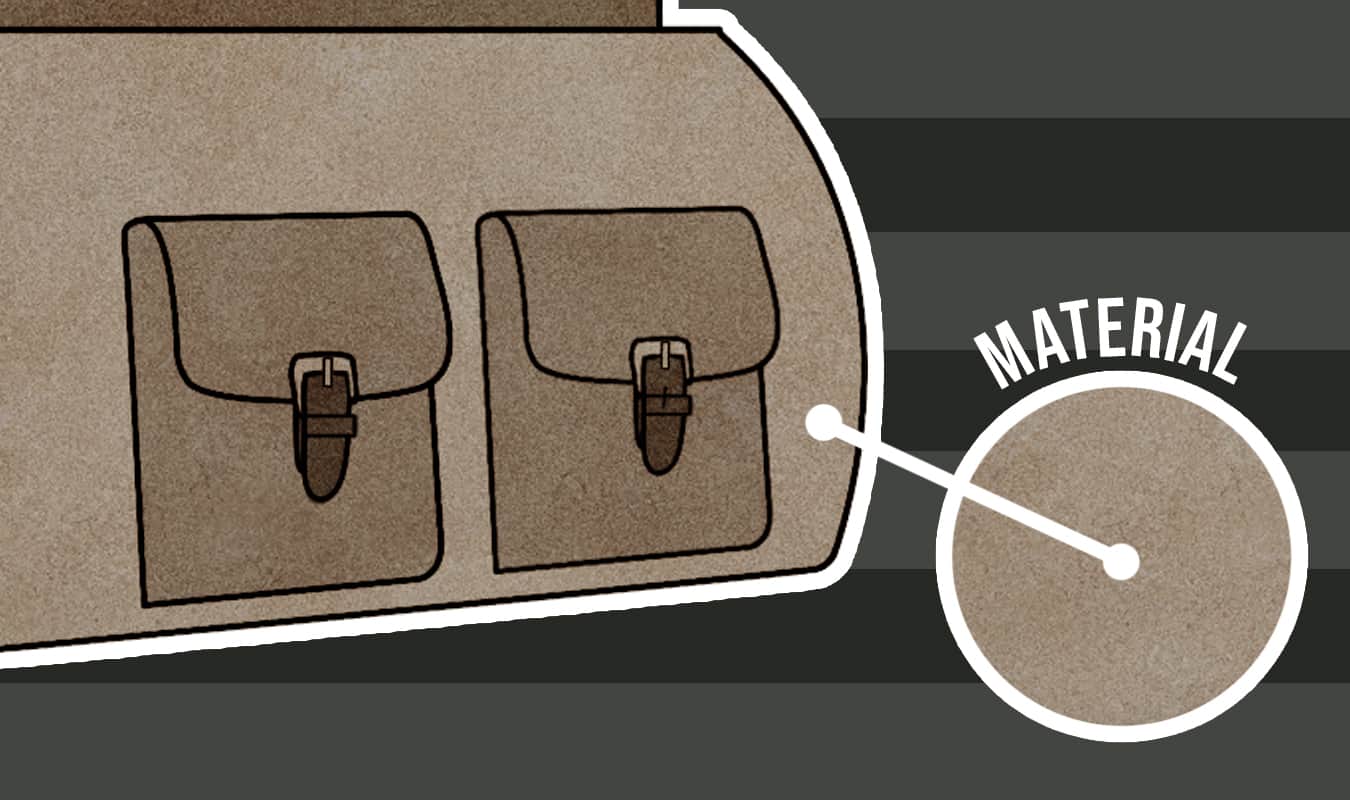 The material each bag is made from will have a significant impact on its aesthetic, how easy it is to carry, and how durable it is.
However, most garment bags aren't made from a wide variety of materials.
Instead, most of these bags are made from a few different material types that all provide great flexibility and durability without compromising either factor.
Nylon is one of the most common garment bag materials, usually because it's super durable compared to materials like canvas and is still lightweight enough that a garment bag made out of it won't weigh too much.
You can, however, find many garment bags made primarily of canvas; these are usually even lighter in weight and are softer to the touch.
Still, more garment bags are made of genuine leather.
These are great choices for men with a little extra cash to spend who want the best of the best.
Leather is both durable and water-resistant, so it's arguably the best material for a garment bag that you want to ensure protects your sensitive suits as well as possible.
Leather garment bags are as stylish and durable as they come.
All in all, garment bags need to be durable and stylish first and foremost, more than they need to be flexible or high capacity (although the latter factor does matter).
When selecting a garment bag for your next trip, try to consider whether the material that makes up the bag will serve your purposes in both of these areas.
2. Durability
---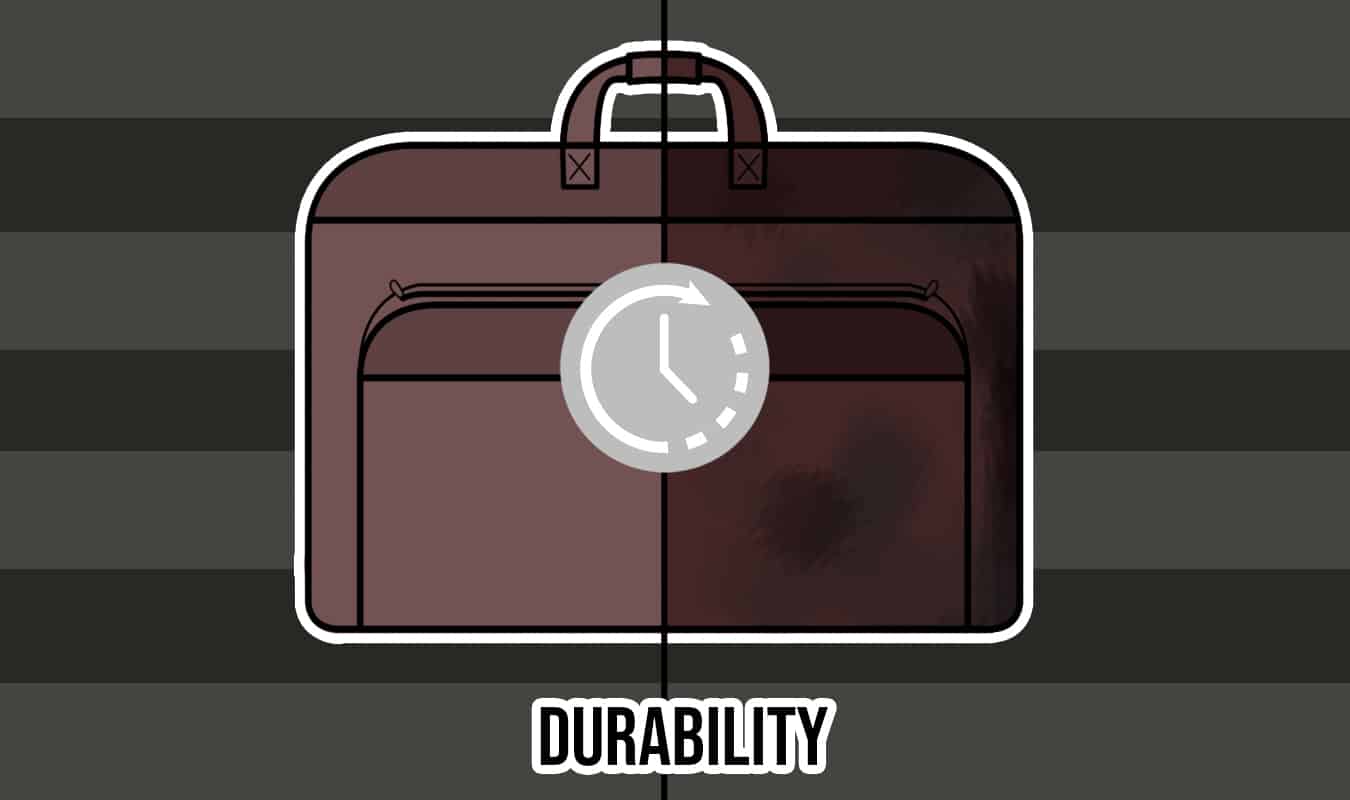 Durability, as mentioned above, is super important for a garment bag.
Many duffel bags or other clothing carrying cases will be relatively flexible in letting you stuff them into cramped airline compartments or throw them in the back of your car trunk along with a bunch of other stuff.
Garment bags are meant to take significant wear and tear and protect your suit or other delicate clothing.
There are also usually somewhat rigid, though garment bags aren't all the same shape.
Some garment bags are squarish or rectangular, while others may look more like a traditional bag but feature an outer skeleton that keeps the bag properly shaped throughout your journey.
Always look for a durable garment bag more than one that can compress into a cramped airline storage compartment.
It's also usually a good idea to find a garment bag that has some water resistance, either because of its material (like leather) or because of an additional lining.
While it's not likely that your garment bag will ever be exposed to water for long, this can be a lifesaver if you have to travel through rainy weather.
The last thing most guys want is their wedding suit to be ruined by a sudden downpour of rain.
3. Rolling or Not?
---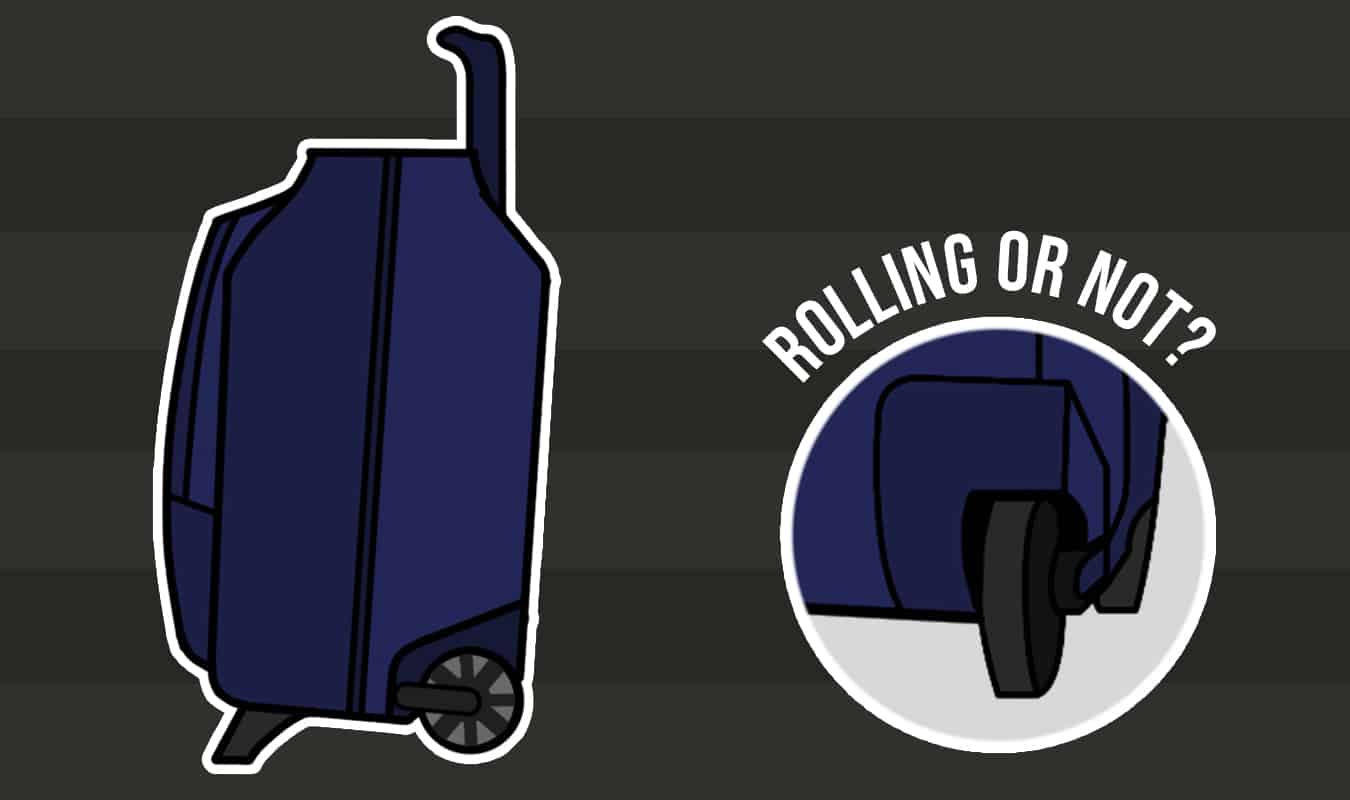 Next, consider whether a given garment bag can roll with an extendable handle.
These rolling garment bags will both feature that kind of handle and either two or four rolling wheels on the corners of the bag's skeleton.
These bags are great for taking with you to the airport because you don't have to carry them by hand or hold them for long periods.
Moving them across broad airport terminals is much more relaxed.
These carry on wheeled garment bags also usually have secondary handles to let you pick them up for more maneuverable walking when you need to dart through a crowd.
Rolling wheels aren't strictly necessary for any garment bag, but we included this as a significant factor because most guys will have these bags and be thinking about airport travel at the same time.
Just like premier luggage and suitcases for your other stuff, the best men's carry-on wheeled garment bags will facilitate easy airport walking.
4. Capacity
---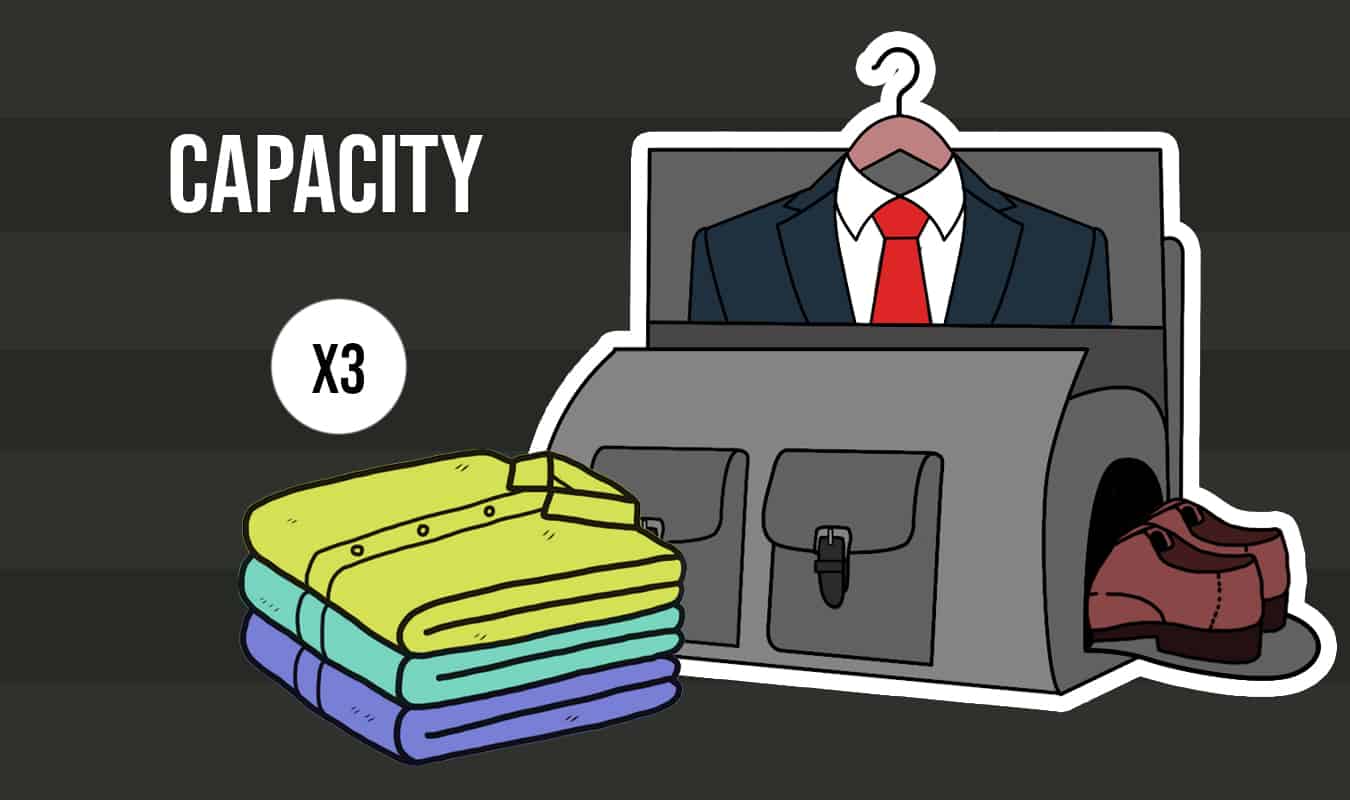 You'll also need to think about the overall capacity of a garment bag before you decide to purchase it.
Garment bags will, at a minimum, have enough room for a single full suit, including a jacket, trousers, shirts, and often shoes.
These smaller bags are great as secondary containers to combine with a great set of luggage.
Other garment bags have much more carrying space and can carry not just one suit or suit jacket but multiple.
Such large garment bags are a great choice for men who fly around on business frequently or guys who like to take both a professional and casual wear suit with them wherever they go.
Most guys will probably be okay picking up a carry on garment bag with enough room for one full suit, but it's still good to consider this in case you want some extra space.
Capacity also determines the accessories you can easily stuff into this garment bag luggage, like ties, cufflinks, toiletries, and more.
While many of these accessories can be stored in a regular suitcase or another piece of luggage, you might want to keep all of the minor parts of your suit ensemble together rather than split up between multiple cases.
Of course, garment bags with larger capacities will also be larger in size, which may affect how easily you can bring them onto an airline flight.
5. Travel-Safe
---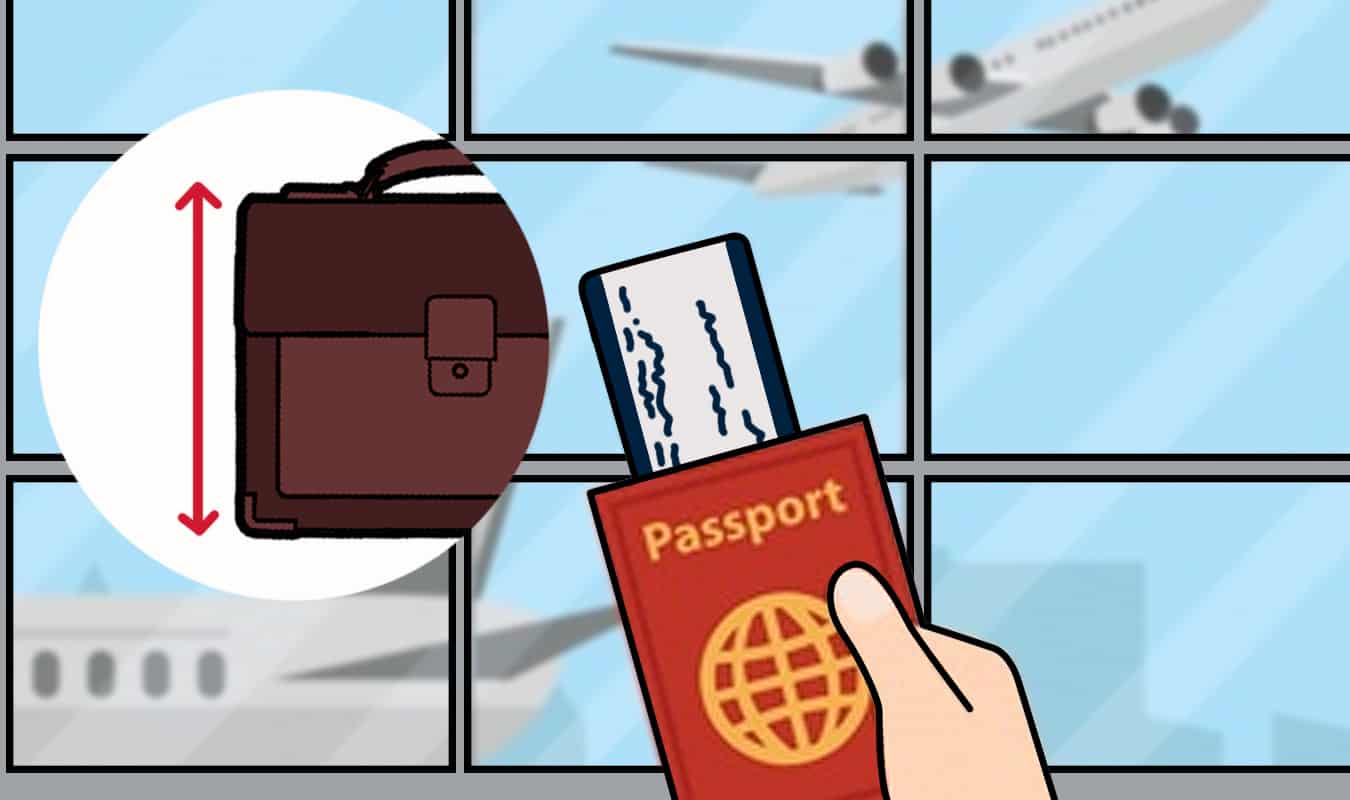 Speaking of airline flights, you'll want to think about whether a garment bag is sized appropriately for most airline travel.
The tricky thing about travel safe luggage is that almost every airline has its own specifications and maximum dimensions for carry-on bags.
You can always check your garment bag, but that does go a bit against the spirit of the bag.
After all, you'll only purchase a garment bag to make sure that your suit is correctly cared for and doesn't wrinkle while in transit.
Leaving your suit's final look up to the underpaid luggage handlers of the airport is a little risky.
Just imagine them tossing the garment bag into a pile with heavy luggage thrown on top of it next… no, thanks.
So, purchasing a garment bag that is small enough to qualify as carry-on luggage might be a smart idea for most men.
To that end, we've already figured out whether each of our chosen garment bags is sized appropriately to be carry-on luggage.
This way, you can decide whether a suit garment bag or a suit carrier luggage (whatever name suits you best) is right for you based on this factor without having to do the measurements yourself.
In case you're curious, most airline luggage dimensions hover around 22" h x 15" w x 9" d, with plenty of variation from airline to airline.
This general rule is still a good number to keep in mind if you ever want to carry additional luggage onto a flight and aren't sure, off the top of your head, whether your bag is small enough.
---
Best Garment Bags for Men of 2022 Reviewed
Let's now take a look at some of the best garment bag for suits.
These exclusive selections are P&P's top garment travel bags.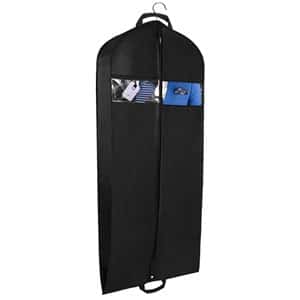 This garment bag doesn't shake up the classic formula, but it does a great job of protecting your garments regardless.
Specs
Who Is It Best For?
This is a perfect choice for men that want a dependable, traditional garment bag that they already know how to use.
Key Features
This garment bag is a classic design that's been around for ages.
It's a vertical hanging garment bag with a hook extending from the top to let you hang your suits and other business apparel down while you walk or travel to your destination.
The hanger is a great touch, as it lets you transfer the bag from your hand to a closet rack without any extra effort at all.
It's made from a sturdy but breathable fabric that provides it with exceptional durability without stopping it from being folded in an airline cargo compartment or slung across your shoulder.
There's also a clear PVC window to let you keep an eye on your garments without having to open the bag to the world.
It's a great way to make sure that your garments are lying the way they should be while in transit.
A bottom metal grommet reinforces the bag and prevents things from piling up and tearing or crumbling at the bottom.
The fabric handle at the top will also give you an extra place to grab it when moving from place to place.
There's an additional handle at the bottom to let you fold the bag and carry it with ease.
On the inside, you'll find two zippered pockets plus a separate zippered shoe bag to allow for extra organization and to stop your shoes from damaging the rest of your garments.
All these pockets and a spacious main interior compartment should provide you with all the carrying capacity you need for a full business suit or wedding ensemble.
Overall, this is a great choice for the majority of men, regardless of whether you need to carry one full outfit or several.
Check out the hundreds of customer reviews here on Amazon.
---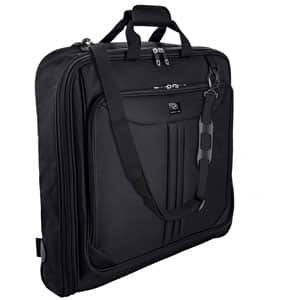 This squarish garment bag (garment suitcase) is a bit larger than average and has several benefits that make it stand out from the crowd.
Specs
Who Is It Best For?
It's a perfect choice for men who like to mount their bags onto their other luggage.
Key Features
This garment bag is one of the easiest to carry from place to place because it has an extendable shoulder strap to let you take it and a separate piece of luggage off a plane with the same arm.
You can also detach the shoulder strap you'd rather attach it to a larger luggage convoy.
It's made from rugged polyester and features a very soft and elegantly imprinted interior lining to protect your expensive garments.
On the inside, you'll find a dual buckle design that will hold your garments in place, providing excellent protection from being crinkled or crumpled while in transit.
There are also several interior pockets to allow for further organization: three zippered pockets and one Velcro pocket designed for holding your shoes.
An exterior pocket allows you to store additional accessories or other standard travel gadgets without having to rummage through the main compartment and disturb your nice clothes.
This bag's design allows it to be easily attached to a suitcase using a backstrap accurately put there for that purpose.
Right below, you'll notice a nameplate for easy luggage identification.
While it doesn't have wheels, this garment bag is arguably the most airline friendly on our list because of how easy it is to move it around and of all the movement options you have.
The biggest downside is that it can't be extended while being held; it can only be fully unfolded once you've set it down.
This may cause a significant crease in a suit, although there are ways to protect against this, like ironing it before storage.
Check out the hundreds of customer reviews here on Amazon.
---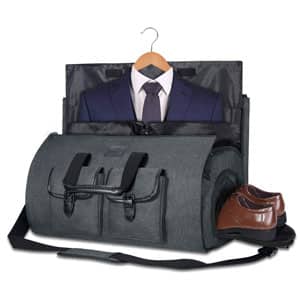 This garment bag has a relatively unique design and some excellent interior features to make it worth your time.
Specs
Who Is It Best For?
It's an excellent choice for men who prefer the ease of carrying a classic duffel bag.
Key Features
This garment bag looks like a duffel bag at first glance (some people call it a "suit duffle bag").
But once you open the bag and extend it to its full glory, you'll see the genius of its design.
Many smaller garment bags require that the interior suit be folded to some degree.
This garment bag gets around that limitation by rolling the suit into the shape of a traditional duffel bag.
Personally, I think this is the best garment bag for suit storage as it prevents the suit from being wrinkled as it usually would and still allows you to carry it from place to place comfortably.
It has 45 L of total space and has multiple interior zippered pockets to help you organize your things and maximize your storage capacity.
There's also an exterior pocket to let you quickly access your electronics or travel documents.
Businessmen may be able to use this garment bag as their primary luggage if they don't need to be away from home more than a day or so.
There's even a separate shoe pouch to keep both footwear and outerwear clean.
The bag is scratch resistant and waterproof thanks to its unique fabric, which is bolstered by an imprinted interior lining.
A detachable shoulder strap and a trolley sleeve are both included in the bag's design, so there are multiple ways you can transport this bag from place to place.
There's even a zipper buckle included on the exterior to stop it from accidentally opening and unraveling.
The only real downside is that the shoulder strap isn't very ergonomic, both in terms of its feel and the carrying angle.
But otherwise, it's a phenomenal choice for any man.
Check out the hundreds of customer reviews here on Amazon.
---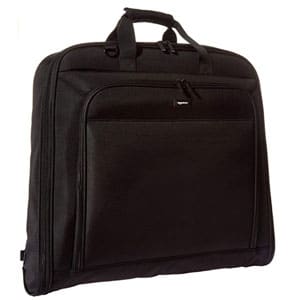 This classic bag may not seem innovative, but it has a set of interior buckles and other features that improve upon the original garment bag design.
The name suggests where to buy garment bags like this – Amazon.
Specs
Who Is It Best For?
This is perfect for guys who need to store multiple suits and who want something affordable.
Key Features
This is a more straightforward garment bag that follows the traditional folding design.
At full length, it has enough space to store up to three suits and leave plenty of space left over for any ties, shoes, or belts you might have remaining to store.
There are multiple interior mesh zippered pockets so you can organize your things as you desire.
Twin tiedown straps have buckle closures to secure your garments in place for the duration of your journey.
A deluxe organizer in the front pockets is perfect for storing electronic gadgets and other small items you might need on your journey.
This case also features a detachable shoulder strap, although its primary method of transportation is the two handles located at the top and bottom of its length.
When you fold the bag, these can be connected together using a Velcro grip.
This makes it a lot easier to carry this bag from place to place.
The exterior is suitably durable thanks to the high-quality polyester that makes up its fabric.
While it's not fully waterproof, it is decently water-resistant and is very easy to clean,
The one-year warranty backed by Amazon rounds off this choice: an affordable and classic pick for men that need something basic but high quality.
Check out the hundreds of customer reviews here on Amazon.
---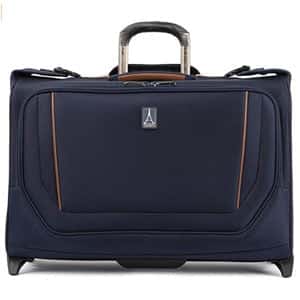 This super durable garment bag can withstand significant wear and tear to protect your garments from any kind of damage.
Specs
Who Is It Best For?
This is a prime choice for men who like rolling luggage or who appreciate premium protection for their fanciest suits.
Key Features
This garment bag is made of high-quality and durable ballistic nylon and makes an ideal traveling bag for suits.
This provides it with enough strength to resist significant wear and tear before showing any signs of stress.
It's not waterproof, but it's decently water-resistant to protect the inner garments without having to worry too much.
It also resists stains and abrasions very well.
On the front, there's a pair of resting legs that complement the back wheels.
Both attachments combined will let you rest this bag on the ground without it tipping over.
The back wheels are small but excellent for pulling over most surfaces, and the extendable handle is decently durable rather than rattling.
On the interior, our testers found several hold-down straps to keep your content in place.
Even more importantly, they found a foam padded roll that you can in case your suit in.
As the bag has to roll up and compress to carry everything correctly, this foam padding does a great job of preventing your suit from wrinkling even as it is squeezed down to size.
There's an included extension panel to let you bring longer suit jackets on your trip, plus a metal hanger clamp attached to that panel.
Thus, moving your suit from the bag to a closet rack takes only a couple seconds and doesn't require you to remove the suit entirely.
Several accessory pockets and very durable zipper heads complete this bag's excellent benefits.
The most considerable disadvantage we found was its high asking price, which will make this a problematic buy for many men.
But if you can afford this phenomenal garment bag (one of the best suit carriers I've come across to date), we reckon you won't be disappointed.
It's one of the best men's rolling garment bags we've ever seen.
Check out the hundreds of customer reviews here on Amazon.
---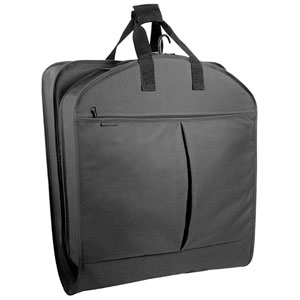 This bag is easy to use and carry, though it doesn't come with its own hangers.
Specs
Who Is It Best For?
This is a simple bag perfect for men who want something affordable and covered by the manufacturer for a long time to come.
Key Features
This is another classic garment bag made of high-quality polyester.
This durable polyester is water-resistant and uses a full-length side zippered door to let you easily open and close the garment bag without having to pull your suits out of a smaller slit.
It has perhaps the highest capacity out of all of our garment bag choices, being capable of holding eight separate garments and having the versatility to work with any size of a hanger at the top of the bag.
A downside is that it doesn't come with any hangers out of the box, so you'll have to supply your own.
The extra-large pockets for your shoes and accessories are excellent inclusions.
Very easily large enough that you can fit in whole boots or a large toiletry kit without compromising the main compartment for your suits.
There are also a few exterior pockets for extra clothes or everyday items you'll need to retrieve frequently.
Like many classic garment bag designs, this one folds in the middle, and the handles at the top and bottom connect at the apex.
There's a Velcro tie to help you carry the bag more securely, though these handles were far from the most sturdy or reliable we found.
Finally, this garment bag comes with a three-year manufacturer warranty.
Given the affordable asking price, this is an excellent choice in terms of value for money.
Men on a budget and looking for a garment bag they can rely on for several years may find this to be the ideal choice.
Check out the hundreds of customer reviews here on Amazon.
---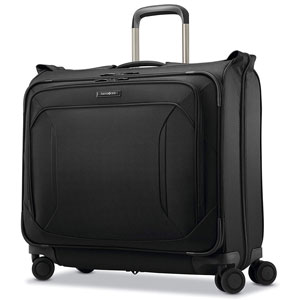 This garment bag is mobile, durable, and has lots of room for multiple suits.
Specs
Who Is It Best For?
This is an excellent choice for men who prefer rolling bags rather than ones they have to carry.
Key Features
This garment bag is one of the few you can find with four rolling wheels instead of two or none.
The wheels are steel and cartridge-bearing and are custom engineered to provide excellent performance and effortlessly glide across most airport floors.
There's also a textured pulling handle with a comfortable grip.
It can telescope between 10 stages of height, so men tall or short should be able to use this garment bag with ease.
The majority of the bag is made with a durable nylon material that is both rugged and lightweight.
It's fantastic at withstanding wear and tear no matter the type, and at resisting water damage.
The zippers slide easily open and closed and are quite durable themselves.
On the interior, our testers found two integrated corner mesh pockets and several speed buckling grip hangers.
These allow you to organize your suits in several configurations and make it easy for you to withdraw them from the bag and hang them up on a coat rack.
The buckles mentioned above will keep things steady even on a turbulent plane ride.
There are two suit compartments in total, each with their own hanger, plus a final mesh compartment at the bottom of the bag for storing your shoes.
It's plenty of space for most men, all things considered.
While this bag does fold, it does so gently to prevent your suits from creasing down the middle.
The only big downside is its weight, which measures in at 12 pounds.
Still, given all the durability and extra room, we can't complain too much.
Check out the hundreds of customer reviews here on Amazon.
---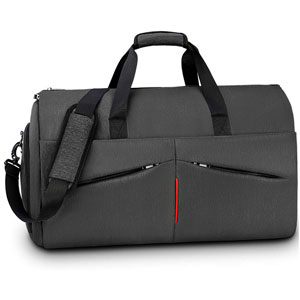 This looks like a duffel bag is actually one of the most high-capacity ones you can find.
Specs
Who Is It Best For?
It's a top choice for guys who want something comfortable to carry but which can accommodate multiple outfits at once.
Key Features
This garment bag doesn't look like one at first.
It seems to be a smaller bag, but it actually has 55 L of interior room and 17 compartments in total thanks to its smart duffel folding design.
As you unravel a bag, you'll notice the main suit compartment, which is a sleeve that prevents your suit from becoming easily wrinkled, as well as facilitating a gentle rolling fold when it's time to pack up.
There are several additional interior pockets for your other clothes or shoes.
There are several exterior pockets as well, along with two antitheft compartments and a larger zipper pocket.
These are great for the frequent traveler who may be worried about their luggage being sifted through.
A separate shoe compartment is also included.
This is made with a waterproof lining and a breathable air hole that can keep your wet or dirty shoes from compromising the rest of your stuff.
The bag as a whole is made of high-quality polyester and nylon with premium zippers and buckles and an excellent carrying handle, complete with a comfort grip.
An additional shoulder strap is included if you prefer to carry your bag that way.
All in all, this is a great compact choice for men that don't like to carry larger bags, while still being able to take a huge amount of clothing in a single load.
Check out the hundreds of customer reviews here on Amazon.
---
Frequently Asked Questions About Best Men's Garment Bags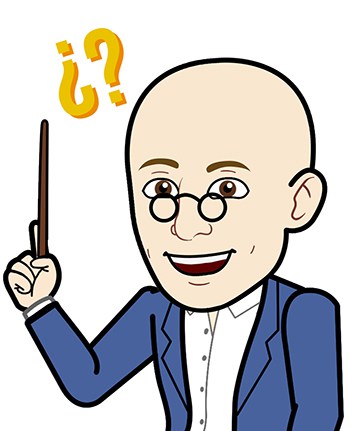 Now that you've seen all of the best garment bags online keep reading for answers to any frequently asked questions that guys usually have about these handy bags and their uses.
1. What Are the Advantages of Having A Garment Bag?
Even after reading about all these great bags, we wouldn't be surprised if a few of you were still a bit skeptical as to the value of garment bags.
Why can't you just delicately store your suit in a regular suitcase and save some cash?
While you certainly could do this, you'd be missing out on all of the advantages that garment bags provide.
Firstly, garment bags are excellent at protecting your formal or expensive clothing from getting wrinkled or ruined far beyond what a regular suitcase can provide.
Regular suitcases have lots of space and are usually used to carry more than one type of clothing.
The fact is, it doesn't matter how good you think you are at folding your clothes and storing things in an organized manner.
If you store your formal clothing with the rest of your clothes, they're bound to get a little wrinkled.
Garment bags, when used for expensive or formal clothes only, avoid a lot of the same issues.
Garment bags also usually have specific pockets that are perfectly sized for properly folded shirts, socks, or other articles.
Not only does this prevent the clothes from being quickly wrinkled or ruined, but it also makes it super easy to retrieve specific clothing items when you're getting dressed or if you need to replace one part of your outfit after a spilled glass of wine.
Don't discount the value of having an organized bag to keep you on task and focused when getting dressed – many former or soon-to-be grooms, no doubt, will agree with us on this point!
Secondly, many garment bags are pre-sized to be travel safe, so they make taking your most expensive clothes with you into the airline cabin a breeze.
You don't have to spend 20 minutes digging out your fine clothing from your regular suitcase and trying to make it all fit into your carry-on bag.
Instead, garment bags have a pre-sized clothing solution that should usually pass through security just fine and let you keep an eye on your suit rather than giving it up to the luggage guys.
Even better, many garment bags have hooks that either come attached to the bag itself or which poke through the bag's exterior to let them by hug on a clothing rack without taking your clothes out of the bag.
This makes storing your clothes once you arrive at a hotel or a vacation cabin much more convenient.
Just grab your bag, hook it onto the closet rack, and you're good to go!
Hanging your delicate clothes in this way is a great way to keep them from wrinkling over time, too.
Overall, garment bags are far from a necessity that every guy must have as a critical tool or part of his wardrobe.
But they really are excellent tools that can make traveling with fine clothes much easier and help you keep your beautiful clothes looking perfect for longer without having to spend lots of time organizing or un-wrinkling the clothes by hand.
2. How To Use A Garment Bag
If you've taken the plunge and either picked out one of the garment bags we loved during our search for the best, or you just found a great garment bag from another source, you might be wondering how to use it.
The good news is, using a garment bag isn't tricky or complicated, even if it's "special."
Whenever you use a garment bag, the primary concern should be ensuring that you pack all of your clothes correctly.
For starters, you should always pack as few garments of clothing into a garment bag as possible.
Remember, a garment bag is meant to carry your formal or expensive clothes and prevent them from being wrinkled by being crunched or compressed when stored with other clothing items.
Besides, garment bags can become a little too big for carrying onto a plane if you overstuff them.
Many guys want to store khakis in a garment bag, but we found that these garments can usually be capably folded and put into a regular suitcase and look no worse for wear.
After you've laid out the clothing you want to place in your garment bag, take the time to wash and iron each article of clothingbefore folding it.
You can also take dry-clean items to the cleaners well before it's time for you to go on your trip so that there's plenty of time for you to pick up the clothing and store it properly before you need to go.
Cleaning and ironing your items will make sure that they look excellent when you put them into the garment bag, doubling their chance that they'll still look great when you take them out.
Ironed clothes are less likely to get lots of wrinkles, anyway.
Don't forget to check for any missing zippers or buttons on any of your clothing items, too.
Doing this will prevent you from having to make an emergency repair after you've reached your destination.
Next, use white tissue paper to stop the arms and legs of your clothing items.
This will help them maintain their shape in addition to the garment bag itself and stop wrinkles from accruing.
White tissue paper is better than colored on the off chance that the paper becomes wet.
Colored paper could bleed dye onto your clothes.
After your clothes are dry cleaned and prepared, consider the order in which you'll be donning the clothes and pack them accordingly.
Place the items that you'll need later in your trip, like the final suit jacket for a fancy dinner, at the back of the garment bag in place more common items of the front.
Not only will this make retrieving your clothes easier and quicker, but it'll also prevent you from accidentally wrinkling your quotes by rustling around in the depths of the bag to retrieve a single item.
It's also a good idea to hang each major garment on its own hanger, although you can combine garments onto a single hanger within reason.
Don't hang up too many clothes on a single hanger, as it might bend or break while in transit.
A good rule of thumb is to hang up a single large piece of clothing and several accessories, like ties or belts, together on one hanger to conserve space without getting too crazy.
You can also use built-in hangers if your garment bag has one as part of its design.
Don't forget that pants often benefit from being stored on specific pant hangers that stopped the trousers from moving while in transit.
Don't forget to close all the fasteners, including buttons or zippers, on your garments before you begin to close up the garment bag.
Again, this prevents the clothing items from moving and wrinkling and also keeps things compressed for better storage efficiency.
To be even better when it comes to storage space, you can store underwear or socks inside the pockets of your various garments.
This also prevents wrinkles from accruing over time and makes smart use of available space that would otherwise go unused.
If you want to really go over the top, you can always place a dry cleaning bag made of plastic over each individual hanger, although this is really only necessary if your garment bag isn't water-resistant, and you know you'll be going someplace where it rains all the time.
After doing all this, feel free to zip up or close your garment bag and prepare for travel.
If you've done everything correctly, your fancy clothes should look great when you remove them from the bag at your destination.
3. What's the Difference Between A Garment Bag and A Suitcase?
The main difference between garment bags and suitcases is that the former is designed only to hold expensive or fancy clothing, and the latter can be used to keep everything you'll need to take as you travel.
Toiletries, gifts, hobby items, clothing, and even shoes can all be tossed into a suitcase with abandon, as these cases are designed with robust outer skeletons to help them retain their strength and ensure proper durability.
These cases are supposed to weigh much more than garment bags, and it's not uncommon for these to be stopped with all the items people love to take with them when they travel.
While these bags are great for general travel purposes, they're not suitable for ensuring that your clothes remain wrinkle-free as you drive or fly around.
Even well-folded clothes are liable to get at least a little wrinkly when exposed to the utter chaos most suitcase interiors experience each time they're packed.