Backpacks are such common tools that we never really think about them, but they're lifesavers in different situations.
Would you ever endeavor on that mountain hike if you didn't have a sturdy or rugged backpack to carry your snacks and spare clothes?
Would college be doable without the ability to carry your laptop and all your binders in an easy-to-access bag?
What about travel – can anyone really backpack across Europe without the titular sack?
Backpacks are great, and the discerning man should choose a backpack worthy of his time and money.
You don't want those elementary-school-quality things that bust open every year and necessitate a new purchase, right?
If you don't know where to start in your search for the best backpacks for men, you've luckily had the right spot.
We'll review some popular backpack brands that make mens backpacks for work, cool backpack for guys, and designer book bags for men.
We've got a selection of top backpacks to peruse down below, plus some helpful advice so you can identify the perfect backpack for your needs before you even start shopping.
Let's begin!
Use the table of contents below to jump to the sections most important to you.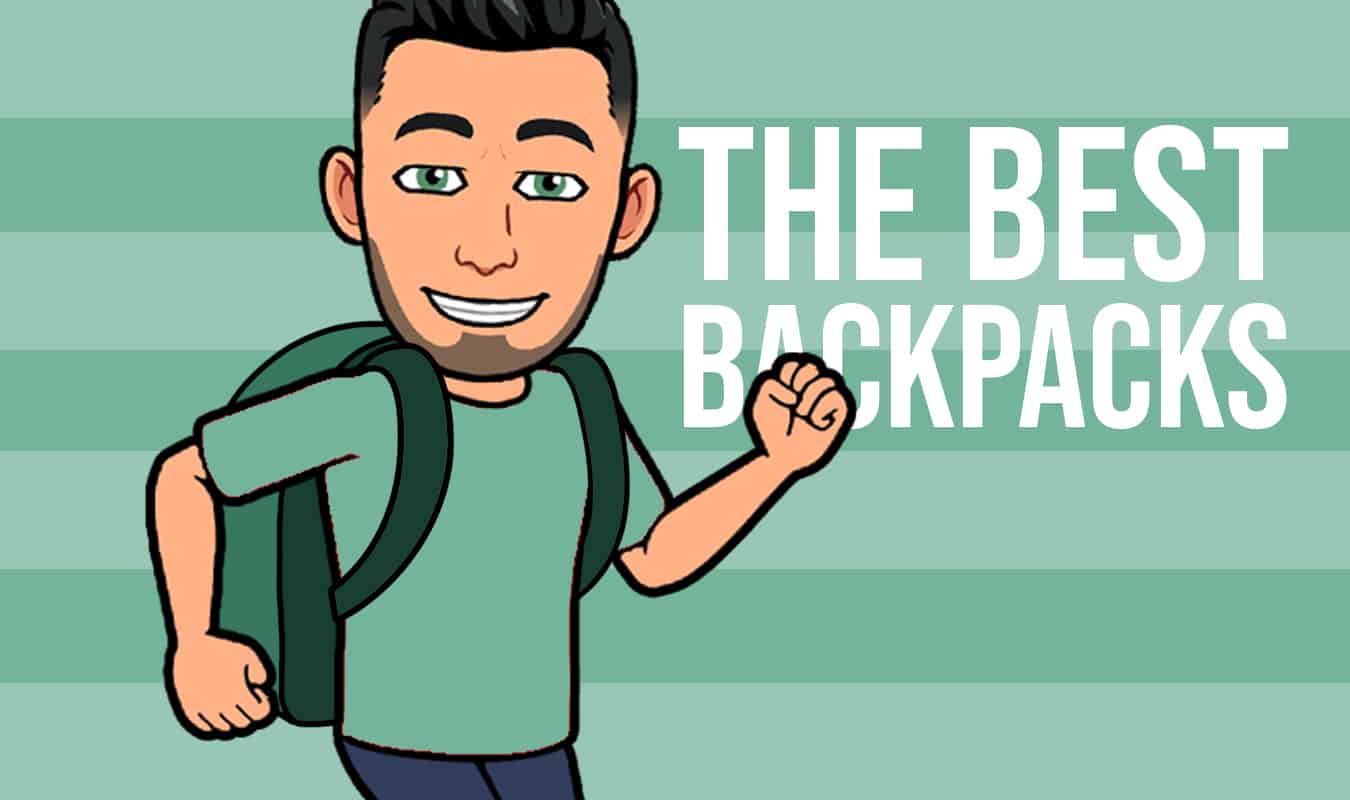 Things to Consider When Buying A Backpack
The factors below are not exclusive, but you'll definitely find it easier to make a choice of the best men's backpacks available in the market today.
If you want to find a top-tier backpack, you'll need to focus on these primary factors before you start shopping; they'll help you determine which backpacks are best for your needs.
1. Material
---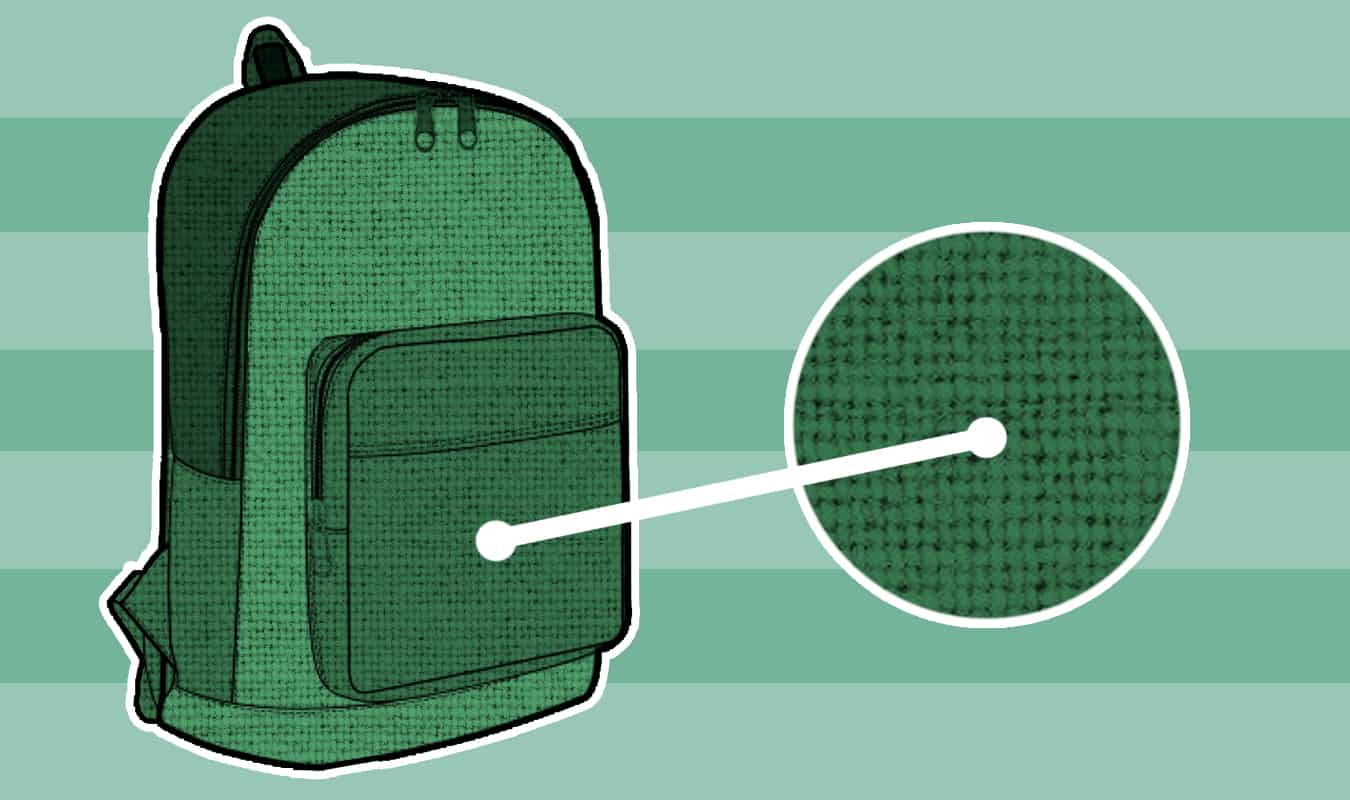 The material of your chosen backpack is arguably the most crucial aspect of your decision.
Material affects everything about the backpack.
From its aesthetic style to its weight, capacity, and abilities like water resistance or overall durability.
The "coolest backpacks" today are made from a combination of the best materials.
It's no stretch to say that a backpack's material defines what it can do and what it will be good for.
Let's go over some of the more common materials you might find used in the best backpacks for men.
Polyester is a synthetic material, and it's one of the more common types of backpack materials you can find on the market.
It's super common because it's cheap for manufacturers to fabricate large amounts of it, so you'll often find more affordable backpacks made from this material.
Additionally, polyester has excellent resistance against UV degradation, which is why many outdoor or hiking-related backpacks will be made with some polyester.
You can also find plenty of student-oriented backpacks made from the same material.
However, polyester is not the most physically durable material you can make backpacks out of.
Compared to virtually every other material, it's actually among the weakest.
For this reason, we wouldn't recommend getting a backpack made of polyester if you wanted to last for years on end with heavy use.
Alternatively, you can always pick up an affordable polyester backpack each year for school, knowing that you'll likely have to replace it every year or every other year just from regular wear and tear.
Polyester backpacks have one final advantage in that they come in many sizes and colors because polyester is easy to dye.
This makes a mens backpack made of polyester one of the cool backpacks for students generally.
This is opposed to leather, which is much more limited in terms of its color palette.
Let's tackle leather next.
Leather backpacks look and feel as expensive and aesthetically pleasing as they really are.
Something is said about the man that carries a leather backpack on his shoulder; it shows that he has a little extra money to spend and that he's invested in quality items that both look good and will last for a long time to come.
Indeed, leather backpacks are pricier than any other backpack material on the market.
Top backpack brands use leather and other expensive materials to manufacture very high-quality backpacks men love to carry.
But these backpacks will definitely boost your aesthetic and give you an air of luxury that other types simply can't provide.
Leather backpacks can also be reasonably durable, particularly if they have good stitching, so they can withstand significant wear and tear before showing signs of stress (which often makes the leather look better anyway) or tearing.
Keep in mind that leather doesn't do the best in water, so it might be smart to go with a different material if you live in a climate where it rains all the time.
Nylon is a lightweight synthetic material, but it's not necessarily as flimsy or easy to break as polyester, even though it may weigh less overall.
Instead, think of nylon has a slightly more durable and more flexible material that can give polyester a run for its money in terms of affordability and weight.
Nylon is also exceptionally waterproof, making it a unique type of material for backpacks you plan to take on outdoor hikes or if you live in rainy climates.
Nylon backpacks can last a long time to come in a wide variety of aesthetic choices.
Some of the best small backpacks are made of nylon or leather.
Still, they aren't quite as durable as leather backpacks, but they can be quite sturdy in their own right if they have the right stitching.
You'll occasionally find backpacks made of cloth as their primary material, although this is not very common these days.
Cloth backpacks are usually lightweight but can tear easily, so they're more of a novelty than anything else.
2. Comfort
---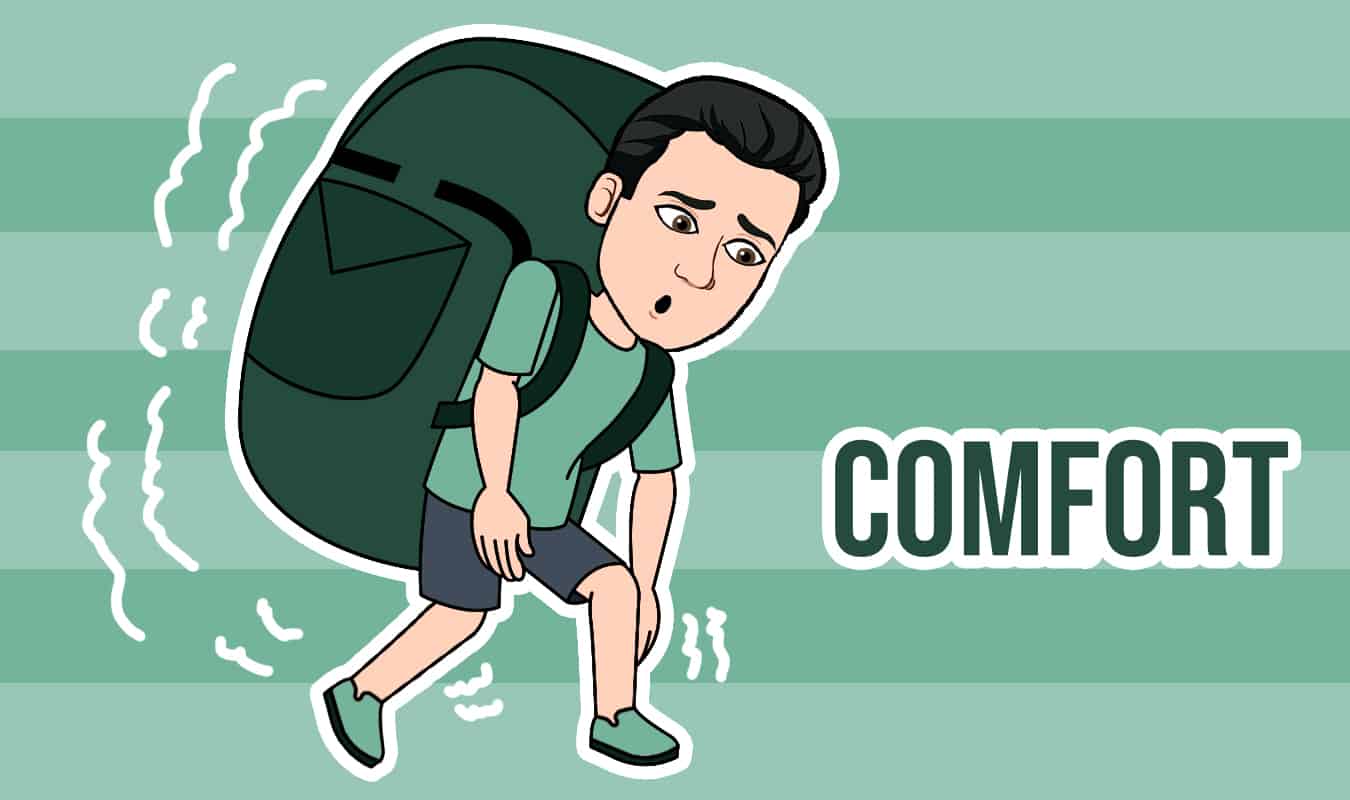 The next most important thing to consider in your quest for the best backpack is the level of comfort you can expect from a given item.
Naturally, your backpack's entire purpose is to make carrying your items around more comfortable or convenient.
If a backpack doesn't rest on your shoulder or on your back without giving you cramps or aches, it's not usually worth the time or money.
Comfort is a huge factor in choosing a good backpack that lots of men don't consider until after they've already purchased a bag.
To determine the ideal comfort, you'll want to pay attention to the shoulder strap adjustable ranges offered by a backpack and whether or not it has any special padding on the shoulder straps themselves.
The best backpack brands know too well to provide a cushioned shoulder strap for men's backpacks to enhance comfort.
Comfortable padding is a great design choice that will let you carry any backpack for longer distances or periods without feeling uncomfortable.
You should also consider the shape or design of the men backpack; some are longer while others are squatter or squarer.
The latter type of backpack is excellent if you have a lower center of gravity, while longer backpacks are more suitable for taller men that have more surface area with which to distribute the backpack's weight.
But comfort isn't just about how the backpack feels while it rests over your shoulders.
You'll also need to consider how convenient or easy it is to retrieve your items from within the backpack's confines.
This is related to the overall capacity, but it's also a distinct factor.
Some backpacks have smart zipper layouts and pockets that are easy to reach, often without having to unsling the backpack entirely.
A backpack with lots of pockets can make for the best travel backpack for men rather than the best backpacks for work.
These can be described as truly comfortable, whereas backpacks that only have one major pocket or that require you to twist and turn to retrieve any of your items are more uncomfortable because they aren't as convenient.
This factor is also somewhat affected by the type of activities you'll be taking the backpack on.
For instance, hiking backpacks that have multiple durable pockets are more important than a few convenient pockets with cables for iPods.
But school backpacks really ought to have a small opening for your iPod or another music player, so that you don't have to continually turn around to adjust your music player or make sure it doesn't fall out of an open zipper.
All in all, comfort is a bit of a nebulous term because it covers so many aspects of a backpack's design and construction.
It's something we will attempt to judge for ourselves based on our personal testing, but you'll have to make the final decision when it comes to choosing the most comfortable backpack for your needs.
3. Durability
---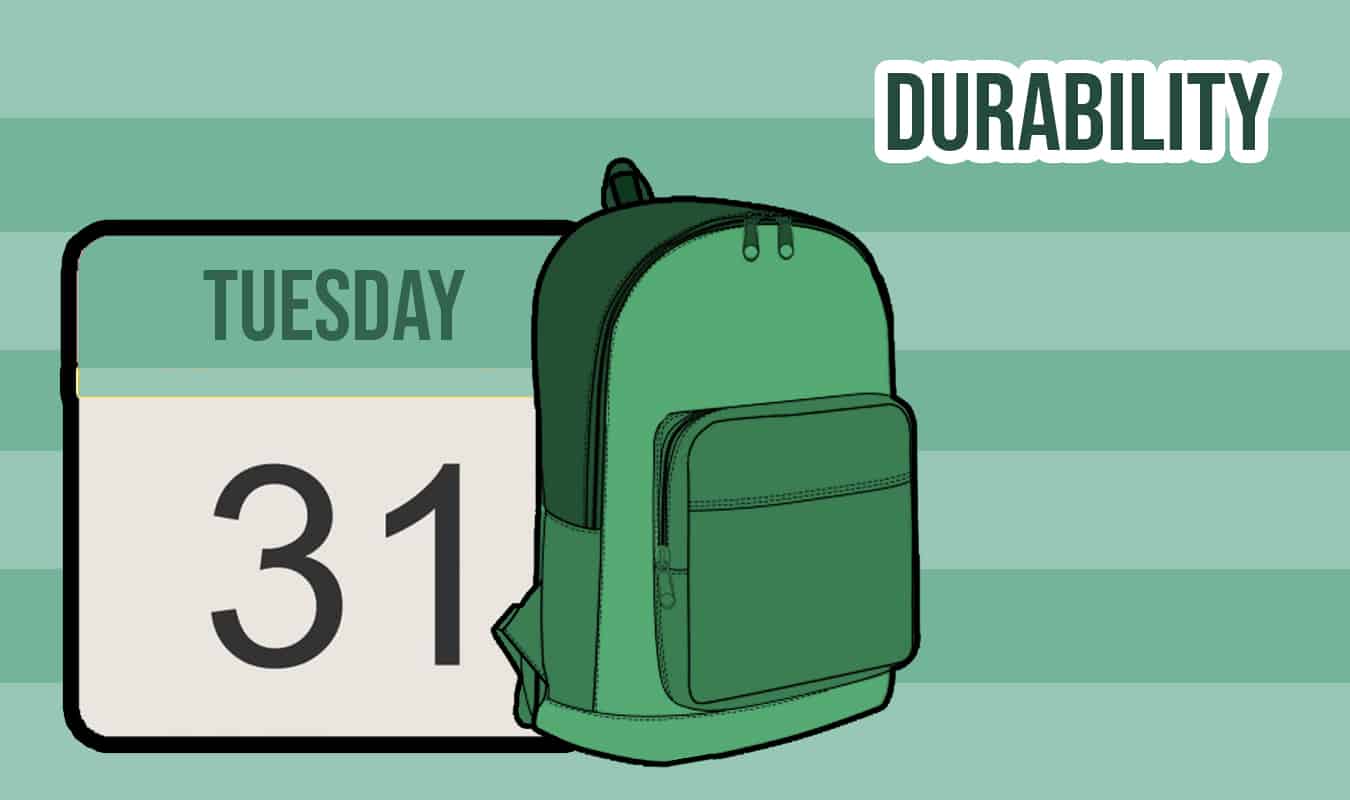 Next up is durability.
We somewhat cover this when we were going over the primary materials you can expect to find in your search for the best backpack.
But nylon's durability and elasticity illustrate that you can't necessarily make claims about a backpack's durability just based on the material composition.
Some nylon backpacks may be more durable than even an expensive leather backpack based on the quality of the stitching or the backpack design.
Durable backpacks will have shoulder straps positioned smartly to distribute weight evenly across their lengths without putting too much stress on the scenes of their stitches.
At the same time, genuinely durable backpacks (like the kind you would want to take on a hiking trip) will have reinforced bottoms or tops to let you consistently set the backpack down or scrape it against rocks without wearing it down very quickly.
Durability is definitely more important for certain types of bags than others, of course.
It's less of a concern if you need a backpack for work or for school.
But even for either of those two needs, a durable backpack is usually better than a cheap and flimsy one.
Good backpack brands will always ensure that backpack men have access to durable and nice backpacks for work.
Even if a cheap backpack saves you some money in the short term, chances are you'll need to replace it at an inconvenient time and before you're ready.
It's often better to spend a few extra bucks on a more durable backpack than it is to gamble on the life span of a cheap one.
4. Water-Resistance
---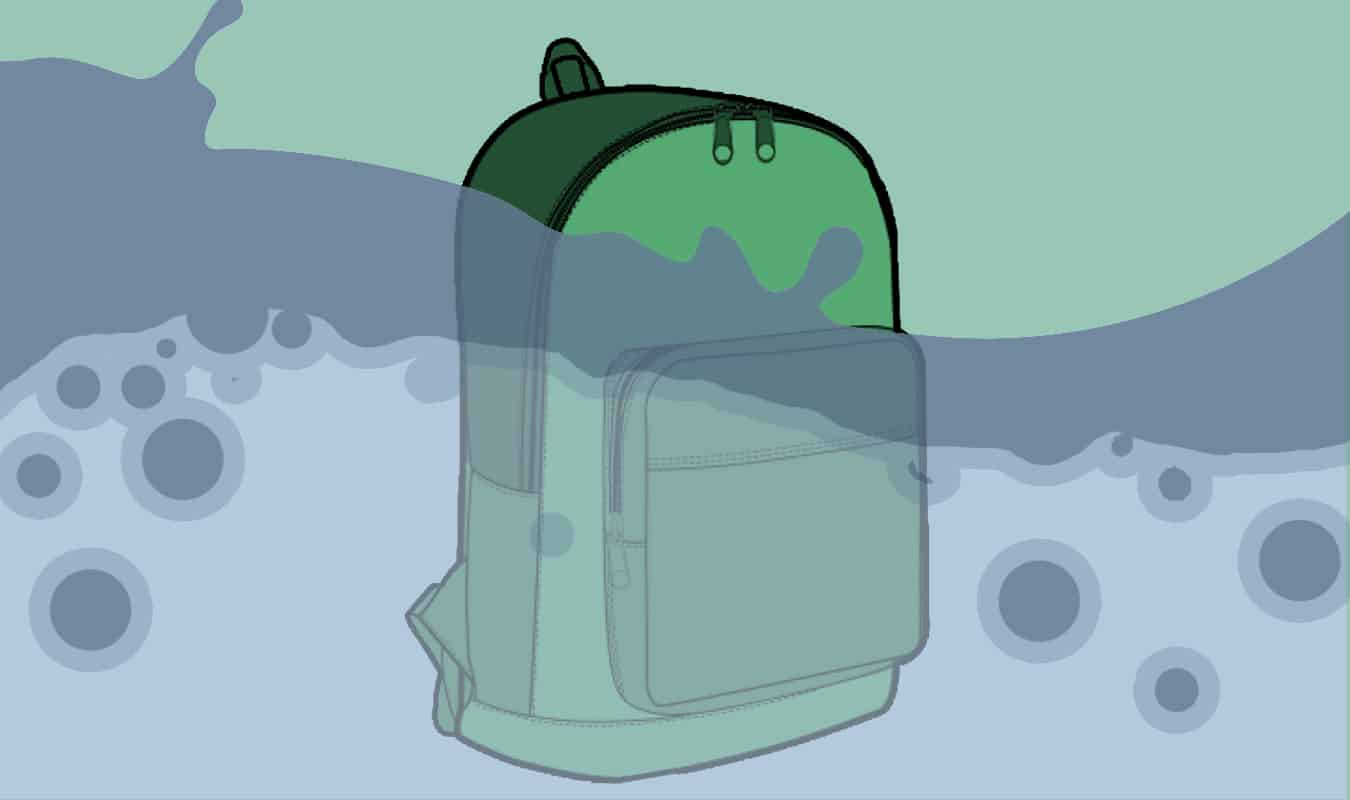 Many of the best backpacks for men are also water-resistant to one degree or another.
This isn't to say that only water-resistant backpacks can be taken out into the rain.
Obviously, backpacks that can be zipped or tied closed completely can be taken into the rain and will adequately protect your equipment or items for at least some time.
But water-resistant backpacks are those that can sustain heavy water exposure – like being dropped into a puddle – and still protect your items inside.
Note that this is not the same as being waterproof.
It's likely that even the best water-resistant backpack won't be able to protect your items if you were to drop it in an actual lake.
But the fabric or other material used to cover the backpack can prevent water from seeping into the interior if it has a water-resistant design.
Naturally, water-resistant backpacks are a great thing to look for if you need something for either travel or hiking purposes.
It's less necessary if you just need a backpack for school or work, but it's still a nice feature have.
5. Weight
---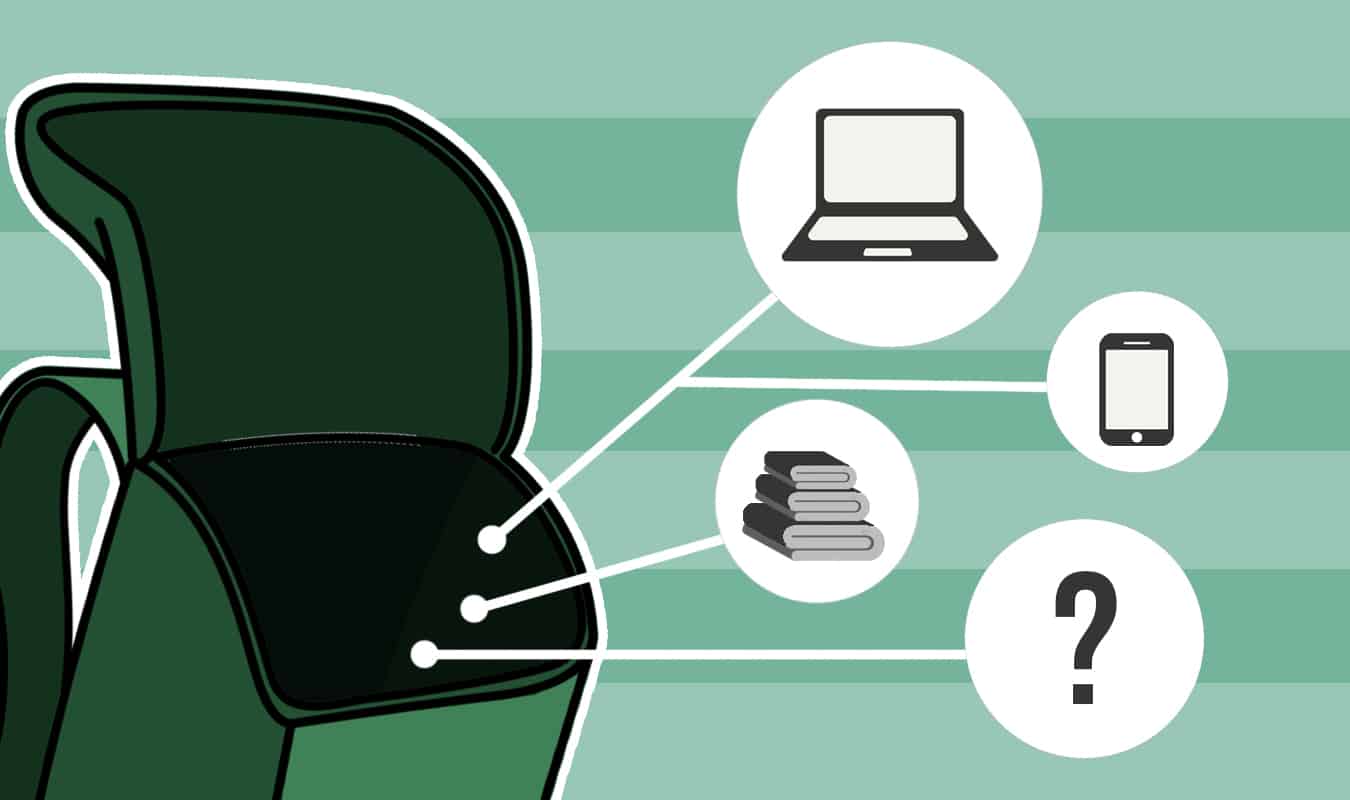 When people think about backpacks, they usually just consider all the things they'll put within their pockets.
They imagine that, if they only include a few things, the backpack will naturally be easy to carry or won't be too heavy.
But you can't forget to include the actual weight of a backpack you are considering purchasing.
Some popular backpacks can be quite heavy due to their material or just their overall size.
While these have their own advantages, they might end up being a little too heavy if you plan to stuff them full of gear or equipment.
You can usually find lightweight but still perfectly durable backpacks if you need to carry lots of equipment across a long distance.
There's no single perfect weight for every man's ideal backpack, so we'll give you the weight values of each of our top choices and let you decide what weight sounds about right for your needs.
6. Capacity
---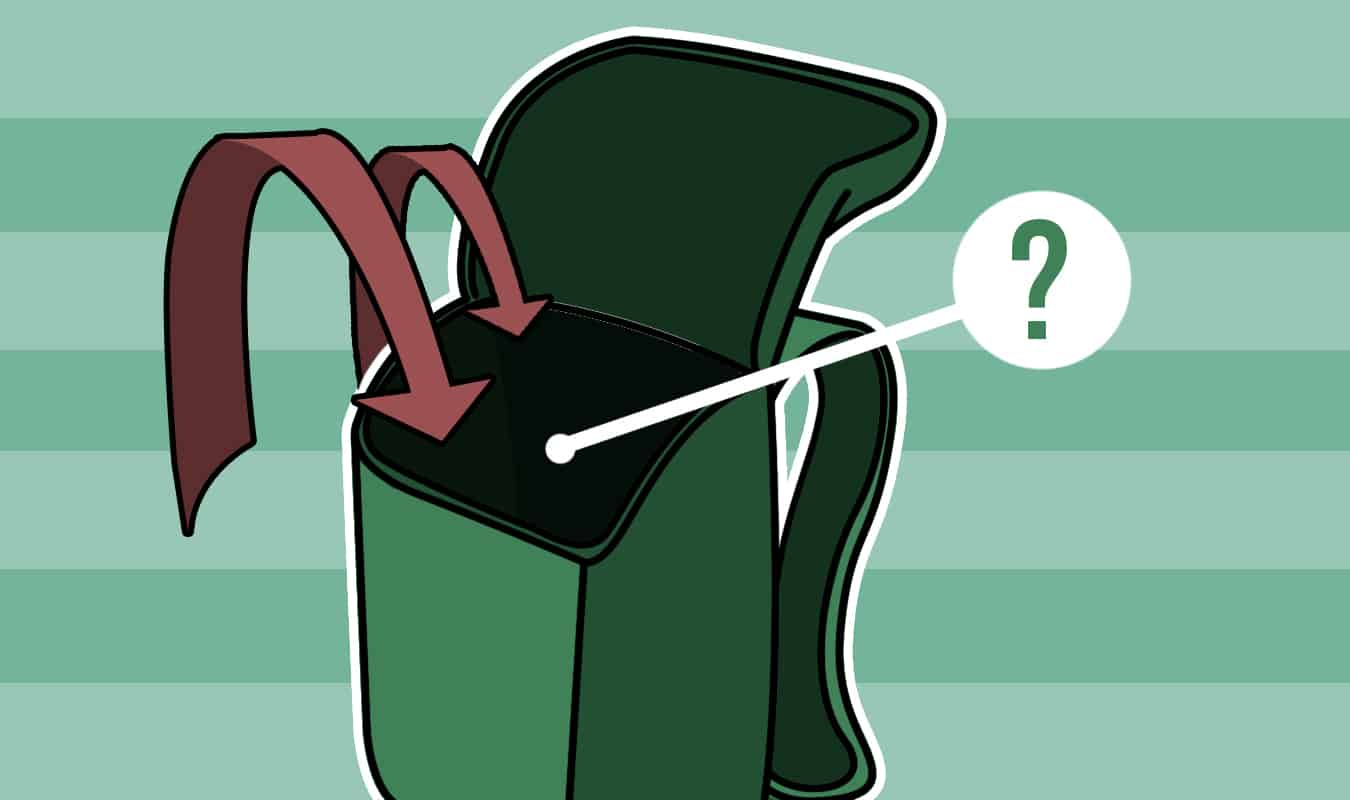 Of course, the capacity of any backpack matters a great deal since it determines what you can adequately store within its confines.
While you can always try to stuff any backpack overly full of items, this has a tendency to increase the wear and tear of the backpack and might make it uncomfortable to carry for long stretches.
So, knowing the overall capacity of a backpack will help you determine if it's better as a casual bag or if it's great for carrying everything but the kitchen sink.
Related to capacity is the number of pockets and style of pockets used for a product.
As an example, many backpacks designed for work or school will have a designated pocket in the main compartment that's designed to hold your laptop securely.
These pockets are great since they provide a secure slot for your laptop (so you can retrieve it more easily) and offer a little extra protection.
Other backpacks may split up their overall capacity among several different pockets.
They might have one major compartment in the center of the bag, then several smaller pockets on the sides or front.
We'll do our best to describe the overall capacities of each backpack we chose so you can get a sense of what it can adequately hold and what kinds of activities it would be best for.
7. Accessories
---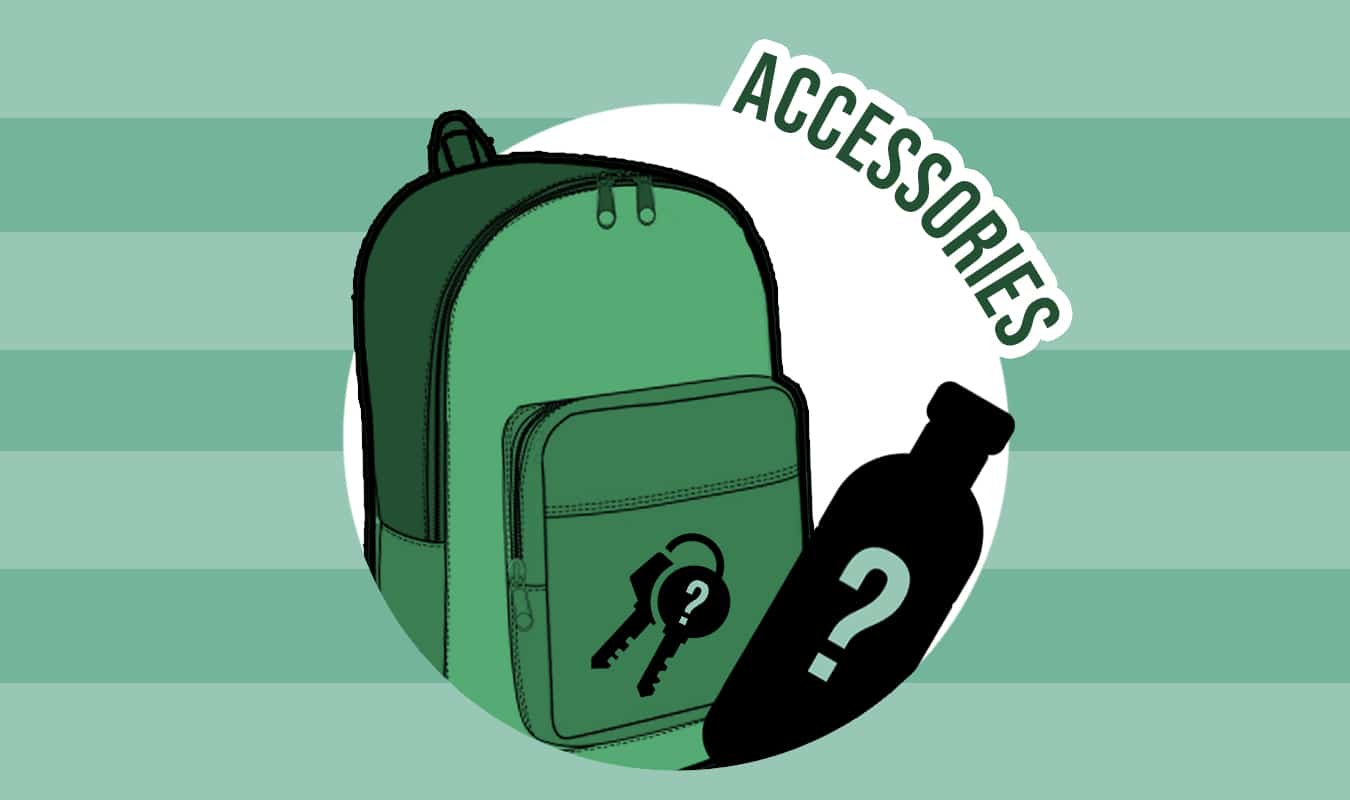 Finally, be sure to consider whether a backpack comes with any accessories that can improve the value of the purchase even further.
Some excellent backpacks will come with additional pocket dividers to help you better organize your gear or items while others may come with complimentary water bottles, locks to help secure your backpack or school supplies if it's a backpack marketed explicitly toward students.
These accessories won't necessarily make a backpack worth purchasing on their own, but they can act as useful tiebreakers or help convince you to pull the trigger on a purchase if you're on the fence.
---
Best Backpacks for Men of 2023 Reviewed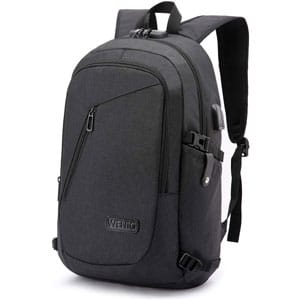 This versatile backpack has everything the student or frequent flyer needs to stay safe and organized, and it's one of the best commuter backpacks.
Specs
Who Is It Best For?
It's a perfect backpack for those who travel frequently or college students who need a general-purpose backpack that can serve multiple needs.
Key Features
This versatile backpack can serve many purposes, but it has definitely been designed primarily as travel or school backpack.
You can tell based on its included features which makes it the best laptop backpack for men.
For starters, the purchase comes with an antitheft lock to help you secure the interior of the backpack and prevent anything from theft.
It's made from a combination of polyester and nylon materials, both of which afford decent durability and flexibility without being as expensive as pure leather.
It also has lots of exciting design choices, like a USB charging port on the outside, so you can quickly charge your devices without having to entirely open the backpack.
On the interior, you'll find lots of partitioning pockets, plus several additional pockets on the outside that are perfectly sized for holding certain kinds of materials or one or two little things.
A dedicated laptop pocket is included on the inside, as well.
To make things even better, this backpack is water-resistant to a certain degree, so it's an excellent choice for traveling or using in inclement weather.
What about comfort?
Our testers thought it was decently comfortable without being the most padded or cushioned they tried.
All in all, we feel this is an excellent starter backpack if you want something more worthwhile than the traditional stuff you can get at Target.
It can serve a lot of functions based on your personal needs.
Check out the hundreds of customer reviews here on Amazon.
---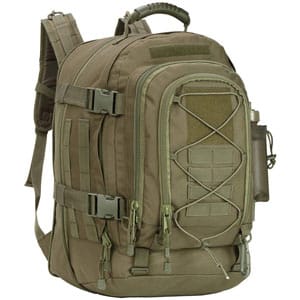 This is a thick, military-style backpack whose aesthetic evokes durability and high capacity: fortunately, it has both.
Specs
Who Is It Best For?
This is a better choice for men who want something robust that can withstand all the wear and tear they plan to subject it to on their next camping trip.
Key Features
This is a large backpack designed for tactical camping for taking on long hiking trips where you'll need to store lots of gear for long periods.
We'll get the downside out of the way first; it's not the most comfortable backpack we found by a long shot.
In fact, the straps largely neglect any additional padding or cushioning for your arms.
That being said, this backpack is phenomenal in terms of durability and capacity.
It not only has plenty of pockets on the interior and outside (as well as a mesh water bottle pocket), but it also features a special expandability function.
You can use a zipper on the side to expand the total carrying capacity of the backpack by about 20%.
You'll be able to carry so many supplies with this backpack that you likely won't need to carry any other bags even for extended hikes.
It's officially rated to be suitable for a three-day camping trip or hike, but we think you could stretch that with smart organizing.
The polyester and nylon materials are very durable even though it isn't water-resistant.
We also really like the two walkie-talkie pouches on the back straps of the bag.
The military-inspired aesthetic of the bag is easy to see when you consider functions like these.
It also features a durable handle at the top of the backpack for easy carrying without swinging it over your shoulder.
It's also customizable with Velcro patches, as a Velcro layer is already included on the front of the backpack.
Outdoorsmen or former military will likely love this backpack more than others.
Check out the hundreds of customer reviews here on Amazon.
---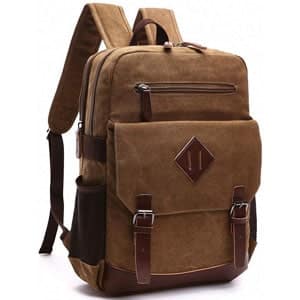 This classy backpack features a relatively unique aesthetic and still provides a decent carrying capacity.
Specs
Who Is It Best For?
This is an excellent backpack choice for students or travelers who don't need to carry tons of stuff with them and who are more concerned with aesthetics than super padded straps.
Key Features
Unlike most other backpacks on the market, this one is made with a durable canvas material that gives it a rustic feel while still providing excellent durability and an affordable asking price.
The canvas material does a great job of holding together, even under significant wear and tear.
While it doesn't provide water resistance on its own, the backpack as a whole is reasonably durable, and it still manages to be comfortable thanks to the smart design of the straps.
It's not an exceptionally high capacity backpack, so it won't ever be too heavy, but it's already lightweight of 1.6 pounds makes this a great school or general work backpack for slinging over one shoulder.
There are four different compartments split between outer pockets and interior partitions.
One of these is zippered for smaller accessories or small stacks; there's also an integrated laptop compartment on the interior of the main pocket.
By far, the biggest draw of this bag is its aesthetic.
It strikes a great balance between being budget-friendly and looking great.
It belongs on a university campus more than an outdoor hike, though it can take serviceability work for a one-day hiking backpack due to its durability but small overall capacity.
All in all, it's a great backpack and a perfect choice if you don't want something unusually large and unwieldy but want something suitable for carrying laptops, binders, and similar materials frequently.
Check out the hundreds of customer reviews here on Amazon.
---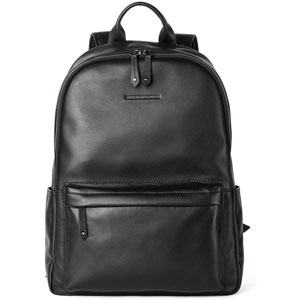 This leather backpack is one of the most durable backpacks and super stylish.
Specs
Who Is It Best For?
It's an excellent choice for men with a little extra cash to spare and who want a leather backpack to accompany their favorite leather jacket.
Key Features
This is one of the best leather backpacks on the market, even with its high asking price.
Right off the bat, you'll notice the simplistic and sleek black aesthetic provided by the leather design, which encompasses the entirety of the backpack's shape.
It features two slim straps that are nonetheless reasonably comfortable even if you feel the backpack to capacity.
It can't take too much gear compared to backpacks designed for hiking or camping, but because of this, the straps are never overtaxed or feel overly uncomfortable.
Still, we'd hesitate to recommend this for men who need to take lots of stuff within each day, as the limited carrying space might be more of a downside for those guys.
There are three compartments on the exterior and two on the interior to afford decent organizational opportunities for students or workers.
Because it's not very heavy, it's easy to retrieve your items from the backpack by slinging it off one shoulder.
While it's not strictly water-resistant, the leather outside will protect your stuff a little better than cheap polyester.
Additional benefits include the pleasant smell, which gets better with time, and the easy adjustability of the shoulder straps, which allow this backpack to work for men of many different heights or sizes.
It's one of the best business backpacks for its aesthetic and other benefits, in summary.
This is a premier backpack that we would recommend for men looking for luxury carrying cases or for guys who want to bolster their wardrobe when they return to school next semester.
This is not something you take on outdoor trips, but for everywhere else, it'll be great.
Check out the hundreds of customer reviews here on Amazon.
---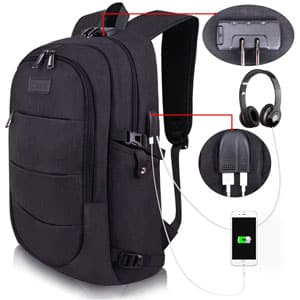 This is another all-purpose backpack choice that features middling attributes but a great antitheft lock and an extra device interface.
Specs
Who Is It Best For?
This should be a premier pick for students or young travelers that appreciate being able to charge their phones from a special port.
Key Features
This is another versatile backpack choice that only weighs 1.8 pounds but provides plenty of carrying capacity for students or travelers alike.
It has a great interior design with several partitioned pockets inside the main zipper compartment, plus several smaller pockets on the outside for their organizational options.
An included and integrated lock is set at the top of the backpack to prevent the main laptop pocket from thieves breaking in.
Since this is part of the backpack's fabric, it'll never accidentally get lost, either, which is a great design choice in our eyes.
The fabric is made from polyester and nylon, though more of the former and less of the latter.
This lends it a very slight amount of water resistance, but not enough that we would recommend that you feel comfortable setting this on a wet floor.
Still, it has other advantages to make up for this downside.
The straps are easily adjustable and offer decent comfort for their thinness and quality.
This backpack also comes with a USB interface with a built-in table to let you easily recharge your electronic devices without having to rummage through your bag.
An additional headphone interface lets you listen to your music with more ease than most other backpacks can allow.
Ultimately, this is a phenomenal choice for students or general travelers that want something budget-friendly but still of decent quality.
Check out the hundreds of customer reviews here on Amazon.
---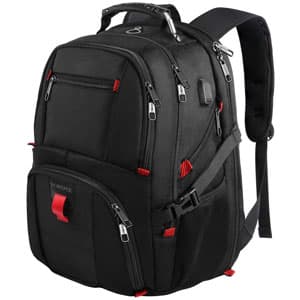 This backpack offers excellent comfort and durability, plus some of the highest carrying space we found in our search for the best.
Specs
Who Is It Best For?
This is one of the best travel backpacks for men since it has the padding to let you keep going for hours and the space to carry tons of gear.
Key Features
This large capacity backpack has enough interior space to comfortably fit a 17-inch laptop along with many other supplies across its various compartments, both the interior and the exterior.
It's a great laptop backpack for men for this reason alone.
It has so much space that we wouldn't hesitate to recommend this as one of the best backpacks for college students that need to bring along tons of stuff each day for school.
But it will also serve as an excellent travel backpack, mainly because it has antitheft lockable zippers to prevent thieves from getting into any of the zippered compartments.
The shoulder straps are another high point, featuring good padding that keeps this backpack generally comfortable even if you stuff it to the brim.
It also offers an external USB port and a port for your headphones to let you quickly access those devices without having to open everything up.
This makes it one of the best tech backpacks, too.
It also features a unique ventilated design on the back to help you remain comfortable if you have to wear the backpack for long periods.
This ventilated design will make your back less sweaty or hot as you walk, which is a great feature our testers loved.
Overall, we're very satisfied with this backpack as a general tool and figure that it can work in just about any situation you need to, even if it is clearly aimed at college students or travelers.
The only thing to keep in mind is that it might be a little too big for some airplanes or traveling accommodations.
Check out the hundreds of customer reviews here on Amazon.
---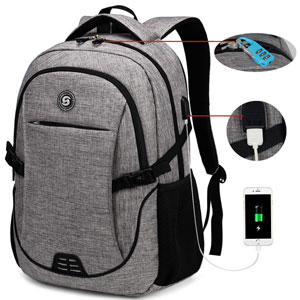 This secure backpack is reasonably sturdy but features an excellent ventilated back to keep you from getting too sweaty on your journeys.
Specs
Who Is It Best For?
This backpack will be an excellent pick for students or travelers alike, mainly because of its unique lockable zippers.
Key Features
This is another versatile backpack that comes with an optional zipper-lock you can use to prevent thieves from getting into your valuables.
It's almost entirely made from nylon (except for its durable zippers), providing it with excellent water resistance and overall durability while still being comfortable and flexible.
In fact, this backpack also features the ventilated back design we mentioned on an earlier pick.
This will help you remain relaxed and comfortable if you have to wear the backpack for hours on end.
This surely makes it one of the best everyday backpacks
The straps are decently padded (though not the most comfortable we experienced).
The top handle is also padded with the same material, which makes that handle in particular among the more comfortable we found.
The interior features several pockets, along with a few of similar size can fit multiple laptops or books into the main compartment while still keeping things organized.
There are also a few subsidiary compartments on the exterior to let you store water bottles or similar gear.
An internal shockproof belt is an additional design we really liked; you can use this to secure any fragile items on the interior of the backpack and protect them from damage as they rattle around.
It has a handy USB charger port on the outside and a built-in USB cable on the inside, which is a great convenience for students and travelers alike.
Check out the hundreds of customer reviews here on Amazon.
---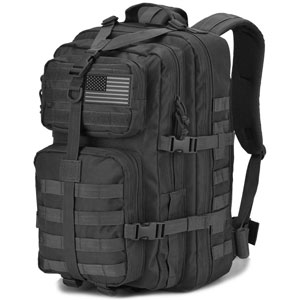 This hard-core military backpack looks like something out of an action film, and for a good reason, it features many of the same qualities and functions as the "real" thing.
Specs
Who Is It Best For?
This is an excellent choice for hikers or serious travelers, and it'll be especially popular for active or former military service members.
Key Features
This heavy-duty, military-style backpack tells you what it's intended for from its aesthetic alone.
You can purchase it in either a black or tan color, and it features a wide array of exterior and interior pockets to allow for optimal organization of several days' worth of gear.
It does have a ventilated back to improve your comfort and prevent you from sweating too much, with the same ventilated mesh design showing up on the straps.
These straps can improve user comfort over long periods, though the blocky shape of the main backpack unit prevents this from being truly comfortable.
It's high general weight also contributes to this aspect.
However, even with these negatives, it's still a phenomenal choice thanks to its 40 L capacity and its excellent durability and water resistance.
Everything has been double stitched to ensure that it won't fall apart even after heavy wear and tear; even the zippers and utility-style cord pulls are super durable.
It also features special Molle webbing throughout the interior and exterior to let you attach additional tactical pouches.
There's even a hydration port so you can attach a water bladder like you might have seen US soldiers use on occasion while on duty in the Middle East.
A final Y-strap on the top of the backpack is perfect for holding a sleeping bag.
This is an excellent choice for campers or hikers, or for guys who prefer the robust durability and functionality of a military-style backpack over extra comfort.
Check out the hundreds of customer reviews here on Amazon.
---
Frequently Asked Questions About Backpacks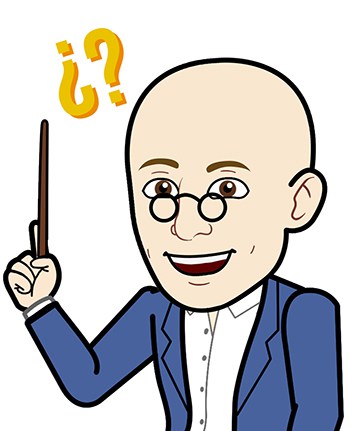 Now that you've seen our choices for the best backpacks for men, let's answer any other questions you might have about these helpful tools before you head out.
1. How To Use A Backpack Correctly/Efficiently
Using a backpack the right way will help you extend its lifespan and make the most of its limited carrying capacity.
The backpacks men carry are for various purposes and the best work bag for men may necessarily not be the best school bag.
Below, you'll find some excellent examples of how to pack a backpack depending on the type of activity or use it's for.
Not only will this help you make the most of your backpack, but it also saves you time since you won't waste minutes packing or unpacking your stuff from a jumbled mess.
Travel
Travel can be a hectic affair, and backpacks are one of the most common tools people use to survive plane trips without having to lug a big suitcase behind them.
Even if you don't fly, many places only accept backpacks of a specific size or weight, so you must maximize the space of your backpack and keep things tightly packed.
This will allow you to store it on more vehicles or methods of transportation and make it easier to carry in the long run.
Besides, those who live out of their backpack, such as Europe backpackers, they will often need to access their stuff several times throughout the day.
Having an organized backpack will smooth things over and prevent you from getting a headache each time you need to reach for a fresh pair of socks.
A good rule of thumb is to start by putting your shoes into the backpack first, then rolling up any clothing items you want to take into thin, horizontal bundles.
You can stack these clothing bundles on top of one another severally before you run out of room, so it's a great way to maximize the number of spare clothes you can carry.
Another general tip is to put things that you rarely use at the bottom of the backpack while leaving your more common items (like a watch) at the top.
One exception is possibly your wallet, which you might want to stuff deep within the backpack to make things more difficult for any would-be thief.
Use your side or secondary compartments (if you have any) to store specific groups of items; for example, have a pocket dedicated explicitly to your toiletries.
School
School backpacks are often cluttered messes, but yours doesn't have to be.
Keep your laptop in a separate compartment easy to reach, as you'll likely need to acquire it several times throughout the day.
You should also focus on keeping stray papers or writing utensils to a minimum.
Instead, keep these in carefully collected binders or have a specific pocket for your pens and pencils.
It might also be a good idea to have some room at the top for any food you want to bring, as eating out every day can be expensive.
Work
The best work backpacks are organized similarly to school backpacks.
You'll likely have a laptop and several other notepads or writing utensils, so try to keep these neatly organized instead of spreading out all over the backpack interior.
You should also consider taking a spare change of nicer clothes or at least some different shoes if you are going to the office on a Friday and want to attend a cocktail mixer after work.
For this situation, keep the close of the bottom of the backpack until you're ready to retrieve them.
Hiking
For hiking, you'll want to think about organizing your backpack like you would if you were traveling.
Tools that you will use frequently should go up top or in pockets that are easy to reach while rarer tools or souvenirs should go at the bottom where they will take up less common space.
Hiking backpacks may also want to incorporate some kind of padding or protection for specific tools or pieces of gear (like gas canisters).
Clothing items work well for this purpose, as you can roll them up as we described above and use them as padding without having to take up extra space with dedicated cushioning like a newspaper.
2. What's the Difference Between A Backpack and Other Bags?
Rucksack
A rucksack is basically a different variant of the everyday backpack.
Most normal backpacks feature a zipper closing mechanism that goes all the way around in a half-moon arc, allowing you to fully open the backpack when the zipper is moved from one side to the other.
Mens rucksacks are more popular in military or hiking organizations and feature a different opening method: usually, a top lid or flap that either tied down or held in place with a buckle.
Opening this top lid is usually quicker, but it's not entirely as secure as the zipper from a regular backpack.
Though this isn't a requirement, rucksacks are also typically a little more durable and high capacity than many backpacks on the market.
This is part of the reason why they're so popular among outdoorsmen.
Messenger Bag
Messenger bags are distinguished by their single carrying strap, which is usually meant to be worn over one of your shoulders.
You can wear the messenger bag with the bag held on the same side as the shoulder the strap is secured by, or you can diagonally wear the strap.
Messenger bags allow for easy access to their interiors, but they can't usually hold as much stuff as a regular backpack and aren't as good for comfortable traveling over long periods.
They put all of the weight of their carried equipment on one shoulder, which is terrible for endurance.
3. How To Clean A Backpack
Despite our best efforts, backpacks can often get dirty.
Depending on the type of material used to make your backpack, you can either machine wash it or wash it by hand.
Machine washable backpacks should be emptied beforehand and turned inside out.
You should use a stain remover and a toothbrush or cloth to get rid of any smears or stains you discover on the interior to the best of your ability.
Then you can throw it into a regular washing machine (putting it in a pillowcase is a smart idea to prevent the zippers from damaging the interior) on cold water settings.
Use a little detergent to let the machine do the rest.
If your backpack can't be washed in a washing machine, you'll want to use a gentle detergent and a washcloth or toothbrush like we described above.
Use cold water after emptying the backpack entirely and scrub away the stains as best as you can.
You'll need to leave the backpack inside out and let it air dry after washing it thoroughly.