Women have purses, but the truth is that we men have things we need to carry, too!
While we benefit from pockets often, sometimes the little pouches sewn into our jeans or slacks aren't enough to do the job.
At the same time, backpacks, a go-to option for students, and hikers don't necessarily fit the mood of all situations.
You wouldn't see a businessman wearing a big backpack on his way to the office in most cases.
So, what's the solution?
Messenger bags are a fantastic hybrid between a classic purse or satchel and a backpack, combining elements of both for a stylish and helpful result.
They're inherently masculine in both their simplicity and practical value, and you can find them in a wide variety of colors, materials, and styles.
You might think that it'll take forever to find the right messenger bag for you, but there's no need to worry.
Instead, check out our comprehensive guide below, and we'll show you the best men's messenger bags for all kinds of preferences.
We'll also help you figure out which kind of durable messenger bag you'll prefer so your first choice is the best choice.
Let's dive in!
Use the table of contents below to jump to the sections most important to you.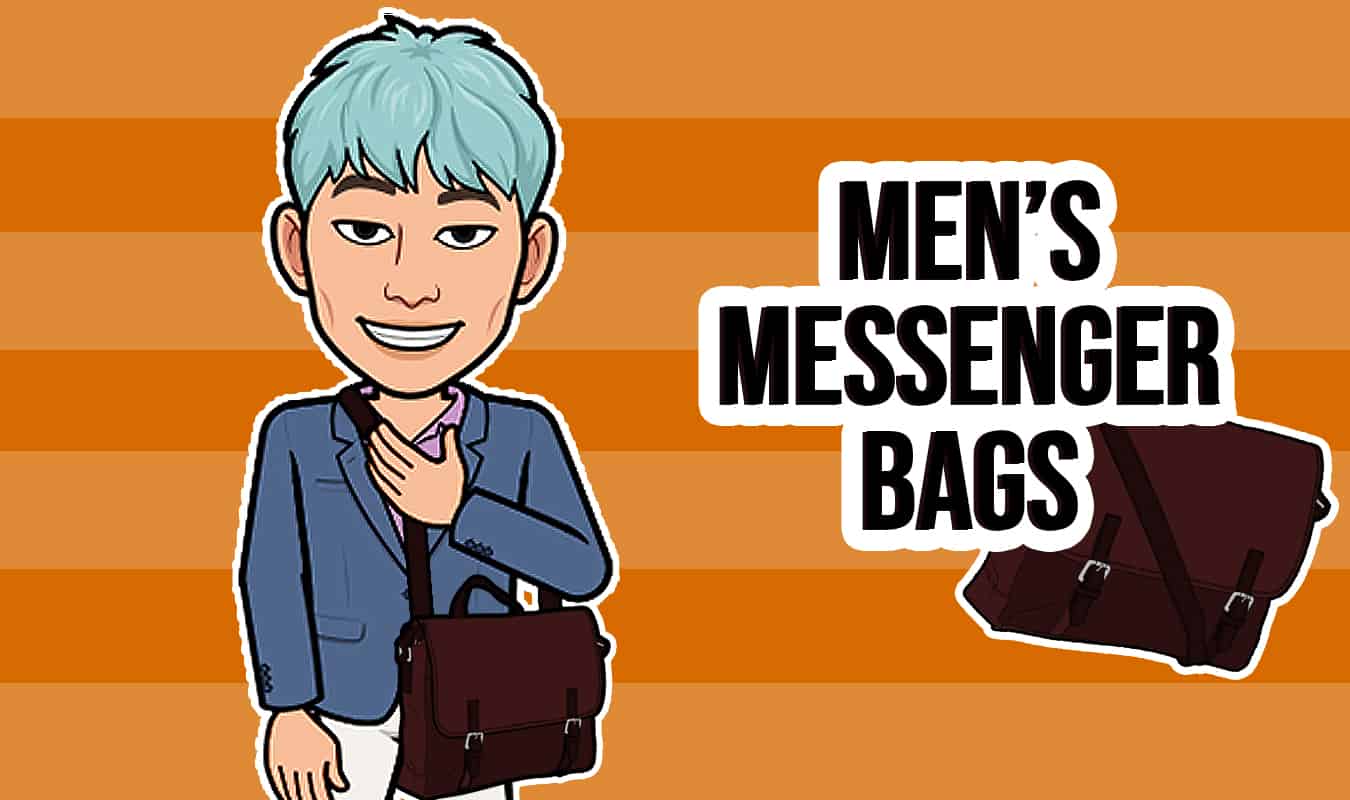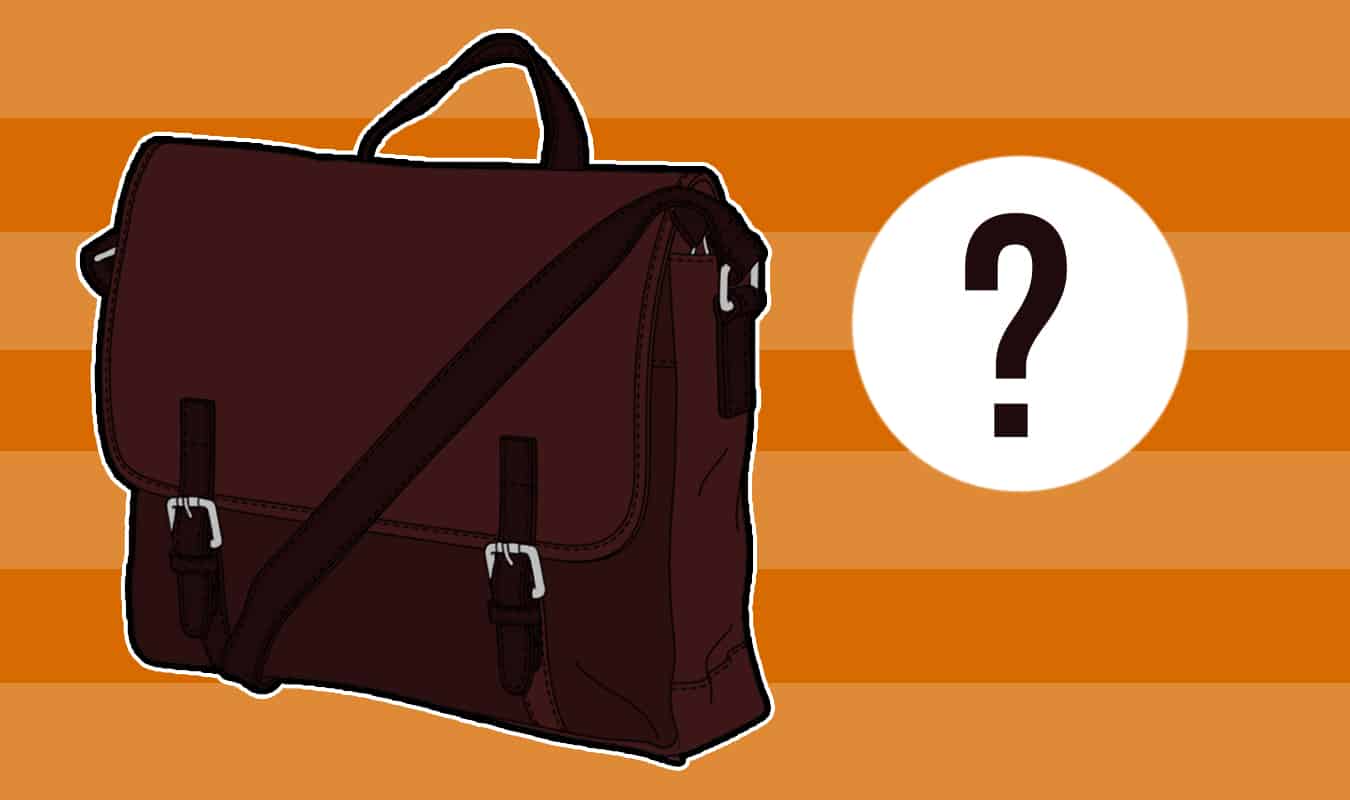 A messenger bag is a style of bag trendy among men for a variety of needs and professions.
Contrary to its name, the messenger bag doesn't have to be used for couriers or for transporting documents.
Instead, messenger bags can be used for carrying books, laptops, school supplies, and even clothes for a trip.
They're incredibly versatile bags that aren't usually as high capacity as big backpacks, but which have an additional element of style.
Messenger bags are more easily paired with multiple styles of clothing and won't look out of place in professional contexts.
As an example, a businessman running to a meeting can quickly wear a messenger bag without getting looks.
Replace the messenger bag with a backpack, and it's a different story.
So, messenger bags are great choices if you don't need to carry tons of gear or supplies but still need a bag with which to bring your effects to work, school, or back home.
They're typically worn with the main strap diagonally resting across your chest.
This means that all the weight from your carried stuff is placed on a single shoulder instead of both shoulders like with traditional backpacks.
This stylish design is part of what makes messenger bags so desirable for so many.
Ultimately, they're a great cross between the versatility and convenience of a regular backpack with the aesthetic style of a smaller purse-like compartment.
Therefore, lots of people call smaller messenger bags "man purses."
Hey, if it works for you, who is anyone to judge?
---
Things to Consider When Buying A Messenger Bag
Before you head down to see our top messenger bag picks, consider the following major factors.
This way, you'll be satisfied with your bag the first time you buy one.
1. Style
---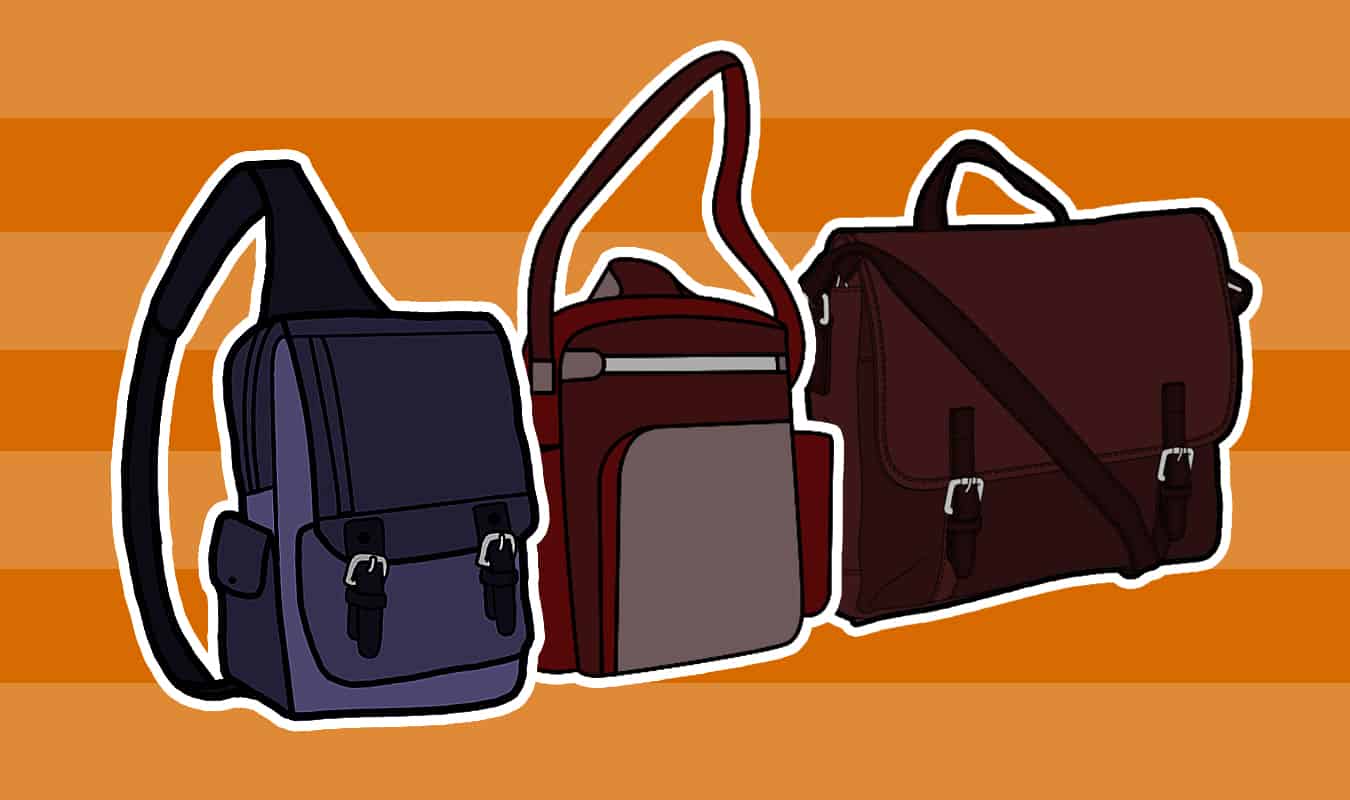 The exact style of the messenger bag you choose will determine how much it can carry, how comfortable it is in the long term, and how easy it is to retrieve your things.
The classic messenger bag style is the one you probably picture in your head when browsing.
These bags are worn with the main strap across the chest with the bag resting near your hip or slightly behind your hip as you walk.
They tend to be roughly rectangular in shape, though more squarish messenger bags of this style do exist.
These messenger bags come in all kinds of materials and sizes, making them the most common and versatile of all three types.
These bags are also straightforward to adjust since their large, thicker straps generally have buckles or other adjustment sections to accommodate multiple wearer sizes.
It's generally very easy to retrieve your stuff from messenger bags in the classic style.
Their pockets are either buckled or belted down, and some are even secured with Velcro straps.
To grab your things, simply swivel the bag closer to your hip and open the bag the way you would a purse.
If you don't have a particular size restriction or style in mind, the classic messenger bag might be a perfect choice for you.
So-called retro style messenger bags are the ones most similar to traditional backpacks.
They still use a single strap worn diagonally across the chest.
But they're usually designed with smaller carrying capacity in the general shape that is similar to a rucksack.
Rucksacks, if you're not aware, are a niche type of backpack with a single large compartment and a big flap to cover the opening.
Alternatively, some rucksack styled bags might have drawstrings to secure their openings.
Either way, this type of messenger bag has the main compartment rest closer to your back the way a backpack pouch would typically.
This is opposed to the classic style of a messenger bag, which usually sits nearer to your hips.
It's called "retro" because rucksacks used to be much more common before what we now consider to be regular backpacks took over.
These bags are trendy among city couriers, or those that need a messenger bag for light traveling.
They're a little more comfortable for long-term wearing because the weight is distributed more across your back as opposed to your shoulder and/or hip.
However, you have to unsling the bag or move the pouch across a longer distance to retrieve things from the compartment.
So, there's a tradeoff.
Retro style messenger bags also come in a wide variety of materials and colors.
Finally, "purse" styled messenger bags are the least common of all three but have their own benefits to make them worth consideration.
They're also called "crossbody purses" to distinguish them from the classic purse we now associate with women.
Fun fact: purses as you probably think of them were much more common in previous centuries; men and women alike would wear them in public.
So, what distinguishes a men's crossbody bag from a backpack?
It's mostly the size.
Purses are small bags that are rarely as large as either a messenger bag or a backpack and are usually used to carry daily personal effects.
For women, it's things like makeup or their wallets.
For men, purses (or purse-style messenger bags) can be used for similar items.
They tend to be more popular among older folks for whatever reason, though men who genuinely only need to carry a few things will sometimes have them at amusement parks or similar areas.
They're great for carrying water bottles, snacks, and payment for attractions.
However, their small size makes them less appropriate for carrying laptops or work materials as students will likely want to choose a different bag entirely both because of capacity and aesthetic reasons.
Ultimately, any style of messenger bag can serve you well and might be perfect for your needs.
Don't let perceived social stigma stop you from selecting the best messenger bag you can buy.
2. Material
---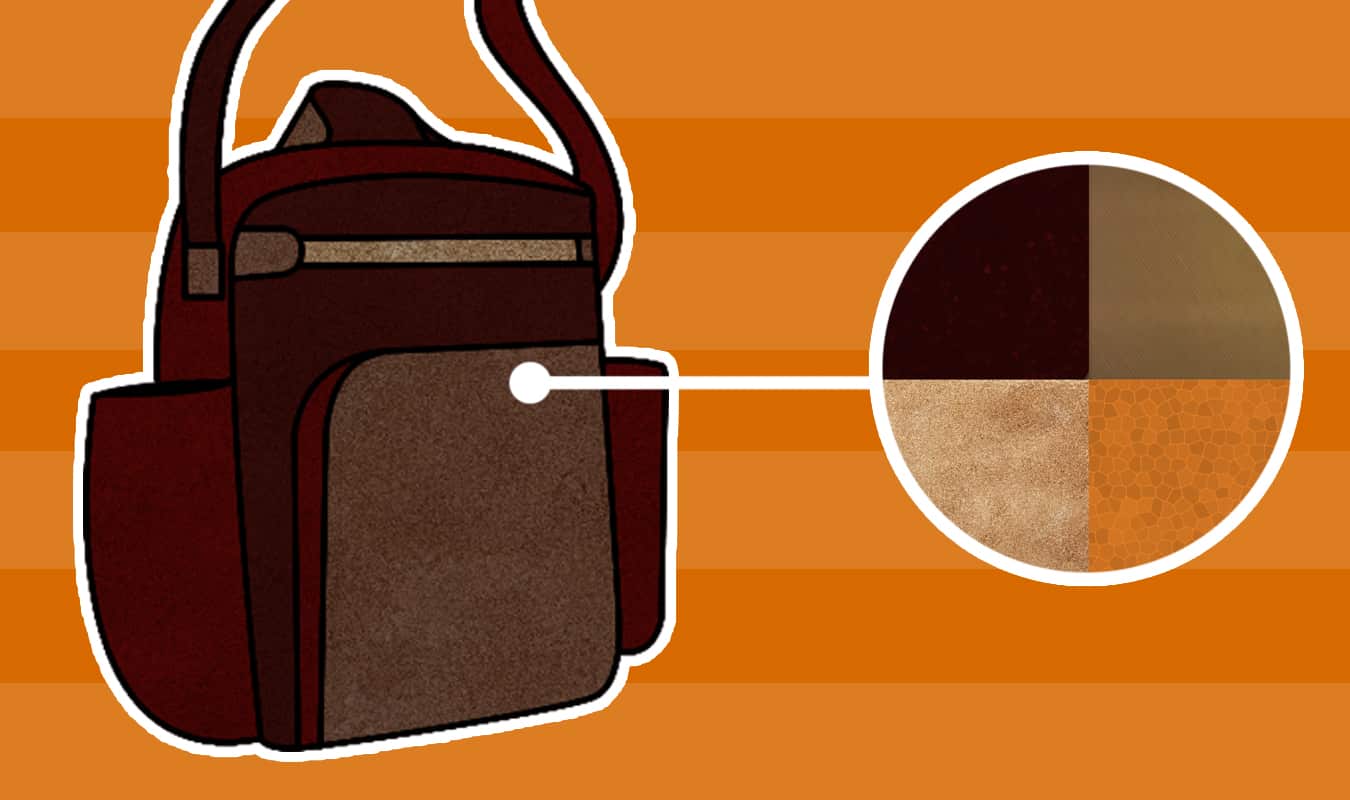 After the style of your bag is narrowed down, you'll want to consider what material has been used for its design and construction.
The material can affect how durable the bag is, how comfortable it is, and the colors available.
Leather is one of the more popular messenger bag options, though it's also among the more expensive.
That's because high-quality leather lasts for a long time and is exceptionally stylish for almost any occasion.
Leather messenger bags for men will be super durable and can be found in smaller or larger sizes.
They tend to go with just about any outfit or for any social situation: work, school, and general traveling circumstances can all be served with a leather satchel for men.
Another big plus is that leather messenger bags will look better the longer that you use/own them.
Leather materials take on a life of their own and can look incredibly stylish after being worn down a bit.
Of course, you still need to take care of them.
But there's no doubt that long-term messenger bags are best chosen with leather, even if there's a higher initial asking price.
Canvas is another super common messenger bag material.
Not only is it generally much more affordable than leather, but it also comes in a wider variety of colors.
Leather is limited to the standard dark browns that the material is known for.
But canvas can be just about any color you can imagine through ingenious dyeing processes.
Canvas feels smooth to the touch and is soft but has decent durability, even if it doesn't reach the same standard of leather.
Canvas can also be easily woven into larger or smaller messenger bags, which is part of why you can find so many made of this material.
Overall, canvas will be an excellent choice for many men because it's a well-known material and is usually very budget-friendly.
It also has a slightly rugged appearance that lots of men associated with messenger bags or courier satchels.
If you want to go for a classic small bag, look for your bike messaging route, canvas or waxed canvas messenger bag may be the way to go.
Be aware that can this is exceptionally water-resistant and can tear easily if you put sharp objects into the bag or rest it on an abrasive surface.
Polyester is next, and it's just as common as canvas, if not more ubiquitous.
This is the artificial material that you can find the most affordable clothing made out of nowadays.
Because it's artificial, it's super cheap in most cases and comes in a wide variety of colors and shades.
It can't be easily re-colored, of course, but that hasn't stopped clothing manufacturers from creating polyester products in every hue under the sun.
In most cases, we'd recommend polyester bags for guys who are really trying to be budget-friendly or men who don't need a very durable bag.
Polyester is usually slightly more durable than canvas, though much of this depends on the stitching used and the overall capacity of the bag.
All in all, polyester is about the same as canvas in terms of value in our eyes.
Picking between the two is mostly immaterial as their asking prices will be about the same.
Nylon messenger bags aren't super common but aren't necessarily rare.
In terms of durability and appearance, it's best to consider nylon as about halfway between canvas and leather.
As a result, many men look for nylon bags if they like the style and durability of leather products but don't want to pay a huge asking price upfront.
Nylon is very flexible and comfortable, thanks to its inherent stretchiness.
It's also decently water-resistant, so it's not as risky to take these messenger bags into rainy weather as it would be with a canvas bag.
Nylon usually comes in brown or darker colors.
Finally, you can find a decent selection of regular cloth messenger bags, though these are usually quite cheap and aren't very durable.
They won't usually stand up nearly as well have any of the above materials we've described.
It's best to consider cloth messenger bags if you're trying to stick to a very tight budget or honestly don't care about the toughness of the bag.
One area where cloth messenger bags might be helpful is if you're going for a small bag, you only plan to use occasionally on a short trip.
In these cases, a cheap but small bag is a cost-effective way to reach your goals.
3. Durability
---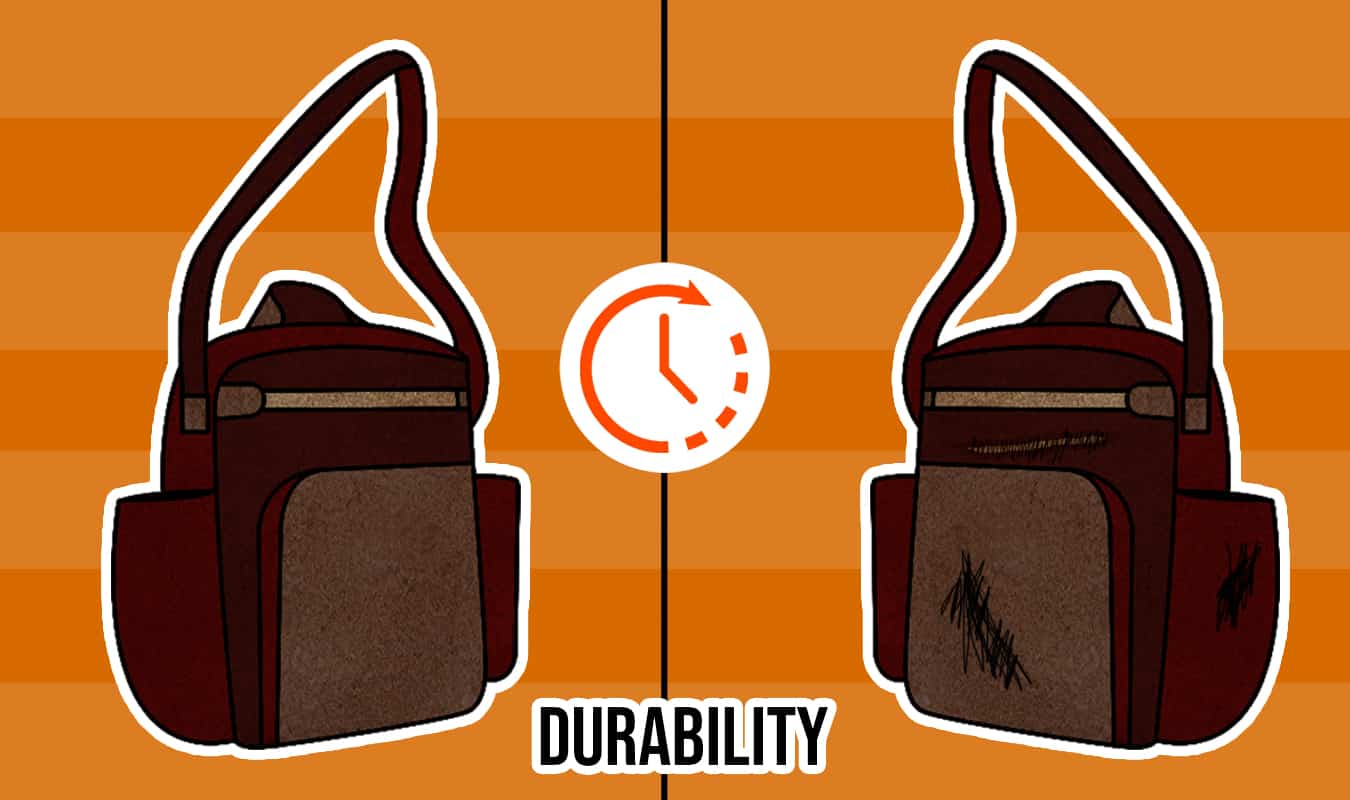 We already touched on durability somewhat when discussing materials, but it's important enough to warrant its own section in our considerations.
The durability of your bag dictates two things: the kinds of things you can stuff into it (and how much) and how long it will last.
Hardier messenger bags are usually much more worthwhile in the long run since they won't be broken easily and won't obtain holes very regularly.
These bags can also be stuffed to the brim more frequently without putting too much stress on the strap.
The strap is usually the weakest part of the entire product, as it's where the weight of the carried goods is concentrated.
Durable messenger bags are usually accommodated by similarly sturdy straps.
If you plan to use your travel messenger bag as your primary carrying compartment, we can't stress enough how important it is to pick something durable even if it costs more.
Durable messenger bags will be important for men who plan to use them for outdoor hikes or other traveling adventures, too.
4. Pockets
---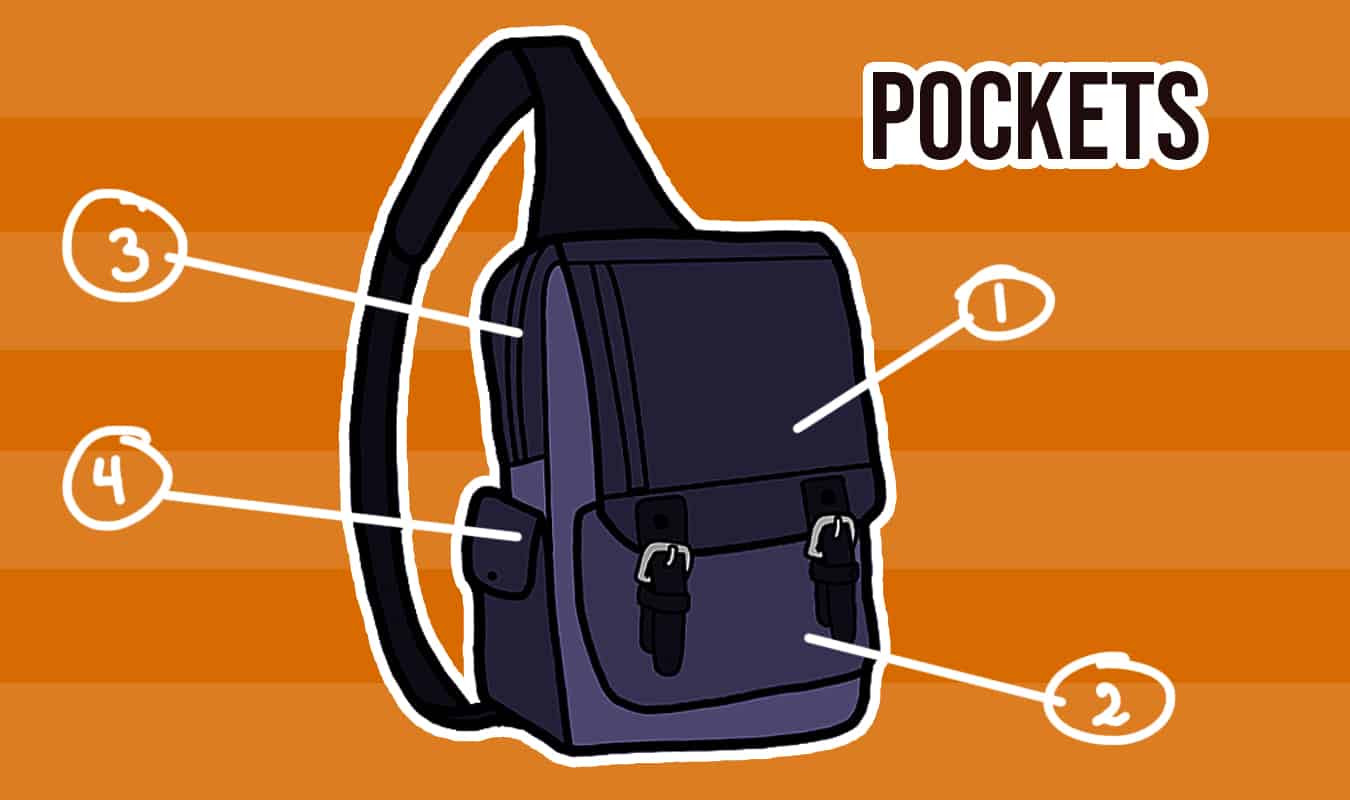 Next, consider how many pockets a given messenger bag has to offer.
All bags will have at least the primary compartment, which is covered by the flap that can secure via a belt buckle, Velcro strap, or buttons.
This compartment can also be accompanied by smaller pockets on the outside of the messenger bag or on the interior.
While these kinds of pockets aren't strictly necessary, they can be great for organizing your equipment or gear.
Men who want to use their messenger bags for school or work will probably find extra pockets more helpful.
It's easier to put all of your pens or cell phone into designated smaller compartments than it is to throw everything into a single large pocket and have to sift through all your stuff each time you need something.
Extra pockets don't usually affect the durability of a bag, though many extra pockets may raise the asking price of a given pick.
5. Capacity
---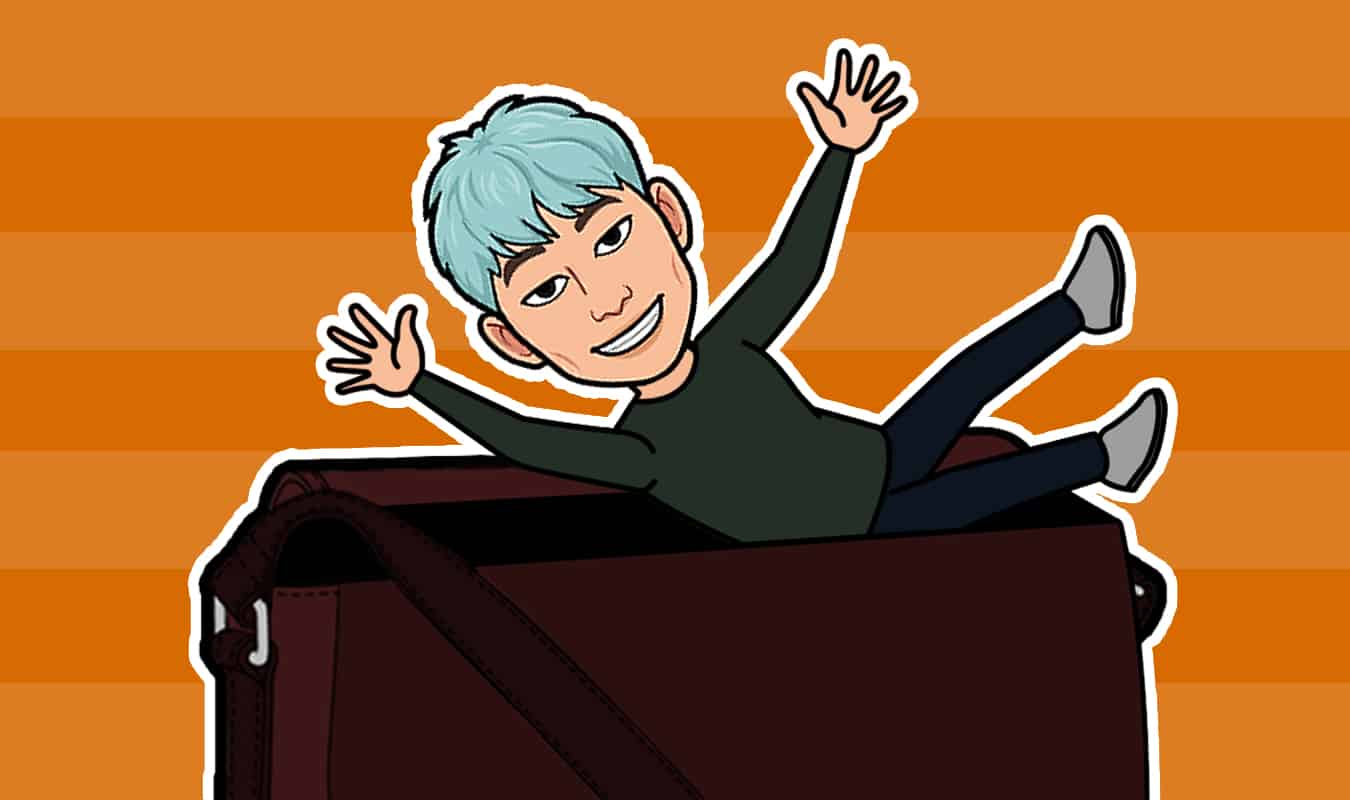 Don't forget to think about the overall size, which isn't the same thing as the number of pockets.
You can have a bag with a huge carrying capacity and a single pocket or a poorly designed bag with lots of pockets, not a lot of space between them.
There's no right or wrong answer when it comes to messenger bag capacity.
Some men will want larger bags with more space to hold multiple items at the same time.
You'll be able to store your laptop and any accompanying accessories all in the same bag with larger picks.
Small messenger bags are easier to carry for long periods and may be slightly more comfortable.
But they may only allow you to carry a single laptop and a few accessories.
It all depends on what you want to use the messenger bag for.
6. Color
---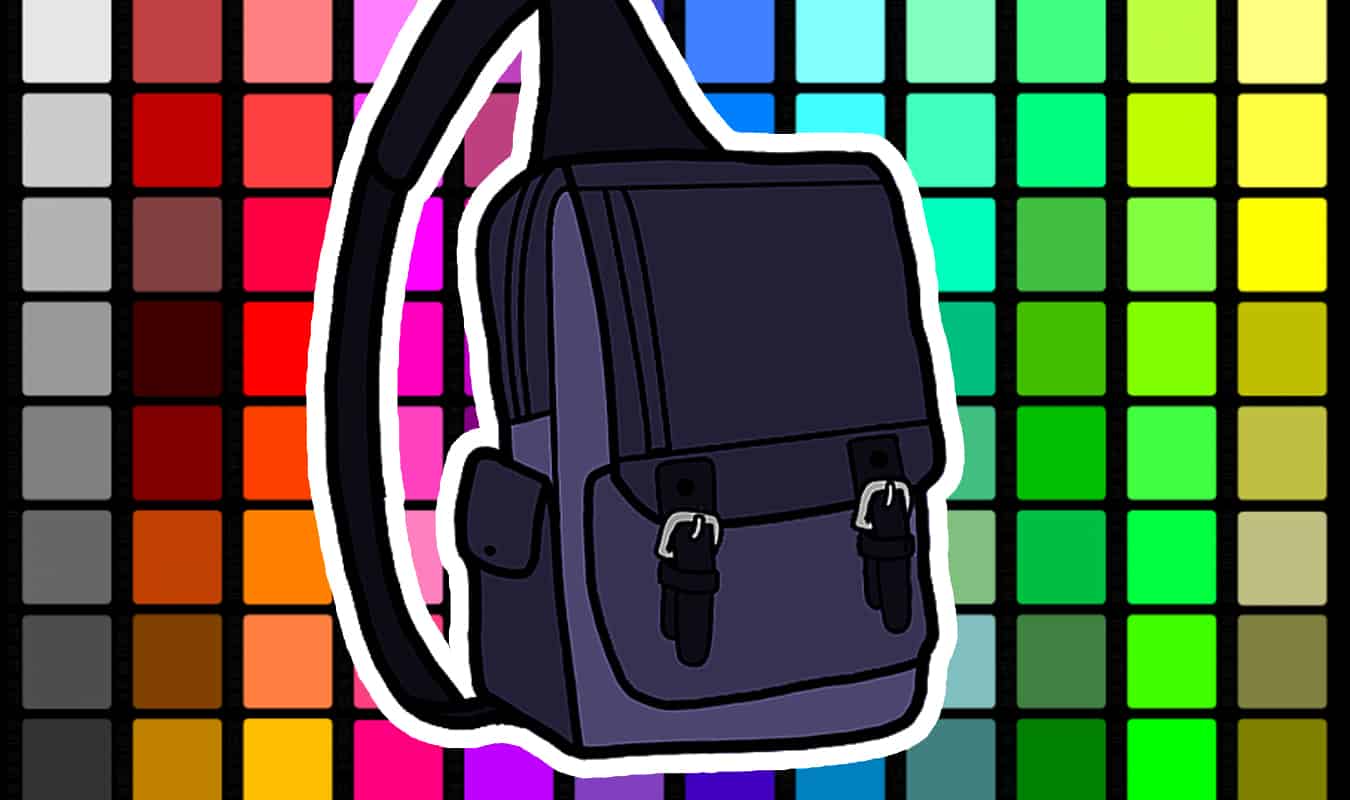 Finally, the messenger bag 's color is something you should also think about before finalizing a purchase.
Color doesn't determine its durability or any other aspects; it's just an aesthetic choice that might make the bag an excellent pick for your needs or character.
Many men will opt for traditionally masculine shades like brown or black.
But don't automatically discard brightly colored messenger bags if you want something more fun for your school year or work commute.
This is totally a subjective category, so feel free to have fun and think about what bag colors are your favorite.
---
Best Messenger Bags for Men of 2022 Reviewed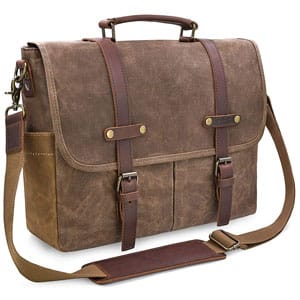 This messenger bag is a classic design that can work for almost any storage situation.
Specs
Who Is It Best For?
It's a phenomenal choice for men who want an iconic messenger bag that is also affordable.
Key Features
This messenger bag looks like it's made of leather at first glance, but it's actually made of genuine cowhide leather and water-resistant canvas woven together.
This limits the number of colors that this bag comes in, but it affords its superior durability and an excellent aesthetic we think men of all ages will appreciate.
It's a super sturdy bag metal buckles and hooks to ensure a long lifetime of repeated use even with heavy wear and tear.
The snaps are even magnetic to make securing the bag easy in a hurry.
The bag's shoulder strap is detachable: a feature that not every messenger bag can offer.
It's easily adjustable and features a padded handle and strap section.
In other words, using this messenger bag for extended periods won't be uncomfortable.
The padding doesn't end there.
The designated laptop sleeve on the interior of the main compartment is also padded to prevent your prized laptop from becoming damaged.
You can even secure it even further with extra magnetic snaps and zippers.
It's sized for most laptops at 15.6 inches, so only the largest personal computers won't be able to fit into the compartment.
The main sleeve isn't the only one available, too.
In fact, there are four interior pockets and five outer ones of varying sizes; you can store and organize all of your gear with ease.
Altogether, our testers really liked this messenger bag because it combines multiple desirable features and works for just about any need.
School, work, or travel are all accommodated by this bag's design.
Check out the hundreds of customer reviews here on Amazon.
---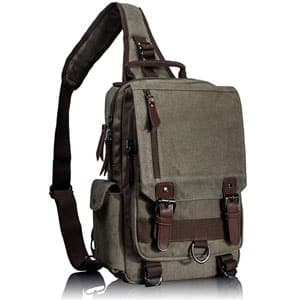 This is a retro-style messenger bag with a faux-leather finish and buckles designed for quick item retrieval.
Specs
Who Is It Best For?
That'll be a favorite for couriers and men on the go.
Key Features
The Leaper Retro Messenger Bag is an excellent example of the classic satchel messenger bag type that we described earlier.
It's made from high-quality canvas that has also been decorated with PU leather to provide it with a little extra aesthetic class and value.
On the outside, the canvas is more durable, while the interior layer is softer and more luxurious to protect your things.
The interior size is definitely the only real limiting factor for this pick.
It can fit a 10-inch tablet and is better thought of as a mini backpack than a full-on laptop messenger bag that can carry a larger laptop.
Still, it's an excellent choice for men who need a carrying bag of this type.
There are two interior pockets, one of which is zippered to let you store smaller things, with the other two being situated on the front flap or on the side of the bag.
It only weighs 710 g and has a full-length adjustable strap that can reach 41 inches long at maximum settings.
Because the entire bag is so lightweight, this is one of the more comfortable messenger bags we found in our search.
Besides, the buckles for the primary flap open and close really easily, so it's ideal for retrieving items quickly if you're a courier.
The other pockets are all opened with smooth and durable zippers that stay closed even if you jostle the bag around.
Overall, it's an excellent, lightweight messenger bag that'll be a perfect choice for men who need a more traditional satchel with a smaller carrying capacity than guys who need a bigger bag.
Check out the hundreds of customer reviews here on Amazon.
---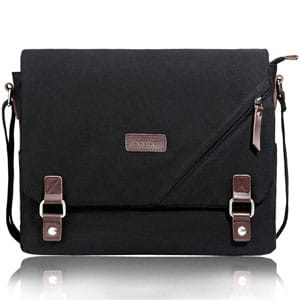 This bag is stylish and comfortable to use all day long.
Specs
Who Is It Best For?
It'll be a favorite for academics and businessmen alike.
Key Features
This is another classic style messenger bag with a considerable amount of space to carry all your stuff.
There are nine pockets in total, and they are spread relatively evenly across the bag's surface area.
There are three total inner pockets, with the rest situated on the outside of the bag on the front, back, and sides.
Ultimately, the bag has enough room to fit a 14-inch laptop along with many other accessories in school supplies.
The best of these pockets, in our opinion, is the diagonal compartment located on the outside of the main flap.
This compartment is perfect for devices that you reach for frequently without having to dig through the central interior of the bag.
When you're carrying all your stuff, you'll benefit from the padded shoulder strap.
During our testing, we discovered that these were comfortable if you could set your shoulder up perfectly beneath the padded section with the rest of the straps being kind of uncomfortable.
That minor downside is the only flaw we could find.
Otherwise, the bag is made of water-resistant Oxford fabric, which means it'll keep your stuff safe even in rainy weather.
The strong buckles situated on the front of the bag are not only stylish but heavy-duty, and they're easy to snap open and closed, to boot.
Aesthetically, this bag would fit right at home on a university campus or at a business meeting.
Because it's so affordable, this bag will be an excellent choice as a messenger bag for students above all else.
The one-year warranty is a final additional benefit we need to mention.
If the strap rips for this bag, all you have to do is let the manufacturer know, and they'll send you a new bag or refund you.
It's excellent for peace of mind if you never bought a messenger bag before.
Check out the hundreds of customer reviews here on Amazon.
---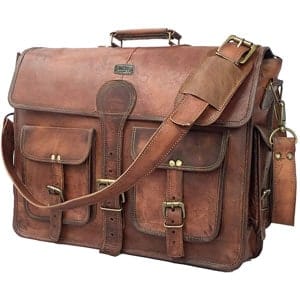 This best laptop messenger bag is made of high-quality leather and is large enough to hold virtually any laptop.
Specs
Who Is It Best For?
This should be the pick of choice for men who want the best of the best and as much room as possible.
Key Features
This is a high-quality handcrafted leather messenger bag for men that immediately evokes style and class for anyone who wears it.
It's perfect as either a laptop or general storage bag, with dimensions of 13" x 18" x 5".
That means even larger laptops of 17 inches or more can be easily fit into this messenger bag.
It's one of the best laptop messenger bags as a result.
It has three major compartments, with the largest of them being situated on the interior next to a smaller zippered pocket that's ideal for storing smaller devices or accessories.
The adjustable shoulder strap is fitted with a separate pad that you can move along the strap's length.
This is a brilliant design choice, as it lets you ensure proper shoulder comfort no matter how you adjust the carrying strap.
It's much better than having the comfort pad sewn into the strap itself.
There's an additional handle at the top of the bag if you'd rather carry it that way for short distances.
Since the bag is made of leather, it already has excellent durability and water resistance.
As such, all you need to do to ensure that this bag lasts for a long time is occasionally clean and treat it with leather solutions.
The buckles situated on the main front pockets and main fastening strap are all really durable and a brass color that goes well with the letter aesthetic of the rest of the bag.
The only downside is that these buckles need to be undone manually each time you want to open the bag, making it a poor choice for quick retrievals or couriers.
That being said, we can't imagine anyone actually having a serious problem with this high-quality messenger bag.
It's incredible at what it's designed to be: a classic, academic or business-oriented case for mature men with a little extra cash to spend.
Check out the hundreds of customer reviews here on Amazon.
---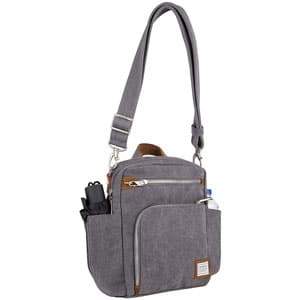 This bag is small, lightweight, and has several features to discourage thieves.
Specs
Who Is It Best For?
It's an ideal choice for travelers or men spending a day at an amusement park.
Key Features
This is one of the rarer purse-style messenger bags we discussed earlier.
That being said, don't think that this messenger bag won't look great when used correctly.
It has a single strap that can drop to a length of 25 inches: above and beyond the strap length that most other best messenger bags can provide.
It's made of a cotton and polyester blend that keeps its asking price relatively low but provides it with decent durability and a comfortable feel.
On the interior, you'll find a single room in the compartment that includes a zippered blocking pocket.
This pocket is specifically designed to prevent thieves from getting to your relevant documents or devices, marking this as an excellent choice for a traveler's messenger bag.
It also comes with a tethered key clip and an LED light; this will help you find your keys in the dark when rummaging through the bag's main compartment.
But two easy-access front pockets can be locked just like the interior pocket.
Again, this is meant to dissuade thieves from going through your stuff.
Another zippered pocket at the back continues this trend.
A final pair of pockets are located on either side and are made with mesh materials to expand easily.
These are perfect for storing water bottles or other outdoor equipment as you stroll through the park or tour a city.
Ultimately, the only downside to this bag is relatively low interior carrying capacity.
You won't be able to use this for business or school needs reliably but it's a great idea as a daily traveling bag like a regular purse.
Check out the hundreds of customer reviews here on Amazon.
---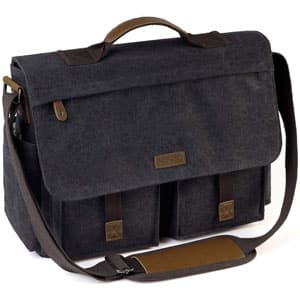 This is another iconic messenger bag with superior durability and a comfortable leather shoulder pad.
Specs
Who Is It Best For?
This is perfect for students or businessmen who want something with lots of pocket options.
Key Features
The VASCHY bag is another classic variant of the best travel messenger bag archetype, made from high-quality waxed canvas.
The canvas material already keeps the asking price low of the waxing procedure gives it extra water resistance.
As a result, it's one of the more durable messenger bags on our list, even though it isn't made from leather.
Well, aside from the shoulder pad, that's made of leather, and it complements the adjustable shoulder strap to provide a comfortable carrying experience.
Like another pick, this shoulder pad can be moved independently up and down the strap to make things easier for you.
This messenger bag has a flat cover that can connect to an antitheft buckle.
This ostensibly stops the bag from being opened against your will.
But it's just a regular buckle, so its "antitheft" properties are limited to making any would-be thief take an extra minute to undo your bag instead of just flipping the flap open.
The main compartment is large enough to hold a 15.6-inch laptop, and it has been padded to protect your laptop as you jostle it around.
The primary compartment is bolstered by the presence of two additional zip-pockets for smaller essential documents or credit cards.
Three more zippered pockets are present beneath the main flap: perfect for storing your accessories.
Two final side pockets are perfect for storing water bottles and other frequently grabbed items.
The last thing we'd like to note is the luggage trolley sleeve on the back.
This'll let you attach the messenger bag your luggage pretty quickly and easily.
All in all, we're impressed by this messenger bag's versatility and its plethora of features.
The combined a lot of the high-quality aspects of the full leather case without the higher asking price.
Check out the hundreds of customer reviews here on Amazon.
---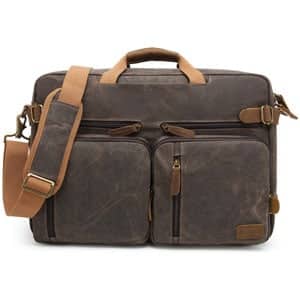 This messenger bag can transform to change how you can carry it.
Specs
Who Is It Best For?
This messenger bag is an excellent choice for guys who like backpacks and messenger bags in equal measure.
Key Features
This top quality messenger bag is another versatile choice that can fit the largest laptops up to 17.3 inches.
Or you can use the spacious interior compartment to store lots of clothes or other stuff for travel and school.
Aside from the laptop compartment, you can also use the six outside pockets which all feature zippers.
These are perfect for organizing your smaller items and keeping them secure at the same time.
The main carrying strap is padded to provide you with comfort as you carry it around campus or across town.
However, the most notable feature for this messenger bag is its convertible design.
The primary carrying strap can be ignored in favor of two smaller straps that are typically stored in a back compartment.
You can swap the straps in or out of this compartment, depending on the ones you want to use.
This only takes a couple of seconds, so converting from messenger bag to backpack and back again is easy and fast.
You can alternatively carry the bag with the comfortable handle located at its top.
Altogether, you have three ways of carrying this messenger bag depending on your preference or how cramped your current environment is.
It's an excellent design that we wish more messenger bags would incorporate.
As a bonus feature, use that same compartment to thread a suitcase handle through the back of the bag, enabling you to attach it to your luggage very quickly.
Check out the hundreds of customer reviews here on Amazon.
---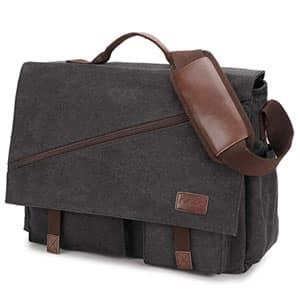 This messenger bag is durable and extremely organized on the interior.
Specs
Who Is It Best For?
It's a perfect choice for guys who like having specific compartments or places for all of their things.
Key Features
The Ravuo Messenger Bag is a canvas option that's both heavy-duty and water-resistant, so it's an excellent choice for guys who want to protect all the stuff they carry.
It has 15 pockets in total, more than most other messenger bags on the market.
These are situated all across the bag's surface area, with the most notable pocket being the large diagonal zippered compartment along the primary flap.
This is perfect for storing your frequently reached for items or relevant documents.
More importantly, there's a compartment that has unique slots built into the fabric or carry credit cards or keys.
Organizing all of your smaller things has never been easier.
The main laptop compartment can hold computers up to 15.6 inches wide.
The shoulder strap is another notable point, with a movable, thick shoulder pad that is super comfortable even if the carried things are quite heavy.
An additional top handle is included, though the stitching here is weaker than anywhere else, which is a bit odd.
Overall, it's an excellent messenger bag for more reasons than one, but its primary fans will be guys who enjoy overly organizing their things.
Check out the hundreds of customer reviews here on Amazon.
---
Frequently Asked Questions About Messenger Bags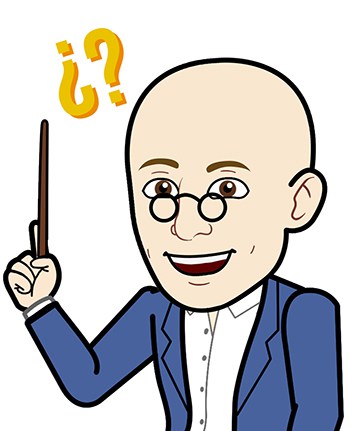 By this point, you've already seen our favorite choices for the top messenger bags for men.
But you might still have a few lingering questions about these phenomenal carrying companions that we can answer below.
1. How to Clean/Care for Your Messenger Bag
Messenger bags can accompany you for years before kicking the bucket, but only if you take care of them properly.
If you want to maintain the appearance and integrity of your messenger bag, keep reading for some quick tips for cleaning and caring for your bag.
The exact process can vary depending on the material used in the bag.
Leather
Leather messenger bags are quite sturdy and long-lasting, and they don't take a lot of effort to care for them.
You'll want to first protect your leather by applying a non-toxic sealant.
This will ensure its look and durability as you use it over the following weeks and months.
As you use the bag, make it a habit to periodically wiped the leather down with a damp cloth and a cleaning solution for leather.
It's likely that many of the same products you can use on shoes or other leather stuff will work here.
You just want to find something that isn't too strong, since your leather messenger bag might have thinner leather than many boots or clothing items like jackets.
Wipe the bag clean with a lens cloth after applying the solution, and you'll both clean and protect the leather like a pro.
Nylon
Nylon, being somewhat water-resistant and decently durable, can withstand rougher cleaning products and procedures than something like canvas.
Occasionally, take a cloth or a gentle plastic brush and scrub away any stains and debris from the outside of the bag while emptying the interior.
You can get nylon fairly wet so long as you air dry it after cleaning is finished.
Canvas
Canvas is inexpensive but is weaker than either of the above two materials.
In fact, likely to absorb any liquid or chemicals you try to use when cleaning it.
Because of this, you'll want only to use a minorly damp cloth while scrubbing away stains and other offending marks from its surface.
Try not to get it too wet or it'll take forever to dry.
Like with nylon, letting the bag air dry once finished is the way to go.
Anything Else
Any other material messenger bag should be cleaned just like a canvas bag; it's better safe than sorry!
What you don't want to do is throw your messenger bag in the clothes washer.
Those machines are much rougher than you might think and can easily cause damage to the bag itself or bash the buckles of the bag into the machine interior.
Hand washing your messenger bags should always be your go-to option.
If any of your bags get horribly stained by some terrible chemical or drink, find a strong chemical cleaner and clean it by hand.
2. What Types of Clothes Go with Messenger Bags?
The great thing about messenger bags is that they can go with just about any kind of clothing.
Business attire, vacation clothes, even normal streetwear can all work perfectly with these versatile satchels.
The only thing you need to consider is material.
As an example, a leather messenger bag is already something of a staple in the business world.
It's the masculine replacement for the businesswoman's purse.
Alternatively, a canvas messenger bag is great for bike couriers or for guys heading to college.
Don't worry about whether your messenger bag works with your outfit.
Chances are it already does!
3. Where Did Messenger Bags Come From?
Messenger bags – if you consider any bag defined by a cross-strap design and a single main pocket – have been around since ancient times.
The simplest version of the messenger bag is the satchel, which is technically defined as a smaller messenger bag that's little more than a simple pouch.
Where precisely these bags came from is hard to say, as there are records of Roman citizens and earlier cultures using these bags to carry their goods from place to place.
Ultimately, the long history of the messenger bag helps to prove its value.
Something this popular for basically all of human history is definitely something you want in your closet.