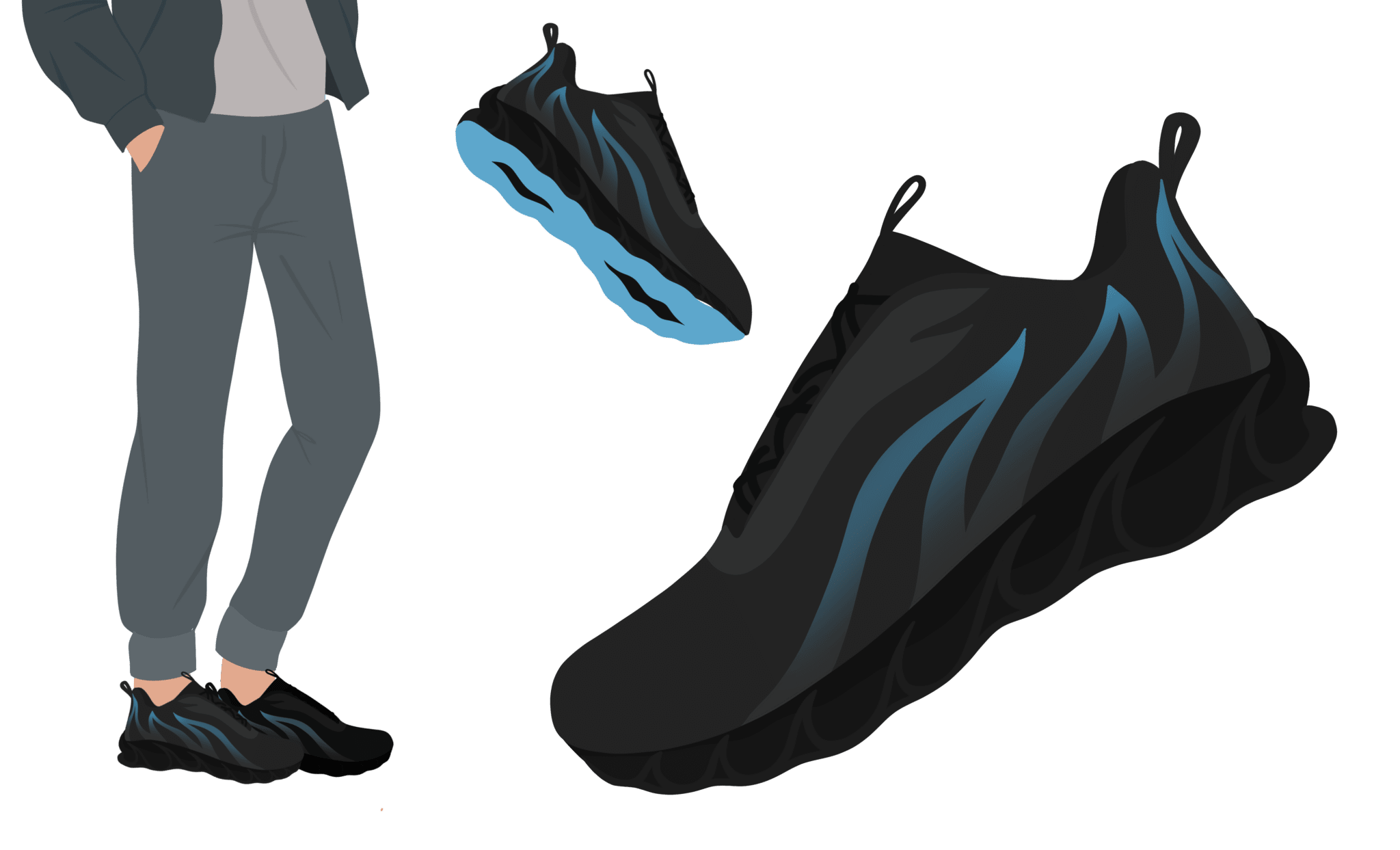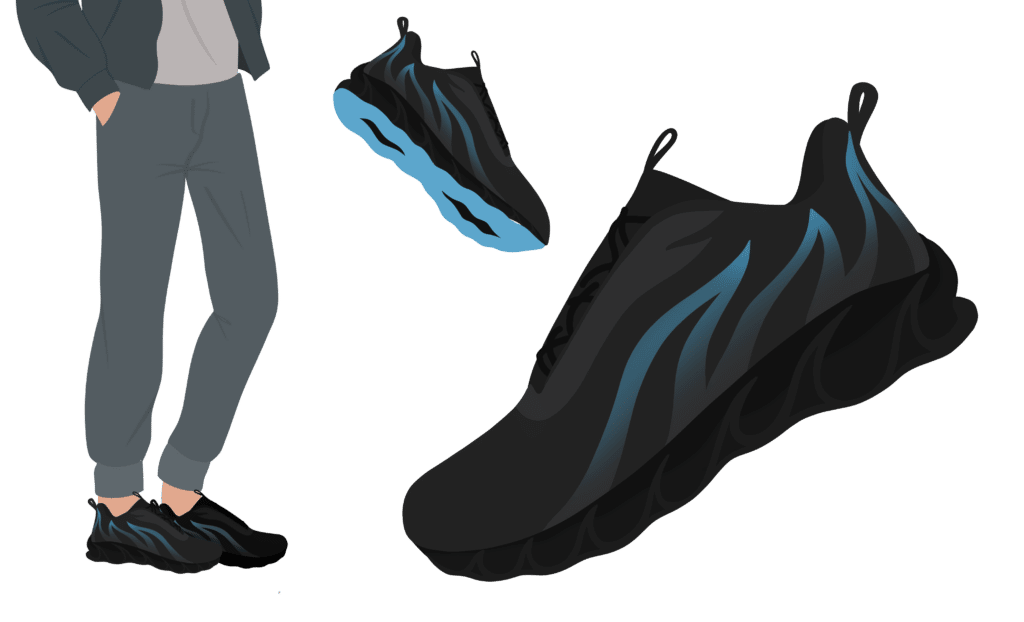 Whether you walk for leisure or as an activity to keep you feeling fit and healthy, you are going to need something on your feet that provides you with support and comfort. The correct shoe will prevent you from slipping on uneven terrain and prevent your ankle from rolling or your feet from becoming hot and tired.
While many people take walks in a selection of different sneakers and slip-on shoes, the best footwear to invest in for athletic walking is a high-quality pair of men's or women's walking shoes.
Unfortunately, not all walking shoes are made equal. To make it less challenging for you to find the best pair of walking shoes, we have gathered together the best footwear for walking that Amazon has to offer and reviewed each pair.
We tried, tested, and wore various walking shoes from Amazon and concluded that these eight are the best shoes for athletic or leisure walking. We used the approach to chat to men about what they looked for in a high-quality pair of running shoes and collected together the ones that ticked these boxes. We then reviewed each of these pairs of performance footwear. Our evaluation of each was based on the following criteria: the materials used to make the shoe, style and design, stability, cushioning, and support.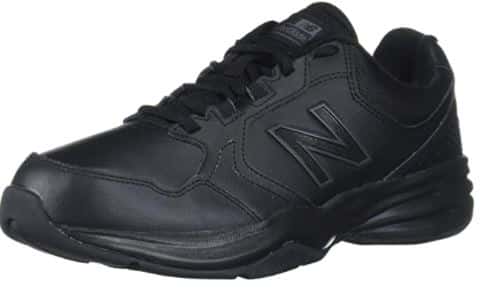 New Balance is an American brand that was founded in 1906. The brand is a sports footwear and apparel manufacturer and has its origins in the New Balance Arch Support Company. New Balance's innovative technology and fresh take on design make the brand and its footwear a popular choice for athletes across the globe.
The brand makes shoes for a range of different activities, but the New Balance Men's 411 V1 Walking Shoe makes a fantastic choice if you want an excellent walking sneaker.
Specs
Uppers are made from a blend of hybrid suede and mesh
Comes with a firm rubber outsole
Lightweight design
Removable insoles to accommodate medical orthotics
Who is it Best for?
If you enjoy going for long walks and you're looking for a sturdy pair of walking shoes, then these walking shoes from New Balance may be the ones for you.
These shoes are made from durable materials and offer a soft cushioning that makes walking over long distances and uneven terrain comfortable and effortless.
Compared to other running shoes from New Balance, these walking shoes are relatively inexpensive. The price point piqued my interest, and I wanted to try them out. I decided to give them a try on various surfaces, from high-shine shopping mall floors to uneven and rocky mountain trails.
I found them to hold up well on all terrains, and they delivered the comfort and support I needed. These shoes are wide and fit well for people with wide feet. However, you may want to slip in your own orthotics if you have high arches, as the arches are raised enough for someone with low arches or flat feet.
Key features
New Balance makes these shoes with a dual material upper. First, a breathable mesh allows air to circulate through the shoe, sound your foot, and keep your feet cool and comfortable. This breathability also prevents your feet from sweating and causing your feet to become odorous. A hybrid suede is the second fabric on the upper of these shoes. It is a durable and hardy material that is easy to clean and adds a touch of style to the sneaker.
A CUSH+ midsole provides the cushioning you need to give you the support and comfort you need when walking long distances. This midsole provides you with excellent stability, too, keeping your feet firmly planted on all terrains.
The thick rubber outsole delivers excellent traction and shock absorption.
Pros
Excellent fit for people with wide feet
Provides great stability on all terrains
The traction is impressive
Cons
The arches could be improved on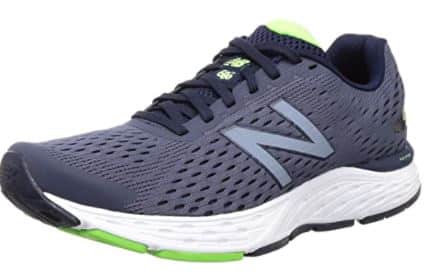 New Balance aims to help athletes achieve their goals by providing them with premium apparel and footwear that meets their needs. New Balance has been creating shoes for over a century, putting behind them years of innovation, know-how, and understanding of the biology of the human foot and what is necessary for adequate support.
You can find the culmination of this knowledge and innovation in the shoes the brand creates today, with the New Balance Men's 680v6 Cushioning Running Shoes making an excellent example.
Specs
Features a lightweight injection-molded EVA foam midsole
Includes ABZORB cushioning
Features a New Balance Response 2.0 performance insert
Comes with a breathable mesh upper
Who is it Best for?
If you want a pair of running shoes that deliver comfort and cushioning and can be worn for road running, these shoes from New Balance make an excellent choice.
Compared to other running shoes on the market, these are relatively well-priced and are similar in cost to a pair of PUMA Men's Tazon 6 Sneakers.
To review these thoroughly, I gave them a try, wearing them on several jogs around the neighborhood and then to the park and around home. I found the shoes to be comfortable and was impressed with the support they offered. However, the cushioning from the midfoot through to the toe box was lacking, and the toe box was slightly tight. The overall fit was great and didn't leave my feet feeling squashed or uncomfortable.
Key features
New Balance makes these running shoes with a breathable mesh upper. The mesh allows air to circulate through the shoe to your foot, keeping you cool and preventing you from overheating. This also means that your feet are less likely to sweat, and your shoes have less chance of becoming odorous.
A lightweight injection-molded EVA foam midsole provides stability and cushioning that adds comfort to the shoe needed to run long distances. Further, ABZORB cushioning is added to the midsole of the shoe for added comfort.
The insole sees a New Balance Response 2.0 performance inserts that can be removed and replaced with your own medical orthotics.
A durable rubber outsole provides impressive traction and absorbs the shock from any impact, keeping your feet and knees protected.
Pros
The shoes provide a comfortable and stable fit
The traction the outsole provides is impressive
The laces offer a firmer fit
Cons
The padding from the midfoot to the toe could be improved upon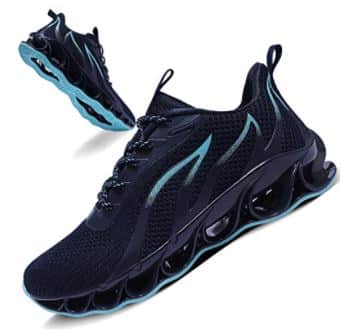 Tiamou is a brand that focuses on the design and manufacture of men's and women's running shoes, water shoes, and casual fashion sneakers. The brand is popular thanks to its funky and fun designs and vivid color in the shoes it makes, along with the unique designs and patterns it uses to add bounce and cushioning to the shoe.
The TIAMOU Men Running Walking Sneakers are one of the brand's most loved pairs of footwear, and it is easy to see why.
Specs
Comes with a breathable mesh upper
Features unique cushioned honeycomb insoles
Includes a durable rubber outsole
Offered in a rainbow of colors
Who is it Best for?
If you want a fun, vibrant pair of shoes for walking in, whether you are a healthcare worker and on your feet, all day or you enjoy a leisurely walk through the neighborhood, these kicks are for you.
Tiamou designs these walking shoes to offer exceptional comfort, cushioning and support, and with that in mind, I decided to give them a try.
I found these sneakers to be exceptionally lightweight and easy to slip into, no need for the old shoehorn here. The fit of the shoe is slightly narrow and may not be ideal for people with wider feet or those who prefer to wear thicker socks. I found the insole to be a little lacking, too but was easily able to slip in my own. However, the overall comfort and cushioning of the shoe are remarkable, and these sneakers are well worth their price.
Key features
Tiamou makes these men's walking shoes from a breathable mesh upper. The mesh allows air to circulate through the shoe to your foot, keeping your feet cool and at a regulated temperature that prevents you from sweating. In turn, this prevents your shoes from becoming odorous.
The insole features a unique honeycomb design and is made from memory foam. This honeycomb design allows for additional cushioning and enhances ventilation. The insole also wicks away moisture, allowing any sweat to move to the outer shoe for evaporation; this prevents the build-up of odor-causing bacteria that comes with sweat.
A thick rubber outsole provides excellent traction and is highly slip-resistant. This sole is abrasion-resistant, prevents twisting action of the ankle, and absorbs shock on impact, protecting your feet, ankles, and knees.
Pros
Excellent slip resistance
They are very comfortable 
Cons
The shoes are a little on the narrow side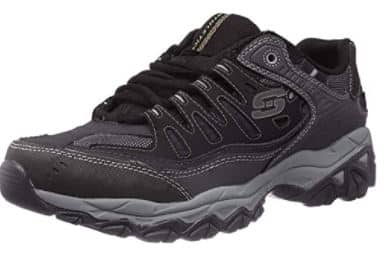 Skechers is an internationally recognized brand that produces footwear predominantly in the sporting and performance sector. Founded in 1992, the company's first shoe was a logger boot, with its first sneakers released in 1999. Although the brand produces fashion footwear, its specialty is sports footwear that is designed for a variety of different sports.
The Skechers Men's Afterburn Memory Foam Lace-up Sneaker is one of the brand's more popular walking shoes.
Specs
Includes a memory-foam cushioned insole
Comes with a breathable mesh upper with structural overlays
Sees a durable rubber outsole
Features a lace-up closure
Who is it Best for?
If you're looking for a training sneaker that features a lace-up closure and plush memory foam that surrounds and cushions your feet, then you may want to look a little closer at this Skechers Men's Afterburn Memory-Foam Lace-up Sneaker.
Intrigued by the style of the shoe and the features it purports to offer, according to the Skechers website, I wanted to give these sneakers a try, and I am glad that I did.
The shoes offer impressive comfort and wear pretty well, except for the outsole, which started separating from the shoe after time. However, I did try these shoes out on every terrain I could think of, which may have sped this up. The roomy toe box left me impressed, and the fact that the heel offers a moderate incline makes these more comfortable than they may look.
Key features
Skechers makes these shoes from a breathable mesh upper that allows air to circulate your foot, preventing your feet from overheating and becoming sweaty. Partially covering this mesh upper are supportive layers of leather and synthetic material that support the upper foot and add style to the shoe's design.
A cushioned mesh tongue and padded heel collar provide support for your ankle and keep your feet planted firmly in the shoe.
Skechers includes its own Articu-Lyte material that makes up the midsole of the shoe. The Articu-Lyte is shock-absorbing, supportive, and flexible, making this shoe perfect for running or walking.
The durable, high-quality rubber outsole provides ample traction, making the shoe slip-resistant and excellent for walking on trails when you need that extra grip.
Pros
Offers a spacious toe box
The memory foam insole offers remarkable cushioning
The padded tongue provides excellent ankle support
Cons
The outsole may separate from the shoe after intensive use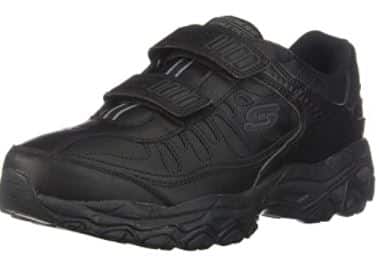 Although founded only in 1992, Skechers has fast become a leading performance footwear brand across the globe. Contemporary designs and innovative materials combined with high-quality construction have placed Skechers shoes among some of the best you can find on the market, making them a firm favorite of many professional athletes.
The Skechers Men's Afterburn Memory Fit-Final Cut athletic walking shoe is one of the brand's sneakers designed to provide exceptional support, cushioning, and comfort for walkers, acting similarly to a quality pair of hiking shoes.
Specs
Features a memory foam insole
Comes with a durable synthetic and leather upper
Includes a lightweight and flexible midsole
Perforated hook-and-loop straps can be found at the vamp
Who is it Best for?
If you enjoy walking, whether it is for exercise or leisure, chances you will, at times, find yourself on rocky or uneven terrain. In this case, you will need a shoe that offers extra support and comfort, keeping your foot from twisting or straining. The Skechers Men's Afterburn Memory Fit-Final Cut athletic sneakers provide this and a few other features that make walking a pleasure.
Compared to other walking shoes on the market, these sneakers from Skechers are relatively pricey, asking a price tag that sits in the mid-range of the price scale. However, I found them to be worth this slightly higher price for a few reasons.
The shoes are roomy, making them excellent for people like me who suffer from bunions. They also offer impressive support and cushioning. Skechers could improve upon the velcro on the straps; it tends to wear out fairly quickly, which is not ideal if you want to wear the shoes daily.
Key features
Skechers makes these shoes with a synthetic and leather upper. The leather is durable and sturdy while offering a level of comfort that only leather can bring.
The closure of these shoes differs from your average sneaker. Skechers fits them with two straps that secure across the vamp of the shoe. These straps provide additional support over the top of the foot, locking your foot in place in the shoe and, in turn, providing greater stability. These straps secure with velcro and can be placed in a position that best suits your needs.
A memory foam insole provides soft cushioning for your foot, bringing additional comfort to the shoe. Sitting below is the midsole of the shoe, which is flexible, shock-absorbing, and lightweight.
The outsole is made from flexible rubber and provides traction that makes these shoes perfect for all-terrain use.
Pros
The shoes provide impressive stability
They are roomy and don't leave your toes feeling cramped or squashed
The traction on these shoes is exceptional
Cons
The velcro on the straps wears out fairly quickly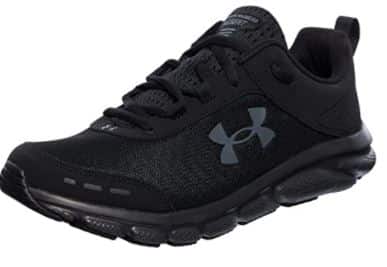 American brand, Under Armour, was founded in 1996. The brand specializes in the production of sports footwear and apparel, along with casual attire. Under Armour aims to provide customers with performance solutions that enhance your activity and that you can't find yourself living without.
One piece of footwear walkers and runners find themselves wanting to buy again and again is the Under Armour Men's Charged Assert 8 Running Shoes.
Specs
Comes with a solid rubber outsole
Includes a cushioned midsole and an EVA sock liner
Features a breathable mesh upper with sturdy leather overlays
Provides a lightweight construction
Who is it Best for?
Whether you are a runner or a walker, if you are looking for a shoe that provides that perfect blend of flexibility and cushioning, that provides a soft landing while not damping the energy return on each step.
I wanted to try these sneakers to see if they wear well for running and walking and whether the functionality they provide is as described. On receiving them I wasn't highly impressed with the look of the shoes, they lack in visual design, in my opinion.
But the way they look mattered less than how they performed, and I must say, they performed very well. These shoes provide a comfortable fit and are the ideal shoe for people with wide feet as they offer a little more room than most of the sneakers in this review. They provide great traction, too, making them perfect as trail running shoes.
Key features
Under Armour makes this pair of shoes from a lightweight mesh upper that provides breathability that keeps your feet cool, comfortable, and free from sweat and the odors accompanying it. Placed atop this mesh are durable leather overlays. These add to the shoe style, but where they are most effective is in their ability to provide support, locking your foot into the shoe.
An EVA sock liner allows you to step comfortably and efficiently into the shoe. These liners are soft and complement the midsole made from compression-molded foam to offer impressive responsiveness and cushioning.
The solid rubber outsole is thick and durable. It absorbs shock on impact and offers the traction that makes these shoes ideal for running and walking on all forms of terrain.
Pros
The shoes are wide and are a good choice for people with broad feet
They are extremely comfortable
The shoes offer impressive stability
Cons
The visual design of the shoe could be more appealing – these offer a minimalist style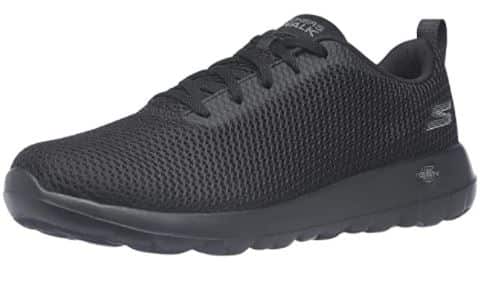 Skechers prides itself on being a brand that provides its customers with a wide selection of affordable footwear for all occasions. From logger boots to sports footwear, Skechers has a shoe for every occasion. An award-winning brand known for its innovative designs and materials, Skechers focuses on producing shoes that provide the necessary comfort and support.
The Skechers Men's Performance Go Walk Max-54601 Sneaker is the perfect example of this use of innovation and technology, which is why it is so popular with athletes.
Specs
Comes with a Goga Max Technology insole
Sees a synthetic mesh upper
Features a padded heel counter for added support
Includes a Skechers GOwalk Max midsole and outsole
Who is it Best for?
If you're looking for an athletic walking shoe that provides the support of a hiking boot but the flexibility of a running shoe, you may want to look more closely at the Skechers Men's Performance Go Walk Max-54601 Sneaker.
Having reviewed a few other Skechers shoes available, it only seemed fair to add these to the mix, and I'm so glad I did; they are a highly comfortable pair of footwear.
The shoes come with excellent arch support, even for those with high arches, something that is relatively uncommon in most sneakers. Add to this support the lightweight design of the shoe and the comfortable cushioning they offer, and you have a pair of shoes perfect for walking in.
The traction these shoes provide is notable; these shoes offer exceptional grip. However, they tend to stick to high-shine surfaces that can cause you to trip up.
Key features
Skechers makes these walking shoes with a synthetic mesh upper designed for comfort. The larger weave of the mesh makes it easier for air to flow through the upper and circulate your foot, preventing your feet from overheating and becoming sweaty and odorous.
Included on the upper are toe and heel panels for additional support and a padded heel collar and tongue that lock your foot in place. A padded heel counter provides further support where you need it most.
The Skechers GOwalk Max midsole and outsole are made from a lightweight proprietary compound that is injection molded to create these elements of the shoe. This compound features memory retention that absorbs impact, provides cushioning, and offers comfort.
Pros
Provides excellent arch support 
The shoes are extremely lightweight
The cushioning makes these shoes perfect for extended wear
Cons
The grip can cause you to trip on high-shine flooring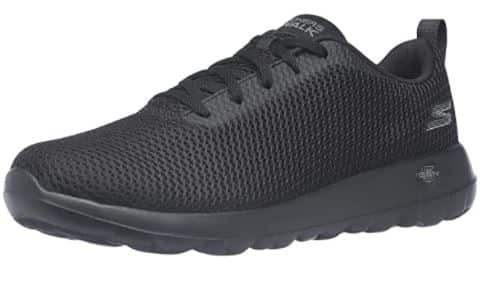 Skechers is a footwear brand that is known for its vast and versatile range of footwear. The brand prides itself on offering affordable shoes for every occasion, with its main focus planted firmly on performance footwear.
Skechers has quickly become one of the most favored brands when it comes to sports shoes, and it is easy to see why with functional and stylish shoes such as the Skechers Men's Go Walk Evolution Ultra – Impeccable Walking Shoe on offer.
Specs
Comes with a soft, woven mesh upper
Sees a padded collar for comfort and support
Features a Skechers Air Cooled Goga Mat insole
The shoes are machine washable
Who is it Best for?
If you're not a fan of lace-up shoes or footwear that comes with straps, you may want to give these Skechers Men's Go Walk Evolution Ultra walking shoes a try. They come without any laces or straps and provide a snug and comfortable fit.
Intrigued by the design of these walking shoes, I gave them a try, more than once on different surfaces, to find out more about what they had to offer.
I noticed straight away the way they felt; these shoes are very comfortable and soft underfoot. They provide impressive support, and best of all, they just slip on. However, the more extensive upper does tend to make them a little warm for wear in summer, but not unbearable.
Key features
Skechers makes these walking shoes from a soft, woven mesh that provides excellent breathability. This circulation of air around the foot makes it more comfortable to wear and prevents excessive sweating. The upper does cover more of the top of the foot than a regular sneaker, however, making them a little warmer, but an excellent day wears shoe nonetheless.
A padded heel collar adds support around the ankle and prevents chafing that can lead to blisters. The ULTRA-GO cushioning midsoles are light and responsive, but it is the insole that will leave you impressed. Made from Skechers Air Cooled Goga Mat, a proprietary material that feels much like a yoga mat offers breathability and soft cushioning for your footbed.
The outsole is made from Skechers' own high-rebound ULTRA PILLARS, absorbing shock and adding a bounce to your step.
Pros
The  shoes provide excellent cushioning
The support is impressive and leaves you feeling stable on your feet
These shoes are quick and easy to slip on
Cons
The shoes can be quite warm for wear in summer
Things to Consider When Buying Comfortable Walking Shoes
1. Support
Support in an athletic shoe is very important, it keeps your foot firmly in place and prevents it from rolling or pronating to one side, and it will prevent any twisting or slipping of the foot on uneven gravel.
Support in a shoe comes from a few places, the midsole, the insole and arch support, and from a padded tongue and heel collar.
2. Cushioning
When buying a pair of walking shoes, one of the aspects to consider is the cushioning the shoes provide. This cushioning is primarily where the comfort of the shoe comes from. You can usually find cushioning in the insole and midsole of the shoe. Many brands develop their own materials to use as cushioning; Adidas uses Ortholite, Asics uses gel, and others make use of foam or EVA.
When looking for the perfect pair of walking shoes, there are several things to consider. Giving thought to the brand, durability, the materials used, support, comfort, and quality will all put you a step closer to finding the athletic shoes that most suit your needs.
By closely examining and testing each of the walking shoes in this review, we concluded that they each meet the criteria discussed above, making it simpler to find the best men's walking shoes to meet your athletic needs.