We receive a flood of various questions from our readers on the topic of balding and why some men cannot maintain a full head of hair over time. Read the full article to know do women find bald men attractive?
Two of the most common questions are:
Do Women Find Bald Men Attractive
Should I shave my head?
Now we could give you our personal opinion on the matter, but we thought it would be better to go to the source and ask hundreds of women these questions to come to conclusive answers.
So just as we had done for questions such as: "Do women find bald men attractive?" and "What type of body grooming do women find attractive?", we had a nationwide survey be conducted by a reputable survey company to ensure a quality representative sample.
At the end of this survey, you'll know what most women think of bald looks or men with male pattern baldness.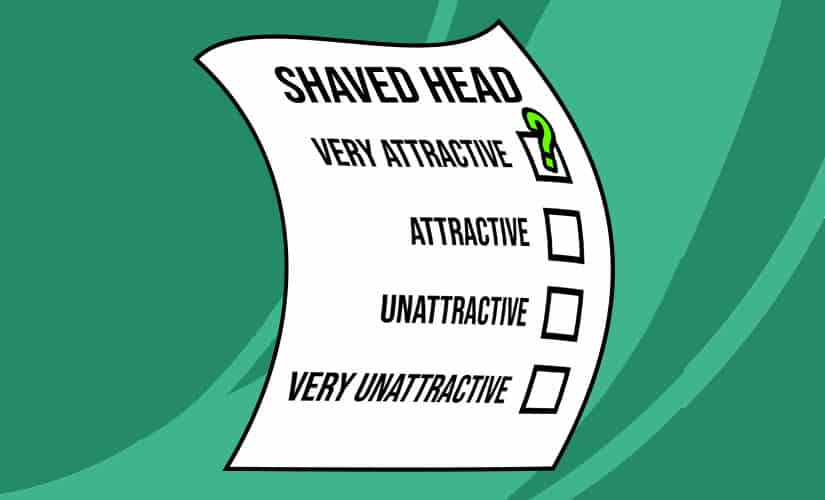 Below is a summary of the sample data and related precision estimates.
For more detail, refer to the Survey Methodology here.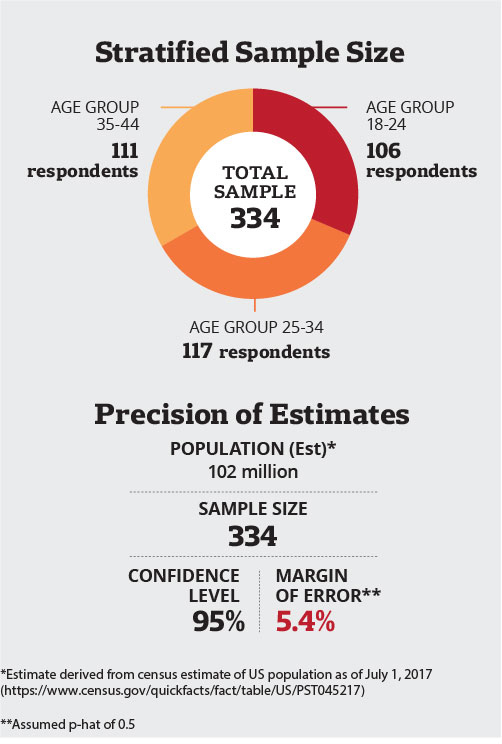 Survey Results: Do Women Find Bald Men Attractive?
We asked women to rate how attractive they find men with a completely bald head on a scale of "very unattractive" to "very attractive".
Below are the results and analysis: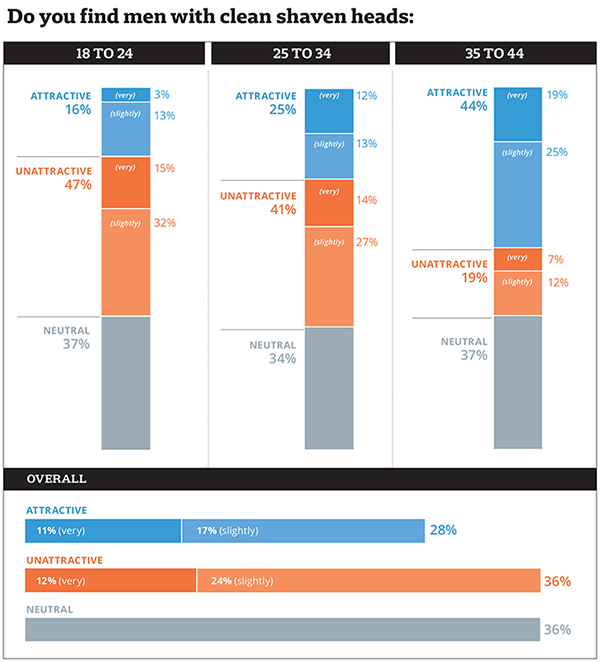 From a first glance at the overall results, they may not seem super encouraging for us balding men, but to be honest, it really isn't that bad.
Naturally, a young good looking man today doesn't want to lose any of his hair follicles.
When this happens, they resort to hair transplants or other means in a desperate attempt to correct their hairless drive and restore their self-esteem – but these methods have their side effects.
Yet, we all know of celebrities like Bruce Willis, Jason Statham, Wayne Johnson (the Rock), and Vin Diesel who have no particular hairstyles because of their bald shave.
These Hollywood celebrities have resulted in shaved head looks because of thinning hair and their receding hairline.
Well, only 36% of women find men with clean-shaven heads unattractive, and 28% actually find it a plus!
Additionally, when you look at the breakdown between the different age groups, we see an interesting pattern:
As a majority of men tend to really start losing their hair a little later in life, this is very encouraging.
But some men are unlucky and start losing their hairline during or just after high school and feel they ran out of good luck by becoming baldies at a pretty young age.
Of the 44% of women of age 35 to 44 that find bald men "attractive", 19% find them "very attractive".
Additionally, only 19% of these women find the clean-shaven head "unattractive", with only 7% finding it "very unattractive".
Still, with these survey results, many men do not feel confident rocking a badass bald look and find ways to cover their bald spot with hair plugs.
Survey Results: When Should You Shave Your Head?
Baldness can also be a result of many factors – the commonest among such factors are genetics and DHT defect.
These generally result in a "lack of hair" pandemic and make many men want to get a comb-over styling.
DHT defects can be corrected over time by applying the right hair growth supplements.
These supplements can be purchased from amazon and most drugstores around the country.
The next major question we wanted to address was at what point (i.e. level of baldness) should one consider shaving their head?
To assess this, we presented women with images of two levels of patterned hair loss on the Norwood Scale (Type II & Type III Vertex), which based on initial research seemed to be on the borderline of when a man should consider shaving their head.
The women were then asked what men with each level of baldness should do with their hair, ranging from growing it out to shaving it off completely.
Below are the results and analysis: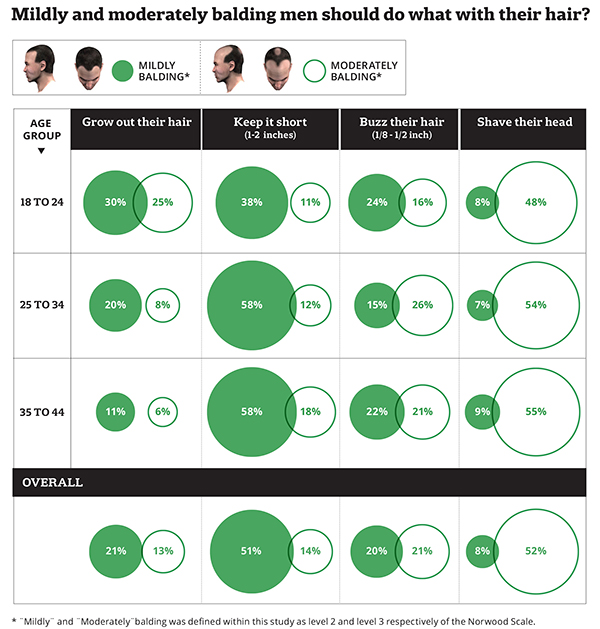 The majority of women believe men with only a mild level of balding (Type II) should keep their hair short (between 1 to 2 inches).
But women's opinions change drastically when assessing a man with a moderate level of balding (Type III Vertex).
In terms of evaluating the results between the various age groups, the findings are primarily consistent.
Besides that, slightly more women between ages 18 to 24 believe men should grow out their hair when they are at Type II or Type III Vertex level of hair loss.
Other Factors to Consider
It should be mentioned though that other factors come into play as to when one should consider shaving their head as head shape, facial features, etc., can make one look better or worse with a shaven head.
This was supported by many women's additional commentary provided within the survey responses.
Some men look HOT bald. others don't. I think it depends on the head.

They must have the right head structure to make it work well.

So do women like bald men?
Obviously, there are varying opinions, but it seems to be clear that as women get older, they tend to find the clean-shaven head more and more attractive.
And on the topic of whether you should shave your head.
This is something you will have to decide for yourself, but I hope the results presented in this article provided some additional guidance and clarity on the matter.
Lastly, it might interest you to know that though men become more self-conscious when they start having receding hairlines, it is not entirely a bad situation.
Please don't hesitate to provide any comments or questions down below and I will be sure to address them ASAP.
Frequently Asked Questions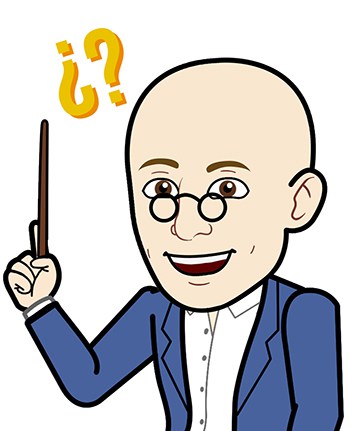 1. How good are Merkur razors?
Merkur blades are made of high-quality materials and have an excellent design, making them extremely durable. They appear to last slightly longer than the average de blade.
2. Is Merkur a reputable brand?
Overall, the best safety razor. Merkur, a German razor company, was mentioned more than any other brand, praised for its long history, low price point, and reputation for quality manufacturing.
3. How long will a Merkur blade last?
Lasts 3-7 shaves.
Merkur is a well-known brand. They are appealing because they can provide a very close shave without being as aggressive as other brands. They are rust-resistant due to their platinum coating, and one blade can typically last between 3-7 shaves.
4. Where are Merkur razors manufactured?
MERKUR safety razors are made in Germany and provide complete corrosion protection as well as exceptional durability due to the zinc die casting process.