Nobody wants a beard that feels like a bag of old wire, right?
A tough and scratchy beard feels bad to you but it feels even worse to your significant other.
Read our blog to know which are the best beard softeners of the year.
None of us wants to be nagged by our better halves to shave off an irritating beard – especially when we've put so much effort into growing the thing!
Luckily the answer to a scratchy beard is nice and simple – investing in the best beard softeners and working it into your ongoing beard care and maintenance regime.
Do that and you will have a beard that looks and feels great – Scouts honor.
In this article, we're going to help you to find the best beard conditioner and beard softeners to suit you, your face, and your beard.
QUICK OVERVIEW: Best Beard Conditioners and Softeners
Beard Necessities Grizzly Beard Conditioner

Including High-Grade Manuka Honey
Designed To Work On Even Extra Coarse Beards

VIEW ON AMAZON →

Mr. Rugged Beard Lotion Conditioner

Designed to Repair Damage Including Split Ends
Easy to Apply

VIEW ON AMAZON →

Bluebeards Original Wonder Beard Intensive Repair

Repairs Beards That Are In Bad Condition
Contains a Range of Active Ingredients

VIEW ON AMAZON →

Beardsley Ultra Conditioner for Beards

Designed for Convenient, Every Day Use
Also Works on Head Hair

VIEW ON AMAZON →

Smooth Viking Beard Conditioner

Contains Beeswax For Locked in Hydration
Easy to Use, Simply Rub Into Beard Like a Balm

VIEW ON AMAZON →

Professor Fuzzworthy's Beard Shampoo

Woody Scent
Suitable for All Beard Length

VIEW ON AMAZON →
Use the table of contents below to jump to the sections most important to you.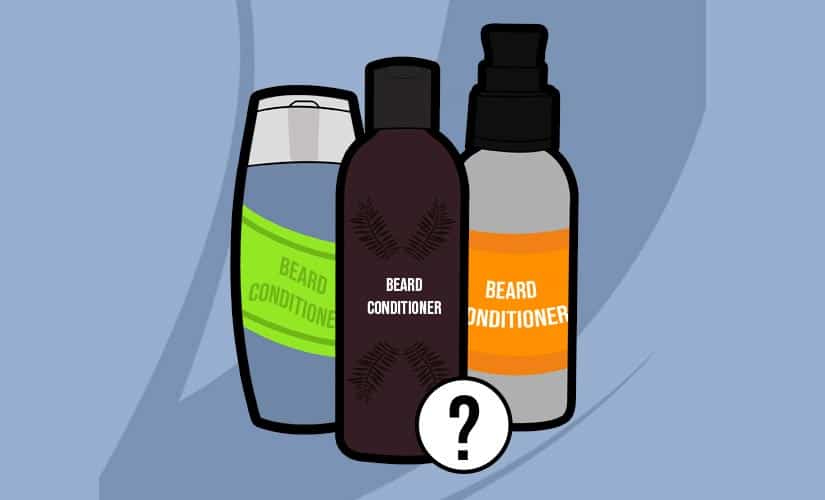 ---
6 Best Beard Softeners & Conditioners of 2023 Reviewed

Specs
Who Is It Best For?
Any man looking for a sensitive but powerful beard conditioner with all-natural ingredients.
Key Features
Featuring medical-grade manuka honey and organic aloe vera gel, Grizzly Beard Conditioner from Beard Necessities is an ideal choice for those with dry or sensitive skin.
This conditioner is free from chemical fragrances and perfumes, containing a blend of organic orange peel oil and citrus that provides a light, refreshing scent.
Unlike many of the products listed below, this one uses only all-natural ingredients and is entirely free from harsh chemicals that could damage your facial hairs or irritate your skin.
Designed to soften and detangle even the coarsest beards, this beard conditioner and face moisturizer provides the hydration and shine your facial hair needs to look and feel its best.
See collective opinion of over 100 customer beard conditioner reviews here on Amazon.
---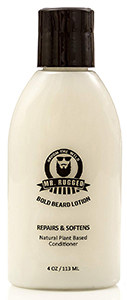 Specs
Who Is It Best For?
Any man with an extra frizzy, out-of-control beard.
Key Features
Designed for wild, frizzy, or unruly beards, Mr. Rugged Beard Lotion Conditioner helps to make your beard softer and more manageable, while also promoting thicker, stronger beard growth.
The conditioner contains hydrating vitamin B5 to leave beard hair softer and more flexible, while the wheat amino acids repair damage to the facial hairs to prevent split ends and breakage.
This product also contains two different silicones that help to coat the facial hair to protect it from environmental damage.
This lotion formula is extremely easy to use and soaks into the skin and beard hair almost instantly, without leaving behind any sticky or greasy residue.
The conditioner is designed to be rubbed directly into your wet beard to nourish and rehydrate it, and it can also be used on dry hair to eliminate frizziness and provide a more manicured look.
The lotion is entirely free from parabens and sodium chloride, but it does contain a range of other synthetic chemicals that could irritate sensitive skin.
Nonetheless, for those with normal skin and wild or frizzy beards, this is a fantastic choice.
Check out other customer reviews here on Amazon.
---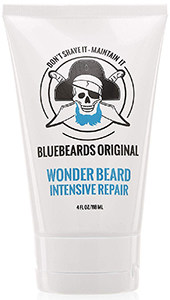 Specs
Who Is It Best For?
Any man who has neglected their beard needs to give it a little extra TLC and intense moisturizing.
Key Features
Hands-down the best beard conditioner for dry, coarse beards or those in need of a little extra TLC, Bluebeards Original Wonder Beard Intensive Repair can quickly make even the most brittle of beards look and feel soft, supple, and healthy.
Whereas most beard softeners and conditioners are designed for daily use, this one is meant to be used only once or twice a week.
Simply rub it into your beard after washing, let it sit for three minutes, and then rinse to restore the softness and shine.
This product contains a range of amino acids and other ingredients designed to lock in moisture, while also improving the elasticity of your facial hairs and minimizing breakage.
While it does contain alcohol and a number of other chemical ingredients, it is entirely free of parabens. The conditioner has a mild lemon-lime scent that offers a nice pick-me-up in the morning.
---

Specs
Who Is It Best For?
Any man looking for a great, all-around product to use every day.
Key Features
One of the best all-purpose beard softeners on the market, Beardsley Ultra Conditioner contains a range of powerful botanical ingredients designed to nourish and rehydrate your skin and face.
In fact, this product is so powerful that it's a great choice for conditioning the hair on your head as well as your beard.
The beard conditioner reviews for this product were so outstanding that we just had to try it ourselves and needless to say, it worked exactly as promised to provide a soft, luxurious feel.
However, despite its effectiveness, there are a few things that keep this one from making the top of the list.
Firstly, it does contain alcohol, which may irritate those with sensitive skin and can also cause your skin to dry out.
The other issue is that, in addition to the natural botanicals, this conditioner also contains a range of synthetic chemicals. Nonetheless, if this isn't something you're particularly concerned about, then there's no doubt that this conditioner will get the job done.
See the consensus of hundreds of customer reviews here on Amazon.
---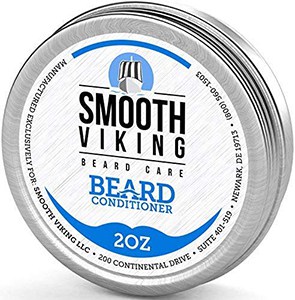 Specs
Who Is It Best For?
Any man looking for a very simple to apply but extremely high-quality conditioner/beard balm hybrid.
Key Features
One of the most popular beard softeners on the market, Smooth Viking Beard Conditioner is an all-natural, leave-in wax conditioner that's designed to help you get a handle on your wild facial hair.
This product contains jojoba oil, argan oil, sweet almond oil, avocado oil, shea butter, and beeswax to provide the entire range of nutrients your facial hair needs.
However, it also contains synthetic fragrance, which may cause it to irritate more sensitive faces.
The waxy formula makes this one more like a combination of a conditioner and a beard balm, as it both softens and conditions the hair while also providing hold to help you style your beard.
All you need to do is massage a small amount of this conditioner into your facial hair daily to strengthen, soften and improve the overall look and health of your beard.
See what others say per the customer reviews here on Amazon.
---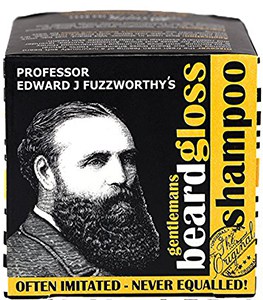 Specs
Who Is It Best For?
Any man who wants the benefits of a conditioner, without actually having to use one.
Key Features
Although this one isn't technically a beard conditioner, it is still worth a mention.
As a beard shampoo, it is a great choice for keeping your beard clean and smelling great.
However, it does much more than just wash your beard, as Professor Fuzzworthy's Beard Shampoo contains a range of all-natural oils and waxes that provide added softness and shine.
Found only in Tasmania, Australia, the Kunzea oil and leatherwood bees' wax and honey contained in this shampoo provide superior hydrating and repairing potential to ensure your beard looks soft, fluffy, and full.
If you're looking to save a bit of time on your daily routine, this product allows you to kill two birds with one stone—offering the thorough cleaning of a quality shampoo along with the hydrating effects of a beard conditioner.
See the collective opinion of over one thousand customer reviews here on Amazon.
---
There are other best conditioners and beard softeners that did not make it to our list;
WAHL Black Man Beard Softener- best beard conditioner for black hair
By My Beard conditioner and face moisturizer
Gillette beard conditioner
Sheamoisture 100% Virgin Coconut oil for beard
What to Consider When Buying the Best Beard Softeners
A wide range of different beard conditioners and beard softeners are readily available online and in shops, meaning it takes doing a bit of research to determine which one is best for your purposes.
There are a number of factors you'll need to consider, but first and foremost is your skin and hair type:
1. Sensitive Skin Formula
---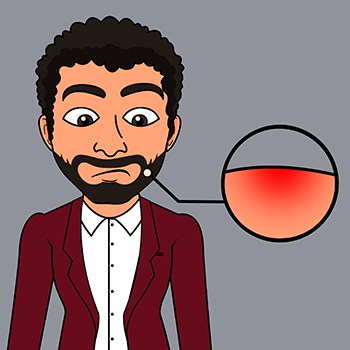 If you happen to be blessed with a thick, full beard and no skin problems, any general-purpose beard conditioner ought to do the trick.
However, if you have sensitive skin, you'll want to make sure that you choose a product that's free of harsh chemicals.
Luckily, you can easily find a great number of all-natural beard softener, conditioners, and other products designed specifically for sensitive skin—all of which should help nourish and soften your beard without irritating your skin.
2. Anti-Dandruff Formulation
---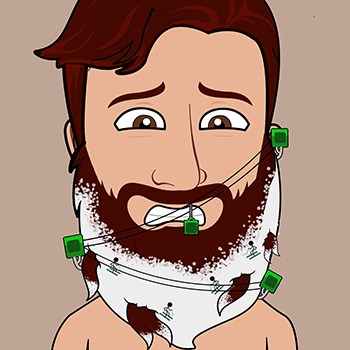 If dry, itchy skin or beard dandruff is an issue you sometimes struggle with, then you'll want to look for a product that contains oils and other natural moisturizing agents to help re-hydrate your skin and eliminate these issues.
3. The Thickness of Your Beard
---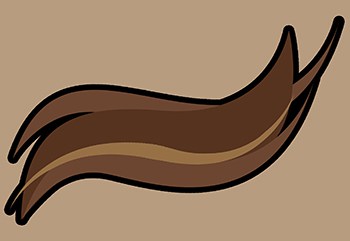 The coarseness and general health of your beard also play a role in determining which is the best beard conditioner for black hair.
For guys with facial hairs that are thicker and coarser than average, there are a number of extra-strength products designed to soften even the thickest, Brillo pad beards.
4. Your Age
---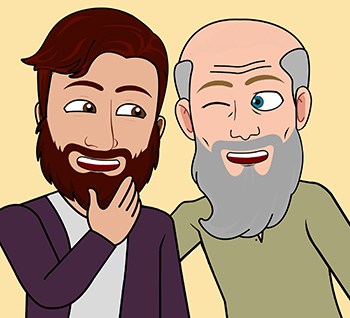 Most men's facial hair tends to become drier and more brittle as they age, which also makes repairing beard softeners and conditioners a great choice for older men as they can help provide that extra boost to keep your graying beard feeling soft and looking healthy.
5. Scent
---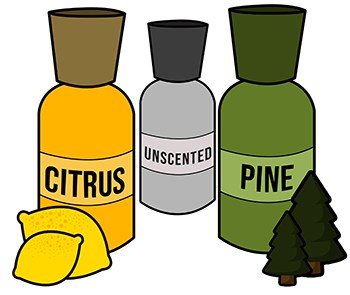 Another factor you'll need to consider is the scent.
While you can easily find many unscented products out there, the majority of beard conditioners and black man beard softeners contain some form of fragrance—ranging from quite mild, manly scents to overpowering aromas.
The choice of whether to go with a scented or unscented product is a matter of personal preference.
However, if you wear cologne or use a scented beard balm or beard oil, you'd be better off sticking with an unscented product to prevent the smell of the beard conditioner from clashing with your other fragrance/s.
For those that like the idea of scented beard softeners and conditioners, you can find a huge number of different fragrances available—from citrus to woody, spicy and more.
Some fragrances also last much longer than others, providing a smell that follows you around all day compared to those milder scents that are gone within an hour or two.
Still, deciding which one is best is sometimes a matter of trial and error, as some scents tend to react with your body chemistry and may smell different on your skin than they did in the container.
Now that we've looked into the basics behind beard conditioners and beard softeners, it's time to focus on the best beard conditioning products themselves.
We've compiled this list after extensive review and testing, so we can vouch for the effectiveness of all the products listed below.
Nonetheless, considering the huge range of excellent products out there, this list is by no means comprehensive.
That being said, if you're looking for a high-quality beard conditioner or beard softeners, you can definitely find something on this list that fits the bill—no matter whether you have sensitive or oily skin, dry hair, etc.
Beard Conditioners vs. Beard Balms and Oils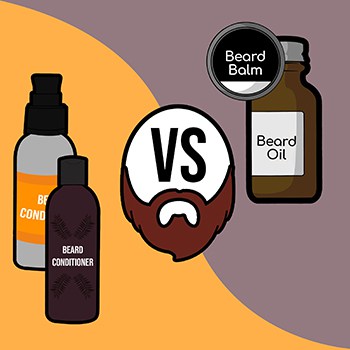 Beard balms, soaps, beard oil, and beard softener are all quite common nowadays, and all should be an essential part of every bearded man's grooming routine.
In truth, properly caring for your beard involves a whole lot more than simply washing it with a bit of soap or shampoo occasionally and trimming it when it starts to get too long and unruly, or applying some high-quality beard oil.
To keep your beard looking and feeling its best, you really do need to invest in a range of quality beard care products.
However, while balms, beard oils, and conditioners may seem quite similar—and in fact, most of them contain many of the same ingredients—they actually serve different purposes.
While it's true that beard balms and oils will help make your beard softer, shinier, and healthier-looking, these products generally have more to do with improving the look of your beard.
This is especially true of balms, which are often used for styling purposes and to help control an unruly beard.
On the other hand, the best beard conditioners are much more similar to those conditioners you'd use for the hair on your head—with many of them being designed for use in the shower.
Most beard conditioners or beard softeners contain a range of oils, vitamins, and other nutrients also found in beard balms and oils for an easy beard care daily routine.
However, the main difference is that the nutrients in beard conditioners are generally absorbed directly into the hair and skin, whereas the beard balms and oils generally leave a coating on the beard to give it a shinier, more manicured look and feel.
While you can also find leave-in conditioners, beard softener and conditioner are meant to be left sitting on your beard for a few minutes and then washed out.
The various moisturizers and nourishing ingredients in the beard softener are readily absorbed by your skin and facial hair to leave your beard feeling softer and more manageable.
As well, many beard conditioners are also effective at eliminating problems with beard dandruff or dry, itchy skin, because almost all of them contain an effective beard oil.
These problems are especially common when you first start growing a beard.
Shaving generally removes any dead skin cells, and when you initially stop shaving, your face will have many more of these dead cells.
The problem is that these dead cells often get trapped in the follicles, where they lead to itchiness and irritation.
This is where a beard conditioner or beard softener comes in, as it can help to minimize these problems to prevent irritation during those initial few weeks of beard growth.
By softening up the hairs, beard conditioners or beard softeners can also reduce problems with ingrown hairs.
This means that they're not only a great choice for guys with long, epic beards, but can also be used even when you have only a day or two's worth of stubble.
If you're truly committed to having the best beard possible, your facial hair care routine really ought to include daily washings with a high-quality beard shampoo (although regular shampoo is also an option).
You'll also want to consider using a decent beard oil or beard balm before leaving for work or heading out for the night to ensure your beard looks perfect before you step out the door.
However, for best results, you definitely want to consider using a quality beard conditioner or beard softener every other day or so to keep your beard in tip-top shape.
Want to freshen up your beard for the fall or summer season?
You'd be surprised how much difference the best beard products, especially when matched with the best beard brushes, can make.
Beard softeners and conditioners, like the conditioner you apply after shampooing, are meant to replace the natural oils that might be taken away during the washing process.
The best beard softener you select is more a matter of personal taste and how dry your beard gets (leave-ins can sometimes be more deeply hydrating).
With any of the beard softeners conditioners on our list, you can't go wrong.
Frequently Asked Questions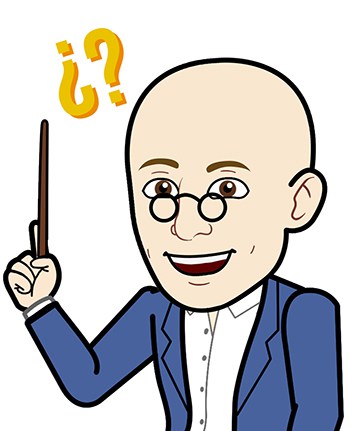 1. What is Best for Softening a Beard?
Using moisturizing products for your beard, such as beard oil, balm, or shampoo, will help minimize prickliness and scratchiness.
In addition to razors and shaving lotions, many beard softeners help soften your beard.
You may also make your DIY beard softener using some products such as coconut or olive oil.
2. Is Beard Softener Good for Beard?
Beard softeners provide complete beard care on the hair and the skin beneath it.
Use beard softener on a daily basis to maintain your beard healthily, nourished, and itch-free and give it a natural shine.
It also hydrates and maintains the condition of the skin beneath your beard.
3. Can You Use Hair Conditioner on Your Beard?
Yes, your usual hair conditioner may be used on your facial hair.
Hair conditioners work in the same way as beard conditioners or beard softeners in that they nourish the skin and hair while also locking in moisture.
4. How Do Black Men Soften Their Beards?
Moisture is essential for black men's beards, and a beard oil or beard balm will keep your beard moisturized and silky all day.
The most common blunder made by black guys is using ordinary hair wash and moisturizer on their beards.
At all costs, avoid products that contain harsh chemicals.