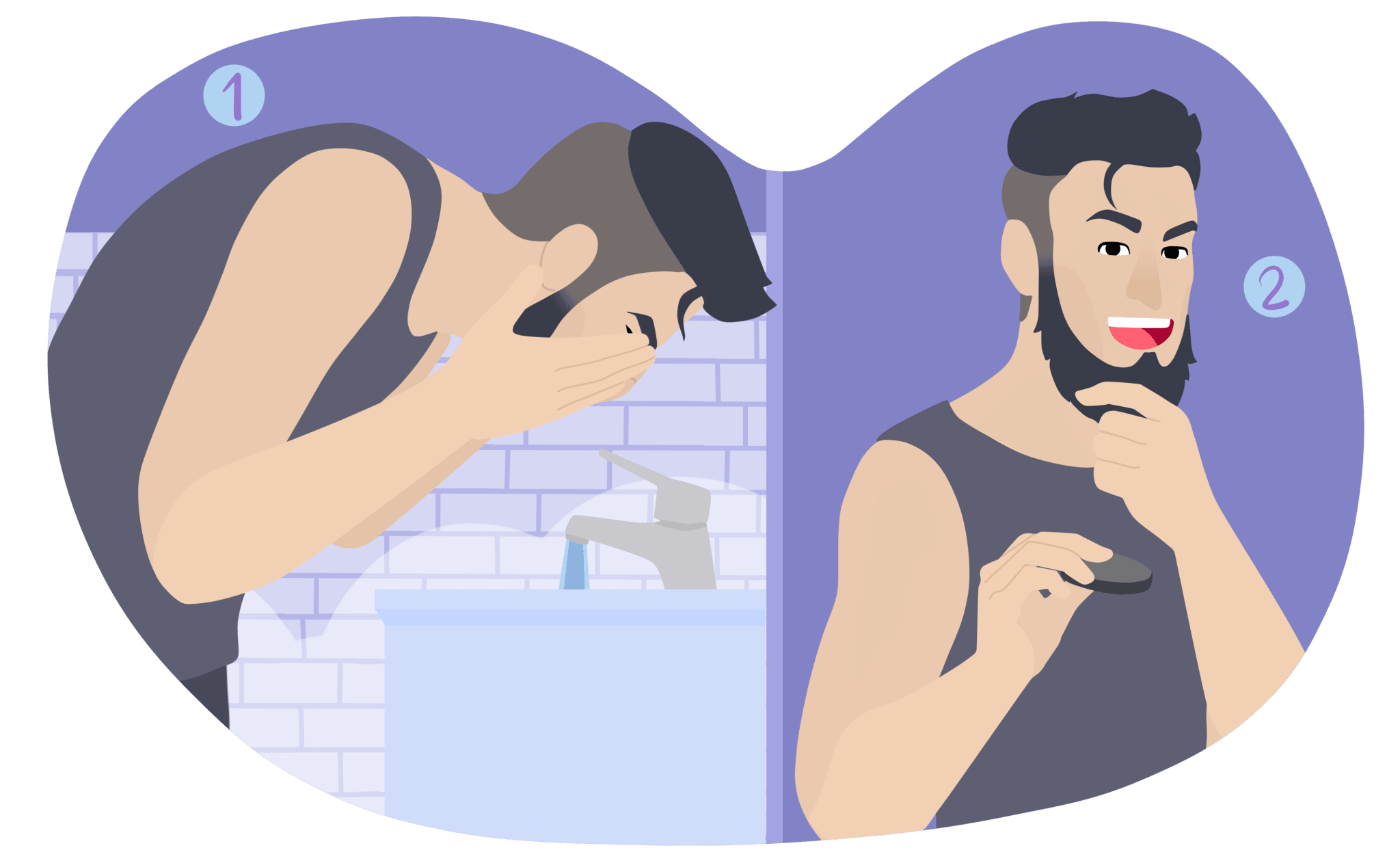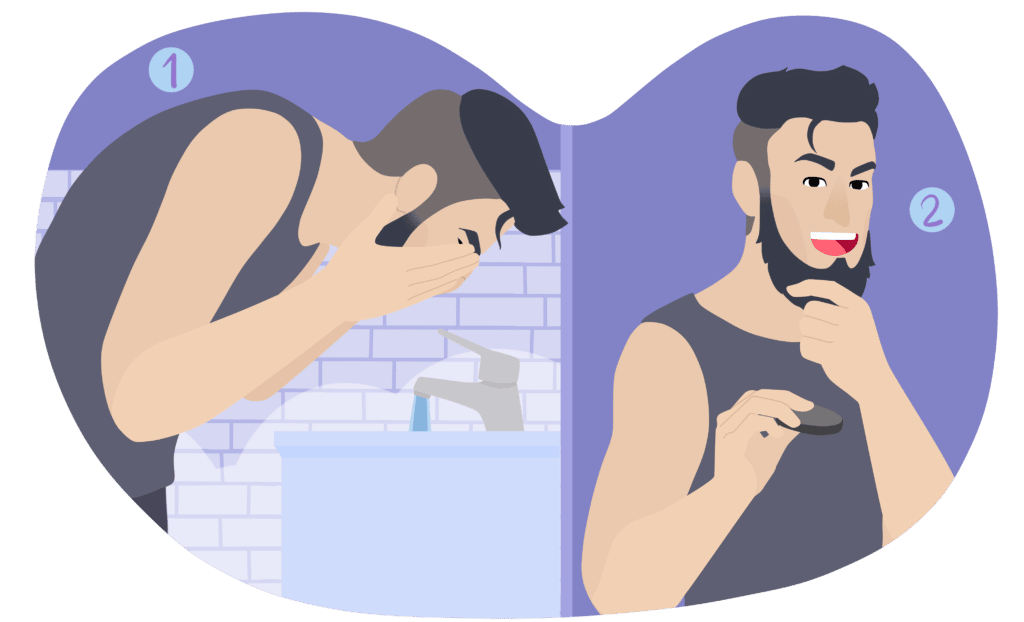 Beards need love too. Whether you have recently started growing out a beard and are suffering from beard itch, or your beard is thick and full but tends to be a little on the dry side, you need a little hydration.
The best way to combat the dryness? With beard balm.
Beard balm is the perfect way to moisturize your beard, keeping it soft and taming flyaways. It also prevents beardruff – dry skin flakes that make their way into the strands of your facial hair.
To get the most out of your tin of beard balm, let's look a little more closely at why it is so great, how it works, and how to apply it accurately.
Beard balm is one of many beard grooming products. This balm works the same way as a conditioner that you use on your head hair would. It moisturizes your beard hair and the skin that sits beneath it.
While used predominantly for moisturizing, you can also use it to style and shape your beard hair.
Any beard balm worth your time is made from natural ingredients that are gentle on the skin and facial hair. Applying substances with large quantities of chemicals to your face can slow down the growth process of your beard and can damage your hair and skin.
Always make sure to dye beard with a natural dyes instead of synthetic ones to lessen the damage as well. 
Most balms are scented with natural fragrances and essential oils such as tea tree oil to leave them smelling fresh. But that is not the only reason. Synthetic fragrances are known to dry out hair and cause skin irritations.
Application of beard balm is best after you have washed and dried your beard. This is because the follicles are expanded, and hair shafts are more porous because of the heat of the shower water. When your hair is in this state, it will absorb the moisture from the balm more readily, allowing it to lock in and prevent dryness and split ends.
How Does Beard Balm Work?
While facial hair and head hair differ slightly, both need care and a good grooming routine. Just as you would use a leave-in conditioner to treat dry and brittle hair, your facial hair needs the same.
Beard balm works the same as a leave-in conditioner. It softens your beard and makes it simple to use a beard brush to comb out any knots or tangles, making it easier to keep a healthy beard.
We also nourish our skin when we use beard balm. Skin naturally produces oils called sebum. When skin becomes dry, and there is not enough sebum to combat this, our skin will become flakey, and overproduction of sebum will occur—this excess of sebum results in the growth of fungus, often known as dandruff.
To keep your sebum levels regulated, dermatologists recommend that you hydrate your skin with a natural beard balm – this will prevent you from having a dry, flakey-looking beard.
When our skin gets dry, it also becomes itchy. To prevent beard itch, use a little beard balm daily to soothe and moisturize the dry patches.
While brands predominantly market beard balm as a moisturizer, it offers a slight tackiness thanks to the often added beeswax that helps keep stray hairs tamed and the shape of your beard looking sleek. However, we do not advise you to buy beard balm as a styling product – it will not give the hold you need.
Ingredients Found in Beard Balm
Differing brands will each have their formula and unique selection of ingredients that they use to create their beard balm.
Some brands will use a strong chemical base for their product; this is usually done to ensure your balm comes with an extended shelf life. We suggest steering clear of these and other synthetically fragranced beard balms as they can dry out your hair and cause skin irritation.
Beard balms made with natural ingredients create a far better choice – they get the job done and won't cause any irritation.
Here are some of the ingredients you can expect to find in a high-quality beard balm:
Beeswax
Beeswax is an excellent moisturizer, and it gives your beard a healthy shine. In addition, the beeswax in the balm smoothes the hairs and allows you to use a beard comb to brush them into shape for a neater look.
Considered one of the best sealants, it locks in moisture to keep your hair hydrated for longer.
Butters
Beard balms contain a high level of butters. While beeswax is included to help give a little hold to the beard and solidity to the product, these butters help make the balm spreadable. This means the balm is easier to apply to your beard and won't get sticky as a beard wax would.
Cocoa butter or shea butter are most frequently used to create beard balm. Both come with a rich natural scent and are great for hydration. In addition, these ingredients are high in natural moisture and are great for the skin too.
If you suffer from dry skin or hair, try to find yourself a beard balm with high cocoa or shea butter content.
Natural Oils
Natural oils are added to the beard balm formula to add a little extra something to the mix. While they all offer additional moisture and shine to your facial hair, many bring other benefits.
Jojoba oil is often found in beard balm and is ideal for sensitive skin as it has properties that soothe and calm and prevent irritation.
Argan oil is ideal for men who battle with very dry or undernourished hair and reduces split ends, dry skin, and itchiness. Argan oil is made from the Argan tree, native to Morocco.
Tea Tree oil is another oil often found in beard balm; it is excellent for oil control helps in the overproduction of sebum. This oil is great for men who have oily skin or are prone to breakouts.
Sweet Almond oil is also often included in balms. It is known for its ability to combat redness and puffiness and improves complexion and skin tone.
Essential Oils
Essential oils are the extracted oils from different plants. These oils bring with them the scents and sometimes flavors of the plant from which they came.
Essential oils are used in small amounts to add natural fragrance to beauty and grooming products. Some of the essential oils you can expect to find in beard balms include spearmint, lavender, vetiver, lemongrass, bergamot, cedarwood, and sandalwood.
Should I Be Using a Beard Balm?
While beard balm sounds like a miracle product, there are a few things to consider before rushing out to buy some. Different balm formulas offer unique benefits; they are not all the same, so it pays to give a few factors some thought before making your purchase.
Beard Length
The longer your beard gets, the drier the ends become, and the more beard products you're going to need.
If you have a long beard, investing in a high-quality beard balm is always your best bet. It will keep your beard soft and prevent it from looking dull. In addition, choosing a beard balm that is high in cocoa or shea butter will help keep your beard on point.
Men starting to grow their beards may suffer from beard itch, in which case a balm with a high butter content and jojoba oil is a good choice.
If you have a beard that is not quite a full beard and needs a little taming, a balm with a higher beeswax content is best.
Using Beard Oil and Beard Balm Together
There are a few schools of thought on whether you should use beard balm and beard oil together when it comes to beard care.
One idea is that you should not use the two simultaneously as it will over-saturate your beard and leave it looking limp and greasy. Others believe you should use the two together and that the combination of the two provides unrivaled benefits.
Ultimately there is no right or wrong, and you need to follow the solution that best works for you.
While beard oil and beard balm offer very similar benefits (they both add excellent moisture to your beard, leave it shiny, and make it smell good), they do differ slightly.
When to Use Beard Oil
Beard oil is great for guys with dry skin and long beards. It is more easily applied to the beard and, because it comes in a liquid format, requires less product to be used each time.
Beard oil is also better for styling as it causes the hairs to adhere to one another, taming flyaway hairs that become unruly. You can find many of the best beard oils online at sites like Amazon.
When to Use Beard Balm
Beard balm is ideal for use by men with all beard lengths. However, if you have a shorter beard that is dry and needs a slightly more tacky styling agent, beard balm is your best bet.
Because you will need a more considerable amount of balm on a long beard, this may become pricey. Men with long beards generally tend to prefer using a smaller amount of beard oil (usually only a few drops of beard oil is needed) which is more cost-effective.
Applying beard balm is a relatively straightforward task, but it isn't widely covered by the brands that supply the product. So, to make it easier on those who are using beard balm for the first time, we have put together some step-by-step instructions:
Step One: Clean it Up!
Whether you take a shower or just rinse your face, it is essential to clean your beard first before applying any product. Adding product to a dirty beard or skin will cause a breakout and slow down beard growth.
While shampooing your beard daily is not advised (this can dry your hair out), rinsing it with warm water is imperative.
When you're done, pat down your beard thoroughly to dry it off; rubbing your beard vigorously with your towel is not advised as it can damage and break the hair follicles and strands.
Step Two: Get Balmy
Use a product spoon or the back of your nail to scoop up a small amount of the balm. Make sure your hands are clean when doing this; you don't want to transfer bacteria into your product.
Rub the dime-sized amount of balm between your palms until it softens and becomes easy to apply.
Step Three: Application for the Best Beard
Rub the balm into your beard, starting at the neckline and working your way up the jawline and chin. Once the bottom of the beard is moisturized, you can rub some balm into your sideburns too.
Massage the balm thoroughly into the lengths of your beard to ensure every inch is covered. It would help if you also massaged it into the skin beneath to prevent any dry flakiness.
Step Four: Brush it Out
Use a hog bristle brush or beard comb to brush the balm through your beard. This will also help your beard look neater and will keep the hairs together.
While it won't give you a hold like wax or pomade, beard balm will help create a little definition.
Step Five: Keep It Clean
When the day is done, and you're getting ready for bed, remember to wash the balm out of your beard. Going to bed with a clean beard will prevent your pores from becoming clogged and breaking out. A little warm water should do the trick.
Benefits of Using Beard Balm
Beard balm offers many benefits and, in our opinion, is worth investing in – let's see why:
Moisture
Beard balm supplies your beard with excellent hydration to keep it soft, supple, and lustrous.
Dandruff
Beard balm helps to prevent dandruff and dry, flaking skin.
Styling
While beard balm doesn't have much hold, it will tame those unruly flyaway hairs, especially if you haven't used a trimmer in a while.
Fragrance
Beard balm will add a soft, subtle scent to your beard that will leave you smelling great throughout the day.
Additional Skin Benefits
Natural oils included in beard balm can help soothe irritated skin, clear blocked pores, and even out skin tone.
There are numerous benefits to using beard balm on your beard. Aside from the moisture and nourishment it provides, it makes your beard easier to style, more lustrous, and it leaves you smelling great.
Beard balm is quick and easy to apply and can be worked into your morning grooming routine without adding too much additional time. While a beard is less time-consuming than shaving each day, it still requires maintenance to leave it looking great.