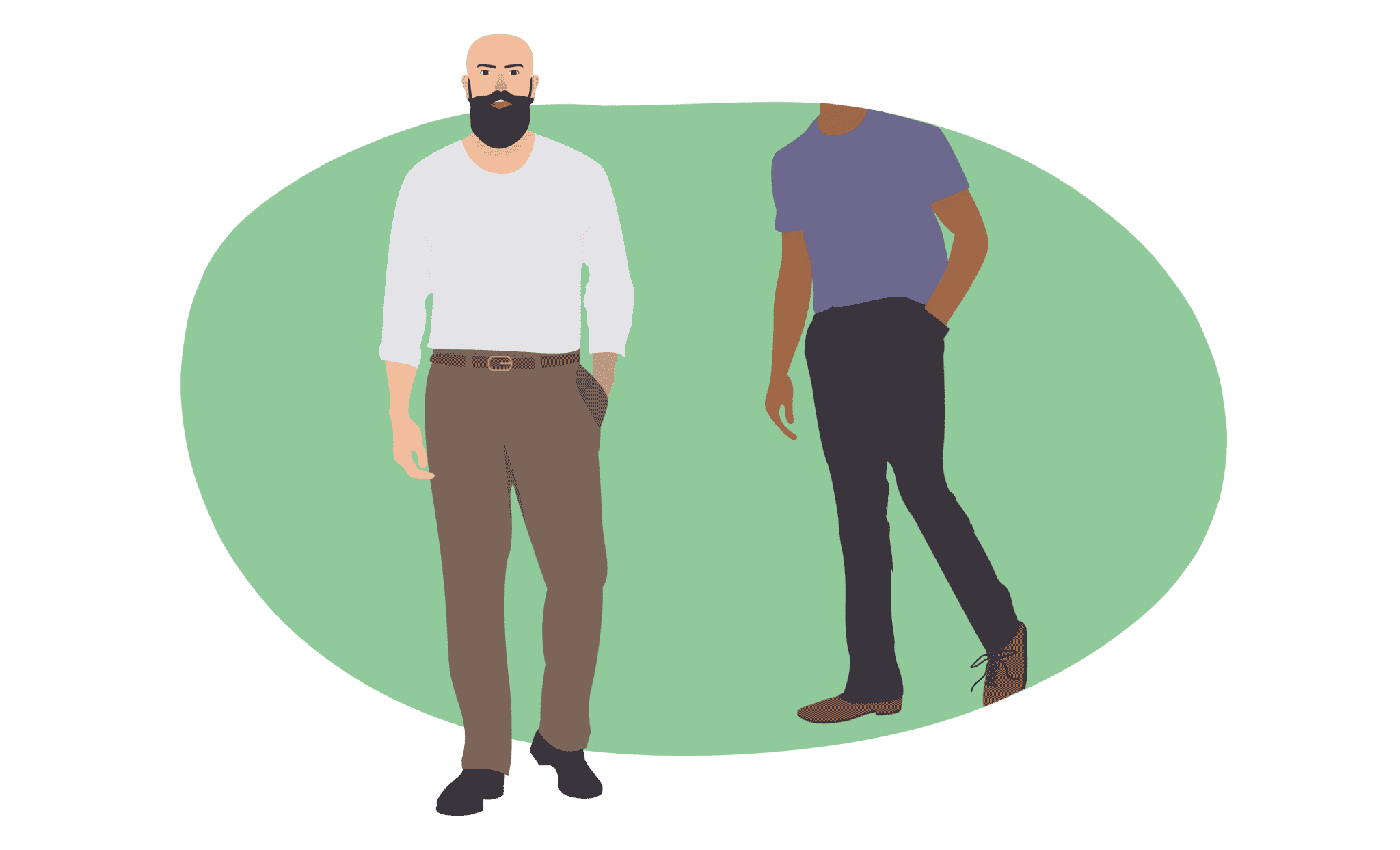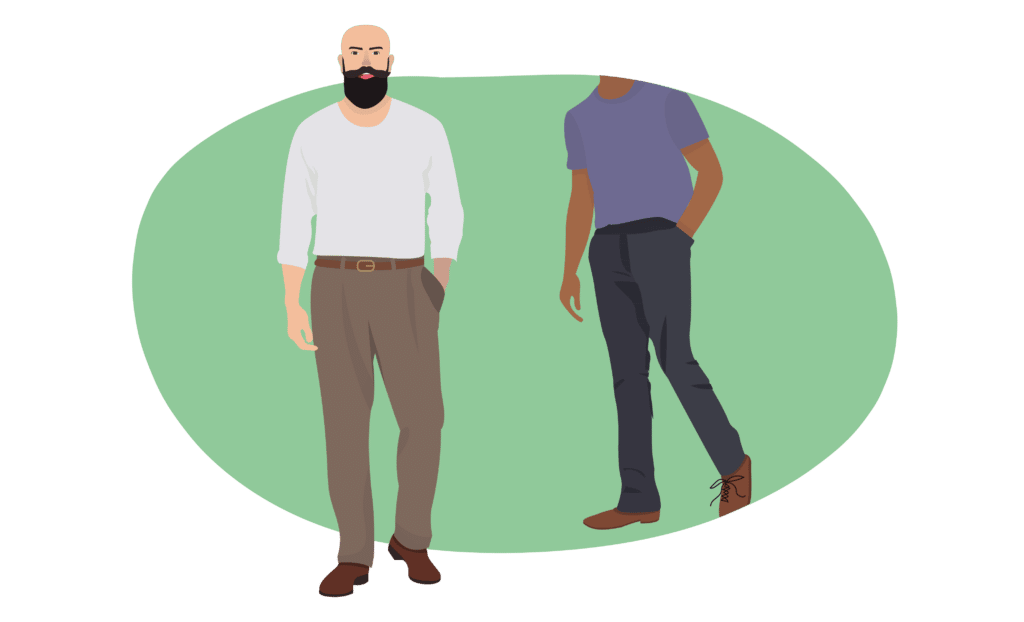 When it comes to men's dress pants, there are a wide variety of options. Each offers its own unique style and specific detailing that sets them apart from one another.
Unfortunately, many manufacturers don't always know these subtle differences, and as a result, things can get confusing. So how do you know which pants are the right ones for you?
In this article, we discuss the differences between chinos and khakis, making it easier for you to find the trousers that best suit your tastes and needs.
Easily confused and frequently considered "the same," Chinos and Khakis can be looked at like two brothers, similar but not identical. Khakis arrived on the scene first, followed by the slightly more refined design that led to chinos, which appeared in 1898.
Chinos were first made during the Spanish-American war. Because they were manufactured in China, the Spanish began referring to them as Pantalones Chinos. This translates to "Chinese pants," a term the Americans then simplified to "Chinos." This moniker then stuck and is used today to describe the pants formally.
Chinos are lightweight and are often made from thinner fabric, making them the better choice for a summer wardrobe or as holiday attire if you are heading off to somewhere humid such as the Bahamas or Philippines.
The most significant difference, when compared to Khakis, is their cut. Chinos feature a less boxy fit and instead provide a slim, straight cut.
Chinos are also known for their more contemporary look and feel. The front of the pants typically does not have a pleat or crease and instead sees a simple flat design. The pants offer a more snug fit, making them a little more flattering and stylish than the utilitarian look Khakis provides.
Rounding off the contemporary look of the chino is the pocket design. Here, the pockets are smaller and sit vertically, enhancing the pants' slimming effect on the figure.
Another point to note about chinos is that they come in a wide selection of colors, from crispy navy blue to more fun, fresh pale salmon.
Now that we are clear on what chinos are, it is time to look a little closer at the humble khakis. Understanding more about these pants will ensure we are better equipped to tell the two apart and know which best suits your taste.
Khakis are believed to have first made an appearance halfway through the 19th century. The trousers were originally designed as a military uniform for a regiment of the British Indian army called the Corps of Guides. These soldiers were stationed in a rugged and dusty region of India and needed cool, comfortable, and formal pants that would also camouflage them with their surroundings.
The result was Khakis which were initially dyed with a plant-based dye called Mazari, which gave them their sandy tone. The name Khaki is Persian and means "dust." It seemed a fitting name for the khaki color of the trousers, but today is used to describe the pants rather than their beige or tan color.
You can define khaki trousers by their utilitarian look, a style that came from necessity. The soldiers needed to be able to move about with ease and store small weapons in their pockets. This left Khakis with a slightly boxier and less slimming fit. The pants also feature deeper, more sizeable pockets that easily accommodate wallets, keys, and phones.
Khakis feature tapered legs that narrow towards the ankle, culminating in a cuff. This look, while more formal, can make the wearer appear shorter. In addition, Khakis feature either a single or double pleated front, which adds extra roominess to the top of the pants while also appearing more business-like.
The fabric used to make these trousers is often heavier and more substantial, making them better suited to fall or winter wear. And, while Chinos come in a variety of colors, Khakis are only found in shades of stone, sand, or beige.
What is the Difference Between Chinos and Khakis?
As you may have gathered so far, chino pants and khakis are somewhat different styles of pants and vary in both cut and construction.
If you look closely at both chinos and khaki pants, you will see that the differences extend to their aesthetic, fit, and even the thickness of the material used to make these trousers.
Yet, because these differences are so minimal, the two styles are often and easily confused. Stores frequently label these pants as one when in fact, their detailing alludes that they are instead a different style altogether.
This can cause confusion and often result in chinos with a more baggy fit or khakis in vibrant colors or without a placed wrinkle and a flat front.
As a result, it becomes more and more challenging to differentiate between a pair of khakis and a pair of chinos. There are no longer hard and fast rules about which is which and their particular styles.
The Fabrics Used for Dress Pants
One of the more notable differences between chinos and khakis is the weight of the fabric used to create these pants. Chinos are usually made from a more lightweight blend fabric, while khakis usually feature a heavyweight material that is better suited to wear in the colder months.
Either way, no matter what type of pants you buy, you want to go for a pair made of 100% cotton. Not only is cotton soft, but it is also durable and breathable. In addition, it allows air to circulate through the fabric to your legs, regulating your body temperature, keeping you cool and comfortable throughout the day.
Cotton also boasts impressive moisture-wicking properties. This means that the fabric absorbs your sweat and moves it to the surface of the material, where it can then evaporate into the atmosphere. This way, you remain dry and sweat-free. A pair of cotton pants is the best way to stay comfortable in any weather.
Cotton twill fabric is far more breathable than materials that include polyester, viscose, and rayon, as it is made with natural cotton fibers that allow for airflow. In addition, cotton twill features a diagonal weave that leaves the fabric more durable, a must to create pants that withstand a lot of wear and tear.
Because they are less heavy, chinos are best made from 100% cotton or, in some cases, a lightweight cotton blend. These fabrics usually feature a closer weave, which makes them less dense than the 100% cotton twill used to make khakis.
Knowing how to pair other items in your wardrobe with a pair of pants makes it much simpler to get the most out of men's fashion. It also saves you from spending time trying to figure out whether the outfit you have put together looks decent.
Chinos offer a more contemporary and rather slimming fit. They are considered to provide a semi-formal style but are easily dressed down to give a business casual look. It all boils down to how you pair them with other items in your closet.
These pants offer a unique style in that they begin with a regular waist that then tapers from the mid-thigh down to the ankle, commonly known as a slim fit. Designers consider the cut as modern as it is slightly more figure-hugging and flatters the contours of your body.
However, these trousers bring in a timeless sophistication, too, brought about by their sleek straight lines and minimalistic pockets.
The lack of pleats in favor of a flat front further adds to this look. While pleats offer a more classic, formal style, they do have a way of foreshortening your look. Using a flat front, chinos make your legs look longer and slimmer, in turn making you appear taller.
Because of their more modern cut, chinos offer excellent versatility and can be paired easily with various other menswear items.
Achieve a casual look by pairing your chinos with your favorite t-shirts and a pair of trendy loafers. For a more formal occasion, combine the pants with a pair of light brown Oxfords and a crisp dress shirt.
When choosing a shirt to wear with your chinos, there is no hard and fast rule about whether the shirt should be tucked in or not. Not according to the pants anyway. Generally, shirts with a rounded hem are designed to be tucked in, and those with a straight hem can be worn untucked, even if they are dress shirts.
Using a stylish belt can also add a touch of style to your look and give off a slightly more refined finish.
Choosing a color for your chinos is another consideration. If your wardrobe is packed with vibrant shades, navy or stone are always good choices for chinos as they pair well with most other colors. In addition, doing this allows you to combine most of your shirts with your new pants. If you're bolder about your clothing, you could always choose a more vibrant shade like red or hot pink.
The last disclaimer we want to make about how to wear your chinos is the fit. It is imperative to find a pair that fits you well. Oversized pants end up looking goofy and can be spotted from a mile away. Because these pants feature a slim fit, a sizing faux-pas stands out like a sore thumb and leaves you looking as though you went for the cheap option, even if you didn't.
When buying trousers, especially online on sites like Amazon, go for the brands you know, like Dockers or Amazon Essentials, those that put quality at the forefront of their products. This way, you are more likely to end up with a pair of trousers that are true to size and won't have you needing to hop over to your tailor for alterations that cost as much as the pants did.
In comparison to chinos, khakis are a lot less formal, despite their pleats and tapered cut. Also, they look a little more relaxed because they have a boxier or even baggy fit.
While dress shoes pair well with chinos, khakis match better with sneakers, chukka boots, and less formal loafers. Of course, if you want a slightly smarter look, you can always combine your khakis with Chelsea boots and a blazer.
If you're heading to a more formal gathering, you could always pair your khakis with a short-sleeve button down shirt or dress shirt. However, these casual pants typically go better with polo shirts or t-shirts.
Although made more for casual occasions, khakis still require ironing before you wear them. You can thank the pleats for that. Showing up to an event with wrinkled pants, especially pleated ones, will leave you looking as though you have arrived in your pajamas.
Another no-no when it comes to khakis is buying them in vivid colors. They are traditionally made in neutral shades of light brown, but every once in a while, a manufacturer gets a crazy idea and makes them in fire-engine red. While the shade may be appealing, when combined with the cut of the pants, they look like something a clown may favor.
How to Decide Which Dress Pants Are for You
Once you know the difference between khakis and chinos, picking the pants that best suit your needs or tastes is much simpler.
If you prefer a more relaxed fit and a slightly more casual look, then khakis maybe your best bet. Additionally, if you want pants with deeper pockets or that offer a little more warmth in the colder months of the year, then khakis is an excellent choice.
Men looking for a more formal look or a cut that is a little more form-fitting will do well with a pair of chinos. It is important to remember that these pants are typically made from lightweight fabric and may not be ideal for wear in winter.
Khakis and Chinos differ from one another in many areas. Chinos are tighter-fitting, more formal, and better suited to wear in summer. Additionally, they have no pleats and come in a vast selection of colors. Khakis are more relaxed in their cut, are better suited to casual wear, and are best worn in winter or fall.
If you're still unsure which style is best for you, consider buying both, they offer different qualities and both add value to your wardrobe.