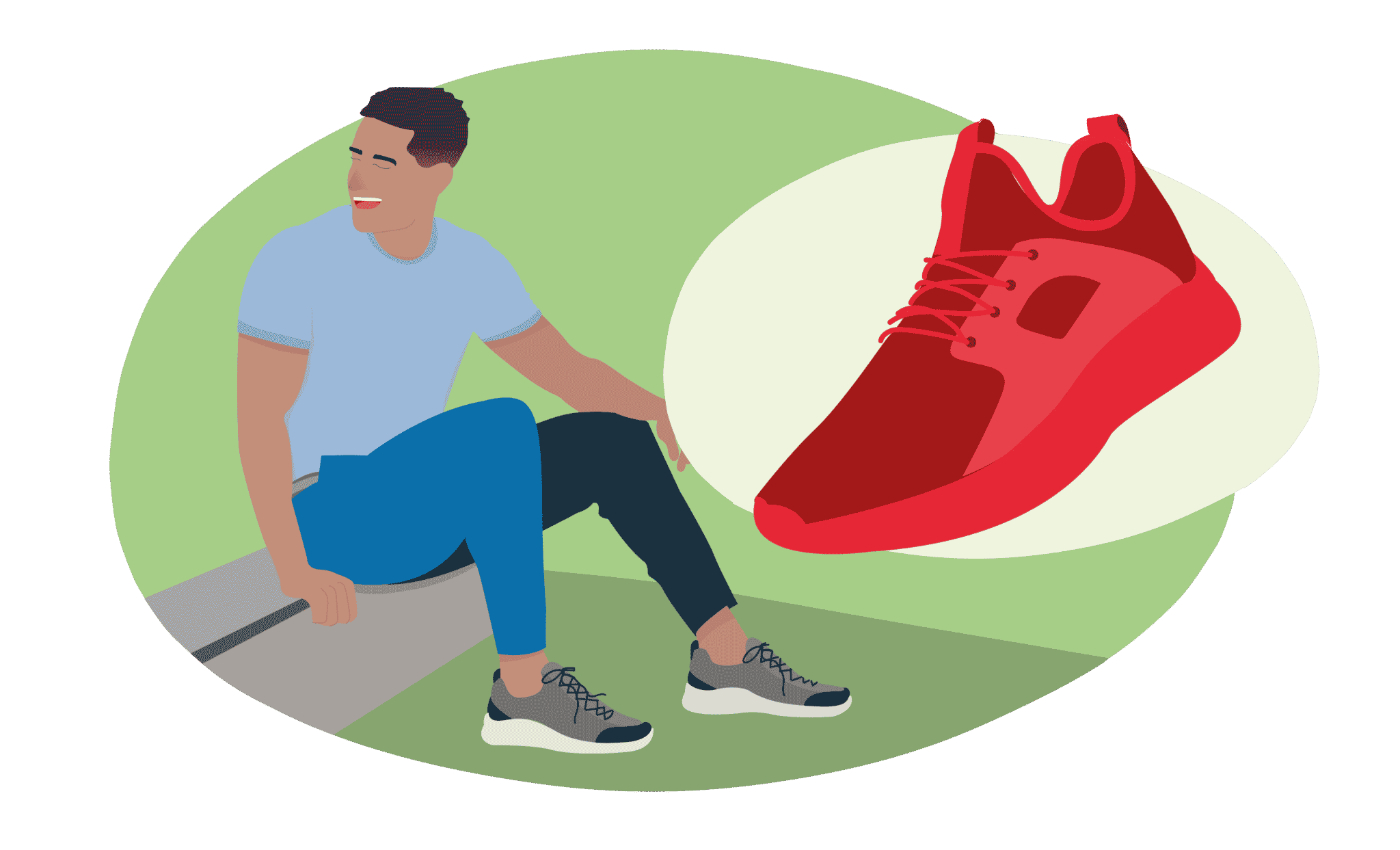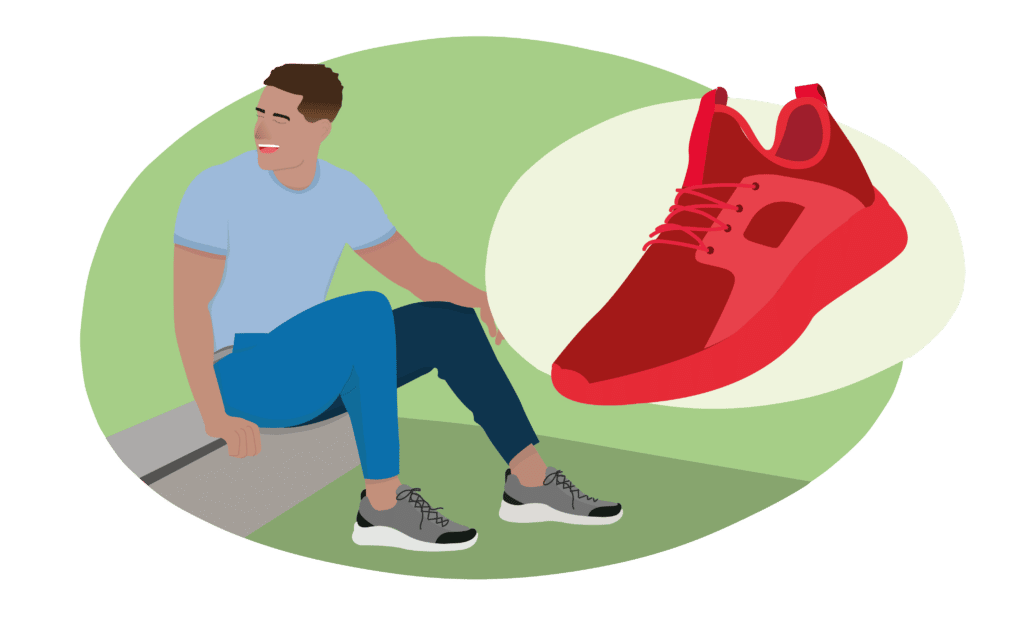 If you have ever spent a day on your feet, you will know that standing can cause your feet to ache. Add to that a pair of shoes built for style or that fit within your budget but don't account for comfort, and your feet will hate you for it.
The best way to combat foot fatigue, whether you stand a lot for work or love going for leisurely walks, is with a high-quality pair of walking shoes. Decent walking shoes will provide the comfort, cushioning, and support your feet need to prevent fatigue and back pain.
Unfortunately, not all walking shoes are made equal. To make it less challenging for you to find the best pair of shoes for standing or walking, we have gathered together the best Amazon has to offer and reviewed each of them.
We tried and tested multiple walking shoes from Amazon and concluded that these six are the best shoes for a long day on your feet. We used the approach to chat to men about what they looked for in high-quality walking shoes and collected together the ones from Amazon that ticked these boxes. We then reviewed each of them. Our evaluation of each was based on the following criteria: the comfort offered, cushioning and support, style, breathability, and durability.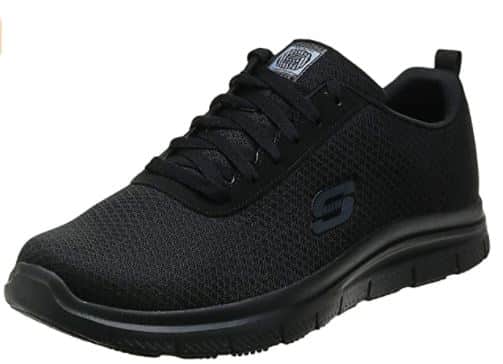 Skechers is a footwear brand that specializes in lifestyle and athletic footwear. The brand was founded in California in 1992, and since then has expanded to be the third-largest athletic footwear brand in the United States and is loved worldwide.
Skechers places emphasis on the design of its shoes not just from a style perspective but from one of comfort too. So we were excited to see if the brand lived up to its name when we tested the Skechers Men's Flex Advantage Bendon Work Shoes.
Specs
Features a knitted mesh upper
Comes with a memory foam insole
Slip-on design
Includes non-slip outsoles
Who is it Best for?
If you find yourself on your feet for a long period each day for work, you need comfortable work shoes. The Bendon work shoes from Skechers offer the perfect solution. They offer all-day comfort and support to prevent foot pain and fatigue.
Impressed with what the website claimed these shoes offered, we decided to give them a try, and they did not disappoint! When it comes to anti-slip protection, these sneakers are game-changers. They provide excellent traction on surfaces of all kinds, no matter how oily, wet, or slippery the floor is. The shoes are comfortable, too, with the only downside being that the laces feel a little flimsy and cheap.
Speaking of cheap, these sneakers come in at a mid-range price compared to other walking shoes on the market.
Key features
Skechers makes these work shoes with a selection of premium materials that ensure the sneakers are as durable as they come. In addition, a knitted mesh upper offers exceptional breathability that keeps the temperature of your feet regulated, preventing them from overheating and becoming sweaty and smelly.
The memory foam insole is removable, allowing you to insert your own orthotics if you wish. In addition, this insole provides soft cushioning for your foot, making those long days on your feet comfortable.
Skechers designs the synthetic outsole to offer excellent traction. The anti-slip grip ensures you stay upright and on your feet no matter how slippery, wet, or oily the floor may be, making these shoes perfect for those working in factories, motor shops, or butcheries.
Cons
The laces are a little flimsy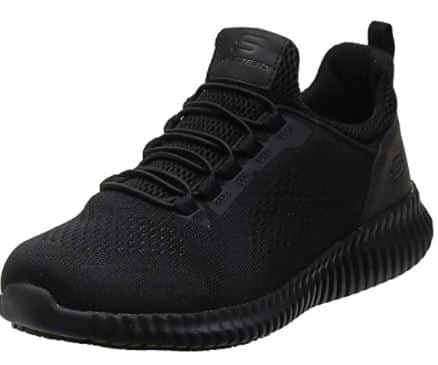 Skechers is dedicated to providing customers with premium athletic and lifestyle footwear. To ensure each and every pair offers maximum comfort and support, the brand works with a specialist podiatrist to design its shoes.
Impressed with this collaboration, we took a closer look at the shoes the brand has to offer and settled on trying a few different pairs, with one being the Skechers Men's Cessnock Food Service Work Shoes, made for people who work on their feet.
Specs
Comes with a durable rubber sole
Includes a breathable mesh upper
Features a memory foam insole
Uses bungee-style lacing
Who is it Best for?
Working in specific environments often means working on surfaces that may become slippery, covered in oil, or other substances that make it easy to lose your footing and fall. So whether you work in a factory, fishery, butchery, motor mechanic workshop, kitchen, or with detergents, you will need a pair of shoes that provides traction no matter what surface you traverse. These work shoes from Skechers offer just that.
Compared to other similar shoes on the market, these are a little pricey, but the comfort they give, especially to those on their feet most of the day, make them well worth the cost.
After trying them out ourselves, we can easily say that the sneakers are some of the most comfortable standing shoes we have tried. The grip they offer is next level, and the support is top class. The only downside is that the uppers are a little tough to clean.
Key features
Skechers features tough and flexible rubber soles on these standing shoes. The soles are durable enough to withstand hours of standing and wear and tear, and they're flexible enough to make walking comfortable and easy, putting less pressure on your feet.
The insole is made from memory foam that gives the shoe a soft cushioning and support that protects your foot from impact and relieves any fatigue.
A mesh upper further adds to the comfort these shoes offer. Air circulates through the upper around your feet, keeping them cool and preventing any sweating.
Bungee cord laces form the closure of the shoe. Not only are these safer because there are no laces for you to trip over, but they are also much quicker and easier to fasten.
Pros
They come in five different colors
The shoes are perfect for extended wear on hard surfaces
You can't trip over the laces
Cons
The mesh uppers are tough to clean if you spill anything on them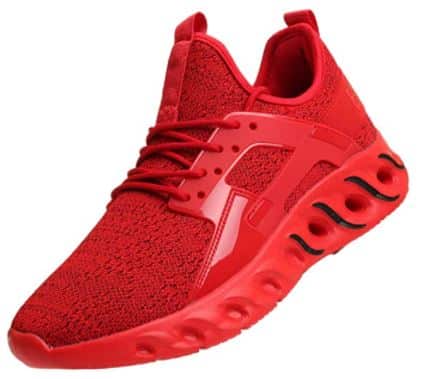 Bronax is a sneaker brand that does not shy away from bold designs and vivid colors. Focusing on men, in particular, the brand offers a wide selection of footwear for all occasions, from walking shoes and tennis shoes to running footwear and casual wear sneakers.
While style and design elements are clearly given thought by the brand, we wanted to see whether the comfort the shoes provided was just as good, so we gave the BRONAX Men's Lightweight Tennis Shoes for Casual Wear a try.
Specs
Includes built-in arch support
Comes with a breathable mesh upper
Slip-on design
Features a removable sock liner insole
Who is it Best for?
If you prefer sneakers that make a statement, these are for you. Bronax is known for its signature sneakers that come in vibrant colors that are eye-catching and fashionable. These walking shoes come in four unique shades that include navy, fire engine red, icy white, and black.
While it would be easy to assume these fashion-forward shoes come at a steep price, you'd be wrong. Instead, Bronax offers these at a price tag that is both reasonable and relatively inexpensive in comparison to that of competitor brands.
Excited about the price, we ordered a pair and gave them a try, testing them out in various scenarios. To say these shoes are comfortable would be an understatement; they are lightweight and give the feeling of walking on air. While the arch support is not ideal for weightlifting at the gym, you can get in a good cardio workout in comfort.
Key features
Bronax makes these walking shoes from a selection of high-quality materials that combine to create a pair of shoes that are comfortable, offer excellent support, and that look fantastic.
The mesh upper is breathable, allowing air to circulate your foot, regulating the temperature, preventing overheating and sweating. This upper also allows your foot to sit comfortably in the shoe by providing adequate support to the top of the foot.
A removable insole provides exceptional cushioning and arch support that leaves you with all-day comfort. In addition, because this insole is removable, you can easily replace it with your own orthotics.
A durable rubber sole offers outstanding shock absorption and traction, making it easy to walk on just about any surface with ease.
Pros
The shoes are true to size
The cushioning is impressive
Cons
The shoes do not come with bungee laces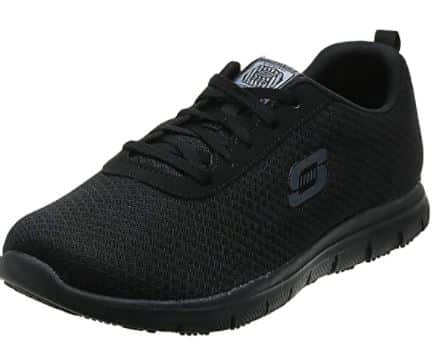 While it wouldn't be remiss to think of Skechers as a fashion or athletic footwear brand, it also offers a wide selection of work shoes, not dress shoes as such but rather comfortable sneakers designed for those who spend a large portion of the day on their feet.
One such pair of walking shoes the brand offers is the Skechers for Work Women's Ghenter Bronaugh Work Shoes. We gave these kicks a try to see how they fared when it comes to comfort and support.
Specs
Water-resistant design
Includes air-cooled memory foam cushioning
Features a durable rubber outsole
Comes with a breathable mesh upper
Who is it Best for?
Whether you work as a nurse or as a food server, chances are you're going to be on your feet for a large portion of the day. To avoid a flare-up or the beginnings of foot pain and problems such as bunions or Plantar Fasciitis (inflammation of the foot that leads to heel pain), it is best to buy a pair of work shoes such as these from Skechers. These shoes provide exceptional comfort and support, leaving you as though you're walking on clouds.
In comparison to other brands and shoes on the market, these work shoes are a little more expensive. However, the quality and durability associated with the Skechers name make the price well worth it.
We tried them out to see just how comfortable they were, and we weren't disappointed. The shoes provided us with lasting comfort and exceptional support that left us without foot fatigue and backache.
Key features
These Skechers work shoes feature a stylish mesh knit upper that is soft against the foot while providing the right amount of support to keep your foot steady and well-protected. The design of this mesh upper also allows a through-flow of air that prevents your feet from becoming too hot and then sweating.
Another impressive feature of this mesh upper is that it is water-repellent, so should you spill something on your shoes or walk through a liquid, your feet won't end up getting wet and forming blisters.
The rubber outsoles are designed to be slip-resistant, keeping you securely on your feet whether you walk through oil or water. This added safety feature makes the shoe ideal for work.
An air-cooled memory foam cushioning in the lining of the sneaker provides additional support and unrivaled comfort.
Pros
This is a very lightweight shoe
The sole has an anti-slip design
Cons
They are a little narrow in the toe box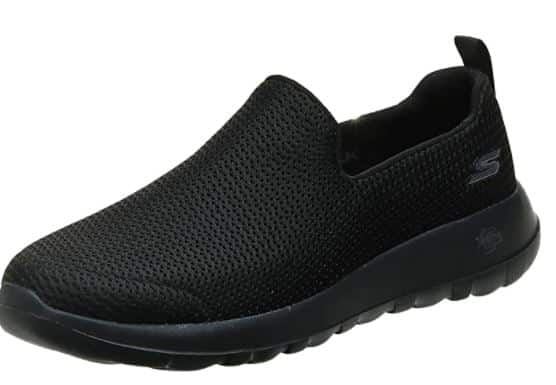 What makes Skechers one of the leading shoe brands in America is that it understands that not everyone enjoys the same style, shape, and fit when it comes to footwear. As a result, the brand offers an assortment of shapes and styles designed to suit various tastes and preferences.
We happened across the Skechers Men's Go Max-Athletic Air Mesh Slip-on Walking Shoes and decided to give them a try to see if this style offers as much support and comfort as a traditional sneaker.
Specs
Features a slip-on design
Comes with a Goga Max Technology insole
Includes a proprietary Skechers GOwalk Max midsole
Sees an extra padded heel
Who is it Best for?
If sneakers are not your style and you prefer a slip-on shoe, these work shoes from Skechers may be precisely what you need. They offer a design that makes them easy to pull off and slide onto your feet. In addition, the look and feel of the shoe are minimalistic, making it perfect for anyone wanting a discreet and functional work shoe.
While Skechers come in at a higher price point in comparison to competitor brands, you can be sure that the quality and comfort you are getting are top-notch.
We bought a pair to test them out, and after wearing these shoes for a few weeks, we can conclude that they are our top pick for comfort, ease of use, and style. The shoes provide the sensation of walking on air and offer unrivaled convenience.
Key features
These easy-on shoes from Skechers feature various proprietary elements that make them ideal for all-day wear. For example, the lightweight mesh upper provides breathability that prevents your feet from getting hot, sweaty, and smelly. In addition, reinforced toe and heel panels offer additional durability and avoid chafing and blisters.
The midsole and insole both feature a proprietary lightweight injection-molded compound with memory retention that is lightweight and shock-absorbing. In addition, the footbed comes with a unique 'Squish' foam that offers further support and comfort by cradling your foot and keeping it firmly in place.
The GOWalk midsole and outsole offer rebound cushioning and impact absorption that protects your feet, knees, and back from the aches and pains that come with excessive standing and walking.
Pros
The midsole provides excellent support
The cushioning leaves you feeling as though you're walking on air
These shoes come in various different colors
Cons
Not everyone enjoys the slip-on style of the shoe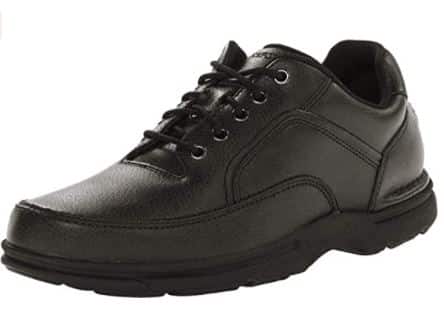 Rockport is a brand that saw a gap and took it. Realizing that there was a niche that fitted neatly between dress shoes and sneakers, the brand began designing footwear that offers the best of both worlds.
It was this innovation and foresight that Rockport carried into their shoe designs, earning them a spot as one of the globe's most loved brands. Deciding we wanted in on this fashionable footwear trend, we went out and bought ourselves a pair of the Rockport Men's Eureka Walking Shoes.
Specs
Made with San Crispino construction and full-grain leather uppers
Includes a latex foam footbed
Features a shock-absorbing EVA midsole
Comes with a padded heel collar
Who is it Best for?
If you're looking for a shoe that offers the style of a dress shoe and the comfort of a sneaker, you've just found it. These shoes from Rockport offer the shape and elegance of a dress shoe, but when it comes to comfort, they offer the feel of a sneaker.
The shoes are relatively expensive, but that comes down to the genuine leather upper and the unique construction style used to make the shoes.
Intrigued by both the design and construction, we decided to give these shoes a bash and see how they fared when it came to comfort and support. While we found the comfort the shoes provide to be impressive, the durability was lacking. However, the overall look and feel of the shoe are excellent and make it ideal for work or casual wear.
Key features
Rockport makes these shoes with a full-grain leather upper. This upper is water-resistant and breathable, so your feet will stay comfortable and dry throughout the day without becoming sweaty and smelly. The leather will also soften with time, leaving you with a customized fit specific to your feet.
The moisture-wicking mesh lining inside the shoe also draws any moisture to the surface of the footwear, where it can evaporate.
A flexible EVA midsole provides excellent shock absorption and impact protection to prevent foot fatigue and backache. The rubber outsole further adds to this and throws excellent traction and grip into the mix.
The padded heel collar prevents the shoe from rubbing and chafing, stopping the formation of blisters. The overall design of the shoe perfectly combines comfort with style, making these both fashionable and functional.
Pros
Suitable for all skin types
Things to Consider When Buying Comfortable Shoes
1. Support
One of the most important aspects of good quality standing or walking shoes is the support they provide. Different brands use different designs and materials to create the support their sneakers offer.
Some brands make use of OrthoLite insoles, while others feature midsoles made from compression-molded materials that absorb shock but allow for an impressive rebound. These specially designed insoles, midsoles, and often outsoles work together to provide the support your foot needs to move correctly and not be impacted by shock or become fatigued as a result of multiple hours of continuous standing.
2. Design
You may also want to consider other elements of the shoe design, such as the shank. A shoe with a shank (the long, thin piece of material between the insole and outsole) offers additional support to your foot and prevents the shoe from being overly flexible.
Another aspect to consider is the arch support provided. This provides extra support to those with raised arches. In addition, people with flat feet often need arch support or the ability to insert their own orthotics.
The size of the toe box should also come into consideration, as a narrow toe box will leave your toes and forefoot feeling cramped and painful.
When looking for the best standing shoes, there are several things to consider. Giving thought to the brand, durability, support, cushioning, style, and quality will all put you a step closer to finding the walking shoes that most suit your needs.
By closely examining and testing each of the best walking shoes in this review, we concluded that they each meet the criteria discussed above, making it more simple to find the best standing or running shoes to meet your footwear needs.