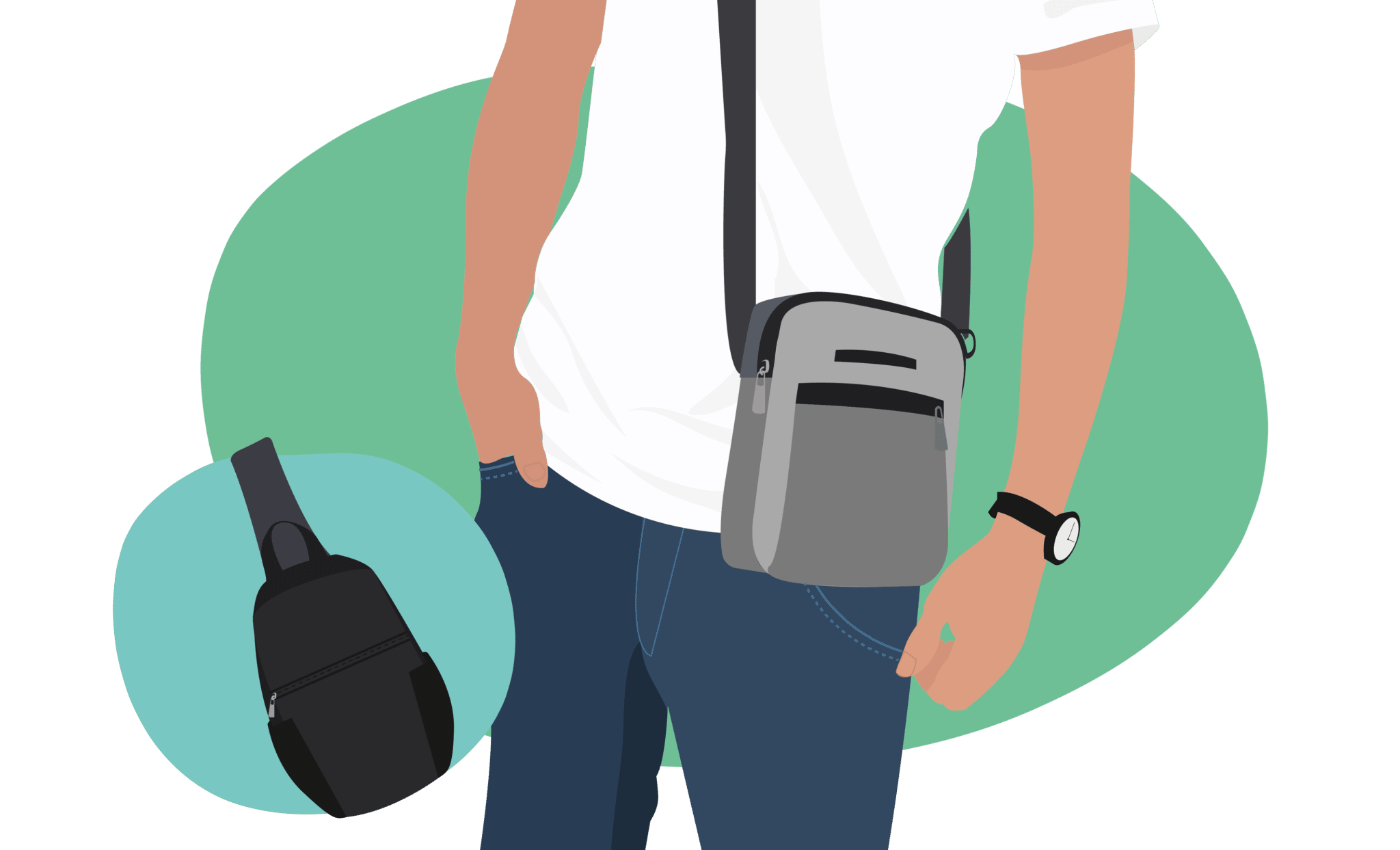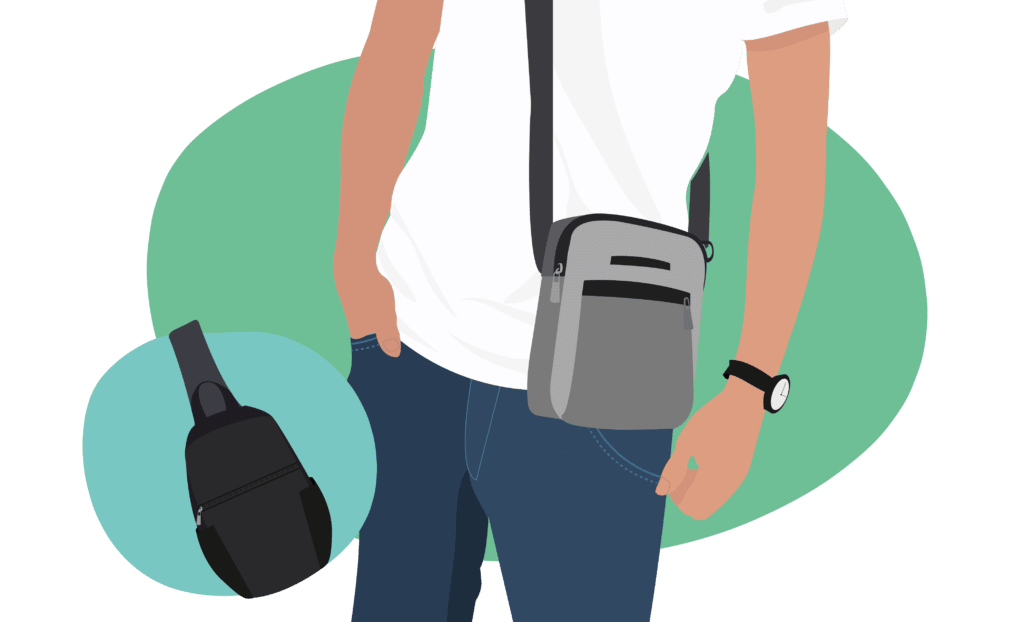 These days, when you leave the house, there are a few additional items you need to bring along with you. No longer is it just keys, your phone, and your wallet. Now it also includes sanitizer, sanitizer wipes, a face mask or two, and maybe even your sunglasses. That's a lot of stuff to be packing into your pockets.
So what's the solution? A holdall bag for men. These handy bags come in various styles and make it simple to carry all the things you need. Whether you prefer a fanny pack, a duffel, a sling bag, or a satchel bag, there is a carrier just for you.
Unfortunately, not every murse (that's the latest lingo for a man purse) is made equal, making it tough to find one that is worth spending your money on. So to make things a little simpler for you, we have gathered together the best bags for men Amazon offers and reviewed each of them.
We tried and tested many a bag for men from Amazon and concluded that these eight are the best men's bags for daily use. We used the approach to chat to men about what they looked for in a high-quality murse and collected together the ones that ticked these boxes. We then reviewed each of them. Our evaluation of each was based on the following criteria: the style, material used, shoulder strap, space provided, versatility, and durability.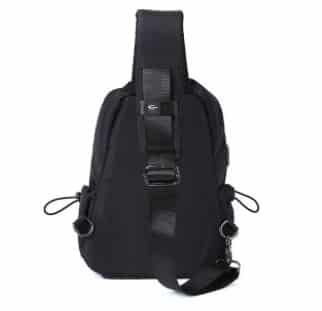 Seafew is a brand that designs and manufactures a range of fashion accessories, jewelry, and luggage. The brand's predominant offering comes in the form of backpacks, satchels, and various other bags. A firm focus on quality and design ensures that Seafew's products are durable and worth a closer look.
Interested in trying out the merch for ourselves, we bought the Seafew Small Black Sling Crossbody Bag for Men and Women. The bag arrived quickly, and our first impression was a positive one.
Specs
Made from waterproof nylon
Features a single padded strap
Includes a USB charging port
Comes with various pockets
Who is it Best for?
A neat and compact bag with a single cross-body strap is the perfect solution for carrying about the smaller daily essentials you may need. This offering from Seafew offers just that.
The shoulder bag sits comfortably against your back or chest without being bulky and getting in the way. It comes in two understated shades, black and black camo, making it sleek and sophisticated. It is sure to blend well with most outfits without being attention-grabbing.
This versatile men's cross-body bag is relatively inexpensive, although you will find that the camo option comes at a slightly higher price than the solid black version.
Interested to see how it performed, we tried it out and were left impressed. The bag offers a lot more space than you would think. In addition, it is lightweight and comfortable to wear. The strap doesn't dig into your shoulder and can be adjusted easily.
Key features
This unisex bag is ideal for use when you go hiking, head to work, or make your way out for the day. It is made from durable waterproof nylon to keep your items protected should you get caught in the rain.
A breathable mesh padding allows for the circulation of air between the bag and your body, preventing you from overheating or sweating where the bag rests against you.
The shoulder strap is padded and is quickly adjusted to a length that best suits your preferences.
When it comes to space, this bag is impressive. Although compact, it features various compartments, including a place to store your iPad. It comes with a main compartment that features numerous smaller pouches and can easily fit an umbrella, an iPad, an iPhone, a note pad, glasses, and a power bank, to name a few. A small zippered front pocket offers additional space, as do two drawstring side pockets.
The final touch comes in the form of a USB charger port that allows you to hook things up to a power bank for charging while you walk.
Pros
The strap doesn't dig into your shoulder
It offers ample space for small items
Cons
The bag only comes in two color options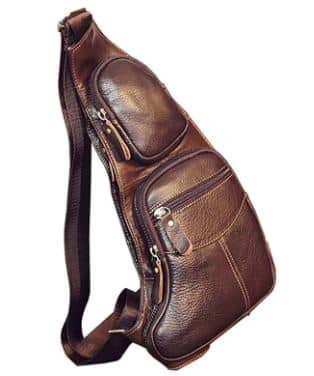 Hebetag is a unique brand that specializes in the design and manufacture of premium leather bags. The brand offers a range of designs, so whether you are looking for a tote bag, a travel bag, or a work bag, you are sure to find it here.
Hebetag is renowned for its craftsmanship and use of genuine leather to create its bags. The impressive construction and high-quality materials used make these some of the most remarkable bags you can find. If you don't believe us, give the Hebetag Unisex Leather Messenger Bag a try.
Specs
Made from genuine leather
Features a compact size designed to hold the necessities
Comes with a single adjustable shoulder strap
Includes a hidden back zippered pocket
Who is it Best for?
Men looking for a stylish and sophisticated vintage leather bag will enjoy this crossbody bag. It is designed to be compact and hugs your form, ensuring that it doesn't protrude or look bulky.
The bag is just big enough to hold your daily necessities, including your wallet, iPhone, cigarettes, keys, and sanitizer. It is too small to fit an iPad or iPad mini, though, so if you are looking for a bigger bag, this one may not be for you.
We gave this bag a try and found it to be useful and well-made. The leather is soft and durable, and the five pockets provide just enough space for your daily items. Where we felt the bag could be improved on is the strap, as it comes without padding.
Key features
This men's messenger bag is made from genuine cowhide leather. The bag is soft and lightweight. It comes with a vintage look and easily matches any outfit in your wardrobe.
An adjustable shoulder strap makes it easy to fit the bag to your body, allowing you to carry it more comfortably. In addition, this leather crossbody features a crescent style shape that enables the bag to fit the contours of your body, making it more comfortable to carry and preventing it from appearing bulky.
The bag features five small zippered pockets, three at the front, one on the side, and one at the back. Each of these pockets is just large enough to carry the necessities you need for the day, including a cell phone, box of smokes, a set of keys, a wallet, and a few other small items.
Pros
The bag comes with five zippered pockets
It sits neatly against your body
It features a stylish vintage look
Cons
The shoulder strap is not padded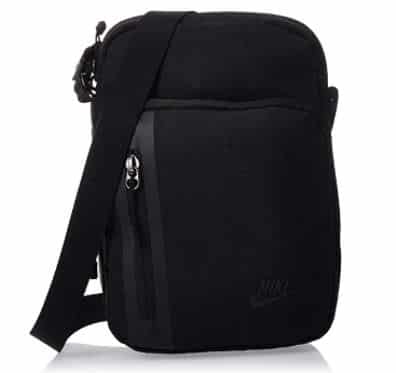 Nike is an American brand founded in 1964 in Oregon. The brand focuses on designing, manufacturing, and distributing accessories, footwear, apparel, and equipment that mainly services the sporting sector.
Loved by professional athletes and the public across the globe, Nike is known for its high-quality products and fashionable style. The Nike Tech Small Items Bag is no exception and provides the ideal way to carry those few small items you need to the gym, the office, or school.
Specs
Made from 600D polyester
Comes with an adjustable cross-body strap
Features a bonded zipper for durability
Has multiple pockets
Who is it Best for?
This sleek bag for men is ideal for anyone wanting a small crossbody bag that provides exceptional functionality while looking stylish at the same time. The simple rectangular shape of the bag and the minimalist zippers and muted shades make this crossbody pack both low-key and stylish.
The bag is perfect for those situations when you have too many things to fit in your pocket but too few to warrant a large satchel bag or laptop bag. It holds all your necessities with ease without being cumbersome and bulky.
Compared to other similar bags available, this one is relatively pricey, but we put this down to the brand associated with it and the durability the bag offers. We tested it out and found it to be neat, lightweight, and a comfortable size.
Key features
Nike makes this neat crossbody bag from durable 600D polyester. The fabric is lightweight and easy to clean but long-lasting and can withstand daily wear and tear.
A polyester lining adds an extra layer of protection for the bag and the items you place inside it.
This bag features an adjustable crossbody strap that you can shorten or lengthen to fit your body perfectly. The only downside is that the strap is not padded.
The pockets feature a zippered closure. The bonded zipper adds strength and durability to the design, so you can be sure your bag will last much longer than expected.
There are numerous pockets that provide sufficient space for an assortment of items from an iPhone and wallet to keys, lip balm, and other smaller possessions. A back sleeve also makes it simpler to organize your items.
Pros
Comes in three unique colors
The bag is highly durable
It offers great functionality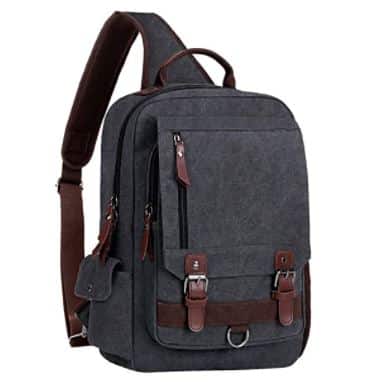 Wowbox focuses on designing and producing a range of luggage, from duffel bags and satchels to backpacks and laptop bags. Placing functionality, style, and quality at the forefront of its designs, the brand is fast becoming known by avid travelers.
Wowbox offers a sophisticated style, creating bags that are ideal for men that favor a touch of class when it comes to their carry-on luggage or laptop bag. Impressed with the overall look of the products, we decided to give the WOWBOX Cross Body Laptop Messenger Bag a try.
Specs
Made from sturdy canvas with leather detailing
Features 12 spacious pockets
Includes a padded compartment for a 14" laptop
Comes with a single padded shoulder strap
Who is it Best for?
When it comes to looking for a good murse, you may find that you need something slightly larger that will fit your laptop and carry a few of your smaller possessions. In that case, this bag from WOWBOX makes an excellent choice.
It features a retro design that is not overstated or kitsch, making it ideal for businessmen who want to maintain their sense of style while keeping things professional.
This sophisticated laptop bag is relatively inexpensive and offers more features than most of the bags reviewed in this article so far. We were intrigued by the look of the bag and wanted to find out more about its functionality. The bag itself is impressive and not only looks good but offers ample space. The only thing to note is that the bag itself is 15.6-inches and accommodates a 14-inch laptop. If you want a bag for a bigger computer, this is not it.
Key features
WOWBOX manufactures this sturdy bag from heavy-duty canvas designed to protect your items. The bag offers exceptional durability and style. Leather detailing and metal buckles add to the look and feel of the case.
An adjustable padded strap fits across the body or over the shoulder, making it easy for you to carry the bag in a way that most suits you. The padding on the strap prevents it from digging into your shoulder and makes the strap comfortable to wear, especially when the bag is packed full. This strap is also easily adjusted to sit at the length that you prefer.
A padded laptop compartment makes it simple to take your laptop with you wherever you go. With 12 pockets in all, this laptop bag offers ample space for all of your necessities, including pens, a water bottle, and other smaller items.
Pros
The canvas bag is durable
Cons
Does not fit a larger laptop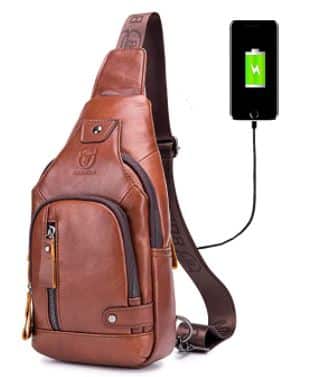 Bullcaptain specializes in the design and production of genuine leather products. The brand offers an array of fashionable items that range from belts and wallets to briefcases and messenger bags.
Bullcaptain emphasizes on its website that each product brings with it durability, originality, and strong personality, making these bags and accessories a must-have for any man serious about style. We gave the BULLCAPTAIN Sling Bag a try and found it one of the most impressive bags we have tried of late.
Specs
Made from genuine leather
Includes a USB charger port
Comes with an adjustable shoulder strap
Features four zippered pockets
Who is it Best for?
Small, compact, and easy to carry are three ways to describe this fashionable and durable bag from Bullcaptain. The bag is offered in both brown and black and features a minimalist design. This understated look makes the bag ideal for men looking for a murse that offers practicality, durability, and a dash of class. In addition, it pairs well with clothing for any occasion, making it perfect for use at the office or on a weekend outing.
The bag provides enough space for your necessities, so you don't have to overstuff your pockets. It is durable and lightweight enough to take with you on a hike or a walk through the city.
The only downside to this bag is that it is rather expensive, especially for its size. However, it is durable and easy to use.
Being a brand specializing in this particular material, Bullcaptai fashions these sling bags using high-quality genuine leather. The leather is soft and will soften further with time, and will develop a unique patina. While soft to the touch, the leather is durable, and the bag is expertly constructed, ensuring it is made to last. Better still, it is also water-resistant.
Key features
The bag features four zippered compartments. The main compartment offers sufficient space for you to fit in an iPad mini along with a few other items. Two external zippered pockets on the front provide a place for your wallet, passport, or other small possessions, while a zippered pocket at the back will hold credit cards and cash. The placement of this back pocket makes it secure and difficult for pickpockets to reach.
The shoulder strap attaches to the bag utilizing a removable buckle that allows you to wear the strap over either of your shoulders.
Pros
The strap comes with a removable buckle
The leather softens with time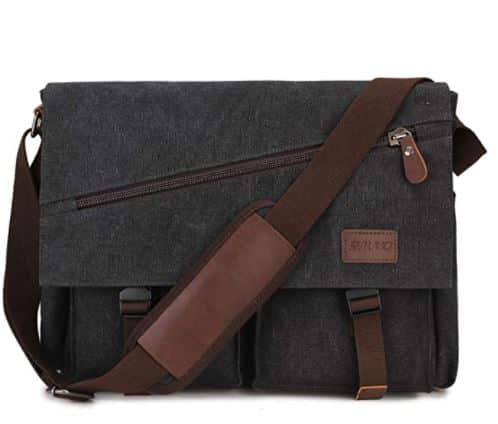 Ravuo is a brand that designs and manufactures an assortment of bags from yoga bags, satchel bags, and men's messenger bags. A relatively unknown brand, Ravuo is growing in popularity. The stylish designs and durable materials the brand uses to make the bags it produces are worth a closer look.
The Ravuo Water-resistant Messenger Bag for Men is one of the brand's offerings. Its sleek, retro design caught our eye and left us wanting to find out more.
Specs
Made from water-resistant cotton canvas
Features 14 pockets
Includes a single padded shoulder strap
Comes with a quick-release buckle closure
Who is it Best for?
If you're looking for a bag that works as a trendy laptop case and as a weekender to carry your personal items, this messenger bag makes an excellent choice. It features a unique design that is both spacious and secure, keeping your things protected and organized.
The bag comes in black or coffee brown, two shades that pair well with most outfits.
Compared to the other bags in this review, so far, this one is the most expensive. While it is larger than any of the other bags featured, it isn't made from leather. We wanted to test it out to see whether it was worth the high asking price. The bag is durable and stylish, but there is one drawback. The pad on the shoulder strap is fixed and cannot be moved or adjusted, so you will need to carry the bag in such a way that this padding sits where you want it to, even if the bag then sits at an unusual angle.
Ravuo uses sturdy canvas to create this messenger bag. In addition, the canvas has been treated to render it water-resistant. The water resistance allows the bag to protect your possessions should you get caught in the rain or get splashed.
Key features
The bag comes with a flap cover that secures with two buckles. These buckles need to be undone before you can access the contents of the bag, keeping the items protected and safe.
An adjustable shoulder strap allows you to fit the bag to suit your preferences. While this particular bag doesn't feature a top handle, Ravuo does offer the same style with this feature.
The messenger bag comes with 14 pockets that include a large padded compartment that will hold a laptop up to 14-inches in size. Smaller pockets hold things like pens, cards, and a power bank.
Pros
It offers impressive security
Cons
The padding on the shoulder strap is fixed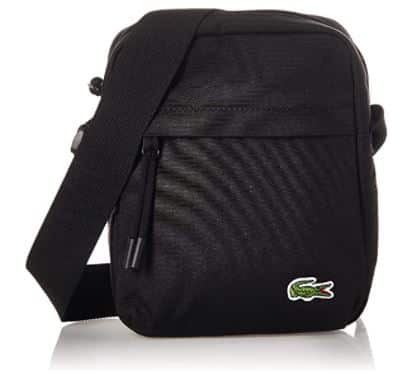 Lacoste is a French brand founded by tennis star René Lacoste. The brand, founded in 1926, takes on the same high values found in the sporting world that focus on high-quality, fair play, and daring moves. The result is a brand that offers apparel and accessories that are loved the world over.
One item the brand produces is the Lacoste Neocroc Vertical Camera Bag, a unique sling bag that epitomizes the style and durability for which the brand is so well-known.
Specs
Made from durable polyester
Includes an adjustable shoulder strap
Features three pockets
Fits a camera or a small tablet
Who is it Best for?
If you're into brand names, then this sleek and compact bag from Lacoste may be precisely what you need. IT comes with the brand's unique crocodile logo as the only detailing, making sure that passersby know you have taste and style.
The bag is compact, and in keeping with the look and feel of the brand's other products, it features a minimalistic design.
We decided to try this bag out to see how it fared compared to others on the market. The first thing we noted was the price of this bag is at the very top of the scale. It is expensive, to say the least. We put this down to the fact that the bag is a brand name. While it may seem excessive, the bag is, in our opinion, well worth the price. It is stylish, sophisticated, and durable.
Key features
This bag from Lacoste is made from 100% polyester. The fabric is durable and sturdy, ensuring that the bag is made to last. The bag's rectangular shape makes it easy to organize your items and then find them when you need to take them out quickly.
An adjustable shoulder strap allows you to wear the bag crossbody or slung over your shoulder. Because it is adjustable, you can fix the strap to suit your body, making the bag comfortable and easy to carry.
This crossbody bag features two zippered pockets. One main pocket that comes with a smaller divider pocket inside and a smaller front pocket for other little things provides you with sufficient space to store items like your wallet, phone, and keys. The zippers of the pockets are covered, providing you with a little additional security and ensuring the durability of the zippers.
Pros
It comes in two different colors
It holds your items neatly
Cons
The bag is excessively expensive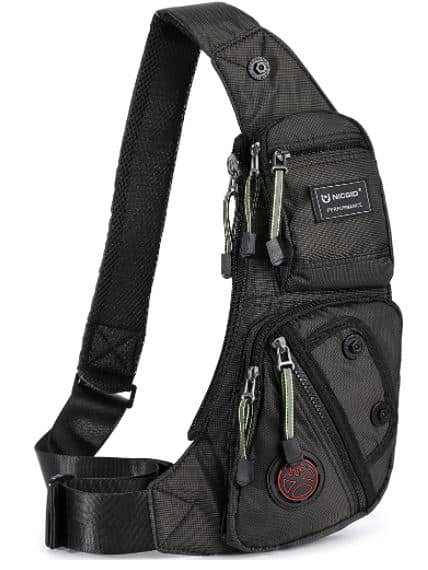 If you're looking for a satchel bag, sling, or messenger bag, then Nicgid is the brand to visit. Versatility and durability are two aspects that you can count on when you buy a bag from Nicgid. The brand places great emphasis on these and crafts its products from premium materials using expert construction.
The Nicgid Crossbody Bags for Men caught our eye and left us wanting to know more about its durability and functionality.
Specs
Made from water-resistant nylon
Comes with an adjustable shoulder strap
Includes five pockets
Can be worn in multiple ways
Who is it Best for?
If you're looking for a man bag that has a rough and rugged look to it, then this option from Nicgid is worth a look. It is designed to withstand wear and tear, making it ideal for use on a hike, outdoor activities, or simply to carry your items to the office.
The bag comes in three unique shades, army green, teal green, and black, so you can pick the color that most appeals to you.
Men looking for a bag that is large enough to carry the necessities without being overly bulky and cumbersome will also enjoy this bag. It offers a more masculine take on the murse and allows you to carry the items you need without making you look like a tourist.
Key features
This man bag is made from durable nylon resistant to water and ripping, making it perfect for outdoorsmen looking for a way to comfortably carry their necessities with them on a hike or camping trip.
A padded shoulder strap is attached to the bag and is easily adjusted to the length that best suits your needs.
The bag features five pockets. The main compartment can fit an iPad mini, a Kindle, or a small notebook, along with a few other small items. Four further pockets are located on the front, side, and back of the bag, each zippered and well-protected.
This bag is versatile in that you can wear it across your chest, back, or over your shoulder.
Pros
Offered in three unique colors
The bag is lightweight and easy to carry
Cons
Does not feature a water bottle pocket
Things to Consider When Buying The Best Man Purse
1. The Number of Pockets
When you head to a retailer or look online for a new man bag, it is essential to consider the number of pockets and the size of the bag you'll need. Giving thought to the items you want to carry with you will help you find the perfect bag for you. For example, if you're going to carry a laptop, you will need to invest in a messenger bag rather than a smaller sling bag that only fits your keys, wallet, and phone.
How you want to organize your items will also help you figure out how many pockets you'll need.
2. The Materials
When looking for a man bag, consider the material it is made from. If you're looking for a sleek, stylish option that will last for many years to come, a full-grain leather bag makes an excellent option.
However, if you want the bag for use in a hike or weekend adventure, a nylon or polyester option makes more sense. Remember, leather is more likely to last longer than other materials.
When looking for the best man bag, there are several things to consider. Giving thought to the brand, durability, the number of pockets, style, fabric, functionality, and quality will put you a step closer to finding the man purse that most suits your needs.
By closely examining and testing each of the best men's bags in this review, we concluded that they each meet the criteria discussed above, making it more simple to find the best bag to meet your needs.