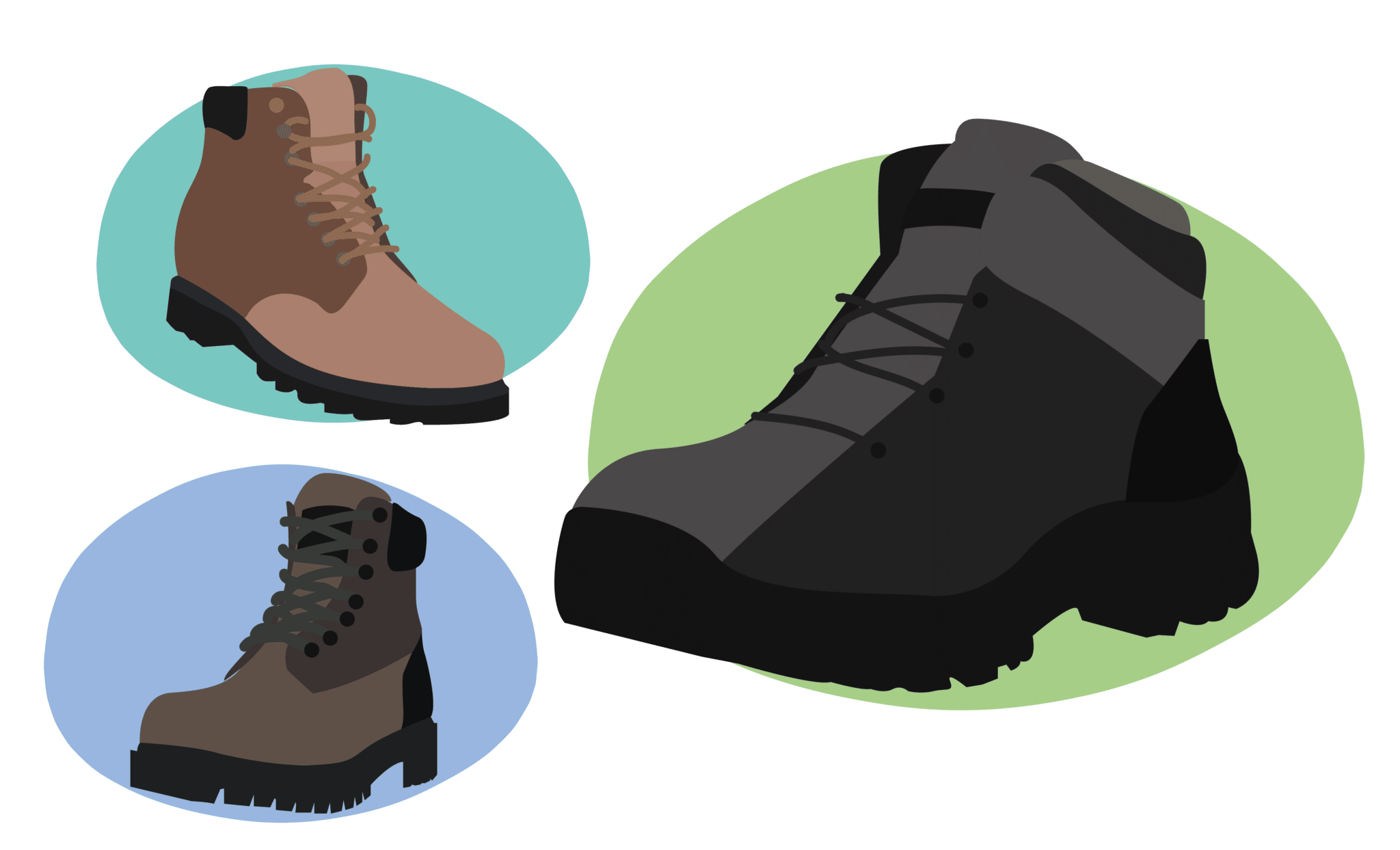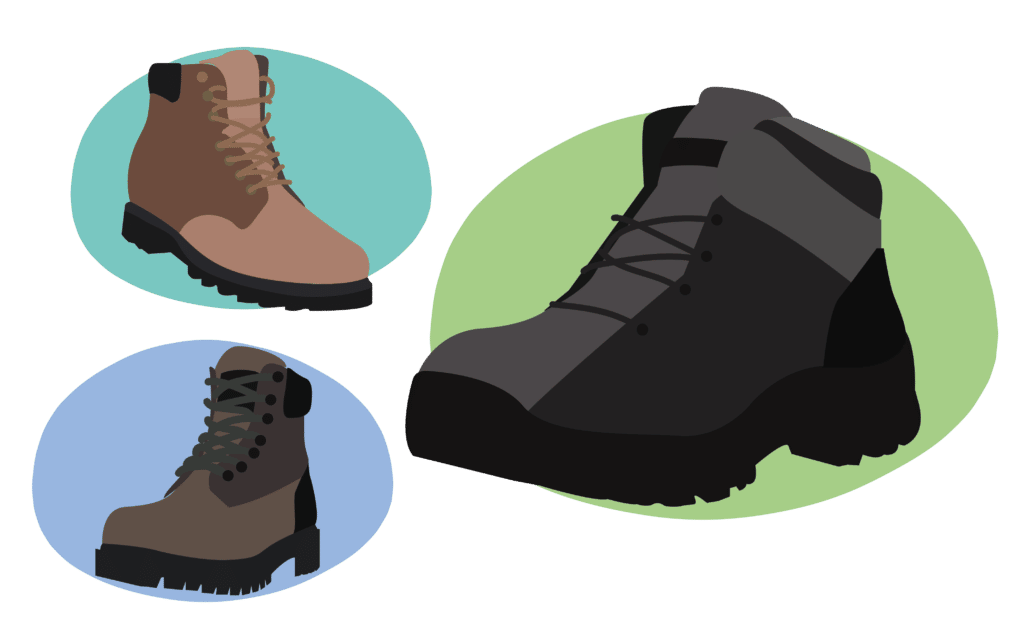 If you find yourself in work environments that involve long days on a construction site or that require added protection for your feet, then you may find yourself in need of a sturdy pair of comfortable work boots.
A well-constructed pair of work boots should offer a certain element of style, but where the true test of a high-quality work boot comes in is the construction, durability, breathability, protection, and comfort it provides.
Unfortunately, not all toe protection work boots are made equally, making finding a worthwhile pair challenging. We have gathered together and then reviewed the best work boots Amazon offers to take the legwork out of it for you.
We tried and tested multiple shock-absorbing work boots from Amazon and concluded that these 11 are the best safety toe work boots for workmen. We used the approach to chat to men about what they looked for in heavy-duty safety toe boots and collected together the ones that ticked these boxes. We then reviewed each of them. Our evaluation of each was based on the following criteria: the materials used, functionality, the protection offered, comfort, and durability.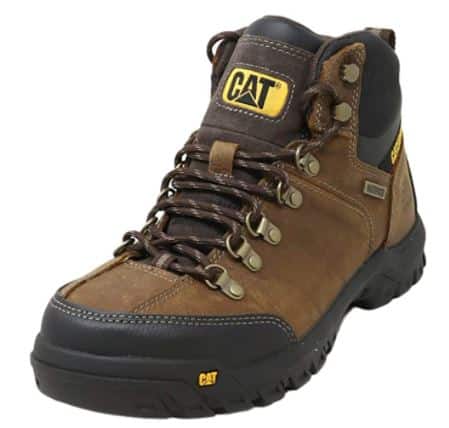 When you think of Cat, chances are vivid yellow machinery comes to mind. The brand started creating durable, hardworking machinery but later branched off into footwear and even cellular phones. The essence of the brand, rugged, durable, and expertly constructed goods, is applied to all Cat's products. Its shoes are no exception.
Among the footwear that Cat offers, you will find sturdy men's work boots designed for those who need a little additional protection and support when going about their day. Of the offerings Cat has, it was the Caterpillar Men's Threshold Waterproof Industrial Boot that piqued our interest.
Specs
Features full-grain leather uppers
Electrical hazard protection rated to protect against open circuits up to 600 volts (dry)
Includes a slip-resistant outsole that exceeds ASTM requirements
Comes with a lightweight, flexible ERGO midsole
Who is it Best for?
If you're a logger or work on a construction or electrical-related job site, these boots have your name written all over them. They offer a durable design and are made from premium quality materials that not only protect your feet but provide you with comfort too.
Offered in two neutral shades (black and brown), the tones, while slightly understated, bring with them a sense of style and formality, ideal for any job site or client meeting. Durable metal eyelets add a unique touch of class to the overall look.
The lace-up construction makes the boots easy to pull on and off and allows you to tighten them to fit your feet perfectly. So if you're looking for additional support, especially if you're on your feet all day, these are the boots to look at.
Key features
Cat makes these boots from high-quality full-grain leather and constructs them at Gold Rated Tanneries. As a result, you can be sure of the durability of the shoes and their expert construction. The leather provides resistance to water and abrasions, along with style. Better still, it softens with time, molding to the shape of your foot for a more comfortable fit.
Instead of using an EVA midsole, Cat opts for a flexible ERGO midsole. ERGO is lighter and absorbs shock more efficiently than EVA, making it better for those on their feet for long periods.
The slip-resistant outsole comes with an outstanding grip that exceeds the ASTM standards, even on low traction surfaces.
The waterproof design and sealed seams will keep your feet dry no matter what the weather brings or how many puddles you step in. Continuing the protection of your feet is the ASTM F2413 -05 1/75 EH rating; that is, these boots are rated to protect you from an open electrical circuit with a current of up to 600 volts in dry conditions.
Pros
High flexibility makes them easy to walk in
The grip on the outsole is ideal for all surfaces in any conditions
The leather softens and molds to the shape of your foot
Cons
Only come in black or brown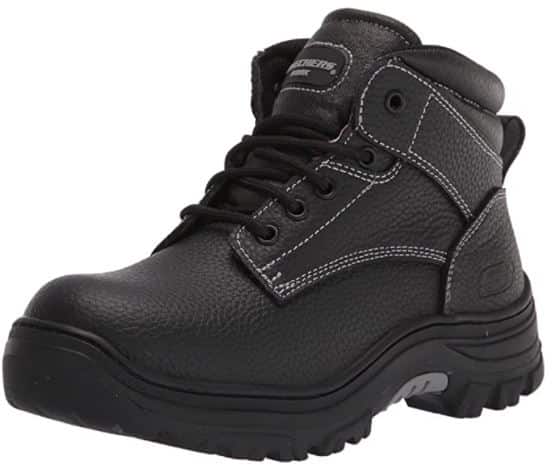 Skechers is best known as a lifestyle clothing and footwear brand. Founded in 1992, the brand has fast become one of the most popular footwear companies worldwide. It isn't hard to understand why what with Skechers' fun designs and tried and tested comfort.
What you may not know is that the company, in addition to its more fashionable options, also designs and manufactures work boots. These boots offer the same comfort and durability that Skechers footwear is renowned for, which is why we just had to try out the Skechers Men's Burgin-Tarlac Industrial Boot.
Specs
Made from durable leather
Meets Authority ASTM F2413-2011 EH requirements
Comes with a steel toe that meets the safety standards for impact and compression
Includes a memory foam padding
Who is it Best for?
If comfort plays a significant role in how you decide which shoes to buy, then you may want to give these boots from Skechers a try. Our first impression of these boots centered on the comfort they provided. The brand has gone to great lengths to ensure that your feet remain dry, cushioned, and protected.
When it comes to the shoe's closure, the lace-up design makes them relatively straightforward to pull on and off your feet. One downfall for us, though, is the laces. After wearing the boots a few times, the laces began to fray and soon needed replacing. However, this was the only negative we found with the shoes, making them, in our opinion, a great overall pair of work boots.
Offered in a muted brown or black with minimal detailing, these boots are professional and sleek.
Key features
Skechers makes its work boots from a durable leather upper. These leather boots are designed to soften slightly with time, molding to the shape of your foot to increase the comfort they offer.
Skechers meets Safety standards in two ways. Firstly, the boots come with a steel safety toe that exceeds the authority standards for impact and compression. Secondly, the shoes feature electrical hazard protection (ASTM F2413-2011 EH). It is designed to withstand disruptive discharge to ground under up to 18kV 60Hz AC for one minute with no current flow under dry conditions.
When addressing comfort, Skechers created these work shoes with the same level of attention to detail as they do all their other offerings. These shoes come with a memory foam insole for both comfort and stability. In addition, the padded collar around the ankle increases the stability provided and prevents chafing and the formation of blisters.
A durable rubber outsole offers traction on slippery surfaces and provides excellent shock absorption.
Pros
Provides exceptional comfort
The rubber sole offers a sturdy grip
The padded ankle prevents chafing
Cons
The laces could be better designed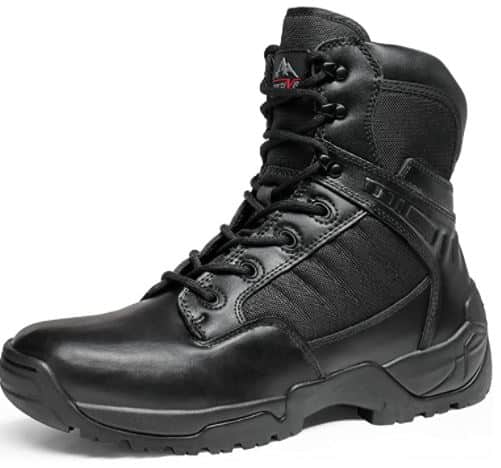 Nortiv 8 is a footwear brand that specializes in the design and manufacture of outdoor footwear. The brand offers everything from biker boots to hiking shoes and places a firm emphasis on construction, durability, and comfort.
While not as popular a brand as Cat or Skechers, Nortiv 8 understands the needs of its customers as well as any big brand. This is apparent in the design and comfort we found in the NORTIV 8 Men's Military Tactical Work Boots.
Specs
Includes a durable rubber sole
Features a unique three-sole system
Made from abrasion-resistant leather and fabric uppers
Made in the USA
Who is it Best for?
If you're looking for shoes with a steel or fiberglass toe cap, these are not for you. While the boots are designed to provide excellent support and grip, they are not made to meet the Authority standards for impact or electrical safety.
These boots are better suited to those who work in outdoor or indoor conditions where the floor surfaces are often slick, slippery, or uneven. The shoes are made to offer the wearer unrivaled support, stability, and traction.
If you're not a fan of lacing up your shoes, you will enjoy these. They feature a durable YKK zipper closure on the side, making slipping the boots on and off a breeze.
The style offered here takes on the look and feel of a motorcycle or combat boot, offering the wearer a little more than your typical work boot look and feel.
Key features
Nortiv 8 makes these outdoor boots from a blend of durable, water-resistant leather and breathable mesh fabric. The breathability these shoes provide keeps your feet dry and sweat-free while you go about your day.
They feature an ankle cuff that sits slightly most work boots. The purpose of this is to provide additional stability to prevent you from rolling your ankle on uneven or slippery surfaces.
Nortiv 8 includes its unique three-sole design in these boots. The first layer sees a removable insole that provides exceptional cushioning, shock absorption, and support. Second, comes the flexible EVA midsole. This lightweight midsole makes it comfortable to wear these shoes for prolonged periods without experiencing foot fatigue and discomfort. Lastly is the oil-resistant rubber outsole. The sole is also highly flexible and is resistant to abrasion. In addition, it features deep lugs that offer exceptional traction on all forms of terrain.
Pros
The raised ankle support is great for walking on uneven terrain
The lug design is nice and deep
No break-in period needed
Cons
The boots don't feature a protective toe or electrical safety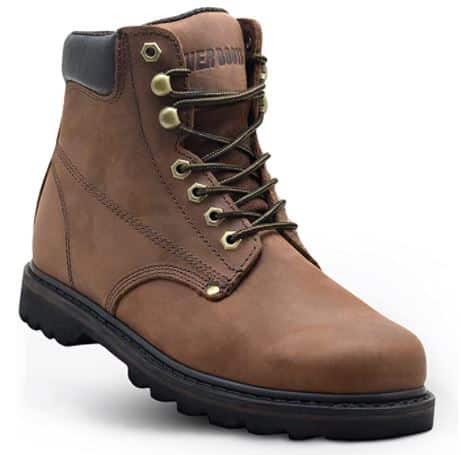 Ever Boots offers an assortment of men's workwear boots, from moc toe boots to steel caps. The brand offers a shoe for every type of work environment. Ever Boots understands that you need a shoe that provides dependability, comfort, protection, and functionality when you're at work. Therefore, the brand takes great care in designing shoes that offer comfort straight out of the box.
If you don't believe us, try the EVER BOOTS "Tank" Men's Soft Toe Waterproof Work Boots, we did, and we weren't disappointed.
Specs
Made from durable nubuck leather
Features Goodyear welt construction
Includes a steel shank arch support
Comes with insulated mesh lining
Who is it Best for?
Construction workers, electricians, and contractors could all benefit from a pair of Ever Boots. These soft-toe shoes offer the support and comfort needed by those who spend long hours on their feet and often find themselves outdoors or traversing terrain that is wet, slippery, or oily.
Ever Boots designs these boots with a simple lace-up system that includes speed hooks, making them quick and easy to do up or take off.
These boots are relatively inexpensive for what you get, making them a good buy, especially when you consider their durability and comfort.
While you won't find them in a wide selection of colors (they only come in dark brown or tan), the boots are still stylish and understated. They look good without being flashy.
Better still, the boots require no break-in period, a testament to Ever Boots' understanding of its customer's needs. When you're on your feet all day, there is nothing worse than sore, tired feet because you're trying to break in new shoes.
Key features
Ever Boots make its "Tank" workman's boot from durable nubuck leather. This leather is treated such that it is resistant to water and oil, making the shoe ideal for wear by workmen. The leather is soft enough that no break-in period is necessary, and with time, they will mold more to the shape of your feet. The leather is also sturdy and durable enough to last for many years to come.
The ankle cuff of the boots is padded for additional support and to prevent chafing. Adding to the support is a steel shank that reinforces the arch of the shoe, leaving you with a flexible but comfortable fit, especially if you find yourself frequently on ladders or stairs.
The durability of these shoes is remarkable. A Goodyear Welt stitching offers a tough and sturdy construction that allows the boots to withstand the wear and tear of constantly being on a construction site.
An insulated mesh lining provides breathability and allows air to circulate your foot while ensuring it remains warm and comfortable.
Pros
The arch support is impressive and still provides flexibility
The laces are quick to do up
Cons
Only comes in shades of brown, no black option is available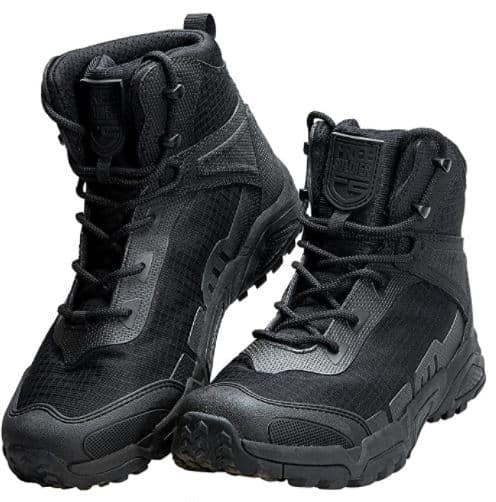 Free Soldier is a versatile brand that offers a range of footwear, outerwear, and accessories. The shoes provided by Free Soldier fall mainly into the category of hiking or outdoor boots; however, they make excellent work boots too.
Free Soldier places emphasis on quality of design and the materials used to create its products. By ensuring its customers durable and comfortable shoes, the brand has grown exponentially. If you want to experience this for yourself, why not give the FREE SOLDIER Men's Waterproof Work Boots a try.
Specs
Made from a durable, puncture-proof fabric upper
Includes a lightweight EVA midsole
Comes with an all-terrain outsole
Features a strengthened toe cap and heel
Who is it Best for?
If you want a work boot that features a toe cap and heel that are strengthened but doesn't necessarily come with steel reinforcement, you may want to give these a try. These shoes from Free Soldier feature anti-collision support that makes them ideal for hikers, landscape designers, outdoorsmen, and contractors.
We tried these shoes out for a few days. Compared to full-grain leather shoes, these were relatively pricey, leaving us wanting to see whether they were worth the additional cost. However, we were left surprised by both the comfort and durability offered by these boots. While Free Soldier could address the waterproofing a little more closely, the overall functionality and fit of the shoe were impressive.
Key features
Free Soldier makes these shoes from a TPU (Thermoplastic Polyurethane) and fabric upper coated with a waterproof finish, designed to keep your feet warm and dry.
A lightweight EVA midsole provides flexibility while keeping the shoe lightweight to prevent foot fatigue and discomfort. These midsoles also absorb the shock that comes with walking on uneven surfaces, protecting your feet from injury.
A sturdy all-terrain outsole comes with deep lugs and a unique tread that provides exceptional traction.
The waterproof lycra lining further prevents your feet from becoming wet should you step into a puddle or walk through the snow. In addition, the tongue of the boots is gusseted to prevent small stones and debris from making their way into your shoe and causing you discomfort.
Durable laces make the shoes simple to fasten to the shape of your foot and make the boots easy to pull on and off. The anti-collision toe cap prevents you from stubbing your toe on rocks, wood, or bricks.
Pros
The comfort the shoes offer is remarkable
The slip-resistant outsole provides excellent traction
Cons
Not as waterproof as we had hoped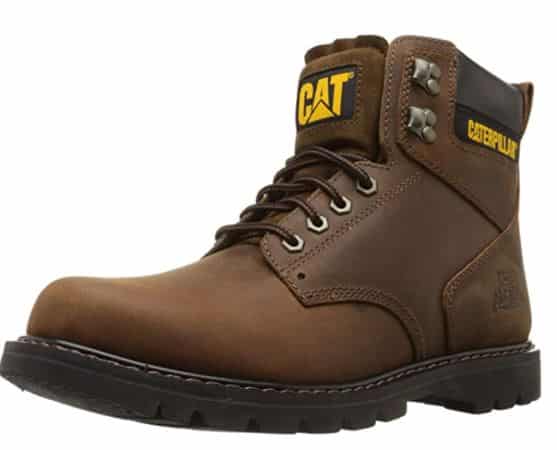 Caterpillar, or Cat as it is more commonly known, is synonymous with durability and functionality. Cat is renowned for its giant yellow construction machinery, but the brand also provides a range of other products, such as work boots.
If you're looking for premium quality work shoes that offer the protection you need for your feet when you're on-site, a pair of shoes from Caterpillar Men is a good place to start. We found the Caterpillar Men Second Shift Steel Toe Work Boots to tick all the boxes when it comes to a sturdy pair of protective work shoes.
Specs
Includes a breathable Climasphere insole
Comes with a durable Goodyear Welt construction
Has a steel toe to protect against impact and compression
Features a nylon mesh lining
Who is it Best for?
Workmen looking for a little extra protection for their feet will find these shoes from Cat a solid investment. The boots are not overly priced, especially for what they offer, making them a worthwhile spend.
This steel-toe boot is an excellent option for a construction worker, electrician, contractor, or anyone who works on a job site that requires additional protection from impact or electrical hazards.
These boots offer remarkable durability and construction, making them suitable for wet conditions, dry or cold weather, and rugged outdoor terrain.
A few places we felt Cat could improve on with these is the laces; they don't offer the same longevity as the rest of the boot and the insoles. Here you would be wise to buy a set of your own orthotics.
Key features
Caterpillar Men makes this particular work boot from high-quality leather that is durable and abrasion-resistant. The waterproof leather works to keep your feet dry while still allowing for breathability, making the shoes comfortable in all weather conditions.
The engineered nylon mesh lining adds further breathability to these work boots, allowing air to circulate your foot to keep you cool.
A breathable Climasphere insole adds additional comfort and prevents your feet from overheating or becoming sweaty. In addition, they offer cushioning and extra foot support. A steel shank works with the arch support to relieve any pressure on the foot, especially when climbing up and down ladders or stairs.
The T3 rubber outsole offers a sturdy grip on all surfaces, leaving the shoes with a slip-resistant design.
Protection of your feet is just as important as the shoe's construction, which is why these shoes feature a steel toe box compliant with impact and compression standards (ASTM F2413-18). They also feature electrical hazard protection that protects against open circuits up to 600V in dry conditions.
Pros
These boots provide exceptional electrical hazard safety
The design is comfortable and stylish while still functional
They withstand wear and tear with ease
Cons
The laces are not as durable as they could be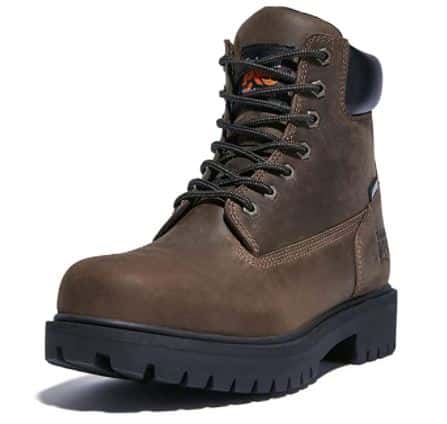 Timberland has been around since the 1950s and has grown to offer a wide selection of footwear, apparel, and accessories. Timberland offers a wide selection of men's footwear, from sneakers to hiking boots, and the steel toe work boot is no exception.
The brand is renowned for its rugged outdoor wear and durable designs and we were interested to see whether the work boots offered the same level of safety, support, and durability. So, we gave the Timberland PRO Men Direct Attach Steel Toe Work Boots a try.
Specs
Made from 100% waterproof leather
The boots are seam-sealed for a waterproof design
Includes a rubber outsole resistant to oil, water, and heat
Features a steel toe box
Who is it Best for?
If you're on your feet a lot during the day and you find yourself working in conditions that may cause injury to your feet, then these steel-toe boots from Timberland make an excellent choice. These boots are durable and waterproof, so your feet will remain protected and comfortable if you wear them indoors or outdoors.
We tried them out for a few weeks, putting them to the test in different scenarios and settings to see how they fared. When it came to comfort, these boots came out tops; however, they lost momentum a little in durability.
The sole didn't last as long as we would have hoped it would. In our opinion, these boots cost a little more than they're worth.
Key features
Timberland Pro's work boots are made from high-quality, waterproof leather that is both breathable and durable. The leather also provides the wearer with exceptional support and, with time, will soften to fit the shape of your foot for improved comfort.
The waterproof boots are also fitted with 200 grams of insulation that allows your feet to breathe and keeps them warm and protected against the elements.
A comfortable insole provides additional cushioning and prevents foot fatigue. Resistant to oil, water, and heat, the sturdy and rugged rubber outsole comes with a pattern that also provides exceptional traction.
A steel toe cap protects your toes from compression and impact, making them perfect for wear on-site or while you work with wood or masonry.
The high-seated ankle cuff comes with soft padding to provide your foot with additional support and to prevent chafing or blisters from forming.
Pros
The boots offer impressive insulation
The padded ankle collar prevents blisters 
The sole provides excellent traction and is slip-resistant
Cons
The durability could be improved on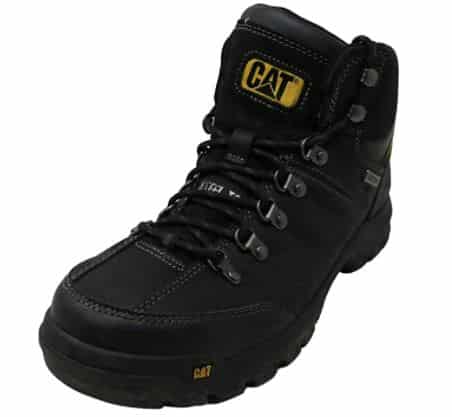 Caterpillar Men offers a unique selection of sturdy footwear designed for men who love the outdoors or who work in environments where they require a little additional protection for their feet. Producing high-tech machinery intended for construction and engineering, Cat knows that the men that work on these sites need high-tech footwear too.
The footwear from Cat is synonymous with durability, style, and functionality, making them some of the best work shoes you can find. We tried out the Caterpillar Men Threshold Waterproof Steel Toe Industrial Boot and weren't disappointed.
Specs
Made from 100% leather
Includes a waterproof membrane
Comes with a slip-resistant outsole
Features a steel toe
Who is it Best for?
If you want a work boot that offers support and durability but that takes on more of a sneaker style than a boot that reaches past the ankle, this is an excellent option to consider. The Cat Threshold work boot sits more around the ankle as opposed to higher up the calf.
Men looking for a sleek work shoe that provides the necessary protection for work on-site where there may be nails, screws, and other items that could cause harm to your feet may want to consider a pair of these shoes.
We tried them out for an extended period to see how they stood up to continual wear and tear. While the comfort and overall durability left us impressed, the laces need a little work as they didn't hold up as well as the rest of the shoe.
Key features
Caterpillar makes these boots from full-grain leather at gold standard tanneries. The shoes offer the wearer unrivaled comfort, especially as the leather molds to fit your feet. In addition, the waterproof nature of the boots further keeps your feet comfortable and dry no matter what conditions your work environment brings with it.
The sealed seams of the shoes further add to the waterproofing of the boots, leaving them ideal for wear in all situations.
Cat makes use of ERGO midsoles. This material is much lighter and far more flexible than EVA, preventing foot fatigue, even on long days requiring much standing and walking.
Cat offers the wearer protection by meeting ASMR regulations and requirements. The outsole features a high grip on low traction surfaces, keeping you on your feet even in highly slippery situations.
Electrical hazard protection will keep you safe on sites where there are open circuits and exposed wires. The shoes are designed to protect against open circuits up to 600 volts in dry conditions (ASTM F2413-18). Finally, a steel toe cap meets the requirements for impact and compression, keeping your toes safe from stubbing and heavy falling objects.
Pros
The boots offer safety in terms of electrical, impact, and traction
They come in two stylish color options
The rubber sole provides exceptional grip
Cons
The laces could be more robust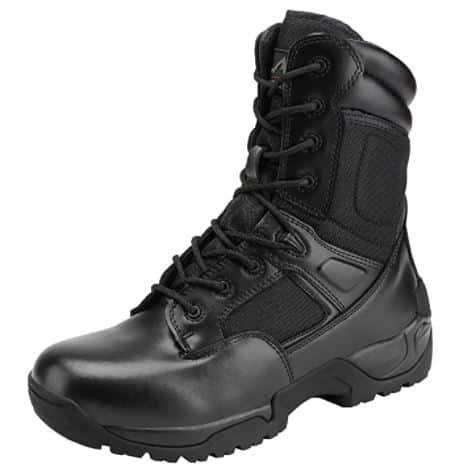 If it's top-quality work or hiking boots you need, then Nortiv 8 is a great brand to consider. The company offers a range of affordable footwear that provides the waterproofing and protection you need when you take on the elements.
Nortiv 8 is fast catching up to the bigger footwear brands like Vibram and Keen Utility, thanks to the brand's attention to detail use of premium materials and high-quality construction. We gave the NORTIV 8 Men's Military Tactical Work Shoes a try. This is what we found:
Specs
Uppers feature a combination of breathable fabric and abrasion-resistant leather
Includes durable rubber soles
Comes with a flexible EVA midsole
Made in the USA
Who is it Best for?
If shoes with a comfortable footbed and a high-traction outsole are what you want, then these are the shoes you need. Nortiv 8 designs these work shoes to provide the comfort of hiking boots and the protection of formal work boots.
The shoes don't feature a steel or carbon fiber composite safety toe, but they offer the support you need if you're on your feet all day.
We were left impressed by the meager price the shoes are offered at, so we decided to give them a try to see if they provided quality despite the low price tag. We were left pleasantly surprised. The durability the shoes offer is remarkable. The comfort, once you wear them in, is exceptional too. These shoes are an investment and worth buying a second pair.
Nortiv 8 creates these military-inspired boots with a durable and easy-to-clean leather upper that sees mesh fabric inserts. These inserts provide the shoe with the ability to breathe, keeping your feet cool and comfortable no matter how hot the day may get.
Key features
The leather is water-resistant and works to keep your feet dry in snow or puddles.
A removable insole offers excellent cushioning and support for your feet and allows you to swap them out for orthotics of your own. Beneath these insoles sits an EVA midsole designed to absorb shock and provide additional support to your feet. The absorption of shock protects your feet, ankles, and knees from pressure, stress, and injury.
The Nortiv 8 rubber outsole delivers exceptional traction and grip and features deeply grooved lugs that provide you with stability on any terrain or slippery surface.
Pros
The boots are easy to put on and take off
They are far more durable than they appear
The insoles are removable
Cons
The boots need to be broken in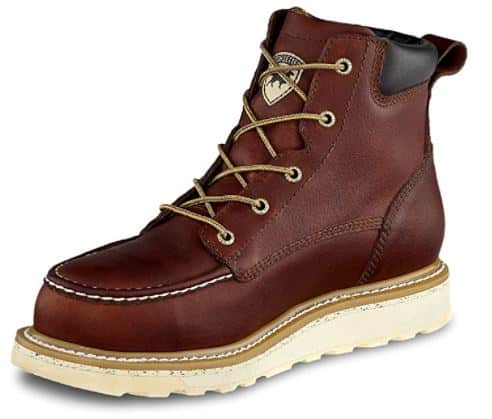 Forming part of the Red Wing group, Irish Setter was founded in 1950. The brand proved itself as a leader in outdoor and workwear shoes and is favored by generations of hardworking men across the globe.
Irish Setter offers a range of outdoor hiking boots and sturdy work boots designed to withstand the wear and tear of daily visits to a job site. It was the Irish Setter Men's 6″ 83605 Work Boots that caught our attention with their stylish design and promise of durability.
Specs
Comes with a heat-resistant outsole
Made with durable Trout Brook full-grain leather
Offers electrical hazard protection
Features a lace-up closure
Who is it Best for?
When it comes to work boots with style, you can't get better than these shoes from Irish Setter. While they only come in the brand's signature reddish-brown leather (the same coppery red synonymous with an Irish Setter), the shade perfectly suites the design, making these boots top of their class in terms of sophistication and looks.
While these are some of the most expensive boots in this review, they are, in our opinion, well worth their asking price. The shoes are incredibly comfortable from the moment you put them on. The durability they provide is exceptional, and they offer excellent support of the foot and ankle too.
The only downside is that they don't come with a safety toe. Irish Setter does offer these boots in a similar style that does come with a protective toe cap if that is more in line with what you're looking for.
Key features
Irish Setter makes these impressive boots with a durable full-grain leather from Trout Brook, explicitly made for the brand. The leather is resistant to water and, with time, softens to fit the mold of your feet, becoming more comfortable as you wear them.
The boots feature an EVA-rubber outsole. This unique design is made to be lightweight and flexible, but it also withstands extreme heat of up to 475-degrees Fahrenheit. In addition, the soles are treated with Traction Tred. Care, which makes the boots easy to clean, so they stay looking like new for longer.
The outsole also offers impressive traction for traversing those surfaces that provide little to no grip. The Slip resistance provided by the boots makes them ideal for working environments.
These boots are also made to offer electrical hazard protection and meet the ASTM F2413-11 safety standards.
Pros
These shoes are as durable as they come
They need no break-in period
These boots are easy to clean
Cons
Does not come with a safety toe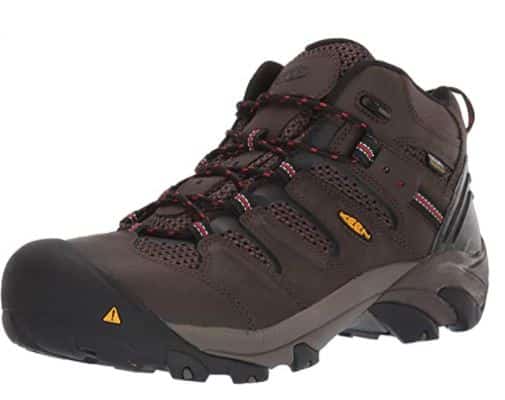 KEEN is a unique footwear brand founded in 2003 with the design and creation of a protective sandal. Today, KEEN offers a wide selection of outdoor and workwear shoes and sandals. In addition, the brand offers shoes that are rugged, durable, and can withstand anything you throw at them.
KEEN strives to make a difference in the way we live, how we experience the world, and in the way, we protect our feet. Impressed with this ethos, we decided to give the KEEN Utility Men's Lansing Mid Steel Toe Waterproof Work Boots a try.
Specs
Features anatomically correct steel toe caps
Uppers made from leather and textile mesh
Waterproof design
Meets the safety standards for traction, impact, and offers electrical hazard protection
Who is it Best for?
Men looking for a hard-working work boot might want to look a little more closely at these utility boots from KEEN. They are made to withstand daily wear on rough, uneven surfaces and offer exceptional foot support to prevent injury and stress on the feet.
These boots are relatively expensive. So we decided to test them out to see whether the features they offer make them worth the cost. We found the shoes to be comfortable from the first wear; no break-in period was necessary. The laces, in comparison, need a little work. They began fraying after only a few wears and needed replacing.
Key features
KEEN makes these boots with durable and abrasion-resistant leather and mesh upper. The leather is waterproof, keeping your feet dry, while the mesh allows your feet to breathe, preventing overheating and discomfort.
CLEAN SPORT NXT and the moisture-wicking properties of the lining of the shoes keep your feet dry and prevent odors. The breathable waterproof membrane allows moisture out but prevents water from entering the boot, so your feet stay dry.
A compression-molded EVA midsole provides comfort, support, and absorbs shock, protecting your feet from injury.
The non-marking outsole of the boots is made from durable rubber. It is oil and slip-resistant and meets the ASTM F1677 MARK II and ASTM F2913 SATRA Non-Slip Testing Standards.
The boots also provide electrical hazard safety and keep you protected from exposed live circuits.
Each boot is fitted with an asymmetrical, ergonomically designed steel toe cap that perfectly fits each foot's shape. This allows for a more spacious toe box and the caps meet the ASTM F2412 and F2413 I/75 and C/75 Standards.
Pros
No break-in period needed
The asymmetrical toe caps are exceptionally comfortable
Things to Consider When Buying The Best Steel Toe Boots
1. Type of Safety Toe
Safety boots come with various types of safety toe caps. Let's take a look:
Steel is thicker and the heaviest option for toe caps. These easily meet the safety standards but, due to their thickness, can cause the toe box to be small and uncomfortable.
Composite caps are made from fiberglass, plastic, or carbon fiber. They are very lightweight and don't get as cold as the metal options, making them ideal for wear in extreme weather conditions. However, they don't offer the same protection as steel does.
These provide the same protection as steel but are a little more expensive and are far more lightweight. Alloy toe caps are usually made from titanium or aluminum.
When looking for the best work boots, there are several things to consider. Giving thought to the brand, durability, fit and style, support, protection, and quality will put you a step closer to finding the safety toe boots that most suit your needs.
By closely examining and testing each of the best waterproof boots in this review, we concluded that they each meet the criteria discussed above, making it more simple to find the best safety boots to meet your needs.