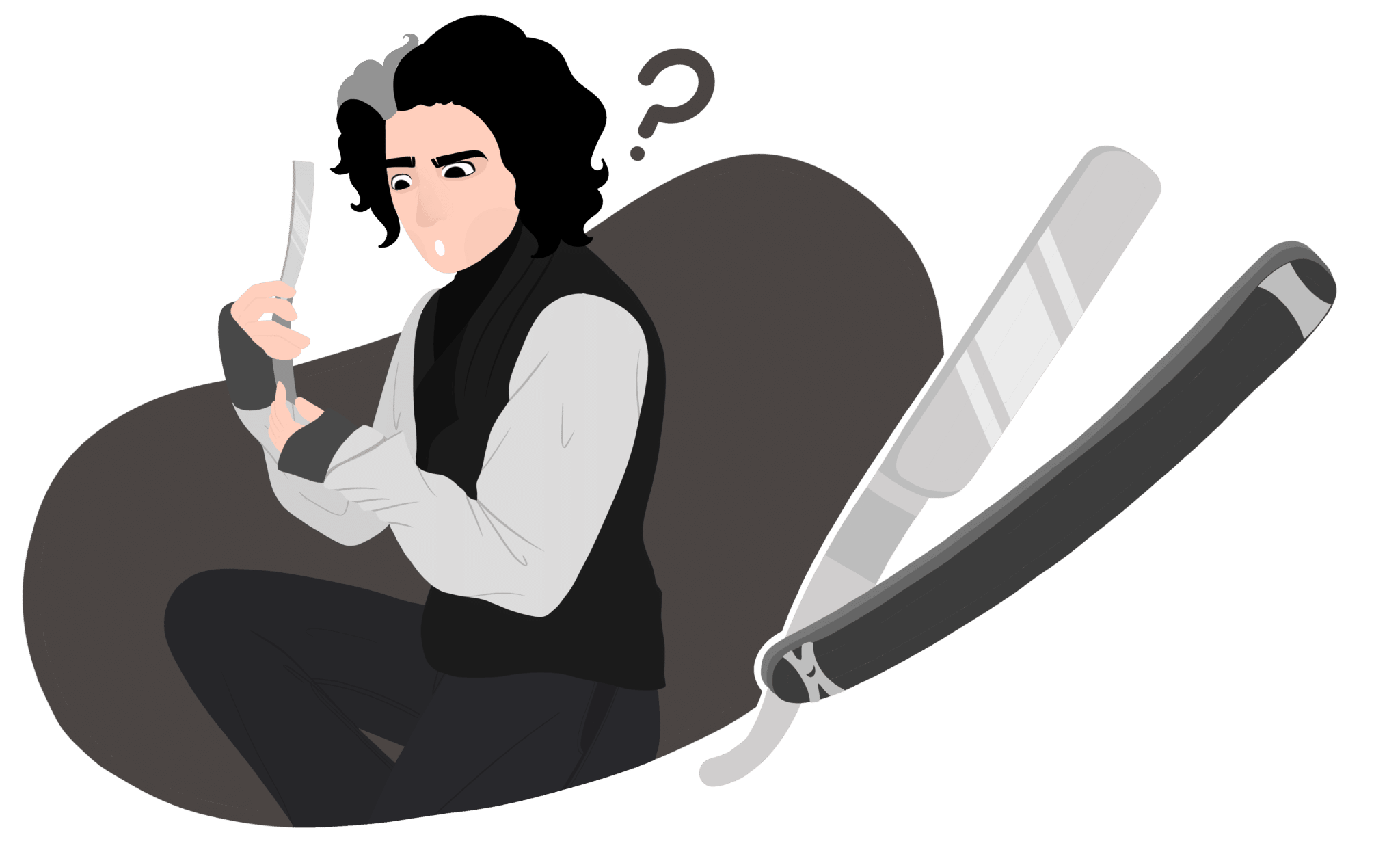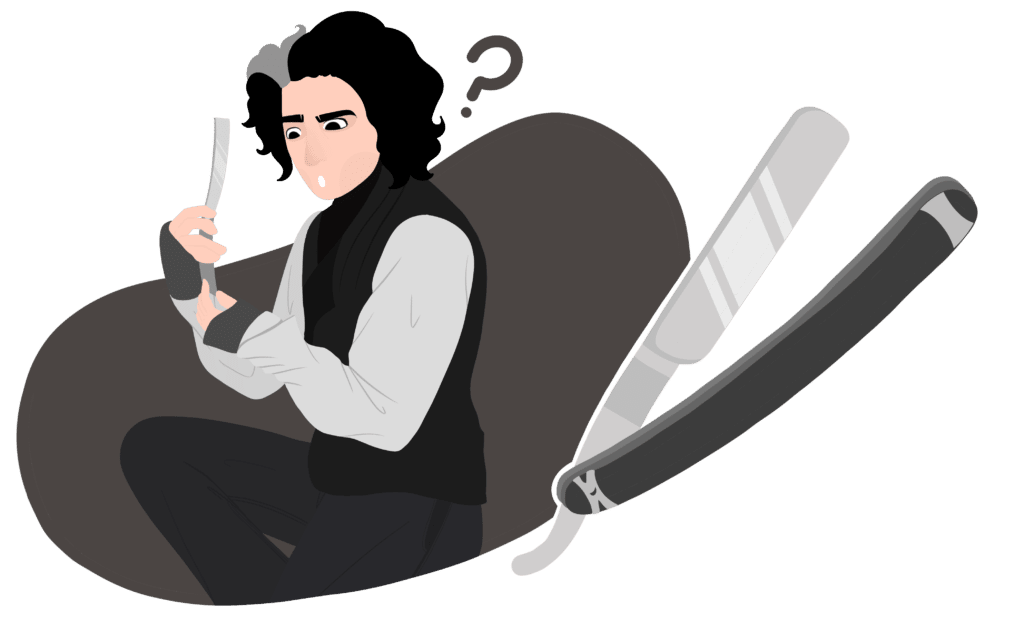 If keeping your beard neat or shaven is important to you, chances are you use a razor, or you visit the barber. But perhaps the average disposable razor is just not doing it for you or heading out to the barber a few times a week is no longer an option. So, what now?
This is where the best shavette straight razor comes in. These unique tools combine the ease of use of a disposable razor with a barber's straight razor's look and feel.
Shavettes differ from the traditional barber's straight razor in that their blades are disposable, whereas a straight razor features a permanent blade that needs stropping and honing. This makes a shavette more convenient and easier to use. Unfortunately, not all of them are made the same. Come with us as we review ten of the best shavettes available.
When it comes to buying a shavette, you want to choose one that lasts, won't rust, and offers top quality. We searched the web seeking out the shavettes that tick all these boxes and more. Keep reading to find out more about the premium shavettes we found!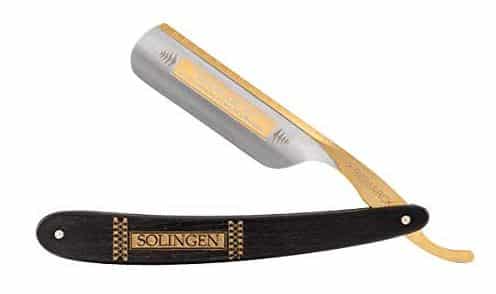 Dovo Solingen, or Dovo as the brand is more commonly known, is a German company located in Solingen. Founded in 1906, Dovo began manufacturing razors with forge and hollow grinding. They aimed to provide men and barbers with professional tools that made shaving an art.
The DOVO Bizmark Straight Razor with Ebony Wood Handle is unique indeed. The Bizmark range made its appearance in the 1950s and has been well-loved ever since. If you are looking for a quality straight razor, then this is an excellent choice.
Specs
Sleek wooden handle
Carbon steel blade
6/8" blade
Gold wash detail
Who is it Best for?
If you prefer using a straight razor to a disposable, then you need this razor by Dovo. It features a stylish design that provides you with a shaving solution that will last you a lifetime. And, because Dovo is so well-known for its quality craftsmanship, you can be sure of this razor's durability.
If a shavette is not quite your style, then this straight razor is a better option. The blade is fixed and won't need to be swapped out or changed. The only downside to this is that you will need to maintain the blade, honing it every so often to keep it sharp. However, if this is something that you take pleasure in doing, you will love this elegant take on a straight razor.
Key features
This unique razor comes with an Ebony Wood handle that provides the user with a firm grip. The wood's sleek dark tone is beautifully complemented by the gold-washed tang and antique gold engraving on the handle itself.
The 6/8″ blade is fashioned from a gold-washed, acid-etched carbon steel blade. This blade is resistant to rust and corrosion, making it perfect for daily use. Precise German engineering and craftsmanship ensure that the razor, and particularly the blade are durable and effective.
You may find that the blade will need to be honed and stropped when you first receive it, but a few passes over your whetstone will leave it sharper than you can imagine, offering you a close shave that won't irritate your skin.
This elegant razor is simple to use. A rich, lubricating lather and an angle of 30-degrees against your skin will leave you with the best shave you have ever had.
Pros
Features German engineering
Cons
The blade is not disposable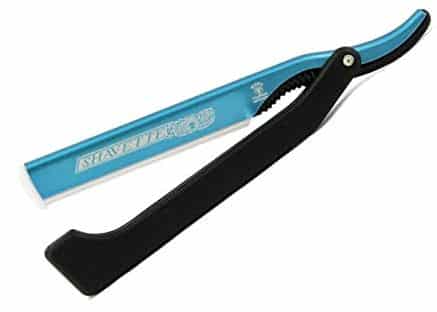 Dovo has been artfully crafting razors since 1906. Over 100 years in the industry have left the brand with a firm finger on the pulse of what its customers need. It was no surprise then that in the 1980s, the company began producing a shavette. This handy tool saw a straight razor coming together with the less time-consuming option of a disposable razor.
The DOVO Shavette Blue with Black Handle is one of the stylish shavettes the brand offers. It is simple to use and provides the perfect shave every time.
Specs
Aluminum blade carrier
Comes in a sleek black
Lightweight
Blades are easily replaceable
Who is it Best for?
If you want to make the transition from disposable razors to a straight razor, a shavette is the perfect place to start. This style offers a straight razor body, but instead of a permanent blade, it uses disposable ones.
The shavette is also great for guys who want the experience of a straight razor without the hassle of maintenance. The disposable blades mean that you won't need to worry about honing and stropping as you would with a permanent blade. Simply switch out the edge when it becomes dull, and you're ready to go.
If you want a sleeker look than a traditional wooden handle, you'll enjoy this razor. It features a minimalistic black handle that is stylish without appearing overdone.
Key features
This impressive shavette features a black aluminum and steel body designed with precise German engineering to give you a comfortable, slip-proof grip. The razor works with standard double-edged blades that are then snapped in half. Using these blades, you are ensured a close shave each time without the upkeep of a permanent razor.
The shavette is simple to use, and as a straight edge razor should be used with a lubricating lather and placed against your skin at a 30-degree angle. Dovo makes it simple to swap out the blades so that you can get to your shave in a matter of minutes.
Dovo uses expert craftsmanship and premium materials to ensure that each razor they produce is durable and sturdy. Their unique design and precise German engineering promise quality like you have never experienced before.
Cons
Blades are sold separately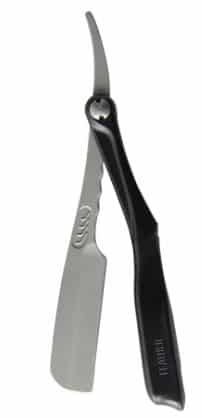 Feather, a Japanese brand, was founded in 1932. They are recognized globally for their remarkably sharp blades and grooming tools. Feather produces a range of cutlery from surgical blades to professional barber tools. They focus on delivering top-quality blades that offer precision and durability.
The Feather Black SS Folding Handle Razor is one of their many impressive grooming tools. Barbers across the world love this razor, and they prize it for its simplicity of use and effectiveness. If you want a premium shavette, you ought to give this one a try.
Specs
Made from Japanese stainless steel
Features a resin handle
Lightweight
Durable
Who is it Best for?
If you love the experience of heading off to the barber for a clean shave with a straight razor, but you don't always have the time to get there, you need this unique shavette. Feather offers a simple solution by crafting a straight razor with disposable blades. Because the edges can be replaced, you never have to worry about maintaining the blade and having it honed.
This unique shavette works with any Artist Club Blades, and switching them out takes a matter of minutes. This simplicity makes the razor easy to use and hassle-free, perfect for busy men who are always on the go.
If it's a sleek razor you're after, then you will find it here. Feather's unique design offers a sophisticated look. Transform the way you shave by using a razor that is as impressive in looks as it is in efficacy.
Key features
Feather's shavette sees a stainless steel body with a resin finish. These materials are both resistant to rust and corrosion and will last for many years to come. The stainless steel is also resistant to heat and impurities, making it easily one of the most hygienic razors on the market.
The resin handle offers users a firm grip that makes achieving that perfect shave a breeze. It resists heat up to 275-degrees Fahrenheit, so if you shave in the shower, you won't end up with a burnt hand.
Designed by Feather to offer convenience and style, this razor is simple to clean and put back together. The blades that fit with this razor provide a sharp, clean shave that is gentle on the skin but tough on hair. They are made with precision and will leave you feeling and looking fantastic.
Pros
Simple to change the blades
Cons
Must not be disinfected with sodium hypochlorite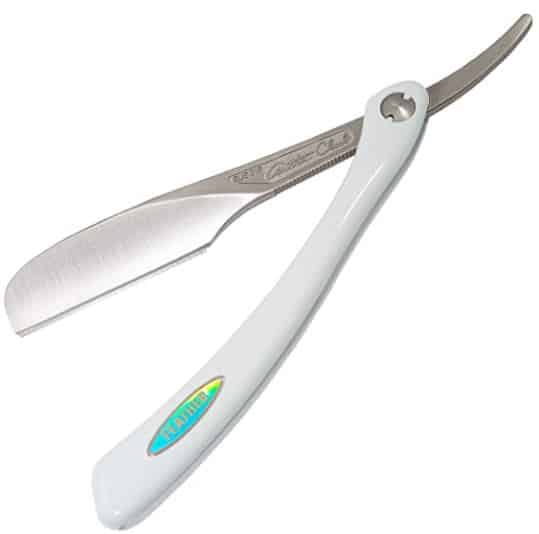 Feather, founded nearly 100 years ago, has, over time, through research and development, placed themselves as forerunners in the world of razor manufacturing. Their attention to detail, expert craftsmanship, and precision leave their surgical blades and grooming tools as some of the world's best.
Feather's DX Folding Pearl Handle Razor offers sleek lines, quality materials, and a shave like you have never seen before. Add to this the convenience of never having to hassle with honing the blade, and you've got yourself a dream razor.
Specs
Engineered plastic handle
Stainless steel body
Rust resistant
Lightweight
Who is it Best for?
When it comes to owning a straight razor, a few things go with it, such as the need for maintenance. This usually involves having to clean the blade and keep it honed and sharpened frequently. If you're not the sort of guy who has the time or inclination to fiddle with maintaining your razor, but you want a straight razor, then this best shavette razor is for you.
The way Feather designs this razor is such that you get the look, feel, and style of a cutthroat razor, but the blades are disposable, so you can swap them out when they become blunt. Feather's shavette is compatible with all Artist Club blades that come fashioned from durable steel. The steel makes these blades sharp and resistant to rust and corrosion.
Key features
Feather creates their shavette to fold up neatly, making it easy to store and safe to use. The blade folds into the handle to prevent you from grabbing the edge and cutting your hand.
The handle and body of the razor are made from a combination of resin and stainless steel. Both of these materials are resistant to rust and corrosion so that you can be sure of this tool's durable nature. The pearl-white handle provides you with a firm grip for a sleek and precise shave. It also gives the razor an elegant appearance. The handle is also resistant to heat, so it won't burn your hand if you choose to shave while in the shower.
This shavette is simple to clean and sterilize by either using boiling water or ethanol. It is not suggested that you use sodium hypochlorite to sterilize the tool, as this may damage the razor's body.
Cons
Cannot be cleaned with sodium hypochlorite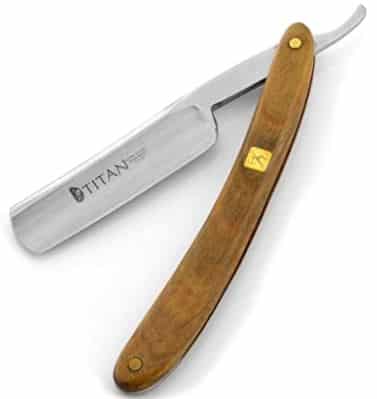 Titan is a Japanese brand that has been producing razors since 1918. Their many years in the industry have left them with the knowledge and technology needed to create some of the world's best razors.
The Sumac Straight Razor by Titan makes it clear that when you buy a Titan product, you're purchasing quality. This unique razor is handmade and hand-sharpened, leaving you with a premium quality tool that offers a shave like no other.
Specs
Classic style
Wooden handle
Handmade
Offers a precise shave
Who is it Best for?
If you are looking for a quality cutthroat razor that is so elegant and beautifully made that it wouldn't look out of place in a museum, then you need to get your hands on this razor by Titan. It features a look that you can only achieve by hand making the item. This razor is made by hand and sharpened this way, too, leaving you with a magnificently crafted tool.
Men who enjoy spending time at the barber but don't have the hours to go as regularly as they would like will benefit from owning a straight razor such as this. It is durable, made to last for years to come, the perfect tool that could easily become an heirloom.
The razor provides you with the most luxurious shave of your life and in the comfort of your own home.
Key features
This refined razor features a Sumac Wood handle that provides a firm and comfortable grip. Because it is made from wood, the handle is not affected by heat, so it won't heat up in your hand if you use it in the shower.
The blade of the razor is hand sharpened and made from sturdy stainless steel. By using this material, Titan ensures that your razor is made to last. Stainless steel is resistant to rust and corrosion, so it will stay looking as good as it did on the first day you got it.
Because this blade is hand-sharpened, it is exceedingly sharp, giving you the sleekest, most comfortable shave. The sharper the edge, the better it is for your skin as it won't cause irritation, shaving rashes, or breakouts.
Titan fashion their razors to be lightweight. This makes them easier to wield to provide you with the perfect shave each time.
Cons
The blade is not changeable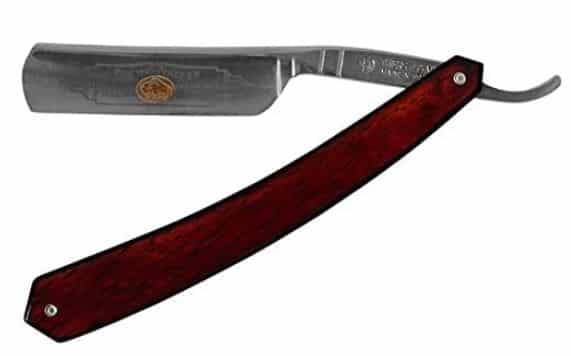 Thiers-Issard was founded in 1884 by master blacksmith Pierre Thiers. The company started offering only hand razors, yet today they are known for a range of unique pieces that range from scalpels to kitchen knives. These luxury tools are expertly crafted from premium materials.
The 889 Red Stamina Bison 5/8 razor by Thiers Issard is just one of the remarkable razors you can buy from this brand of French origin. It not only looks impressive but offers a shave that will leave you suitably impressed.
Specs
Features a ⅝" blade
Carbon steel blade
Wooden handle
Offers a secure grip
Who is it Best for?
If you're after a cutthroat razor that offers the finesse of French-made products, then this one by Thiers-Issard is just what you need. This masterfully crafted razor provides superior quality and a shave that will leave you smiling.
Shaving with disposable razors is fine, but they don't offer the same clean-cut or feel like a straight razor. However, heading off to a barber a few days a week is not always viable. If you find yourself in this position, you will love this razor. It allows you to achieve the same look and feel a barber will give you in the comfort of your own home.
If you are looking for a one-of-a-kind gift for your dad, brother, or grandpa, then this razor is a great choice. It comes in a leather pouch that keeps it well protected and gives a unique extra to make it the ideal gift.
Key features
Thiers Issard's straight razor comes with a stylish and beautifully crafted red stamina wooden handle. This handle is designed to fit comfortably in your hand, giving you a tight grip for a sleek shave. The wood of the handle is also resistant to heat, making it great for guys who prefer to shave in the shower. An elegant Thiers Issard logo is etched into the handle with gold for an opulent touch.
The 5/8″ blade comes fashioned from fully hollow ground carbon steel, extremely durable and resistant to rust and corrosion. The blade features a round nose and a mirror finish. The name of the razor is black etched into the blade too and finished with gold leaf.
Thiers Issard sends their razors pre-honed, so they are ready to use as soon as you unwrap them, saving you the inconvenience of having to haul out your whetstone.
Cons
Does not use disposable blades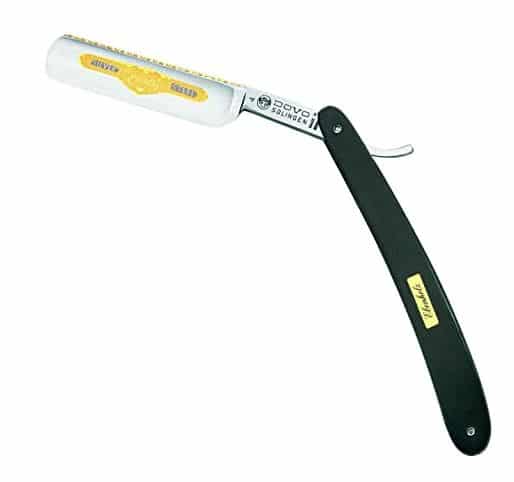 Dovo is internationally renowned for its top-quality grooming tools and cutlery. Considered "masterpieces of steel" the world over, Dovo's razors are some of the best you will find. The brand has been crafting its razors since 1906, so you can be sure that the design is perfect for achieving a shave like no other.
DOVO's Straight Razor is the epitome of this brand's style and attention to detail. It offers a close shave, and while it has you looking great, it too brings a touch of luxury to your morning routine.
Specs
Ebony handle
Silver steel hollow ground blade
Precise shave
Durable
Who is it Best for?
If you love a close, clean shave, then this may just be the razor you have been looking for. It comes with an exceptionally sharp blade that leaves you with a shave like never before. Better yet, because the edges are so sharp, they are gentle on the skin. They won't leave you with red, irritated skin, razor burn, rashes, or breakouts.
Men who love the shave they get from the barber will appreciate this cutthroat razor, too, especially if you don't always have the time to pop in and sit down for a leisurely cut. This razor gives you the same experience from the comfort of your home. And, if you prefer to shave in the shower, you can do that too.
While disposable razors or razors that use disposable blades are great, they can become expensive to use. Men looking for a more cost-effective solution would do well to invest in one of these.
Key features
Dovo's straight razor comes with a sleek Ebony wooden handle with the Dovo name stylishly engraved into it. The ergonomically designed handle is easy to hold and allows for a firm grip so that you can get the perfect shave every time.
The blade is made from a half hollow ground German steel. Not only is this material sturdy and sharp, but it is as durable as they come. The steel is resistant to rust and corrosion, ensuring it will last, even if you store it in the bathroom. This blade comes with a rounded tip for your safety and comes with a gold-etched emblem on the interior.
Dovo's razor also makes for the perfect gift. It comes in a stylish and sturdy blue metal tin that works well for storing it in or for use as a gift box. Give this cutthroat razor to your dad or brother, and you will leave them well impressed.
Pros
Comes with blue metal storage tin
Cons
The blade is not interchangeable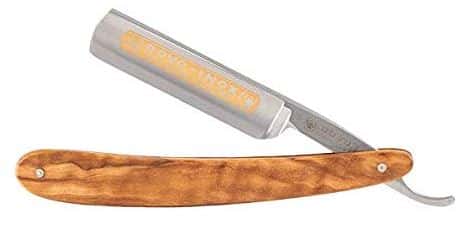 Dovo Solingen is known for its premium products that bring a touch of luxury to the world of grooming. The brand understands the importance of a good shave, not just for how a man looks but for how it makes him feel. They have spent over 100 years developing their technology to end up with the razors to be found.
The DOVO Inox Straight Razor sees some of the best German engineering and is made with precision that will amaze you. If you are searching for a luxurious shaving experience, this is the razor to give it to you.
Specs
Olive Wood handle
Durable
Lightweight
Stainless steel blade
Who is it Best for?
Men who take joy from their morning shaving ritual or those who enjoy using quality shaving products will want to add this straight razor to their collection. It is elegant, opulent, and will leave you feeling great.
Dovo is known for creating blades that come with unrivaled sharpness. Having a sharp razor is crucial for achieving a close, sleek shave that won't irritate your skin or leave you with razor burn. If you suffer from sensitive skin, you will want to look more closely at this cutthroat razor from Dovo.
When it comes to giving the men in your family a smashing gift, you'll want to find something unique, durable, and of premium quality. This razor ticks all those boxes, and it is functional too, something they can get joy out of daily.
Key features
Dovo's Inox Straight Razor comes with a sturdy carbon steel blade. The reason they use this material instead of stainless steel is that it retains its sharpness for far longer. This blade will need to be dried off after each use, though, as carbon steel is not as resistant to rust as stainless steel is. Etched into the blade in gold are the Dovo logo and the name of the razor.
Adding a touch of style and sophistication to the razor is the Olive wood handle. This wood features a unique grain that provides visual texture and a sense of refinement. Dovo crafts their handles to be easy to hold, allowing you to gain a firm grip for a more precise shave.
This classic cutthroat razor is resistant to heat, so it won't heat up if you use it in the shower. It also offers the ideal wet shave. When it comes to a fantastic shaving experience, you can be sure you'll get it with this razor.
Cons
The blade will need to be sharpened before use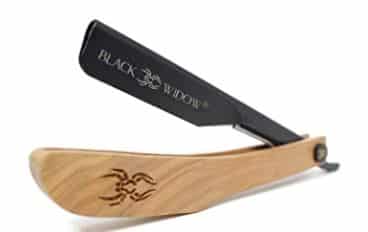 Black Widow was founded in 2016 to supply barbers across the world with tools that offer both style and quality. Their razors are astoundingly durable, too, ensuring that they last, especially for men in the industry who use their razors numerous times throughout the day.
The Barber Straight Razor Kit by Black Widow is designed for barbers but can be used at home. This unique razor offers a contemporary look and feel that perfectly complements the effectiveness of the design.
Specs
Ashwood handle
Stainless steel blade
Rust resistant
Comfortable grip
Who is it Best for?
If you're looking for a modern take on the traditional cutthroat razor, then this is one to look at. Black Widow offers a contemporary look and feel to its razor with a lightwood handle and a black powder-coated blade.
Men looking for a change in their shaving routine and want to switch from a disposable razor to a straight razor may find this shavette the happy medium. It offers the look of a straight razor but uses disposable blades. This means you won't need to spend any time honing or stropping your blade.
If you're a barber who cuts multiple beards in a day and needs to replace the blade frequently, a shavette also makes more sense. They are better in terms of hygiene, and let's face it; not everyone has time to sit down and sharpen a blade in between customers.
Key features
Black Widow fashions its shavette handle from a light-toned ash wood that balances out the edginess of the black blade holder. The Black Widow logo is burnished onto the handle for a little extra touch.
The blade cart is fashioned from stainless steel with a black powder coating that gives it that contemporary look. This steel is resistant to rust and corrosion, so you can expect your new razor to last.
Black Widow includes a set of ten double-edge disposable razors, so you have sufficient to get you started. Also included is a sleek black carrying pouch to store the razor in and keep it protected. The bag also adds a little extra touch to the set, making it ideal as a gift for brothers, fathers, grandfathers, or husbands.
Pros
Comes with ten double edge replacement blades
Cons
May take some practice to use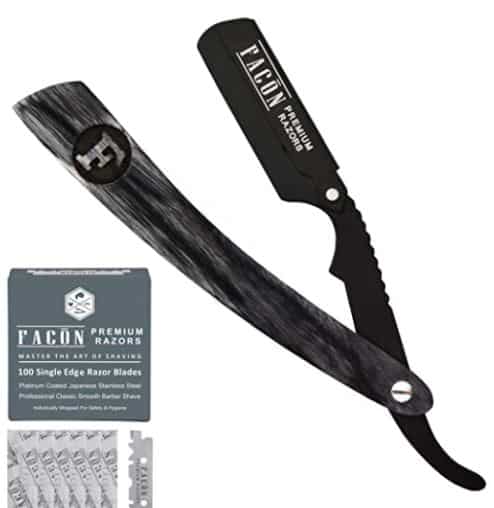 Facón is a relatively small company, founded in 2016. Their focus centers on unique designs made with top-quality materials to provide razors that you can't live without.
In our opinion, they've succeeded. The Facón Professional Wooden Straight Edge Barber Razor is arguably one of the best shavette razors available today. This artful razor features a creative take on the classic straight razor look and feels, placing it in a category all of its own.
Specs
Stainless steel blade
Salon quality
Disposable blades
Rust resistant
Who is it Best for?
If you are looking for a razor that you can use to either offer you a clean shave or allow you to trim your sideburns, beard, or mustache neatly, then you need the Facón Straight Razor. This durable makes it simple to neaten up your facial hair or cut it into a particular style.
Men who want to use a straight razor but don't have the time to go to a barber or hone and strop a permanent blade will benefit from these, the best shavette blades you can find. Facón sends their shavette razor with 100 disposable blades so you can experience a smooth shave for months before needing to buy more.
What makes this shavette so remarkable is that swapping out the blades is a cinch, making it quick and straightforward to put in a new one and get shaving.
Key features
This unique shavette by Facón comes fashioned from 100% Japanese stainless steel. This material is resistant to rust and corrosion so that you can be sure of the razor's durability.
The handle of this shavette is made from rich Ebony wood that comes with a dark hue that perfectly complements the black powder-coated blade case.
The blade sheath and handle are precisely balanced and offer a decent weight that makes the tool comfortable to hold. The ergonomically designed handle provides you with a firm grip so you can cut your facial hair with precision and care.
The screws on the shavette are all adjustable so that you can set the tension to your liking. On the edge of the razor, you will find a tang explicitly designed to double as a finger rest, offering you more sturdiness in hand and greater precision.
Pros
Includes 100 replacement blades
Things to Consider When Buying Shavettes
When it comes to buying a shavette, there are a few things to consider, especially if this is your first time buying one. You will want to give some thought to the blade type, weight, materials, and price. So, let's get started and dive right in.
1. Blade Type
Shavettes all work with disposable blades. However, not all blades are made the same. There are three main blade styles to choose from: A round point, an oblique point, and a square point.
Round Point: This style of the blade features a rounded-off end. It is more forgiving and is less likely to cut your skin. This blade type is ideal for anyone using a shavette or straight razor for the first time.
Square Point: These are much sharper at the end than a round-point blade. They are ideal for reaching smaller areas or for making more precise shapes and styles.
Oblique Point: This style is as sharp as the square point; however, it is designed for use in those hard-to-reach places such as under the chin and nose.
2. Materials
Shavettes are made from a variety of unique materials. The handles are often made from various woods, from Ash to Ebony and even Olivewood. There are also handles made from resin, and these are usually offered in an assortment of vibrant colors.
The blade casing or holder also comes made from a range of materials. The most common material is stainless steel, chosen by manufacturers for its durability and resistance to rust and corrosion. Another frequently used material is carbon steel, which is chosen for its sturdiness; however, this material is not as resistant to rust.
It is crucial to consider the materials used to create your shavette, especially if you plan on traveling with it or using it in the shower.
3. Weight
When choosing a shavette, you'll want one that is not too heavy such that it causes your hand to fatigue. This could lead to a sloppy shave job and a patchy look or severe cut.
You also don't want one that is too lightweight or unbalanced, as this too will leave you with an uneven shave, making precision far harder to achieve.
A medium-weight shavette that is well balanced is the ideal way to go for an even, precise shave.
4. Price
The price you're willing to pay for a shavette will balance on several things: what your budget allows is usually tops here. However, if you are a collector, a barber, or someone who has been using a shavette for years, you probably won't mind spending a little more on a quality razor.
In comparison, if you are just starting with a shavette and want to test the waters first, perhaps trying one that doesn't cost more than your budget is a wise move.
When it comes to buying a shavette, understanding what makes these razors worth your money goes a long way in helping you find the one best suited to your needs. We hope that our reviews have helped you to find a shavette that appeals to you.
However, if you're still having a tough time deciding which is best, our top pick goes to the Barber Straight Razor Kit by Black Widow. This shavette is stylish, durable, and simple to use. It also comes with ten additional disposable blades, which is never a bad thing.