Pros
Well Contructed and will last a lifetime
Very affordable
Good Grip
Cons
Pretty light
Some might find the handle to long
Merkur 180 Review, AKA the Merkur Long Handle!
Hey guys, in today's review article we will be having the Merkur 180 review.
This is a very popular safety razor in the Merkur lineup and it is otherwise known as the Merkur long-handled safety razor.
There's no wonder where they got this name from.
For all of you wet shavers with very large hands, this might be a good safety razor for you in your lineup.
This safety razor reminds me very closely of the Merkur 33c (which made the list of the best safety razors) because the headpiece is almost identical, even the style and shape of the handle.
Let's get right into the bulk of my Merkur 180 review so you can see if the Merkur long-handle safety razor is the one for you.
Review of the Attributes of Merkur 33c
Weight and Balance
It comes in at 2.15 ounces.
This is not extremely light compared to all Merkur safety razors, but for a safety razor with a handle this long it does not feel very heavy in my hands.
If you unscrew the handle from the three-piece razor you can tell that the handle does not weigh that much (very similar to the 33c) because the Merkur razor handle is very thin.
The balance point is a little farther down compared to most safety razors but it still balances at the top of the grip, which I like very much.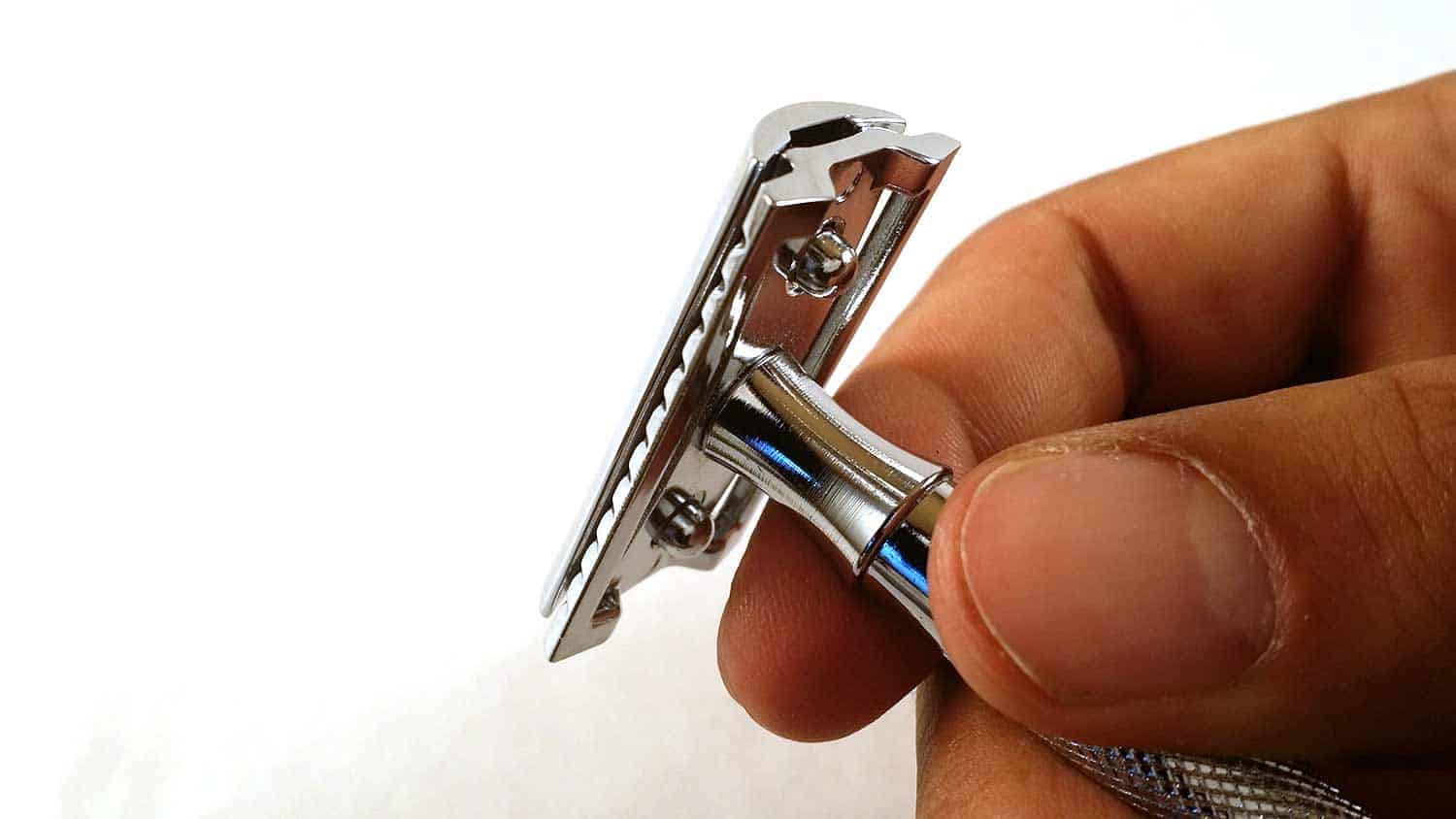 Grip
The grip on the Merkur 180 (along with many other Merkur razors) is a cross-sectional gritty metal grip.
This is definitely my favorite type of grip because no matter which way you hold your hand or fingers, there should be no way for this safety razor to slip out.
I personally think it looks nice as well (some people online really think it takes away from the look).
And if you are just starting out with wet shaving, the last thing you want to think about is whether or not the razor will slip out of your hands while shaving.
You have other things to think about.
On top of the gritty metal, there is a protruding knob at the end of the handle that has a finer gritty metal feel to it.
I like to know where the end of the handle is while shaving and sometimes I place my pinky on this section for better control.
Length
The Merkur 180 long handle measures 4.125 inches long.
And obviously, because of the name, this is a longer than average handle.
It is not the longest safety razor that I have reviewed on the site, but it is definitely longer than the average.
Like I said above, if you have large hands it will be suitable for you.
On the other hand, if you have small hands you might have difficulty maneuvering the safety razor comfortably.
Aggressiveness
Similar to the 33c (which I rate a 6/10), because I feel like it is the exact same headpiece, I rated the 180 pretty similar on my aggressiveness scale.
But because it weighs slightly more it feels a little bit less aggressive so I give it a 5/10 on my aggressiveness scale.
This is slightly more aggressive than I would recommend any beginner starting out with.
I usually recommend a three or four at the most.
Once you get a little bit of practice under your belt, you could move up to more aggressive safety razors.
Also if you have a thick beard to cut through, you might need something more aggressive.
Blade Replacement
This is a three-piece safety razor so it is definitely easy enough to remove and put in new safety razor blades.
It is not as easy as a twist to open or even a two-piece safety razor.
There are fewer moving parts to break on a three-piece safety razor and would trade that for ease of blade replacement.
Just like all other Merkur safety razors, the blade sits perfectly within the headpiece when it is fully tightened.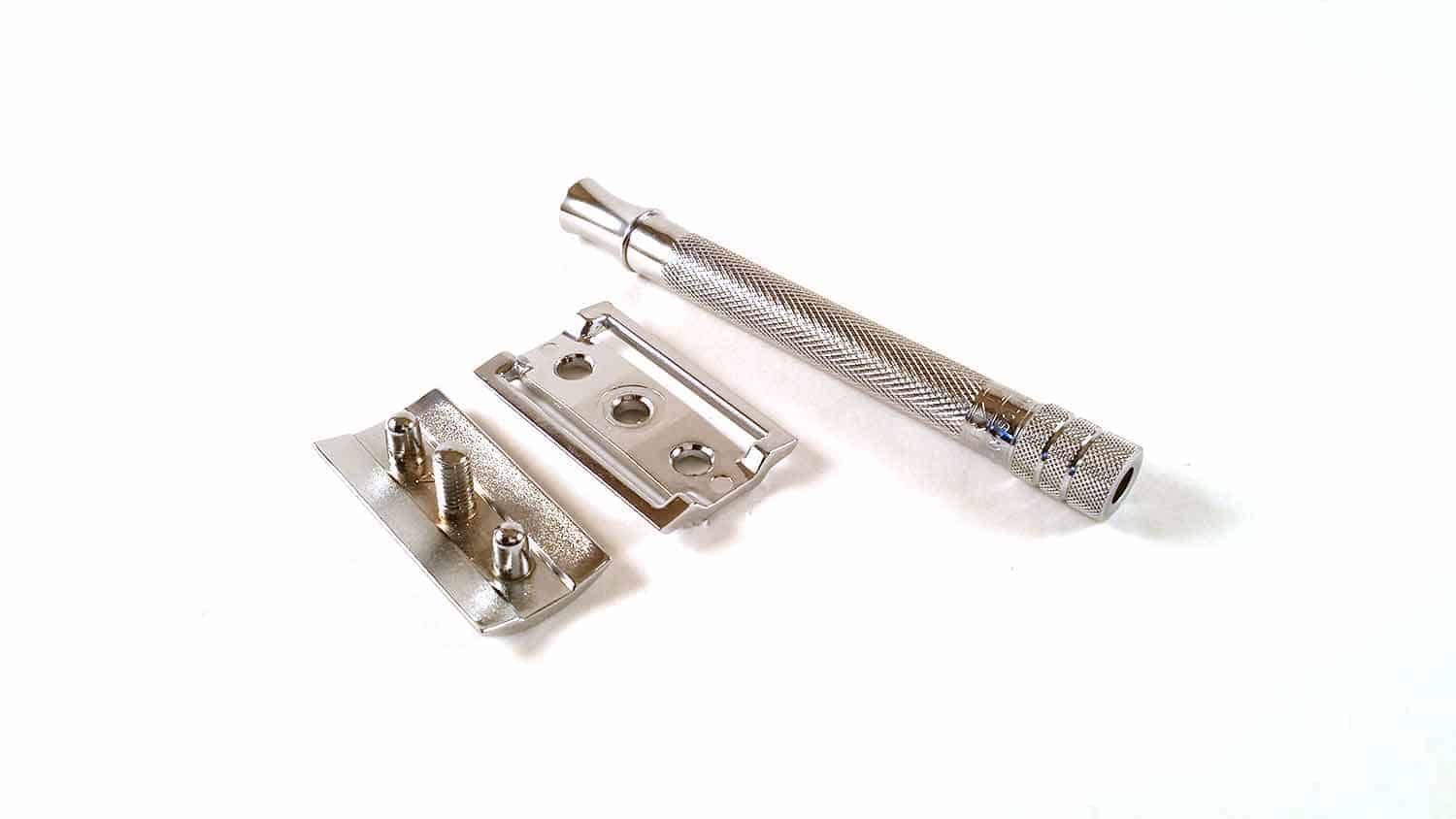 FAQs Regarding Merkur 180 Safety Razor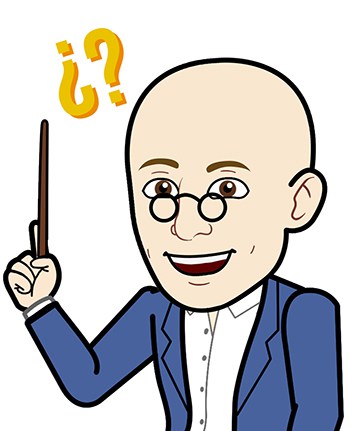 1. Are Merkur Razors a Good Choice for Beginners?
Merkur safety razors have very distinguished properties that make them preferable for beginners e.g., these razors are lightweight and have a thick short handle with a close comb design.
Moreover, they give more close shaves without any cuts.
2. Why Double Edge Safety Razors are Better as Compared to Other Safety Razors?
Double edge safety razors provide you with a more close shave and they are much cheaper than other safety razors.
They are easy to handle especially, for areas that are hard to reach.
3. How Can I Take Care of my Merkur 180 Safety Razor?
If you don't take care of your Merkur 180 razor well then it might not last long. Follow the given steps to make them clean and long-lasting.
Soak your Merkur razor overnight in water
Then use a toothbrush to clean it well
After every shave, you just need to keep dry it well
Conclusion – Merkur 180 Safety Razor Review
Check the current price here on Amazon
Check out other unbiased reviews from a number of persons below
I hope you guys learned something valuable from my Merkur 180 review.
I think this is a fantastic safety razor that is very simple and to the point.
It is very well constructed, has a fantastic grip, good handle length, and will last you a lifetime.
I do wish it was slightly heavier and feels a little bit flimsy compared to other Merkur safety razors that I own.
There's nothing spiffy or fancy going on but that is why it is a classic.
You should check out some straight razors if you're a traditional wet shaver like me and see the difference for yourself.
Let me know what you guys thought of my Merkur 180 review.
Leave a comment down below and please share this on social media if it was helpful for you.
Also be sure to check out our definitive lists of the best shaving soaps, shaving creams for men, shaving brushes, and even shaving bowls so you can have the ultimate kit.
Thanks, guys, and happy shaving!
If you found this article helpful please be so kind as to share it on Facebook or other social media per the buttons below.
We really would appreciate it as we have worked so hard on this post for you.
I have a feeling some of your friends and family will find it helpful as well.
Also, be sure to join the Prim&Prep community!
Not only will you have a chance to WIN your choice of a quality safety razor or beard oil but we will provide you with all kinds of helpful and enlightening male grooming tips and advice directly to your inbox so you don't have to waste your time fiddling on the web to find the right information to look and feel your best.
There is nothing to lose and so much to gain.
SIMPLY SUBSCRIBE BELOW!