Pros
Cuts hair really efficiently
Very well constructed
Great grip
Produces a really close shave
Cons
Short handle for people with big hands
Not the prettiest looking razor
Blades dull faster than normal
Hey guys and welcome to another Prim and Prep safety razor review.
Today we are going to give you a Merkur 37c review that is one of the best slant razors – the Merkur 37c HD Slant safety razor.
This safety razor is the "younger brother" to the Merkur 39c slant bar safety razor that has a longer handle.
This is a three-piece chrome finished safety razor that is very unique, to say the least.
Before trying out the Merkur 37c slant, I had heard horror stories of how aggressive this safety razor was, but after trying it for a few months I have a much different perspective on it.
I wasn't sure how noticeable the slant on the headpiece would be until I pulled it out of the box and wow was I surprised!
It basically looks like the metal was melted and warped!
But obviously, this was done on purpose.
Let's jump right into the Merkur 37c review so you can find out whether or not this slant bar razor would be a good safety razor for you.
Merkur 37c Weight and Balance
Comparing the Merkur 34c vs 37c, the 37c weighs in at 2.4 ounces.
This is on the lighter end compared to other safety razors that I've used.
Because the handle is relatively short, the balance point is approximately halfway up the handle.
It balances quite well in my hand and makes it extremely easy for me to move from my "with the grain" handgrip to my "across the grain" and "against the grain" grips.
Typically, shorter safety razors are a lot easier to maneuver because the handle doesn't get in the way as you are transitioning from one hand position to the next.
Although the Merkur 37c slant bar heavy-duty safety razor does not weigh too much, it feels hefty in my hand because of the shorter handle.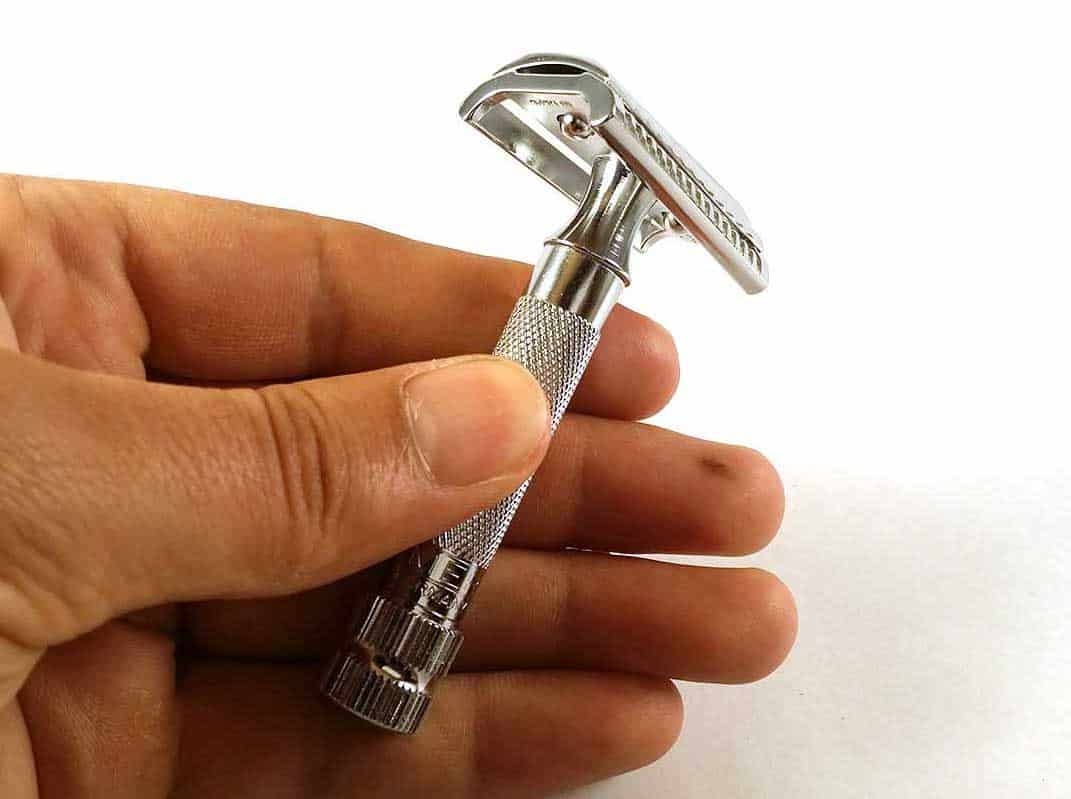 In the Merkur 37c review I just found that it has my favorite type of grip for a safety razor.
It has about a 1-inch portion that is covered completely with gritty metal.
The bottom or butt of the handle also has a really good feel to it.
The bottom knob sticks out approximately 2 or 3 mm from the main part of the handle.
This knob has vertical grooves in it which have a great tactile feel to it and does a great job of reminding you exactly where the end of the handle is.
The only thing that could make the grip on this safety razor any better would be if the handle was a little bit longer for my large hands.
Exactly like the Merkur 34c, the 37c's total length is 3.3 inches.
As I have talked about in my other safety razor reviews, this is a slight problem for me because my hands are larger than average.
Sometimes I like using a grip where the handle rests on my pinky (so that I can get an extremely light grip).
I can't use the script on this Merkur slant razor safety razor because my hands are too wide and my index finger will be pressed up against the head with this type of grip.
For people that have average or smaller hands, this length should be no problem though.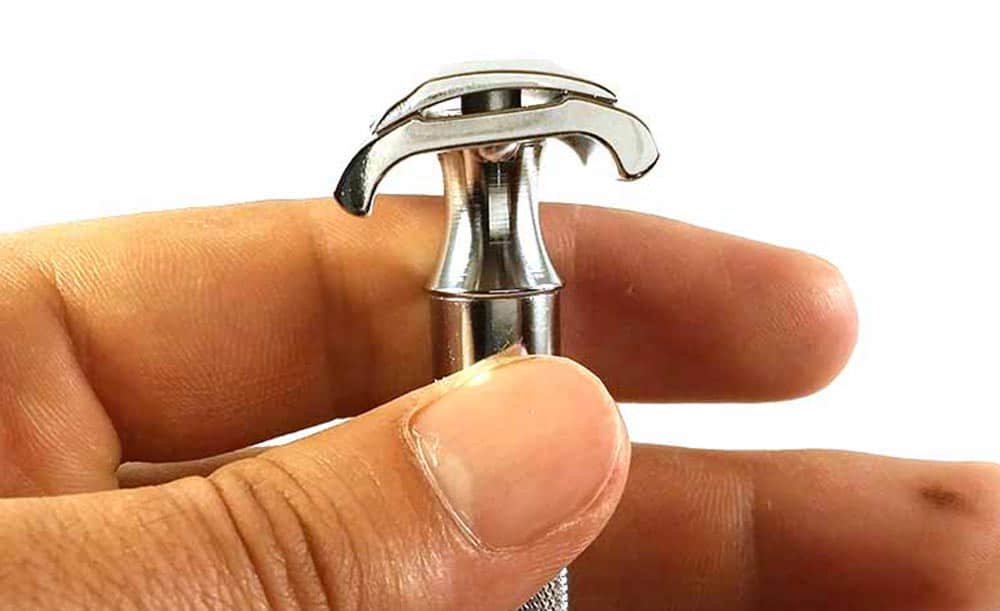 In the intro paragraph of Merkur 37c review of the horror stories, I was talking about the aggressiveness of this safety razor.
Because of the angle at which it cuts, it apparently makes this safety razor "much more aggressive".
In my opinion, this is not true at all.
I think the word aggressive is not the right word to be used for the Merkur 37c or any of the other slant bar safety razors for that matter.
Other than, in Merkur 37c review the word "efficient" is much more appropriate.
Because of the slanted angle, the razor makes cutting hair off your face much easier.
Much less work is needed to perform the same task.
Think about slicing vegetables with a knife.
If you try to go straight down, it is much harder than if you slant the knife slightly as you cutting.
It does make duller blades seem sharper because of this fact.
I still think it is overly aggressive for any person that is just starting off with wet shaving, but with a couple of months of practicing your form, most people will be able to handle it.
In my Merkur 37c review I would rate it about a 6/10 on my aggressiveness scale.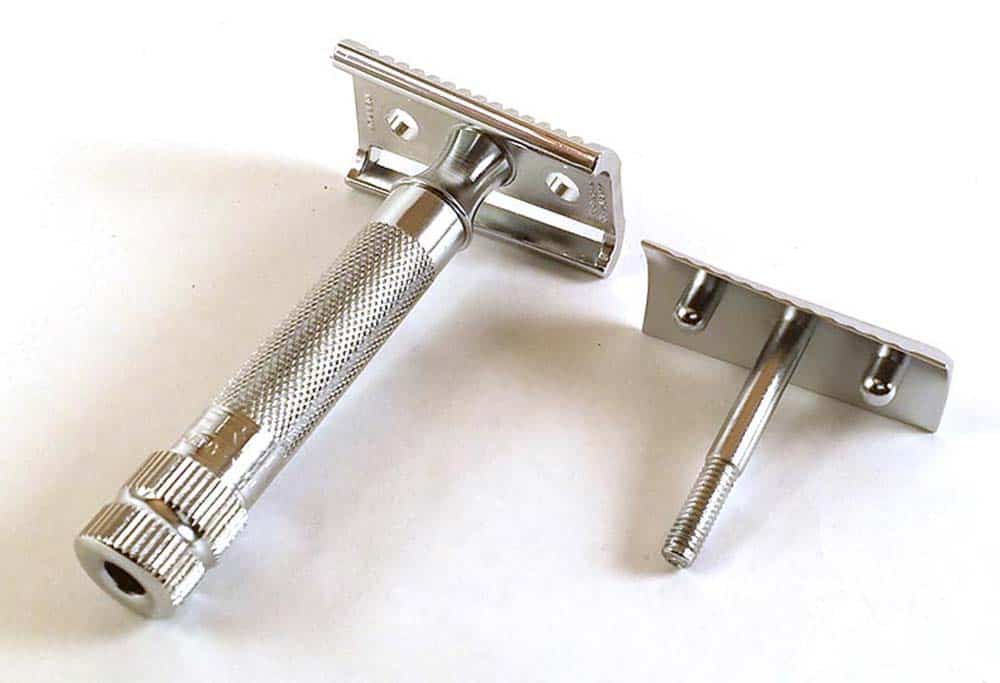 Blade replacement on the Merkur 37c is relatively easy.
The knob mechanism at the bottom is extremely smooth on this safety razor.
Just like any three-piece safety razor, you need to be extremely careful when taking out and putting in new blades.
It is not as easy as a butterfly open mechanism but as long as you take good care of your safety razor and wash off soap scum as it builds up, you should have no problem having this safety razor last a very long time.
Be sure to check out our article on the best safety razor blades on the market today!
Merkur 37c Review Conclusion
When it comes to slant safety razors, I personally reckon that Merkur has the best slant safety razors in the market.
I hope I ended any worry that some of you may have about the aggressiveness of this safety razor.
Remember, it is simply more efficient, but really not any more aggressive than a medium aggressive safety razor.
This safety razor will turn dull blades into relatively sharp blades.
So if you have a bunch of crappy blades that you are thinking about throwing out, don't do it!
You can save the lives of all these crappy blades simply by buying this extraordinary slant safety razor!
One warning I do have for you is that blades do not last as long and get dull a lot faster by using the 37C.
This is the safety razor I go to when I need to perform an extremely quick shave.
One pass with the grain gives me a lot closer shave than most other safety razors do with one pass.
So if you have been looking to get into a slant bar safety razor, just read my Merkur 37c Review, look no further!
I hope you enjoyed our Merkur 37c review.
Be sure to leave me a message down below if you have any questions or experiences with this effective safety razor.
If you found this article helpful please be so kind as to share it on Facebook or other social media per the buttons below.
We really would appreciate it as we have worked so hard on this post for you.
I have a feeling some of your friends and family will find it helpful as well.
Also, be sure to join the Prim&Prep community!
Not only will you have a chance to WIN your choice of a quality safety razor or beard oil but we will provide you with all kinds of helpful and enlightening male grooming tips and advice directly to your inbox so you don't have to waste your time fiddling on the web to find the right information to look and feel your best.
There is nothing to lose and so much to gain.
SIMPLY SUBSCRIBE BELOW!