The recent beard craze has seen the market become absolutely flooded with a huge number of beard care products. In today's article, we are going to talk about the best beard oil for growth and thickness.
These products range from simple shampoos and balms to a wide range of products designed to help you grow a better, thicker, and fuller beard.
As we've recently covered the best beard growth products in a previous article, today we're going to focus on the topic best beard oil for growth and thickness to give you the lowdown on this popular category of products.
Along with providing you with everything you need to know about beard-growing oils, we'll also provide you with short reviews of some of the top products.
This will help you know where to turn should you decide to give one a try.
9 Best Beard Growing Oil Products of 2022
As there are absolutely thousands of different oils on the market, there's no way we could ever attempt to try out all of them.
After extensive research, we've narrowed it down to a list of the top 9 best oils for beard growth, which we'll now present in no particular order.
1. Wild Willie's Liquid Gold Beard Oil
Handcrafted in the United States, Wild Willie's Liquid Gold Beard Oil is the best beard oil for growth and thickness.
It is free from synthetic chemicals, preservatives, and artificial colors.
Still, this branded beard oil takes it one step further by only using all-natural, organic, non-GMO ingredients that are sustainably sourced to ensure the highest quality.
This best beard oil for growth and thickness contains a special blend of 10 different carrier oils, essential oils, vitamins, and minerals that will make your beard healthy, shiny, and happy.
With argan oil as the primary ingredient, this product is entirely nut-free, meaning it's even safe to use for people with severe tree nut allergies.
Although it does contain essential oils, this product has a very mild, pleasing scent that most people seem to love.
2. Beard Flux XL Beard Oil
Beard Flux XL, which also made our list of best beard growth products, is made from pure, organic oils that are designed to promote healthy, strong hair growth.
The manufacturer claims that the product provides increased volume and helps to maximize hair growth, and judging by the stellar reviews, this seems to be at least partly true.
This unscented formula is easy to apply and absorbs quickly into the skin, allowing you to improve the quality of your beard in just a few seconds, making it the best beard oil for growth and thickness.
It doesn't leave behind any greasy or smelly residue.
3. Beardaholic Natural Beard Oil
Entirely free of GMOs, parabens, and additives, Beardaholic Natural Beard Oil is another best beard oil for growth and thickness.
It features a blend of argan, jojoba, castor, wheat germ, and grape seed oils are designed to give your beard a real pick-me-up.
The presence of castor hair oil among other carrier oils like argan and jojoba oils surely adds lots of benefits to this hair growth oil for men.
In addition to these benefits, healing oils, this is the best smelling beard oil with a natural pine fragrance to give it a nice woody scent that makes it ideal for those who work in smelly or greasy environments like kitchens or construction.
4. Sexy Beast Beard Oil
Made from a proprietary blend of nine different oils, including argan, jojoba, apricot, avocado, and hempseed, UltraLife's Sexy Beast Beard Oil is an ideal choice for all beard types.
Argan and jojoba are the primary ingredients to ensure effectiveness, while all of the other oils provide added benefits.
This product also includes additional vitamin E oil to further strengthen and repair your facial hair, making it the best beard oil for growth and thickness.
The oil is also entirely scent-free, so there's no need to worry about any fragrances interfering with your cologne.
5. Rugged Roots Beard Oil
Rugged Roots Beard Oil is made from a blend of argan, jojoba, and grape seed oils.
The product features absolutely no fillers, parabens, GMOs, or other additives, making it an ideal choice for anyone looking for something that's safe and all-natural.
This best beard oil for growth and thickness is available in your choice of three fresh, masculine scents—citrus musk, bay rum, and the popular orange cedarwood.
There's also an Incognito unscented version available for those that prefer a fragrance-free oil.
6. Moroccan Beard Oil by Brooklyn Botany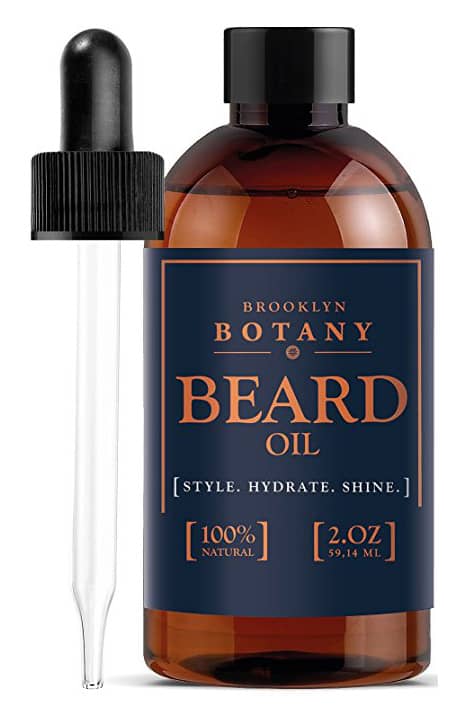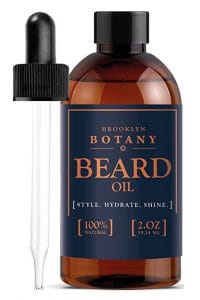 Specially crafted in Brooklyn using only the finest natural ingredients, Brooklyn Botany's Moroccan Beard Oil is another argan beard oil that imparts a healthy shine and strength to your facial hair.
Along with the argan oil, this product also contains apricot kernel oil for extra vitamin E and moisturizing properties, sesame oil to darken hair and promote increased circulation, and olive oil for added softness and shine.
Like most others on our list, this best beard oil for growth and thickness is made without GMOs, synthetic additives, or parabens to protect your health and that of the planet.
7. Beard Necessities Unscented Beard Oil
Simple, yet effective—Beard Necessities Unscented Beard Oil contains jojoba, argan, grape seed, and coconut oils to ensure your skin and beard look their best.
Although it is technically sold as unscented, this oil actually contains a small amount of rosemary essential oil that gives it a quite subtle, almost spicy fragrance.
8. Rocky Mountain Barber Company Cedarwood Beard Oil & Leave-In Conditioner
Easily one of the best beard-growing oils we've come across, this fantastic product from Rocky Mountain Barber Company far outperforms most others on the market.
This is because each and every ingredient has been specially chosen to provide your beard that much-needed assistance—from the cedarwood essential oil that makes it a good smelling beard oil and promotes healthy hair growth to the argan, coconut, jojoba, and grape seed oils.
This product also contains a whole range of other beneficial essential oils, including rosemary, lime, lavender, and tea tree, making it another best beard oil for growth and thickness.
9. Purest Naturals Organic Rose Beard Oil & Leave-In Conditioner
Another all-natural product – Purest Naturals Organic Rose Beard Oil contains a special blend that's designed to soften even the coarsest beards on men to eliminate breaking.
The oil also works wonders on your skin, helping to soothe it and also preventing dryness and irritation.
Aside from the best beard oils, we have reviewed above, here are other beard oils that are proven to provide decent performance.
Mountaineer Beard Oil– This beard oil absorbs smoothly and faster to the skin, giving your beard a smooth, soft, and subtle shine. It is great for conditioning the skin that is underneath your beard as well as promote hair growth to help maintain a healthy beard.
Dr. Squatch Beard Oil– Dr. Squatch boasts a variety of beard oils that you can choose based on your needs and preferences. However, the scent in their products may be overpowering to some people.
King C Gillete Beard Oil– This is another product that delivers great beard oil results. It is infused with argan, jojoba, avocado, macadamia seed and almond oils to soften your beard, making it a great beard oil for dry skin.
Pop Modern.C Beard Oil– This beard oil with biotin is designed to improve beard health and strengthen the beard root.
The Truth about Best Beard Oil for Growth and Thickness
As was stated in that previous article, there has yet to be a single product to be FDA approved to improve facial hair growth.
What this means is that most beard growth products don't actually stimulate your facial follicles to grow thicker, fuller hairs in a shorter period of time – despite many of the beard oil companies claiming that their products do exactly that.
So, what is beard oil used for?
Rather, beard growth oils and other beard grower products provide nourishing and rehydrating benefits to the skin and facial hair to promote conditions for strong, healthy growth.
In short, no oil is going to miraculously make you sprout a thick, full beard from nothing, but that doesn't mean that these products don't still have their place.
It just means that the term "beard growing oil" might be a bit misplaced, as there is very little to separate these so-called growth enhancers from your standard beard oils.
Nonetheless, each beard thickener product contains its own unique ingredients list and each of these ingredients has its own properties.
Keep reading to know how to help beard growth with beard oils.
Also, not all beard oils will work in the same way or provide the same benefits.
Therefore, to help you better understand which hair-growing oils are better at promoting thicker, healthier hair growth, we'll now present you with a list of some of the things you should consider when picking the best beard oil for growth and thickness.
Choosing the Best Beard Oil for Growth and Thickness
Here is a helpful infographic that summarizes the best natural beard oils for growth – but if you want more detail, be sure to read the text below the infographic for more details.
Feel free to share! (but please be sure to reference the entire article as it has much more information)

If your interest lies in knowing how to grow facial hair faster, you should pay proper attention while reading the rest of this article so that you can learn how to stimulate beard growth using these oils.
Any best beard oil for growth and thickness—whether it claims to promote hair growth or not—can provide a range of benefits to not only improve the look and feel of your facial hair but also to make the beard-growing experience more pleasurable.
One of the main benefits lies in moisturizing your face and hair.
By locking in moisture, these best beard growth oils can help strengthen the hairs to prevent split ends and breakage – this can make your beard appear thicker and fuller.
Although they help moisturize and hydrate your skin, most beard oils won't clog your pores – meaning there's generally no need to worry about using them if you're a frequent sufferer of acne or pimples.
In fact, rather than making your skin break out, many best beard oils can have the opposite effect and actually improve your skin complexion.
The softening effects of beard oils also make them a great choice for when you first start growing a beard, as they can help minimize ingrown hairs and reduce the pain and irritation that comes with new facial hair growth.
If you frequently suffer from irritation, dry skin, or beard dandruff, the best beard oil for growth and thickness can reduce or eliminate these issues as well.
Still, all of these benefits apply to even the best beard oil for black men.
This is why it's important to look into some of the most common natural oils to determine which ones are best for promoting hair growth.
While you can find a wide range of different natural oils in the various products, any good beard growing oil really ought to contain one or all of the following oils among its primary ingredients.
Argan Oil
Among all of the natural oils, argan is considered far and away one of the best beard oil for growth and thickness due to its many beneficial properties.
In Morocco, where argan trees naturally grow, the oil has been used for centuries for culinary, medicinal, and cosmetic uses.
Not only can it be used to help heal burns and treat arthritis, but argan oil is also effective at eliminating acne and problems with dry, itchy, or flaky skin.
This moisturizing oil provides many moisturizing and hydrating benefits to the skin and hair.
It also contains high levels of naturally occurring Vitamin E that help repair cellular damage to the hair and further strengthen it.
In terms of oils to promote healthy, shiny, and strong hair growth, argan oil for increased beard growth really is the gold standard.
This oil is especially useful if you spend long hours outdoors, as it can help protect your hair and repair damage from constant exposure to heat, wind, and other elements.
Jojoba Oil
Along with argan oil, jojoba beard oil is the other oil that's most often recommended for promoting hair growth.
This oil also contains high levels of strengthening vitamin E and provides most of the same benefits as argan oil.
The oil comes from a shrub that's native to the southwestern United States and Mexico and was frequently used by Native Americans to treat burns, wounds, and other skin issues.
Jojoba provides the necessary moisture and nutrients that give your beard a much-needed boost when used either on its own or in conjunction with argan or other oils.
Overall, this oil is a good beard moisturizer.
Castor Oil
Following closely behind argan and jojoba is castor oil, which is also high in vitamin E and various other minerals and proteins that make it great for your hair.
Just like the other oils above, castor oil benefits are quite numerous.
A lot of people apply black castor oil for beard growth because it's excellent for reducing skin irritation, dryness, and flaky skin.
Plus, castor hair oils also help promote increased blood circulation, which may actually help promote slightly faster growth.
If you also suffer from dandruff (hair or beard), you can use castor oil hair treatment to remedy the situation.
Unfortunately, castor oil is incredibly thick and viscous, meaning it doesn't absorb into the skin and hair as easily and is also hard to wash out.
For this reason, most castor oil hair products only use this oil in smaller amounts in conjunction with other oils.
If you are wondering which castor oil is best for hair growth, then make sure to check out choose one listed on our page.
Coconut Oil
The beneficial properties of coconut oil make it one of the most common products found in beard balms, but it's also found in several beard oils, as well.
So, does coconut oil help beard growth?
Coconut oil for beard growth provides excellent conditioning properties, helping to soften and strengthen the hair to prevent breakage.
Unlike castor hair oil that is thick, this oil rapidly penetrates deeply into skin and hair to lock in moisture.
Olive Oil
Like the others, olive oil is rich in vitamin E.
It also contains high levels of antioxidants, which help to promote healthy cellular growth.
Of all the natural oils, olive oil for beard makes the best conditioner and thus will make your beard softer, shinier, and more manageable.
Grape Seed Oil
Although it may not provide quite the same level of nourishing and hydrating benefits as the other oils, grape seed oil ranks highly – for one main reason.
That's because it's been incredibly effective at unclogging pores, thereby preventing acne and also eliminating problems with ingrown hairs.
As one of the best beard oil for growth and thickness, this makes it a great choice for new beard growth.
Emu Oil
Definitely, the most controversial oil on this list.
It is also the only one that comes from a non-plant-based source, emu oil is often promoted as a cure for baldness, as well as psoriasis, dandruff, and other skin conditions.
Although it hasn't been scientifically proven to increase hair growth, this hasn't stopped thousands of men from using it in an attempt to cure their baldness—sometimes with quite positive results.
This oil is derived from the fat of the emu (those large flightless birds from Australia that aren't ostriches), and it contains a mix of essential fatty acids that allows emu oil to provide many benefits to the skin and hair.
Some people even claim the oil can help awaken dormant hair follicles and promote faster cellular regeneration.
While these claims haven't been fully backed up, there's still no doubt that emu oil can provide many of the same benefits (and possibly even more) as some of the other oils on this list.
Essential Oils
All of the above are so-called carrier oils, which form the primary base ingredients of all beard oils.
However, the best beard oil for growth and thickness will also contain essential oils.
Although these are primarily used more for fragrance purposes, certain essential oils for beard growth also have other properties that can be beneficial for your beard.
For instance, besides imparting a pleasant, manly scent, cedarwood essential oil is also an effective treatment against dandruff, and some people even claim it can promote new hair growth and prevent hair loss.
Cypress essential oil is also another beneficial ingredient, as it can increase blood circulation.
Similarly, rosemary oil can also increase circulation to ensure your facial follicles receive more nutrients.
Peppermint beard oil is also used to stimulate hair follicles and boost beard growth timeline and other factors.
Lemon, thyme, patchouli, and ylang-ylang essential oils are also commonly found in many products for a number of the same reasons.
Frequently Asked Questions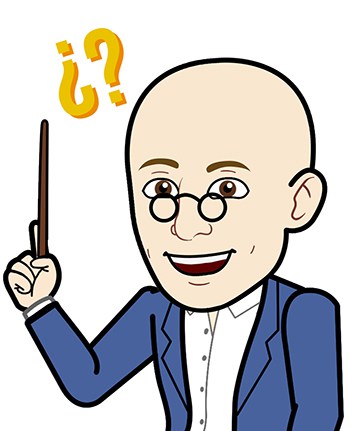 Hopefully, by now you know what to look for in the best beard oil for growth and thickness and what benefits to expect from such a product.
Let's now go over some of the FAQs that we have seen asked about beard-growing oils.
1. What is Beard Oil / What is Beard Growth Oil?
Beard oil is liquid in its natural form and is made of carrier oils and a blend of fragrance-lacing essential oils.
Beard growth oils are made of the same beard oil ingredients, but they won't make your hair follicles thicker.
However, they make your hair follicles feel softer and moisturized.
2. What Does Beard Oil Do? What is the Purpose of Beard Oil?
Beard oil conditions and moisturizes the scalp and hair roots, creating the best scalp condition for healthy hair growth.
Apply your best beard oil for growth and thickness to the root of your beard and use a beard growth roller to brush it into the hair.
3. Does Beard Oil Actually Work?
Yes.
Beard oils work, but not miraculously as manufacturers may advertise.
It restores the needed moisture content to the scalp and hair follicles.
All in all, no matter the best beard oil for growth and thickness you choose to purchase, you need some patience and dedication for the best results.
4. How to Make Beard Oil?
When making your homemade beard oil recipe, carrier oils like argan, jojoba, or castor hair oils are the main ingredients in beard oils.
These carrier oils are then blended with essential oils.
You can check our guide on DIY beard oil to know how to make your own beard oil.
5. Where Do You Buy Beard Oil?
Just like buying any beard grooming product, the best beard oil for growth and thickness is not difficult to find online.
A search on the internet will generate a lot of results, but you must know all we have discussed when buying the best beard oil for growth and thickness.
6. How Do You Grow a Beard?
Looking to increase beard length? Here are tips on how to grow a beard or how to promote beard growth;
Be realistic with your beard growth patterns
Be patient through the different beard growth stages
Trimming
Use beard nourishing products.
Clean and brush it every day
Try short beard styles
7. Does Beard Growth Oil Work for Patchy Beard?
Yes.
The best beard oil for growth and thickness will help improve the appearance of beards and the skin beneath them.
A beard growth oil will soften your skin, and improve your beard's appearance, but it may not change the beard's genetic disposition.
8. How Often Should You Apply Beard Oil?
A lot of men tend to apply beard oil twice a day, once in the morning and the next in the evening before getting to bed.
Always take a warm shower before bed and apply more beard oil than you would in the morning and allow it to work overnight.
As discussed, there are many beard oil uses from softening the beard hair to moisturizing the skin beneath.
Although there are some disadvantages of beard oil like strong scents, the benefits of the best beard oil for growth and thickness outdo the cons, making them great options for daily use.