In today's post we're getting up close and personal with the Rockwell 6C adjustable razor system.
You don't see too many new safety razors come onto the market that can actually compete with the classics but the 6C is definitely an exception.
I was so impressed, I have even added it to Prim&Prep's official list of the best safety razors!
For this Rockwell 6c review, we will not talk much about other Rockwell safety razors like the Rockwell model t or Rockwell s6 razor (or 6s razor).
Now before we dig into the review of this razor I want to touch lightly on the Rockwell Razor company.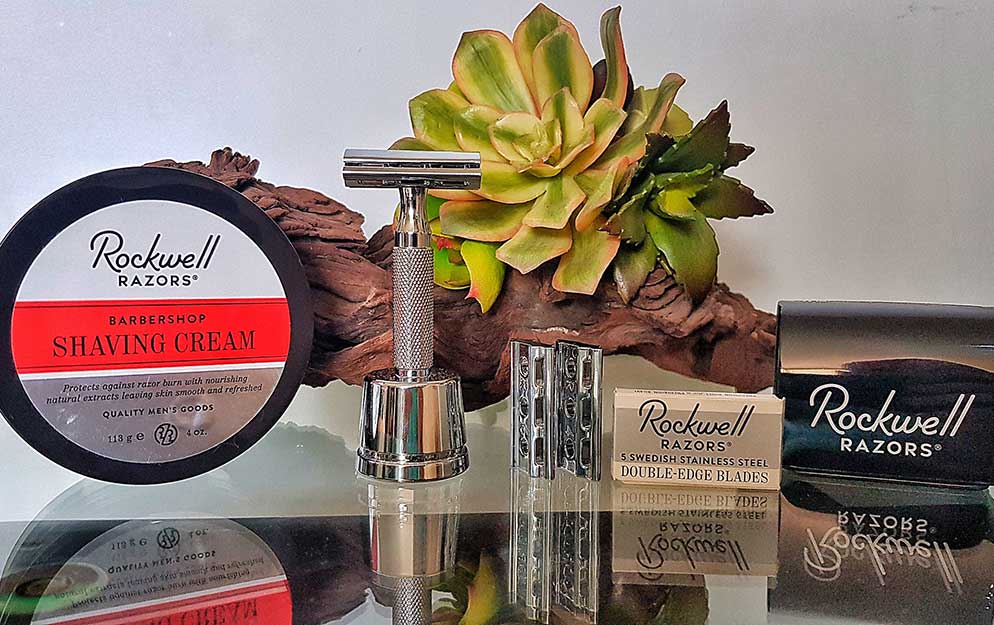 Rockwell Razors' Background
Rockwell Razors was founded in 2014 by two students, Gareth Everard and Morgan Nordstrom from Ontario Canada, who executed a very successful Kickstarter campaign to raise the necessary capital to begin production of their new revolutionary safety razor design.
The campaign was so successful that they raised their goal of CAD$12,000 within the first 24 hours and actually well surpassed it with a total capital raise of CAD$ 147,891 from 2,135 backers.
This provided them ample funds to realize their vision of creating an affordable adjustable safety razor that can fit any man's needs (i.e. level of aggressiveness).
Now without further delay, lets see why this Rockwell 6C razor earned its spot on P&P's coveted safety razor list.
---
This razor, manufactured right here in the USA, is made of chromed zinc alloy, which means that it has a great built quality; it is very durable, you can literally use it for decades if you take good care of it, and it's also less expensive than a full stainless steel razor system.
Now, one of the super cool things about this particular razor is that it is not actually built in the traditional way the other razors are built.
This is not a machine processed razor. From all the research I performed about this product, my understanding is that the Rockwell 6C razor is actually molded and then every piece is refinished.
I personally appreciate this more hands-on manufacturing process and I would like to think this process translates into a higher quality product.
---
The design is on of the things I like to most about this razor.
It is probably one of the sexiest looking razors I've seen, it has a great finish to it and the chrome on it just looks really, really good.
The Rockwell 6c design is not so different from the Rockwell 6s razor design, but definitely the razors 6c is lighter in weight.
So it's definitely something you can proudly display on your bathroom counter.
Now, the design from a functionality point of view, and here I'm referring to the inter-exchangeable plates, was really impressive.
Not to mention that these guys really know their packaging game. Everything looks so clean, simple, and elegant.
They even have their name on the razor blades, which come in a really nice pack.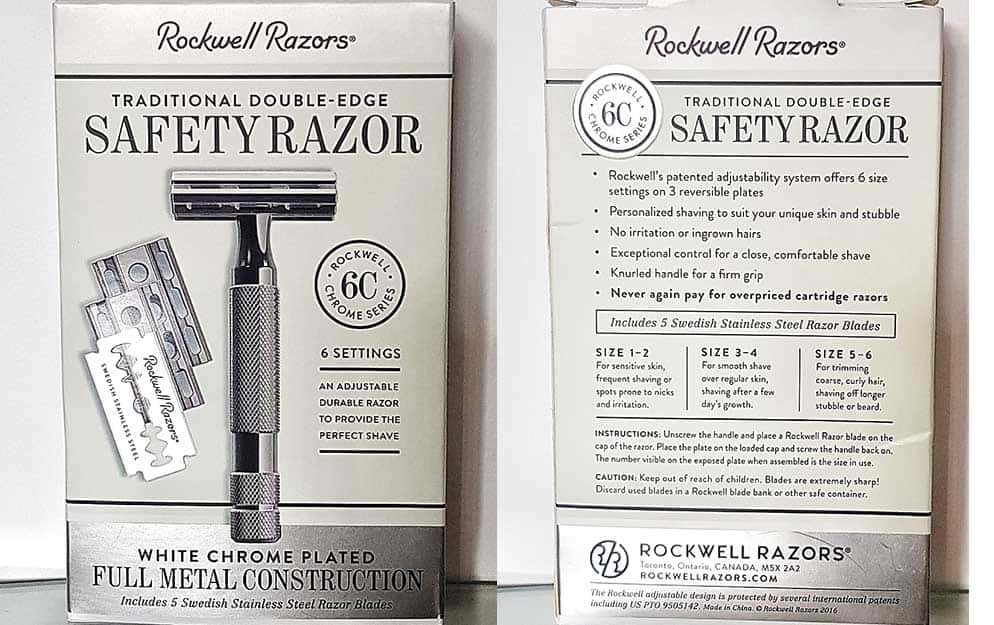 Size
---
In terms of size, the Rockwell 6C as well as their more expensive 6S model is quite a bit longer than most of the safety razors out there.
In a completely different article, where we will focus on Rockwell razor reviews, we will talk more about the different Rockwell razor blades including the Rockwell 6s version 2.
Comparing Rockwell 6c gunmetal design with my everyday Gillette Fatboy, the handle is about half an inch longer which doesn't seem like a lot, but it does make a difference.
It just feels more secure in my hand and is easier to use it.
This is definitely something noteworthy for those who have larger hands.
Speaking of the handle, it has a really nicely finished knurling which comfortable and at the same time offers a really good grip even if there's water or a little bit of soap on your hands.
Weight
---
The Rockwell 6C weighs about 100 grams, which is heavy, but not as heavy as a stainless steel which would be more like 120-130 grams.
So it definitely has some weight to it, but for those who like them really heavy, the Rockwell 6S may be more your style as its stainless steel molds wields a bit more weight.
It has the looks, has the functionality, and has the dimensions of a high quality DE razor.
Adjustability
---
The Rockwell 6C is referred to as an adjustable safety razor system, but it's not really your everyday, traditional adjustable razor.
We can write a whole new article on adjustable safety razor vs non-adjustable razors, but that is for another time.
I don't know about you, but when I think about an adjustable razor, I think of the Merkur Futur Razor with that little dial that lets me adjust the aggressiveness of the razor.
But Rockwell's system is working in a completely different way.
It is based on 3 different reversible base plates which are not something you see every day.
It might not be as convenient and easy to adjust as the "dial-method", but I think this is an ingenious way of increasing the versatility of a safety razor while not sacrificing longevity.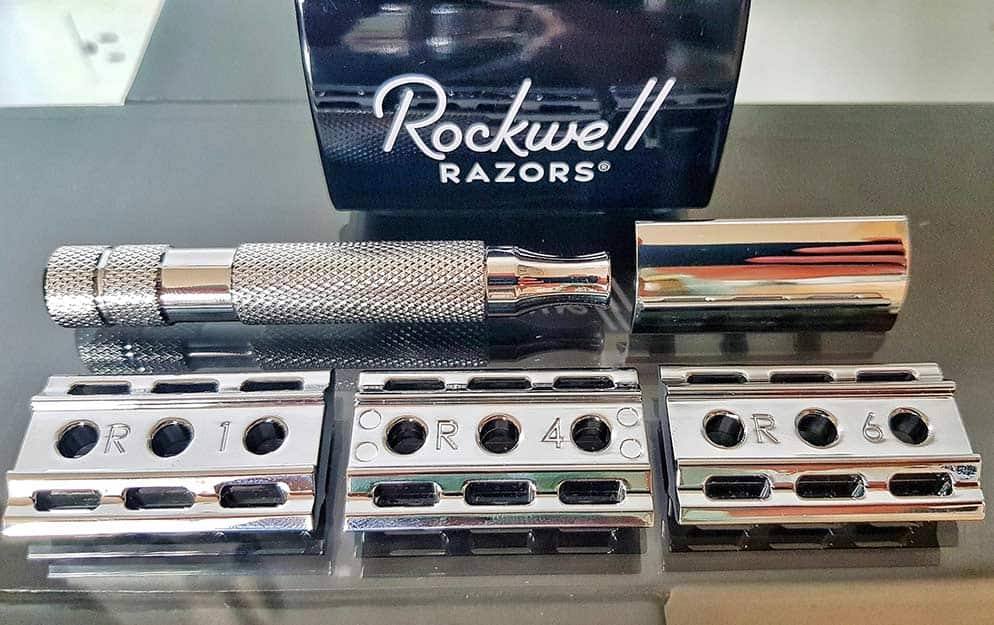 So it starts with level 1 and it goes up to level 6, with level 1 being the mildest or least aggressive one, and level 6 being the most aggressive one.
As mentioned above all 3 plates are reversible, so on the backside of level 1 you have level 3, on the backside of level 2 you have level 4 and finally, on the backside of level 5, you have level 6.
All of the 3 plates use the same top cap and the same handle.
By the way, you can use a different handle if you feel like it, or you can stick with Rockwell's handle which fits and feels great in your hand.
So, it is an adjustable razor, but not in the traditional way.
I would go as far as give it its own category as an inter-exchangeable razor, rather than an adjustable one.
---
I first used the Rockwell 6C Razor on the most aggressive setting (R6) and I expected it to just tear up my face, but it did not at all.
It was incredibly efficient and there was no blade wiggle at all.
The control on the blade was amazing especially compared to other razors on the most aggressive setting in which you can feel the blade starting to flick a little bit.
But the way this razor allows everything to flow through the back of the head is really great.
And even though I used it on R6 – the most aggressive setting – it was really very smooth, very comfortable and easy to shave with it which was really a nice surprise.
If you want to conduct a razor test between the Rockwell 6s razor and the 6c razor, you are completely free to do so.
I might also be compelled to do a complete Rockwell 6s review if need be.
Speaking of the different levels 1 through 6, with the Rockwell razors, the number that you see on the bottom of the plate is the one you are shaving with.
I know I was a little bit confused about what number I'm using, so you will need to look at the bottom of the plate.
I didn't really have the chance to use all the other settings, but solely based on my experience with using the R6 plate, I would definitely give it 10 out of 10 on efficiency.
So absolutely no complaints here, I did 3 passes with R6 and it was perfect.
It was an incredibly easy and comfortable shave. I really enjoyed using it. One thing I want to reiterate here is that the Rockwell 6C has a really good weight to it and you can actually let the weight of the razor do the job when you're shaving.
You don't really need to press too hard; you just let the weight of this machine shave your face.
---
You might expect this razor to be on the pricey side. But considering its quality materials, efficiency and design, at around $50, it looks like a pretty good deal to me.
I mean, paying just $50 for a high-quality razor that is likely to last a lifetime doesn't really seem like such a big investment, right?
Remember that you get 3 different plates in the box as well as the Rockwell 5-pack Swedish stainless steel razor blades.
---
The Rockwell 6C Razor is one of the most innovative wet shaving products to come to market in a very long time and is truly a great value for the quality and versatile shave this safety razor provides.
It is very functional, very easy to use and should fit anyone's needs.
You can adjust it to your own personal preferences and is a great razor for all levels.
Comparing the Rockwell 6c vs 6s, there is no much difference except with the price, the weight and the gunmetal finish of the 6c.
So it definitely gets P&P's stamp of approval and my personal recommendation.
That is why it earned its spot on our list of the best safety razors.
You should also check out the list of our best straight razors and how they compare with safety razors in this infographic.
So if you're after a budget-friendly razor and don't really want to get into the stainless steel category just yet, the Rockwell 6C is definitely one of the options to consider.
You definitely get the usability and efficiency of much more expensive razors, for just half the price.
Be sure to check out their site here to pick yourself up one of these razors as well as browse their other quality shaving and male grooming products.