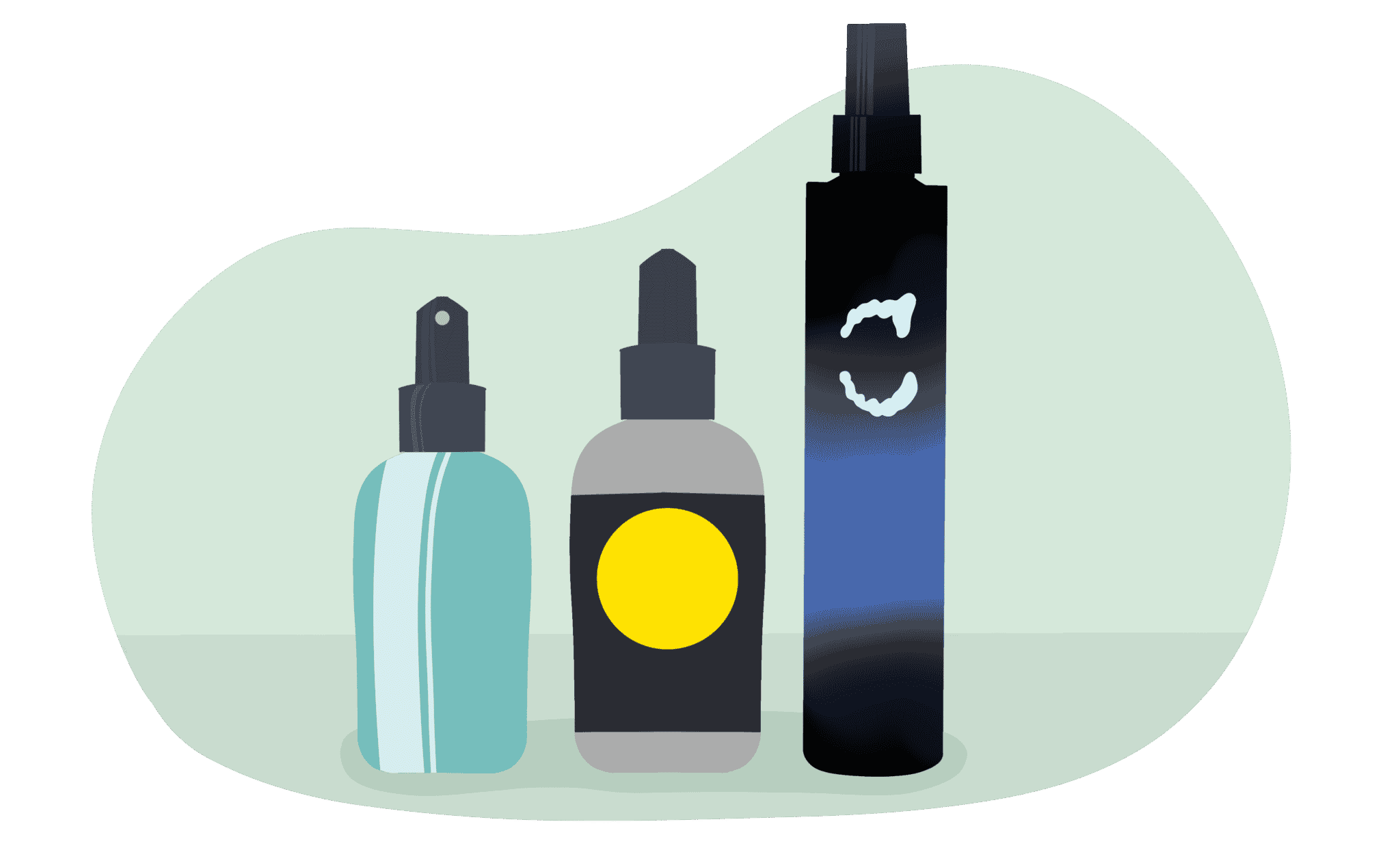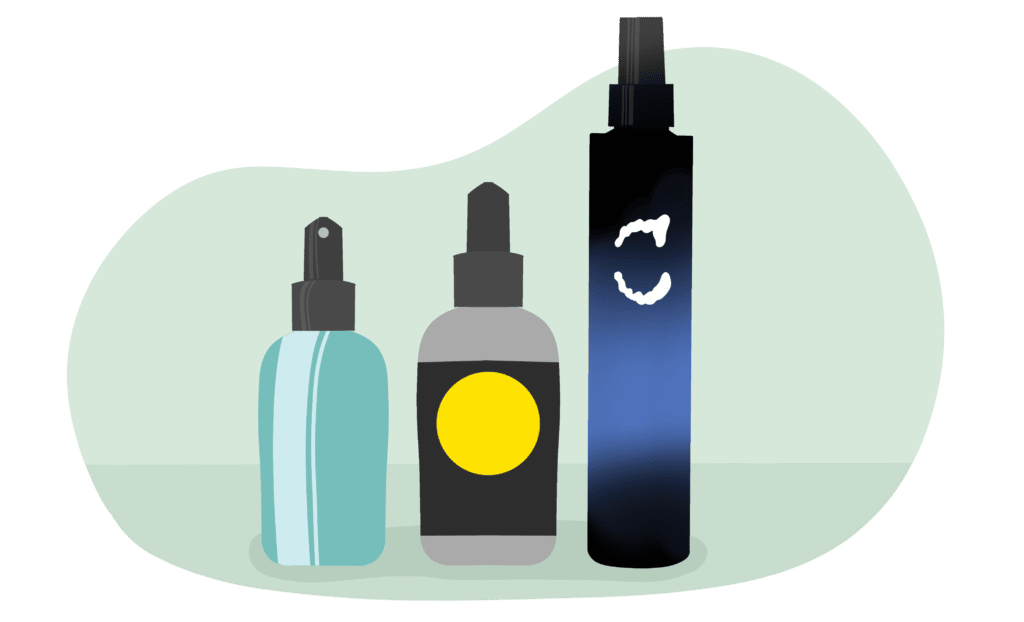 If the look you're after includes sun-bronzed skin and tousled beach waves in your hair, the best place to go is the beach. But, what if that isn't an option? There are tanning beds and spray tans for your body, but how do you achieve that piece-y, windswept, beachy hair? You could use sticky serums and waxes paired with a set of curling tongs, or you could use sea salt hair spray.
This sea salt spray brings the beach to you, making it simple to texturize your hair, leaving you with natural waves. These sprays are ideal for use on dry hair, or damp hair, making it simple to add a spritz or two into your daily hair care routine.
The downside is that not all sea salt sprays are made equal. To make it easier for you to find a sea mist spray that does the job well, we have rounded up the best Amazon has to offer and reviewed each of them.
We tried and tested various texturizing sea salt sprays from Amazon and concluded that these seven are the best for natural beachy waves. We used the approach to chat to men about what they looked for in a wavy, beachy hair spray and collected together the ones that ticked these boxes. We then reviewed each of these sea salt sprays. Our evaluation of each was based on the following criteria: the ingredients, texture offered, ease of use, and versatility.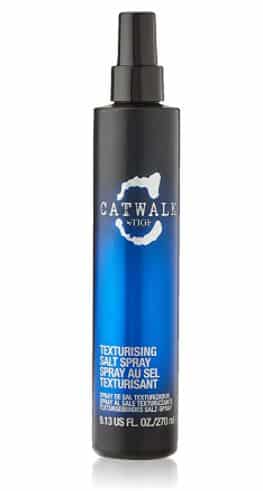 TIGI is a haircare brand founded by award-winning hairstylist Anthony Mascolo. The brand has its sights set on providing its customers with styling products that are functional, versatile, and that leave you looking like a million bucks.
Hairdressers and stylists across the globe favor TIGI products. When we saw the Catwalk Session Series Salt Spray by Tigi, we had to find out for ourselves why this brand is so well-loved.
Specs
Made with water and sodium chloride (sea salt)
Provides definition and texture
Creates body in your hair
Fights against humidity
Who is it Best for?
If you seek wavy hair that looks as though you have just walked in off the beach, then this product may be the one you need.
Tigi's Sea Salt Spray offers the same texture you gain naturally in your hair when you spend time at the beach.
We decided to try it out to see whether this was the case. This product can be used on damp hair or worked into dry hair, and we tried both. The spray worked well both ways and left us with soft waves that stayed in place for most of the day.
There was some question about how this product would leave our hair feeling. Would it be crunchy, or sticky, or even be left feeling flat and heavy? The answer to all of those was no. The spray left our hair light, full of volume, and no stickiness or crunch in sight.
Key features
TIGI makes this unique spray from a blend of water, sea salt, and a few other ingredients to ensure it doesn't leave your hair feeling tacky or smelling bad.
The spray is infused with a soft fragrance that smells light and beachy, something we enjoyed as it seemed to really bring home the sense of the beach.
This unique sea salt spray provides your hair with just the right amount of texture to style it without leaving it sticky. At the same time, it eases frizz by fighting off humidity; something natural sea air can't do. Best of all, the spray adds volume to your locks, leaving you with hair that is soft and full of life.
TIGI's spray is exceptionally well-priced, coming in at the lower end of the price scale, making it affordable. We recommend giving this spray a try for a head of natural beach waves.
Pros
Has a light, beachy smell
Can be used on color-treated hair
Cons
Doesn't work as well on people with bone-straight hair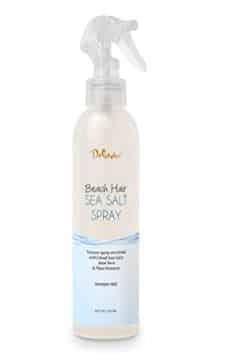 Deluvia is a brand that specializes in the production of skincare and beauty products made from unique materials sourced from the Dead Sea. Since its inception, the brand has grown exponentially, and today is one of the most-loved beauty brands across the nation.
The Sea Salt Hair Spray with Aloe Vera by Deluvia is designed to leave you with hair filled with body and texture and a soft matte finish.
Specs
Features Dead Sea salts, Aloe Vera, plant extracts, and vitamins for a matte finish
It is free from parabens
Cruelty-free formula
Leaves you with volume and beachy waves
Who is it Best for?
Deluvia's Sea Salt Hair Spray is more than just a texturizer. It comes jam-packed with multiple ingredients full of benefits so that it acts as a conditioner for your hair while leaving you looking great.
We decided to give this spray a try, and we were left impressed.
First, let's talk about the bottle. It is a large bottle, eight ounces to be precise, and it comes with a very easy-to-use spritz nozzle that makes applying the spray a cinch.
The product is fragranced with light coconut notes and a hint of warm vanilla that leaves you feeling like you have just stepped off the beach.
The spray itself is lightweight and doesn't weigh down your hair or leave you feeling sticky or greasy. Plus, it is simple to work into your hair for the look you want to achieve.
Key features
Deluvia makes this salt spray from a selection of ingredients that include salt from the Dead Sea, Aloe Vera, plant extracts, Vitamins B3, B5, A, and C. These ingredients work together to nourish your hair, leaving it soft, full of body, and beautifully textured.
Another thing we love about this product is that it is cruelty-free and free from parabens.
The spray is simple to use and should be spritzed on your hair from root to tip before scrunching sections of your hair to create texture and shape. You can then leave your hair to air dry (we recommend this method), or you can lightly blow dry your hair on the lowest setting.
This lightly fragranced hair mist won't leave your hair looking greasy but instead will deliver soft, beachy waves with a matte finish.
Pros
Has a soft coconut vanilla fragrance
The spray trigger is simple to use
You get a lot of product for the price you pay
Cons
Not everyone will enjoy the fragrance of the spray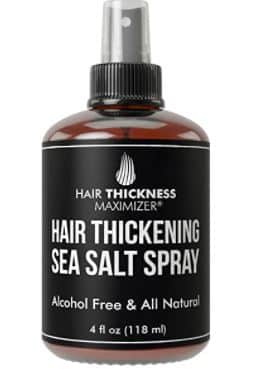 Thickness Hair Maximizer is a brand that focuses on manufacturing products aimed at assisting with thinning hair, receding hairlines, or baldness. The brand offers a range of hair treatments designed to leave you with lush, thick hair, from Biotin oils and DHT blockers to hair loss fibers.
Another product the brand offers is the Sea Salt Spray For Hair Thickening. This handy spray not only texturizes your hair but treats it to grow thicker and stronger.
Specs
Made with water, salt, magnesium chloride, biotin, and hydrolyzed keratin
Provides a matte finish
Fragrance-free
Alcohol and gluten-free
Who is it Best for?
Hair Thickness Maximizer's sea salt spray delivers a double functionality. The spray is designed to leave you with a textured, beachy look while simultaneously treating your hair to leave it fuller, thicker, and improve growth.
While made more specifically as a hair thickening agent, this sea salt spray also works wonders to provide a soft, light texture to your hair. After trying it out a few times, we found it provided the exact right amount of texture if you scrunch your hair while still wet from the product.
Hair Thickness Maximizer claims on its website that the spray is fragrance-free; however, it does carry a light scent that possibly originates from one of the ingredients used.
The application of the product is simple, as it needs only to be spritzed into your hair at the roots and worked down into the lengths of your hair before you scrunch it into the surfer style you want.
Key features
Hair Thickness Maximizer makes this unique hair mist from a blend of ingredients designed to thicken your hair and leave it with a bit of texture. Elements you can expect to find include water, salt, magnesium chloride, biotin, and hydrolyzed keratin, to name a few.
One ingredient you will not find in this formula is alcohol. This element is eliminated because it causes dryness, which, in turn, causes your hair to break and fall out.
Instead, the product leaves you with volume and texture for the beachy look you want while simultaneously nourishing your hair from the follicle to the tip. It also conditions and treats your scalp to improve the conditions for optimal hair growth.
Pros
Won't make your hair sticky or hard
Can be used on the beard too (we tried it out!)
Cons
Works more as a thickener than a texturizer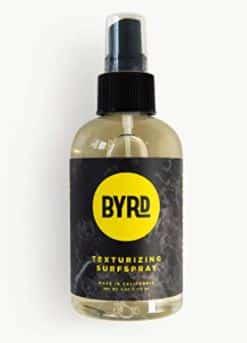 Byrd Hairdo Product is an American brand known for its punchy packaging and wide selection of styling and hair products. Byrd prides itself on using only natural ingredients in its formulae and is loved by barbers across the globe.
The Texturizing Sea Salt Surf Spray by Byrd is sold as beach hair in a bottle and will leave you with texturized, beachy waves that even surfers will envy.
Specs
Features a salty coconut fragrance
Made with sea salt, coconut water, quinoa proteins, Vitamin B5, and Sea buckthorn extract
Hydrating formula
The spray protects your hair from UV damage
Who is it Best for?
If you find yourself outdoors a lot and you are in search of a texturizing product that also protects your hair from UV damage and the elements, you may want to look closer at Byrd's Surf Spray.
This salty hair mist caught our eye (with that packaging, how could it not), and we decided to see if it provides what it says it does.
After trying the spray a few times, we found the texture it gave was impressive; however, even though it is claimed to be a hydrating mist, it left our hair a little on the dry side.
Another aspect of the spritz that we are not too sure about is the scent. It has a very strong coconut salty note to it that is rather strong on the nostrils after a while.
Key features
Byrd makes this solution from a blend of sea salt and coconut water that leaves your hair feeling textured and filled with volume and shine. Also, in the formula, you will find Vitamin B5, quinoa proteins, and sea buckthorn extract that all combine to nourish and repair your hair while protecting it from the elements and UV damage.
The product leaves your hair weightless and not at all sticky or greasy, which is a bonus.
It comes in a six-ounce bottle with a pump-action spray nozzle that is easy to use. Compared to competitors, the sea salt spray from Byrd is relatively expensive and sits somewhere in the middle of the price scale.
What left us most impressed is that the spray is free from a range of harmful substances, including parabens, sulfates, phthalates, and it is vegan friendly and cruelty-free.
It is best for use on all hair types: thick, thin, straight, long, short, and even curly hair.
Pros
It's perfect for use on all hair types 
The formula offers hydration
Cons
Features a rather strong fragrance that not everyone will appreciate
Not ideal for hairstyles that require a strong hold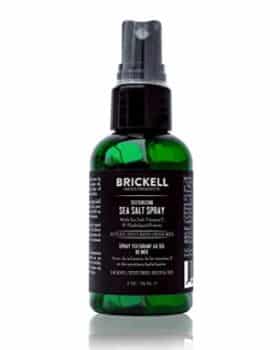 Brickell Men's Products is an American brand founded by a pair of entrepreneurs who were tired of men's skin care, shaving, and grooming products primarily made with synthetic ingredients and chemicals. The two set out to create a selection of products made from natural ingredients good for the skin and the body.
The Brickell Men's Sea Salt Texture Spray for Men is designed to provide you with a natural, textured look.
Specs
Made from a blend of water, sea salt, quinoa protein, honeysuckle extract, green tea, and argan oil
Also includes Vitamin E
Fragrance-free
Alcohol-free
Who is it Best for?
When it comes to hair products, not everyone is a fan of using those with harsh chemicals, especially if you have sensitive skin or thinning hair. Brickell Men's Products is a brand to check out if you prefer to go the natural route. Its products are all made from natural ingredients that promote wellness, this hair mist included.
We gave this all-natural product a try and were left impressed with the results. It left our hair soft, full of body, and gave us great texture. It left no film or residue behind, and it didn't weigh down our hair either.
We found the product to be a little expensive for what it offers, with the natural ingredients being the selling point where other products included moisturizing or hair thickening properties.
Key features
Brickell Men's Products formulates this hairspray from all-natural ingredients that include water, sea salt, honeysuckle extract, hydrolyzed quinoa protein, green tea powder, and argan oil, to name a few.
Because this product uses natural products only, it is free from sulfates, phthalates, parabens, petrochemicals, synthetic fragrances and colors, glycols, and TEAs. It is also free from alcohol, known to have a drying effect on the scalp, causing your hair to break and fall out. Best of all, it is cruelty-free and vegan-friendly.
The salt in this spray makes it simple to achieve the hairstyles you want without a sticky and greasy product. It helps to reinforce naturally curly hair, and it works as a texturizer for those who would like a little added beach wave.
Application is effortless, and it goes on in a matter of spritzes. All you need to do then is scrunch your hair to achieve your desired hair look.
Pros
Can be used on damp or dry hair
Doesn't leave a residue behind
Provides a nice matte finish if applied to dry hair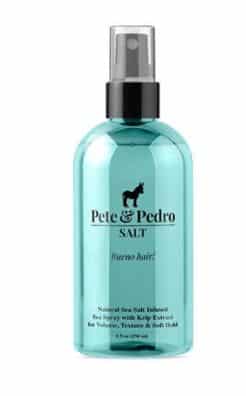 Pete and Pedro was founded due to Aaron Marino's (aka Alpha M) frustration with his inability to find a styling product that suited his needs. Aaron, a YouTube sensation, runs a channel that focuses on men's grooming and lifestyle, so if anyone understands the array of products out there, it would be him.
Marino went on to collaborate with global stylist Stephen Posta. One of the products the duo produced is the Pete and Pedro SALT – Natural Sea Salt Spray for Men.
Specs
Adds thickness, volume, and texture to your hair
Offers a light hold
Oil-absorbing pre-styler mist
Made with water, sea salt, and kelp extract
Who is it Best for?
This sea salt spray from Pete and Pedro is a versatile texturizer that also works as a pre-styler that will remove excess oil from your hair. Use it before you apply other products to your hair to prevent it from becoming limp, greasy, and dull.
We decided to give this spray a try; after all, if the investors on Shark Tank were behind the product, it must be worth trying. The hair mist is somewhat expensive for what it offers, but we found that the results it provides make it, in our opinion, well worth the cost.
This spray works really well as a pre-styler, and it leaves your hair soft and textured enough to give you a natural, beachy look.
Key features
Pete and Pedro make this sea salt hair spray from a blend of ingredients that include water, sea salt, and sea kelp. The kelp extract helps to nourish your scalp providing it with rich hydration that prevents the build-up of excess oils.
The salt provides the texture needed to style your hair lightly to leave you with that natural and windswept look that you usually find after a day on the beach.
This spray can be used with all hair types, whether it is long, short, curly, wavy, or straight. You can also use it to treat your hair before applying a firmer styling putty or gel if you want a more styled look.
The solution is paraben-free and can be used with color-treated hair.
Pros
Has a light sea salt fragrance
Can be used on hair that has been treated with hair color
Has a salty sea-air fragrance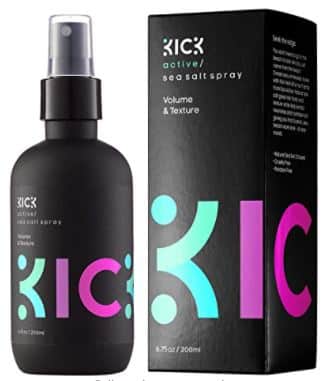 Kick Active was founded in 2018, a relatively new brand that delivers high-performance hair care solutions for individuals that lead an active life. Kick Active makes its products from natural ingredients that are free from parabens and are cruelty-free. The brand aims to make hair care simple when life gets busy.
The KICK Sea Salt Spray for Hair – Natural Texturizing Spray is one of Kick Active's products for go-getters that offers a more relaxed style.
Specs
Free from harsh chemicals, parabens, and alcohol
Use with wet or dry hair
Features UV-shield & anti-fade technology
Helps tame frizzy hair
Who is it Best for?
If you are looking for a product that will leave your hair soft, styled, and ready for anything, give this sea salt spray from Kick Active a try. This unique styling solution is designed to give your hair a boost of volume, a touch of texture, and a fun, beachy look.
Compared to competitor products, this spray is well-priced and sits in the middle of the price scale, making it an excellent option for those wanting a natural product that provides texture.
After giving this spray a try, we found that it works beautifully with curly or wavy hair, giving excellent definition to curls and waves. This product is not fantastic with longer, straight hair, though, as it only offers a very light hold.
The fragrance is light, fresh, and beachy, fitting the product perfectly.
Key features
Kick Active makes this sea salt spray from natural sea salts that revitalize the scalp, detoxifying agents that reduce hair fall, and natural sea herbs that protect your hair and scalp while moisturizing at the same time.
The formula is designed to add instant volume, body, and texture. It effortlessly leaves you with defined curls and soft, tousled beach waves. It delivers a light hold that looks natural and lends a light shine, leaving your hair looking nourished and healthy.
A fresh, ocean breeze scent conjures up the ocean, leaving those you pass by wondering if you have just spent the day at the beach.
This product can be used on damp hair after a shower or on dry hair for soft, natural waves and curls.
Pros
Doesn't leave your air feeling crunchy like a mousse would
Delivers excellent volume and texture that looks really beachy
Features a light, salty fragrance
Cons
Made for use with wavy hair only
Not for people looking for a salt-free spray
Things to Consider When Buying Sea Salt Spray
1. Ingredients
When buying your sea salt hair spray, you may want to consider the ingredients used to formulate the product. Some are made with all-natural ingredients and are free from parabens, sulfates, phthalates, and alcohol. Then others come fragranced, colored, or made to offer additional features that may require chemical additives.
You need to think about what will work best with your skin and hair type.
2. Additional Features
Some sea salt hair sprays offer just that one function, and they do it well. Others may provide a few different uses. Think about whether you want your hair spray to provide any additional features such as:
Hair thickening
Working as a pre-styler
Nourishing and moisturizing
UV protection and anti-fade technology
Excess oil absorption
Frizz management
When looking for the best sea salt hair spray, there are several things to consider. Giving thought to the brand, versatility, the ingredients used, hold, and quality will all put you a step closer to finding the hairspray that most suits your needs.
By closely examining and testing each of the sea salt hair sprays in this review, we concluded that they each meet the criteria discussed above, making it more simple to find the best sea salt spray to achieve natural-looking beachy waves.