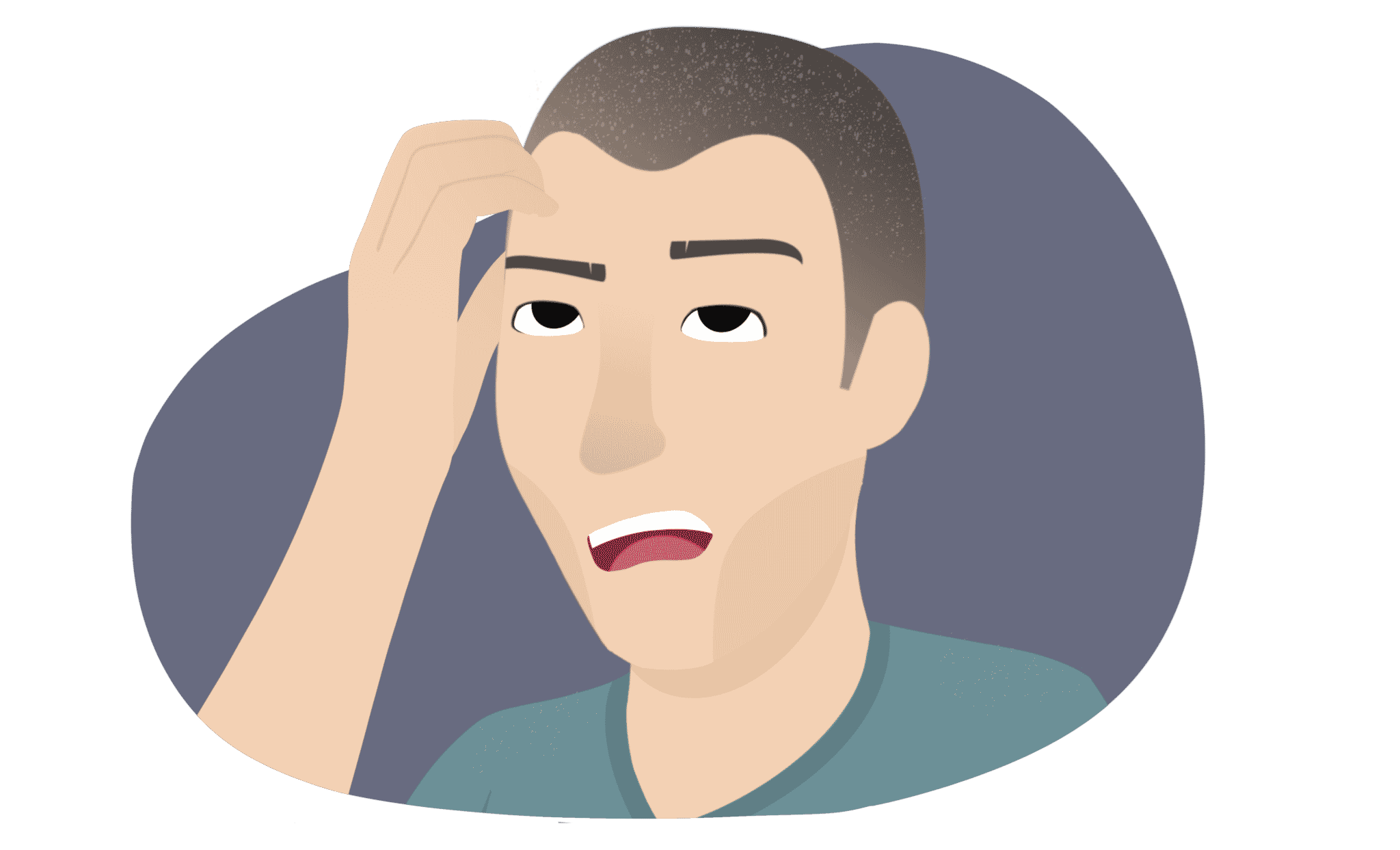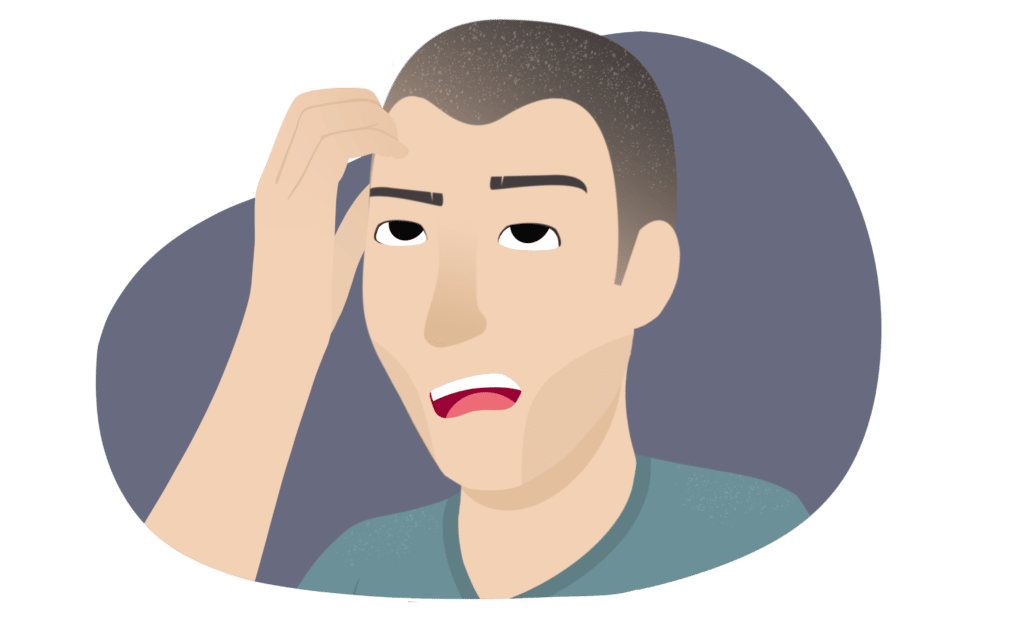 Seborrheic Dermatitis is a skin condition that is more common than you may think. The condition mainly affects the scalp and results in symptoms like red skin, itchiness, flaking skin, an itchy scalp, and greasy, scaly skin patches. Seborrheic Dermatitis causes extreme discomfort and can be challenging to live with.
It is theorized that Seborrheic Dermatitis results from an irregular immune reaction or caused by a yeast called Malassezia. To treat this condition, a dermatologist will prescribe a treatment, one of which is Seborrheic Dermatitis Shampoo, used for treating the scalp.
There are many shampoos targeted at treating Seborrheic Dermatitis. Finding the right one becomes a challenge because they are not all made equally. To make it simpler for you to find a high-quality shampoo that provides results, we have gathered together the best Seborrheic Dermatitis shampoo that Amazon has to offer and reviewed each of them.
Best Seborrheic Dermatitis Shampoo
We tried and tested many of the Seborrheic Dermatitis shampoos Amazon has to offer and concluded that these each were the best shampoos worth sharing with you. Our approach was to find the scalp treatment options that met our research criteria showed a Seborrheic Dermatitis shampoo would offer. We then took the time and reviewed each product allowing us to formulate an evaluation based on these factors: price, ease of use, and efficacy.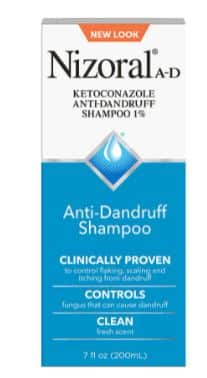 If you are looking for a topical treatment to assist with flaking, itching, and scaling associated with dandruff, Nizoral Anti-Dandruff Shampoo makes an excellent choice.
According to their website, Nizoral A-D Anti-Dandruff Shampoo is the only over-the-counter dandruff shampoo containing Ketoconazole and is clinically proven to provide the results you want.
Specs
Formulated for use on color treated , chemically processed, and gray hair
Active ingredient – Ketoconazole
Clinically proven efficacy
Offers a fresh, clean scent
Who is it Best for?
If you are battling with a dry scalp, itching, dandruff, or hair loss because of dandruff, Nizoral offers an effective solution. The 1% Ketoconazole effectively fights dandruff and eradicating scalp fungus, which is the primary cause of dandruff.
The product claims to start working from the first use, with many people agreeing that the effects were visible after the first wash. I saw visible results after around the third wash.
Another thing you may want to bear in mind is that while the shampoo may help with hair loss that results from having dandruff, it can also have the opposite effect. In my case, it increased my hair shedding, while my colleague experienced quite the opposite and began regrowing hair in some of the areas of hair loss.
Key features
Nizoral is designed to help alleviate a dry, itchy scalp and the flakey patches of the scalp associated with dandruff. It is safe to use on hair that is grey, has been color-treated, or is chemically treated.
The shampoo works into a lather that is creamy and rich. It rinses out to leave your hair clean, clear, and smelling fresh. I particularly appreciated the fragrance of the product as walking around smelling medicinal causes more stares and questions.
Another aspect of this shampoo that impressed me is that it doesn't dry out your hair as some of these products are known to do. It is advised by the manufacturers only to use the shampoo two to three times a week to also prevent your hair from becoming dry. Nizoral is relatively pricey, but it works, making it worth the price. If you can afford it without breaking the bank, it is certainly worth a try.
Pros
The effects become clear relatively quickly
Cons
The shampoo is relatively costly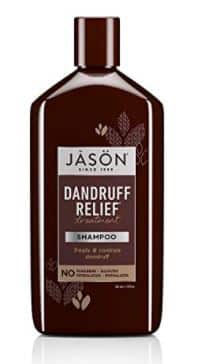 Jason offers a unique treatment for dandruff and for the maintenance of your scalp after that. Jason, which means "healer" in Greek, has been around for over 60 years and prides itself on using natural ingredients free from harmful substances and that use cruelty-free production and testing methods.
The Jason Dandruff Relief Treatment Shampoo is one of the brand's natural products and promises relief from dandruff, seborrheic dermatitis, and itching.
Specs
Free from parabens, phthalates, sulfates, and petrolatum
Designed to treat and control dandruff
Active ingredients include sulphate and salicylic acid
Includes essential oils including olive, jojoba, and rosemary
Who is it Best for?
If you're not a fan of products that are packed to bursting with chemicals and parabens, then this shampoo is worth a closer look. Jason uses a formula free from parabens, phthalates, sulfates, and petrolatum. You also won't find GMOs, animal by-products, or artificial colorants in this shampoo.
According to its website, Jason states that this shampoo is most effective when used two to three times weekly, which we then did. The results were evident after a week of using the shampoo, which was great.
What wasn't fantastic was that to clean your hair, you have to re-apply and lather, then rinse your hair with the shampoo three or four times before your hair is actually clean. Our advice, wash your hair with regular shampoo first and then go back and rewash it with the Jason antidandruff shampoo, especially if you battle with greasy hair.
Key features
Jason creates this shampoo with key active ingredients sulfur and Salicylic Acid. Salicylic Acid is the best treatment for removing sebum caused by a build-up of yeast on your scalp.
Also included in this natural shampoo are three essential oils: olive, jojoba, and rosemary, which soothe and cleanse the scalp.
The shampoo is made to reduce itching, flaking, and scaling of the scalp due to dandruff. It is also used to treat Seborrheic Dermatitis.
Jason's shampoo does have a somewhat creamy consistency and works more like a conditioner than shampoo. The consistency of the formula is quite thick, and at times it was hard to get out of the bottle. It also carries a reasonably medicinal fragrance that smells similar to eucalyptus.
Pros
The shampoo shows results within the first week of use
It is free from parabens and is cruelty-free
This formula leaves your hair feeling soft and clean
Cons
It is relatively thick and difficult to get out of the container
The shampoo works better as an after-treatment rather than a standalone shampoo
It has quite a medicinal fragrance to it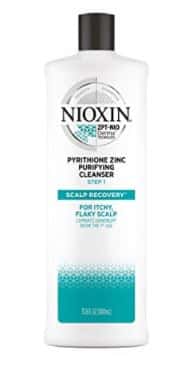 Nioxin is a brand that focuses on creating hair care solutions for thinning hair and scalp treatment. The Institute of Trichologists endorses the brand, and so you can be sure that the system does exactly as it promises.
The Nioxin Scalp Recovery System for Itchy, Flaky Scalp, Anti-Dandruff Shampoo comes as a three-fold set that includes a cleanser, a conditioner a serum, each aimed at alleviating the signs and symptoms of dandruff and Seborrheic Dermatitis.
Specs
Ideal for all hair types
Active ingredients – Pyrithione Zinc and green tea extract
Designed to moisturize and nourish the scalp
Relieves itching while combating dandruff and flakey skin
Who is it Best for?
This three-part system is designed to soothe your scalp while nourishing it, clearing away dandruff, and alleviating itchiness.
We used this treatment for a few weeks and found it showing results around the three-week mark. It worked well to remove the dry flakes and stop the itching, and I found my scalp to feel quite moisturized.
What isn't great about this set, though, is it is pretty expensive. Under any other circumstances, I may not have been quite so willing to spend my money on a product that maybe didn't provide the results I had hoped for; luckily, the results were impressive and well worth the cost.
Key features
Nioxin manufactures this shampoo with pyrithione zinc. This ingredient is one of the most favored for use in dandruff shampoos because most skin types tolerate it, and it is more readily available.
Pyrithione zinc is also used to treat psoriasis and eczema and works efficiently without harming the skin further.
What left me impressed here is that the shampoo is lightly scented and doesn't leave you smelling as though you are using a therapeutic shampoo.
The downside to this haircare range is that it isn't ideal for use on hair that has been color-treated, and it offers no UV protection.
On the upside, it is excellent for moisturizing and works effectively to prevent itching and dryness.
Pros
It comes with a soft, fresh scent
The shampoo is an excellent moisturizer for the scalp
It is an ideal shampoo for eczema and psoriasis
Cons
The shampoo offers no UV protection and I not ideal for hair that has been colored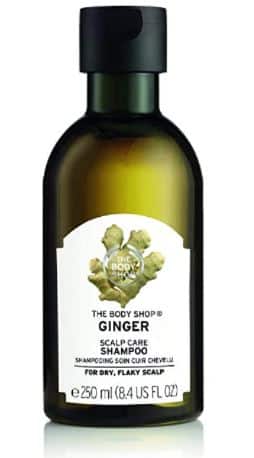 The Body Shop was founded in 1976 and since then has been providing us, the customer, with innovative products made from natural ingredients that are 100% vegetarian and cruelty-free.
It was The Body Shop Ginger Scalp Care Shampoo that caught our eye with its natural ingredients and claims to be soothing and gentle on the skin.
Specs
Active ingredients – ginger essential oil and Community Trade honey
Free from parabens and gluten
Cleanses and removes dandruff flake
Infused with birch bark, white willow extracts
Who is it Best for?
If you're looking for a natural shampoo designed to free your scalp of flakes, this offering from The Body Shop is an ideal place to start. It comes with a selection of natural ingredients, including birch bark and white willow extracts, which help prevent hair loss and work as anti-inflammatory agents.
The shampoo is simple to use and requires the usual hair washing system of wetting the hair, shampooing, and then rinsing. You will find that the shampoo offers a strong ginger fragrance, so if you like ginger; chances are you'll love this!
I found, after a few weeks of use, that the shampoo had an effect. My flaking was less and my scalp no longer itched. Best of all, my hair no longer felt as oily as quickly. If you are looking for a replacement for the usual ketoconazole shampoo, then I highly recommend this one.
Key features
The Body Shop uses two key active ingredients in this formula: ginger essential oil from Sri Lanka and Ethiopian honey that is ethically sourced from the Unesco Sheka Forest Biosphere Reserve. The ginger promotes circulation in the scalp, which in turn promotes growth and nourishes the skin cells. The honey soothes and is used to moisturize your scalp and hair strands.
This unique blend of natural products refreshes cleanses, moisturizes, and prevents flaking and itching. Compared to competitor shampoos, The Body Shop's Ginger Shampoo is priced a little higher, but you can be sure of its efficacy and all-natural ingredients. Overall this shampoo fared well against others tested it left my hair smelling great, and it didn't dry out my scalp further the way tea tree oil products often do.
Pros
It comes with a refreshing ginger fragrance
The shampoo does a great job of nourishing your scalp
It is just as effective as other shampoos on the market
Cons
The shampoo is relatively pricy
If you don't enjoy the scent of ginger this one is not for you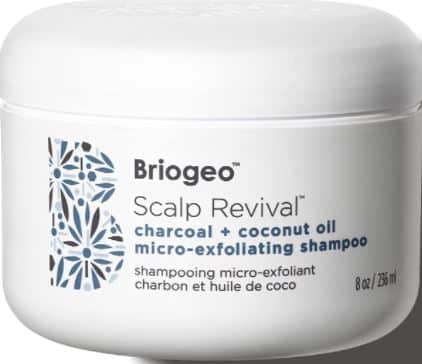 Briogeo is a haircare brand based in New York. The brand specializes in a collection of hair treatment products designed to offer natural solutions to everyday problems.
Briogeo Scalp Revival Charcoal and Coconut Oil Micro-Exfoliating Shampoo come as shampoo that doubles as a scrub with exfoliating properties that help remove dandruff, dry skin flakes, and sebum. Made with natural ingredients and cruelty-free, this shampoo is worth a try.
Specs
Free from parabens, phthalates, sulfates, silicones,DEAs, and artificial dyes
Includes vegetable-derived micro-exfoliators to remove sebum build-up and dry skin cells
Active ingredient – Binchotan Charcoal
Offers a fresh coconut and peppermint scent
Who is it Best for?
If you are looking for a natural way to remove excess sebum and rid your scalp of dry skin and dandruff, this exfoliating shampoo by Briogeo is an excellent option. It is naturally formulated and contains a selection of ingredients such as charcoal, coconut oil, peppermint, and spearmint oil to soothe, cleanse, and protect your scalp.
The shampoo is designed for use by people of all hair types and is simple to use.
If you prefer a hair care regimen that is cruelty-free and vegan, then this one is for you. The products are not tested on animals and contain no animal by-products. It is also free from harmful chemicals such as phthalates, parabens, and artificial colorants that are harsh for sensitive skin.
Key features
Designed for people who suffer from Seborrheic Dermatitis, dandruff, or a dry, itching scalp, this unique exfoliating shampoo promises results after just two uses. I was skeptical about giving this shampoo a try, concerned about adding grit to my scalp and whether it would work or leave my hair and scalp worse than when I started.
I'm glad I did try it. I saw results after just one wash, and best of all, it left no granules on my scalp. The shampoo leaves a refreshing coconut and peppermint scent too, which people complimented me on.
The shampoo is formulated with a few unique ingredients. Binchotan charcoal draws impurities from the scalp. Vegetable-derived micro-exfoliators work to gently remove sebaceous build-up and dry flakey skin from the scalp. Peppermint and spearmint oils soothe the itching, and tea tree oil works as an antifungal and antimicrobial. The coconut oil moisturizes the scalp, leaving it soft and supple.
Pros
The shampoo doesn't leave granules trapped in your hair or on your scalp
The fragrance is soothing and revitalizing
It leaves your hair clean, dandruff-free, and very shiny
Cons
The shampoo is relatively pricey
Not everyone will enjoy the granular formation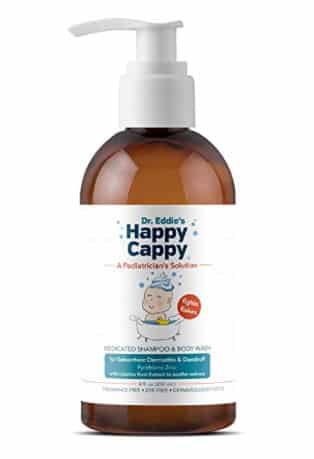 Dr. Eddie's Happy Cappy is a brand that focuses on formulating products for children that suffer from eczema, cradle cap, dandruff, and Seborrheic Dermatitis. Created by a pediatrician, pediatricians, or dermatology professionals often recommend the brand to treat children with skin conditions.
Dr. Eddie's Happy Cappy Medicated Shampoo for Children is ideal for children of all ages. If you are looking for an effective treatment for red, itching scalps, or dandruff, give this shampoo a try.
Specs
Fragrance-free
Active ingredient – Pyrithione zinc
Made for children with Seborrheic Dermatitis, Cradle Cap, and dandruff
Designed as a shampoo and body wash
Who is it Best for?
This unique shampoo is made for children of all ages. It is designed for sensitive skin, is fragrance-free. The brand creates this shampoo to be free from parabens, phthalates, sulfates, and artificial dyes.
This hypoallergenic shampoo is also designed to be a body wash that effectively treats eczema. This dual product makes life simple when treating your little one's scalp and skin; by combining two products, now you don't need to spend money on body wash and shampoo because this formula offers both.
We gave this medicated shampoo a try and found it to be a creamy white substance that works up a rich lather. While this is ideal for an adult, the lather was pretty challenging to wash out of a little one's hair.
Another aspect to keep in mind is that this product is not tear-free, so it is important to keep it away from your child's eyes.
Key features
Dr. Eddie's Happy Cappy uses Pyrithione zinc as the key ingredient. This element is one of the most effective and commonly used ingredients in anti-dandruff shampoos because it offers no known side effects and is gentle on the skin. Licorice root extract is included in the shampoo to help soothe red, irritated skin.
While designed for children, this vegan shampoo is also great for use by adults. According to Dr. Eddie's Happy Cappy website, you should see results after one to two weeks of use, while more severe cases may take a little longer to show results. The website also suggests leaving the shampoo on the scalp for one to two minutes before rinsing it off when there is severe build-up on the scalp.
Because Happy Cappy uses zinc as an antifungal, it is also ideal for treating Malassezia fungal infections on the skin. This particular form of fungus is resistant to most other antifungals except for zinc.
Pros
It works as an excellent antifungal for Malassezia
The product shows results fairly quickly
The cruelty-free formulation is ideal for vegans
Cons
The shampoo will burn your eyes
Things to Consider When Buying Seborrheic Dermatitis Shampoo
1. Ingredients
Some of the most common ingredients found in over-the-counter dandruff shampoos include:
This is the most common ingredient used as it throws up no side effects. You can find it in products such as Head & Shoulders and Dr. Eddie's Happy Cappy.
This ingredient works as an antifungal that fights yeast that grows on the scalp, causing Seborrheic Dermatitis and dandruff. It is more potent than Pyrithione zinc and can burn your eyes. You can find this ingredient in products such as Selsun Blue.
This antifungal is more wide-reaching in terms of the conditions it treats. It is often used in the treatment of Athlete's Foot, acne, and ringworm. It is not effective in treating Malassezia. You can find it in shampoos such as Nizoral A-D.
This is another antifungal used frequently in products such as Neutrogena T/Gel and DHS Tar. It causes the shedding of dead skin cells and promotes the regeneration of new, healthy skin cells.
This ingredient is most effective for removing sebum build-up and patches of dry, flakey skin, allowing for new healthy skin cells. You can find this ingredient in products such as Neutrogena T/Sal.
2. Alternative Treatments
A few alternative ingredients that you can use to treat Seborrheic Dermatitis are those of natural origins that help soothe irritation and moisturize the scalp. Some of these include:
Tea Tree Oil
Fish Oil Supplements
Honey
Aloe Vera
We have found that various substances and forms of treatments offer remarkable results through our research, trying, and testing of each of these Seborrheic Dermatitis shampoos.
It is important to give thought to how quickly you want to see results, the type of application, how severe your symptoms are, and whether you are okay with using a chemical-based solution or prefer a more natural route. Taking this into account, along with our reviews, will help you pinpoint the right solution for your needs.