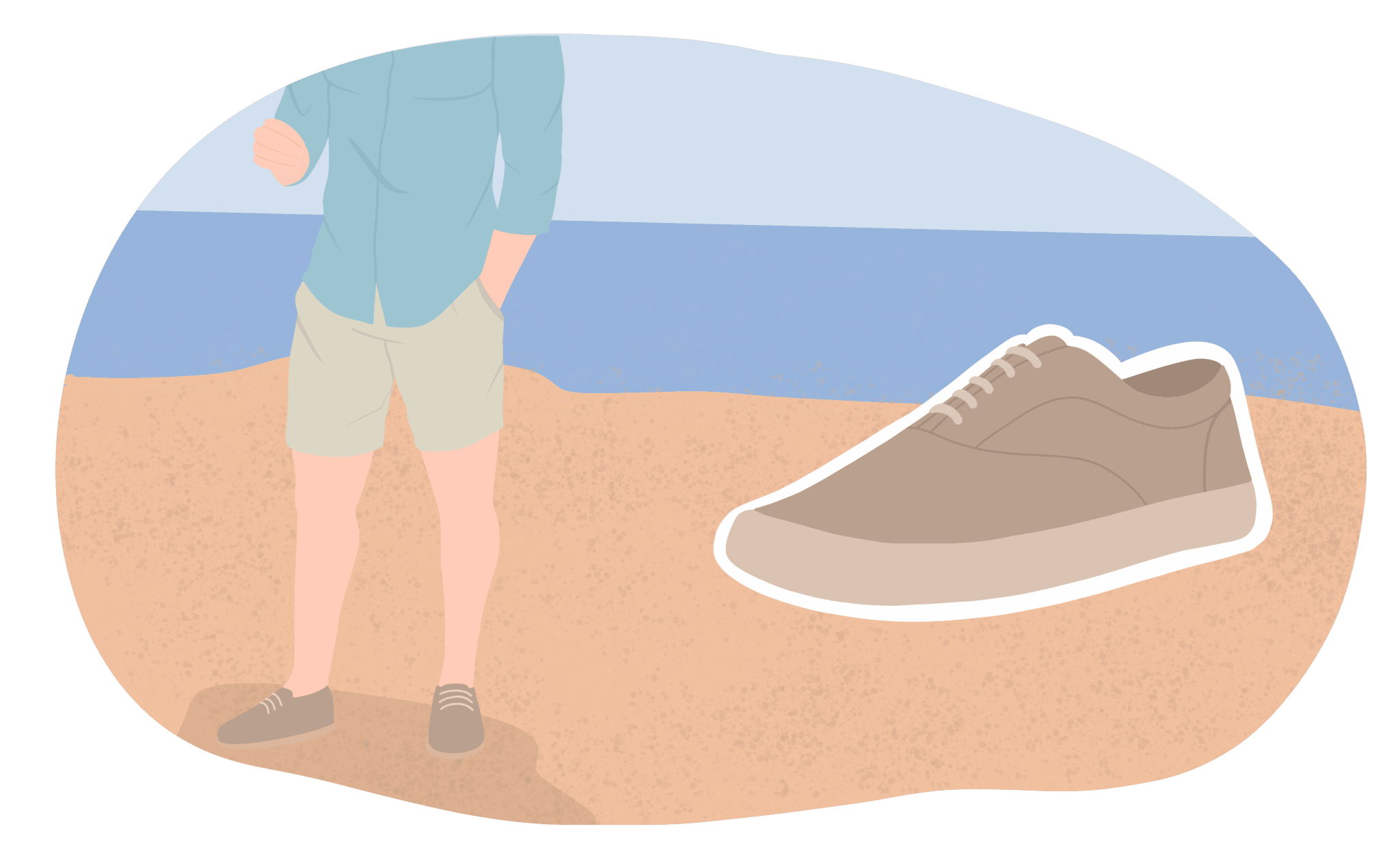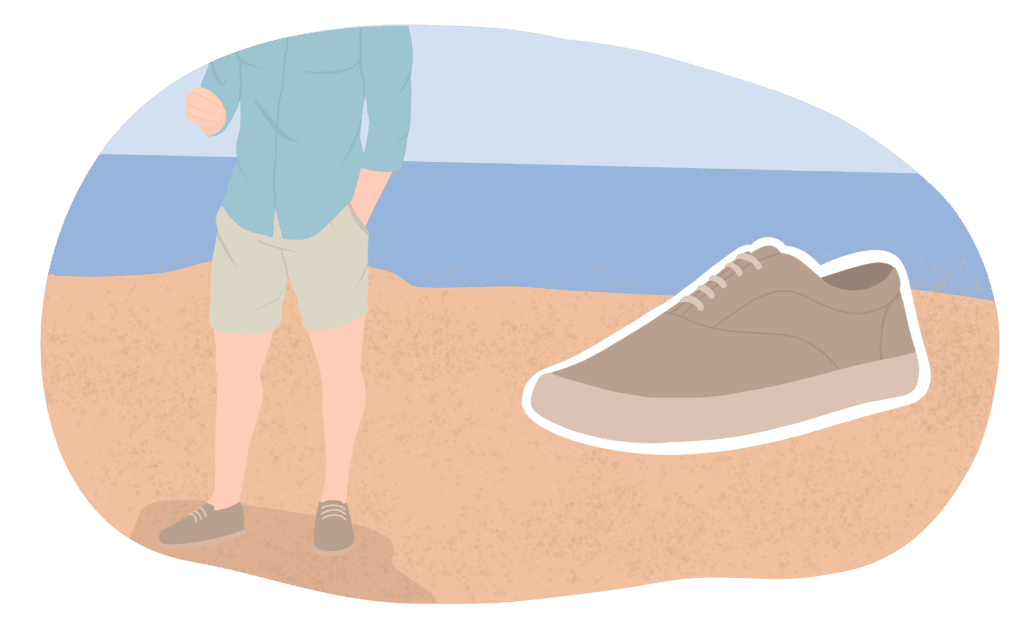 Summer means time spent outdoors, relaxing, picnicking, taking a stroll through the park, or heading out to the beach. It also means a whole new plethora of footwear, from sandals and sneakers to flip-flops and walking shoes. When it comes to the perfect summer footwear, there is a host of different styles from which to choose.
The ideal shoe is breathable, lightweight, and comfortable to wear as you step into summer. A far cry from the heavy fur-lined snow boots, summer sandals, and sneakers are designed to keep your feet cool and comfortable no matter how hot it gets out there.
Unfortunately, not all summer footwear is made equal. We have gathered together the best summer sandals to make it less challenging for you to find the perfect shoes, whether you are looking on Nordstrom.com or Amazon. We then reviewed each of these shoes so you can quickly and easily find the pair that best suits your needs.
We tried and tested multiple summer shoe styles from Amazon and concluded that these eight are the best shoes for wearing on a hot, sunny day. We used the approach to chat to men about what they looked for in a high-quality pair of footwear and collected together the ones that ticked these boxes. We then reviewed each of them. Our evaluation of each was based on the following criteria: the comfort the shoes offer, breathability, style, functionality, and durability.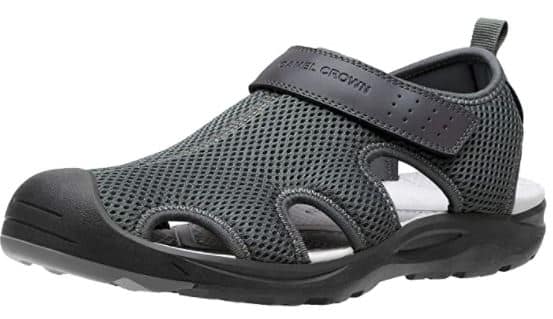 Camel Crown is an American brand that was founded in 2005. Although a relatively new brand on the block, Camel Crown has fast become one of the world's most-loved suppliers and designers of clothes, shoes, and accessories for outdoor wear. Whether you are a runner, a hiker, or a backpacker, Camel Crown has apparel you will love.
The CAMEL CROWN Men's Mesh Hiking Sandals are easily one of the brand's bestsellers, a popular shoe with men who love the outdoors.
Specs
Fast-drying mesh upper
EVA foam midsole
Adjustable velcro straps
Durable rubber outsole
Who is it Best for?
While not the most elegant-looking shoe, these sandals from Camel Crown make up for their functionality and comfort what they lack in style. These summer sandals are designed for wear on the beach, park, or for casual walks around the neighborhood.
Camel Crown offers these shoes in either black or dark grey, so they are sure to blend well with most summer outfits you own. However, if you're looking for a more fashionable sandal, these are not them.
We tested them out despite their lack of style and found them to be exceptionally comfortable. The shoes are a little narrow in their shape, so if you have wider feet, buying one size up may be your best bet. However, overall these shoes are lightweight, simple to put on, and comfortable to wear for extended periods of time.
Key features
When it comes to features, these shoes offer plenty. The upper is made from a lightweight and fast-drying mesh that moves with your foot for exceptional comfort. The design of the upper features a closed toe yet offers cutouts for additional breathability. The gaps allow air to circulate your feet, preventing overheating, sweating, and odors.
An EVA foam midsole provides impressive comfort and shock absorption, making them ideal for walking outdoors and on uneven terrain. Another feature that adds to this functionality is the durable rubber outsole; while thick enough to last for years to come, it also provides remarkable flexibility that makes it easy to walk long distances.
The velcro straps allow for a personalized fit, ensuring the shoe fits you accurately and to your liking.
Pros
These are exceptionally comfortable
The velcro straps make them quick and easy to fasten in place
Cons
Not the most stylish shoes on the market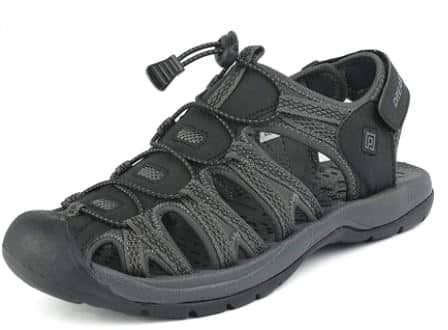 Dream Pairs is a shoe brand dedicated to bringing its customers footwear that offers the true essence of American style. A refreshing blend of modern vibes interwoven with retro feels and tied together with high-quality materials and expert craftsmanship, Dream Pairs knows how to make the perfect shoe.
A prime example of the brand's functional footwear is the DREAM PAIRS Men's Adventurous Summer Outdoor Sandals, designed for men who love a good adventure.
Specs
Cushioned EVA footbed
Rubber outsole
Breathable man-made upper
Lightweight, flexible design
Who is it Best for?
If you love going fishing or hitting the beach and you need a pair of outdoor shoes that complement these activities, and you may have found them. They make these outdoor sandals from Dream Pairs for wear in warm weather, outdoors, and wet conditions.
The design offers maximum protection and flexibility while also offering breathability and comfort, everything you need from a summer shoe.
If you have narrow feet, you will find these to be most comfortable, as we did. However, those with broader feet may find the toe box a little crowded and that your baby toe finds its way out of one of the gaps near the top. The grip on these shoes is also lacking, which is a pity because they dry quickly and are great for wear by anglers and beachgoers.
Key features
Dream Pairs makes these shoes with a durable rubber sole that offers maximum flexibility and shock absorption, ideal for outdoor wear. The rubber is sturdy and durable, too, so you can be sure the soles won't wear out after only a few wears.
The midsole and footbed are made from lightweight and highly cushioned EVA that adds comfort to the design of the shoe. This cushioning absorbs shock, protecting your feet and knees while providing comfy support for your feet.
The uppers are made from synthetic textiles and feature a unique system of elasticated laces that tighten with a toggle. The backstrap of the shoe tightens and secures with velcro, which allows you to fit the shoes to your feet with ease. Gaps in this upper offer breathability that keeps your feet cool and comfortable and free from sweat and odor.
Pros
They are comfortable enough for wear over long periods
The flexibility makes them ideal for hiking
They come in an assortment of shades
Cons
The gap at the top does not line up well with your baby toes and may cause them to poke out
The grip is not what it could be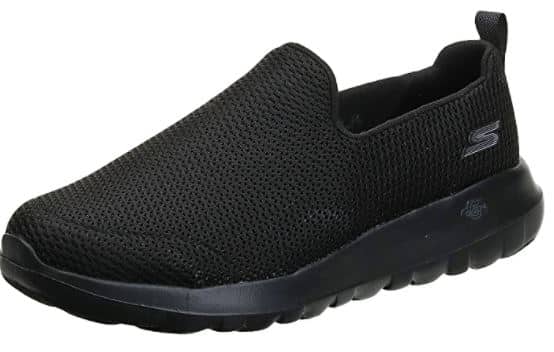 Skechers is the third-largest sports footwear brand in the United States and is loved across the globe for its fashionable and expertly crafted designs. If you love the outdoors and spending time doing activities that call for a pair of shoes that offer a little more of a robust design, chances are you've owned a pair of Skechers, and, if you haven't, then now is an excellent time to give them a try.
The Skechers Men's Go Max-Athletic Air Mesh Slip-on Walking Shoe makes an excellent choice and is perfect for walking or outdoor wear.
Specs
Features a lightweight mesh upper
Includes a well-cushioned Skechers GOwalk Max midsole and outsole
Comes with a Goga Max Technology insole for rebound cushioning
Lightweight design
Who is it Best for?
If you enjoy a light walk, spend time fishing on the beach or at the lakeside, or just want a comfy pair of shoes for outdoor wear, you may want to give these slip-on shoes from Skechers a try.
After trying these out for a few weeks, we can attest to one thing – these are the most comfortable shoes you will find this summer. While they may not look like anything to write home about, their minimalist design makes them simple to pair with just about any outfit. But, it is the comfort they provide that left us impressed. Whether you find yourself standing a lot throughout the day while you fish or walking over uneven terrain, these shoes will keep your feet well-cushioned and free from blisters, fatigue, and discomfort.
Key features
Skechers uses a host of proprietary features that work together to leave us with a shoe that is easily the most comfortable shoe you will find all summer. In addition, the slip-on design makes them simple to pull on and off at a moment's notice, making these shoes convenient.
The 5GEN sole is made from a proprietary injection-molded compound that is lightweight and offers superior shock absorption. In addition, the midsole is made from Skechers GOwalk Max that provides your feet with superior cushioning and support, making them perfect for wear over long periods.
An insole made from Skecher's Goga Max technology offers maximum support and offers rebound cushioning with responsive feedback that absorbs the shock but won't deplete your energy.
The woven mesh upper is breathable and lightweight, making the shoes perfect for wearing outdoors and in the heat.
Pros
These shoes are exceptionally comfortable
They offer impressive support
The design is ideal for those with wider feet
Cons
They could be a little more fashionable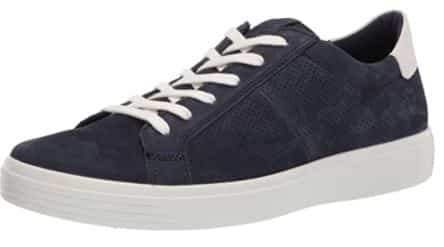 ECCO is a Danish shoe brand founded in 1963. Starting out with footwear production only, the brand soon expanded to include leather production and the design and manufacture of accessories. As a result, ECCO is known today for its wide selection of footwear, from penny loafers and ballet flats to platform sandals and even hiking footwear.
It was the ECCO Men's Soft Classic Summer Perforated Sneaker that caught our eye with its leather upper and impressive style; this was one pair of sneakers we had to try.
Specs
Features a nubuck upper
Lace-up closure
Includes an ECCO FLUIDFORM Direct Comfort Technology sole
Comes with a removable molded insole
Who is it Best for?
Men looking for a soft, comfortable sneaker to wear in summer that can be dressed up or down with ease will find themselves impressed with these shoes from ECCO. These stylish sneakers pair well with jeans and a white t-shirt or a pair of shorts and a vest making them the perfect addition to any summer wardrobe.
Similar in price to a pair of Nike or Converse sneakers, these leather shoes are worth adding to your summer dress closet.
We gave them a try and found them to offer the perfect sizing and fit and unrivaled style and comfort. In addition, ECCO offers these shoes in three colors, camel, navy, and warm grey, making it simple to find the pair that best suits your wardrobe.
Key features
ECCO makes these sneakers with a unique perforated upper. The perforations provide two-fold functionality. Firstly, they add to the design and style of the shoes adding a subtle design element. However, they also add breathability, allowing air to circulate your feet, keeping them cool, and preventing sweating and the odors that accompany it.
The lace-up closure makes it simple to fasten the shoe to your liking while making it easy to slip the sneakers on and off your feet. In addition, a full-grain leather patch at the back of the shoes also adds to the style while adding further durability to the sneakers.
ECCO Fluidform Direct Comfort Technology is used to create the sole of these shoes. This proprietary technology leaves you with shoes that absorb shock while providing exceptional cushioning and comfort, making wearing these shoes all day enjoyable.
Pros
The sneakers are remarkably comfortable
The color offerings are versatile
The breathability of the shoes adds to the level of comfort they offer
Cons
Not ideal for fishing or wear at the beach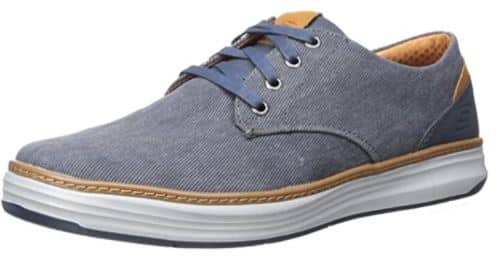 Skechers is a footwear brand best known for its athletic shoes, and since it is the third-largest producer of athletic shoes in the US, this is not surprising. However, Skechers makes an impressive fashion sneaker too. The style, design, high-quality materials, and expert craftsmanship make Skechers shoes sought-after across the globe.
If you're looking for a stylish sneaker that pairs well with shorts or chinos, you may want to try out the Skechers Men's Moreno Canvas Oxford Shoe.
Specs
Comes with a canvas upper
Includes a durable rubber sole
Sees a Goga Mat arch
Features an air-cooled memory foam insole
Who is it Best for?
If you're looking for a set of sneakers that wear well as dress shoes to add to your summer wardrobe, these make an excellent option. They feature a unique style that can be dressed up or down, making them a versatile addition to any closet.
We gave these shoes a try after seeing how well-priced they were as we wanted to find out whether they offer durability and comfort synonymous with the brand.
Needless to say, we were left well impressed. The sneakers provide a roomy toe box and feature a design that is comfortable for those with wider feet. The inner of the shoe offers excellent cushioning too, the only downside is that there is no cushioning at the heel, which left us with a blister or two.
Key features
Skechers makes these stylish sneakers in six unique color options that, while are not brightly colored, come in an assortment of shades. These pair well with just about any other color you can think of, so you know they will fit in well with your existing wardrobe, whichever color you opt for.
The upper of the shoe is made from a breathable canvas that allows air to circulate your foot. This breathability prevents your feet from overheating, sweating, and producing odors.
A Goga Mat arch and memory foam insole offers exceptional cushioning and comfort that makes it a breeze to wear these shoes all day long.
The durable rubber sole provides the wearer with grip and traction, making it safe to wear these shoes even on high-shine or slippery surfaces.
Pros
The insole is soft and offers excellent cushioning
They are ideal for people with broad feet
Cons
The heel area could be improved on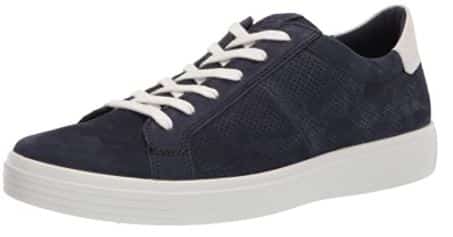 A Danish shoe brand founded in 1963 by a young shoemaker saw the humble beginnings of ECCO, a shoe and leather goods manufacturer that today is loved across the globe.
ECCO is known for its stylish and ever-fashionable designs when it comes to footwear and leather accessories. One such pair of footwear that caught our eye is the ECCO Men's Soft Classic Summer Perforated Sneakers. These shoes are the epitome of style, but we wanted to know whether they offered the same level of comfort too.
Specs
Nubuck leather upper
Durable rubber sole
Features ECCO FLUIDFORM Direct Comfort Technology
Comes with a removable molded insole
Who is it Best for?
If you're looking for a pair of shoes that provide comfort, style, and support, then a couple of sneakers from ECCO may be precisely what you need. While these are not ideal for wear as athletic shoes or even on the beach or in water, they are the perfect way to dress up your summer wardrobe.
These sneakers provide maximum coverage and more protection than a pair of strappy Birkenstock sandals, and they're much cheaper too. These shoes had us hooked between the price and the style, and we wanted to see if the comfort they offered matched.
We wore them around town and found the comfort they offer to be exceptional. While perhaps not ideal for those with broader feet, these sneakers are undoubtedly the perfect footwear to pair with jeans and a t-shirt for a day of fun in the sun.
Key features
ECCO makes these sneakers with a nubuck leather upper that comes straight from the brand's very own tannery. These leather uppers are durable and soft while still providing the support needed to prevent your feet from feeling fatigued after hours of wear.
Part of the design of the upper is a series of small perforations that create a unique pattern on the shoe. However, these perforations serve more than as a simple design element; they add breathability too. This allows air to circulate through the shoe, keeping your feet cool and sweat-free.
The insole of the shoe is molded and provides exceptional cushioning; however, if you would instead use your own medical orthotics, you can, as these insoles are easily removable.
Pros
These shoes are flexible and prevent foot fatigue
Cons
These shoes may be a little snug for those with wider feet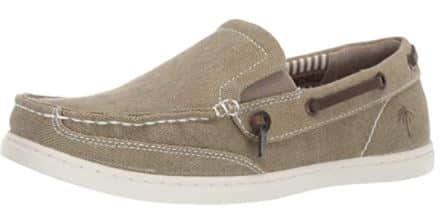 Margaritaville is a unique online brand specializing in a wide selection of apparel, accessories, and footwear for men, women, and children. Like online stores such as Norstrom, Margaritaville offers a wide selection of its own designs and merchandise.
One such item that caught our eye is the Margaritaville Men's Dock Slip-On Boat Shoes. These slip-on shoes offer classic style, and they pair well with shorts, jeans, or chinos, making them perfect for just about any occasion.
Specs
Comes with a canvas upper
Includes a durable non-slip rubber sole
Features a slip-on design
The insole is removable
Who is it Best for?
If you're looking for summer shoes that can be dressed up or down, these are an excellent choice. Margaritaville has designed the perfect boat shoe; it slips on with ease and brings with it a classic style that pairs well with clothing for every occasion.
What we loved most about these shoes, aside from their style, is that they come in, is that they are offered in five versatile shades that match well with almost anything.
Some areas we felt Margaritaville could improve on include the design of the heel cuff. It sits relatively low and is prone to chafing and causing blisters if you walk for long periods. The canvas is also rather stiff and rough, which makes this chafing even more painful than usual.
Key features
Margaritaville makes these slip-on boat shoes with a durable yet breathable canvas. Air circulates through the canvas, cooling down your feet to prevent them from overheating and becoming sweaty and odorous, something necessary in summer.
The slip-on design means there is no need for laces; however, a leather lacing detail is threaded through the top of the opening of the shoe.
A striped fabric lines the inside of the shoe to create a soft barrier between the canvas and foot for added protection and comfort. The insole is soft and cushioned but is also removable, so you can insert your own orthotics should you wish.
A durable rubber sole provides flexibility to your feet don't become fatigued as you walk, and the grip underneath the sole makes it safe and easy to traverse high-shine flooring or wet surfaces.
Pros
The shoes come in a wide assortment of colors
They are easy to slip on and off
Cons
These shoes can cause blisters around the heel area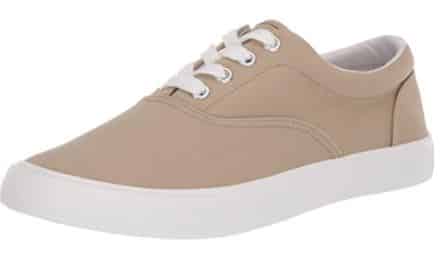 Amazon Essentials is a subsidiary of the online mega-brand Amazon. Amazon Essentials designs and manufactures essential clothing items from jeans and office wear to outdoor apparel and footwear. The essence behind the brand is to provide customers with durable and affordable clothing that is fashionable and fun.
The Amazon Essentials Men's Casual Lace Up Sneakers are some of the brand's best-selling shoes. If you're looking for a pair of durable white sneakers, these are the ones to try.
Specs
Comes with a canvas upper
Includes a durable rubber outsole
Lace-up closure
Features foam and canvas padding
Who is it Best for?
If you want a fun pair of casual sneakers that pair well with jeans and shorts, then you will want to try these shoes from Amazon Essentials. The shoes are minimalistic in design, but it is this style that makes them so versatile.
These sneakers come in four unique colors, including chino, white, navy, and grey.
When it comes to price, these are outstanding, coming in at the lower end of the price scale. We decided to give these sneakers a try to see if they were durable and comfortable despite their low cost.
These shoes did not disappoint. The padded heel collar prevented any chafing or blisters and added great support. One factor to consider, though, is that if you have wide feet, you may want to buy a size or half-size up as these tend to be a little on the narrow side.
Key features
Amazon Essentials makes these sneakers with a durable and sturdy cotton canvas upper that is breathable and soft to the touch. This cotton canvas allows air to circulate your feet, preventing them from overheating and becoming sweaty and smelly.
The lace-up closure makes it simple to pull the shoes on and off and allows you to tighten the upper to fit your foot perfectly.
Inside the shoe, you will find a soft foam and canvas padding that provides cushioning and support, especially around the heel and insole areas.
A durable rubber outsole keeps you on your feet no matter what the ground below you brings. Slippery high-shine tiles and wet outdoor surfaces are no match for the traction and grip these shoes provide.
Pros
The shoes are very well-priced
They provide great cushioning
Cons
Not the best shoe for those with broad feet
Things to Consider When Buying Summer Shoes
1. Style
When it comes to buying summer shoes, there is a wide assortment of styles to consider.
Boat shoes are very similar in design to the moccasin. They feature non-marking rubber soles that provide excellent traction and were initially designed for wear n boats.
Loafers are a style of shoe that features a slip-on design. Generally, they are made from suede or leather and are more of a summer dress shoe than beach-going footwear.
Slingback sandals are a type of sandal that features a strap that sits behind the heel. Although usually a style seen in women's footwear, a few such as Birkenstocks feature them as men's shoes.
Sneakers are a perfect summer shoe if they are made from breathable fabric. They are stylish, pair well with jeans, shorts, and chinos and are great if you plan on doing a lot of walking or outdoor activities.
Thong Sandals or Flip Flops
Thongs or flip flops are the perfect summer shoe if your feet tend to overheat if you want a more casual pair of footwear, or you are heading off to the beach. Thongs come in a wide range of materials, from leather or canvas and plastic.
Espadrilles are a form of semi-closed shoe made from breathable cotton or canvas, and they usually come with a flat sole and a natural outer edging that gives them their unique look. These shoes are perfect for walks on the beach or more casual days in town.
2. Material
The material your summer shoes are made from makes all the difference. Plastic and less breathable fabrics will leave your feet sweaty and uncomfortable. Here are a few great materials that make excellent summer shoes:
Suede is ideal because it is lightweight, soft, breathable, and durable. The only area this material falls down in is that it is not easily washable.
Leather is another excellent choice if you are looking for a pair of durable loafers or thongs that will last more than one season. It is durable, and it looks great too.
Canvas or cotton canvas is great because it allows your feet to breathe while offering support and durability. In some cases, canvas shoes may appear a little chunky, but if they're well made, you shouldn't have this problem.
When looking for the best summer shoes, there are several things to consider. Giving thought to the brand, durability, shoe style, support, materials, and quality will all put you a step closer to finding the summer footwear that most suits your needs for the warmer months.
By closely examining and testing each of the summer shoes in this review, we concluded that they each meet the criteria discussed above, making it simpler to find the best summer sneakers or sandals to meet your fashion needs.