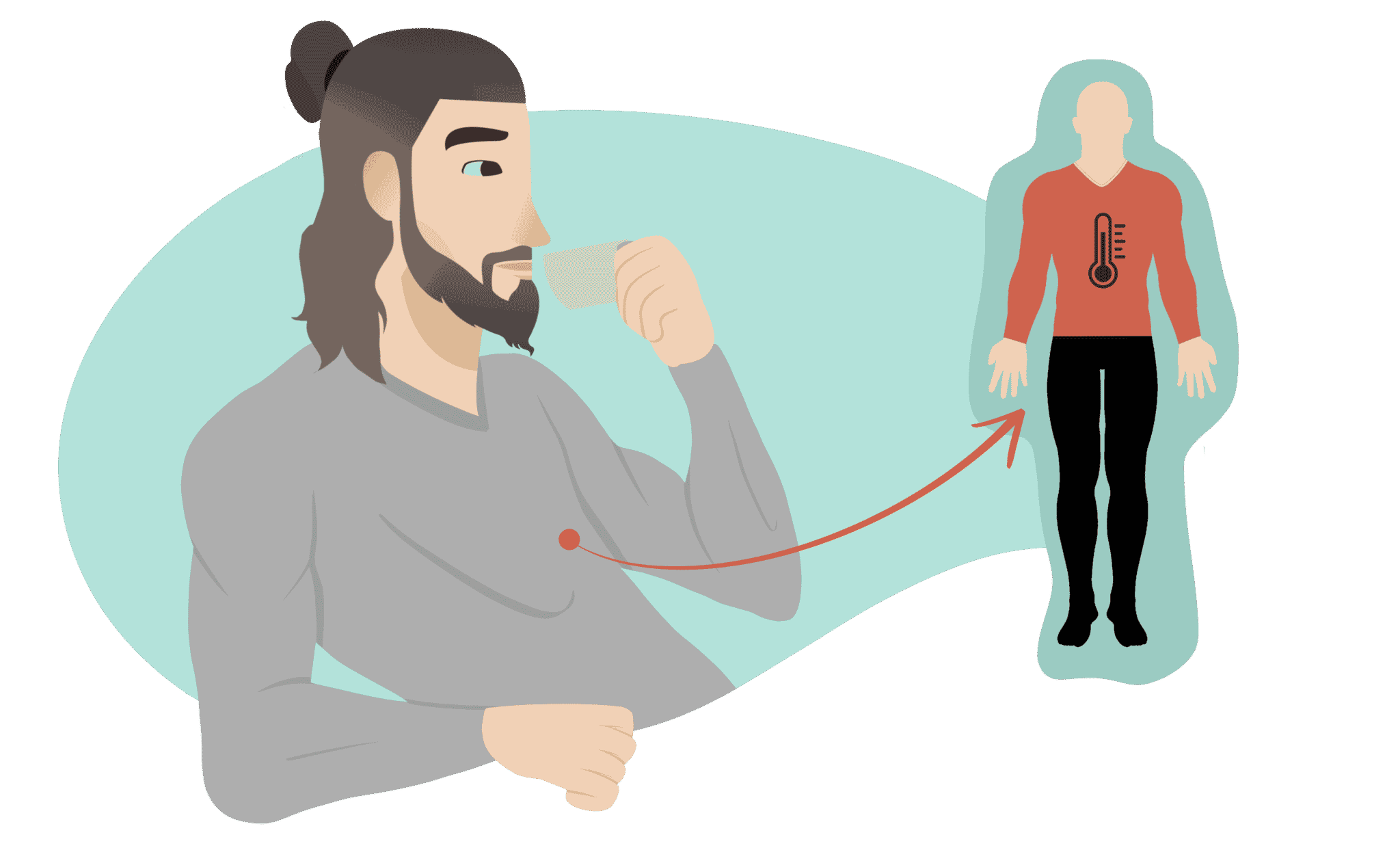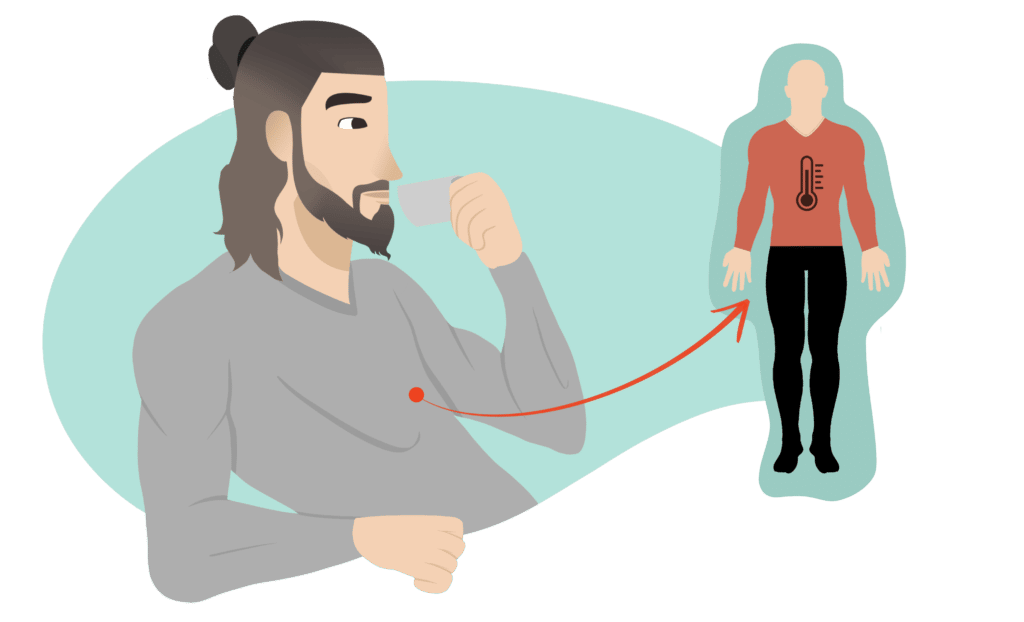 As winter slowly creeps in, you may find that your layers of sweaters, coats, and long sleeve tops are just not providing you with the warmth you need. This is where thermal underwear comes in; it offers an additional layer that locks in your body heat so you can wear an outer layer that is a little more fashionable and less about comfort.
Thermal underwear is designed to be breathable and moisture-wicking, giving you all the warmth without causing you to overheat, become sweaty, or uncomfortable. This style of underwear is perfect for layering and ensures you keep warm and toasty without having to look like the Stay-Puft Man.
Unfortunately, not all thermal underwear is made equal, which is why we have gathered together the best Amazon has to offer. In addition, we have reviewed each thermal underwear set, making it less challenging to find the perfect thermal pants and underwear top.
We tried and tested multiple thermal pants and tops from Amazon and concluded that these eight are the best thermal underwear for keeping warm, dry, and comfortable. We used the approach to chat to men about what they looked for in high-quality thermal underwear and collected together the ones that ticked these boxes. We then reviewed each of them. Our evaluation of each was based on the following criteria: the fabric used, breathability and moisture-wicking properties, fit, functionality, and durability.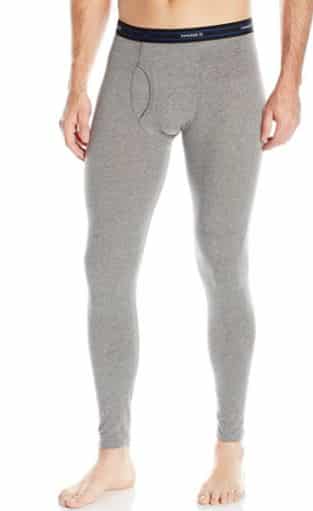 Hanes is an American clothing brand founded in 1901. For over 120 years, Hanes has brought us durable, affordable, and fashionable apparel that the entire family can enjoy. So whether you need a cool-dry t-shirt, fresh summer socks, casual wear, or sleepwear, Hanes is sure to have it.
The Hanes Men's Thermal Underwear caught our eye as an item that had to be added to this review; with its form-fitting design and cool grey tone, these thermals had to be on our list.
Specs
Made from a blend of cotton, polyester, and spandex
Includes Fresh IQ odor protection technology
Comes with flat seams to prevent chafing
Uses X-Temp technology
Who is it Best for?
Men looking for a comfy and warm pair of thermal base layer pants may want to look a little more closely at these underwear bottoms from Hanes.
They are designed to fit your form so as not to bunch up under your other layers of clothing while keeping you snug and dry.
We gave these well-priced long johns a try and found them to be soft and warm, making them ideal for wearing in winter or even the colder days in fall.
A few first impressions we had on these pants, other than their warmth, are that the distance between the crotch and the waistline is relatively short, so they tend to slip down a little if you bend over. The pants also tend to run a little small.
Key features
Hanes makes these thermal pants from a blend of cotton, polyester, and spandex. This fabric blend is ideal for several reasons. Firstly the cotton is highly breathable, allowing air to circulate your legs, regulating your body temperature, and keeping you from overheating. Then, the polyester wicks moisture away to the surface of the pants, where it can evaporate, keeping you dry and comfortable. Lastly, the spandex allows the pants to fit your form perfectly, so the pants remain discreet beneath your other layers.
These thermal pants also feature Fresh IQ technology that makes the pants odor-resistant. In addition, X-temp technology allows the leggings to adapt to your temperature and level of activity, wicking away moisture to keep you fresh, dry, and smelling great.
Flatlock seams form part of the construction of this underwear. These flat-lying seams prevent chafing and irritation, as does the tagless design.
Pros
They are soft and breathable
The long johns are affordable
Cons
The distance from the crotch to the waistband is a little short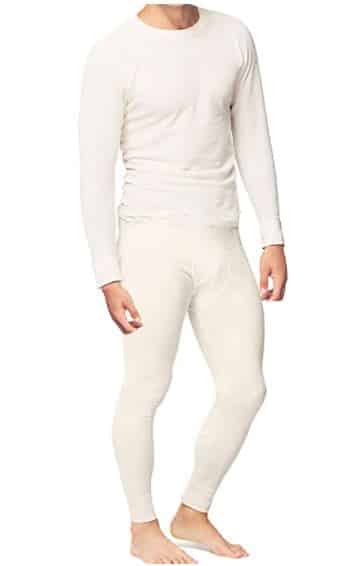 Place and Street is a brand whose focus lies in the design and production of underwear, particularly thermal underwear. Using innovation and modern design principles, Place and Street put together some of the most loved thermal underwear on the market.
One such example is the Place and Street Men's Thermal Underwear Set. This set combines a base layer top and pants to leave you with a warm and comfortable ensemble.
Specs
Made from a blend of cotton and polyester
Heavyweight thermal design
Features Multi-Wick technology
Includes a top and long johns
Who is it Best for?
When the cold starts creeping into the air, and there is a definite chill as you walk about, you know it is time to start piling on the layers. If part of your wardrobe includes thermal underwear, this set from Place and Street makes an exceptional addition to your outfits.
It comes in four different colors, including white, black, charcoal, and royal blue, so you can choose the set that pairs best with your wardrobe. In addition, the set is affordable compared to others on the market, making it easy for you to buy a few.
We tried it out to see how well it kept us toasty and warm, and we found that although the underwear is not fleece-lined, it still offered warmth. The fabric did tend to be a little scratchy against the skin but overall was a reasonably good buy.
Key features
Place and Street make this set of underwear from a blend of cotton and polyester that is knitted into a waffle weave. This fabric features thermogenic technology that regulates your temperature, keeping you cool and comfortable throughout the day. The material is breathable, allowing air to circulate, and it wicks away moisture, drawing it to the surface of the garment, where it can then evaporate. This Multi-wick technology ensures that sweat and moisture that give rise to odor-causing bacteria are eliminated, keeping you smelling fresh and feeling great.
The pants have a built-in fly for added convenience, and the matching top features a crewneck neckline. The only downside to this is that the thermals would be visible if you were to wear a V-neck t-shirt over this.
Pros
The thermals are designed to prevent odors
The crewneck top offers maximum coverage
The cut of the set is comfortable
Cons
The fabric is a little scratchy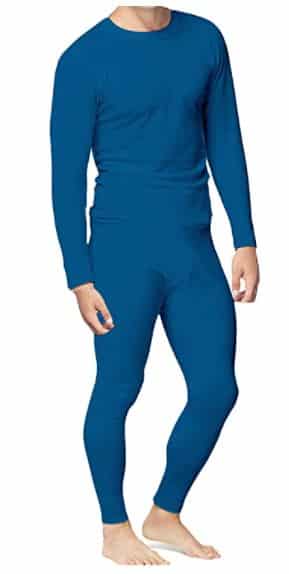 When it comes to the world of thermal underwear, no brand does it better than Place and Street. The brand places its primary focus on the design and production of thermal undergarments, making sure that each garment is made to perfection.
One of the brand's more popular underwear sets is the Place and Street Thermal Underwear Set Shirt, and Long Johns that features a comfy waffle knit design that provides warmth and style.
Specs
Made from a cotton and polyester waffle knit
Uses thermoregulation technology
Comes with a top and bottoms
Offered in four unique colors
Who is it Best for?
Keeping warm in winter means multiple layers of clothing, starting with a high-quality set of thermal underwear. We decided to try out this set of undergarments from Place and Street to see whether it offered the warmth and breathability needed to keep us comfortable throughout the day.
The set comes with a top and bottoms and is offered in four colors, black, charcoal, royal blue, and white. In our opinion, the pair are relatively inexpensive compared to other thermal underwear sets on the market.
We found the fabric of the garment to be a little on the thin side and slightly scratchy. The arms of the top could also have been a little longer as they don't quite reach the wrists. However, in terms of comfort, these undergarments are well designed and fit snugly.
Key features
Place and Street make this thermal underwear set from a fabric blend that sees mostly cotton and a percentage of ultra-soft polyester.
The polyester makes the material super soft against the skin, and it is known for its wicking abilities, drawing moisture and sweat away from your body so it can evaporate. This Multi-Wick technology ensures that the underwear is odor-resistant and dries quickly.
The cotton component lends the fabric its breathability, allowing air to circulate your body, regulating your temperature, and preventing you from overheating.
The top features a crewneck neckline, and the bottoms come with a convenient built-in fly that makes bathroom visits that much more straightforward.
This set is designed to be form-fitting so that it does not bunch up under your clothing and stays comfortably in place all day.
Pros
The set is very comfortable 
Comes with a built-in fly for convenience
Features a crewneck neckline
Cons
The arms of the top are a little too short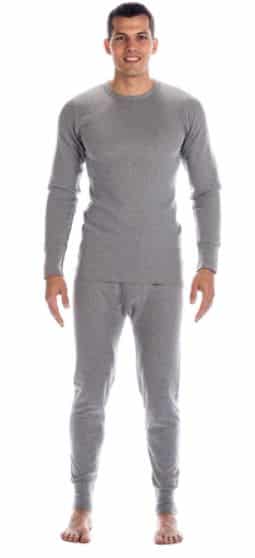 Mount Noble is an American brand located in the Pacific Northwest and was founded in 2005. The brand designs and manufactures premium clothing and accessories that provide customers with high quality and style. Elegance lies at the core of this brand's essence, and it shows. Offering everything from socks and slippers to pajamas and t-shirts, Noble Mount is the place to go for fashion-forward apparel.
It was the Noble Mount Men's 2pc Waffle Thermal Underwear Set that caught our attention and left us wanting to know if the underwear truly was as warm and comfy as it looked.
Specs
Made from a cotton-polyester waffle knit
The set is machine washable
Features ribbed-knit cuffs
The set is quick-drying
Who is it Best for?
This set is designed and rated for colder climates, making it perfect for wear in mid-winter or in locations that experience extreme temperatures. In addition, the set comes with a base layer top and base layer pants, so you can keep warm from head to toe.
If you love getting involved in outdoor activities, even in winter, then this set is worth a closer look. Because it is designed for wear in colder temperatures, it is ideal for a day on the slopes or hiking through the mountains.
Compared to the set from Place and Street, this top and pants set are a little pricier, although not by much, leaving it as affordable. Noble Mount offers these undergarments in six different color options, including a funky camo-style look.
Key features
Noble Mount makes this thermal underwear set from a rich blend of cotton that is soft and breathable and polyester, that is soft and wicks away moisture. Together, these fibers are woven into a knit fabric that offers a slightly stretchy quality that allows it to hug the contours of your body for a more snug fit and extra warmth.
This warm waffle knit also works to trap in your body heat but prevents you from becoming sweaty, damp, or odorous. The fabric is quick-drying too, so should you end up having to run to catch the Underground and break a sweat, you won't stay damp for long.
The set features ribbed knit cuffs that keep the sleeves and the legs in place and prevents them from riding up under your other clothing.
Pros
This set is made for colder temperatures
It is ideal for wear during outdoor activities
The set is comfy and versatile
Cons
The fit is a little too snug for some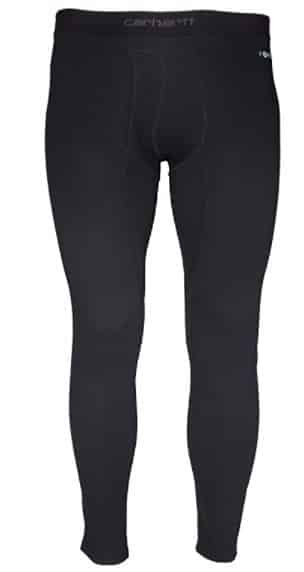 Carhartt is an American brand founded in 1889 in Michigan. The brand is known across the globe for its apparel and workwear. Carhartt offers a wide selection of clothing from overalls and jeans to coats, hunting gear, and fire-resistant clothing.
What you may not know is that Carhartt designs and manufactures underwear too. One such piece of apparel is the Carhartt Men's Force Midweight Classic Thermal Base Layer Pants. The quality and craftsmanship Carhartt offers meant that these base layer pants had to be in this review.
Specs
Made from 100% polyester
Features Rugged Flex Technology
Uses smooth flatlock seams
Fast wicking properties
Who is it Best for?
This pair of thermal base layer pants are perfect for any man who finds himself working outdoors frequently or loves to spend time outdoors over weekends, even in the winter. These pants fit snugly, much like leggings, and offer a fit that is discreet beneath your work or casual attire.
These pants are a little more expensive than some of the sets we have reviewed. We wanted to see if this increased price meant greater quality and warmth and whether the pants were as comfortable as they looked.
We found them to offer a good, if somewhat loose, fit that wasn't too tight around the ankles. The fabric is warm but not made for exceptionally cold weather; these are better suited to cold but not very cold days.
Key features
Carhartt makes these thermal base layer pants from a 100% polyester waffle knit fabric. This material is exceptionally soft and offers a slight give that allows the pants to fit your contours perfectly. Polyester is often used for thermal underwear because of its softness and its breathability, and wicking properties. The fabric traps in your body heat but allows moisture to evaporate, preventing the odor-causing bacteria that comes with sweat from developing, keeping you dry and smelling fresh.
The Rugged Flex technology allows for movement and stops the pants from hindering your range of motion. The built-in fly adds convenience, and the flatlock seams and careful seam placement prevents any chafing or discomfort. A tagless design also ensures there is no itching or irritation by unwanted tags.
Pros
The careful seam placement prevents any chafing
The pants feature a concealed waistband
Cons
These are not designed for use in very cold conditions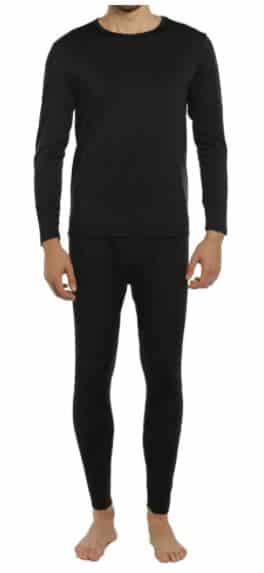 ViCherub is a brand that specializes in the design and production of thermal wear. So whether you are in search of warm yoga leggings, lounging pants, kid's thermals, or thermal underwear for men and women, ViCherub is bound to have it.
We caught sight of the ViCherub Fleece Lined Base Layer Bottom and Long Sleeve Top thermal set and wanted to test it out to see how it fared compared to some of the other thermal underwear we had tested.
Specs
Made from a blend of polyester and spandex
The long johns are fleece-lined
The stretchable material is wear-resistant
This set features quick-drying properties
Who is it Best for?
If you're looking for extra warmth to add to your daily outfit, then you may want to try this toasty set of thermal underwear from ViCherub. The underwear comes as a set with both a long sleeve and fleece-lined long johns that are perfect for indoor and outdoor wear.
The set is relatively inexpensive and comes in six solid colors and a funky Christmas design for those who enjoy a little whimsy.
We gave these thermals a try and found them to be some of the best and warmest we had tried so far. In addition, they are less bulky than other thermals, which means they fit nicely under other layers without making you look like you have gained ten pounds.
Key features
ViCherub makes this thermal set from a blend of ultra-soft polyester and spandex. The fabric is shrinkage controlled to prevent any change in the size once you wash the garments.
The polyester and spandex fabric blend means this set offers great stretch and is as soft as a feather against the skin. A breathable and moisture-wicking fleece-lined inner on the pants makes them super warm but also odor-resistant and fast-drying.
The four-way stretch offered by the underwear makes it easy to move about in while you go about your day.
A built-in fly provides convenience, and the anti-static treatment means you won't have little pieces of fluff or lint sticking to the underwear. The elastic waistband in the pants makes them simple to pull on and off and allows them to fit comfortably.
Pros
They offer great stretch and range of motion
The fleece lining in the pants is super soft and warm
They're not as bulky as regular thermals
Cons
The arms and legs may be a little short for taller men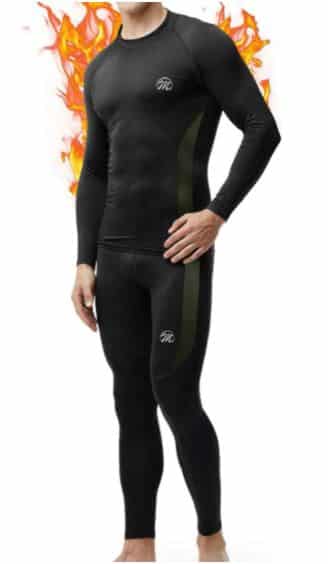 Meetwee is a unique brand that produces and designs a wide selection of apparel and accessories. The brand focuses on the creation of clothing such as sportswear, base layers, cycling wear, running jackets, pajamas, and thermal underwear.
The Meetwee Men's Wintergear Long Johns Compression Base Layer Set is one of the brand's bestselling thermal sets. We wanted to find out whether the compression style of the set added any extra warmth and whether it was comfortable enough for all-day wear.
Specs
Made from a blend of polyester and microfiber fabric
Anti-static design
Features a brushed fabric inner lining
Comes with a non-bulky design
Who is it Best for?
The Meetwee thermal compression underwear is perfect for men who work outdoors or are looking for a discreet set of thermals to wear under their business suits or casual wear.
The compression design of this set means that it is figure-hugging, so it won't produce the bulky and often bumpy look that comes with traditional thermals.
Meetwee offers the set in black, grey, blue, or olive green so you can find the shade that best complements your wardrobe or appeals to your sense of taste.
You will find, as we did, that this set is affordable and inexpensive, so if you wanted, you could buy more than one pair without breaking the bank.
We tried out this set for a few weeks and found it to be warm and comfortable. The downside is that the length between the waistline and the crotch is too long and causes bunching. Also, there is no working fly.
Key features
Meetwee makes this thermal underwear set from a blend of polyester and spandex and lines the inner surface with a micro-fleece material. The polyester wicks away moisture to keep you dry and free from odors, while also allowing air to circulate through the set to prevent you from overheating and sweating. A spandex component gives the garments a stretchy consistency that makes it easy to move about unhindered.
A micro-fleece lining traps in your body heat, keeping you warm and wicks away moisture. It is soft against the skin and adds to the comfort of the design.
Flatlock seams prevent any chafing or irritation and the lightweight, non-bulky design ensures you are left with a comfortable fit.
Pros
They are not bulky or bumpy like other thermals
The color options are impressive
The four-way stretch makes these easy to move about in
Cons
There is no working fly on these pants
If you're looking for thermals, then the brand to see is Weerti. This brand focuses solely on the design and manufacture of a range of thermal underwear. Using innovation and high-quality fabrics, Weerti is a leader in the thermal clothing industry.
One of the brand's best-selling products is the WEERTI Thermal Underwear Long Johns and Top Base Layer. Made for men, this base layer is ideal for wear with a range of activities.
Specs
Made from a blend of polyester and spandex
Features a lightweight design
Delivers a four-way stretch
Offers impressive moisture-wicking properties
Who is it Best for?
Whether you are a businessman looking for an extra layer to wear beneath your business suit, an athlete looking for protection while you take your winter jog, or you just want an extra bit of warmth beneath your jeans and t-shirt, this set from Weerti should do the trick.
This thermal set comes in five color options, including grey, charcoal, black, white, and navy. The top and bottom base layer sets are inexpensive, making it easy to buy more than one pair at a time.
We tested out this thermal underwear from Weerti and were left impressed at the softness of the garments. Add to that the tagless design and the lightweight design, and you have yourself a high-quality thermal underwear set. The only thing to keep in mind is that the sizing does tend to run slightly small.
Key features
Weerti makes this thermal set from a polyester and spandex blend and lines it with a soft fleece. The polyester is exceptionally soft but durable. It wicks away moisture, so when you sweat, it is moved to the surface of the thermals and then evaporates. This, in turn, prevents the formation of odor-causing bacteria, leaving you with an anti-microbial design that keeps you smelling fresh. The polyester is also highly breathable and allows air to circulate, keeping your temperature regulated and preventing you from overheating.
Spandex infuses the thermals with a four-way stretch that makes it easy to move about and allows the garments to trace the contours of your body for a more snug and less bulky fit.
A built-in fly adds convenience to the design, and the elasticated waistband ensures the pants stay up and in place.
Pros
The set is exceptionally soft
The fleece lining is extra warm and cozy
The tagless design means no irritation
Things to Consider When Buying the Best Long Underwear
1. The Material
Thermal underwear is generally made from a fabric that provides insulation and warmth while still allowing the garment to breathe and wicking away any moisture. This fabric will also often have a stretch to it and may even feature a compression-style fit. Some of the materials you can expect to find include:
Merino wool is a natural fiber and is highly breathable, great at moisture-wicking, and provides exceptional insulation. Unfortunately, it is also a relatively expensive material.
Polyester or Polyester Cotton-Blends
Polyester or polyester-cotton blends are the most common fabrics used to make thermal underwear as it is soft, breathable, moisture-wicking and relatively inexpensive.
Lycra and Other Synthetic Fabrics
Some thermal underwear is made with a spandex or lycra component to give the garments a stretchy composition that makes them cling to the body and prevents the hindrance of motion. However, thermal underwear made solely of lycra or spandex is not advisable as these fabrics do not offer any breathability and can lead to odors and excessive sweating.
2. The Weight
Thermal underwear comes in a selection of different weights. The heavier the weight, the better suited they are to colder climates.
This is an ultra-thin thermal layer that is ideal for moderate weather temperatures. This weight is favored by athletes for wear during early morning exercise.
Here you will most likely use these thermals in cool or moderately cool weather or again if you are an athlete going for an early morning cycle or jog.
These are the most versatile thermals. They are generally worn in moderately cold to cold temperatures and are ideal for someone who is indoors most of the day or someone going for a brisk walk.
These are designed for wear in arctic or frigid temperatures. They usually help regulate your body temperature and are worn during outdoor activities such as skiing or skating in the winter.
When looking for the best men's thermal underwear, there are several things to consider. Giving thought to the brand, durability, warmth provided, features, fabric, and quality will all put you a step closer to finding the thermal underwear that most suits your needs.
By closely examining and testing each of the best men's thermal underwear in this review, we concluded that they each meet the criteria discussed above, making it more simple to find the best thermals to keep you warm this winter.