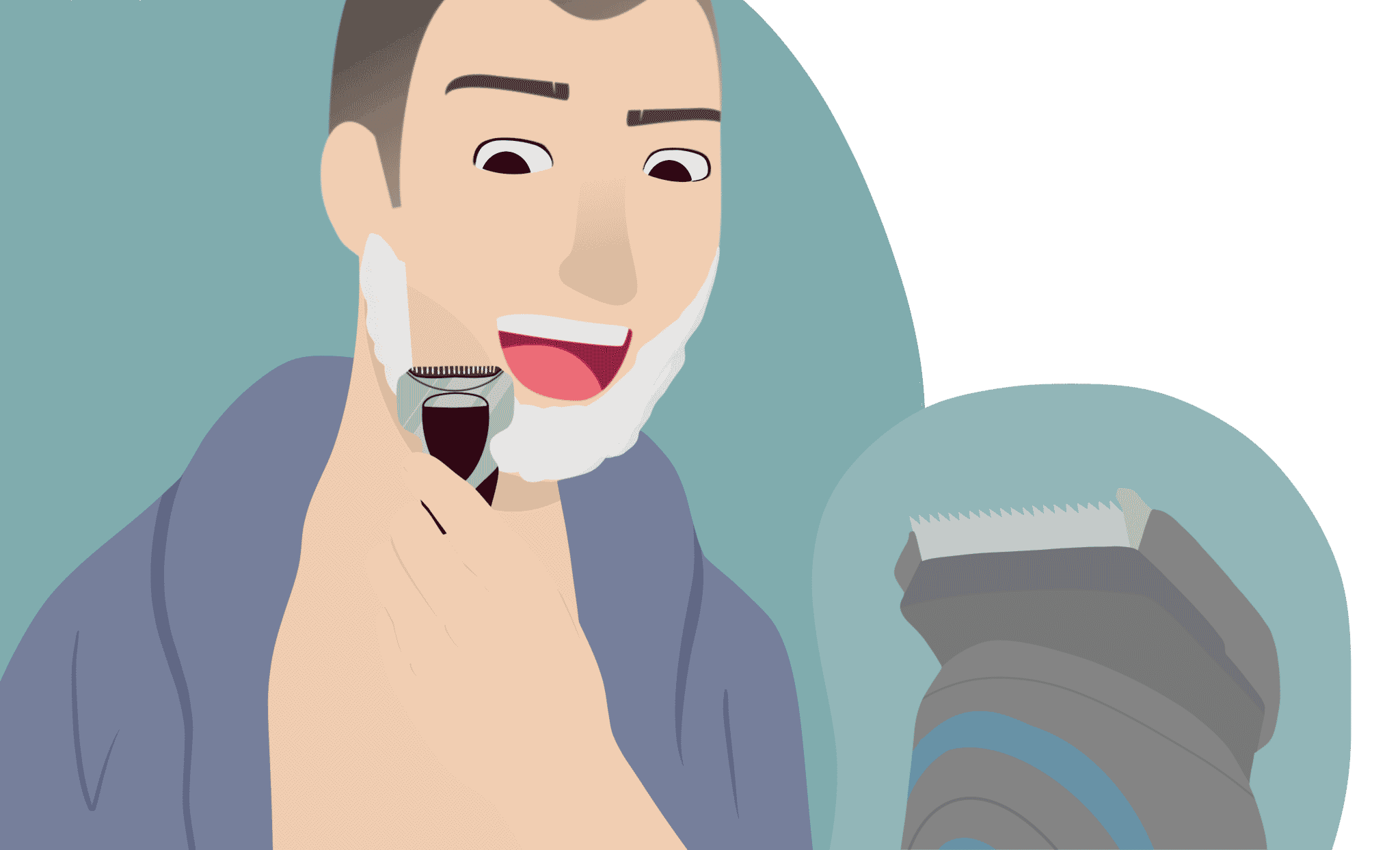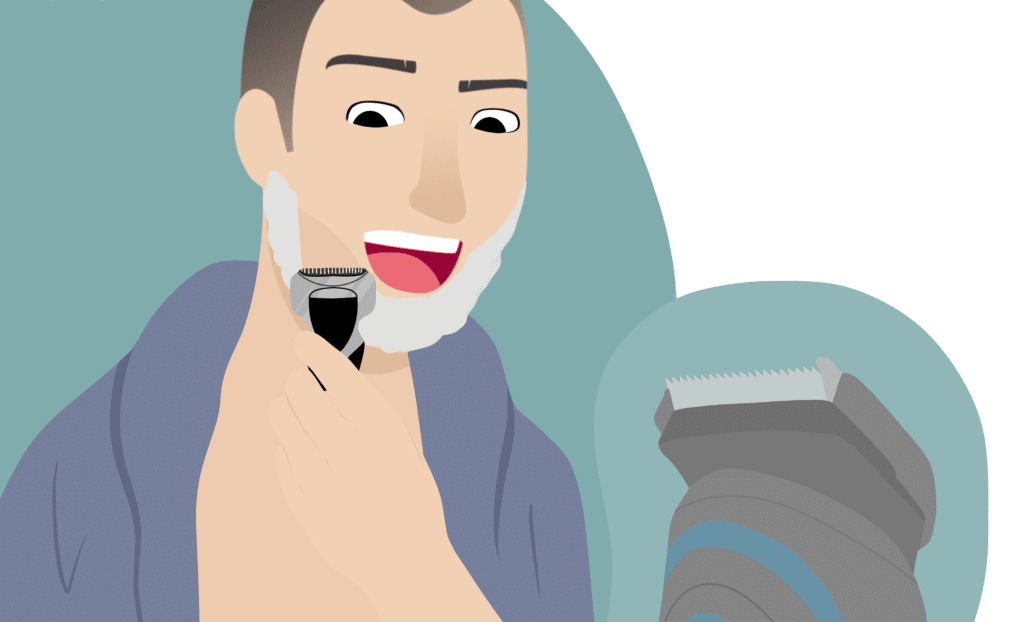 When it comes to facial hair, there is a full-length beard, a neatly trimmed beard, and a clean-shaven look. But what about the in-between look, the one that sees a light smattering of stubble that is long enough to be soft but short enough not to be regarded as an actual beard? How do you go about achieving this suave yet rugged look gets the ladies?
The best stubble trimmer ought to do the trick. An electric shaver of sorts, these beard trimmers offer a cut that is not as sleek as a close shave, leaving you with a neat and stylish five o'clock shadow.
While finding the best beard trimmers may seem simple enough, these facial hair clippers are unfortunately not all made to the same standard. To help you find one that offers excellent quality and functionality, we have curated a selection of the best beard trimmers available on Amazon. We have reviewed each of these clippers, so you get a more in-depth look at each of them, making it simpler to find one that best meets your needs.
To find the best stubble trimmers Amazon has to offer; we first conducted some research. We chatted with men to find out what they wanted most from their beard trimming devices. The most common response was for a cordless, fast charging, durable, and premium quality clipper. We then scoured Amazon to find the beard trimmers that ticked all these boxes and more.
Let's take a closer look to see which clippers made the cut.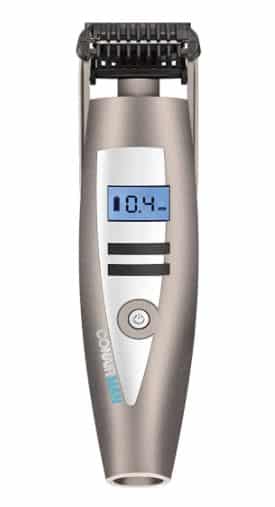 Conair was founded in 1959 and began as a company that sold hair care appliances and products. Today the company produces an assortment of lifestyle products that include kitchen electronics, tools, cookware, grooming tools, beauty products, and personal care products.
The brand branched off into crafting men's grooming tools, leaving us with premium electronics such as the ConairMAN i-Stubble Ultimate Flexhead Trimmer. This beard trimmer is ideal for achieving that barbershop look from the comfort of home.
Specs
Features a floating head
15 electronically controlled settings
Ergonomic handle
Cordless
Who is it Best for?
Men looking for that barbershop look without spending the money or time visiting a barber will appreciate the ConairMan iStubble trimmer. This unique shaver allows you to trim your stubble, beard, mustache, and sideburns to the length you want from the comfort of home.
This trimmer is simple to use and is rechargeable. The cordless design makes it easy to get through your shave without having to battle with a cord constantly being in your way.
If you hate fussing with a razor or shaver that is slippery and difficult to grip, this hair trimmer is for you. It features an ergonomic handle that is comfortable to hold and easy to grasp. This way, you get the perfect shave without hand or wrist fatigue.
Key features
The iStubble comes with an impressive array of features. First off, it is rechargeable. The cordless shaver offers 45 minutes of run time off a full charge. Once you are done, you can get it recharged quickly, thanks to the quick charge capabilities.
This shaver features 24 length settings that allow you to maintain your chosen facial hair style at all times.
A pivoting flex head adjusts perfectly to the contours of your face, offering an even cut every time.
The flip back guide comb allows for precision cutting, especially when you are trying to detail finer areas such as your sideburns or mustache.
An LCD screen makes it simple to see your chosen settings and the battery levels of your shaver.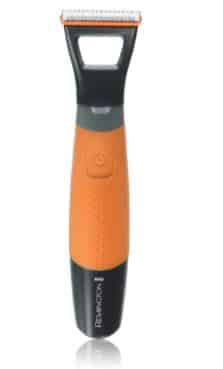 Remington was established in New York in 1937. The brand offers an assortment of personal care tools that range from grooming products to shavers and styling electronics. The brand strives to help you elevate your unique style, leaving you with a look that dazzles.
The brand's grooming tools for men cover everything from hair clippers to shavers. It was the Remington DuraBlade Lithium Hybrid Trimmer and Edger that caught our eye. The moment we saw it, we knew it had to be reviewed.
Specs
Includes four clip-on guide combs
Lithium-ion battery
Waterproof
One hour cordless run time
Who is it Best for?
If you are tired of constantly spending money replacing the blades in your razor, then this may be the solution you need. The DuraBlade features blades that remain sharp and as good as new for up to five years.
Men with sensitive skin who don't want a close shave but prefer to leave a little stubble behind will enjoy this shaver. It offers a neat trim but does not cut your beard as closely as a traditional shaver. This way, your skin remains untouched, preventing irritation, dryness, and razor burn.
If you don't enjoy having to clean your existing shaver because it is too much of a hassle, this beard trimmer is what you need. It is completely waterproof, making it quick and straightforward to clean.
Key features
Remingtons' DuraBlade comes with four clip-on guide combs that help you trim your beard or stubble to the length that you prefer. The dual-sided blade makes cutting the more tricky areas such as your mustache and sideburns a breeze by allowing you to achieve finer details.
This cordless shaver works with a rechargeable lithium battery that offers one hour run time off a single full charge. The battery supplies continuous, maximum power to the blades for a sleek and even cut. Recharge the battery with a USB power cable and connect it to any device to allow for recharging. This is ideal for men who travel.
Because the shaver is waterproof, you can use it in the shower, or if you prefer, above the vanity for a dry cut.
Cons
Blades will need replacing every five years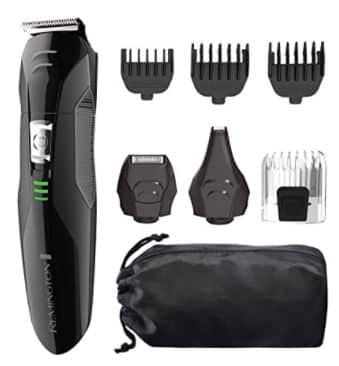 Remington is a brand that offers solutions and products for hair care, styling, shaving, and grooming. The founders established the brand in New York in 1937. Today the brand offers premium products that elevate your style to the next level.
When it comes to men's grooming, the Remington PG6025 All-in-One Lithium Powered Grooming Kit with Beard Trimmer is a must-have for any man who keeps his beard neatly trimmed. It offers impressive quality and high functionality for the perfect cut every time.
Specs
Stainless steel blades
65 minutes run time
Lithium-ion battery
Washable attachments
Who is it Best for?
This grooming kit is perfect for any man who loves the barbershop experience but doesn't have the time or money to visit the barber a few times a week. This kit includes a full-size trimmer, a foil shaver, a nose, ear, and detail trimmer, a hair clipper comb with eight length settings, three beard ad stubble combs, and a handy travel pouch.
These attachments are all easily washable, making the set simple to clean, so even those guys who hate the post-shave clean up can get through it quickly and without fuss.
If buying and replacing razor blades constantly is a cost you are looking to avoid, this beard hair trimmer is the solution you need. It features self-sharpening blades that don't need replacing.
Key features
The beard trimmer included in this kit offers a host of features that make clipping your facial hair quick and easy.
The trimmer is cordless, so you don't need to grapple with a cord that is constantly in the way while you are trying to shave.
A guide comb that offers eight length settings allows you to cut your facial hair to different lengths, so you can achieve the look you want. Three other clip-on combs offer other length settings, bringing the total to 14 different lengths you can get.
Trim your sideburns, mustache, goatee, or beard with the trimmer and get accurate and stylish results every time. This cordless shaver offers 65 minutes of run time off a single full charge so you can get through more than one shave before it needs recharging.
Pros
Includes a nose hair trimmer
Steel blades are self-sharpening
Cons
Takes a while to recharge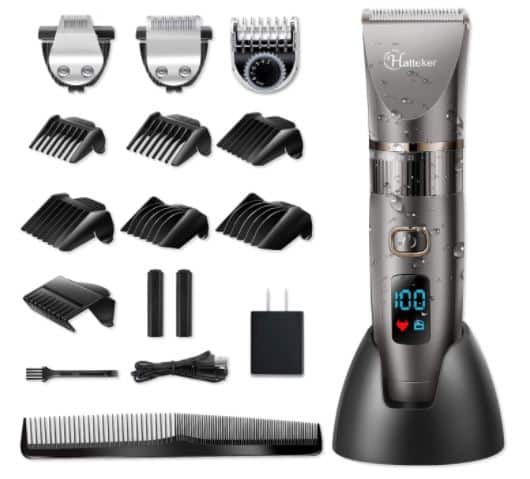 Hatteker is a Chinese brand that designs and manufactures high-quality shaving tools and products. The brand offers products such as shavers, epilators, hair clippers, beard trimmers, and razors. Hatteker strives to provide premium quality products at a cost-effective price that makes them easily affordable.
The Hatteker Men's Beard Trimmer Cordless Hair Trimmer Hair is just one of its durable and quality shaving products. This hair trimmer makes it easy to achieve the look you want time and again.
Specs
Cordless
Waterproof
Ceramic titanium self-sharpening blades
Lithium-ion battery with 2.5-hours run time
Who is it Best for?
Buying razor blades is expensive, and it's a hassle. You need a shave and realize you have run out of blades, so you end up going to work looking like a mountain yeti. If you battle with this, then we suggest this shaver as a solution. It comes with ceramic-titanium blades that are self-sharpening; this means never buying a razor blade again, ever!
Men looking for that barbershop experience without having to go to the barber physically will enjoy this groomer set immensely. It allows you to achieve the cut you want from the comfort of home while saving you a buck or two. Whether it is trimming your beard, sideburns, or cutting a fine layer of stubble, this cordless trimmer will do the trick.
Key features
A set of accessories that make it simple to achieve the look you want accompany this electric shaver. A five-degree turntable blade allows you to increase it in small increments from 0.5mm to 2.5mm. Six guide combs will enable you to style your hair by cutting it at different lengths. A comb, cleaning brush, charging dock, and charger all come included too.
This electric razor is extremely quiet and is simple to clean as the entire body can be submerged in water.
The rechargeable battery offers 2.5-hours of run time and features a charge time of just 90 minutes to reach a full charge. This extended battery life means you won't need to charge the shaver after each use, making it versatile and functional.
Pros
Includes a variety of attachments for creating different hairstyles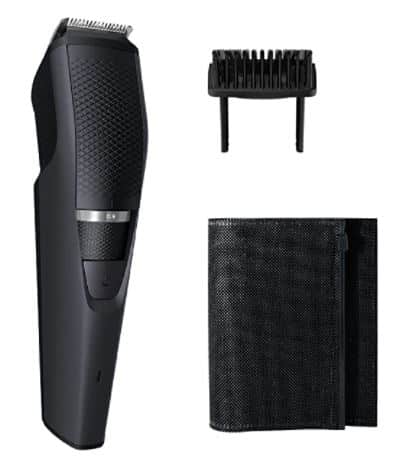 Norelco is a subsidiary of Philips and is responsible for designing and manufacturing all the Philips shavers and razors. Philips began making electric shavers in 1939. Today Norelco offers more than just shavers, extending their offerings to video cameras and tape recorders.
The Philips Norelco Beard Trimmer Series 3000 shows the brand's passion for creating electric shavers that offer durability, versatility, and ease of use. This premium men's stubble trimmer is one of the best on the market, and it shows.
Specs
Ten adjustable length settings
Lithium-ion battery
Cordless design
90 minutes run time
Who is it Best for?
Men who are tired of shaving only to realize there are stray hairs that have been missed will appreciate this electric shaver. It comes with a lift and trim system that lifts and captures even flat-lying hairs to provide you with an efficient and even shave.
If you don't have a toiletry bag to store your shaver in, this one is perfect for you as it comes with a handy storage pouch.
Men who suffer from sensitive skin that prefer not to have a close shave will benefit from this hair trimmer. It offers various length settings that allow you to trim your beard without getting too close to the skin, avoiding irritation, breakouts, and razor burn.
Key features
This beard and stubble trimmer offer an assortment of features. It comes with DualCut blades that provide a quick and even trim. A zoom wheel allows you to select one of the ten length settings offered. These settings adjust in one-millimeter increments, making it easy to achieve the length you prefer. The steel blades are self-sharpening so that you can enjoy a sharp, sleek shave every time.
The blades used on this shaver have rounded tips that are gentle on the skin and prevent irritation and cuts. A Lithium-ion battery provides consistent power to the blades for up to 90 minutes off a full charge.
Indicator lights let you know when the battery is charging or when it is running low.
The ergonomic handle allows you to get a good grasp on the shaver, making it simple to shave without getting hand or wrist fatigue.
Pros
Detachable head for easy cleaning
Includes a lift and trim comb
Cons
Does not include a lot of attachments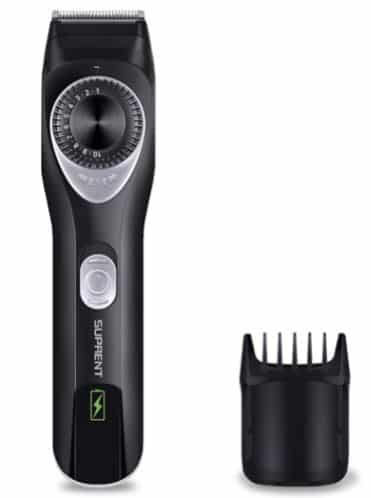 Suprent is a brand that specializes in designing and manufacturing premium grooming tools such as shavers, clippers, trimmer, and styling tools. Although a reasonably new company, Suprent holds its own, providing products that offer durability and functionality.
The SUPRENT Adjustable Beard Trimmer All-in-one Trimmer for Men with Li-ion Battery is a versatile men's groomer. It offers a barbershop experience in the comfort of your home, making it simple to maintain your suave and fashionable appearance.
Specs
19 precision length settings
USB charger
Stainless steel blade
70 minutes cordless run time
Who is it Best for?
If you have a long beard that you treat with beard oil and maintain with the view to grow it even longer, a close shave is the last thing you want. However, maintaining your beard by keeping it neatly shaped and styled is essential so that you don't end up looking unkempt.
Men looking to maintain longer beards will benefit from this hair clipper and detail trimmer. It allows you to neaten longer facial hair and attain a style without cutting it clean off.
If you like to keep your sideburns edgy and trimmed or cut the mustache hairs that tickle your top lip or go in your mouth while you talk or eat, then this trimmer is for you too.
Key features
This adjustable beard trimmer by Suprent comes with all the mod cons. It features an adjustable precision dial that offers 19 length settings that provide ultimate control and precision on all beard lengths, so you can keep your beard long and neat.
The ultra-sharp stainless steel blades offer the perfect cut every time and are resistant to rust and corrosion, ensuring their durability.
An LED charging and low-charge indicator allow you to see when your trimmer will need recharging and when the charging process is complete. Overcharge and discharge protection keep you and your device safe while it charges.
The lithium ion battery's fast charging capabilities mean it charges in just 1.5-hours and offers 70 minutes of run time off a full charge.
Pros
Quick charge in just 1.5 hours
Ideal for all beard lengths
Includes a low battery indicator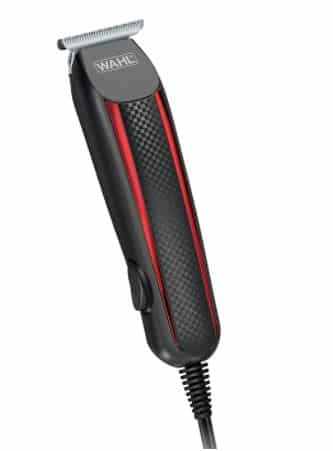 Wahl was founded in 1911 when the founder, Leo J. Wahl, started experimenting with a new type of motor to create a unique hair clipper that went on to be the first practical electric hair clipper ever made. Since 1919 Wahl has been a leader in professional and home grooming.
Today, things are no different, with the brand being widely loved and used across the globe. The Wahl T-Styler Pro Bump Free Corded Beard Trimmer is the only corded trimmer we review in this article, but with good reason, it is that functional and versatile that we couldn't overlook it.
Specs
Corded design
Stainless steel T-blade
Detachable blades for easy cleaning
Includes 12 blade guards
Who is it Best for?
Men who don't have time to wait for a cordless shaver to charge will appreciate this corded offering from Wahl. The constant power provided to the clipper means no more running out of juice mid-shave and no more making sure you have charged the shaver either.
This unique electric shaver features a sleek and compact design that makes it easy to store while still offering a full-size shaver's power and functionality. This compact size also makes the hair trimmer perfect to take with you on your travels.
An ergonomically designed handle makes the shaver easy and comfortable to grip, ensuring it won't slip in your hand while in use and preventing wrist and hand fatigue or cramping. This versatile shaver allows you to achieve the ideal and even shave every time you pick it up.
Key features
Wahl's corded beard trimmer features a stainless steel T-blade that is resistant to rust and corrosion offers remarkable durability. These zero overlap blades provide you with impressive precision that delivers crisp, clean lines and sharp edges.
This shaver allows you to get a close dry shave without causing bumps and irritation, making it ideal for men with sensitive skin.
Twelve individual blade guards accompany this razor, providing you with 12 different cutting lengths that come included with the guide combs.
Also included in this set is a neat storage bag for keeping all the attachments together, a hair comb, a cleaning brush and oil, a beard brush, a pair of scissors, and the 12 guard combs.
While the trimmer doesn't allow for nose or ear hair trimming, it does let you achieve a sleek neckline detailing, and you can use it to trim other body hair too.
Pros
Includes a cleaning brush
Offers 12 cutting lengths
Allows for neckline detailing
Cons
Must be plugged in to work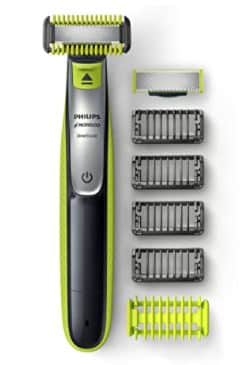 Philips Norelco is a brand renowned for its impressive shaving and grooming tools. Since 1939 Philips has been creating electric shavers, and it shows, with their products being some of the most loved and frequently bought worldwide, attesting to the knowledge and design insight nearly a century brings.
The Philips Norelco OneBlade Face + Body Hybrid Electric Trimmer and Shaver is the brand's take on men's grooming tools. It is designed for use not just on the face but across the entire body, eliminating the need for two different shaving tools.
Specs
Stainless steel blades
Great for face and body
Waterproof
One hour battery life
Who is it Best for?
This trimmer is designed for men who shave both their face and body. Cyclists, bodybuilders, swimmers, and gymnasts will all benefit from this all-in-one shaver. This shaver can trim, shave, and edge any length of hair, making it perfect for men with long beards who want to keep them styled and neat and for men who only want a light smattering of stubble across their face.
If you are tired of fighting with corded shavers and are looking for a rechargeable option, then you've found it. The compact design of this beard and body trimmer makes it the ideal travel companion. It fits easily into your luggage, doesn't take up a lot of space, and charges quickly and easily for when you're on the go.
Key features
This unique shaver by Philips Norelco offers features aplenty.
First off, it's pretty safe. It features a dual protection system that sees a glide coating combined with rounded tips to make shaving gentler on the skin.
A fast-moving cutter gives you a comfortable and even shave each time.
The shaver comes with two blades, one for your face and one with a skin guard for your body. These blades each last up to four months before they need replacing.
Easily trim your hair with one of the four comb guides included to the length that suits you best, edge places such as your mustache or sideburns, or shave your stubble to keep it as a neat five o'clock shadow.
The rechargeable Li-ion battery offers 60 minutes of run time of a four-hour charge.
Pros
Great for a wet or dry shave
Includes a Li-ion rechargeable battery
Includes multiple comb attachments
Cons
Takes four hours to recharge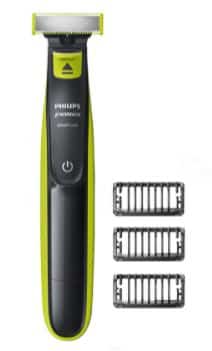 Philips strives to improve people's health through meaningful and innovative technology designed to make life better. For over 130 years, the brand has brought us durable, functional products that make life simpler.
The Philips Norelco OneBlade certainly makes life simpler and shaving quicker. It is designed for men who take pride in their facial hair styles, making it easier to groom beards, mustaches, stubble, and sideburns. This revolutionary shaver makes modern-day shaving a cinch.
Specs
Rechargeable battery offers 45 minutes run time
Use for a wet or dry shave
Works with hair of any length
Dual-sided blade
Who is it Best for?
If you have decided to grow your facial hair into a majestic beard, a long twirling mustache, or a rugged stubbled look, then this shaver is for you. As one of the best stubble trimmers available, it is designed specifically for use on the face, so you can be sure it will help you maintain your chosen look without shaving it down to the skin.
Men who suffer from sensitive skin can use this electric shaver too. It doesn't shave as close to the skin as a regular razor, and as a result, reduces cuts, rashes, bumps, and razor burn that all contribute to skin irritation.
Because the shaver doesn't produce a clean cut, it is ideal for men who want to keep a layer of stubble on their faces.
Key features
The Philips Norelco OneBlade is designed for use on the face only. It is water-resistant, so that you can use it in the shower or with shaving foam over the vanity basin.
This shaver is designed to trim, shave, or edge hair of any length, making it simple to maintain that extra-long beard or the millimeter-long stubble.
The fast-moving cutter combines with a dual protection system to provide you with a comfortable, even shave each time you pick up this shaver.
Three comb guides come with this electric shaver so you can trim your beard to the length that most appeals to you. A double edge blade makes it simple to edge areas such as sideburns or mustaches.
This cordless shaver comes with a rechargeable battery that provides 45 minutes of run time off a single full charge.
Pros
Includes comb attachments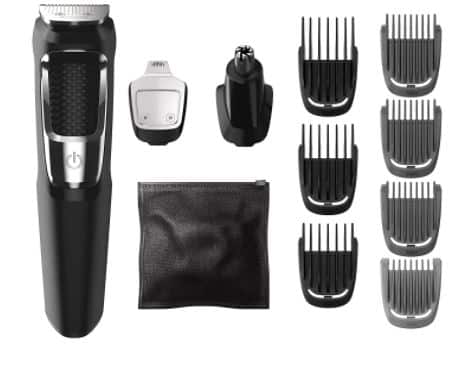 Philips was founded in 1891 in Eindhoven in the Netherlands. The father-son founding team began by designing and manufacturing effective and reliable incandescent bulbs, a niche market that had opened up by the addition of electricity into homes. By the 1930s, Philips had designed the first rotary electric razor, and well, the rest, as they say, is history.
The Philips Norelco Multigroom All-In-One Series 3000 shows the innovative evolution of the electric razor, designed to meet all your grooming needs.
Specs
Self-sharpening blades
Cordless design
Fully washable
One hour run time
Who is it Best for?
Men looking for an all-in-one grooming set need to look no further because this one is for you. It comes with 13 attachments, each designed to assist in the grooming process. Best of all, the kit comes with a neat black pouch designed to keep all these attachments in to prevent them from getting lost.
If you battle with lengthy or thick nose or ear hair that you would rather not have sprouting out for everyone to see, this kit is for you. It includes both a nose hair trimmer and an ear hair trimmer so you can keep all areas looking tidy.
If the maintenance of your shaver gets you down, then you will appreciate this one. It does not require oil, and the attachments clip on and off with ease making them quick to rinse and clean.
Key features
This multi-groom kit comes with 13 attachments to meet all your grooming needs. In the set, you will find a full-sized steel trimmer, a steel precision trimmer, a nose, and ear hair trimmer, three trimming guards, three beard trimming guards, a stubble guard, a cleaning brush, and a handy pouch to keep it all stored.
The shaver offers maximum precision thanks to the additional self-sharpening blades that never dull. The blades will work as well on day 600 as they do on day one.
This cordless beard trimmer comes with a rechargeable battery. It offers one hour of run time off a single charge. This means you won't need to recharge it after every use but rather once or twice a week, if that.
Pros
Includes 13 grooming tools
Comes with an ear trimmer
Offers dual-cut technology
Things to Consider When Buying The Best Beard Trimmers
When it comes to buying the best hair trimmer for your beard and mustache, there are a few things to consider before diving in and dishing out your hard-earned cash.
Different stubble trimmers will offer various accessories, cutting length settings, and even battery life if they happen to be cordless. Giving thought to each of these aspects will narrow down the countless options, making it simpler to find the one that works best for you.
1. Corded or Cordless
There are two options when it comes to power sources for these stubble trimmers: corded or cordless. Each offers its own set of pros and cons.
A corded beard trimmer will ensure that you always have power supplied to your shaver. (unless the power goes out) You also never have to worry about whether your shaver is charged or whether it will die on you halfway through your trim, meaning you have to wait until it is charged to continue with your grooming.
The problem comes in with the cord itself. It can become an annoyance, especially if it constantly in the way. The other issue comes when it is time to plug the shaver in; not every bathroom comes with a plug point.
-A cordless shaver is far more convenient in that once it is charged, you can use it over the vanity, or, if it is water-resistant, you can use it in the shower. These shavers often offer a decent run time that means they only need charging once, and at most, twice a week.
They are also convenient to have when traveling.
The problem with these is that they need charging, with some taking up to four hours to charge only to leave you with 30 minutes of battery life. Most of these shavers charge in a docking station and cannot be used while they charge, which can also be problematic if you forgot to charge it and are running late for work.
2. Cutting Length Settings
If you are looking for a stubble trimmer, chances are you don't want a close shave but rather a covering of stubble that sits a little longer than a five o'clock shadow, or you want to keep your beard looking neat.
This is where the cutting length settings come in as some shavers offer multiple length settings that often increase in small increments. Others offer just a few settings at larger increments.
Take the time to see the length settings offered by the trimmer you are interested in to ensure it provides the cut you are after.
Most of the trimmers we have reviewed here offer multiple cutting length settings, and many come with a precision dial that allows you to pre-select your setting and lock it in, so your shaver is ready to go whenever you pick it up to shave.
3. Charge Time and Run Time
This is an important one. Most cordless shavers come with a Lithium ion battery that allows you to recharge it over and over again. While this is great, it is crucial to remember that not all shavers offer the same amount of battery life, and many take different lengths of time to reach a full charge.
Some shavers will come with a quick charge feature that allows them to charge fully in an hour or two. Others that don't have this feature can take up to six hours to charge.
You will also want to look at how long the battery will last off a full charge. You don't want one that takes six hours to charge and offers you a measly 30 minute run time.
Most of these shavers will offer between an hour to two hours on average, but it is always best to check.
4. Versatility
The versatility offered by the stubble trimmer you choose will depend on your needs.
Are you looking for one that offers multiple cutting length settings?
Do you want to be able to use the shaver in the shower?
Are you planning on using the shaver just for your face or for your body too?
Would you like to use your trimmer to cut nose and ear hair too?
Asking each of these questions will help you determine how versatile you need your trimmer to be and what features to look out for when selecting one.
5. Brand
Finding a beard trimmer that offers great quality can be challenging. You don't want to spend your hard-earned money on one that konks out two weeks after you have bought it.
The best way to be sure you are getting a high-quality shaver is to buy one made by a reputable brand.
Besides the brands we have discussed in our reviews, a few others to try include:
Gillette
Andis
Braun
Panasonic
When it comes to buying the best beard trimmer, you want one that ticks all your boxes. Cordless, waterproof, a variety of cutting lengths, and additional accessories will all influence your final choice. Most importantly, though, you want one that offers exceptional quality.
We hope our reviews have made it a little easier to find the best stubble trimmer for your needs. If you're still in doubt, our top pick goes to the Philips Norelco OneBlade Face + Body Hybrid Electric Trimmer and Shaver; it offers remarkable versatility and impressive battery life.