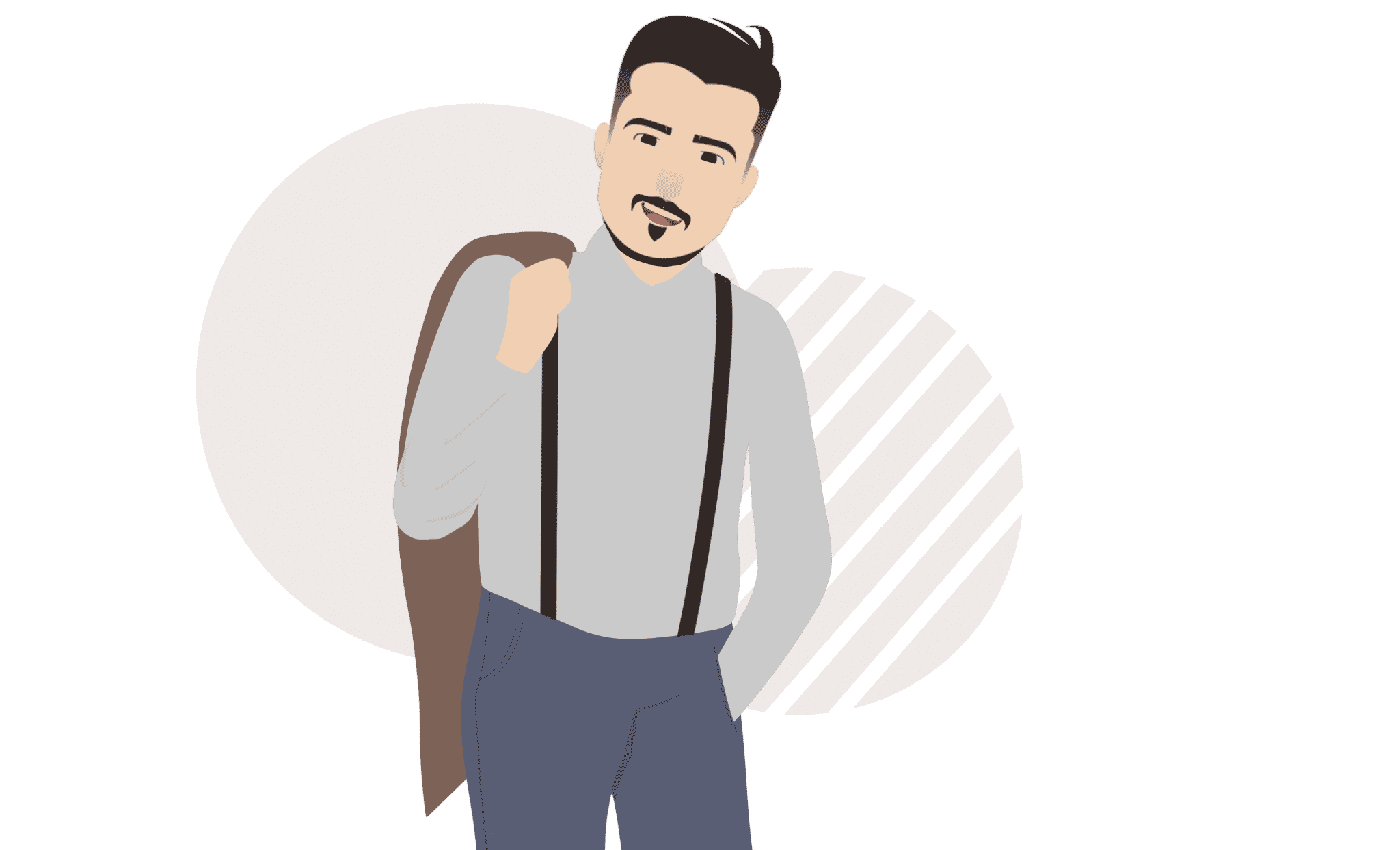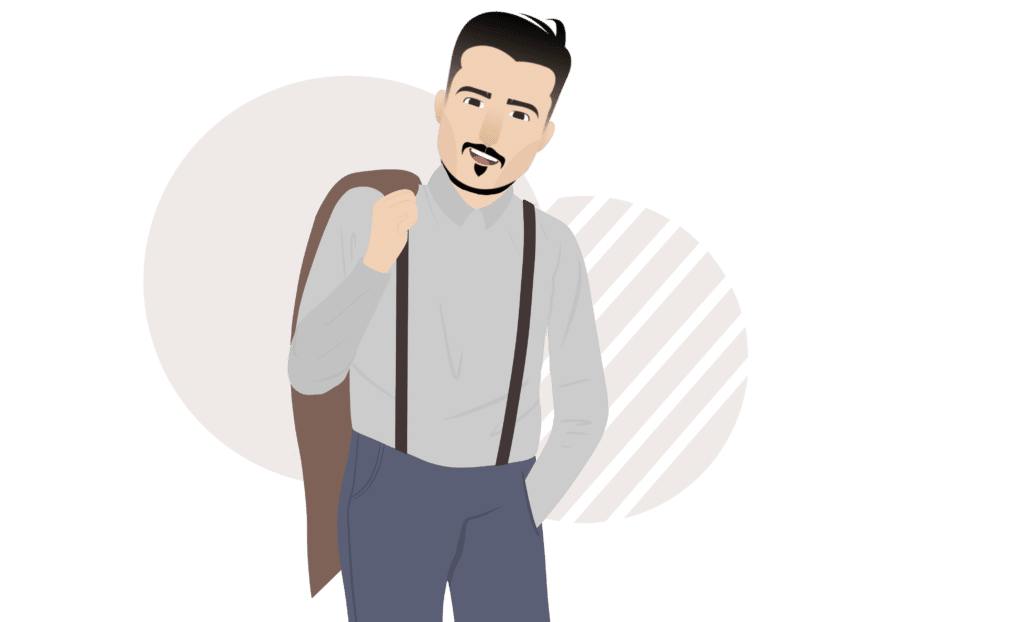 Suspenders are a unique way to add style to your look and keep your pants in check, especially if you opt not to wear a belt.
In this article, we will be reviewing a selection of Amazon's finest dress suspenders, so whether you need a one-of-a-kind look to add to wedding attire or a way to jazz up your office wear, you are sure to find it here.
So, let's dive in and take a closer look at a timeless men's accessory that is forever in fashion, the trusty suspenders.
We have tried and tested various unique pairs of suspenders and have concluded that these are the top ten best suspenders to add to your wardrobe.
We used the approach to chat to fellow suspender-wearers and see what they considered as a set of quality suspenders.
We rounded up those on Amazon that met these criteria and reviewed each of them, basing our evaluation on style, quality, and functionality.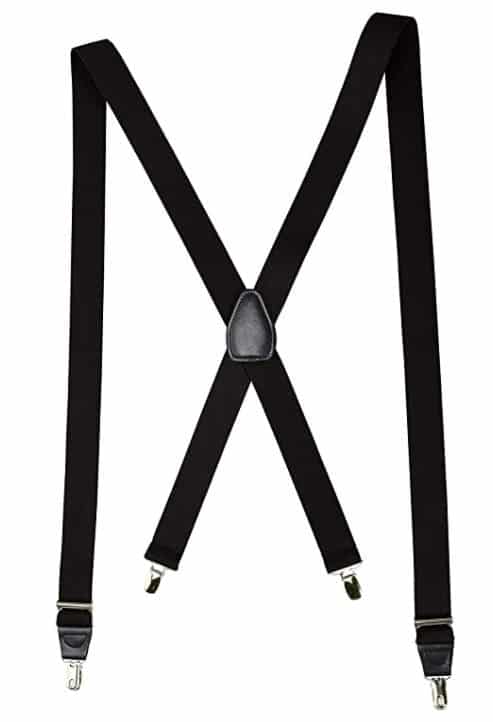 As a subsidiary of Levi Strauss and a leading brand in business-casual wear for men, it is not surprising that Dockers offers its own range of ultra-hip suspenders.
The brand has been around for 35 years, leaving us hopeful that the Dockers Men's Solid Suspenders will prove to be both stylish and functional while offering excellent quality. So, let's dive in and find out.
Specs
Made from 100% polyester
Fully adjustable straps
Features an embossed leather patch
Solid clip-on design
Who is it Best for?
If you're tired of flimsy suspenders that look stylish but do a terrible job of keeping your pants up, don't worry, so are we, which is why these solid braces from Dockers were so appealing. They come with a sturdy design that makes them more robust than most.
Dockers indicate that these suspenders provide enhanced support in an x shape back design that is secure with a sturdy leather patch. Not only is this shaping meant to offer additional support, but exceptional comfort too. After wearing them for a few days, I found this accurate, and they kept my pants in place.
These classic suspenders offer a lot in the way of style too. Dockers manufacture them in three solid colors and two two-tone versions that look pretty neat when paired with matching pocket squares.
Key features
These suspenders by Dockers are designed for use with dress pants, be they chinos or khakis. While I was suitably impressed with the facing on the clasp that prevents the teeth from damaging the fabric of the pants, I noted this does hinder the effectiveness of the braces with heavier pants. After trying them with jeans, I found that the lack of teeth didn't offer the grip required to hold this heavy denim fabric up.
The polyester straps are fully adjustable; making the one size fits all style more functional. These straps provide a slight stretch that allows them to move as you do, which contributes mainly to the comfort they offer. Designed for heavy-duty wear, you can be sure these suspenders will keep your work pants in place.
I found the clips to be relatively sturdy and straightforward to operate, making the experience of these suspenders an all-around positive one.
Pros
The clasps come with a facing that protects the fabric of your pants
A slight stretch makes these suspenders easier to move about in
The color offerings are impressive
Cons
Where these suspenders don't quite meet the mark is that they don't work as well with heavier pants made from denim or other more weighted fabrics.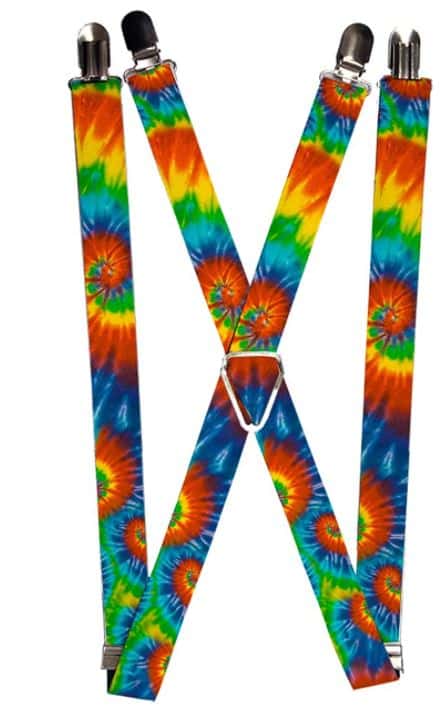 Buckle-Down is a unique brand that infuses characters and logos from popular culture with everyday accessories. Whether it is Disney or Marvel figures or even vivid patterns you're after, you can find them here. Best of all, they come printed on a selection of products from dog bowls to belt buckles.
It was the Buckle-Down Unisex-Adult's Tie-Dye Suspenders that caught our eye, and unsurprisingly so. The vibrant rainbow of color that patterns these braces transports you instantly back to your childhood.
Specs
Made from polyester elastic with metal hardware
Fully adjustable straps
One-inch wide
X-back design
Who is it Best for?
If you are looking for a great way to express yourself and let your inner child out, these tie-dye suspenders from Buckle-Down are worth a closer look.
They make an excellent way to add a pop of color to an otherwise drab look, and while we are not quite sure whether your boss would approve, the sheer fun of these is worth giving it a go.
If you are looking for a sturdy pair of suspenders to keep heavier pants such as denim jeans in place, these may not be the option to choose.
After wearing them for a while and testing them out with various styles of pants, I found that the one-inch width of these leaves them a little lacking in integrity and not sturdy enough to hold up heavier fabrics.
Key features
Buckle-Down manufactures these elastic suspenders from polyester. They offer quite a substantial stretch that allows them to move well with your body and won't restrict your range of motion.
The hardware of these braces is made from steel-plated metal, ensuring that the clasps and patch at the back don't tarnish or corrode. I found the fasteners themselves a little lacking and didn't grab onto my pants the way I had hoped, leaving me to reattach them a few times.
This is definitely an area Buckle-Down can improve on, especially seeing as these clip suspenders come in at a price point similar to other brands that offer a more sturdy design.
All-in-all these are great for a bit of fun and perhaps even for a dress-up event.
Pros
The suspenders move well with your body and don't cut into your back
They work well with pants made from lightweight fabric
The vibrant color is fun and expressive
Cons
Buckle-own could improve the width of these suspenders
The clasps could be a little more functional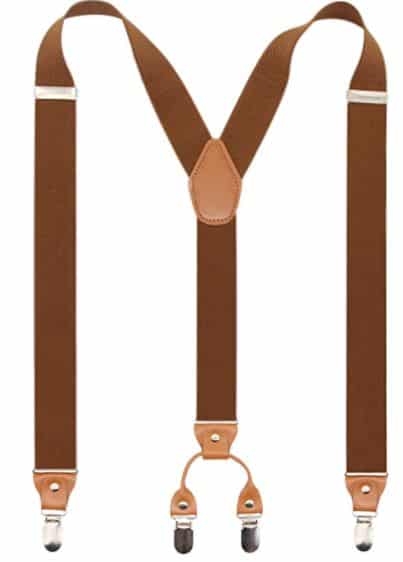 Timiot is known for its timeless yet contemporary men's accessories. Dapper suspender sets and elegant bow ties offer a sophistication that wouldn't look out of place amongst a tuxedo or two.
It was the classic look of the Men's Y-Back 4 Metal Clip Elastic Suspenders that caught our eye and left us wanting to know whether the functionality and quality of these braces measured up to the style they offered.
Specs
Made from elastic polyester and elastodiene
Y-back design
Features four durable metal clips
Adjustable straps
Who is it Best for?
If sophistication and style are what you're after in a pair of suspenders, then these make an excellent choice. Timiot takes craftsmanship seriously, offering these in a unique design that sees a y-back style but with four clips.
When I received these suspenders, I expected comfort but was a little hesitant when it came to how well they would hold up my pants. I was pleasantly surprised. The dual clip at the back of the suspenders offered the same functionality as the double strap found on x-back suspenders, something I didn't expect.
But, the comfort didn't end there; the unique y-back also felt less restrictive across the back and gave a wide range of motion.
Key features
These unique suspenders from Timiot are made with a polyester stretch material that aids them to expand with the movement of your body, preventing discomfort and from the clasps from snapping off your pants if you bend over.
While the adjustable straps are great, the clasps are even better. They are made from durable metal and feature a unique configuration that sees the back clip divided into two. What I found so impressive about this is that you no longer have to fuss with trying to attach the back clip over the belt loop at the back of your pants; these clips attach to either side of the loop instead.
The clips, or snaps as they're often referred to, offer remarkable strength. They held up every pair of pants I tried with them without fail, leaving these as a pair of suspenders I would buy again.
Pros
The back snaps allow you to fasten them on either side of the back belt loop
The thickness of these straps is just right, measuring at 1,38-inches wide
These clasps are strong enough to hold up lighter or more heavyweight pants
Cons
If you don't enjoy a y shape back then these may not be the suspenders for you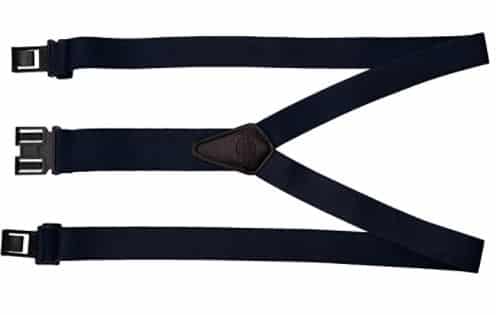 Dickies, founded in 1922, has spent nearly a century crafting high-quality workwear. Best known for its sturdy denim jeans, the brand is synonymous with apparel made for heavy-duty wear.
Dickies Men's Perry Y-Back Adjustable Suspenders are no different. These suspenders are built with hard workers in mind and aim to offer comfort, style, and functionality no matter how hands-on you are on the job.
Specs
Offer extra enhanced support
Y-back design
Wide clip-on closure
Made from a cotton and polyester blend with leather detailing
Who is it Best for?
If you find yourself in need of a pair of slightly more durable and heavy-duty suspenders, then a pair of Dickies suspenders makes an excellent choice.
Unlike most suspenders made from polyester alone, these feature a cotton and polyester blend that you can feel. The sturdiness of the straps is remarkable and makes it easy to see why these are the preferred choice for farmers and construction workers.
Though, that is not to say that these suspenders offer no stretch; instead, it is quite the opposite. They provide the right amount of stretch to allow them to move with your body while keeping your pants comfortably in place. If you find yourself working in an environment that requires a lot of bending, carrying, or lifting, then these suspenders may be precisely what you need.
Key features
Dickies understands that it would be pointless to design suspenders that feature durable straps, but that comes with weak or inadequate clips. I was pleasantly surprised when I unboxed these to find that they are fitted with side clamp hooks. These don't clip directly onto your pants but rather hook under your belt to lift your pants.
The downside to these suspenders is that if you are looking for suspenders to avoid wearing a belt, these defeat the purpose. Unless you're willing to wear a belt and suspenders, perhaps give these a miss.
The clips also deserve special mention in that they are made from heavy-duty plastic and not metal as they may appear in images. This design is unique in that if you work outdoors and find yourself caught in the rain, the clips won't rust, corrode, or tarnish.
Pros
These suspenders are heavy-duty making them ideal for outdoor wear
They come in a few different solid colors for variety of choice
The suspenders are 1.25-inches in width
Cons
The clips only work with a belt
You may find that the clips slip out from under the belt when you sit down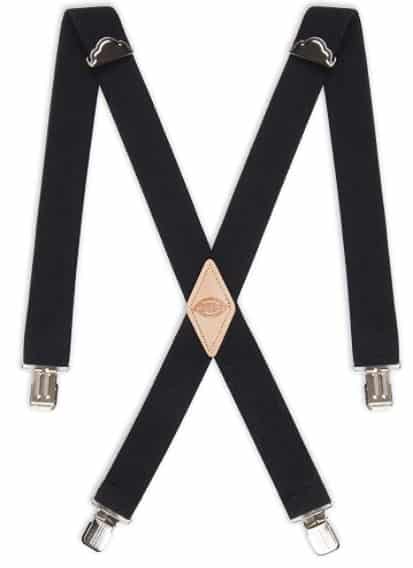 While Dickies is known predominantly for their heavy-duty workwear, they also have a few aces up their sleeves when it comes to formal wear. Case and point being the Dickies Men's Solid Straight Clip Adjustable X Back Suspenders.
These men's suspenders offer remarkable durability while also providing a style that wouldn't look out of place with a bow tie and pocket square.
Specs
Made from a blend of cotton and polyester with a rubber patch
X-back design
Fully adjustable straps that measure 1.5-inches wide
Durable metal clips
Who is it Best for?
While the previous set of Dickies suspenders we reviewed were aimed predominantly at workers who engage in more rugged work, they make these for the businessman.
Although still as durable as they come, these offer a slightly elevated finesse that pairs them well with dress pants and oxford shoes.
Compared to the Dickie's workers' suspenders, there is only a price point difference of a dollar or so. The main distinction can be found in the hardware used and the style, with these geared more towards style and comfort.
These braces come with sophisticated metal clips that attach directly to your pants instead of the plastic slide clips that hook under your tool belt. This design is better suited to men who spend most of their time indoors and out of the elements.
Key features
Dickies makes these suspenders from a unique blend of cotton and polyester that gives the suspenders excellent durability and enough of a stretch to allow them to move as you move.
The hardware is made from metal. I expected these clips to be pretty flimsy, and they proved me very wrong; they are strong, durable, and they clip onto your clothing with a fierce grip. The only problem with these is that the grip comes with teeth that tend to leave little holes in the fabric of your pants.
These suspenders come with a very low price tag for the quality and style you end up with, making it clear why they are so popular. In my opinion, if you want a remarkable pair of suspenders that last, these are a perfect choice.
Pros
These suspenders are versatile in that they can be worn with just about any pants
The clip-on snaps are a lot more durable than one would expect
They are extremely comfortable to wear
Cons
The teeth from the clips may leave tiny holes or markings in the fabric of your pants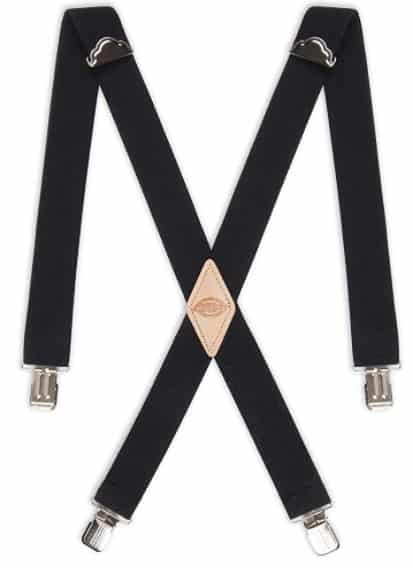 When it comes to sophistication and contemporary style, you can't go wrong with a set of Fasker suspenders. The brand specializes in creating these exceptional accessories designed to add a dash of timelessness to your look.
We knew we had to try them out when we laid eyes on the wider than usual Fasker Men's Adjustable Solid Straight Clip Suspenders. We wanted to know whether this unique design provided the comfort it promised.
Specs
The suspenders measure two inches in width
The metal hardware is durable and designed for heavy-duty use
Made from a blend of polyester and elastodiene
Features an x shape design
Who is it Best for?
When it comes to wedding fashion, you will find that the groom and groomsmen often feature an accessory or two that stands out. If you have chosen suspenders to be your standout piece, then these are an excellent choice. The reason being that they are two inches in width, making them much wider than your average suspenders; the perfect statement piece for your special day.
This wider design also offered a lot more comfort, which I was not expecting. The width seems to disperse the pressure much more evenly, so at times you don't even feel as though you have suspenders on.
What I appreciated about these was the extensive color selection these braces come in; you can find most colors from a deep wine red to navy and even khaki.
Key features
Fasker manufactures these adjustable suspenders from a blend of polyester and elastodiene. This stretch fabric allows the suspenders to move with you instead of snapping off each time you bend over. This additional range of motion is essential here, considering the width of these suspender straps.
I was concerned that with the unique size of these suspenders that perhaps they wouldn't hold my pants, as well as I had hoped. Luckily, I was wrong. They provide a vice-like grip that provides security, but the teeth of the clips are sharp and can cause tiny holes and catches in the fabric of your pants.
The x-back design provides even further support and comfort and left me at times feeling as though I had no suspenders on at all; they were that comfortable.
Pros
The width is far more comfortable than you would think
The clips offer a heavy-duty grasp on your pants
These move nicely with your body and don't leave you feeling restricted
Cons
The teeth of the clips are quite severe and are prone to leaving holes in the fabric of your pants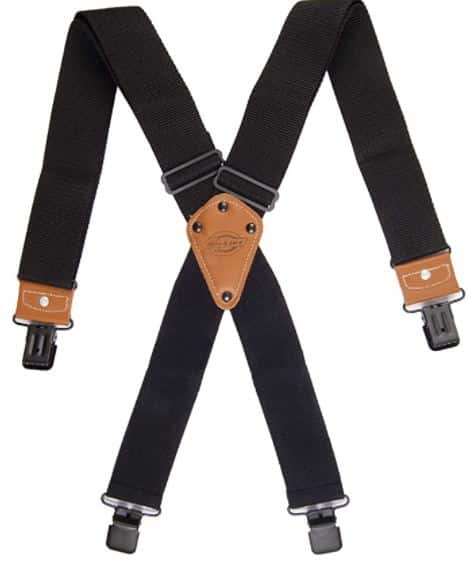 When it comes to workwear, many agree that Dickies does it best! Known for its vast work apparel and durable denim offerings, Dickies covers a range of clothing options. What you may not know, though, is that they also do unique accessories, such as the Dickies Men's Industrial Strength Suspenders.
When we saw that they were industrial strength, we knew we had to review these because not all suspenders are worn as formal attire, making a robust pair necessary for any wardrobe.
Specs
Made from unique materials including Polypropylene, Leather, Cotton, Polyester, and Rubber
Includes a genuine leather patch
Heavy-duty J-clip closures
X-back design
Who is it Best for?
Whether you work as a carpenter, in construction, as a plumber, or even in roofing, chances are your job is pretty hands-on and requires you to wear heavy-duty gear that can withstand the rough and toughness that comes with your working environment. If this sounds like you, then these industrial-strength suspenders from Dickies may make all the difference to your workwear.
Compared to the Melo Tough Men's Industrial Strength Suspenders, these from Dickies come in at a slightly higher price point, but I would happily pay this because I know and trust the Dickies brand. The Dickies suspenders are manufactured in the USA so that you can be sure of the quality of the manufacturing and craftsmanship. If it is high-quality suspenders you're after, these make an excellent option.
Key features
Dickies uses premium materials to create these heavy-duty suspenders to ensure that they offer the sturdy design you need to keep your pants in place while you're on the job. You can certainly feel the quality of the adjustable straps in that they offer sufficient stretch for you to move about, but they don't feel thin or flimsy.
The one thing about suspenders that all too often is problematic is the clips. Not with these. I tested them out with a heavy leather blacksmith's apron, ski pants, and my bulkiest pair of jeans, and they held each time.
The only aspect of these that Dickies could improve on, in my opinion, is to give the straps a little more stretch. They hold hard and fast but can be pretty restrictive at times.
Pros
The clips are sturdy enough to hold up the bulkiest and heaviest pants
The x-back of the suspenders makes them a lot more comfortable to wear
Adjusting the length of the straps is very simple
Cons
Dickies could improve on the elasticity of these suspenders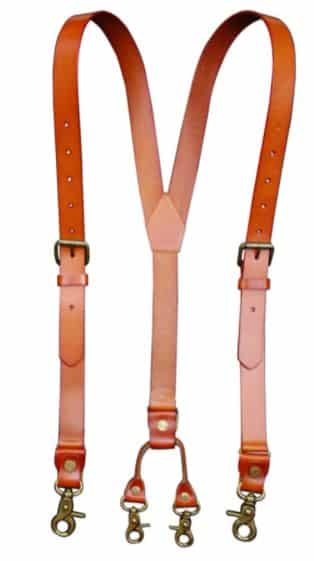 There is nothing more sophisticated than a pair of genuine leather suspenders paired with sleek navy dress pants and a crisp white shirt. While we have reviewed a variety of suspenders, there is a trendy set that deserves our attention.
So, when we saw these Men's Genuine Leather Suspenders by Kamthing, we knew we had to give them a closer look, and we are glad we did.
Specs
Made from soft Italian leather
Y shape design
Adjustable snap hooks clip to your belt loops
Feature buckle adjusters
Who is it Best for?
If it's a pair of old-school leather suspenders that you're after, these may be just the ones you need. They come in three different shades, including tan, black, and brown, so you can match them to your suit or dress pants perfectly.
The thing I found most impressive about these leather suspenders is their versatility. The back clip comes as a single clip that you attach to the back belt loop of your pants. But, if your pants come with a double loop at the back, you can switch out the clip on your suspenders to use a dual clip instead. This way, your suspenders never look odd or poorly placed.
This is not something I had experienced with a pair of suspenders before. The swapping over of clips was quick and straightforward and left me wishing other styles came with this option too.
Key features
The feature on these suspenders that left me most impressed, aside from the elegant leather material, was the old-school buckle adjusters on the straps. These straps adjust in length the same way you would work a belt.
I did find two aspects to this, though, that was to the detriment of these suspenders. The first being that this buckle strap, while it looks impressive, doesn't leave you with the option to adjust them to fit you perfectly. You can get close enough, but unless you punch your own buckle holes, you will have to work with what you're given.
The second area that leaves room for improvement is that the leather of the straps is pretty sturdy, which is excellent, except when you need to move. These suspenders don't offer a significant range of motion, making them better suited to occasional wear.
Pros
The buckle closure at the from provides a really awesome design feature
The clips on the suspenders hook directly to your belt loops for greater support
These suspenders come in three unique colors
Cons
Adjustment of this pair of suspenders is not as personal as one would hope
They offer very little stretch or room to move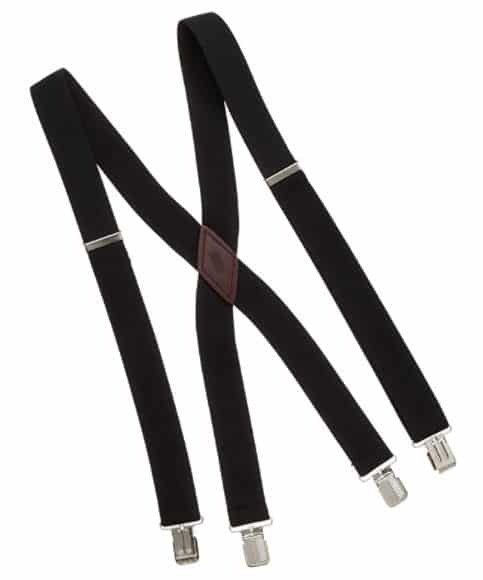 Levis is a brand recognized across the globe for its workwear, and more so, its denim jeans. The brand also produces a range of apparel and accessories.
Among the men's accessories, you will find versatile and stylish suspenders. The pair that caught our eye was the Levi's Men's Big and Tall Cotton Terry Suspenders. Made for men who need unique sizing options, these suspenders offer comfort and style.
Specs
Made from a blend of cotton and polyester elastic
X-back design
Metallic clip closure
Come in big and tall sizing options
Who is it Best for?
Whether you need them to wear as work suspenders, at family gatherings, or simply as a fashion statement, these suspenders from Levi work well for all occasions.
Levi designs this pair of suspenders to feature an x-back design. In my opinion, this design is far more suitable if you spend your days sitting behind a desk as they offer a little more support and put less pressure on your spine. I found them to be flexible enough to allow me to sit comfortably for an extended time, which says a lot about their functionality.
The design of these braces is such that you can adjust the straps to fit you perfectly. I much prefer this slip-strap design to a buckle adjustment as it allows for a more custom fit.
Key features
Levis makes these from a blend of cotton and polyester elastic that provides both durability and stretch. This fabric is also softer and won't bite into your skin the way other materials might. The flexibility offered by the elastic provides an impressive range of motion, so you won't feel restricted as you go about your work.
After testing these suspenders out a few times in different settings and with other pants, I noticed that the clips aren't as sturdy as I had hoped they would be. A few times, I found myself having to reattach them, which is not ideal.
That aside, the big and tall sizing is helpful for men who need unique sizing options. And that they are offered at such an affordable price point makes these a winner in my opinion.
Pros
These suspenders offer excellent comfort, whether you are standing or sitting
The straps don't bite or cut into your skin
They are easy to adjust and fit well
Cons
The clips could be improved upon in terms of grip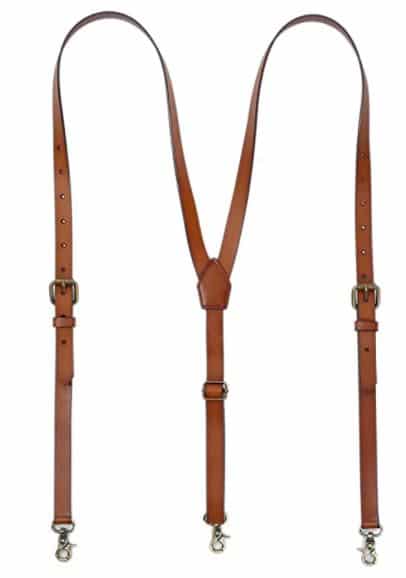 If it is exceptional leather goods you're after, then Exception Goods is the brand you want to be looking at. They offer an assortment of finely crafted leather-made items, from wallets and bags to suspenders.
After reviewing a relatively wide pair of leather suspenders earlier, when we saw these narrower leather suspenders, we had to know what they were all about. The Leather Suspenders For Men by Exception Goods offer a unique take on men's suspenders that is both functional and fashionable.
Specs
Made from genuine cowhide leather
Features a buckle adjustment
Y-back design
Includes snap closure clasps
Who is it Best for?
This unique and contemporary take on leather suspenders makes a fantastic addition to any groom or groomsmen's outfit. The narrow straps combine with the leather to offer a striking yet minimalistic look and feel.
If you are looking for a pair of leather suspenders to wear on a special occasion, or now and then, these make an excellent choice.
However, if you wear them all day for a few days in a row, as I did, you will soon come to realize that these are not made for continuous wear. Not because they are not durable or expertly crafted, but rather because they offer no give or stretch. This means they limit your range of motion substantially, and because they are so thin, this becomes painful after some time. But, pain is beauty, and these are certainly striking.
Key features
Exception Goods crafts these suspenders from genuine cowhide leather and brass hardware. The brass buckles and clasps are ideal in that they are resistant to rust and corrosion, so should you get caught in the rain, you won't find your suspenders tarnishing.
While the look and feel of these suspenders are fantastic, their adjustment leaves room for improvement. Yes, the buckle design is trendy and brings with it a touch of old-school, but it also means that you can't fit the straps to you perfectly. They will either be a little loose or a tad too tight.
The snap clips attach directly to the belt loops of your pants, offering a firmer hold. In theory, this is great; however, because of the lack of stretch in the straps, if you aren't careful, these clips could end up ripping your belt loops.
Pros
The leather is soft and buttery
The clips offer far greater support than clip-on ones
These suspenders offer exceptional style
Cons
There is no stretch in the straps
Things to Consider When Buying The Best Suspenders for Men
1. Material and Hardware
Suspenders are made from a variety of unique materials. Knowing which type of material and hardware to choose will help you find a pair that best suits your needs far quicker.
Stretch or Elasticated Polyester – This is the most common material used to create suspenders. It offers excellent stretch and range of motion. Suspenders made from this fabric work well if you're not overly active or are looking for a pair to wear now and then.
Cotton and Polyester Blend – This fabric is ideal for heavy-duty or industrial-strength suspenders. The cotton adds durability and more robust quality, while the polyester provides the needed stretch.
Leather – Genuine leather suspenders look amazing, but they offer no stretch and often feature buckle adjustments. For these two reasons, leather suspenders are better for occasional smart wear.
Hardware – Suspenders usually feature heavy-duty plastic hardware or metal hardware. Both offer excellent durability, but plastic trumps in that it won't rust or corrode.
2. Style
Suspenders come in two styles: x-back suspenders and y-back suspenders. They also feature a variety of different clip-on methods. Deciding which most appeals to you will help you find the suspenders you need far more easily.
Y-back suspenders – These attach to the back center of your pants and rise to just below the shoulder blades before splitting off into two straps that go over your shoulders to connect at your waistband, forming a "y" shape. These offer less support, but they do provide a more old-school look.
X-back suspenders – This style sees the suspenders attaching to either side of the back of your pants, each clip fastening mid-way between your spine and your side. These then rise and cross over just beneath your shoulder blades to create a large "X" before passing over your shoulders to connect at your waistband. This style is said to offer more support.
There is a wide range of ways suspenders fasten to your pants. Here are a few:
Clip-on – These clip directly onto the fabric of your pants and are the most common form of suspender fastener.
Button-on – Button suspenders, such as the Hudson Solid Button End Braces by Trafalgar, offer a classier look and feel. These attach to buttons sewn onto your pants and are more commonly referred to as braces.
Belt Attachment – This style sees the suspenders work in conjunction with a belt. The clips form a style of hook that attaches to the underneath of your belt, providing a more stable lift.
Snap-on – These clasps fasten directly to the belt loops of your pants by hooking through the loops.
When looking for the best suspenders, there are several things to consider. Giving thought to versatility, durability, style, functionality, and quality will all put you a step closer to finding the suspenders that best suits your needs.
By closely examining and testing each of the suspenders in this review, we concluded that they each meet the criteria discussed above, making it more simple to find that perfect set of suspenders to achieve the look you have always wanted.